Ravioli Alfredo with chicken is a simple ravioli recipe tossed with an easy to make Alfredo sauce and shredded rotisserie chicken.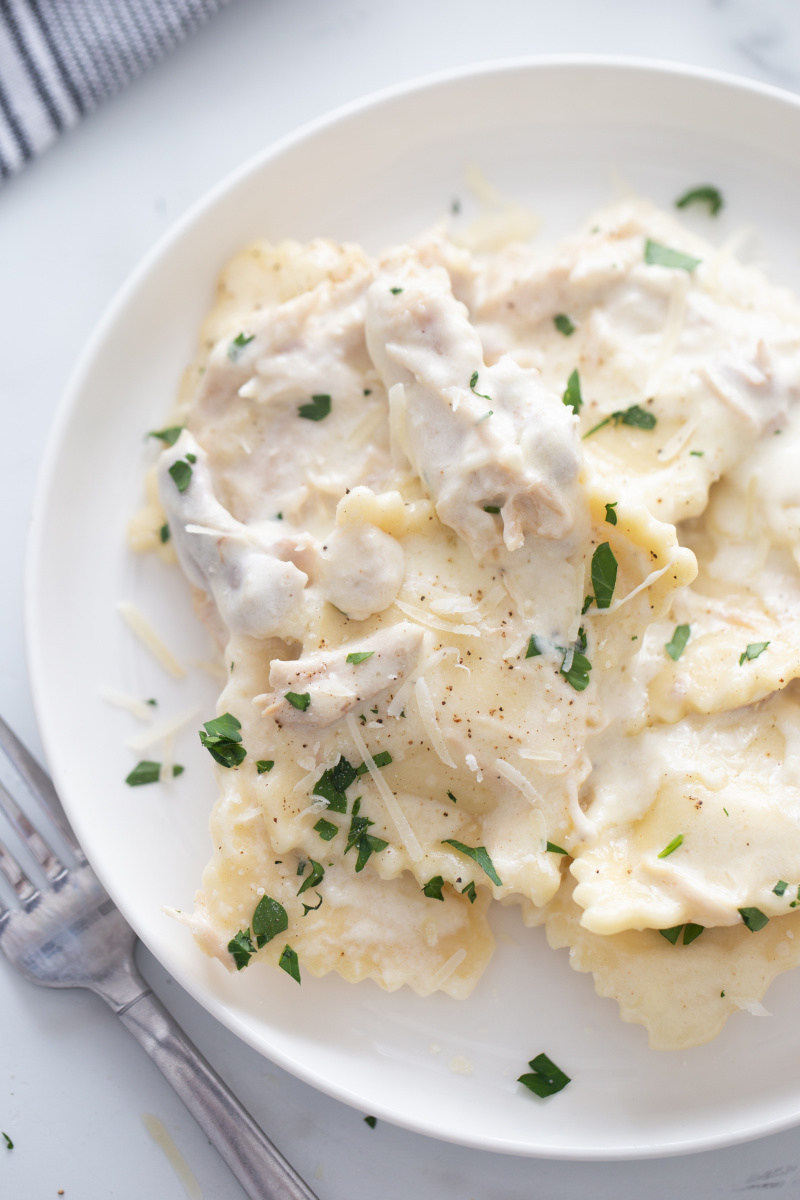 March 20th is National Ravioli Day! Of course, you must have some ravioli to celebrate the day. This Ravioli Alfredo is an easy recipe to make for dinner to mark the food holiday. Or pick up some ravioli to make a classic marinara sauce with ravioli, or go out to dinner and order ravioli! Note the day on social media by using the hashtag #NationalRavioliDay or #RavioliDay.
The History of Ravioli:
Ravioli first surfaced in the 14th century in England and Sicily. They were made with an egg dough and wrapped around herbs, egg and cheese and simmered in broth. In the 16th century, ravioli in a tomato-based sauce surfaced when tomatoes were introduced to Europe from the New World. Canned ravioli from Chef Boyardee was developed in the 1930's.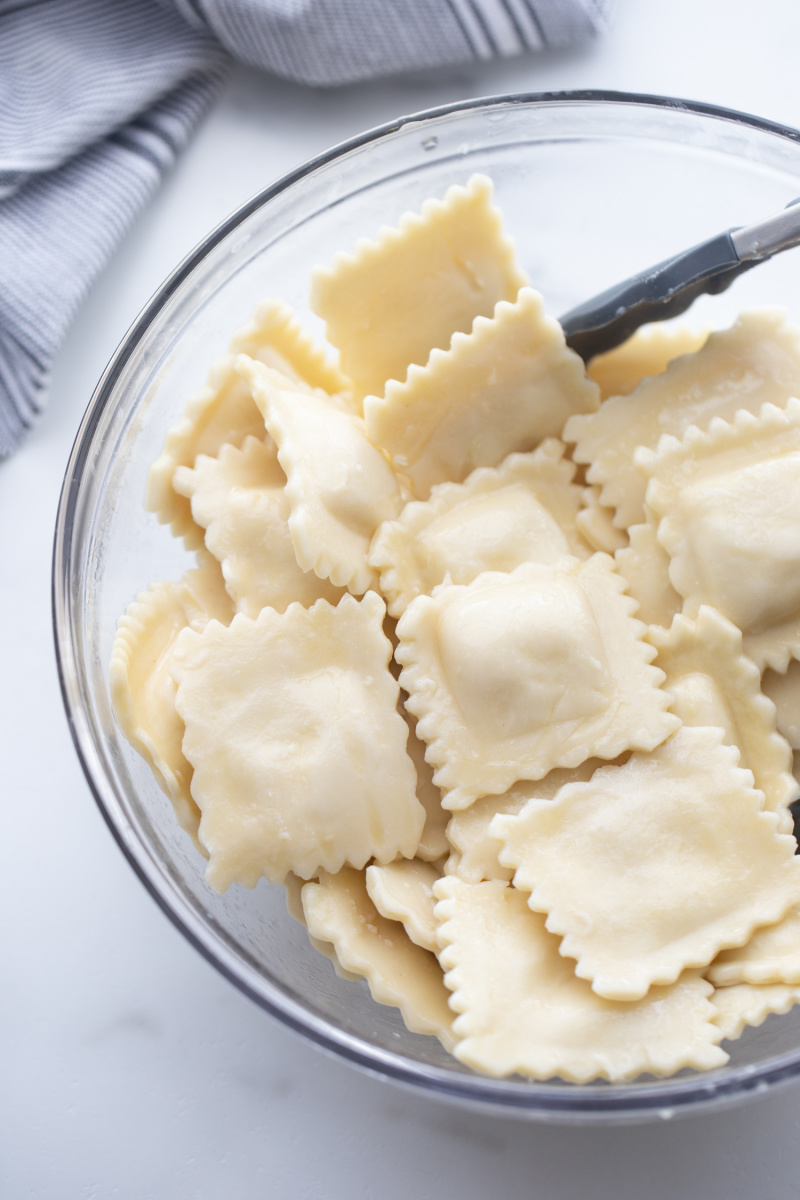 How to make Ravioli Alfredo:
Cook your ravioli. Use fresh or frozen. Drain, toss with a little olive oil and set aside.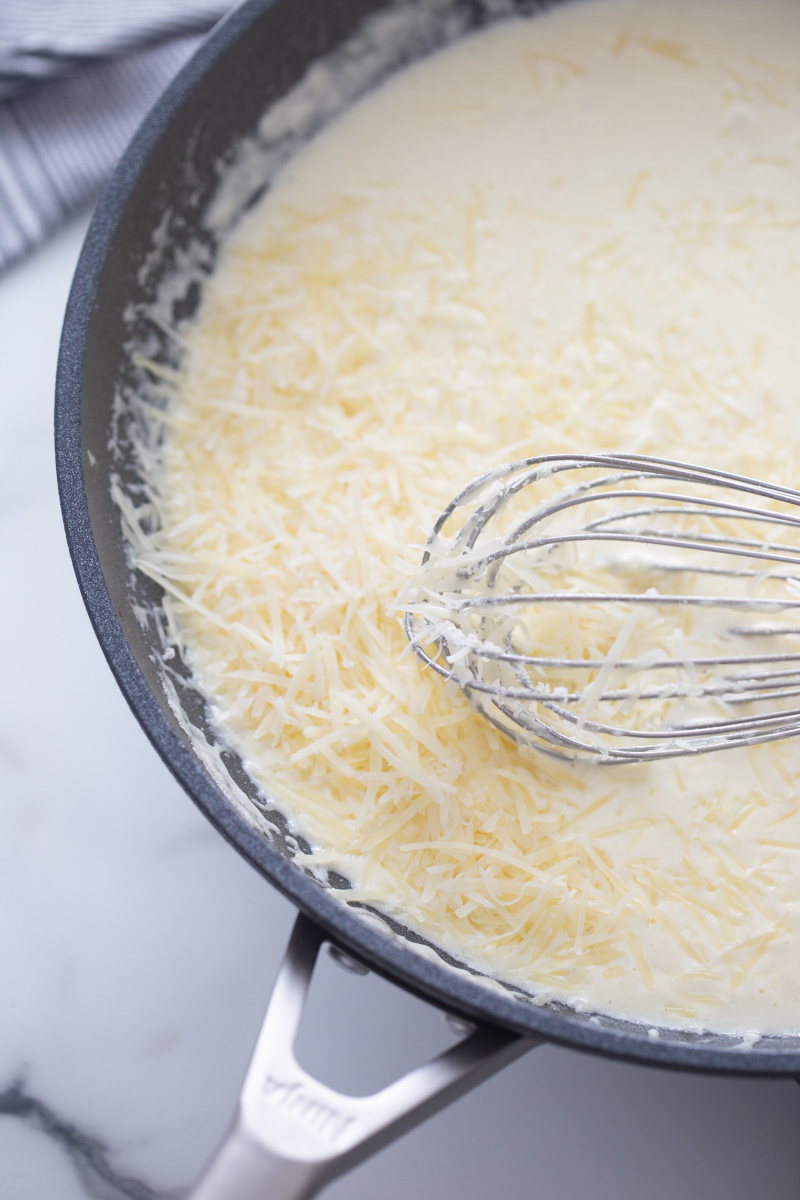 Prepare the Alfredo sauce. Melt butter in a pan. Add heavy cream and nutmeg. Simmer for a couple of minutes. Then stir in plenty of fresh Parmesan cheese.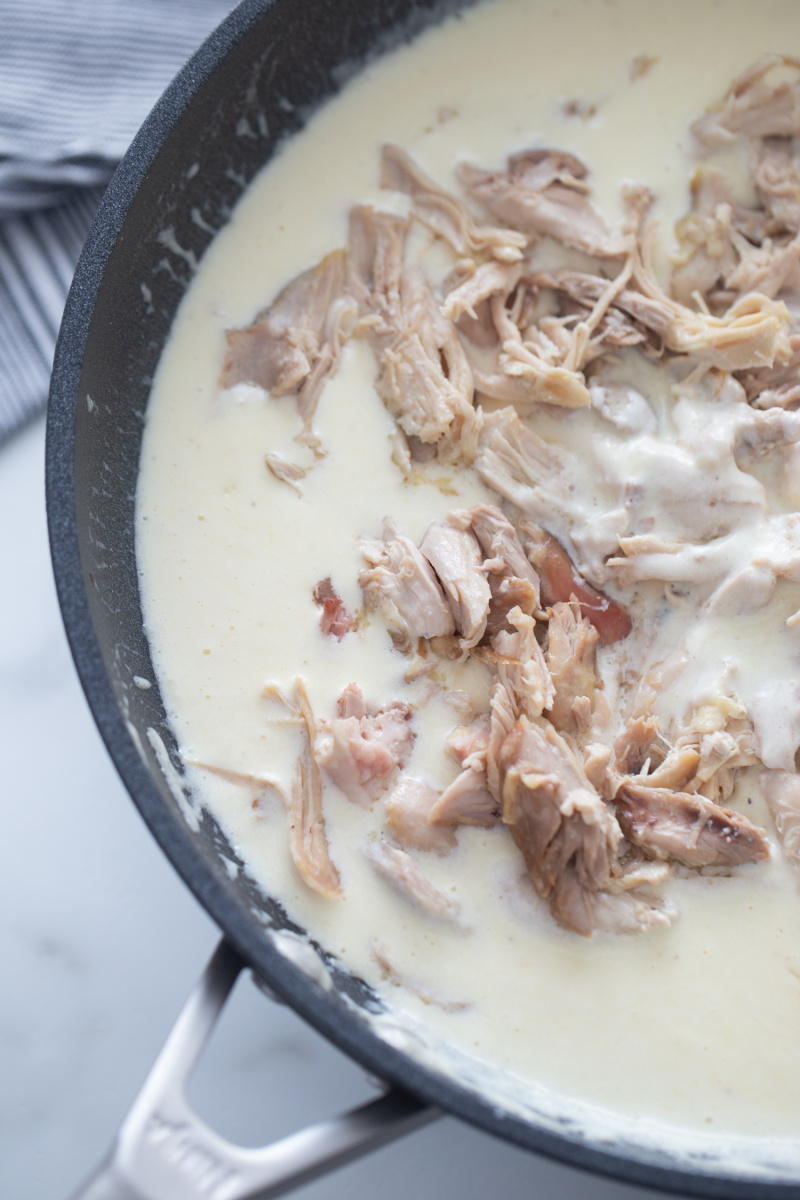 Add chicken to the Alfredo sauce. Use rotisserie chicken, or chopped, cooked chicken breast.
Stir in the cooked ravioli, and add salt, freshly ground pepper and some chopped fresh Italian parsley.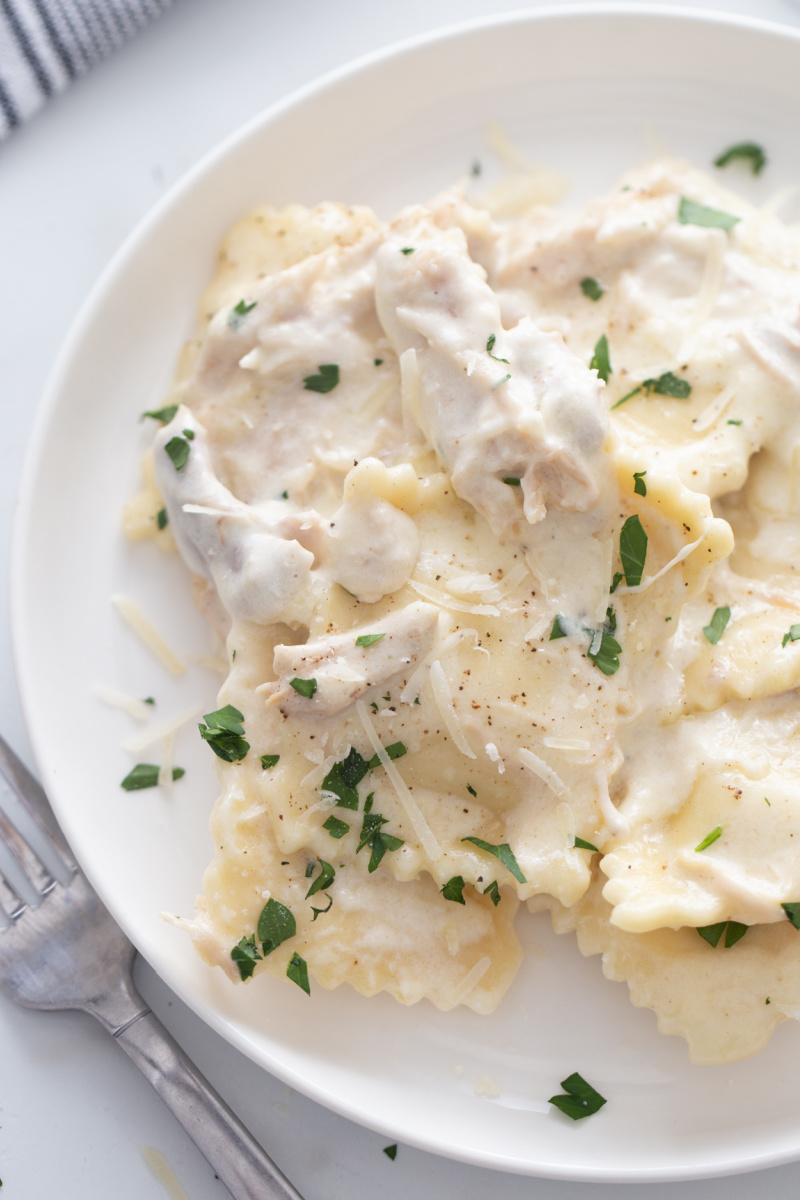 Enjoy! If you're a pasta lover, you might also like to try my Baked Spaghetti Casserole.
Ravioli around the World:
Rome: Ravioli is filled with ricotta cheese, spinach, nutmeg and black pepper.
Sardinia: Ravioli is filled with ricotta cheese and lemon zest.
Rhone- Alpes Region: Mini ravioli (ravioles) are filled with cheese and served au gratin.
Cypnot: Ravioli is filled with halloumi, cooked in chicken stock and served with grated halloumi and mint.
Turkey: Manti is a Turkish-style ravioli stuffed with spiced meat and served with paprika sauce and yogurt.
China: Wontons are the Chinese version of ravioli. Egg wrappers are filled with meat and simmered in broth.
India: Guyiya are Indian ravioli made with a sweet filling of dried fruits and sugar and are deep-fried.
Jewish ravioli are Kreplach. They are a meat-filled pasta simmered in chicken soup.
Middle Eastern ravioli (Shishbarak) are pasta filled pockets with minced beef, and they are cooked in yogurt.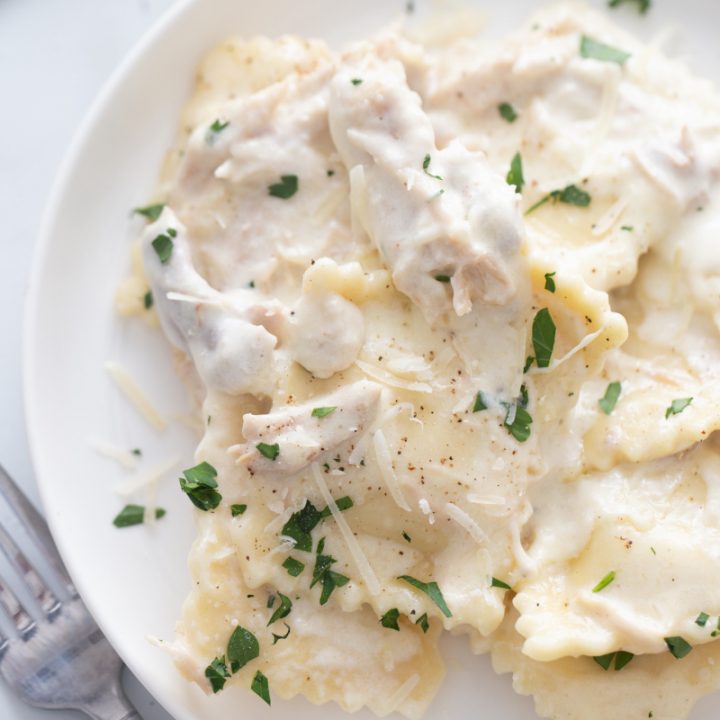 Ravioli Alfredo with Chicken
Creamy Alfredo sauce combined with ravioli and chicken for a delicious dinner!
Ingredients
24 ounces cheese ravioli (fresh or frozen)
2 teaspoons olive oil
6 tablespoons salted butter
2 cups heavy whipping cream
1 pinch ground nutmeg
1 ½ cups freshly grated Parmesan cheese
2 cups chopped or shredded rotisserie chicken or cooked chicken breast
salt and freshly ground black pepper
Chopped fresh Italian parsley, for garnish
Instructions
Bring a large pot of water to boil and give it a couple pinches of salt. Add the pasta and cook according to package instructions until al dente. Drain, and toss with 2 teaspoons of olive oil.
In a large skillet, heat the butter. Then whisk in the cream and nutmeg. Bring to a simmer and let simmer for 2 minutes. Whisk in the Parmesan cheese until well combined. Then stir in the chicken and the ravioli. Carefully toss to coat. Season with salt and freshly ground black pepper.
Serve in bowls garnished with parsley.