Caramelized Onion Dip is the most delicious, creamy, sweet onion dip to serve with sturdy potato chips and fresh cut vegetables.
March 23 is National Chips and Dip Day! Salsa is the most popular dip in America, followed by French Onion and Guacamole. People prefer to dip tortilla chips in salsa and guacamole, but potato chips are meant for French Onion. We've changed things up today and made Caramelized Onion Dip instead. Celebrate the day today by making your favorite dip, and use the hashtag #NationalChipsandDipDay or #ChipsAndDipDay to share your creation on social media.
History of Chips and Dip:
Humans have been dipping food into things like Tzatziki sauce, hummus, avocado dip and salsa since the Greeks and the Aztecs were around. But chips and dip served as a popular snack came much later.
George Crum invented the potato chip (a thin, fried potato snack) in 1853. French Onion Dip (a dip combining sour cream and a packet of Lipton's French Onion Soup Mix) was created by a cook in Los Angeles in 1954. Lipton quickly capitalized on the French Onion Dip, adding it to advertising and packaging.
Chips and dip emerged big-time in the 1950's as finger food for parties. Specialized trays fitting chips and dip were created and bought by many home cooks. Chips and salsa became popular in the 1980's.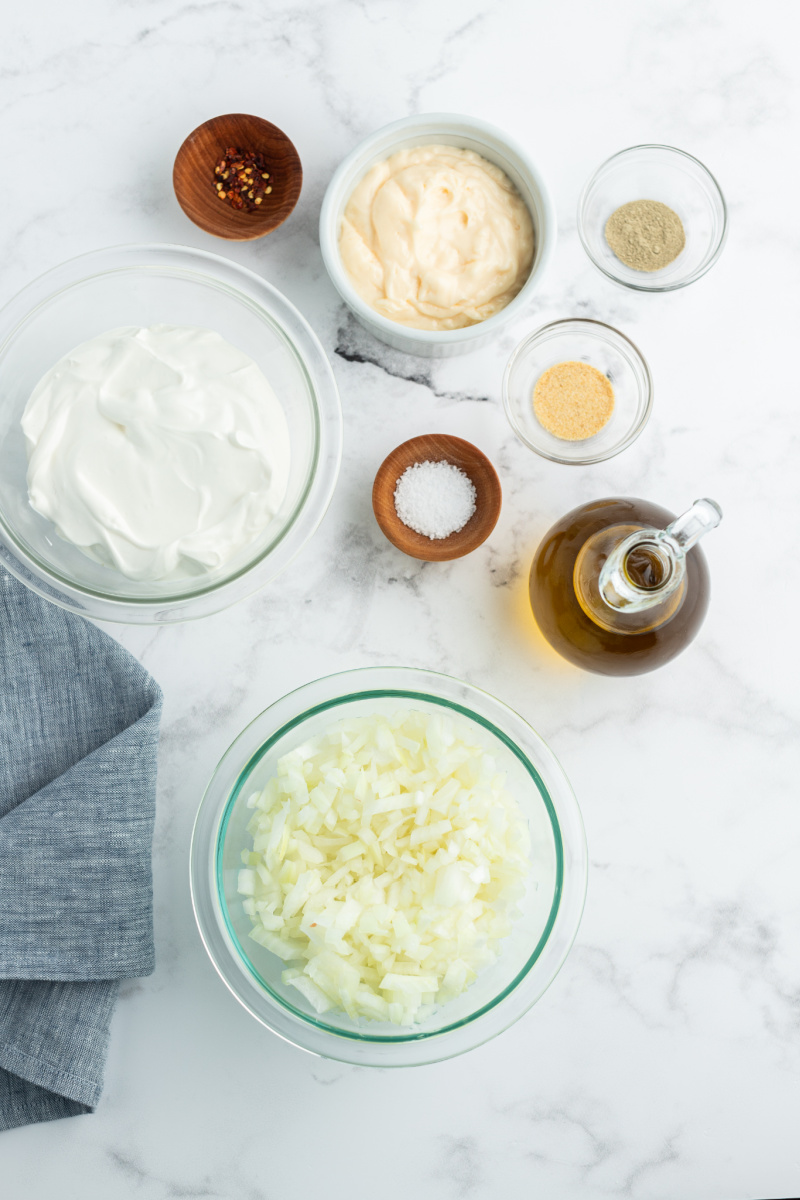 Ingredients needed:
olive oil
sweet onions
kosher salt
sour cream
mayonnaise
garlic powder
white pepper
hot sauce
red pepper flakes
chips (and/or veggies), for serving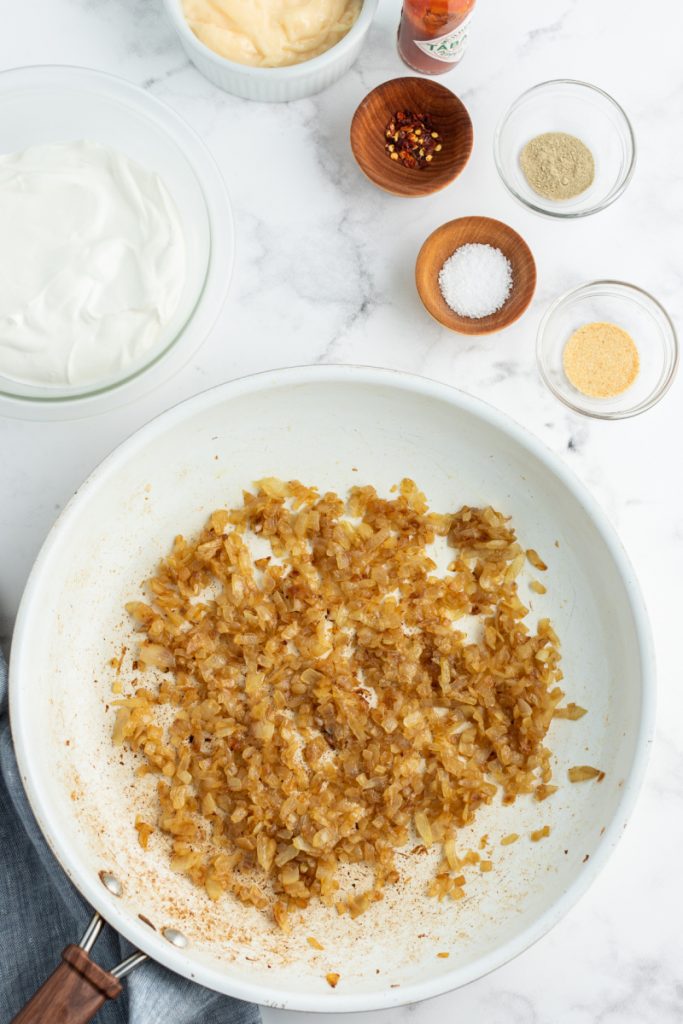 How to make Caramelized Onion Dip:
The first thing to do is caramelize the onions. It's a bit of a long process, but it's so worth it in the end!
Heat olive oil in a skillet. Add onions and kosher salt. Be sure to use a sweet variety of onions like Vidalia, Maui or Walla Walla for the best flavor. Cook the onions, stirring every so often, until they begin to brown, about 30 minutes total. Don't stir them constantly because you want them to brown, but do watch that they are not browning too much and adjust the heat as needed. Let the onions cool.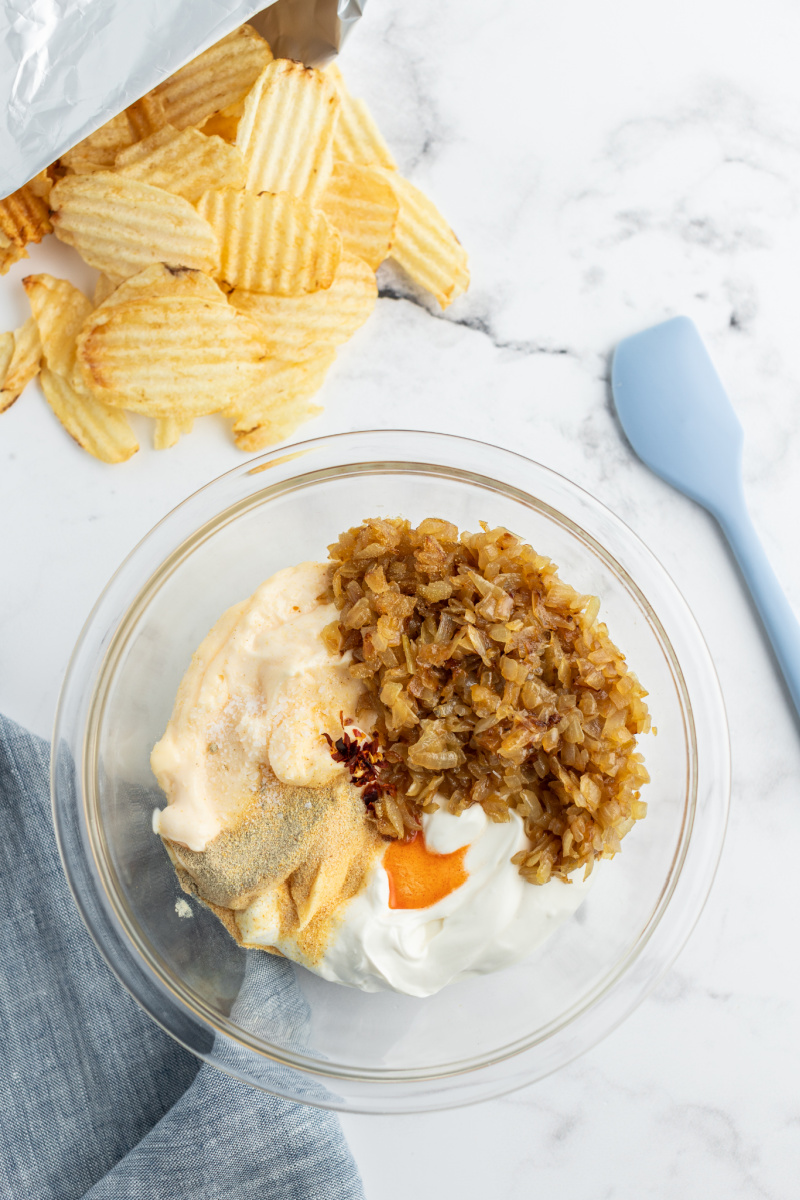 To prepare the caramelized onion dip, combine the caramelized onions in a bowl with sour cream, mayonnaise, garlic powder, kosher salt, white pepper, hot sauce and red pepper flakes.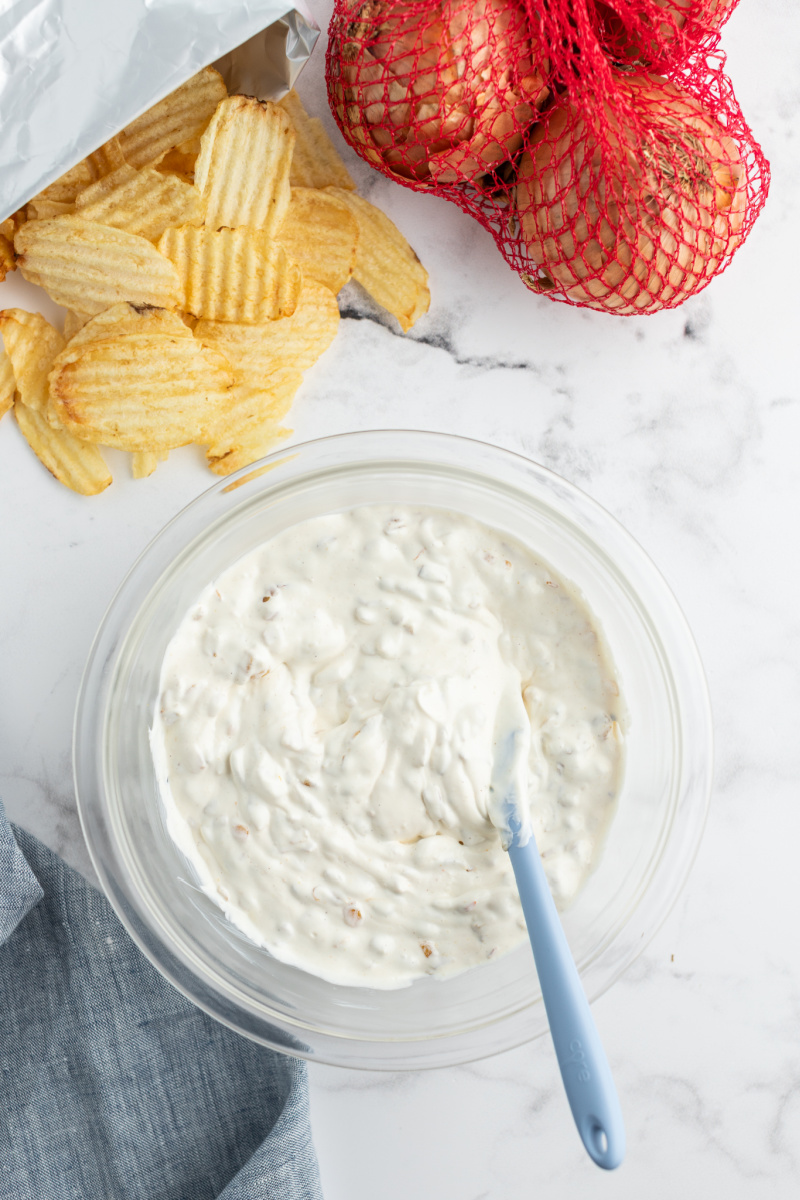 Stir all of those ingredients to combine.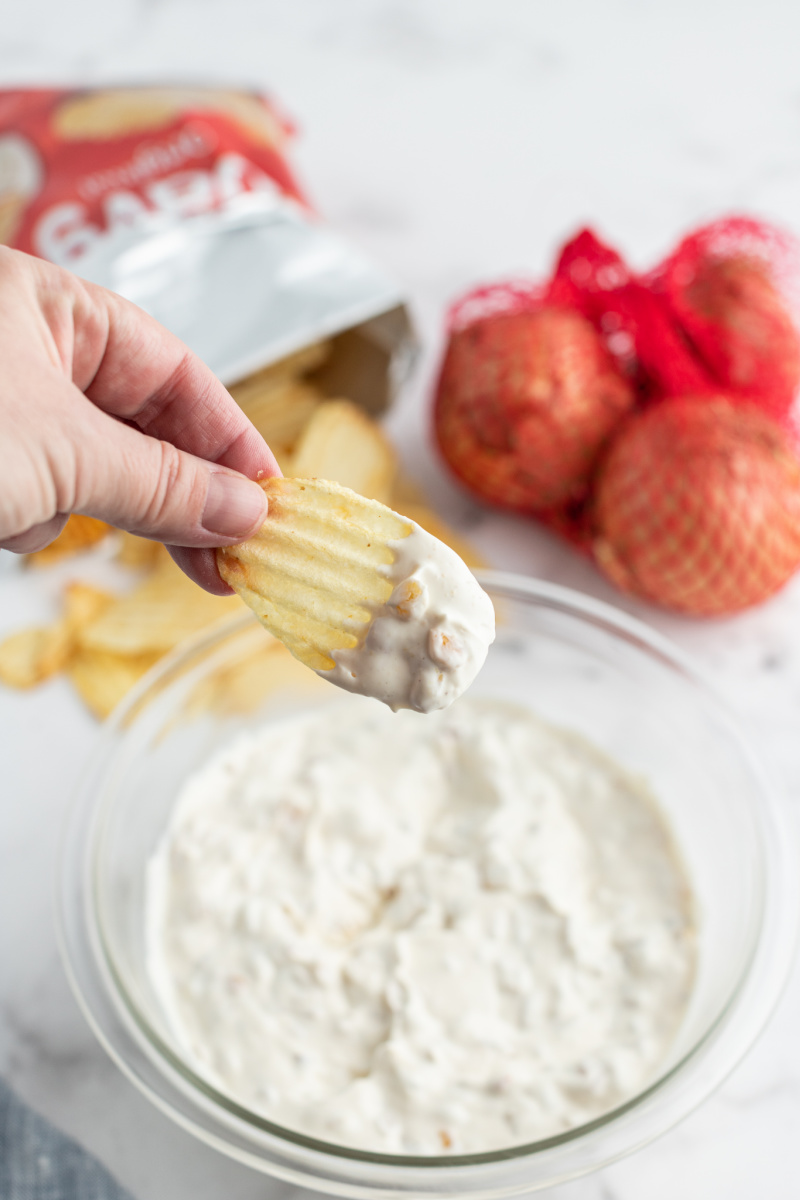 The final step is tasting the caramelized onion dip with your favorite sturdy potato chips. Why sturdy? Well, you don't want any flimsy potato chips breaking off and swimming around in your dip, do you?
The great thing about dip is that you can adjust the flavor to your liking. Add more garlic powder, kosher salt or hot sauce, as desired.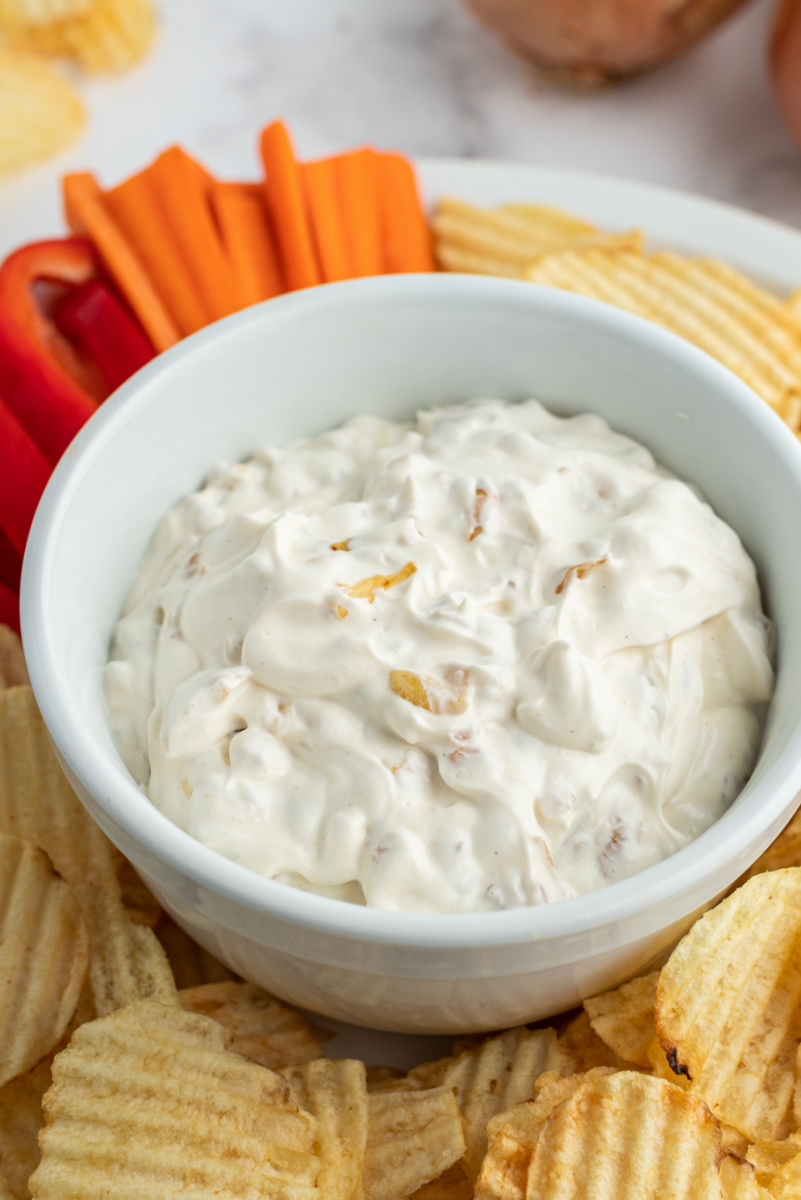 For the best results, cover and refrigerate for at least one hour before serving. This gives the flavors a chance to come together. Serve with chips and your favorite veggies for dunking. Enjoy!
Fun Facts About Chips and Dip:
85% of Americans eat potato chips.
1.2 billion pounds of potato chips are sold in America every year.
It takes 10,000 pounds of potatoes to make 3500 pounds of potato chips.
Tons of chips and dip are consumed on Super Bowl Sunday, and French onion dip is one of the most popular Super Bowl recipes ever.
Tortilla chips and salsa became the official state snack of Texas in 2003.
Double dipping (dipping a chip, eating part of it, and then dipping it again) is generally frowned upon because of the transfer of bacteria.
46% of males double dip vs. 32% of females.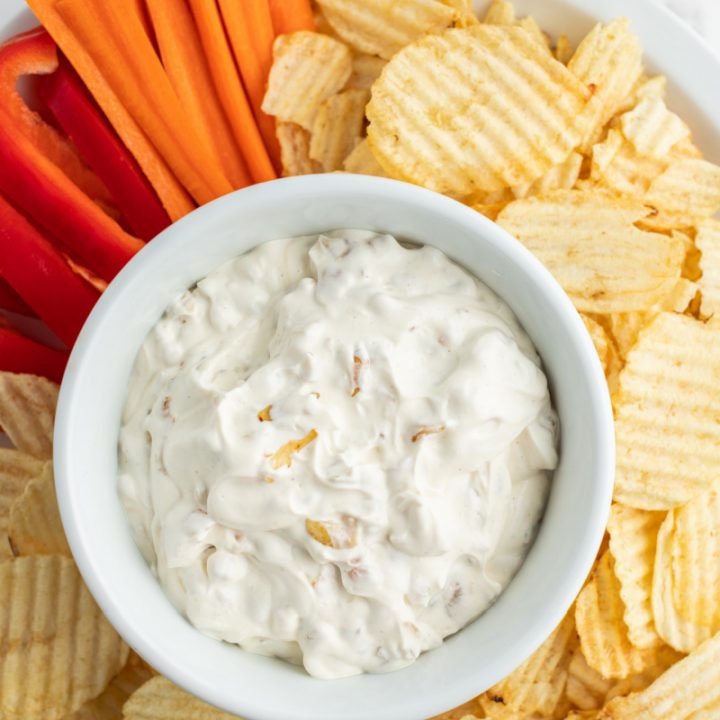 Caramelized Onion Dip
This is a thick and creamy onion dip with sweet flavor from perfectly caramelized onions.
Ingredients
CARAMELIZED ONIONS:
2 tablespoons olive oil
3 cups finely diced sweet onion
1/4 teaspoon kosher salt
DIP:
1 1/2 cups sour cream
3/4 cup mayonnaise
1/2 teaspoon garlic powder
1/2 teaspoon kosher salt
1/4 teaspoon white pepper
dash of hot sauce (Tabasco recommended), to taste
1/8 teaspoon red pepper flakes, optional
sturdy, ridged potato chips (for serving)
Instructions
MAKE THE CARAMELIZED ONIONS:
In a large skillet, heat the olive oil over medium heat. Add the onion and salt. Cook, stirring every so often, until the onion begins to caramelize and turn golden brown, about 30 minutes. Don't stir the onions constantly because you want them to brown, but do watch that they aren't browning too quickly or burning and adjust the heat as needed. Remove the onions from heat and set aside to cool.
MAKE THE DIP:
In a medium bowl, mix the remaining sour cream, mayonnaise, garlic powder, Kosher salt, white pepper, hot sauce and red pepper flakes. Then stir in the cooled onions. Taste, and adjust seasonings, as desired.
Nutrition Information:
Yield:

12
Serving Size:

4 tablespoons dip
Amount Per Serving:
Calories:

196
Total Fat:

19g
Saturated Fat:

5g
Trans Fat:

0g
Unsaturated Fat:

13g
Cholesterol:

23mg
Sodium:

245mg
Carbohydrates:

6g
Fiber:

0g
Sugar:

3g
Protein:

1g
Nutritional information is estimated using a nutrition calculator. Info is for dip only (no chips).