Pecan Praline Chocolate Matzoh is often referred to as Matzo crack. It's four delicious layers of Matzoh, toffee, chocolate and pecans.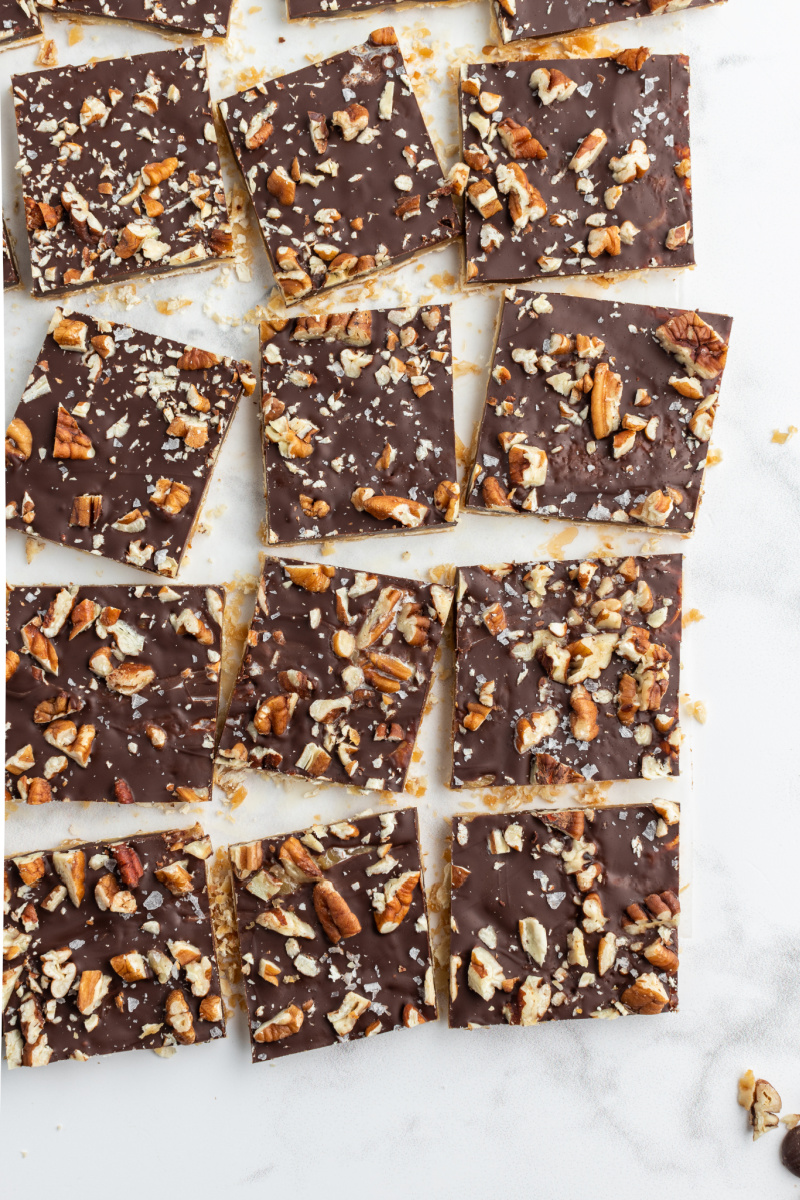 Passover:
In 2021, Passover is a Jewish holiday that spans 8 days from March 27th through April 4th. During Passover it is customary not to eat, or even possess, any food that may contain leaven. Leaven is a food or beverage that contains any grain product (wheat, barley, oats, spelt and rye) that has been fermented in water. In the days before Passover, observant Jews clean their homes thoroughly in order to remove any leavened food, including everyday pots, pans, and dishes. Often, even non-religious Jews will eat matzah on Passover instead of bread. Save the Hamantaschen for Purim, and make a dessert with matzoh for Passover. This recipe for Pecan Praline Chocolate Matzoh comes from my friend Allison. Make it for your Seder dinner to help celebrate Passover!
The History of Passover:
Most of the information shared in this post comes directly from pjcc.org, who has great, simplified descriptions of Passover:
Passover, or Pesach (PEH-sach) in Hebrew, commemorates the slavery of the Israelites in Egypt and their ultimate exodus to freedom. This story of redemption from slavery is the "master-story" of the Jewish People – a story that has shaped Jewish consciousness and values. It is just as relevant today for all humankind as it was 3,400 years ago.
The story harks back to the family of Jacob, who fled their home in Canaan in the face of a terrible famine. They made their way to Egypt where they were welcomed and became a populous people. But when a new king arose in Egypt, he feared the growing Israelite population and enslaved them, a sentence that continued for the next 210 years. Then the God of Israel appeared to a simple shepherd, Moses, in a burning bush, instructing him to go to Egypt and free the slaves.
The story of Passover relates the struggle between God, who demands freedom for the Israelites, and Pharaoh, who symbolizes the hard-hearted forces of self-aggrandizement, tyranny, and enslavement. God breaks Pharaoh's spirit by inflicting Egypt with 10 plagues. During the night of the final plague, God "passed over" and protected the houses of the Israelites, giving the festival its name. Moses led the people of Israel out of Egypt and, with the Egyptian army chasing after them, split the waters of the Red Sea, allowing the Israelites to cross the sea on dry land and escape. Since they escaped Egypt in a hurry, they did not have time for their bread to leaven and rise, giving Passover its most famous symbol–matzah–which is Hebrew for "unleavened bread."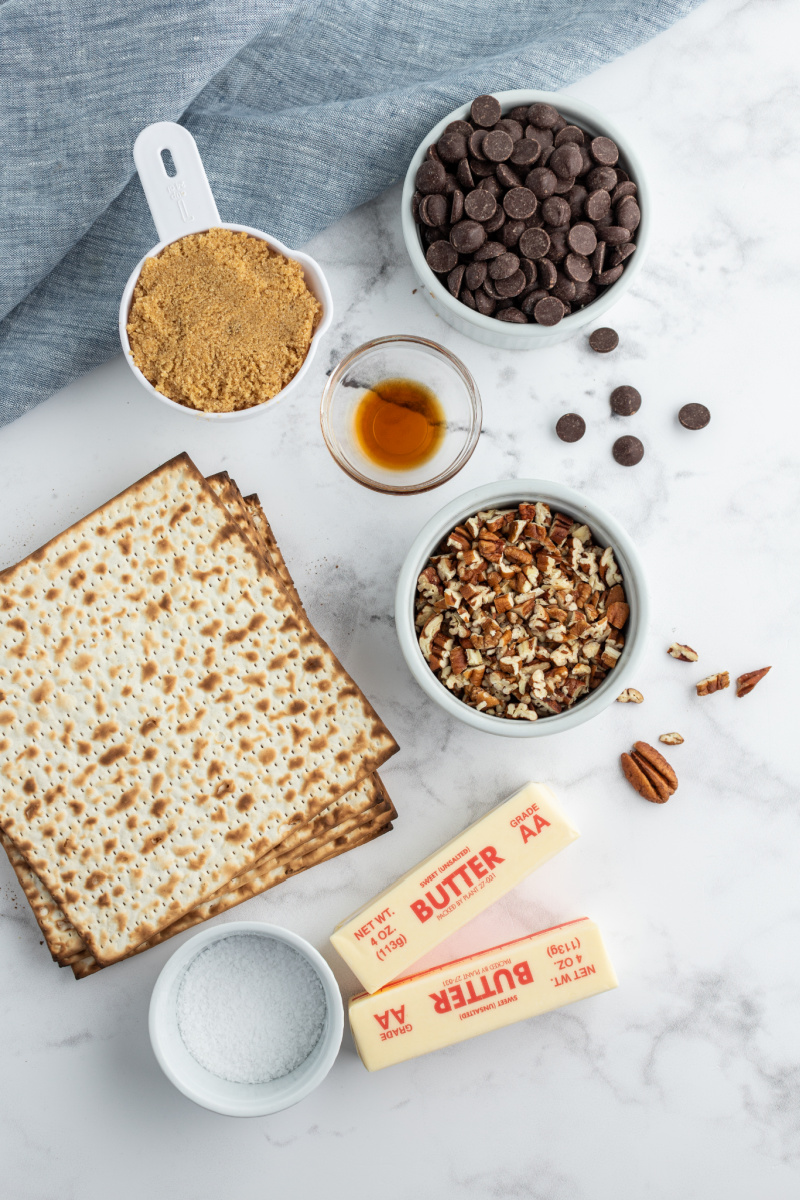 Ingredients needed:
Matzoh crackers
butter
brown sugar
sea salt
vanilla extract
semisweet chocolate chips
toasted pecans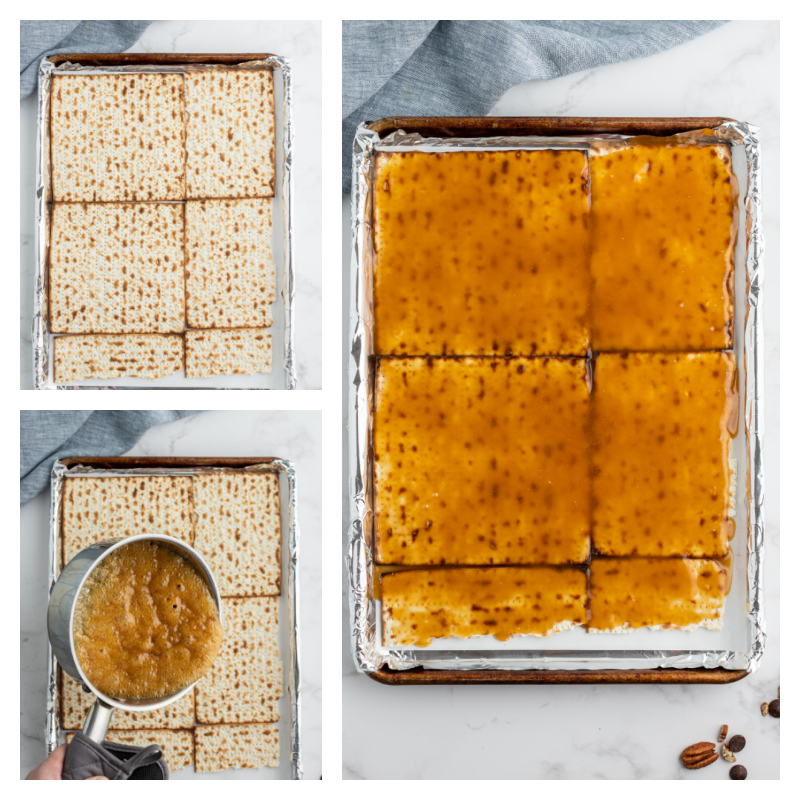 How to make Pecan Praline Chocolate Matzoh:
Line a baking sheet with foil, and then parchment paper. Lay the matzoh on top of the parchment paper.
Melt butter and sugar together and simmer until bubbling and caramel-like. Stir in the vanilla extract, and then pour it over the matzoh. Spread it around to cover the matzoh. Bake it for 13 minutes.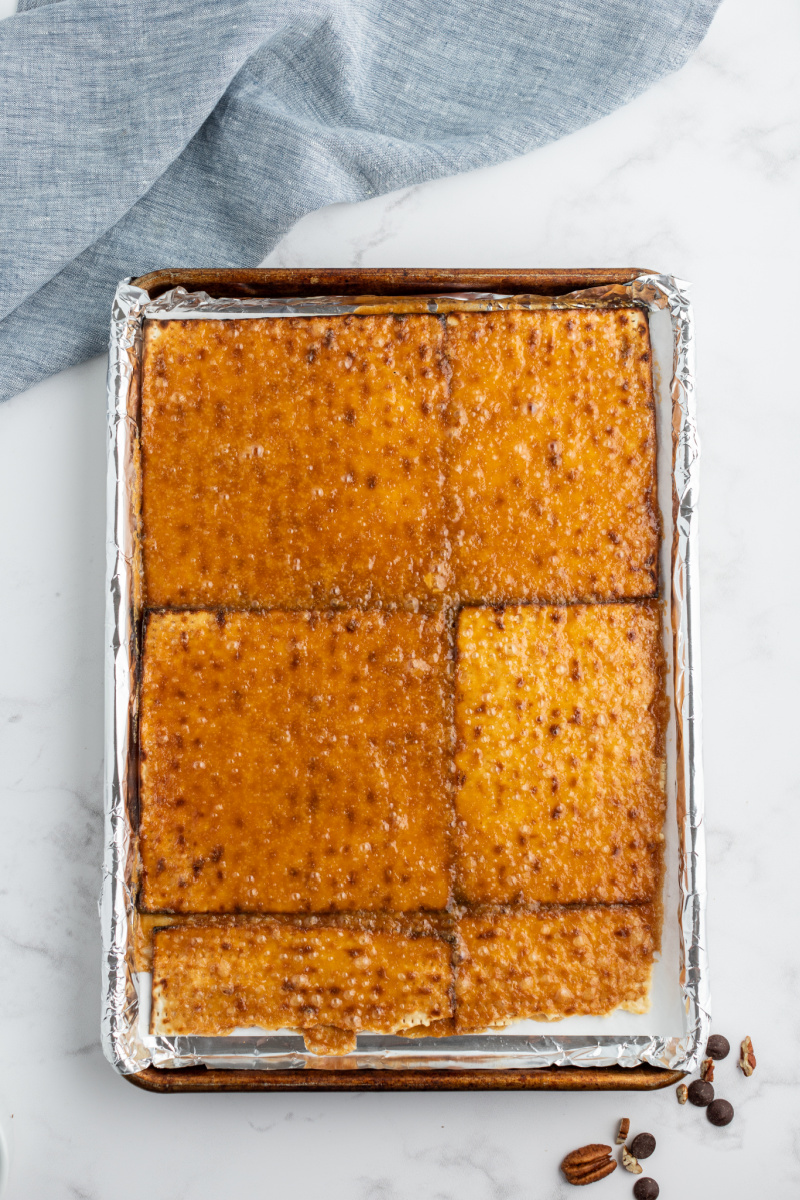 At this point, it's totally matzoh crack. Matzoh covered with caramel toffee. You need to work quickly because the chocolate will need to be added while the toffee layer is still hot.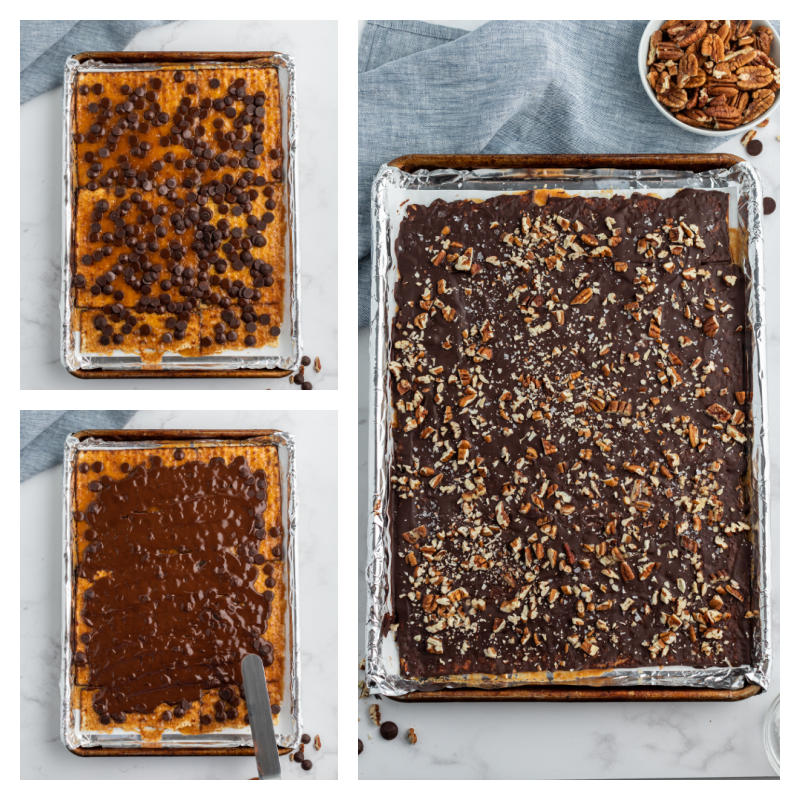 Sprinkle chocolate chips on top of the toffee layer. They'll melt quickly, and then you can spread the melted chocolate to cover. Sprinkle toasted pecans and sea salt on top of the chocolate.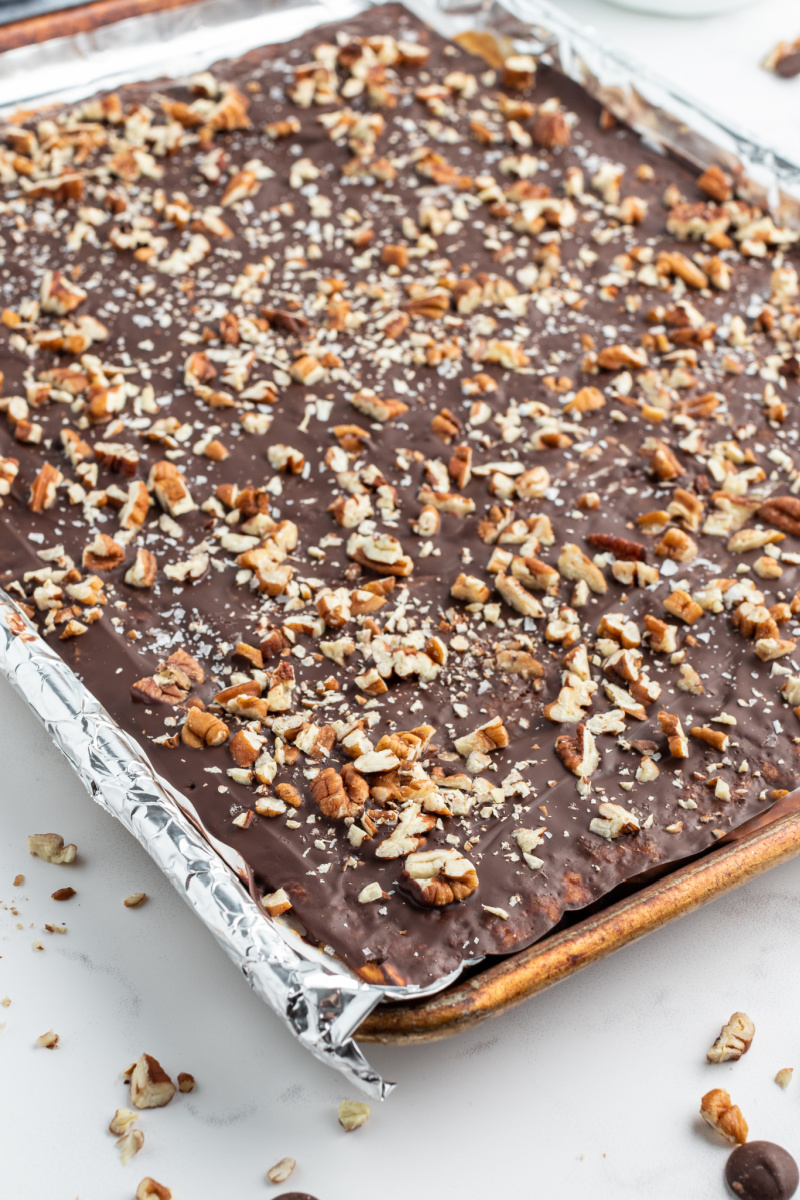 Let it cool off and set. Then you'll have a pan of totally delicious Pecan Praline Chocolate Matzoh!
Remove the whole thing from a pan and transfer it to a cutting board. Cut it into pieces.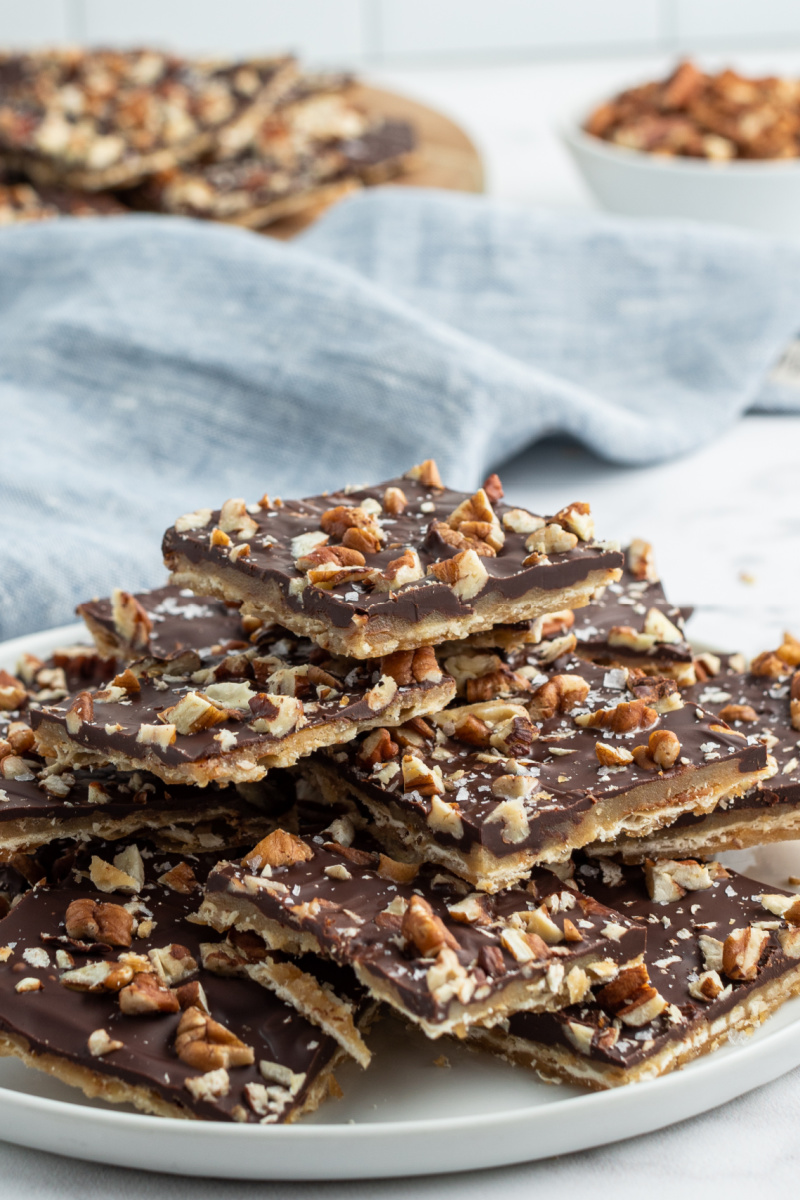 And your Praline Pecan Chocolate Matzoh is ready to serve! Store your Matzoh crack in a sealed container in a cool place. It can also be frozen in a sealed container.
Symbolic foods for a Passover Seder:
The central ritual of Pesach is the Seder, a carefully choreographed ritual meal that takes place on the eve of Passover at home with family and friends or with the community. The Seder begins by reading the Hagaddah, an 1800-year-old book that retells in detail the story of the Exodus from Egypt.
An essential part of the Seder is eating ritual foods symbolic of the journey from slavery to freedom:
Four cups of wine symbolizes joy. Red wine is commonly served for Passover. It should have the Kosher seal of approval. Many people serve Manischewitz, a sweet concord grape wine- somewhat of a staple in a kosher home. Grape juice can be given to children.
Maror (bitter herbs) symbolizes the suffering of slavery. This is usually eaten in the form of horseradish.
Salt water symbolizes the tears of slaves.
Charoset (a sweet paste made from fruit and nuts) symbolizes the mortar the slaves used to build the Egyptian pyramids.
Zeroah (shank bone) represents the Passover sacrifice.
Beitzah (hard boiled egg) represents spring life and birth.
Karpas (green, leafy vegetables) are symbolic of hope and redemption.
Matzoh symbolizes the poor bread of slaves and a symbol of freedom.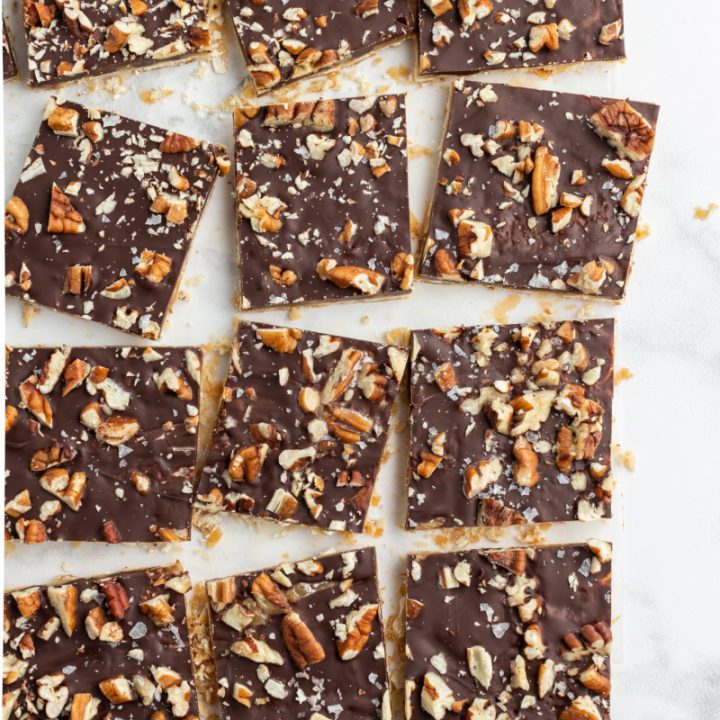 Pecan Praline Chocolate Matzoh
Four delicious layers of Matzoh, toffee, chocolate and pecans.
Ingredients
4 sheets matzoh
1 cup (2 sticks) unsalted butter
1 cup packed light brown sugar
1/2 teaspoon vanilla extract
1 1/2 cups semisweet chocolate chips
1 cup toasted pecans
sea salt
Instructions
Preheat the oven to 350 degrees.
Fully line a rimmed baking sheet with foil and put parchment paper on top.
Lay the matzoh on the baking sheet in one layer. Break as needed to fit.

In a saucepan on medium heat, melt the butter and add the sugar. Whisk continually until it bubbles and thickens into a caramel like substance. Stir in the vanilla and pour the mixture over the matzoh, spreading it evenly with a spatula.

Bake for 13 to 15 minutes on 350. Remove and immediately sprinkle on chocolate chips. Wait 5 minutes until melted and spread out the melted chocolate with a knife. Sprinkle on the chopped nuts and salt and let cool completely. Freezing for 15 minutes will speed up this process.
When cooled you can break into pieces and store in an airtight container.
Notes
This recipe was given to me from a friend who celebrates Passover!
Nutrition Information:
Yield:

24
Serving Size:

1 piece
Amount Per Serving:
Calories:

189
Total Fat:

14g
Saturated Fat:

7g
Trans Fat:

0g
Unsaturated Fat:

6g
Cholesterol:

20mg
Sodium:

88mg
Carbohydrates:

17g
Fiber:

1g
Sugar:

14g
Protein:

1g
Nutritional information is estimated using a nutrition calculator