Slow Cooker Mulled Cider is a delicious hot beverage that is perfect for making and enjoying during the fall and winter months.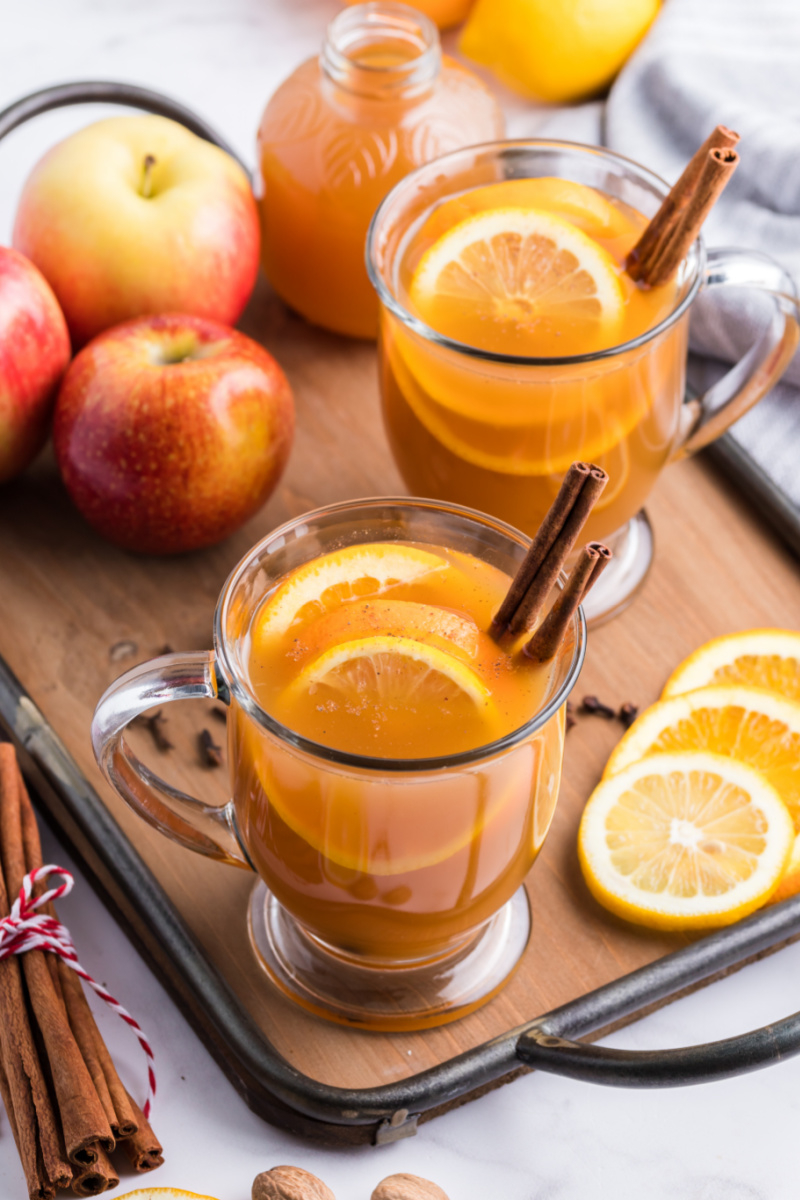 September 30th is National Mulled Cider Day. Celebrate by making your very own homemade slow cooker mulled cider! Share this cider with everyone around you. It's such a delicious, warm-you-up beverage! Share your mulled cider on social media by using the hashtag #NationalMulledCiderDay, #MulledCiderDay and #RecipesForHolidays. Be sure to keep an eye on my October Food Holidays page so you can keep track of all the food holidays in the month of October.
The History of Mulled Cider:
Mulled Wine (spiced and heated wine) dates back to 2nd century Rome.
Mulled Cider is a descendant of Wassail- an old English beverage made from roasted apples. Wassail means, "good health." The story goes that a young maiden presented the drink to Prince Vortigen saying "waes hael" in a toast. The term wassailing refers to the act of the pewter bowl of wassail being carried into the room with a grande display of singing and serving.
Originally, wassail was made from mulled ale, curdled cream, roasted apples, eggs, cloves, ginger, nutmeg and sugar.
Nowadays, there isn't a difference between mulled cider and wassail. It has evolved into a non alcoholic, warmed and spiced apple cider.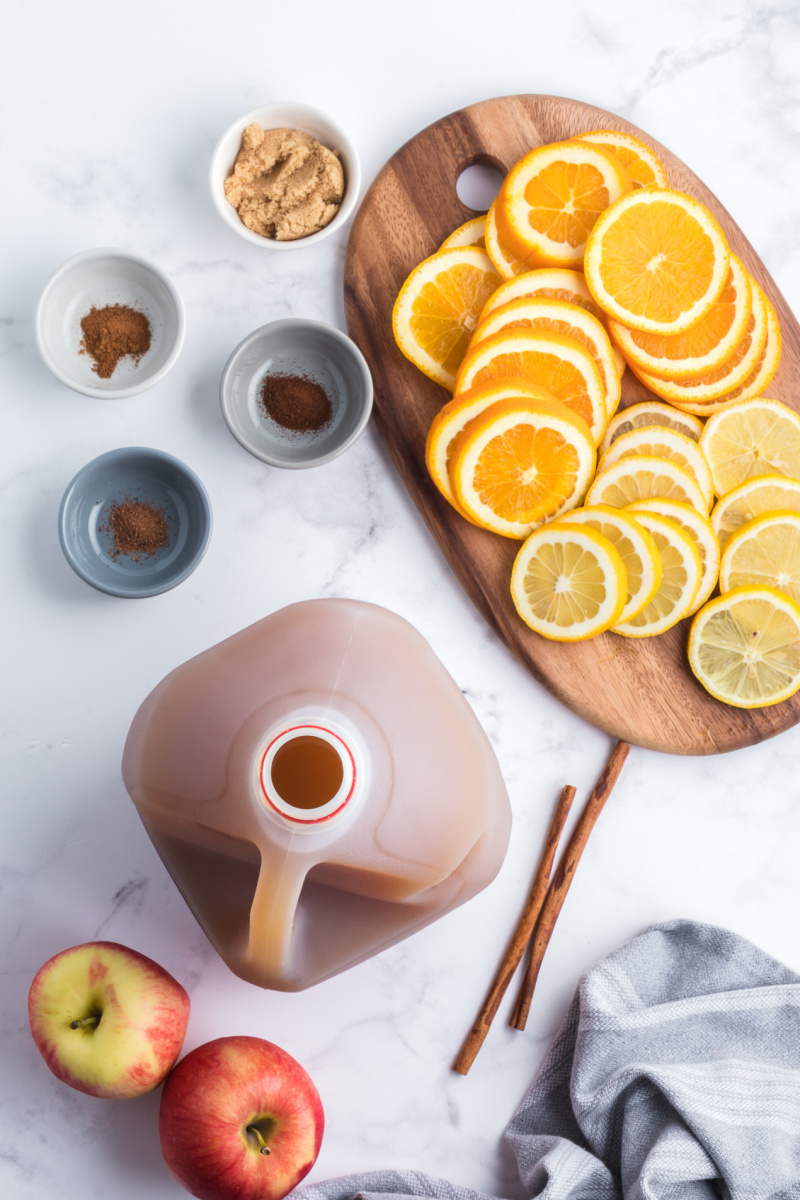 Ingredients needed:
apple cider
oranges
lemons
cinnamon sticks
brown sugar
cinnamon
nutmeg
cloves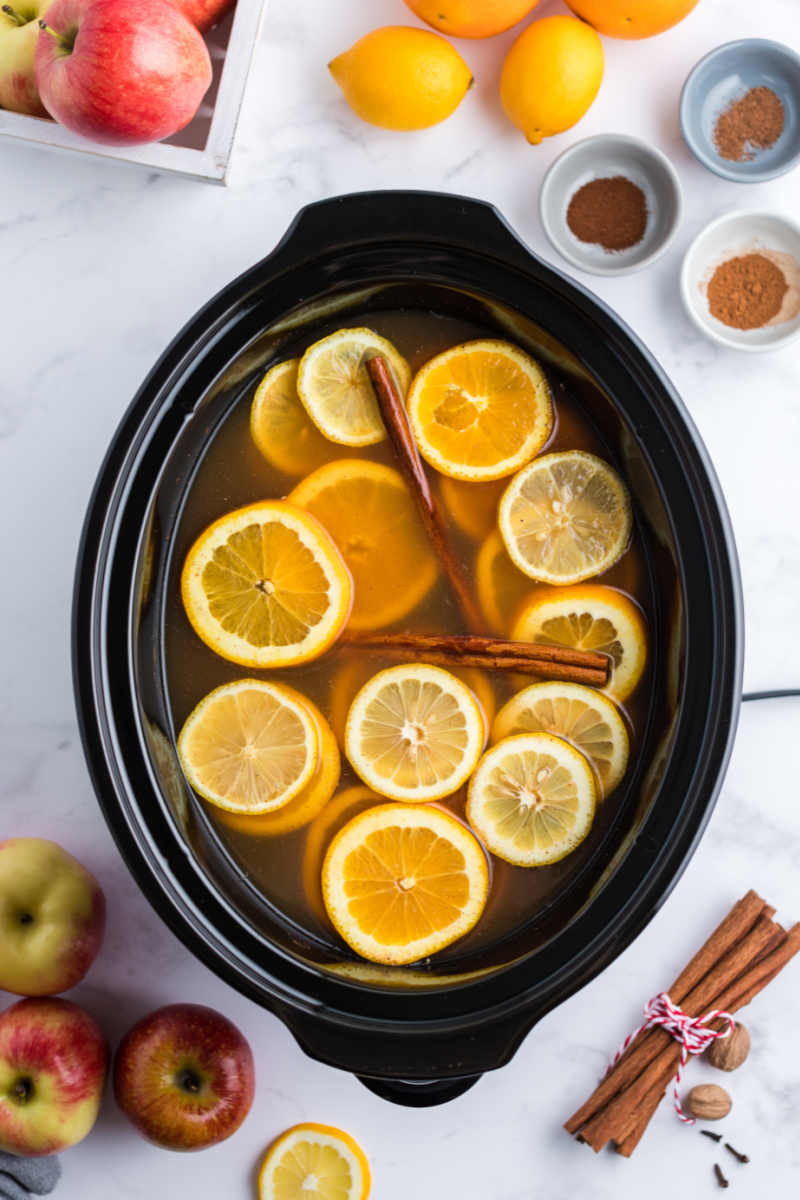 How to make Slow Cooker Mulled Cider:
Add apple cider to your slow cooker insert. Add slices oranges and lemons, cinnamon sticks and brown sugar. Heat on high for two hours. Then sprinkle in some cinnamon, nutmeg and cloves. Simmer on low for another hour.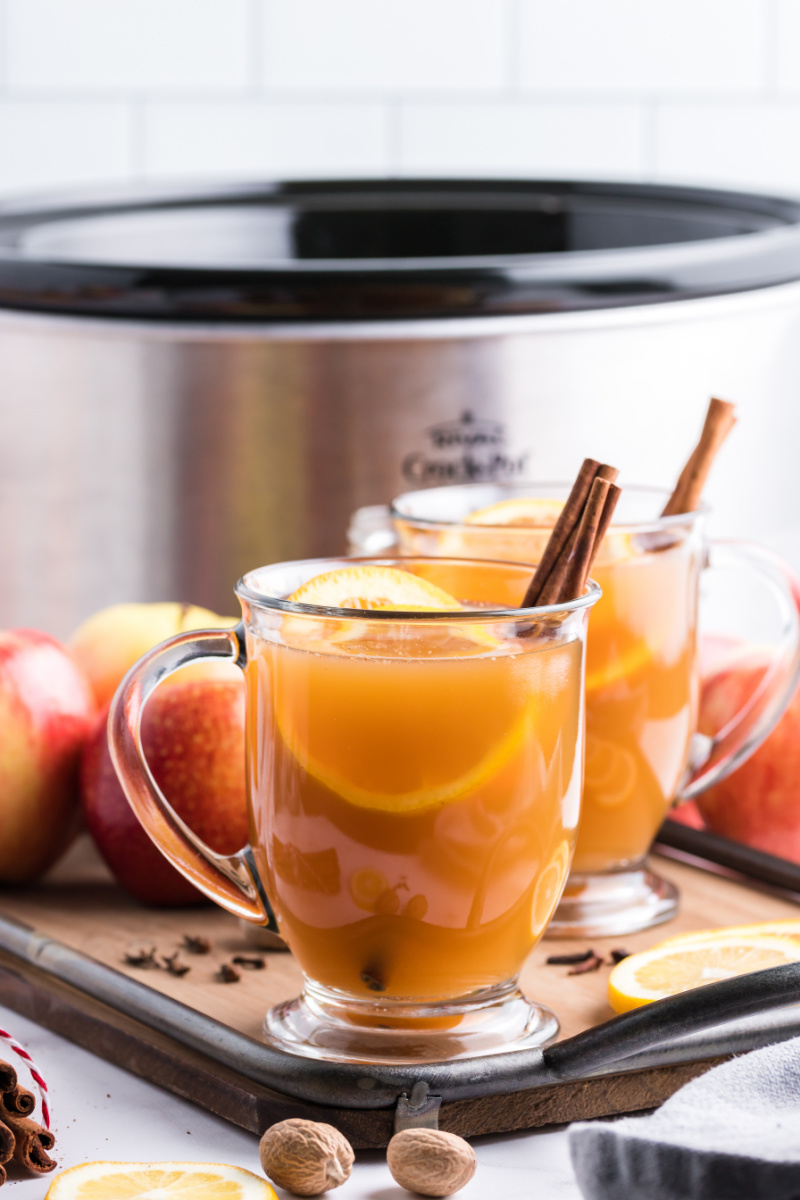 Add the slow cooker mulled cider to mugs, and garnish with fruit and perhaps a cinnamon stick.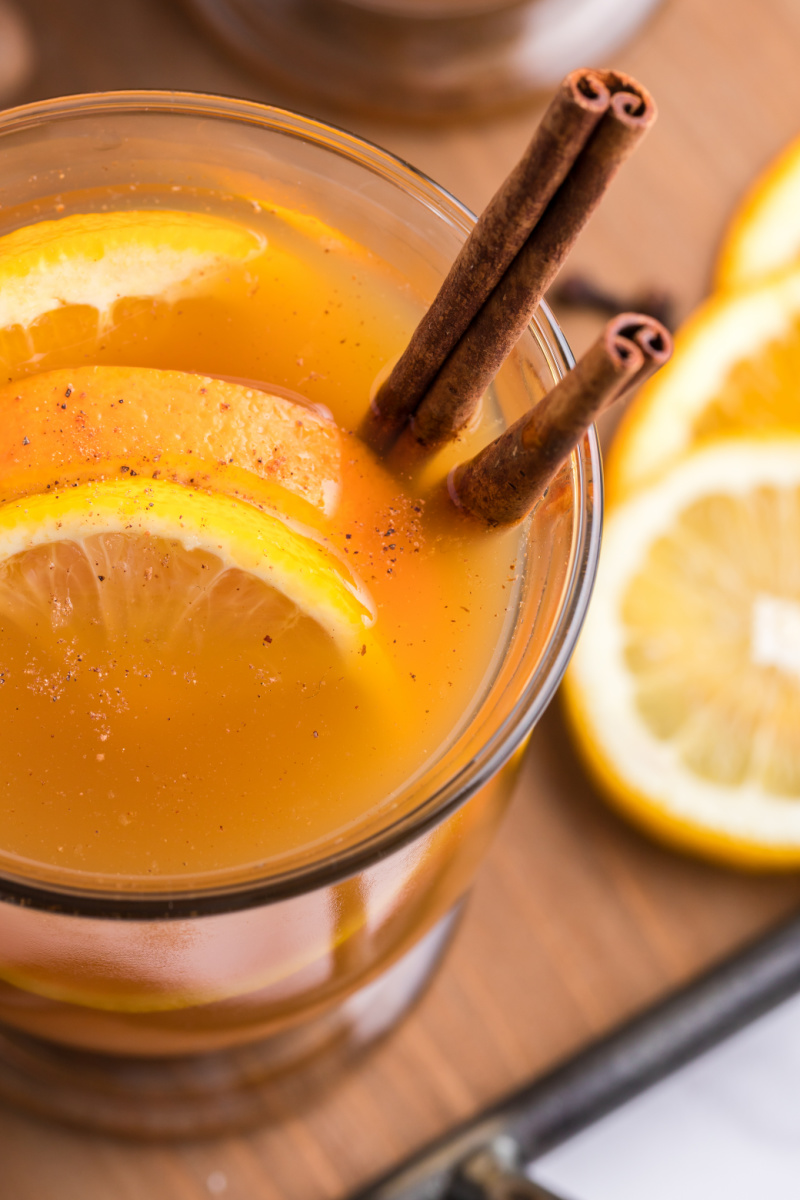 Move over hot chocolate! Grab a cup or two of slow cooker mulled cider, and plan a wassailing tour around your neighborhood this fall!
Fun Facts About Mulled Cider:
Hot mulled cider is a popular beverage to make during the fall and winter months.
Mulled cider is now a popular beverage to make and enjoy on Halloween, Thanksgiving and Christmas.
Wassail (a hot mulled cider) was served while wassailing, a medieval southern English drinking ritual intended to ensure a good cider apple harvest the following year. These ceremonies still exist today!
Wassailing is now used as a verb describing caroling from house to house during the holidays.
The combination of spices varies, but it usually consists of cinnamon, cloves and nutmeg. Sometimes star anise is added in too. It can include fresh or dried fruit- apples, oranges or orange zest, lemons and raisins).
References to wassail and wassailing appear in many songs from rock bands and folk singers.
Wassail has been mentioned on television too- making appearances on Mystery Science Theater, the Frank Sinatra Show, The Simpsons, Frasier and Alton Brown's Good Eats.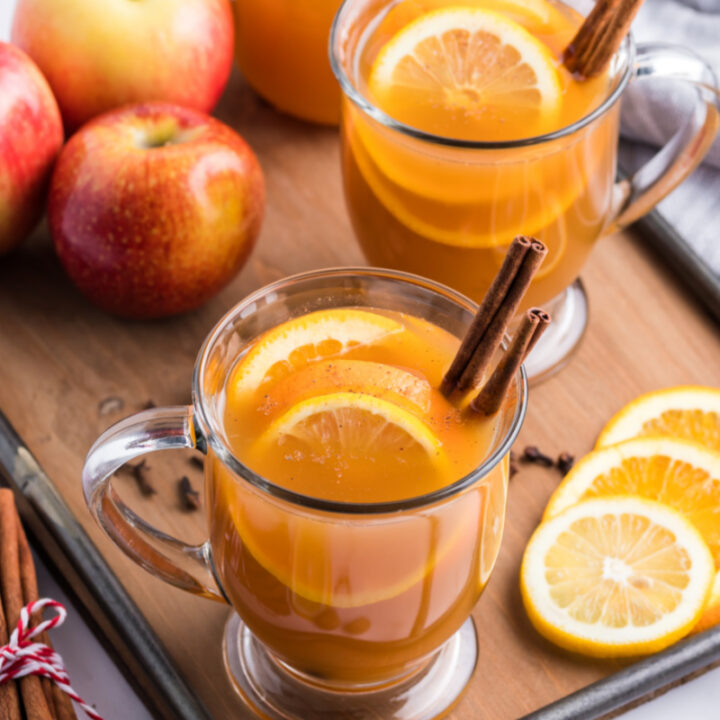 Slow Cooker Mulled Cider
Total Time:
3 hours
15 minutes
Here's a warm beverage that everyone should make in the fall and winter months!
Ingredients
1 gallon of apple cider
2 medium oranges, sliced
2 lemons, sliced
2 cinnamon sticks
2 tablespoons brown sugar
Dash of ground cinnamon
Dash of ground nutmeg
Dash of ground cloves
Instructions
Add apple cider to the slow cooker. You'll need to add the fruit to it, so if you cannot fit the whole gallon, don't worry about it.
Add the fruit to the cider. Add the cinnamon sticks. Stir in the brown sugar.
Heat, covered, on high for 2 hours. Add the light sprinkle of spices. Cover again, turn down to low and heat for one more hour. At this point, it's ready to serve.
You can add in more cider as the mulled cider in the slow cooker begins to disappear. Just stir it in, and the spices will combine with the newly poured cider.
Nutrition Information:
Yield:

15
Serving Size:

1 cup
Amount Per Serving:
Calories:

140
Total Fat:

0g
Saturated Fat:

0g
Trans Fat:

0g
Unsaturated Fat:

0g
Cholesterol:

0mg
Sodium:

11mg
Carbohydrates:

35g
Fiber:

1g
Sugar:

29g
Protein:

1g
Nutritional information is estimated using a nutrition calculator, so it's not likely to be 100% accurate.