Hot Chocolate Bombs are the newest, latest craze for making the best mug of hot cocoa ever! A hot chocolate bomb is a chocolate shell that is filled with hot cocoa mix and marshmallows. It's used to combine with hot water or milk to make a very chocolatey, delicious cup of hot chocolate. Watch the video in the recipe card at the end of this post for step-by-step details on how to make hot chocolate bombs!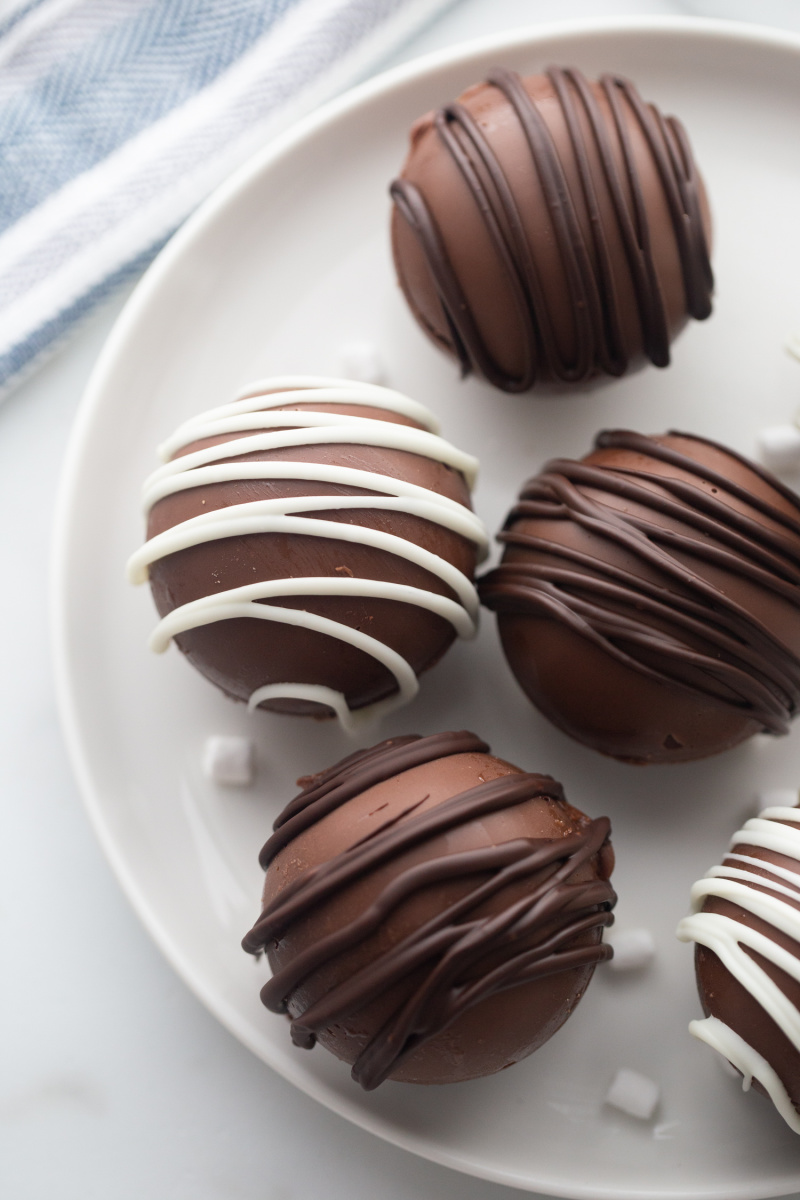 January 31st is National Hot Chocolate Day! Hot chocolate is characterized as ground chocolate combined with heated milk or water and sugar. Use this day to drink a couple of mugs of hot chocolate (make hot chocolate bombs!) to warm-you-up on a rainy, snowy, dreary winter day. Or enjoy a mug after skiing or sledding or just being cozy in the house. Enjoy a few Chocolate Covered Strawberries or some chocolate cake with your hot chocolate if you really want a chocolate-lovers kind of day!
Is there a difference between Hot Chocolate and Hot Cocoa?
Yes! In the United States, hot chocolate and hot cocoa are one-in-the-same and the terms are used interchangeably. Technically though, hot chocolate is chocolate stirred into warm milk with sugar. And hot cocoa is cocoa powder stirred into warm water or milk and sweetened with sugar.
The History of Hot Chocolate:
We are aware of hot chocolate dating back to 500BC. Ancient Mayans drank chocolate by crushing cocoa beans and mixing them with water, chili peppers and cornmeal. No sugar was added, so it was a very bitter drink.
In later years, Europeans experimented with using cocoa in drinks. And in 1876, Daniel Peter (a Swiss Chocolatier) created the first milk chocolate by combining milk powder with chocolate. This carved the path for the company Swiss Miss to create the very first hot chocolate powder mix in 1961.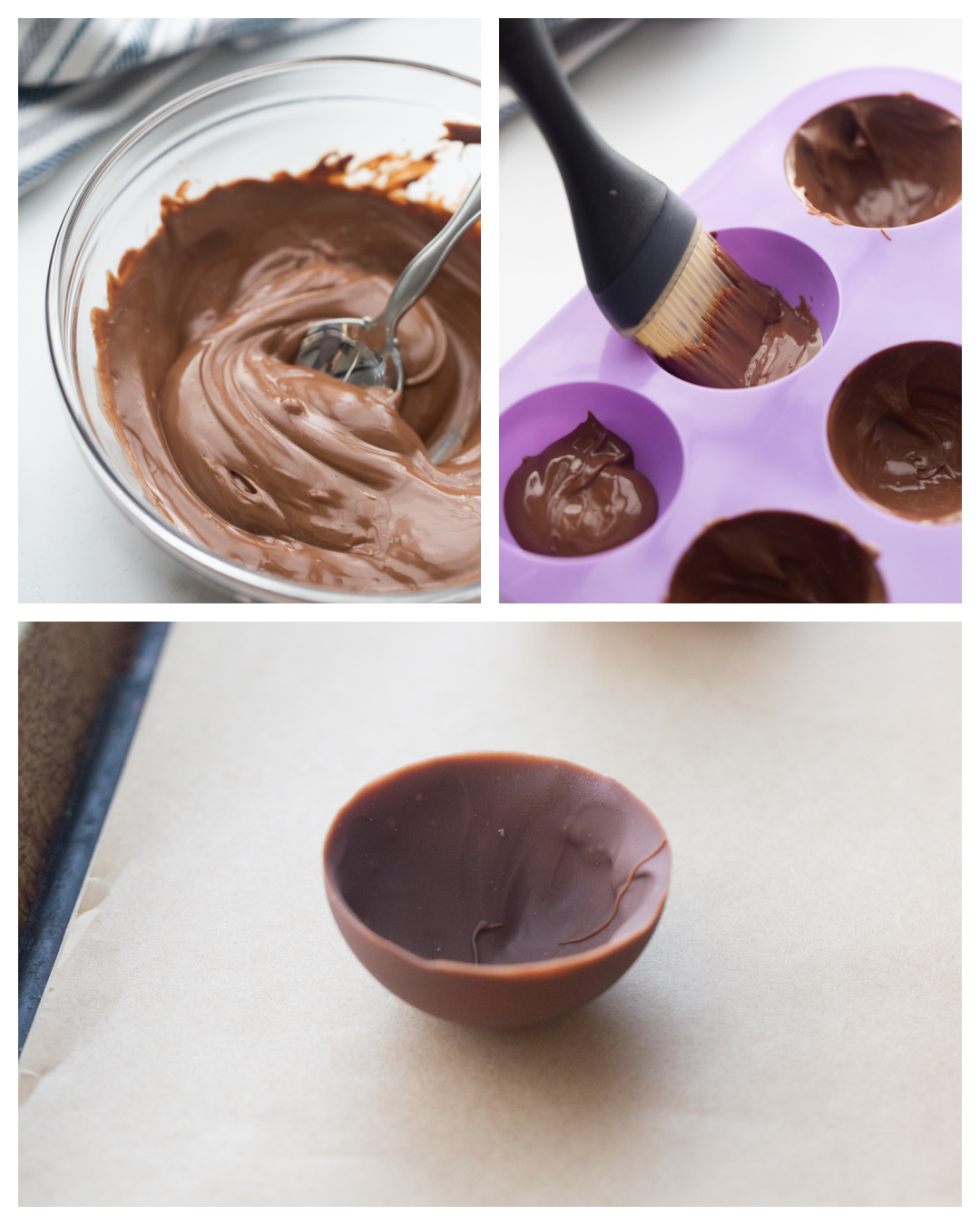 How to make Hot Chocolate Bombs:
Use melted milk chocolate to brush into silicone molds. Freeze the filled molds and then pop out 6 of them onto a work surface.
Silicone Molds for Hot Chocolate Bombs:
Silcone molds are a must-have for making hot cocoa bombs. These can be easily ordered on Amazon. This two pack of silcone molds is exactly what you need (super cheap). Or you can buy a hot cocoa bomb kit that includes the molds, a brush, a rubber spatula and a piping bag.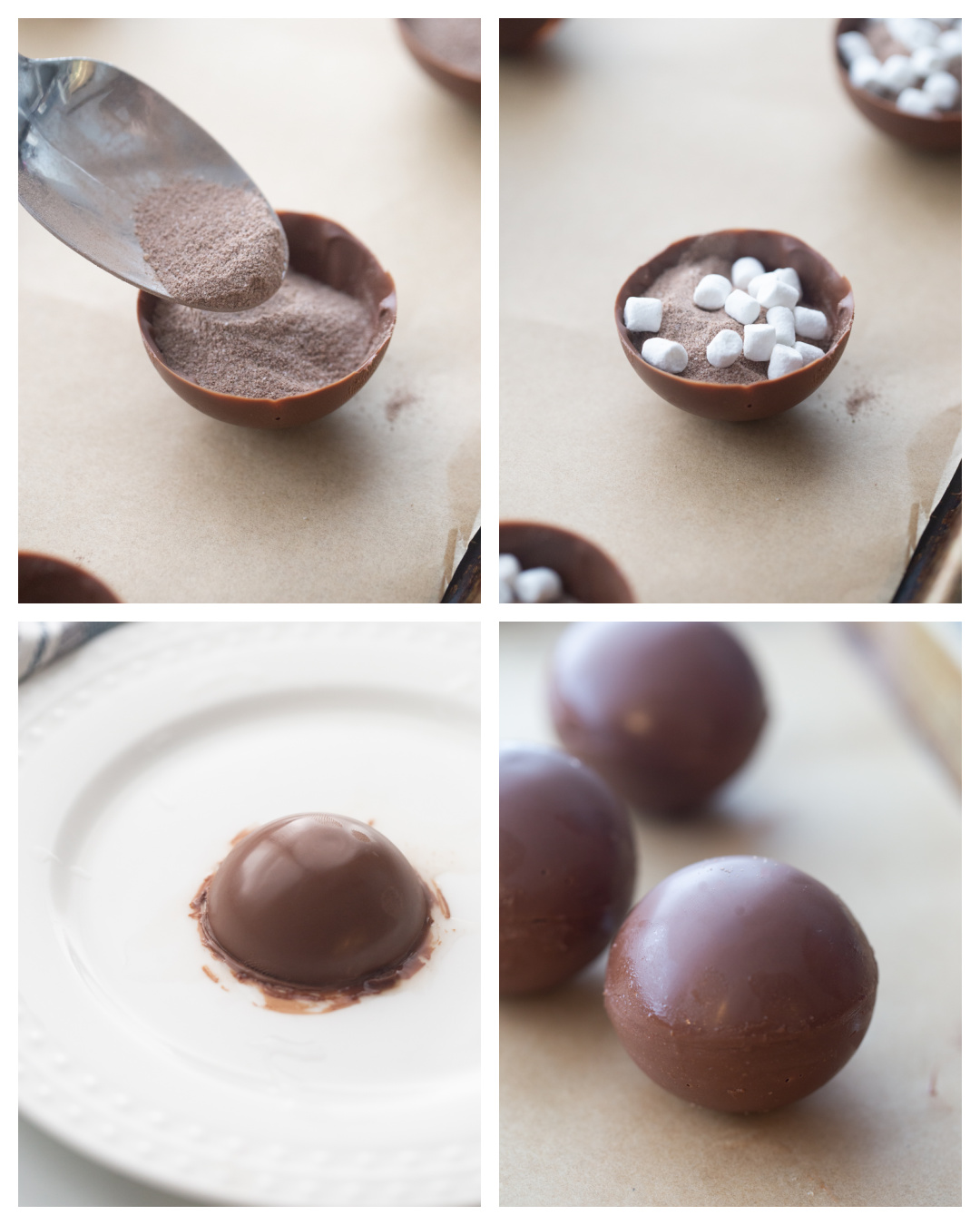 The molds are filled with hot cocoa mix and a few mini marshmallows. The other half of the chocolate mold is then removed from the freezer and placed briefly on a heated plate. This will allow the mold to melt slightly, and then you will place it on top of the filled mold and rub the sides to seal the hot chocolate bombs.
As they set, they become big chocolate bombs that are secretly filled with all the goodies that will make the best mug of hot cocoa!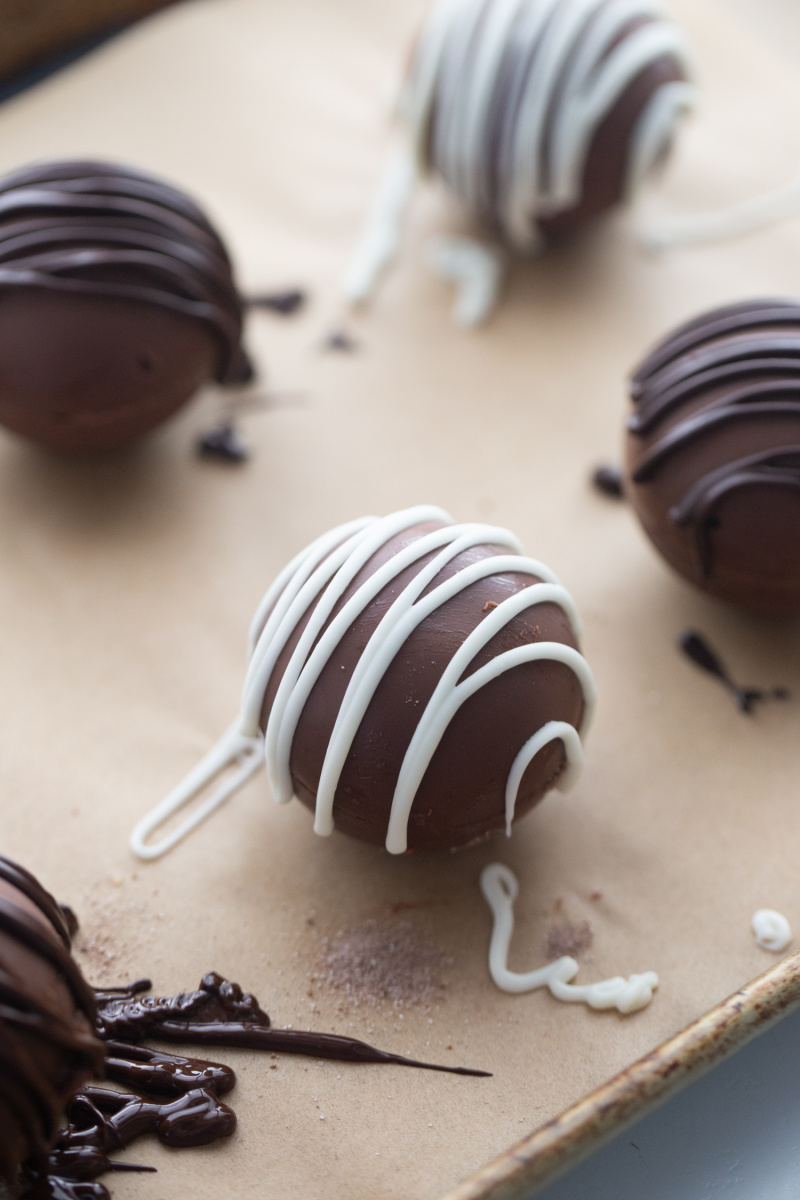 If you'd like, you can drizzle some white or dark chocolate on top to make them extra pretty.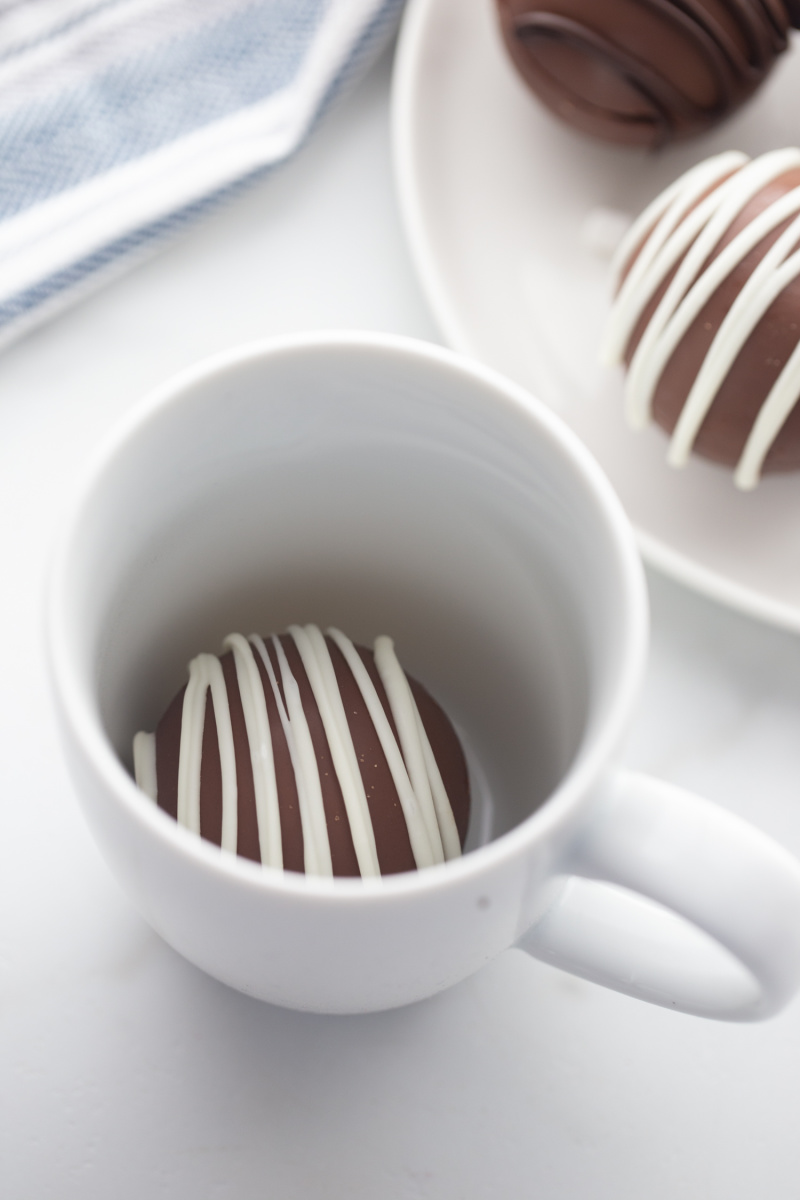 How to use Hot Chocolate Bombs:
Place a bomb in a mug. Pour steaming hot water or milk over the top. The chocolate will melt, and the marshmallows will float to the top.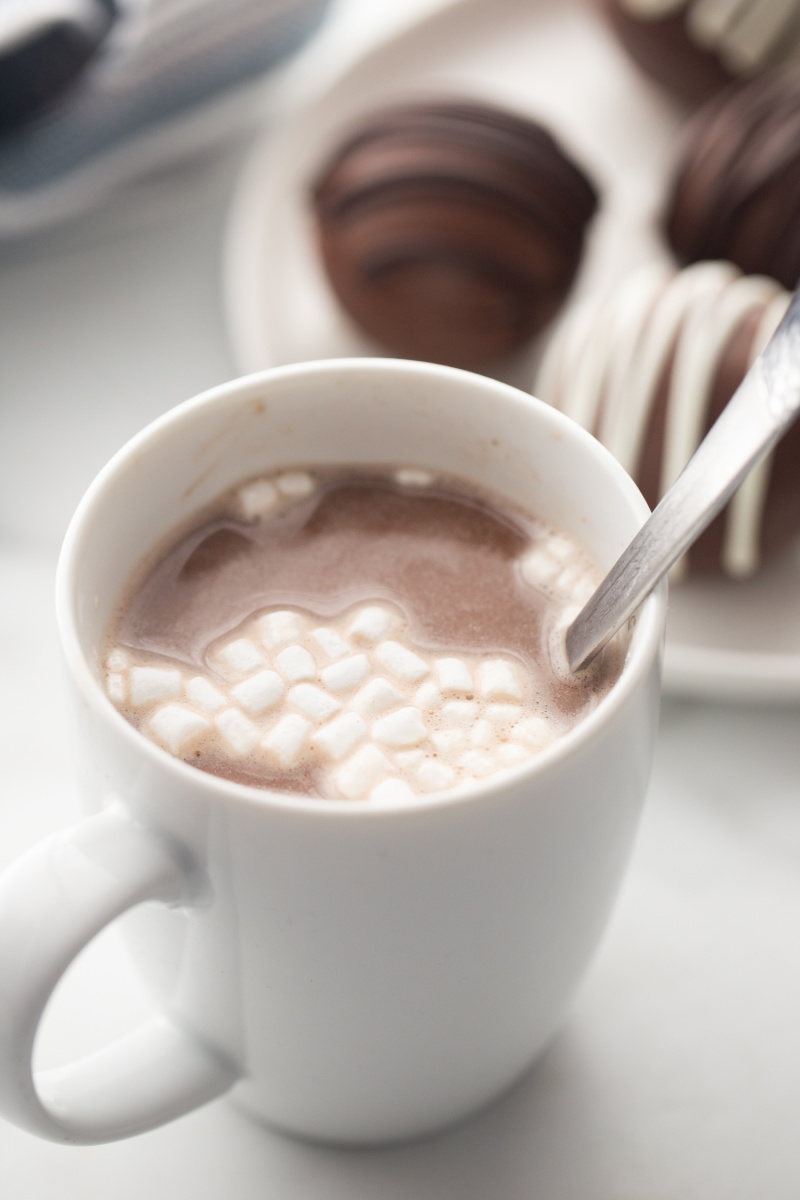 Give it a brisk stir to incorporate all of the hot cocoa mix and melted chocolate. Drink, and enjoy!
If it's not a chilly day, you can also enjoy Frozen Hot Chocolate! Baking Hot Chocolate Cookies is a great idea too.
How to jazz up Hot Chocolate:
Add whipped cream.
Add sprinkles.
Put marshmallows on top.
Mix in a little Baileys or Kahlua.
Use coffee as the base for your hot chocolate instead of water or milk.
Sprinkle cinnamon on top (or add a cinnamon stick stirrer).
Add peppermint (or add a peppermint stick stirrer).
Stir in some dark chocolate or milk chocolate.
Add a pinch of salt.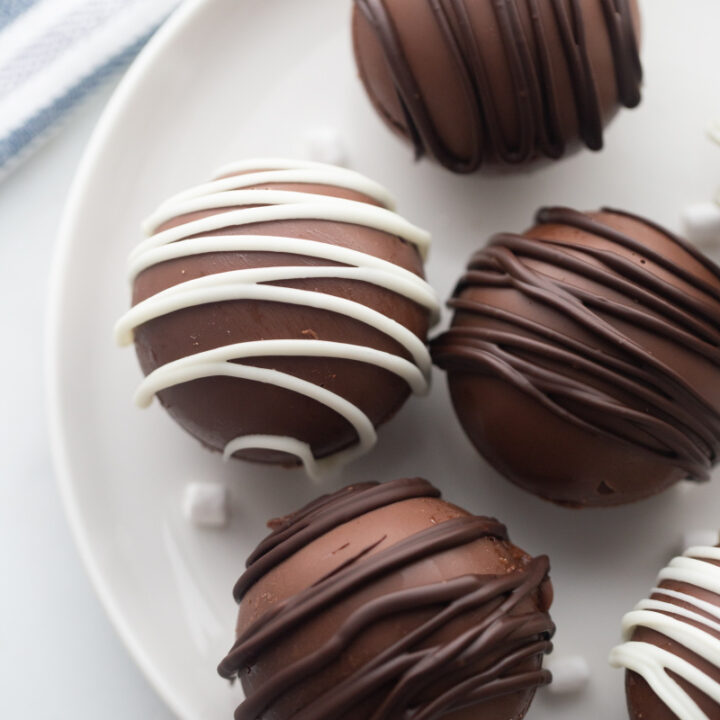 Hot Chocolate Bombs
Chocolate balls filled with hot chocolate mix and mini marshmallows to make a fun mug of hot chocolate!
Ingredients
1 cup milk chocolate chips
1/2 cup hot cocoa powder (like Swiss Miss)
1 cup mini marshmallows
1/2 cup dark chocolate chips
1/2 cup white chocolate (or chips)
Instructions
In a glass bowl, melt the chocolate in the microwave for 15 second bursts, stirring after each burst, until melted and smooth.
Use a pastry brush to brush 12 semi-spheres with a thick layer of the melted chocolate. Place the molds in the freezer for 5 to 10 minutes to allow the chocolate to set. I recommend brushing a double layer in order to create thick shells.
Once cold and solid, remove 6 of the semi-spheres from the mold and transfer them to a rimmed baking sheet that has been lined with wax paper. Fill each with a couple of spoonfuls of the hot cocoa powder and some mini marshmallows.
Run a plate under hot water until it's warm to the touch. Take out the other 6 semi-spheres from the freezer, and gently place an open edge on the plate until it begins to melt slightly. Cover a chocolate-filled half with the empty, melted edge half to seal the chocolate bomb. Rub the chocolate with your fingers to seal (grab some melted chocolate from the plate if you need to). Repeat with the remaining ingredients. Let the bombs sit until the chocolate is set (or place into the freezer to set more quickly).
Melt dark chocolate and white chocolate in separate bowls. Transfer to piping bags or small zip baggies with the tip snipped off. Drizzle
decoratively onto the hot chocolate bombs. Let set, or transfer to the freezer to set.
To make hot chocolate, place a hot chocolate bomb into a mug and pour hot water or hot milk on top of the bomb. It should open up and the marshmallows will float up to the surface. Stir to incorporate the mix and the chocolate into the water/milk.
Nutrition Information:
Yield:

6
Serving Size:

1 bomb
Amount Per Serving:
Calories:

356
Total Fat:

18g
Saturated Fat:

10g
Trans Fat:

0g
Unsaturated Fat:

5g
Cholesterol:

11mg
Sodium:

45mg
Carbohydrates:

44g
Fiber:

3g
Sugar:

34g
Protein:

5g
Nutritional information is estimated.