This Ambrosia recipe will bring you back to the 1950's in a heartbeat. Remember that creamy salad packed with canned fruits, coconut, marshmallows and nuts? That's ambrosia salad!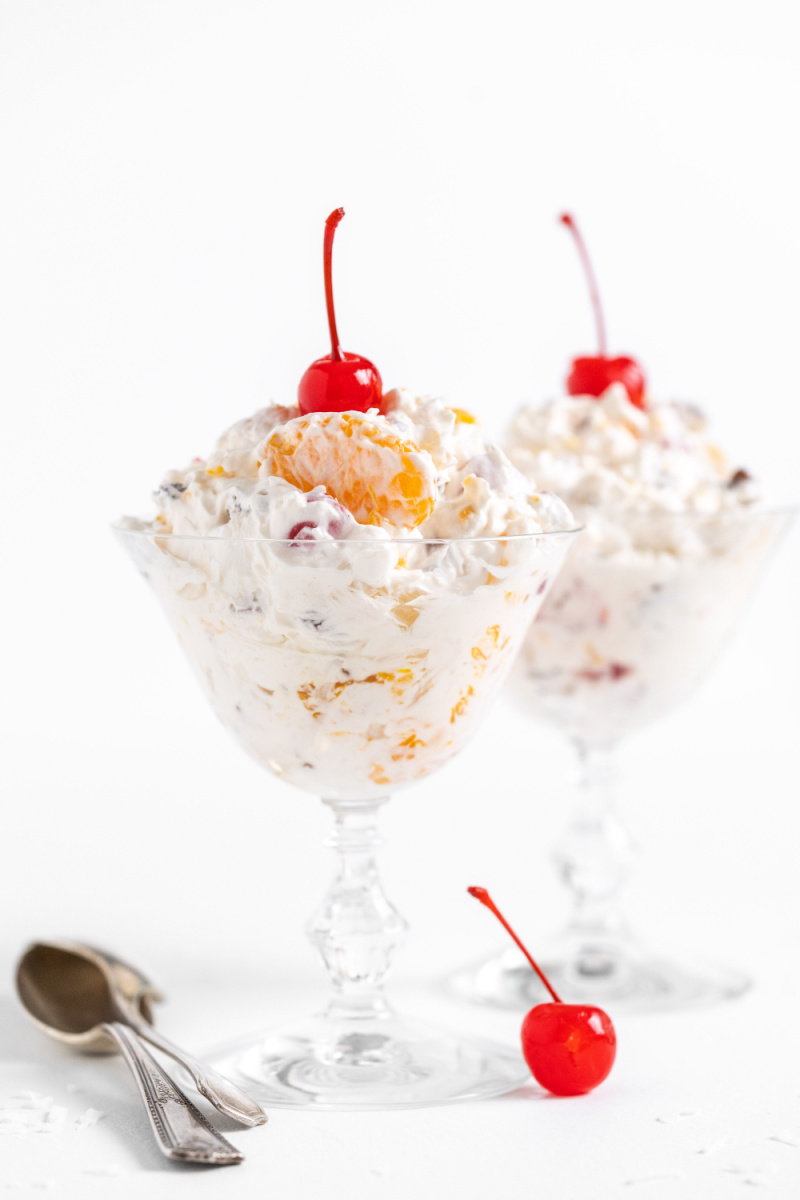 December 12th is National Ambrosia Day! Since Ambrosia is a classic 1950's salad, there aren't many places where you can pick it up for purchase unless you've got a good, old-fashioned deli around town. It's very easy to make it at home, so that's what you should do. This Ambrosia recipe has basic ingredients, and it will remind you of days long ago! Be sure to follow my December Food Holidays page so you don't miss a food holiday in the month of December.
The History of Ambrosia:
Ambrosia began surfacing in the United States in the 1800's. The earliest reference to ambrosia was in the 1867 cookbook Dixie Cookery by Marie Massey Barringer.
The once hard-to-find ingredients were considered luxurious and exotic. So it made sense that it was known as a treat to make for holidays and special occasions.
In the late 1920's, marshmallows were introduced to this "salad." Many argue whether ambrosia is a salad or a dessert. It contains a good deal of fruit, but there is plenty of sweet stuff added in too!
It was a very popular side dish in the early to mid 1900's. As the decades have progressed, the popularity of ambrosia has subsided. It's still around today, but it's not quite as common to see it on holiday dinner tables or at potlucks.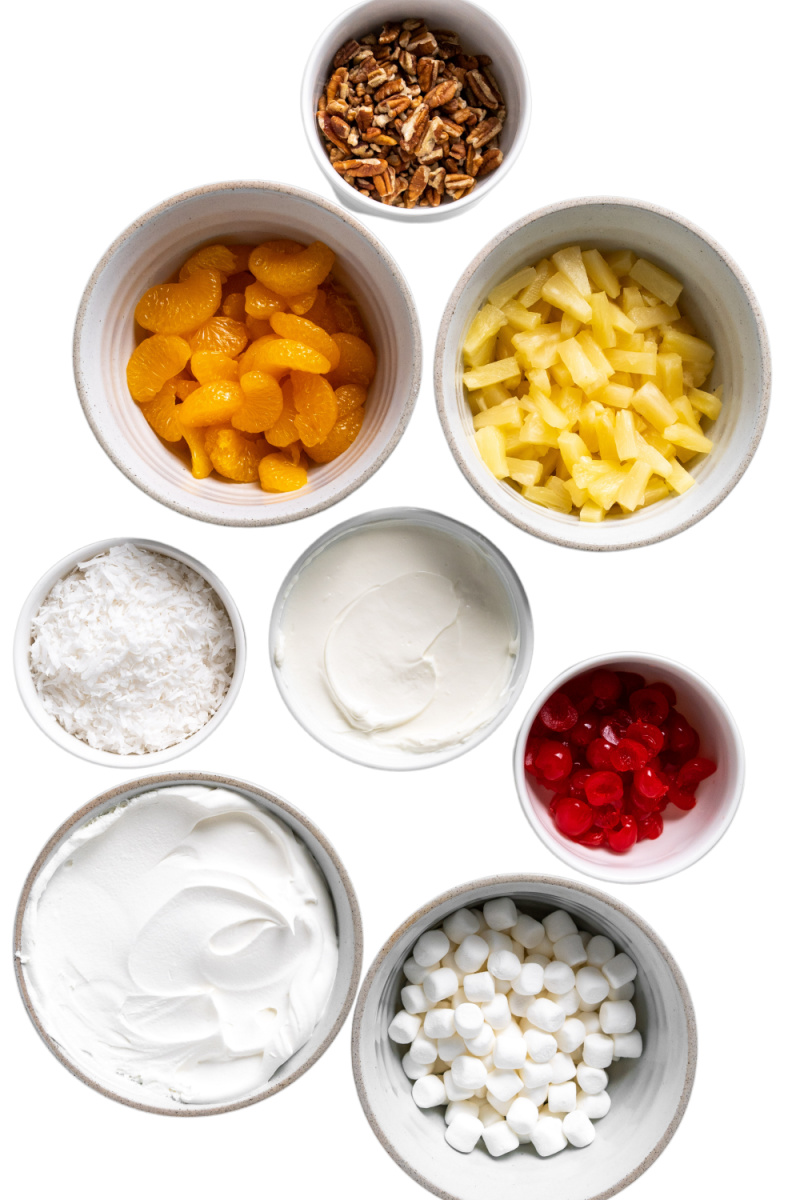 Ingredients needed:
Cool Whip
plain Greek yogurt
mandarin oranges
pineapple tidbits
maraschino cherries
mini marshmallows
sweetened shredded coconut
chopped pecans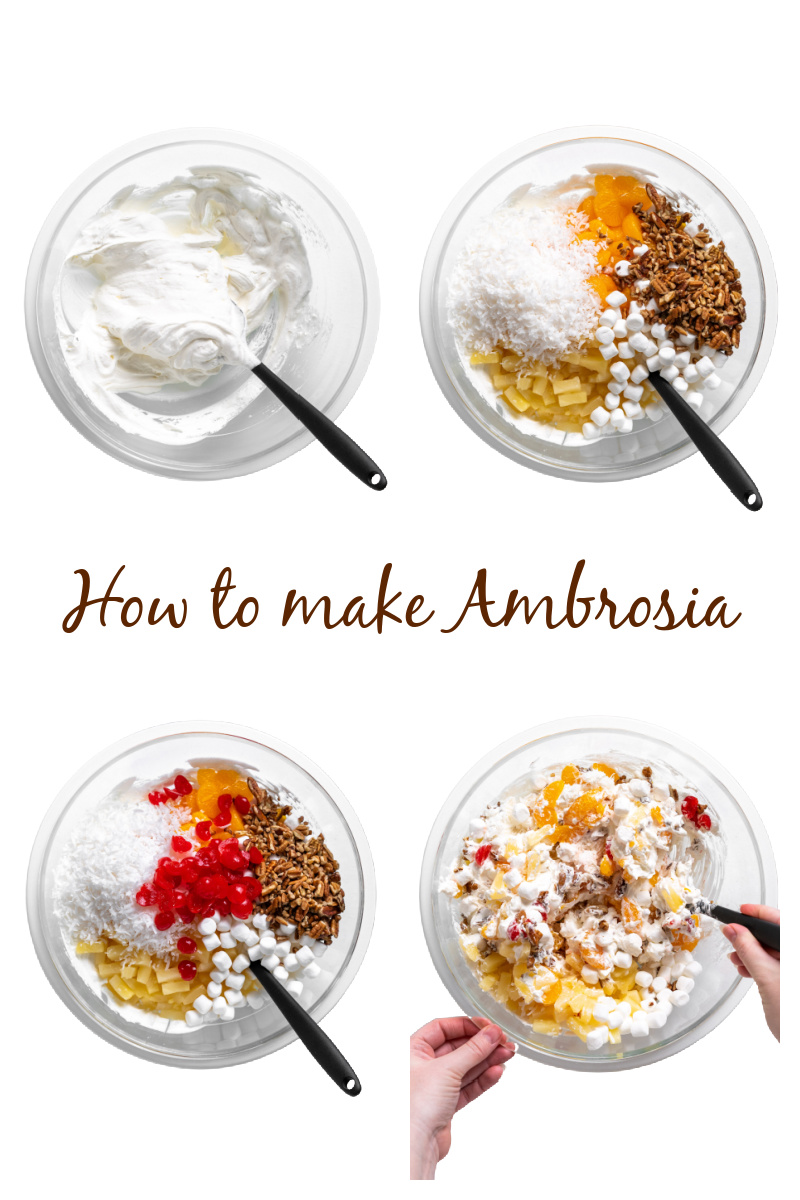 How to make Ambrosia:
The full, printable recipe is at the end of this post.
Add Cool Whip and Greek yogurt to a bowl. Mix well.
Add drained canned mandarin oranges and pineapple tidbits. Add pecans, coconut, marshmallows and maraschino cherries. Stir it all together.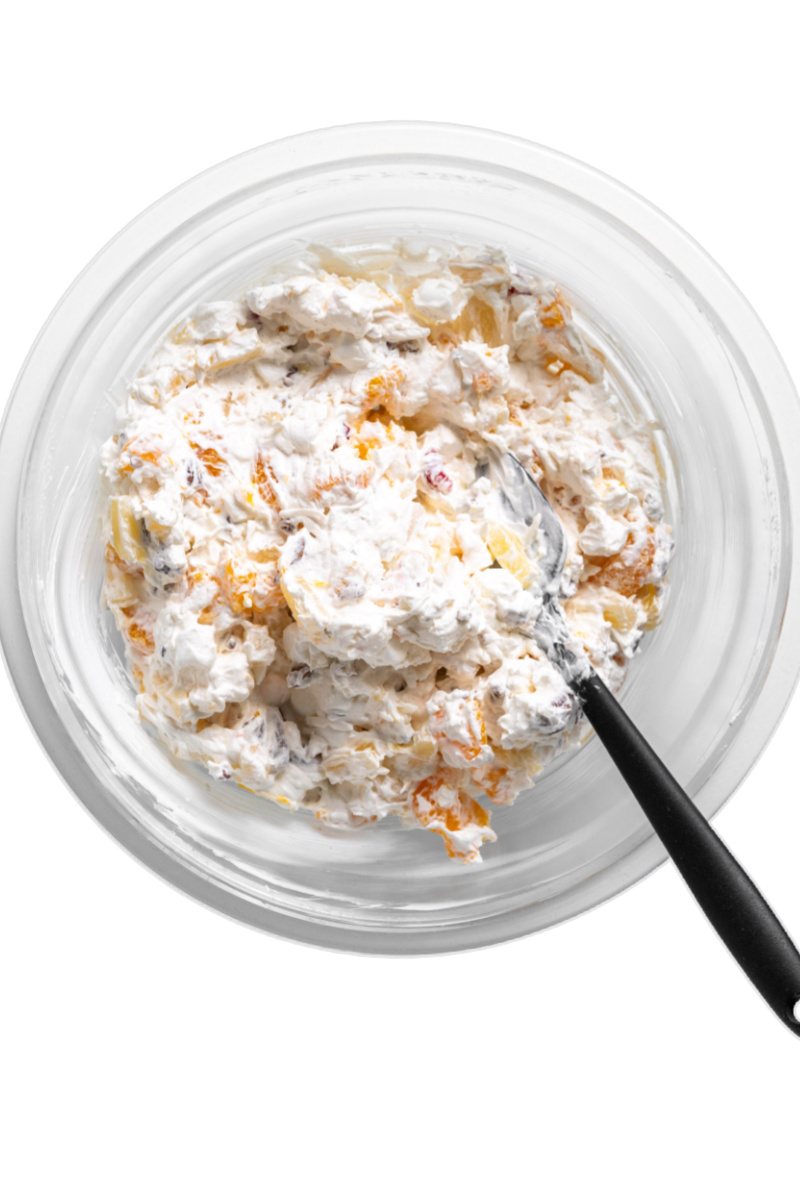 Cover and refrigerate the ambrosia for at least 30 minutes before serving.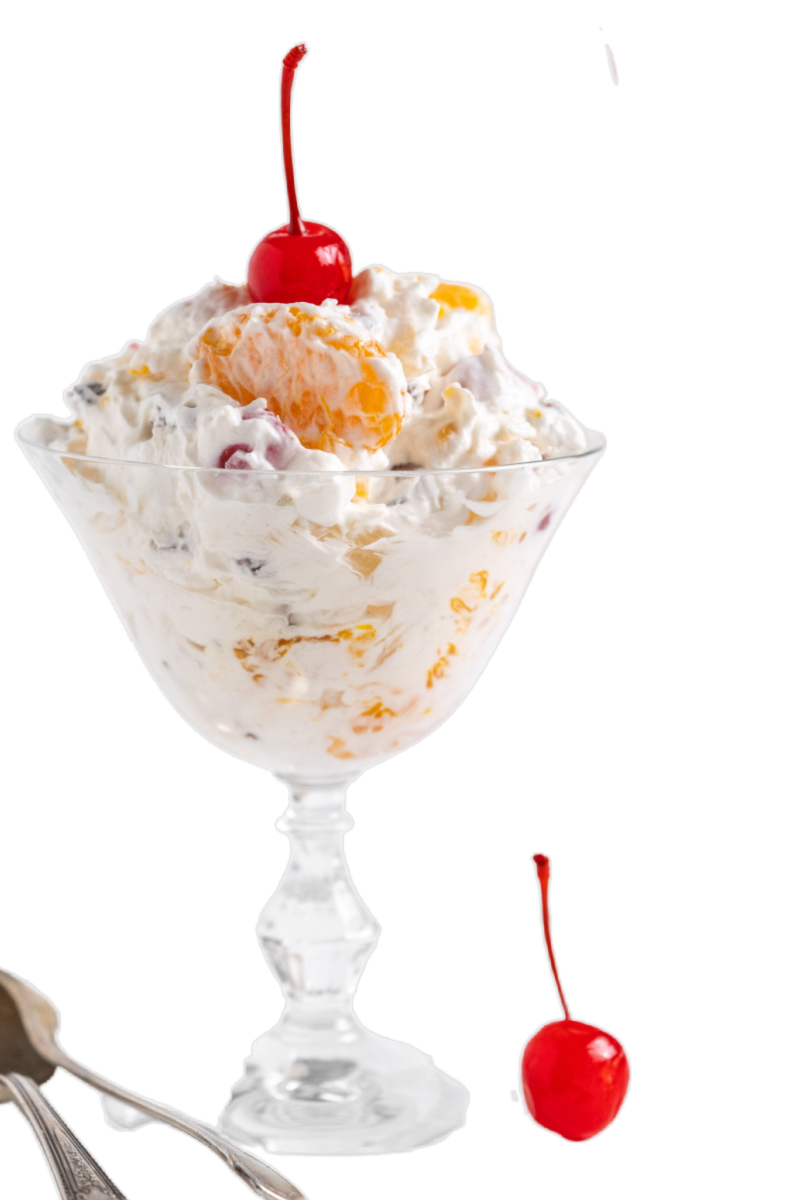 Display as a salad where everyone can help themselves. Or spoon the ambrosia into individual serving dishes.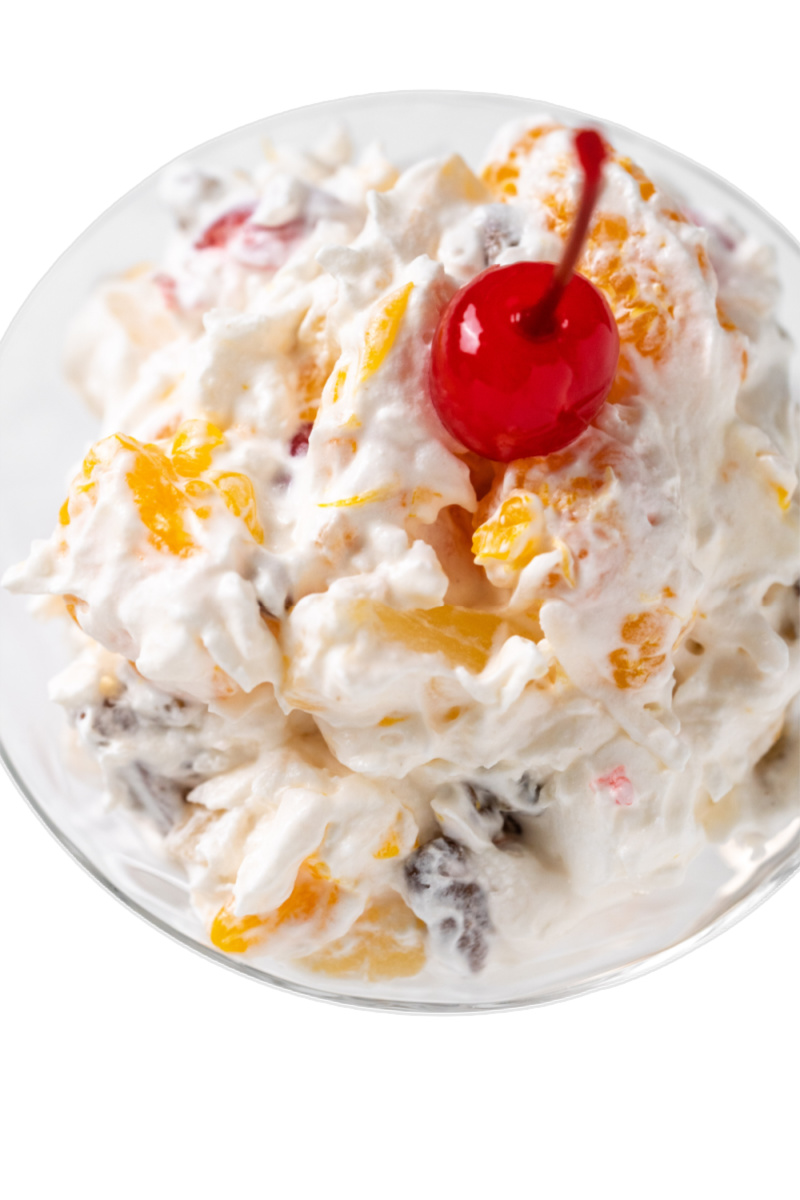 Garnish with cherries (keep the stem on to make things pretty), pecans, coconut or more fruit. Enjoy!
Fun Facts About Ambrosia:
The word "ambrosia" means "delicious" or "fragrant."
This salad was named "ambrosia" after the food of the Greek and Roman gods. In the ancient Greek myths, ambrosia was the food or drink of the Greek gods, often depicted as conferring longevity or immortality upon whoever consumed it.
Ambrosia often gets a bad rap (like fruitcake) for its use of Cool Whip and marshmallows.
This iconic salad is best eaten the day it's made. It tends to get goopy and soggy the longer it is refrigerated.
Everyone has their own twist on making ambrosia. Popular additions include banana, strawberries, grapefruit, raisins, grapes, walnuts and almonds.
Some people booze-up their ambrosia by mixing in rum or sherry.
You can use pastel colored marshmallows in your ambrosia to make it colorful and add more fruity flavor.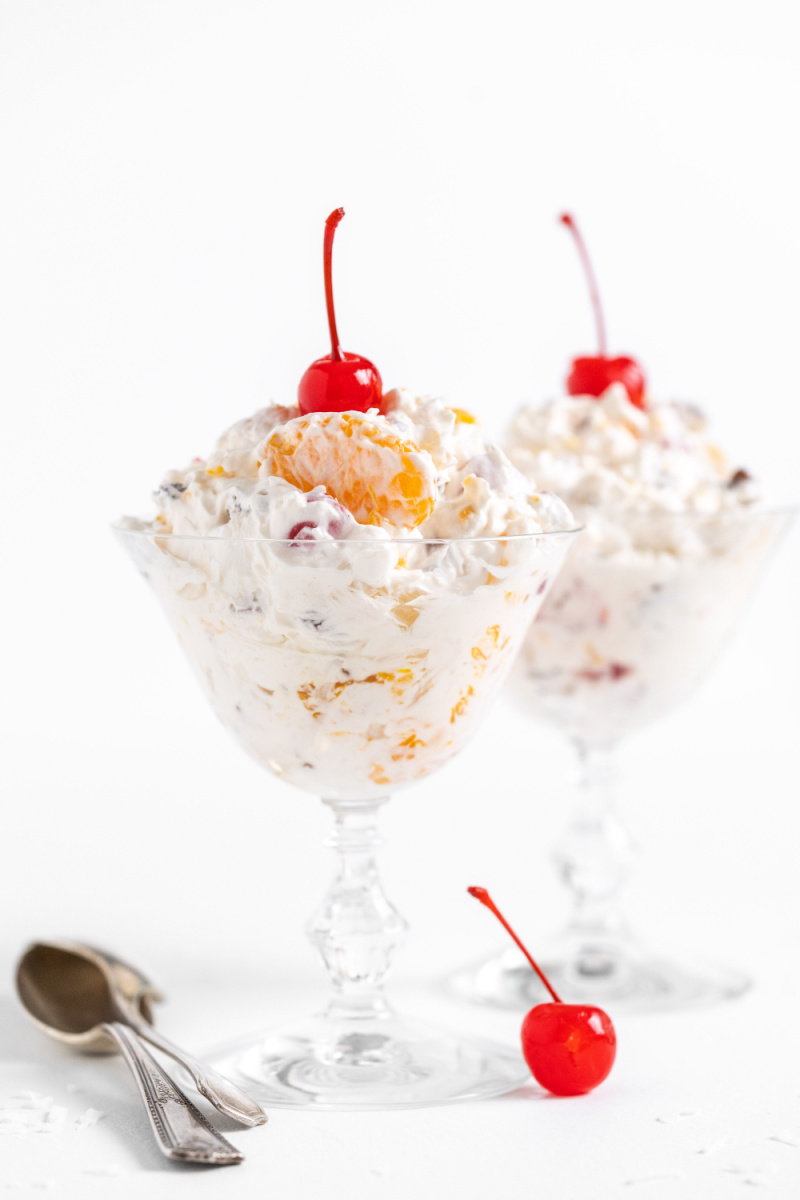 Ambrosia Recipe
Additional Time:
30 minutes
A delicious recipe for this iconic salad!
Ingredients
8 ounces Cool Whip (thawed if frozen)
3/4 cup plain unsweetened Greek yogurt
15 ounce can mandarin oranges, drained well
20 ounce can pineapple tidbits, drained well
3/4 cup maraschino cherries, stems removed, halved, and drained well
1 1/2 cups mini marshmallows
1 cup sweetened shredded coconut
1/2 cup chopped pecans
Instructions
Add the Cool whip and Greek yogurt to a large bowl and mix well.
Add all remaining ingredients and stir to combine.
Cover and refrigerate for 30 minutes before serving.
Serve chilled, topped with cherries, pecans, coconut or any garnishes you like.
Nutrition Information:
Yield:

12
Serving Size:

1/2 cup
Amount Per Serving:
Calories:

211
Total Fat:

10g
Saturated Fat:

6g
Trans Fat:

0g
Unsaturated Fat:

3g
Cholesterol:

1mg
Sodium:

37mg
Carbohydrates:

29g
Fiber:

3g
Sugar:

24g
Protein:

3g
Nutritional information is estimated using a nutrition calculator. It's not likely to be 100% accurate.