Hoppin' John is a black eyed peas and rice dish served in the south. It often incorporates bacon, onion, other chopped vegetables and seasonings. Black eyed peas are thought to give you good luck when eaten on New Year's Day, and they're traditionally served with collard greens.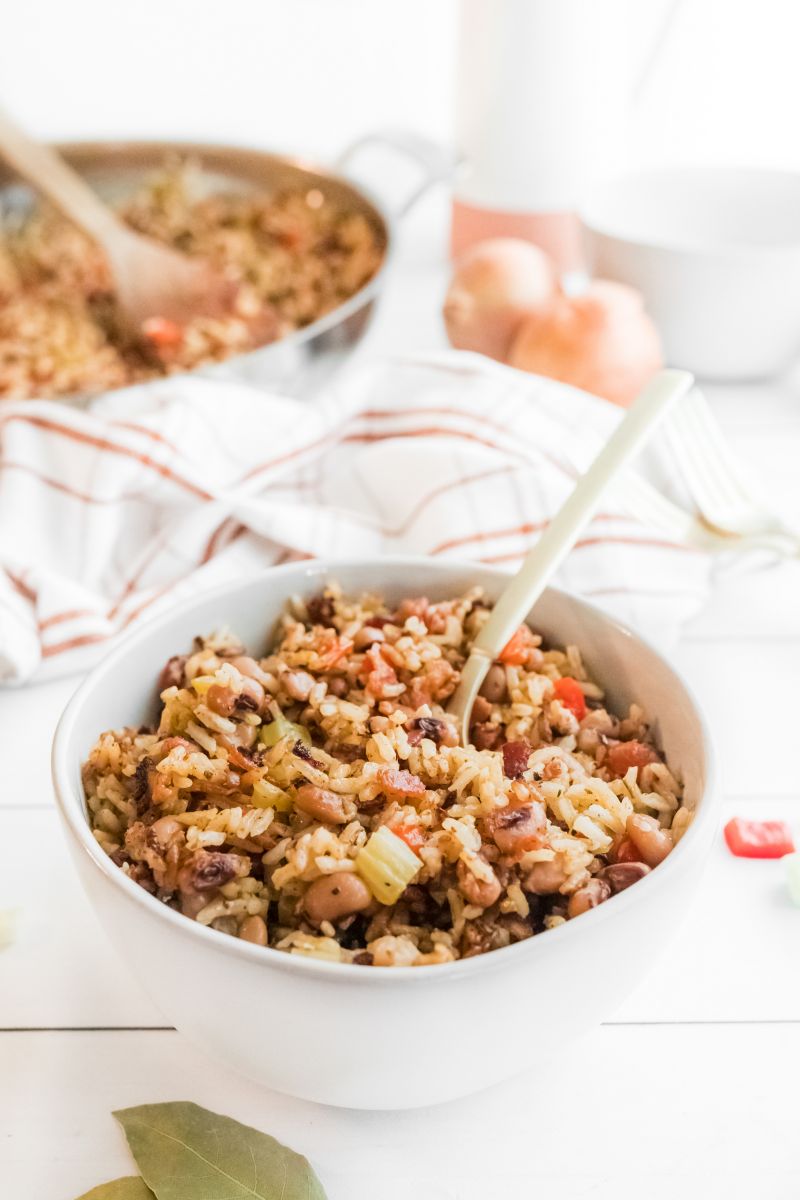 National Black Eyed Pea Day is January 1st. Southern tradition is to eat black eye peas in some form- Hoppin' John, black eyed pea soup, black eyed pea casserole or plain ol' black eyed peas on New Year's Eve or New Year's Day for good luck in the New Year.
Black-Eyed Peas are legumes grown for their edible bean. Although they are grown all over the world, the majority of black-eyed peas are grown in USA's southern region. They're a widely used ingredient in soul food and southern cuisine.
Legend has it, for the best chance of luck in the New Year ahead, one must eat at least 365 black eyed peas! So whip up some champagne cocktails and make some Hoppin' John!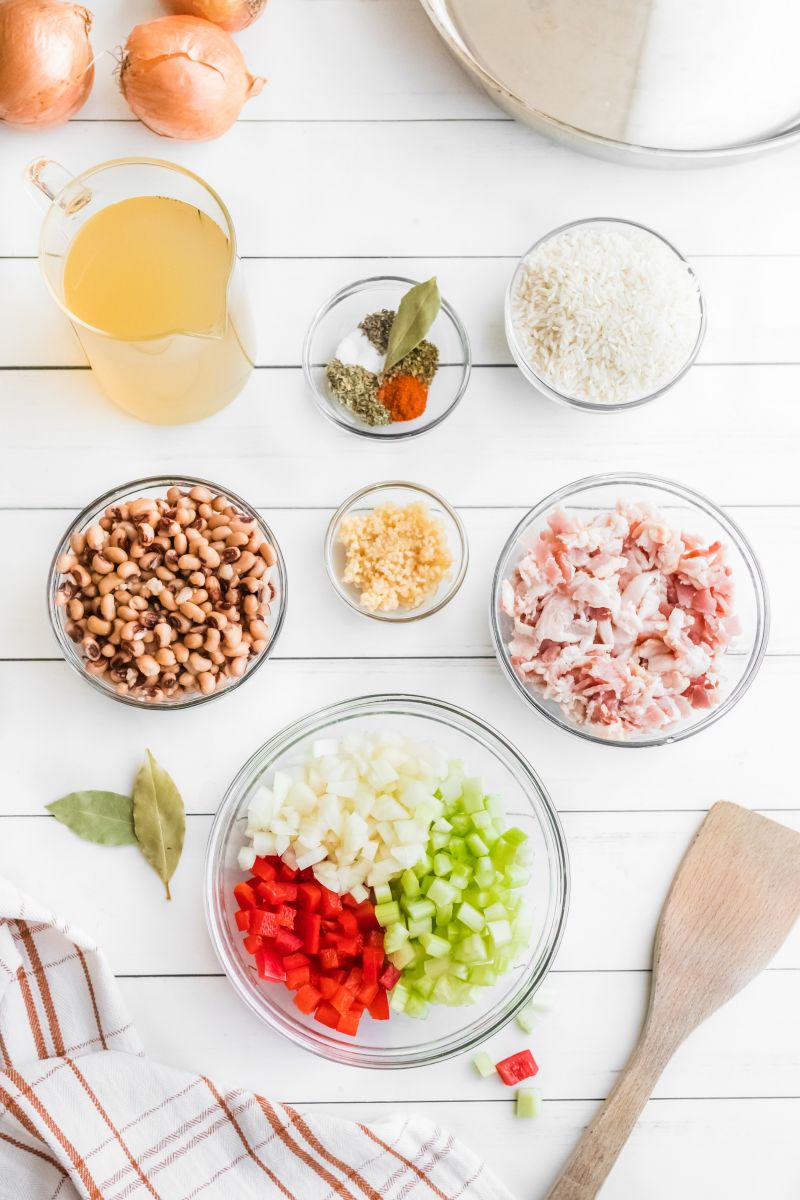 Ingredients needed:
bacon
onion
red bell pepper
celery
garlic
white rice
chicken broth
salt, cayenne pepper, basil, thyme, oregano, bay leaf
canned black-eyed peas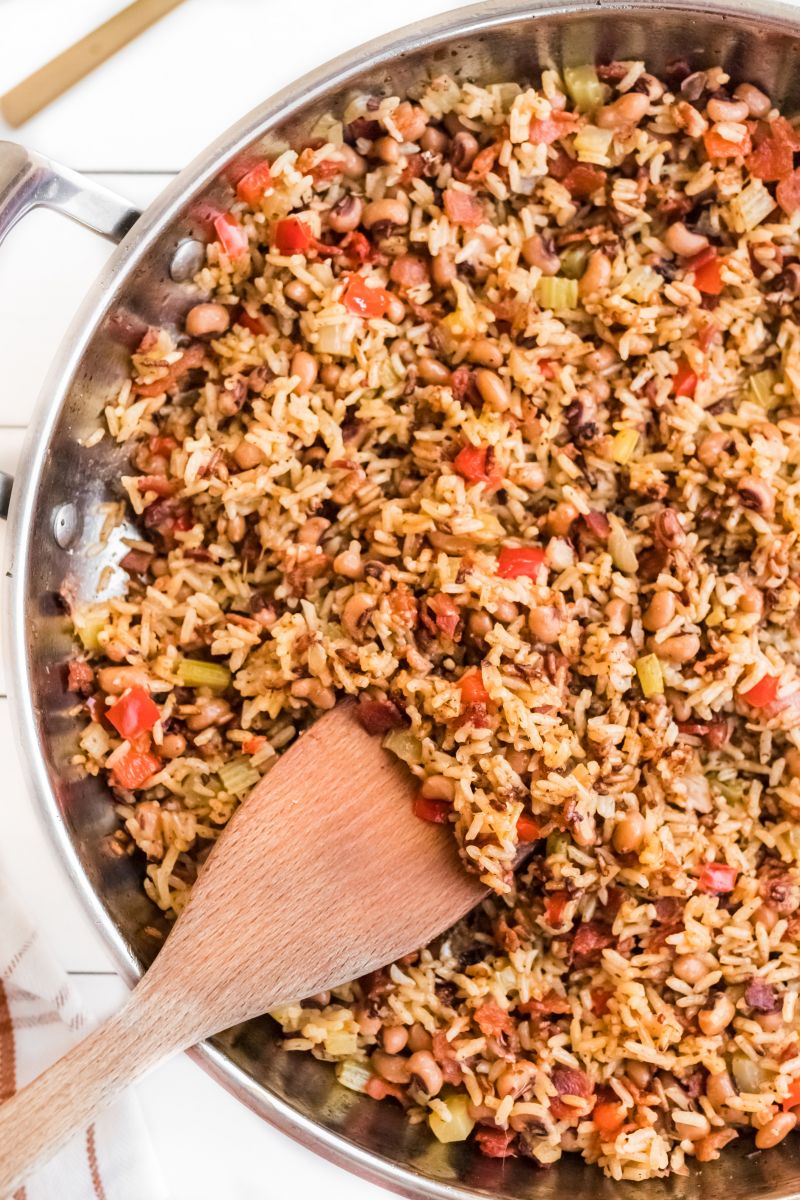 How to make Hoppin' John:
Chop the bacon and cook it in a skillet. Remove the bacon from the pan and leave the bacon fat in the pan.
Sauté the vegetables in the bacon fat until they are tender. Then add in the chicken broth, rice and spices. Cover the pot and simmer for 10 minutes. Finally, add in the black-eyed peas and cooked bacon. Simmer for 10 more minutes, and then it's ready to serve!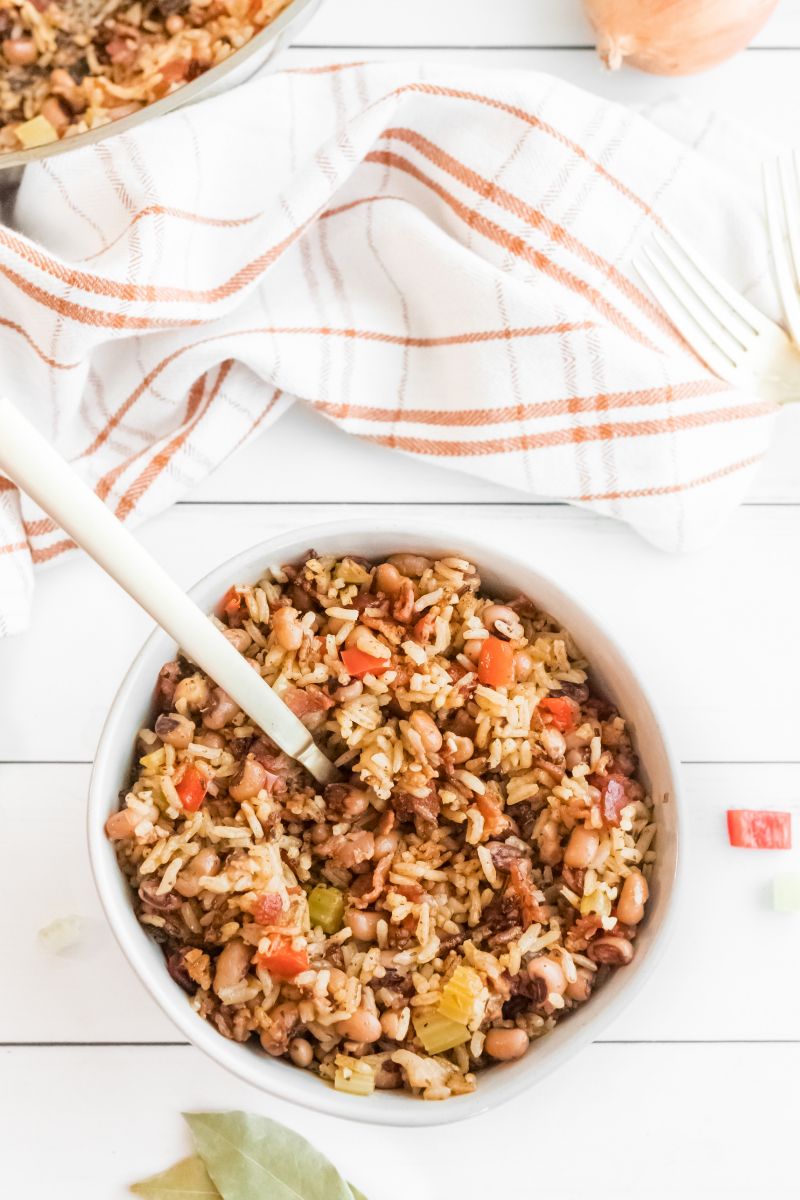 Some people say that you should cook your black eye pea dish with a new dime or penny. The person who is served the coin in their portion will be extra lucky in the New Year.
About Black Eyed Peas:
What to serve with black eyed peas: New Year's Day tradition for prosperity is that black-eyed peas (representing coins) are served with collard greens or cabbage (to represent paper money). It's said that each bite of greens you eat on New Year's Day is worth $1,000 in the New Year. Served with stewed tomatoes, that represents health and wealth. The addition of cornbread symbolizes "gold."
How to make black eyed peas: If you're buying dried black eyed peas, they'll need to be rinsed well and simmered on the stove with water or broth for about 45 minutes, or until tender. Add in your favorite spices. They can also be made in the slow cooker for 6 to 8 hours on low.
More black eyed pea folklore: Some people say that leaving one black eyed pea on your plate means you'll be sharing your good luck with someone else. While others say that you need to eat all of your peas or your luck will be bad!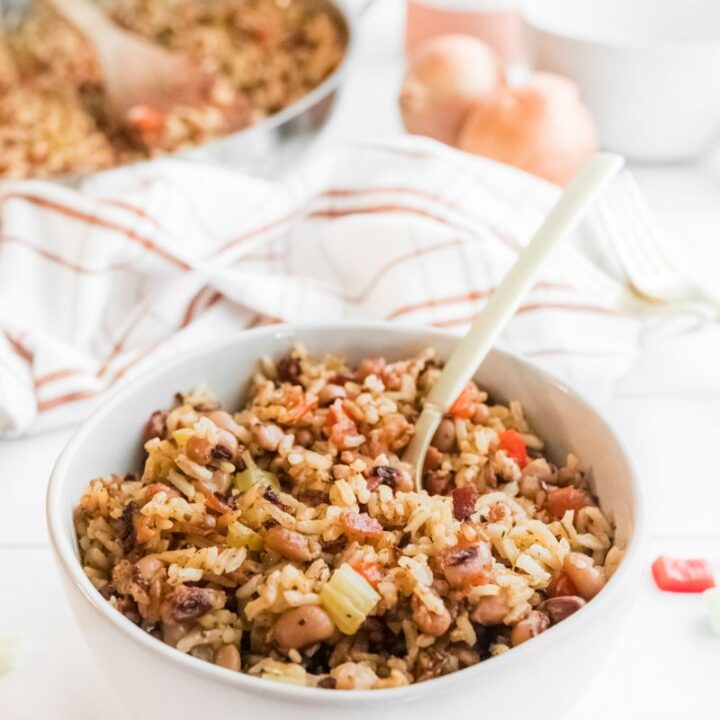 Hoppin' John
A classic meal for New Year's Day!
Ingredients
6 slices bacon, cut into pieces
1 medium onion, chopped (about 1 1/2 cups)
1 red bell pepper, chopped
2 celery ribs, finely chopped
3 medium garlic cloves, minced
1 cup uncooked long-grain white rice
2 cups chicken broth
1/2 teaspoon dried basil
1/4 teaspoon salt
1/4 teaspoon cayenne pepper
1/4 teaspoon dried thyme
1/4 teaspoon dried oregano
1 bay leaf
One 15-ounce can black-eyed peas, rinsed and drained
Instructions
In a large skillet, cook the bacon over medium heat until crisp. Drain on paper towels. Save 2 tablespoons of bacon fat and discard the rest.
Saute the onion, bell pepper, celery and garlic in the bacon fat until almost tender. Add the rice, chicken broth and spices. Cover and simmer for 10 minutes. Add thee black-eyed peas and cooked bacon. Simmer for 10 minutes longer. Discard the bay leaf before serving.
Nutrition Information:
Yield:

6
Serving Size:

1
Amount Per Serving:
Calories:

278
Total Fat:

5g
Saturated Fat:

2g
Trans Fat:

0g
Unsaturated Fat:

3g
Cholesterol:

13mg
Sodium:

606mg
Carbohydrates:

46g
Fiber:

5g
Sugar:

5g
Protein:

13g