Champagne Moscow Mules are beautiful and delicious cocktails for celebrations. New Year's Eve, wedding and baby showers or cocktail parties are all perfect occasions that come to mind. A classic Moscow mule is topped off with champagne to give it fizz and a bit of elegant flavor!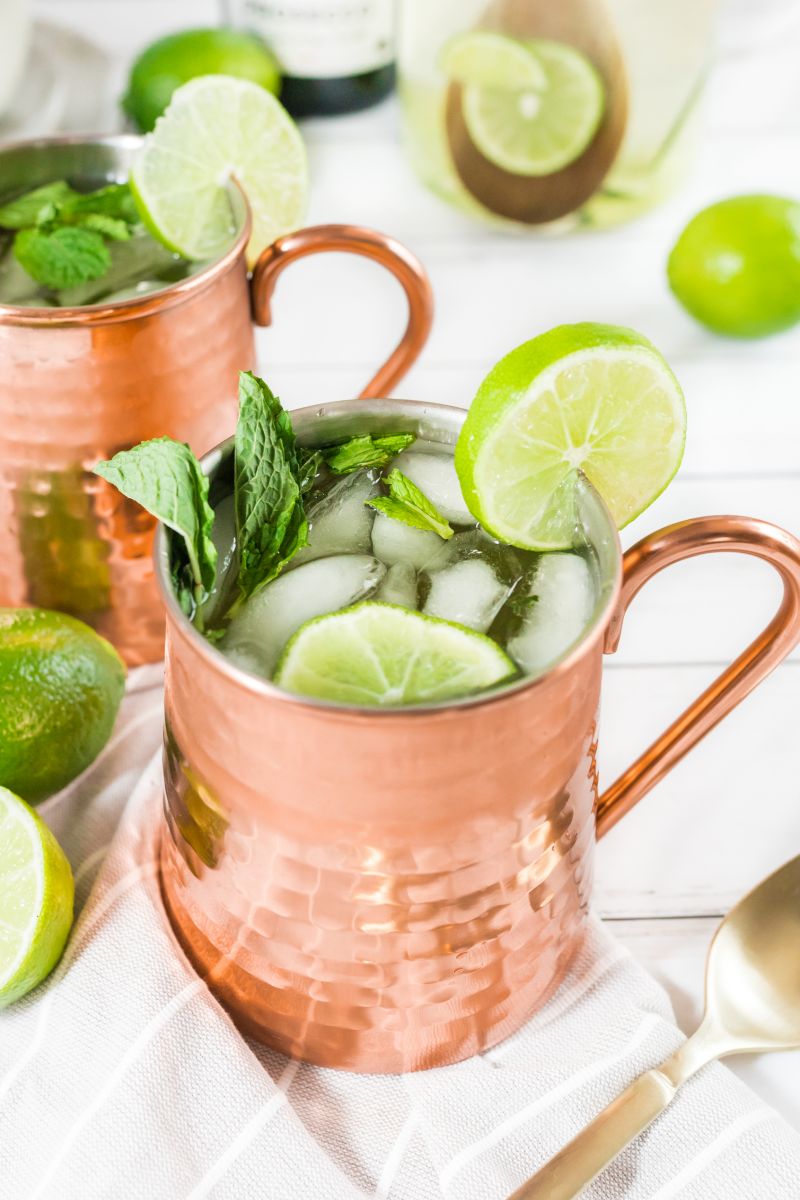 National Champagne Day is December 31st. It's a day to make Chocolate Covered Strawberries and raise a glass of champagne to celebrate the end of the year and toast to a new one. Of course you can also make Champagne Moscow Mules to celebrate!
Champagne comes from France's Champagne region- an area northeast of Paris. French law has regulations in place for where and how champagne is made. A bottle of champagne can only be labeled as "champagne" if those specifications for production have been followed. It can be quite expensive, so many people opt for "sparkling wine" over genuine champagne.
Champagne is wine that ferments in the bottle, resulting in carbon dioxide being trapped in the bottle. This is what gives champagne its bubbles. Since most people celebrate New Year's Eve by popping a bottle of champagne, it's the perfect day to celebrate this bubbly wine!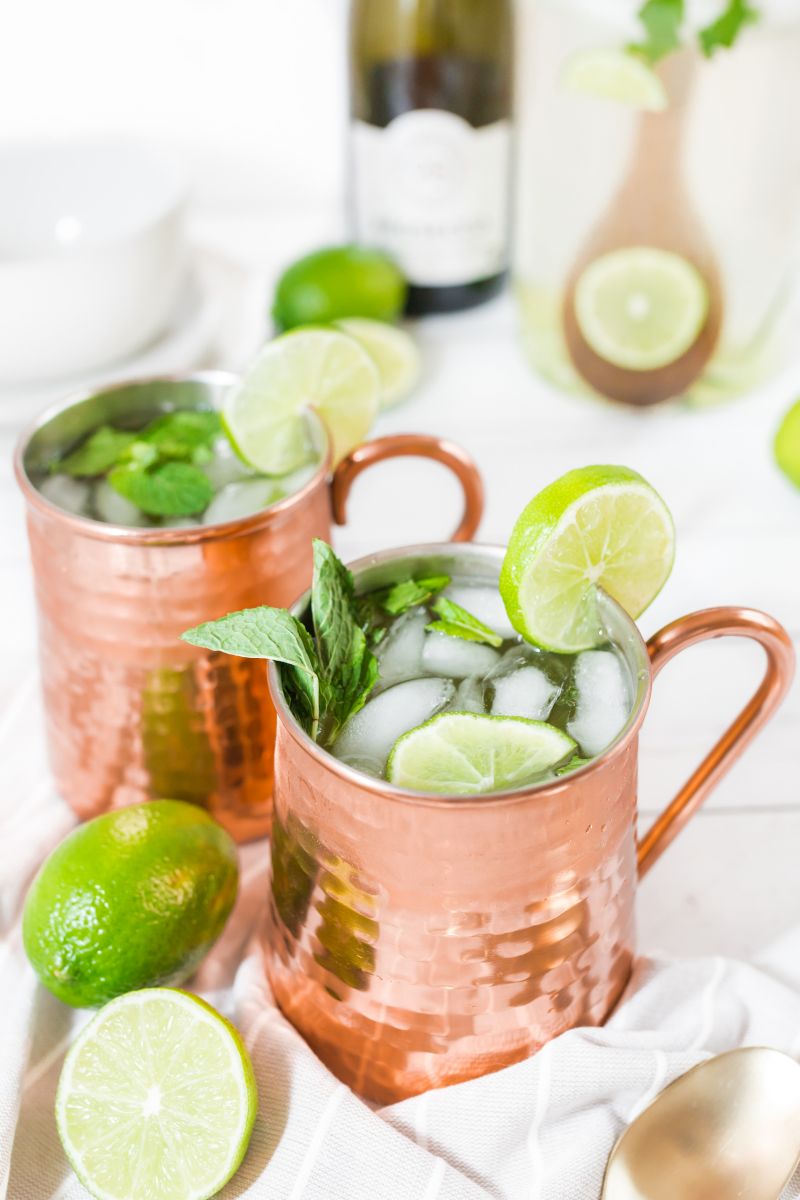 Ingredients needed:
freshly squeezed lime juice
fresh mint leaves
good vodka
ginger beer
champagne
sliced limes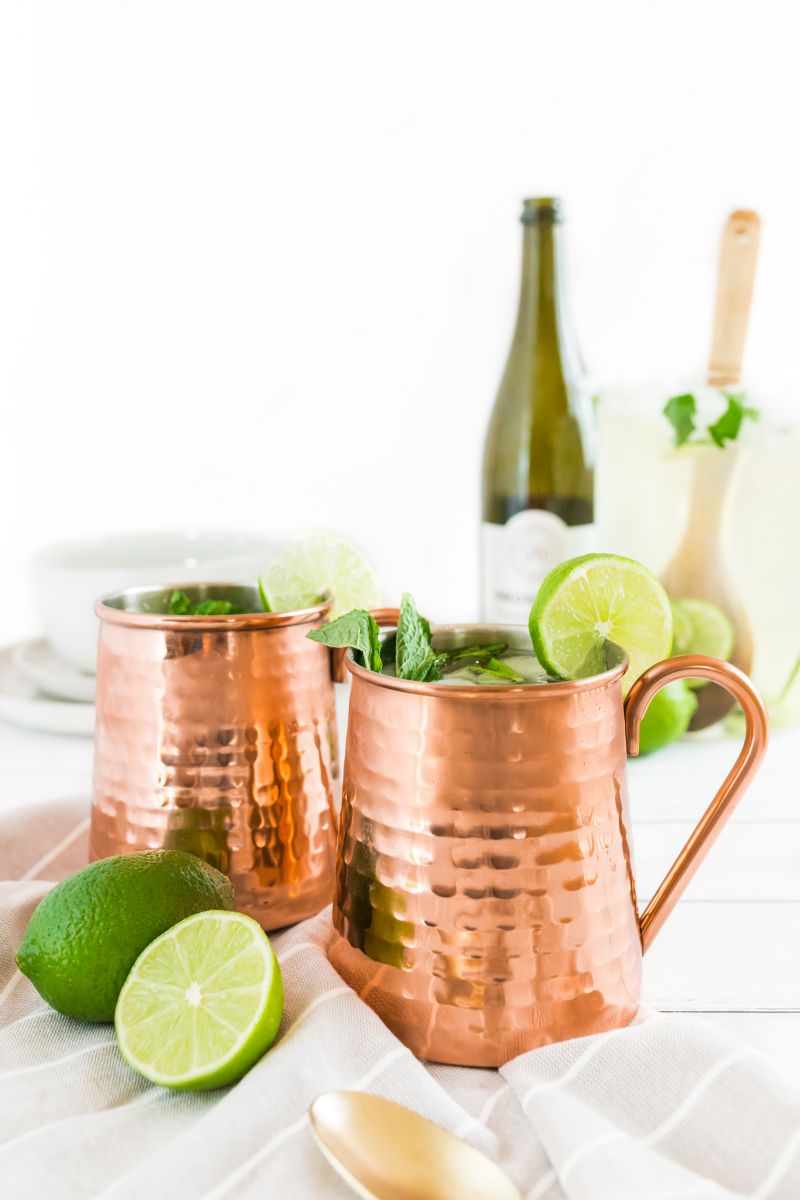 How to make Champagne Moscow Mules:
Use a pitcher or an open glass container. Add lime juice and fresh mint to the pitcher. Use a muddler or a wooden spoon to muddle the juice and mint together. This will bring out the flavor of the mint.
Add vodka, ginger beer and champagne to the pitcher. Stir to combine.
Serve in individual glasses or copper mule mugs. Garnish with lime and fresh mint.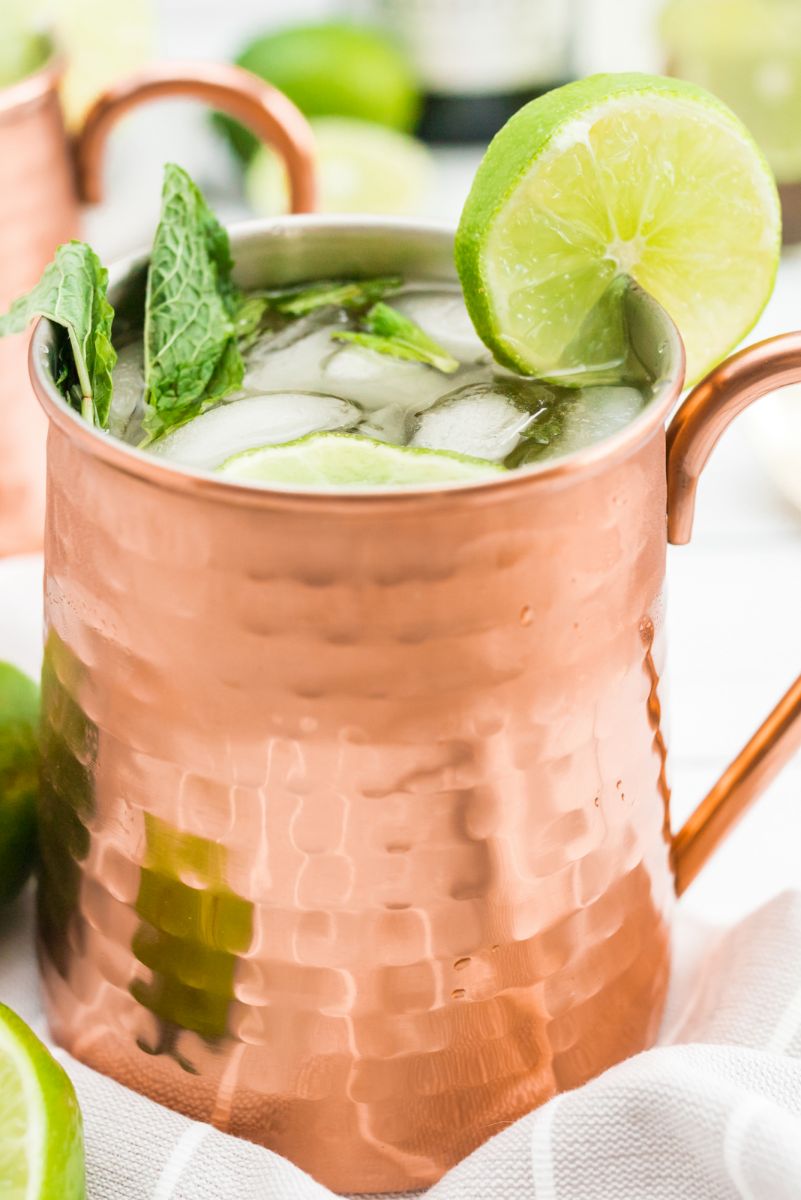 Since champagne is the star of the show on National Champagne Day, be sure to bake Champagne cupcakes, whip up some Champagne jello shots and make Champagne mimosa punch for New Year's Day too.
TIPS for making the best Moscow Mules:
Don't use bottled lime juice. Take the time to squeeze fresh limes. It'll make a world of difference.
Buy a muddler– you'll use it for other cocktails too.
Use good vodka!
Ginger beer matters too. Buy a better brand.
Since champagne can be expensive, it's okay to use sparkling wine. Prosecco is a good substitute too.
Copper mule mugs are the proper way to serve Moscow mules, so be sure to invest in them.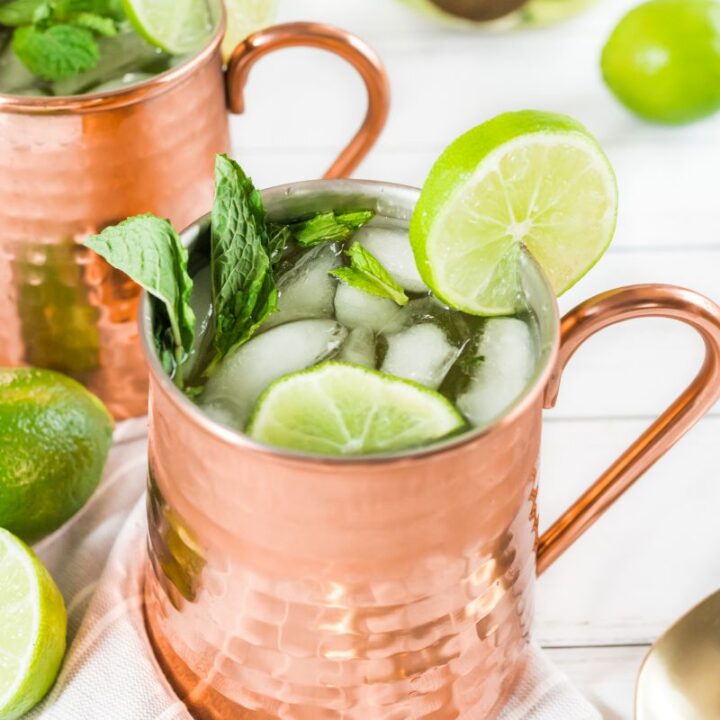 Champagne Moscow Mules
A celebratory cocktail featuring champagne!
Ingredients
1/3 cup freshly squeezed lime juice
handful of fresh mint leaves
1 1/4 cups (10 ounces) good vodka
2 1/2 cups (20 ounces) ginger beer
2 1/2 cups Champagne or Prosecco
2 limes, sliced
fresh mint leaves, for garnish
Instructions
In a pitcher or open-glass container, combine the lime juice and the mint leaves. Use a muddler or a wooden spoon to muddle the juice and mint together.
Add vodka, ginger beer and champagne to the pitcher; stir to combine.
Serve in individual glasses or copper mule cups, garnished with lime and mint leaves.
Notes
If the mules have too strong of an alcohol taste for you, add a little more ginger beer.
Nutrition Information:
Yield:

8
Serving Size:

1 cocktail
Amount Per Serving:
Calories:

180
Total Fat:

0g
Saturated Fat:

0g
Trans Fat:

0g
Unsaturated Fat:

0g
Cholesterol:

0mg
Sodium:

10mg
Carbohydrates:

14g
Fiber:

1g
Sugar:

11g
Protein:

0g
Nutritional information is an estimate.