Easy Strawberry Rhubarb Pie is the most delicious (and kind of unusual) pie to bake! The combination of strawberries and rhubarb combined with sugar to balance the sweet and tart makes for a lovely pie filling. It's a good pie to bake in the spring and summer months- when rhubarb and strawberries make their debut in the garden.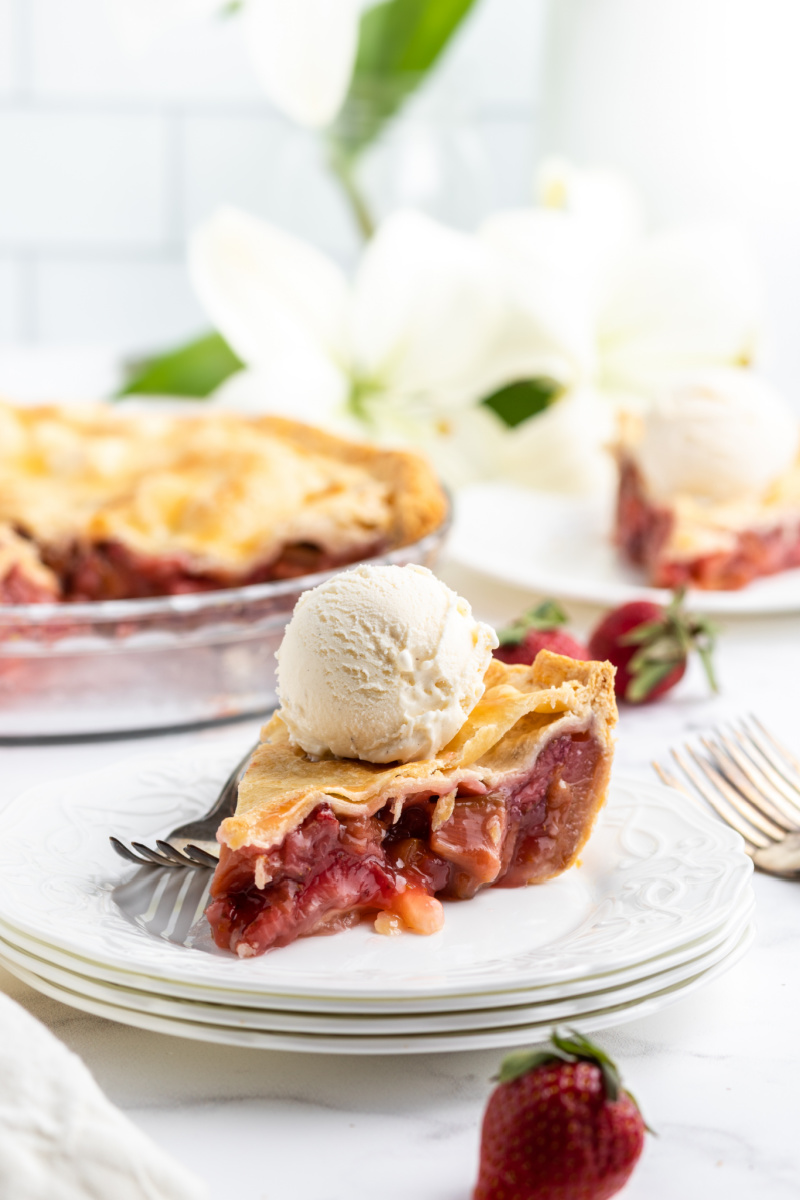 June 9th is National Strawberry Rhubarb Pie day! It's a good day to bake this easy strawberry rhubarb pie. You can also consider baking a strawberry rhubarb crisp or a strawberry rhubarb galette. Share your strawberry rhubarb celebration on social media by using the hashtag #nationalstrawberryrhubarbpieday #strawberryrhubarbpieday and #recipesforholidays. Be sure to follow all of the food holidays in May by following my June Food Holidays calendar.
About Strawberry- Rhubarb:
A strawberry- rhubarb pie has both strawberries and rhubarb filling to create a sweet and tart pie. There is traditionally a bottom and top crust for this pie. And it's a popular dessert in New England Cuisine.
Rhubarb is one of those plants that pops up first in the spring. It's arrival is about the same as strawberries, so people paired them early-on to add sweetness to tart rhubarb desserts. There is a variety of rhubarb called, "strawberry rhubarb," which has a good pink tint to it. This is a more desirable variety to make desserts with since using green rhubarb is not as appetizing to look at!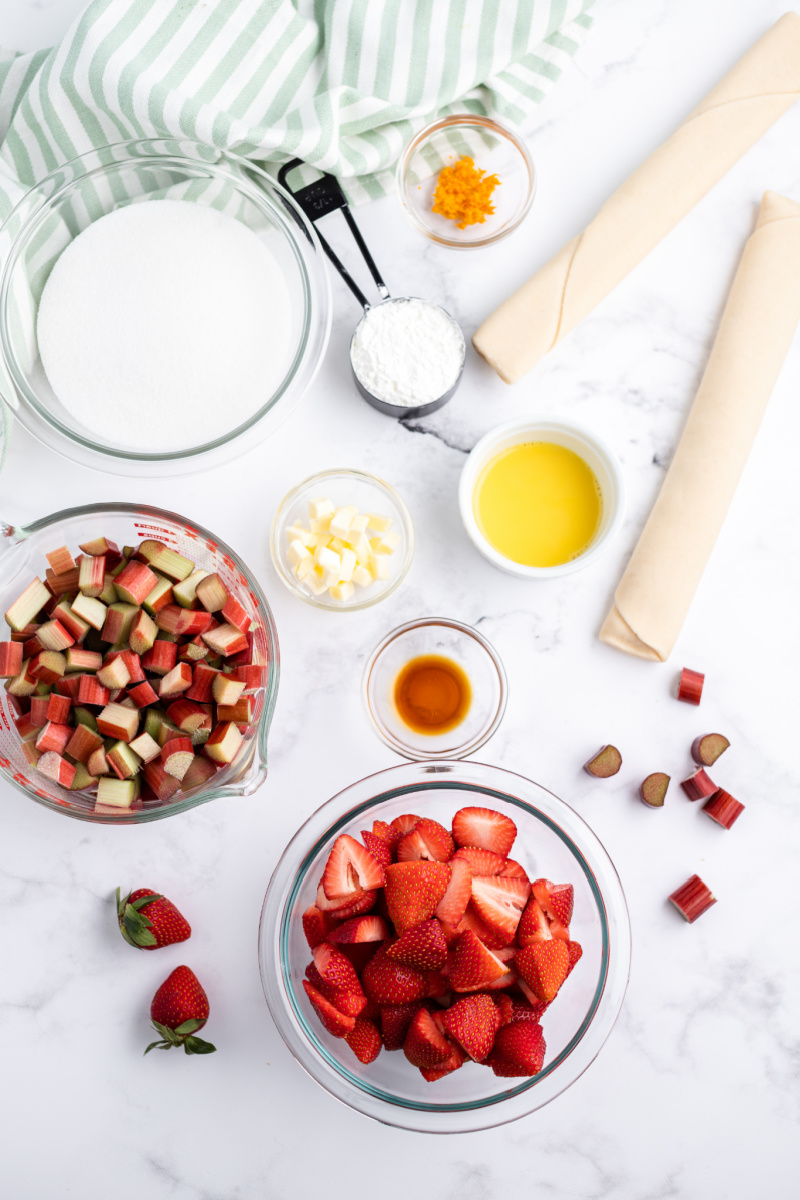 Ingredients needed:
pie crust
sugar
cornstarch
orange zest
fresh or frozen rhubarb
fresh or frozen strawberries
vanilla extract
butter
egg yolk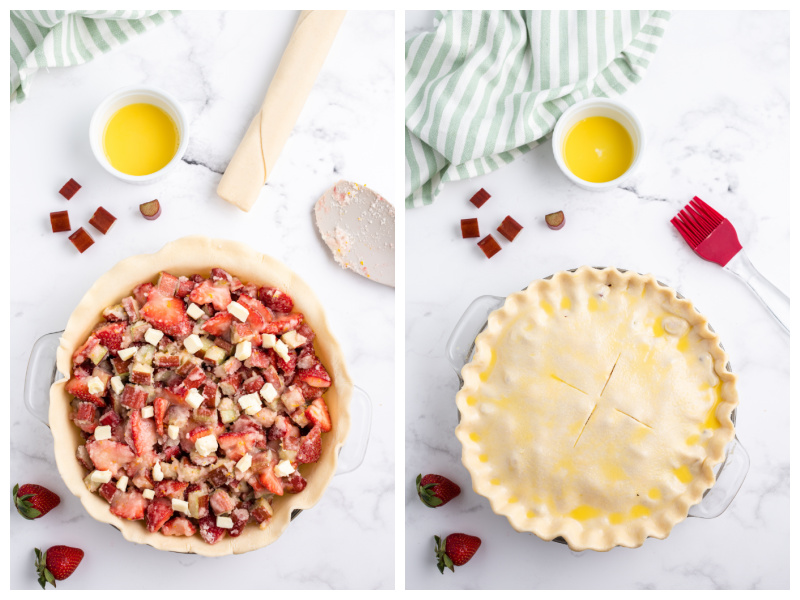 How to make Easy Strawberry Rhubarb Pie:
Line a pie plate with one crust.
In a large bowl, combine sugar, cornstarch and orange zest. Add rhubarb, strawberries and vanilla extract. Spoon this mixture on top of the pie crust in the pie plate, and dot with little pieces of butter. Plate another pie crust on top, and press the edges to seal. Brush the pie with an egg wash, and sprinkle sugar on top. Cut slits in the top of the pie. It's best if you can cover the pie with a pie shield to prevent the edges from browning too much.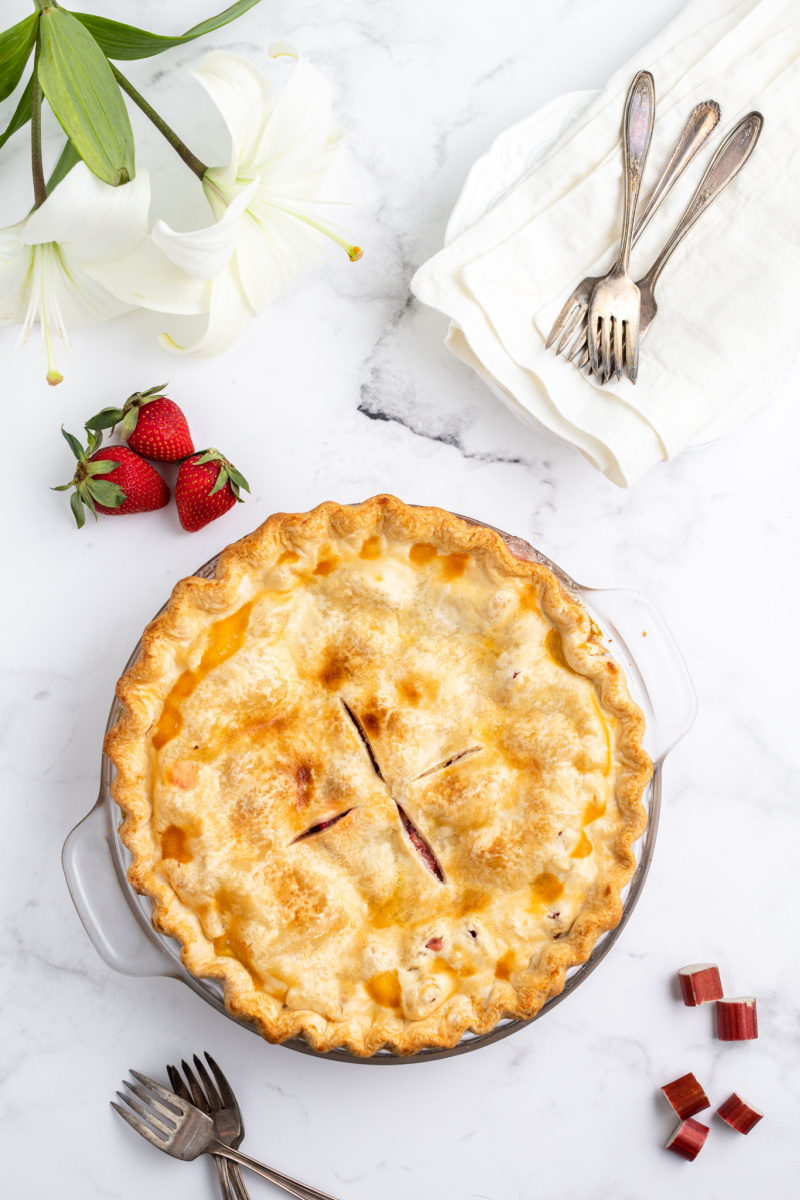 Bake for about 40 minutes, until the crust is nice and golden and the filling is hot and bubbling through the slits on the top of the crust.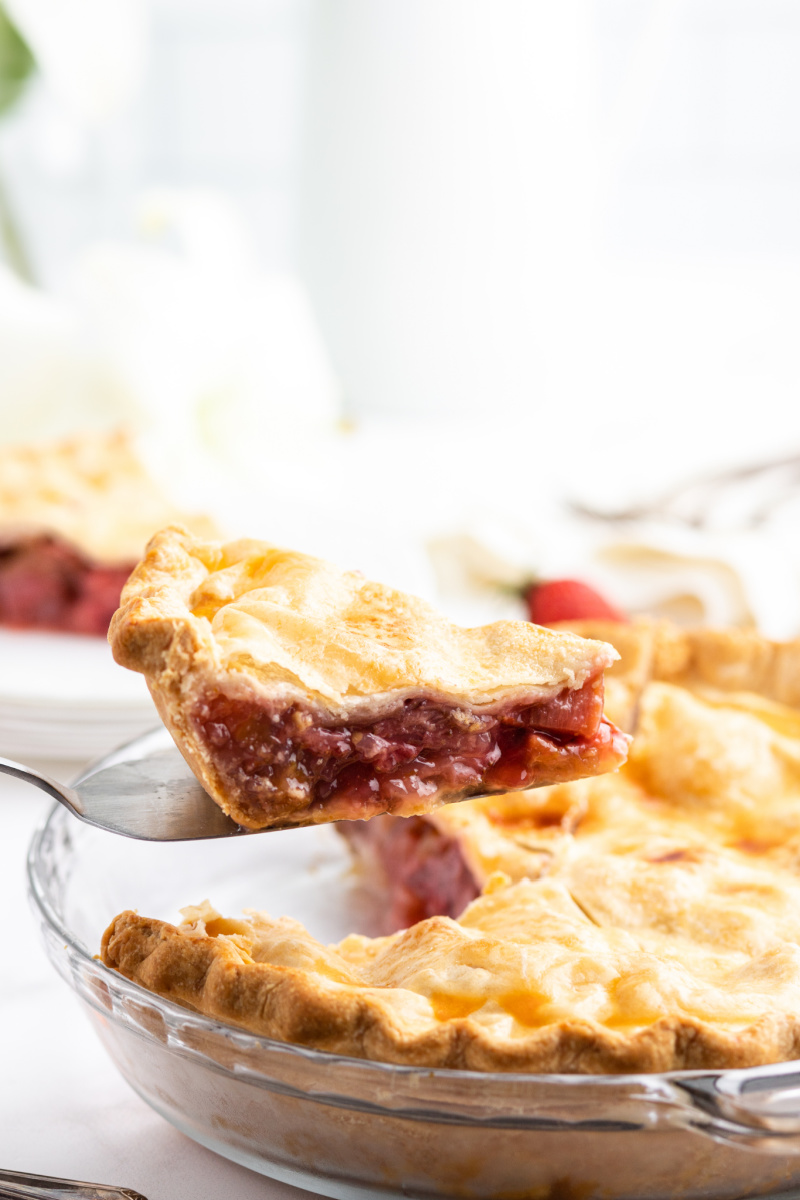 It's best to let the pie sit for a while before cutting. You'll get cleaner cuts if it is cooled down.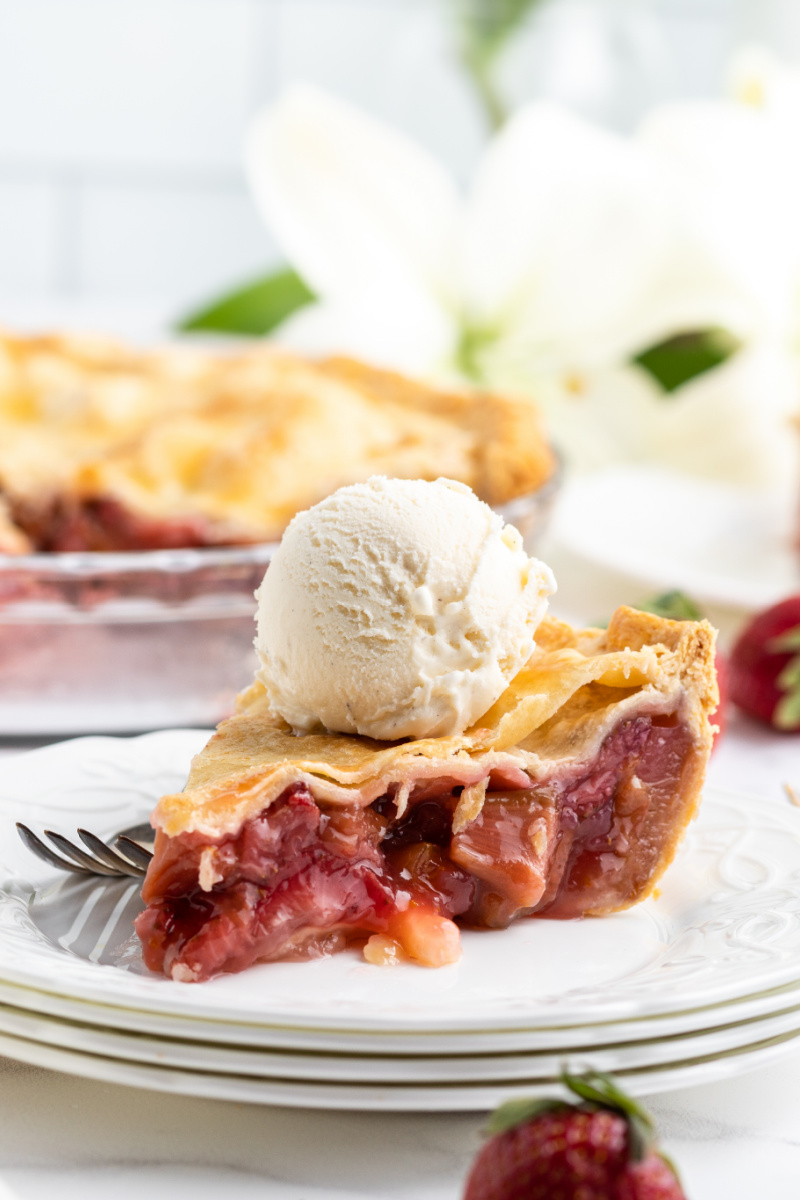 Serve this Easy Strawberry Rhubarb Pie with vanilla ice cream on top. So delicious!
Fun Facts About Rhubarb:
Rhubarb first appeared in North America in the late 1700s when it was introduced by a Maine gardener who obtained the seed from Europe. It quickly gained popularity to be used in pies and baked goods.
Technically, rhubarb is a vegetable- but most people consider it to be a fruit.
Good rhubarb needs the ground to freeze, and it grows best in Michigan and Oregon.
Fresh rhubarb is available in most grocery stores and farmers markets starting in early spring.
When picking out rhubarb, look for stalks that are firm, crisp, and shiny, and avoid any that are limp, which is a sign that they're old.
The first recorded recipe for a rhubarb dessert is in A New System of Domestic Cookery by Maria Eliza Rundell from 1807. The recipe is for a rhubarb tart.
Rhubarb's high concentration of oleic acid has made it an excellent primary ingredient in many cleansers for over 100 years.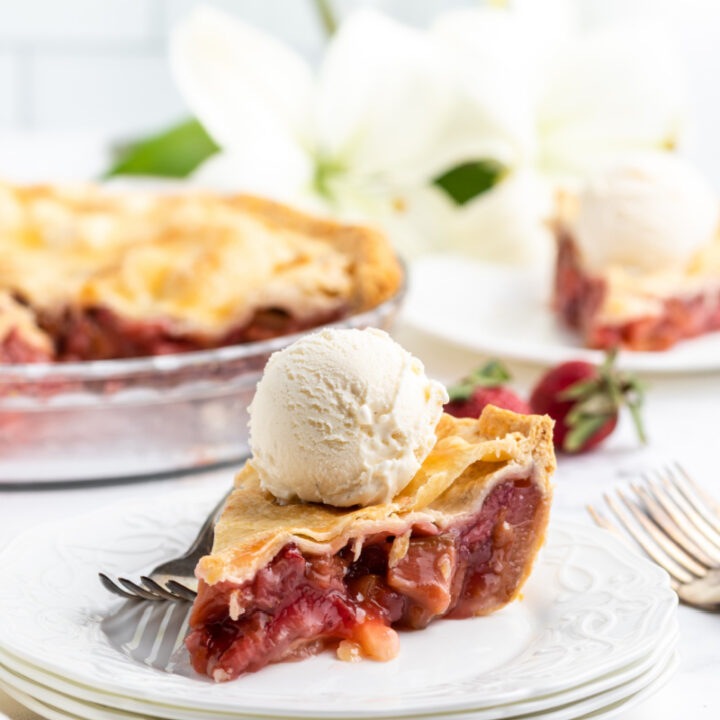 Strawberry Rhubarb Pie
Total Time:
1 hour
20 minutes
Totally delicious, classic pie!
Ingredients
2 pie crusts (homemade or purchased)
2 cups granulated white sugar
1/3 cup cornstarch
1 teaspoon grated orange zest
3 cups ½-inch chopped fresh (or frozen) rhubarb
3 cups sliced fresh (or frozen) strawberries
1 teaspoon vanilla extract
1 tablespoon butter, cut into little pieces
1 large egg yolk, whisked with 1 tablespoon water
1 tablespoon granulated white sugar
Instructions
Preheat the oven to 425 degrees F. Line a 9-inch pie plate with one pie crust.
In a large bowl, whisk together the sugar, cornstarch and orange zest. Stir in the rhubarb, strawberries. Drizzle the vanilla extract over the coated fruit. Spoon the fruit on top of the pie crust in the plate. Dot the top of the fruit with the little butter pieces.
Place the 2nd pastry on top. Cut slits to allow escaping steam. Press the edges around the plate to seal. Brush the pie with egg wash, and sprinkle a little bit of sugar over the top.
Cover the edge of the pie with a pie shield, or arrange a 2-inch strip of foil around the edge (prevents from browning too much).
Bake for 40 minutes. Remove the pie shield or foil. Bake for another 15 minutes, or until the crust is golden brown and the juices are bubbling through the top of the pie.
Serve warm with vanilla ice cream!
Nutrition Information:
Yield:

8
Serving Size:

1 slice
Amount Per Serving:
Calories:

476
Total Fat:

14g
Saturated Fat:

5g
Trans Fat:

0g
Unsaturated Fat:

8g
Cholesterol:

50mg
Sodium:

205mg
Carbohydrates:

85g
Fiber:

3g
Sugar:

57g
Protein:

5g
Nutritional information is computed using a nutrition calculator. It's not likely to be 100% accurate.