Cherry Cream Cheese Pie is an easy, almost no-bake pie to make for dessert. It has a graham cracker crust, a simple cheesecake filling and canned cherry topping. Watch the video in the recipe card at the end of this post to see how to make this pie!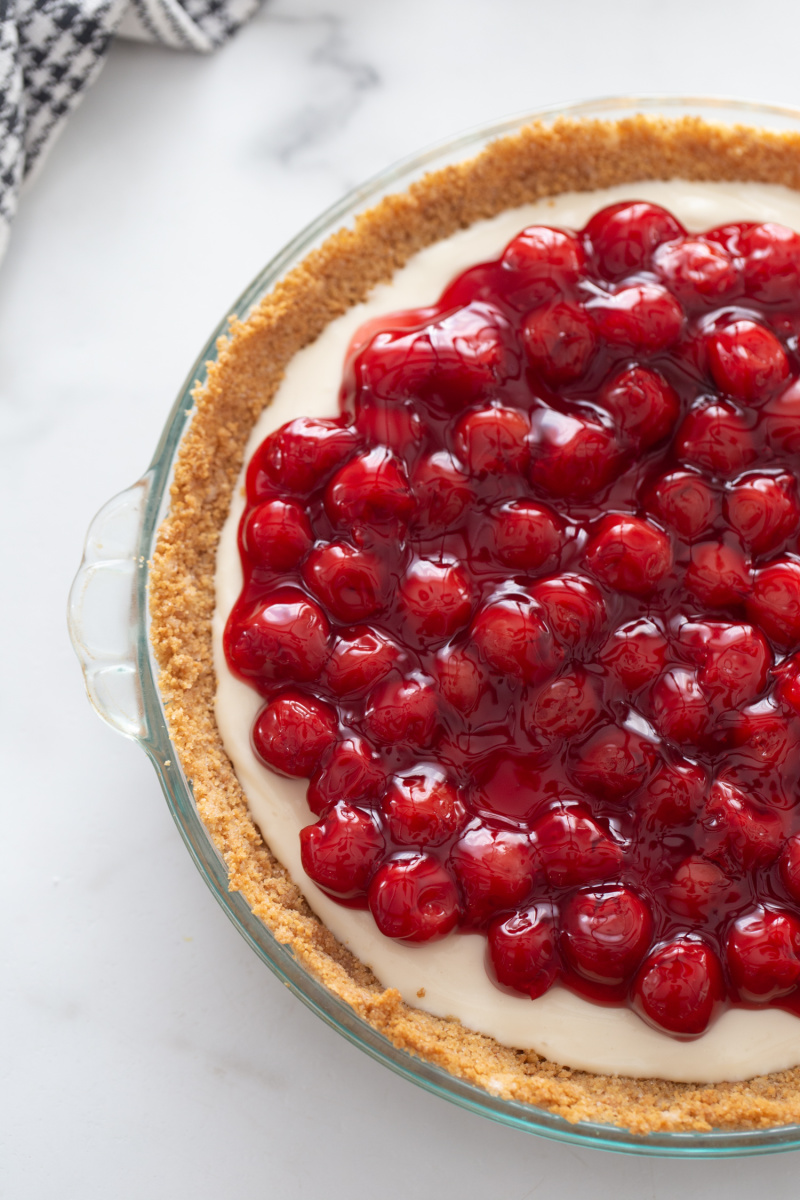 February 20th is National Cherry Pie Day. This day to celebrate cherry pie is positioned close to President George Washington's birthday (Feb 22nd). Celebrate by baking your favorite recipe for traditional cherry pie or make this (almost) no-bake easy Cherry Cream Cheese Pie. Or pick up a cherry pie at your favorite bakery. Use the hashtag #nationalcherrypieday or #cherrypieday to share your celebratory treat!
Washington Cherry Tree Story:
According to the famous myth, George Washington received a hatchet for his 6th birthday and chopped at his father's cherry tree with the hatchet. When his father asked him if he damaged his tree, George replied, "I cannot tell a lie. I chopped down your cherry tree." This myth (not likely to be true) was invented by the writer of a book about George Washington several years later. People began to believe that it was true, and the story has stayed with us all these years.
The History of Cherry Pie:
It's believed that the first cherry pie was served to Queen Elizabeth I in England.
It's thought that the cherry pie came to America with the first English settlers. Early American pies were eaten in long, narrow pans. The pie crust at that time served to hold the pie filling, but it wasn't meant to be eaten.
Modern day, traditional Cherry Pie is a pie baked with an edible crust and a cherry filling. Tart cherries are used instead of sweet cherries. Morello is the most popular variety of cherries used in a cherry pie with black cherries being a close second.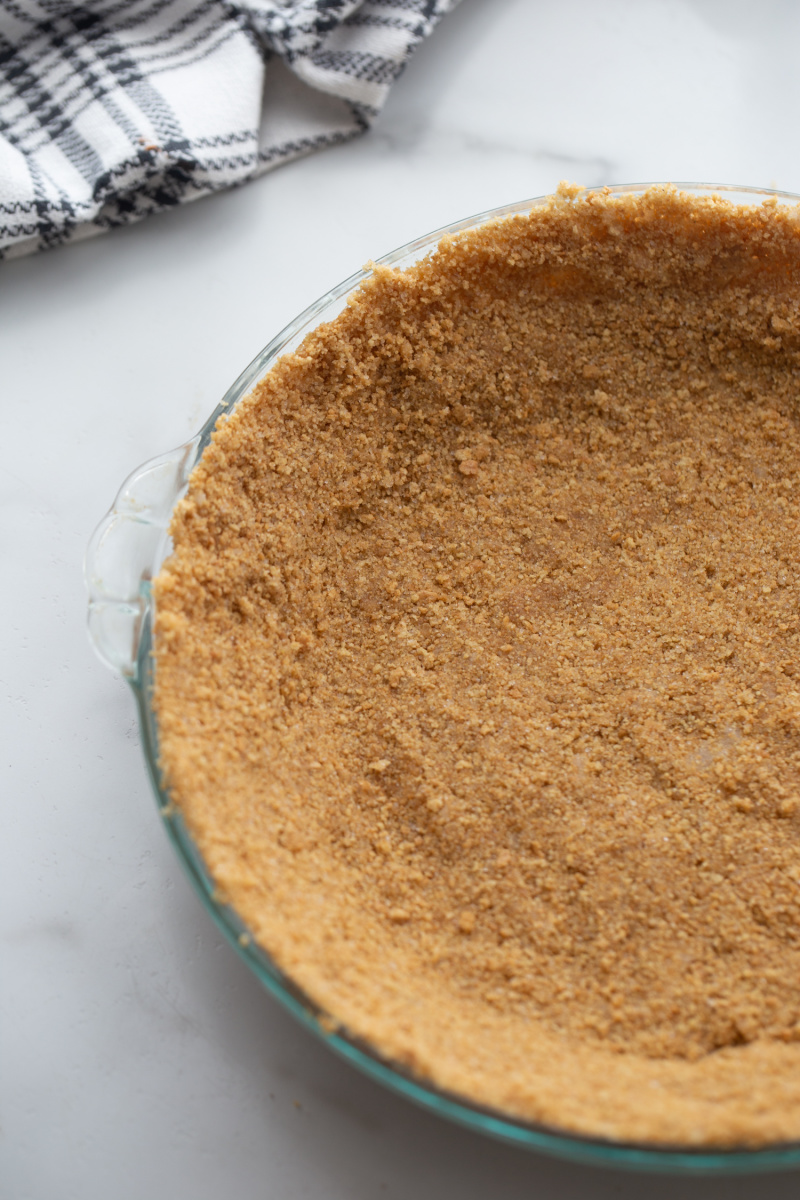 How to make Cherry Cream Cheese Pie:
A graham cracker crust is perfect for this (almost) no-bake cherry cream cheese pie. It's a simple mix of graham cracker crumbs, sugar and melted butter. And it's baked briefly- about 7 minutes- to toast the crumbs and get it set in the pan.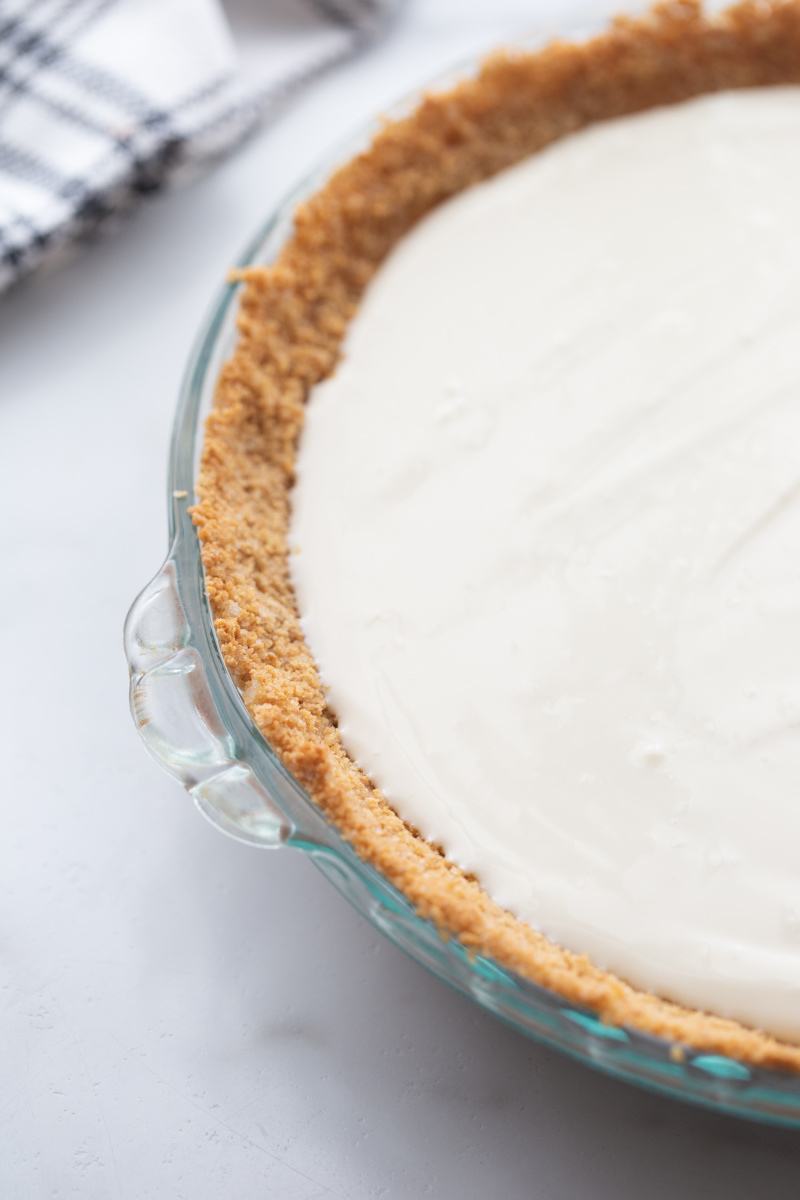 A no-bake cream cheese filling is poured into the baked crust. It's made of cream cheese, sweetened condensed milk, lemon juice and vanilla extract. All is blended with a hand mixer until creamy. Four hours of chilling in the refrigerator will give it time enough to set, and then it will be ready for cherries.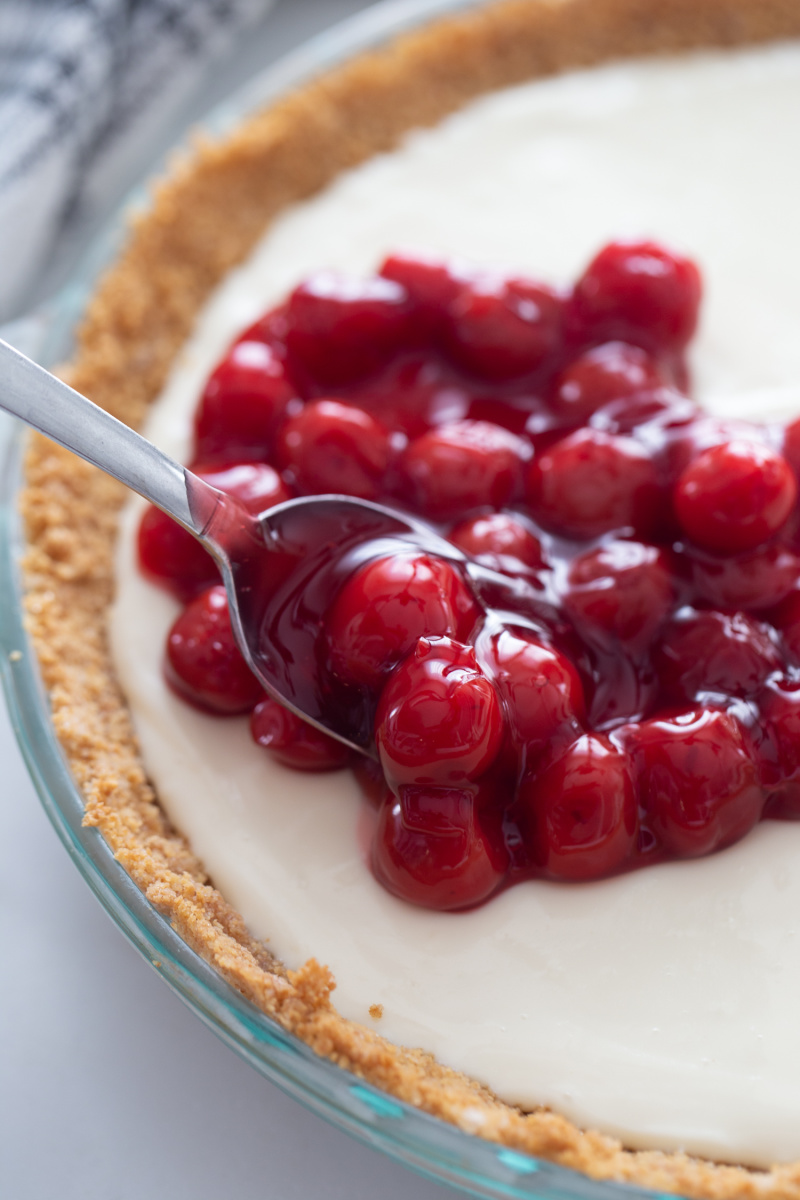 Canned (or homemade) cherry pie filling is spooned on top of the cream cheese layer. Since National Cherry Pie Day is in February and cherry harvest is in the middle of the summer, it's best to go with canned filling or frozen cherries for your cherry pie recipes.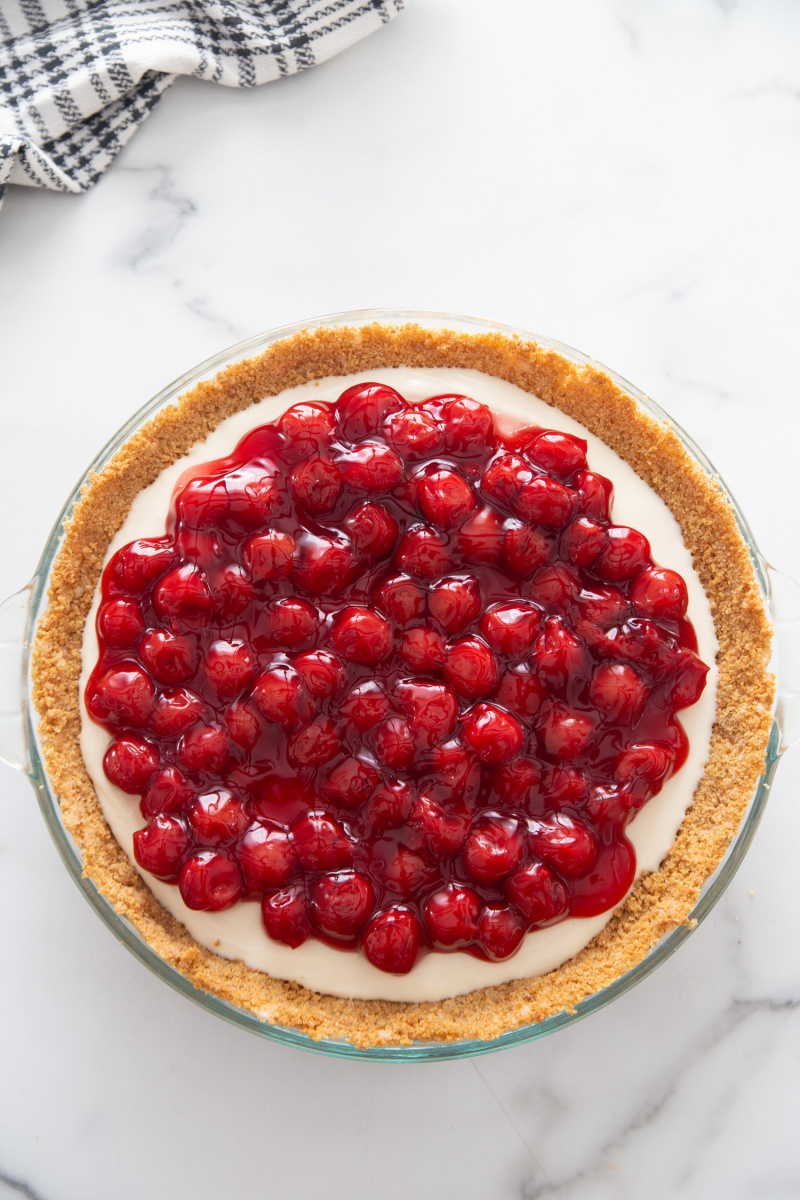 Chill the cherry cream cheese pie again until you're ready to serve.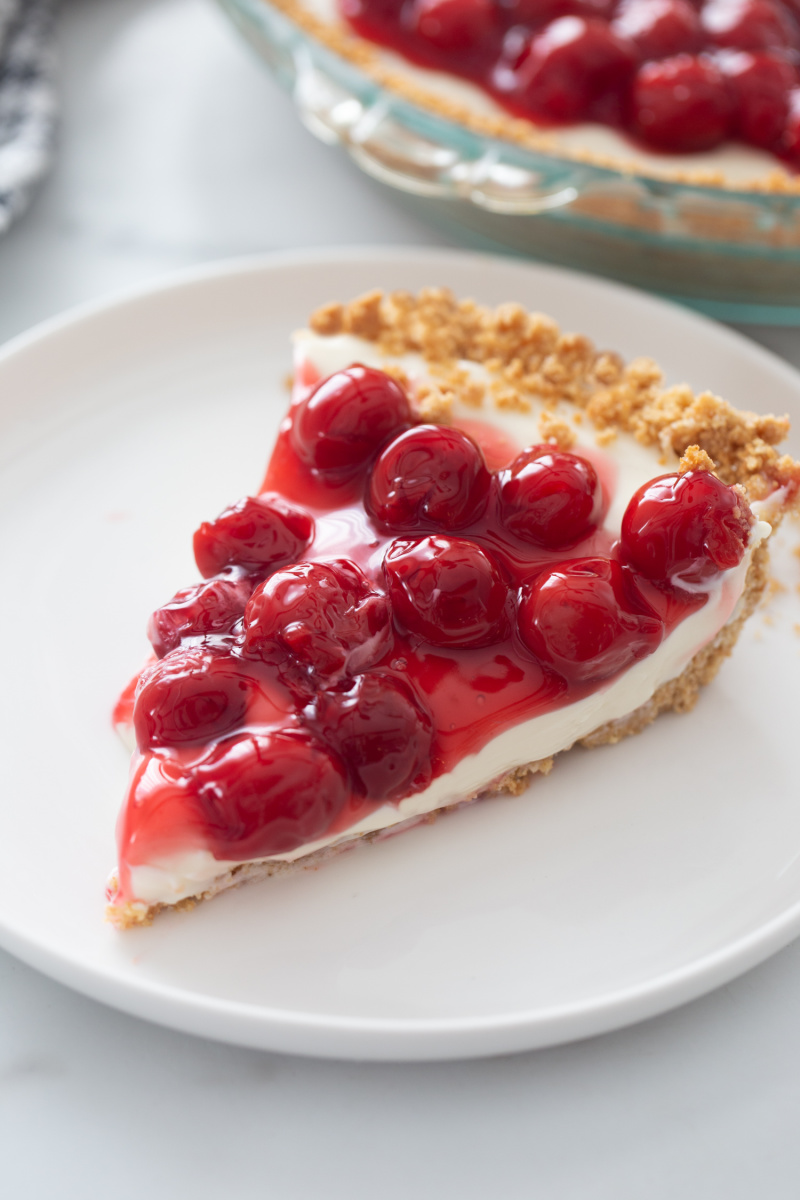 Once well chilled, your cherry cream cheese pie will be firm enough for slicing. Enjoy!
Fun facts about Cherries and Cherry Pie:
There are more than 1,000 varieties of cherries grown in the United States.
Michigan produces about 75% of the tart cherries.
The National Cherry Festival is held in Traverse City, Michigan- the cherry capital of the world.
Cherry pie is known as a "great American dish."
Cherry is considered the 2nd most popular pie behind Apple pie. I wonder where Lemon Chess Pie falls on that list?
Since cherry harvest in the United States is in mid summer, cherry pie is a common pie to be served during Canada Day (July 1) and 4th of July.
In the United States, guidelines are in place that mandate frozen cherry pies to have at least 25% cherries, and artificial sweeteners are not permitted. I wonder what the other 75% is made up of??
A slice of cherry pie is often served warm with a scoop of ice cream or a dollop of whipped cream on top.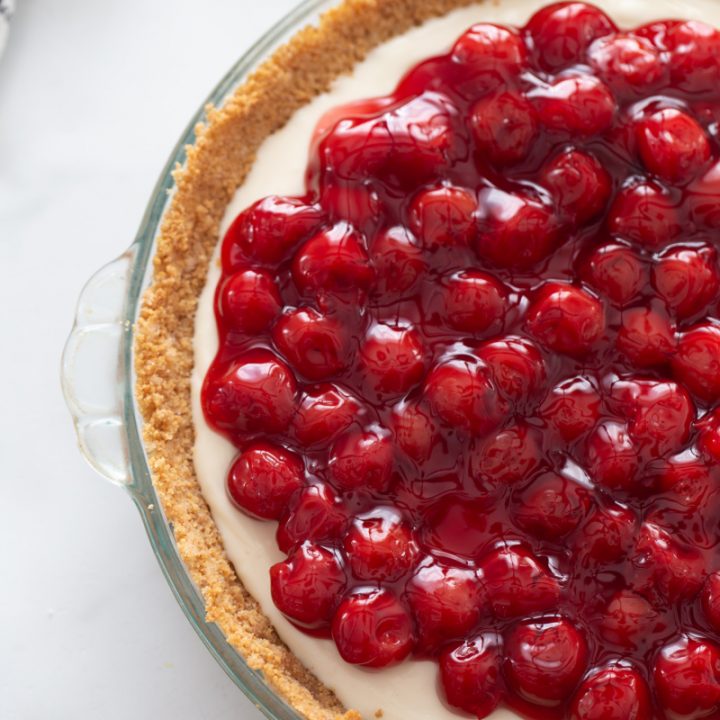 Cherry Cream Cheese Pie
Cream cheese pie with cherry topping and a graham cracker crust!
Ingredients
CRUST:
1 ½ cups finely ground graham cracker crumbs
1/3 cup granulated white sugar
6 tablespoons butter, melted
PIE FILLING:
14 ounces cream cheese, at room temperature
One 14-ounce can Sweetened Condensed Milk
1/3 cup freshly squeezed lemon juice
1 teaspoon vanilla extract
21 ounces canned cherry pie filling, chilled
Instructions
Prepare the crust:
Preheat the oven to 375 degrees F. Mix graham cracker crumbs, sugar and melted butter until well blended . Press the mixture into an 8-inch pie plate. Bake for 7 minutes. Cool.
Prepare the pie filling:
In a large bowl, use an electric mixer to beat the cream cheese until fluffy. Gradually beat in the sweetened condensed milk until smooth. Beat in the lemon juice and the vanilla.
Scrape the cream cheese filling into the baked pie crust and smooth evenly. Chill until set- about 4 hours. Top with the desired amount of cherry pie filling. Chill again. Then cut and serve.
Nutrition Information:
Yield:

8
Serving Size:

1 slice
Amount Per Serving:
Calories:

653
Total Fat:

33g
Saturated Fat:

19g
Trans Fat:

0g
Unsaturated Fat:

11g
Cholesterol:

96mg
Sodium:

397mg
Carbohydrates:

81g
Fiber:

1g
Sugar:

51g
Protein:

10g
Nutritional information is estimated using a nutrition calculator.