Here are the 25 Best Strawberry Shortcake Recipes for you to bookmark and make all year long. There is something for everybody in this collection. Everyone loves chocolate covered strawberries, but strawberry shortcake is another way to enjoy this much-loved fruit.
Traditional strawberry shortcake is a sweet cake or biscuit served with sweetened strawberries and whipped cream.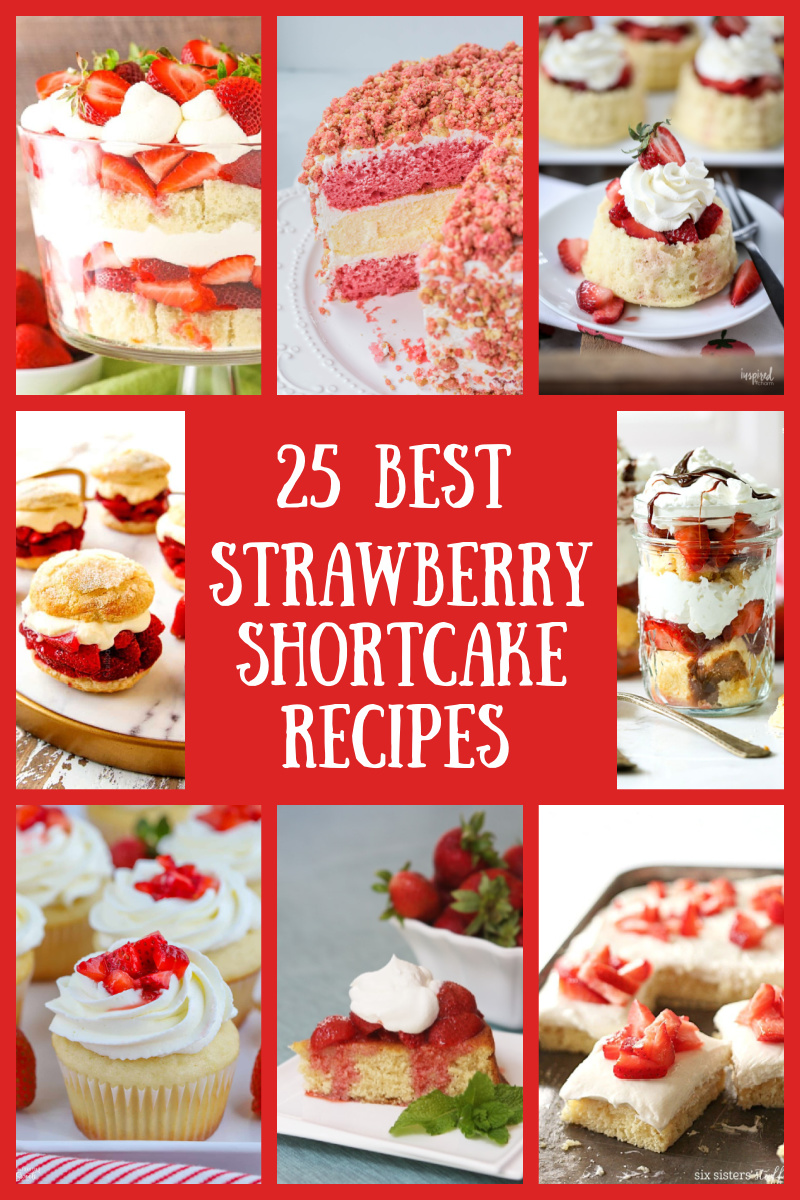 June 14th is National Strawberry Shortcake Day. Celebrate by grabbing fresh strawberries and making one of these 25 best strawberry shortcake recipes. There are so many varieties to choose from. Make classic strawberry shortcake, strawberry shortcake cupcakes, strawberry shortcake ice cream bars and more! Share your strawberry shortcake creation on social media by using the hashtag #NationalStrawberryShortcakeDay, #StrawberryShortcakeDay and #RecipesForHolidays.
The History of Strawberry Shortcake:
The earliest known shortcake recipe was written into a cookbook in 1588. The cookbook was called, The Good Huswifes Handmaid for Cookerie in the Kitchen.
In the early 1600's, William Shakespeare used the name Alice Shortcake in The Merry Wives of Windsor. This helped to propel the popularity of shortcake. In 1821, shortcake was also mentioned in Washington Irvings The Legend of Sleepy Hollow. He mentioned "sweet cakes and short cakes" in a description of the dessert table.
By 1850, shortcake had become a commonly served dessert served hot with butter, strawberries and cream. By the late 1800's, strawberry shortcake parties were held to celebrate the coming of the summer fruit harvest. The first strawberry shortcakes were made with a pastry similar to pie crust. Strawberries were sandwiched in-between the crust and covered with icing. This dessert evolved over the years into the strawberry shortcake we know today (sweet biscuits or cakes with strawberries and whipped cream) as tastes changed and different ingredients became available.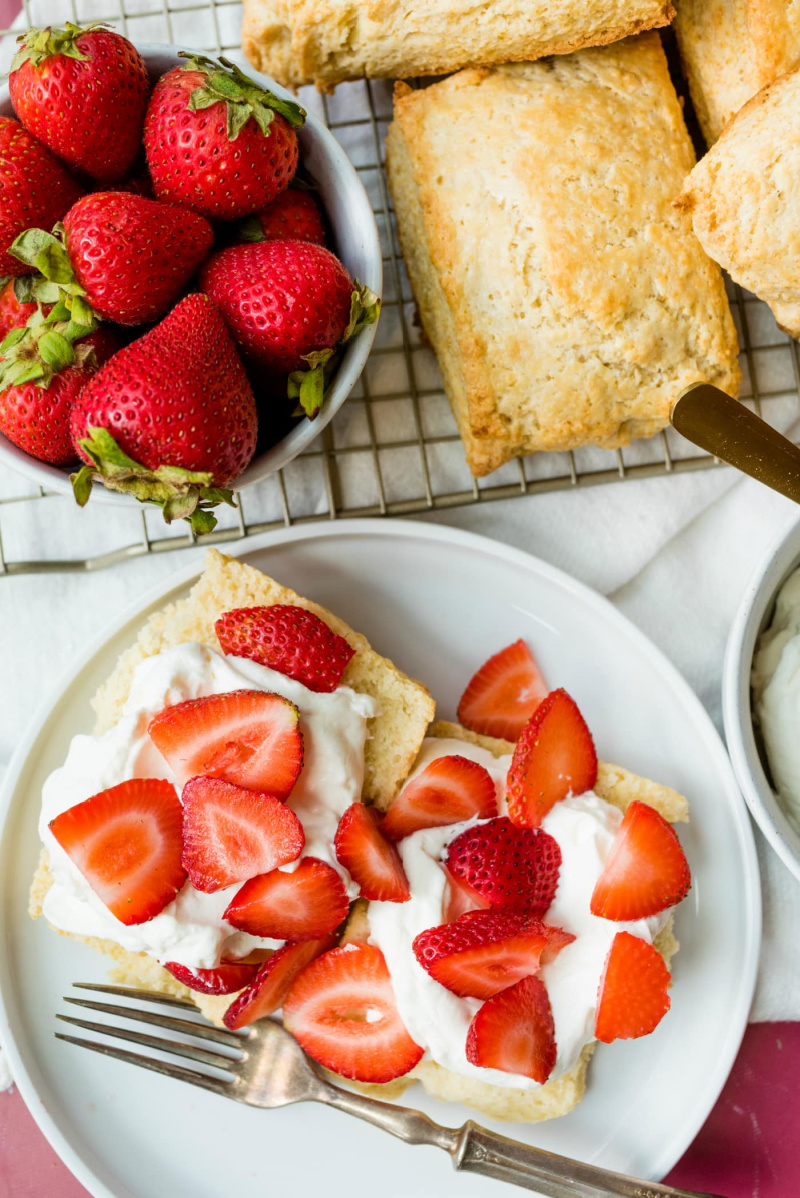 Classic Strawberry Shortcake by Reluctant Entertainer. This recipe has sweet, homemade buttermilk biscuits, fresh strawberries, and whipped cream!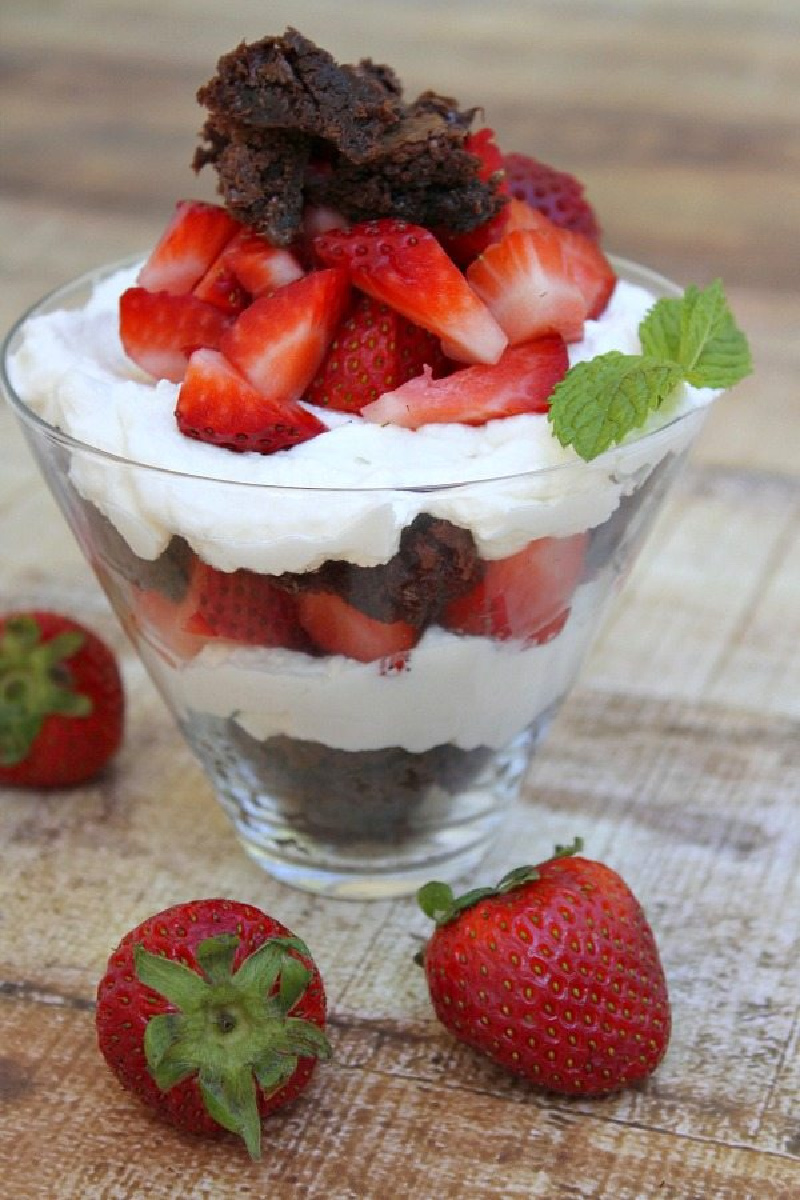 Brownie Strawberry Shortcake by Recipe Girl. This is a summery sort of classic recipe made with brownies instead of pound cake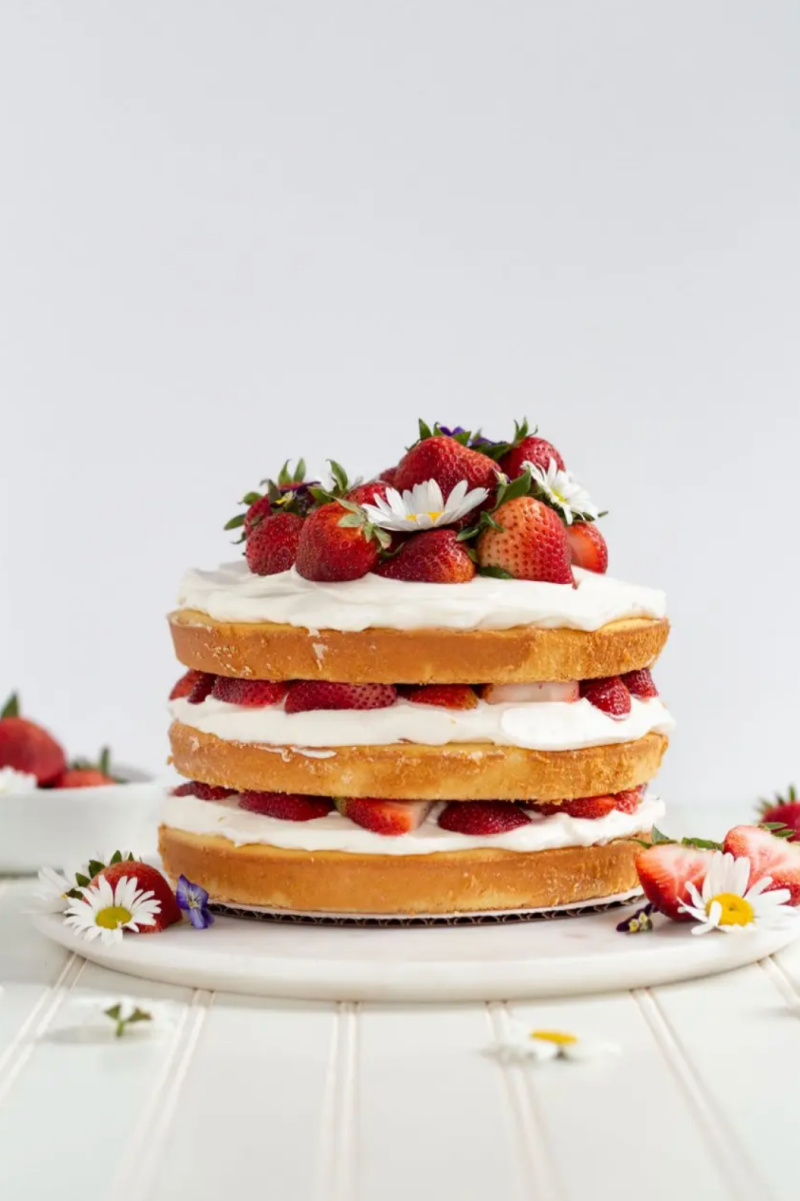 Strawberry Shortcake Cake by Island Bakes. This cake has incredibly soft cake layers with swirls of sweet cream cheese frosting and fresh strawberries.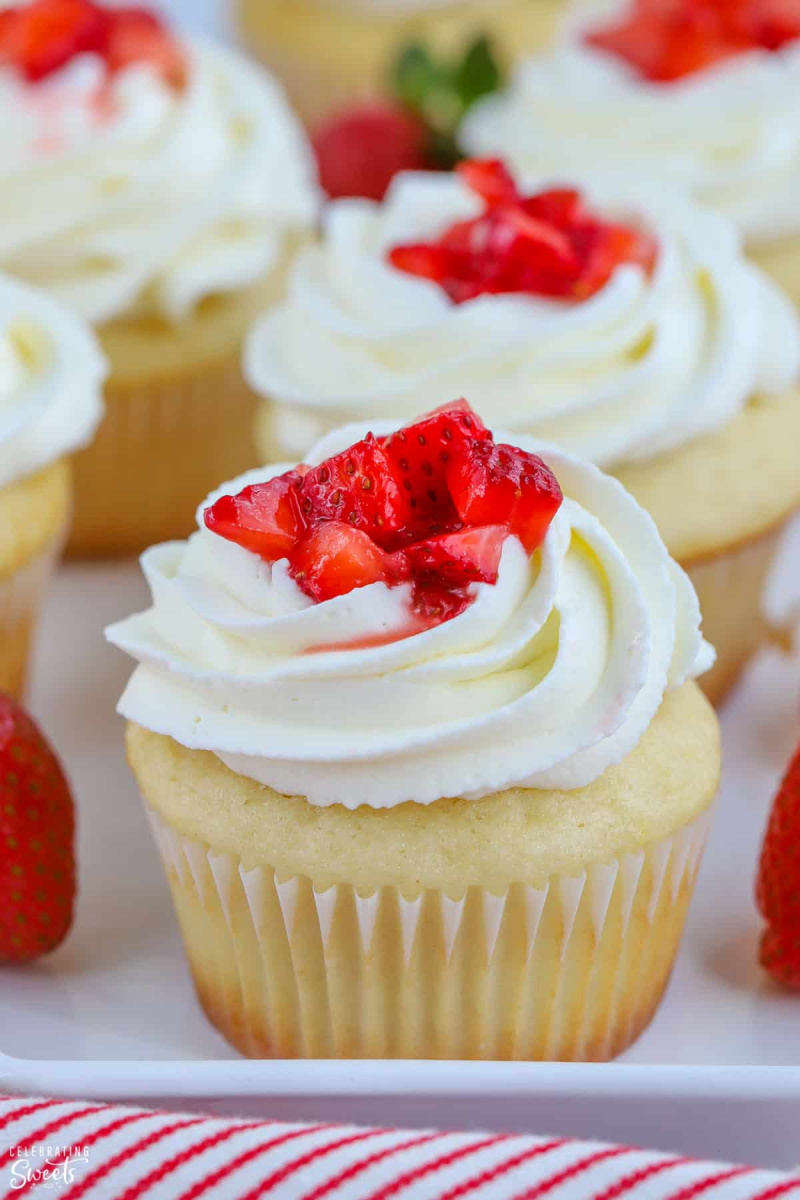 Strawberry Shortcake Cupcakes by Celebrating Sweets. Vanilla cupcakes with a juicy strawberry filling, whipped cream frosting, and strawberry topping. All the flavors of Strawberry Shortcake in cupcake form.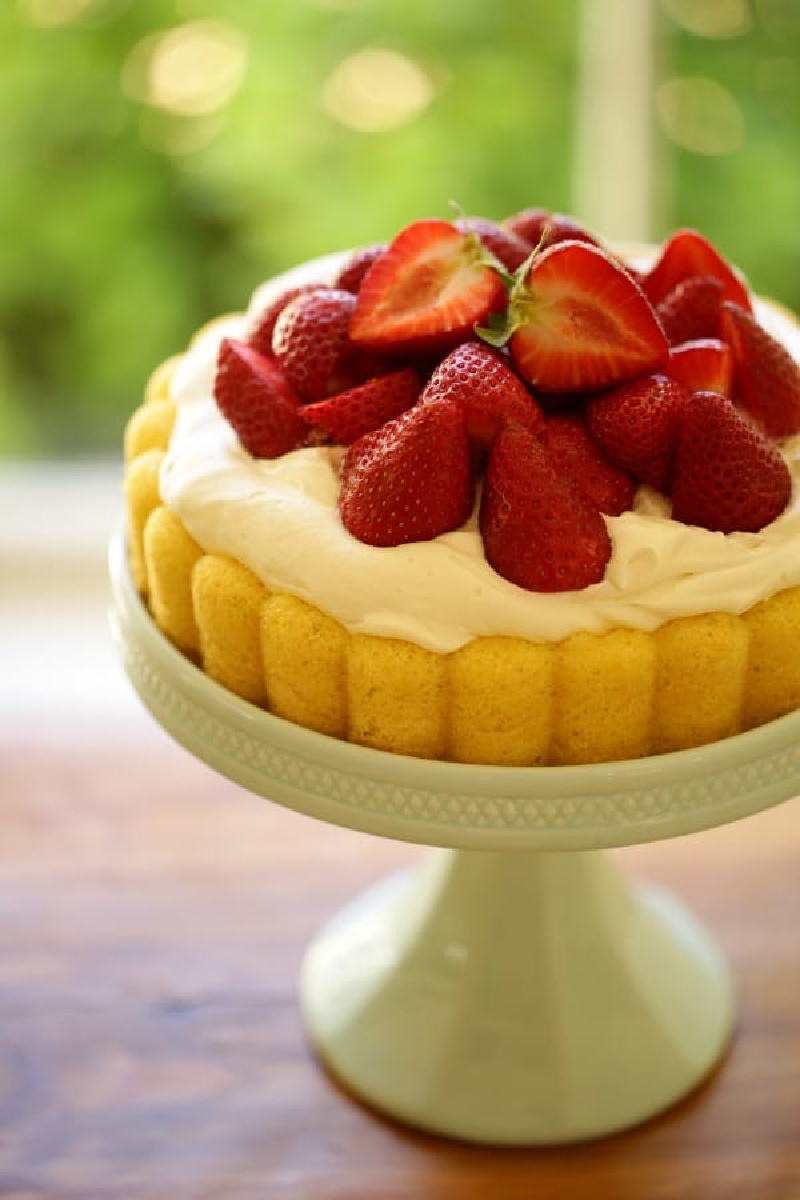 Strawberry Shortcake Charlotte by Entertaining with Beth. Perfect for a special occasion, this recipe basically takes the idea of a classic strawberry shortcake and dresses it up a bit fancier!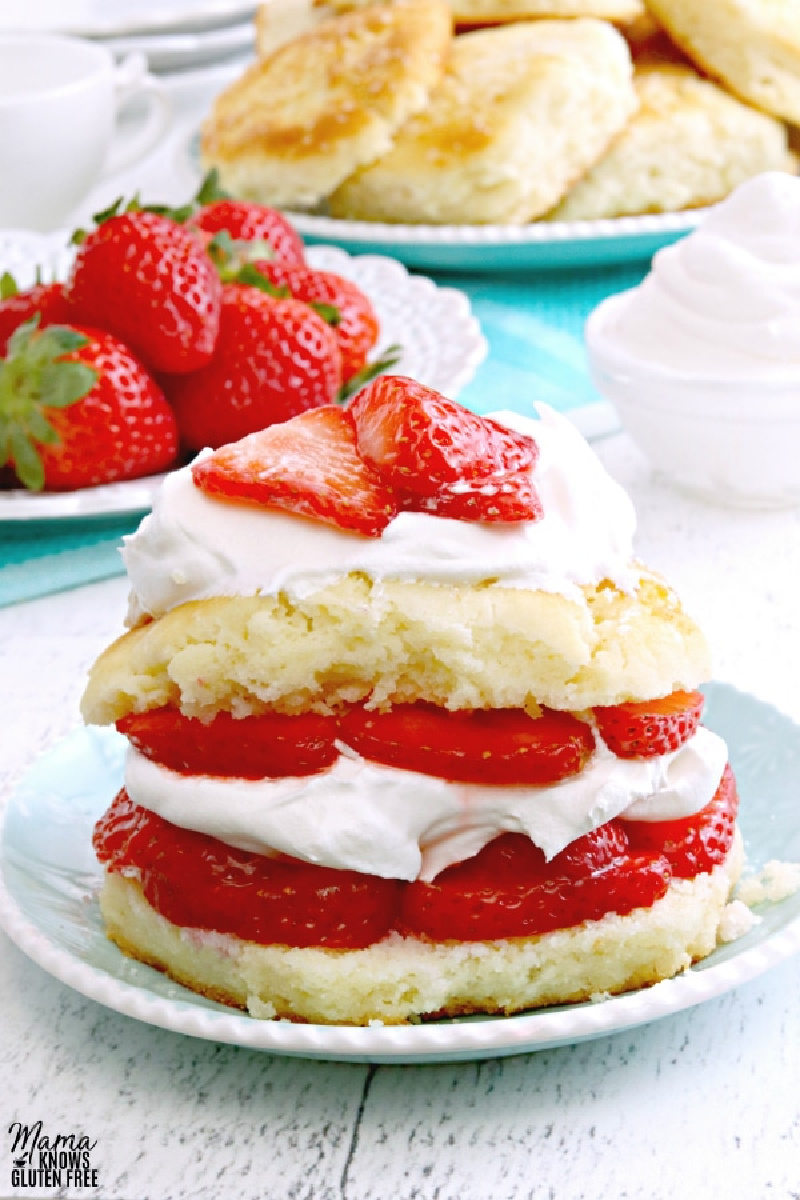 Gluten Free Strawberry Shortcake by Mama Knows Gluten Free. Fluffy and flaky sweet gluten-free biscuits topped with strawberries and whipped cream. The recipe also has a dairy-free and vegan option.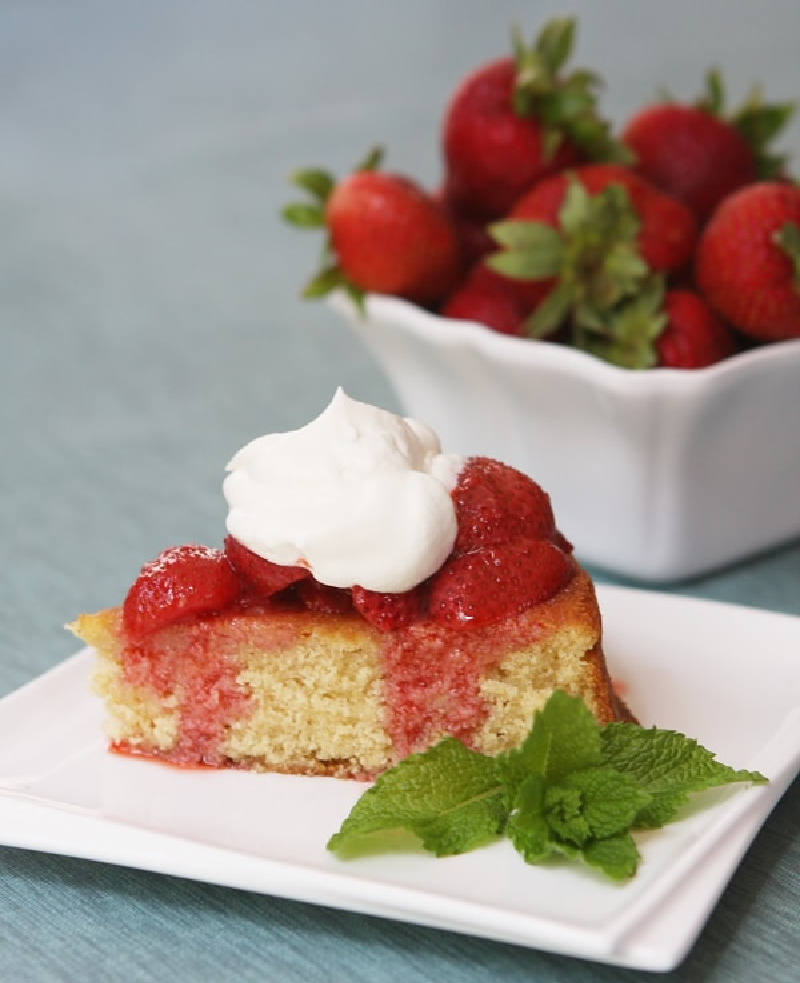 Brown Butter Strawberry Shortcake by Recipe Girl. Nutty and delicious brown butter lends fabulous flavor to an otherwise bland shortcake.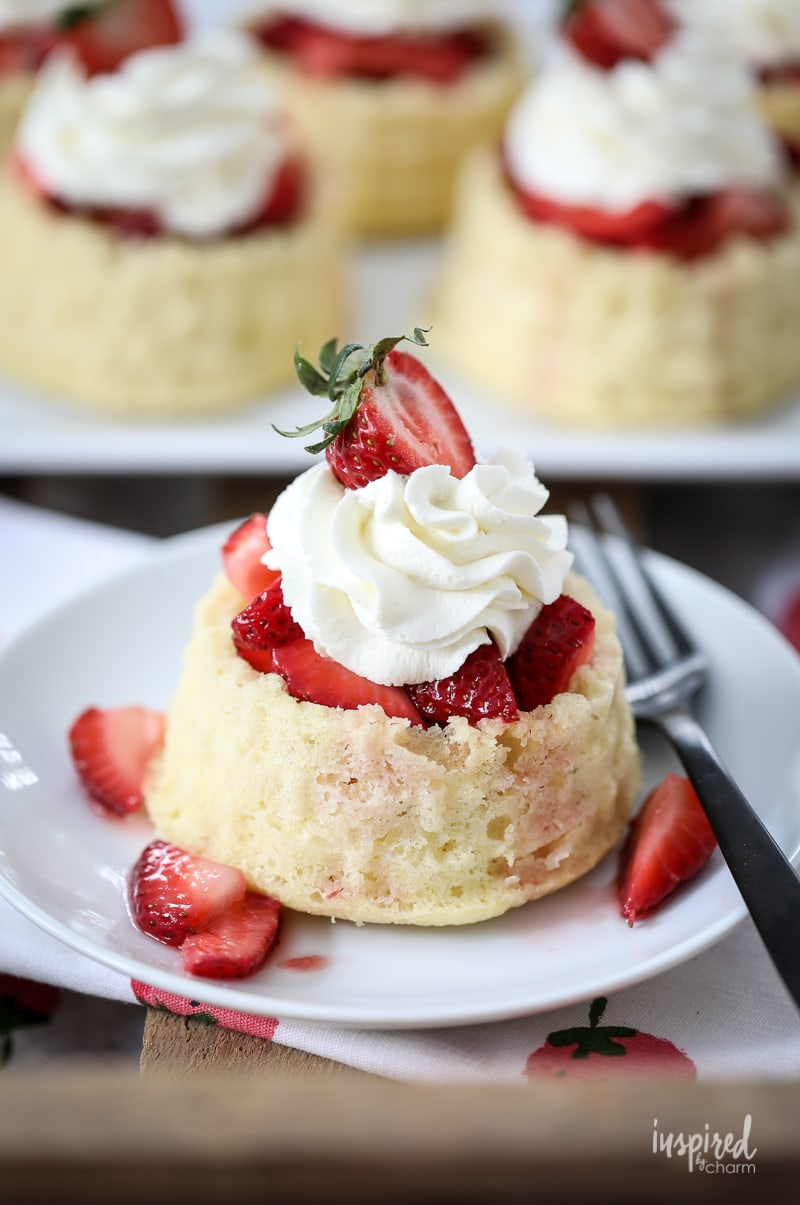 Homemade Strawberry Shortcakes by Inspired by Charm. Making homemade shortcakes for this classic summer dessert couldn't be easier!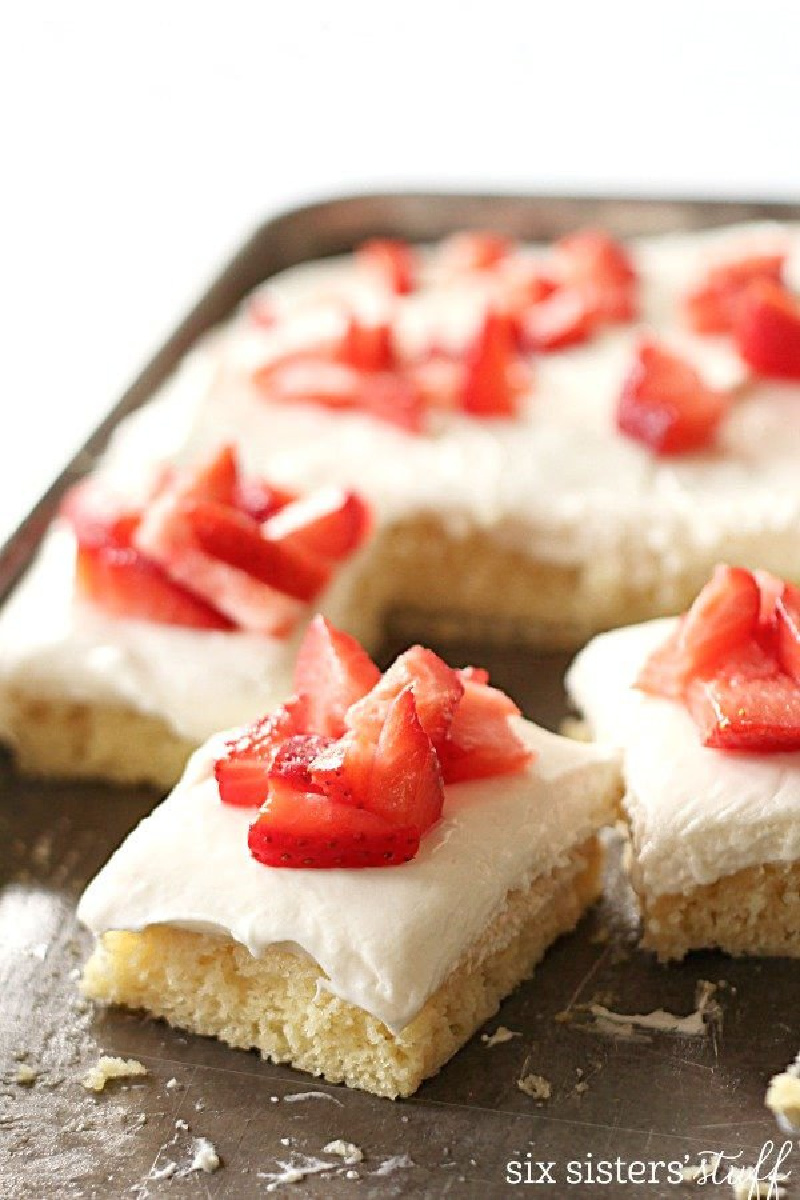 Strawberry Shortcake Sheet Cake by Six Sister's Stuff. This is a cake big enough to feed a crowd! Smooth whipped frosting topped with fresh strawberries . . . this cake doesn't get any better!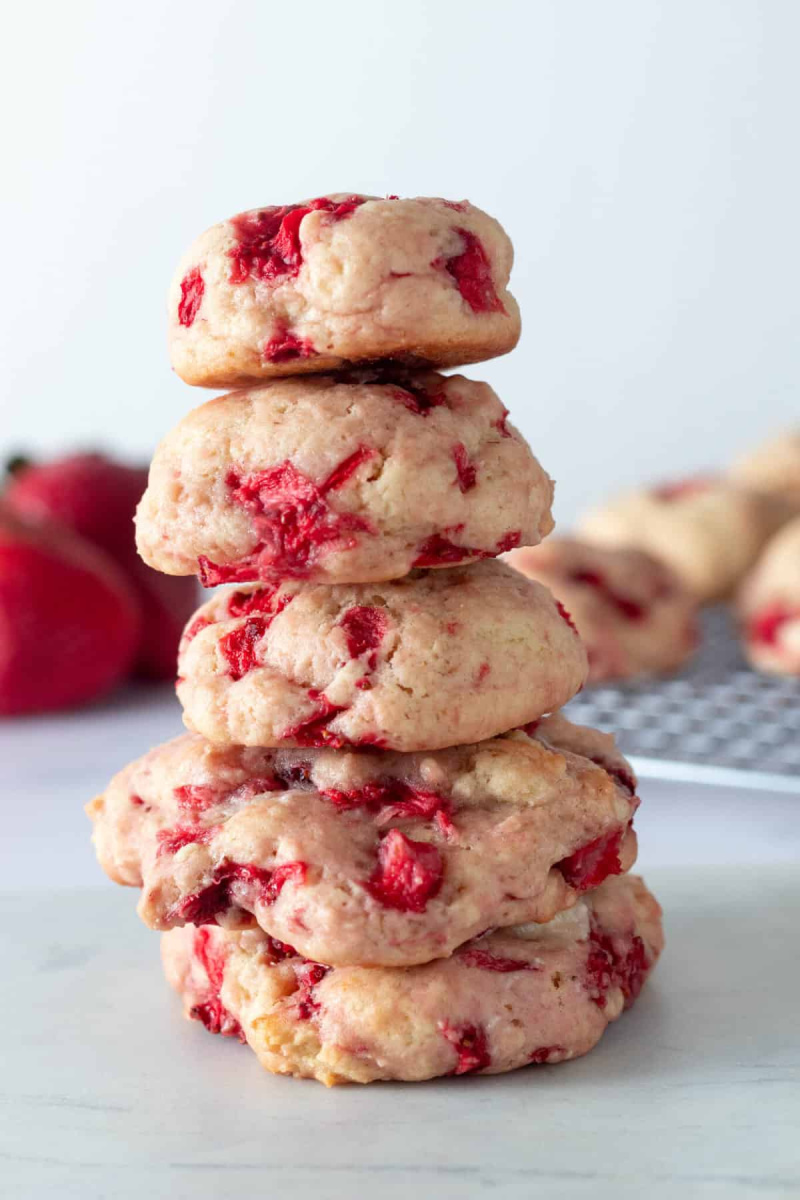 Strawberry Shortcake Cookies by Urban Farmie. Nothing screams "summer cookies" like these simple, fluffy and fresh strawberry cookies.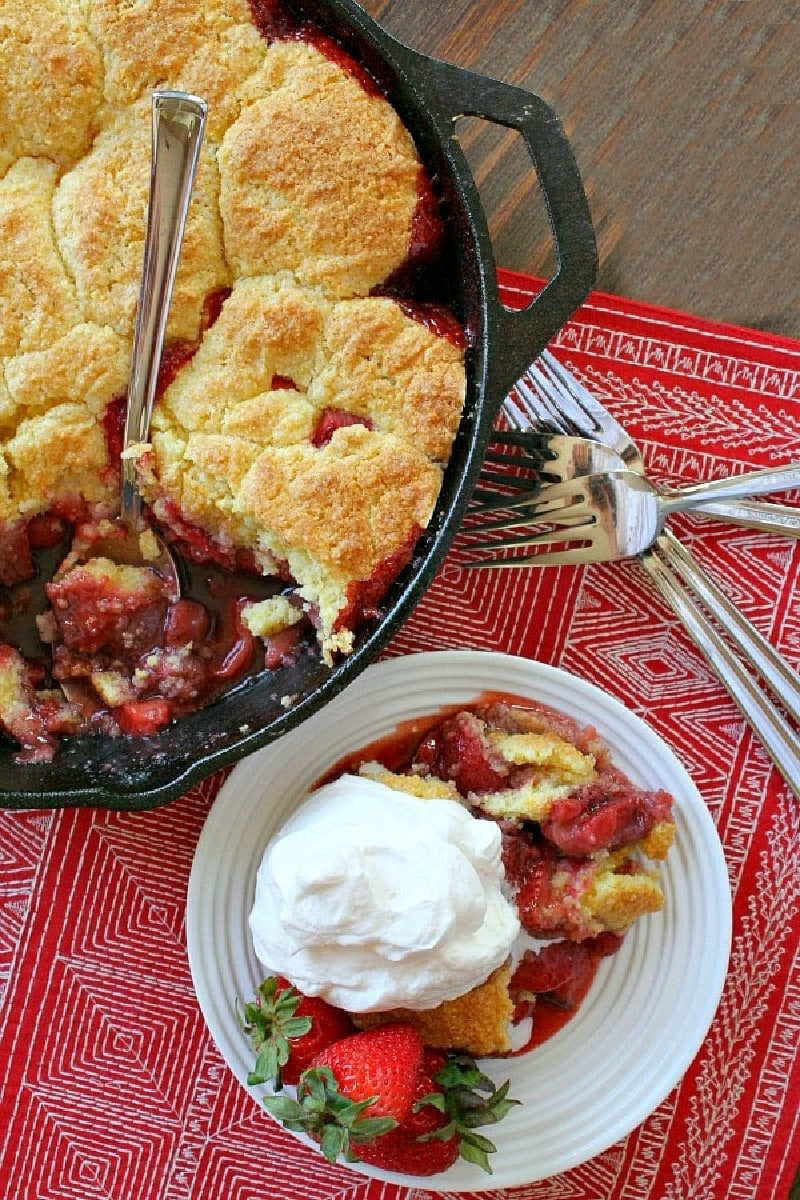 Strawberry Shortcake Skillet Cobbler by Recipe Girl. This is a strawberry shortcake recipe made in a cast iron skillet with a cornmeal cobbler baked on top.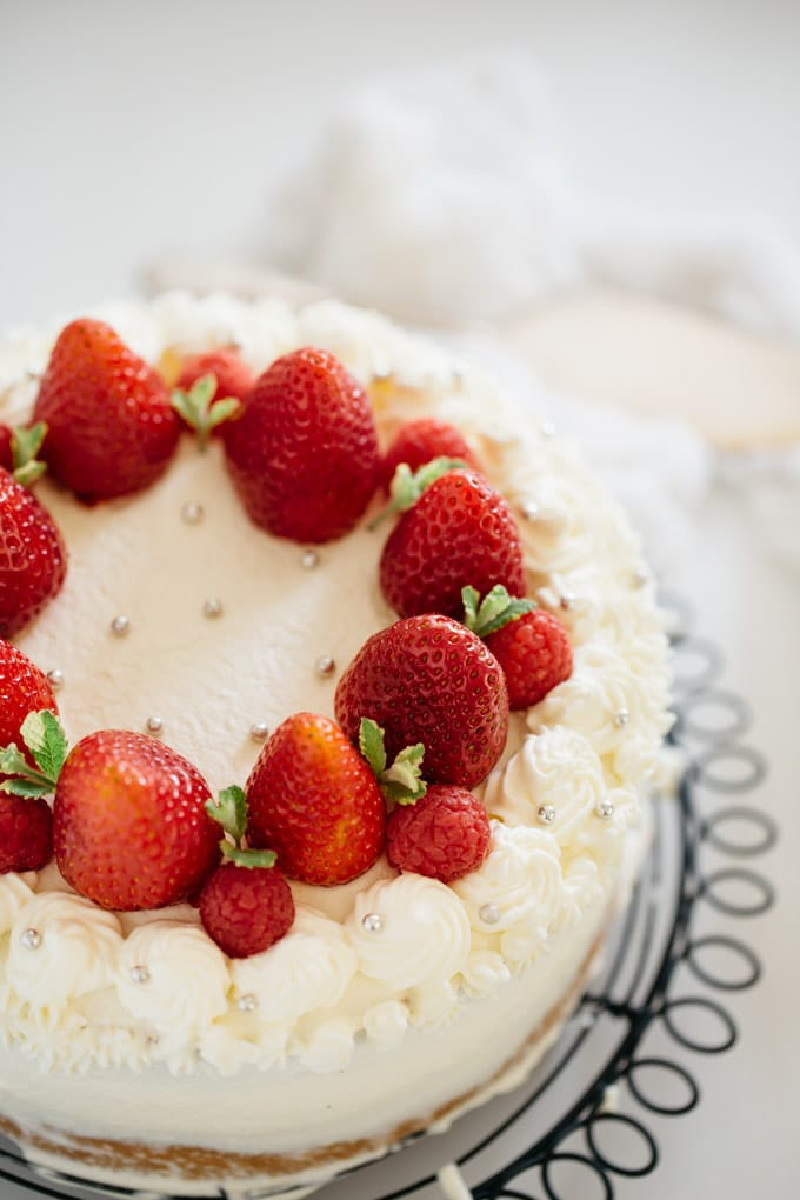 Japanese Strawberry Shortcake by Chopstick Chronicles. A take on the classic, this cake is made from layers of fluffy and airy sponge cake filled with whipped cream and decorated with fresh strawberries.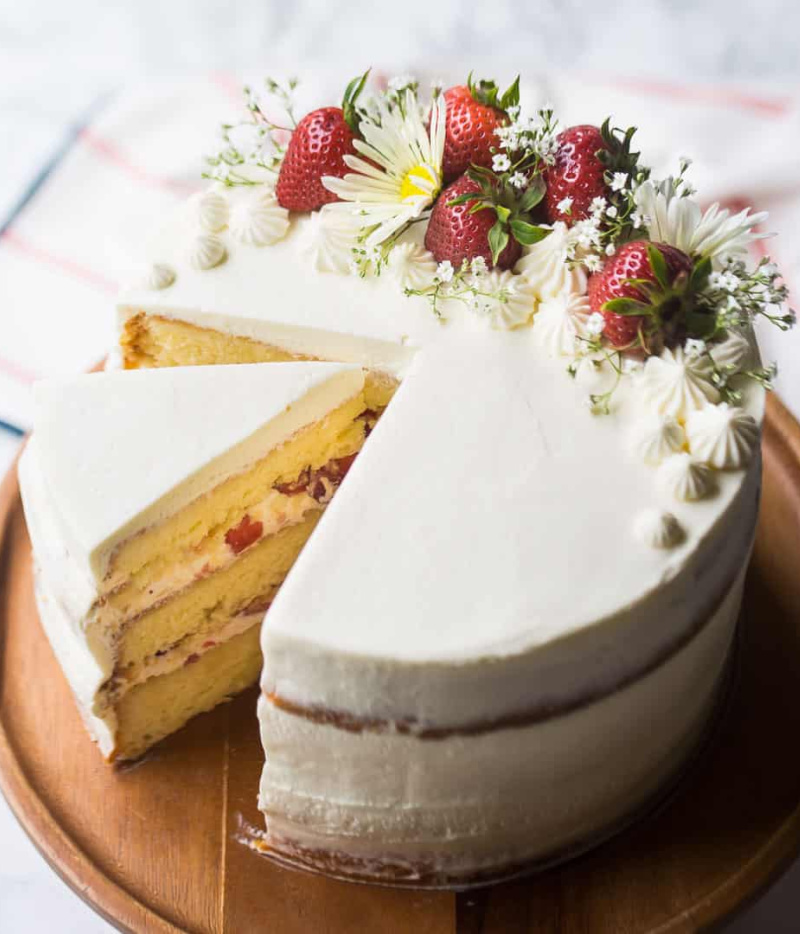 Strawberry Shortcake Layer Cake by Baking a Moment. This is a moist and velvety pound cake layered with fresh strawberries and fluffy whipped cream.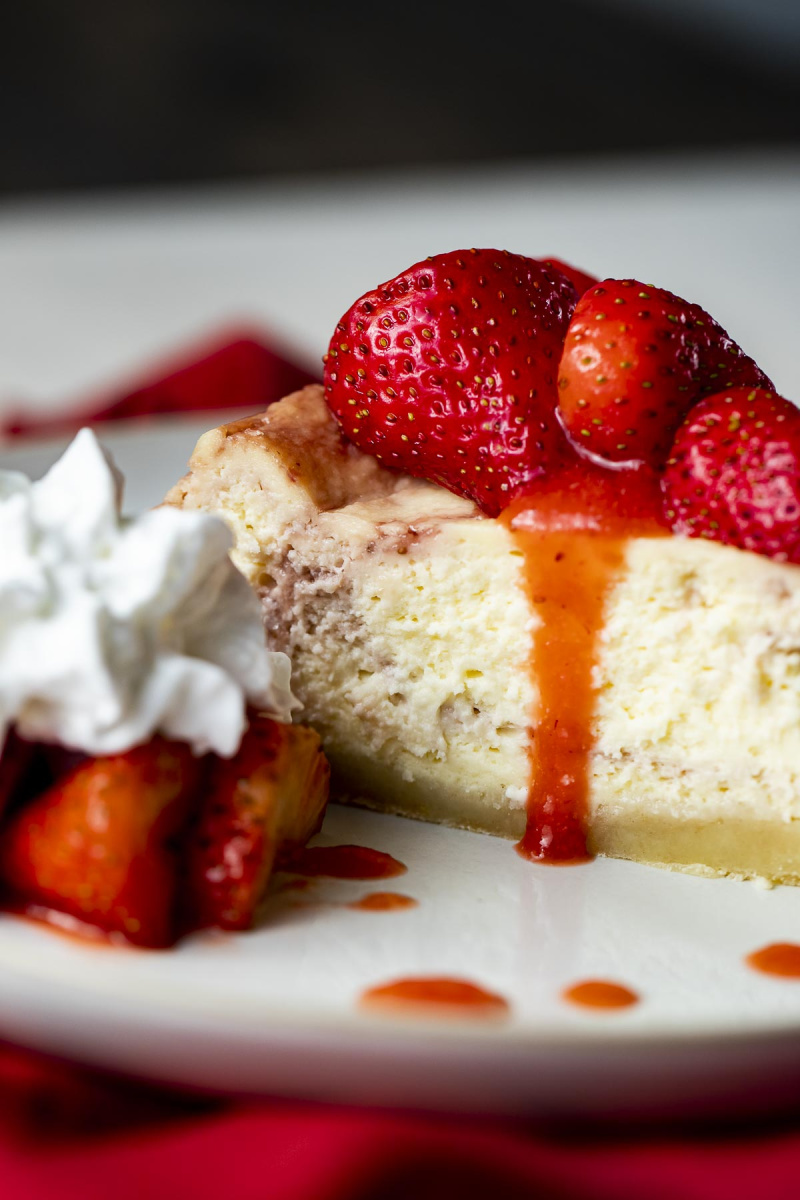 Strawberry Shortcake Cheesecake by Went Here 8 This. Juicy, ripe strawberries, homemade shortbread crust and whipped cream make this cheesecake one of the best treats ever!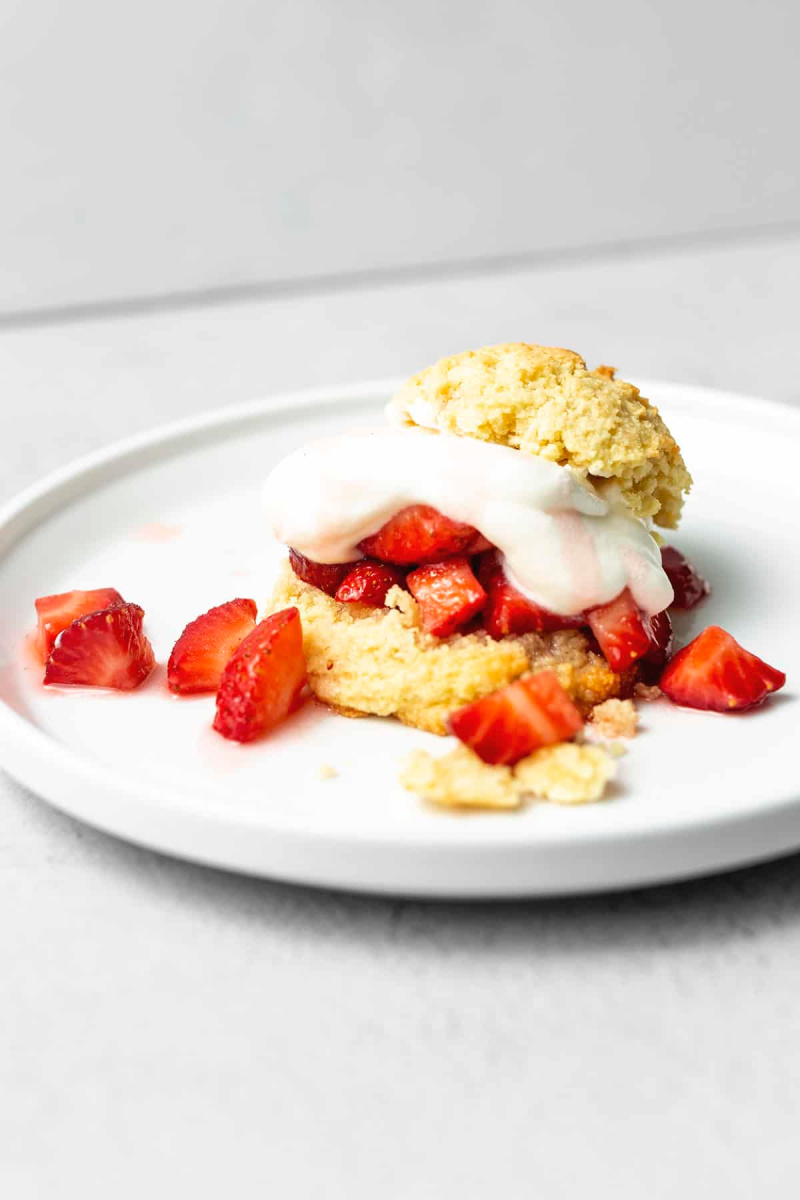 Keto Strawberry Shortcake by Low Carb with Jennifer. The all American dessert classic without all the worries about carbs!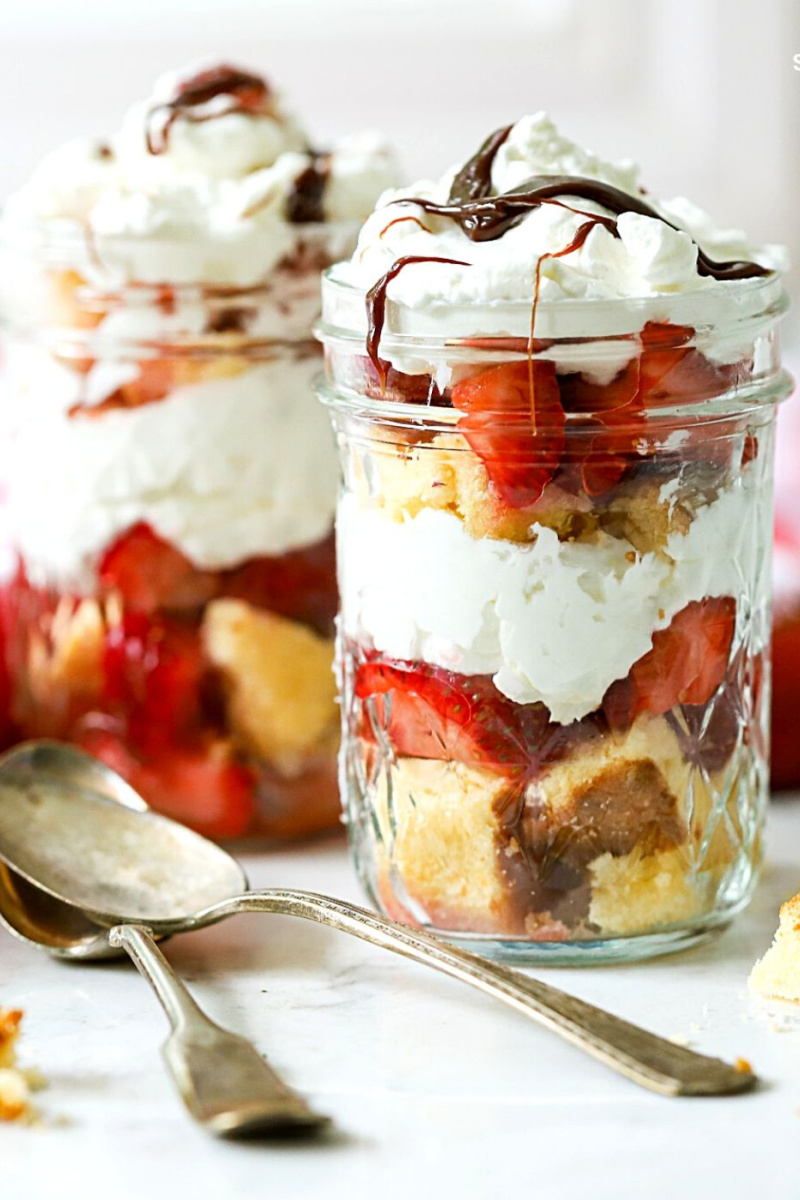 Strawberry Shortcake in a Jar by Suburban Simplicity. This is an easy 10-minute strawberry dessert served in a mason jar.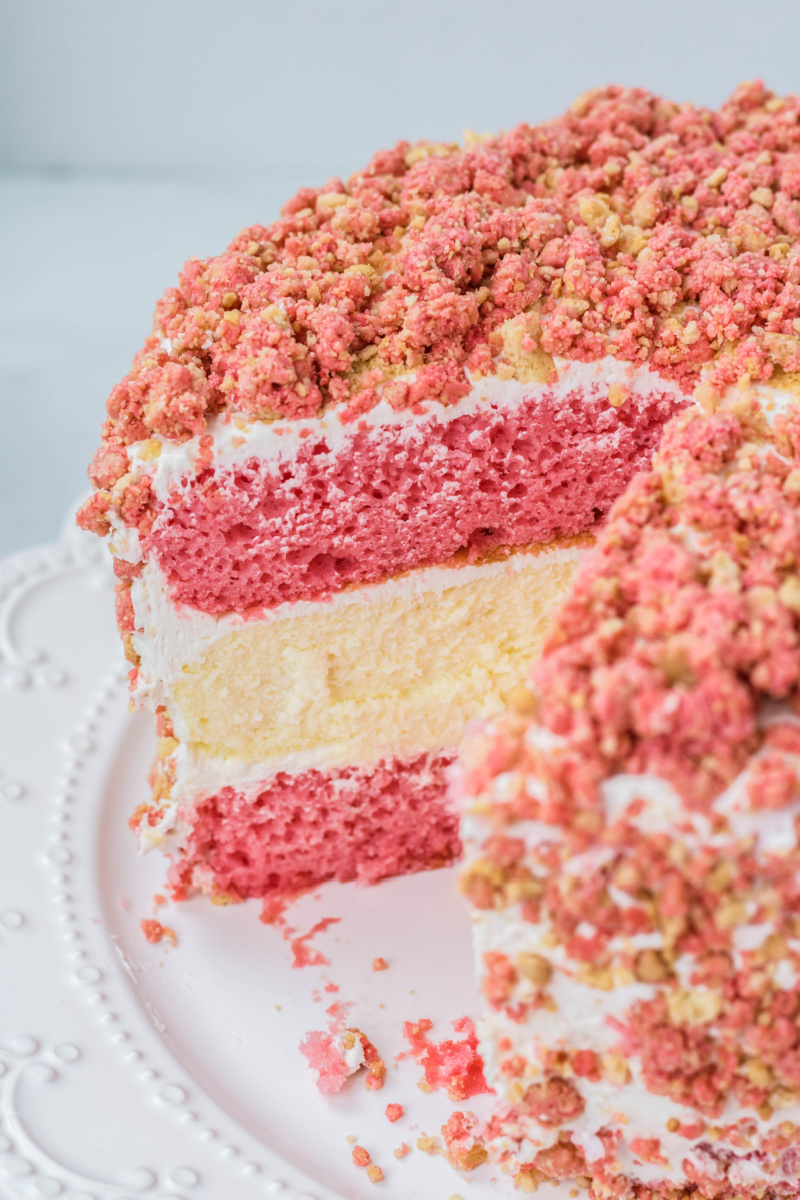 Strawberry Shortcake Cheesecake Cake by My Incredible Recipes. This cake is insanely delicious, with a thick layer of homemade cheesecake stuffed right into the center, and then topped with a strawberry crumble.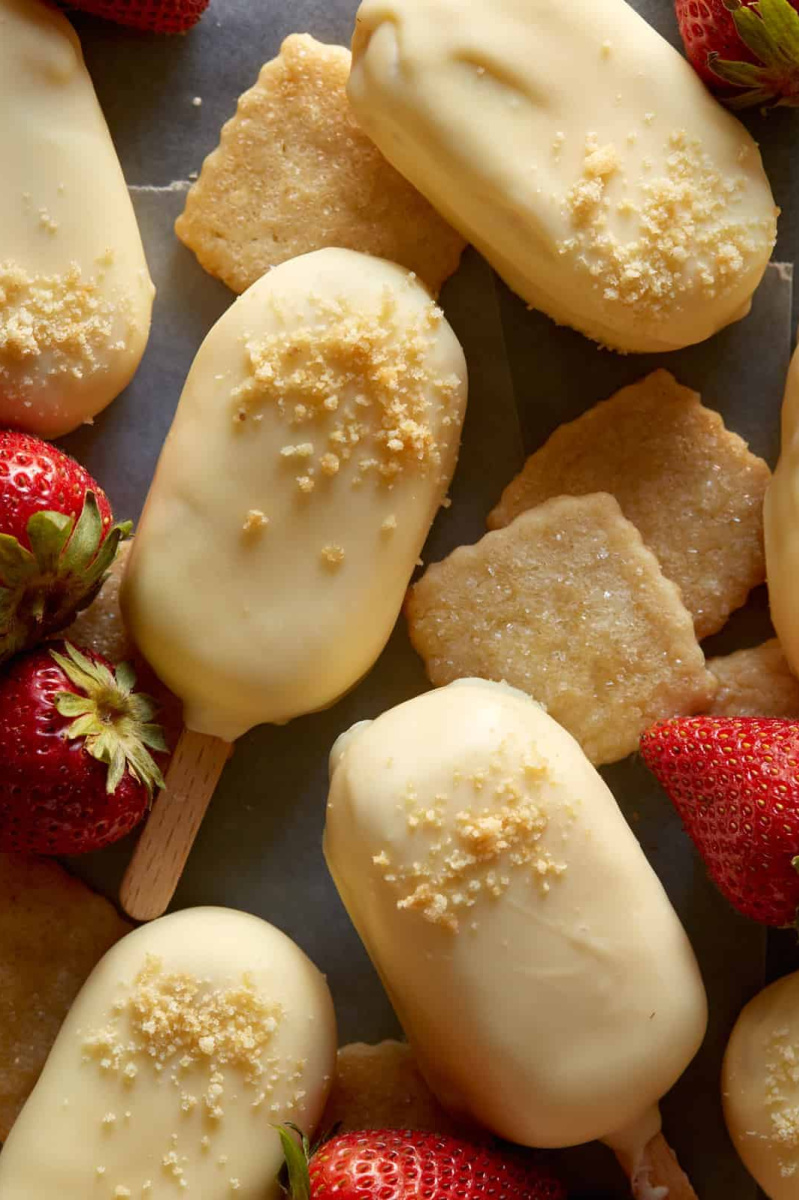 Strawberry Shortcake Cheesecake Ice Cream Bars by Spoon Fork Bacon. These are easy sweet treats that are perfect for summer!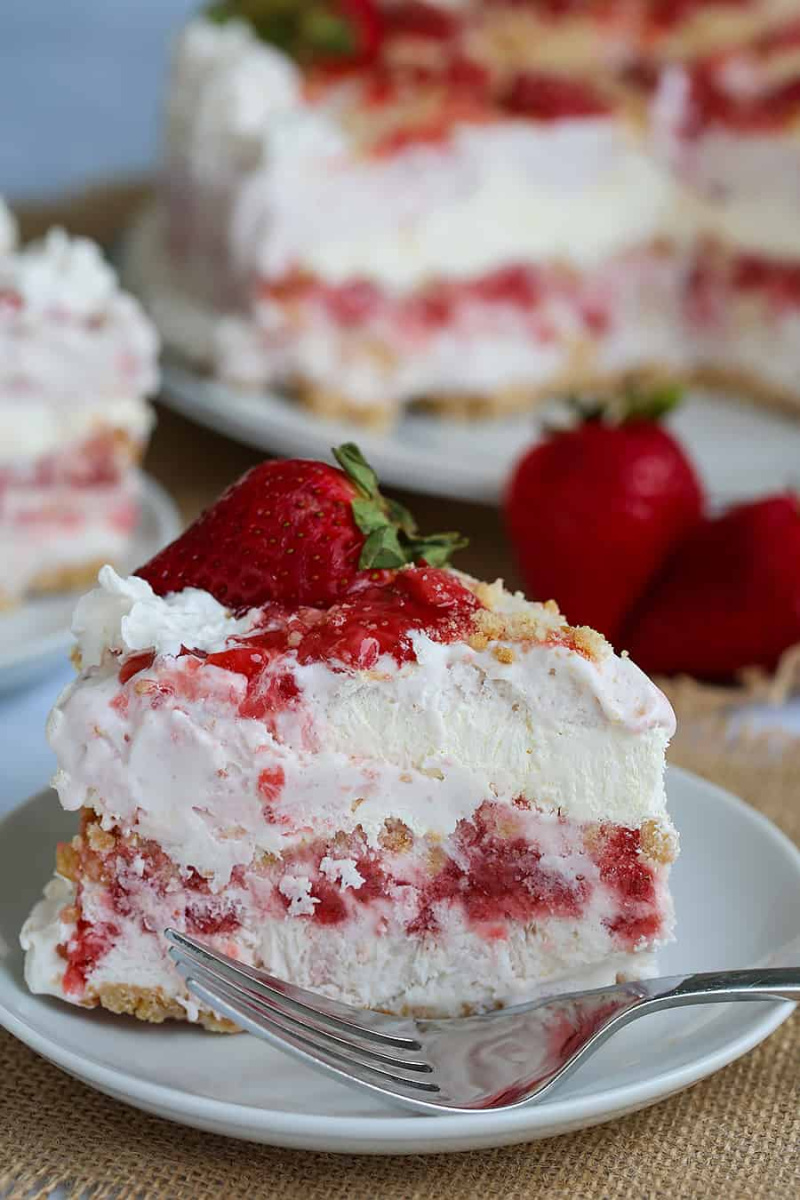 Strawberry Shortcake Ice Cream Cake by My Organized Chaos. This cake has layers of strawberry ice cream, whipped topping and a cookie crumble.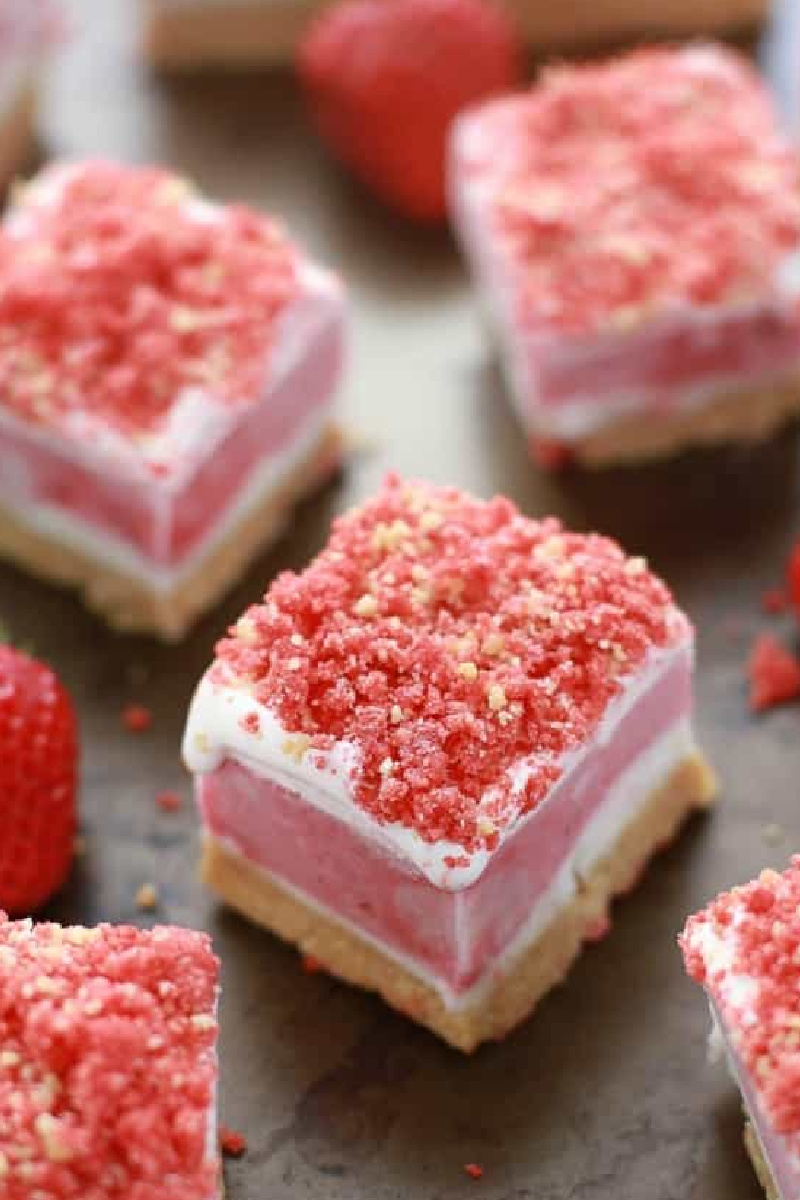 Strawberry Shortcake Ice Cream Bars by Life Made Sweeter. These are an easy dessert recipe with layers of vanilla and strawberry ice cream, a crumbled Golden Oreo topping and no-bake cookie crust.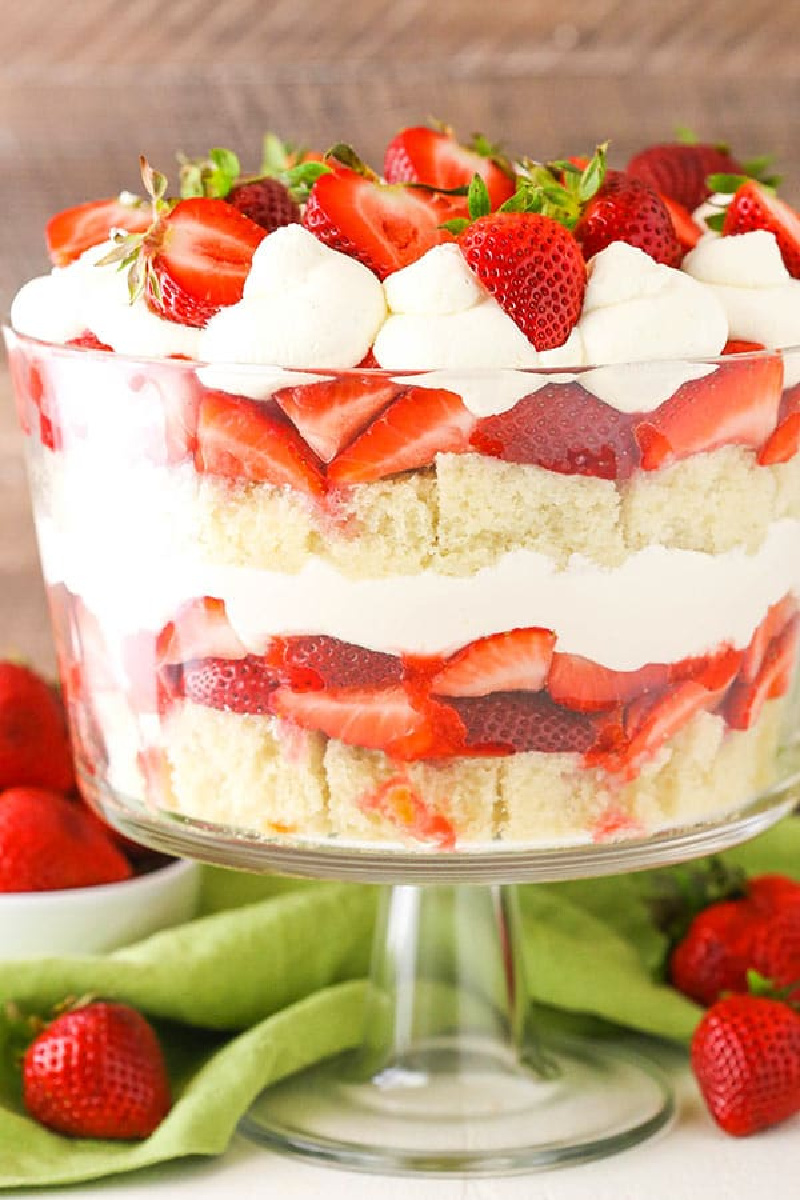 Strawberry Shortcake Trifle by Life, Love and Sugar. This recipe is simple to make with layers of moist vanilla cake, fresh strawberries, strawberry sauce and fresh whipped cream!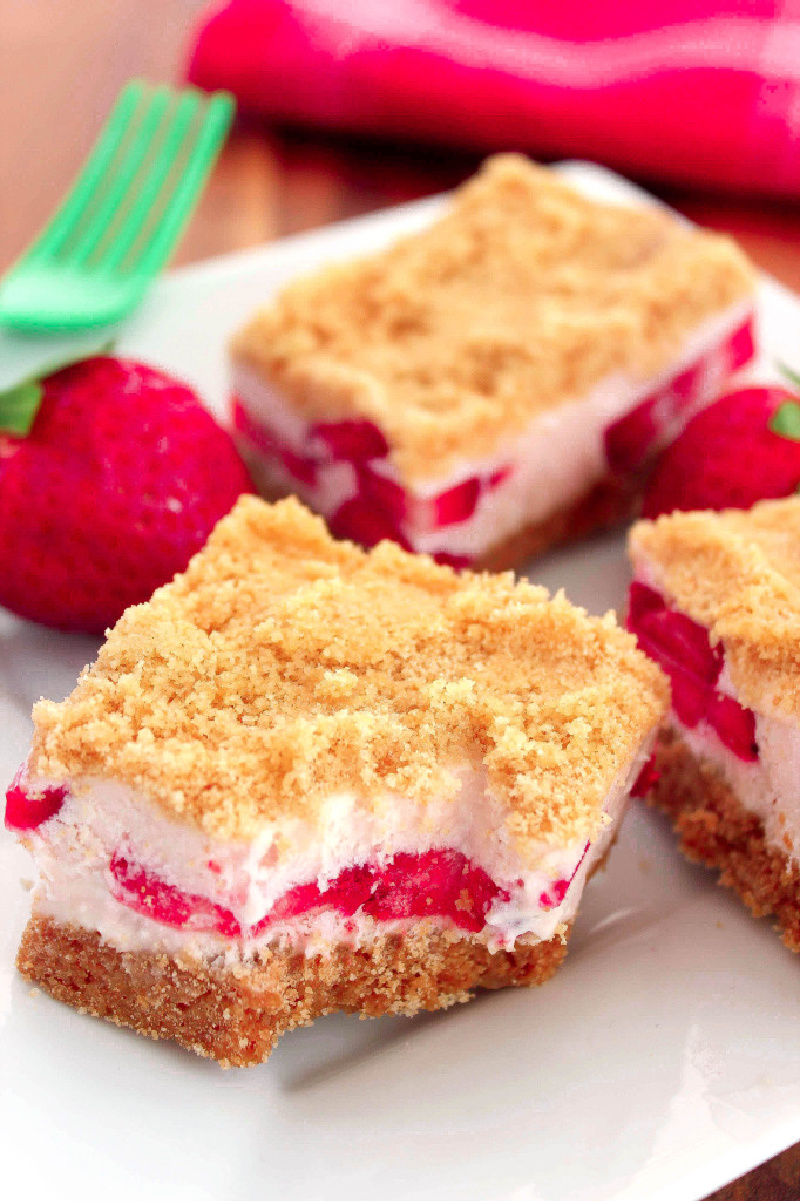 Strawberry Shortcake Bars by Baking Beauty. All the taste of strawberry shortcake in the convenience of a handheld bar.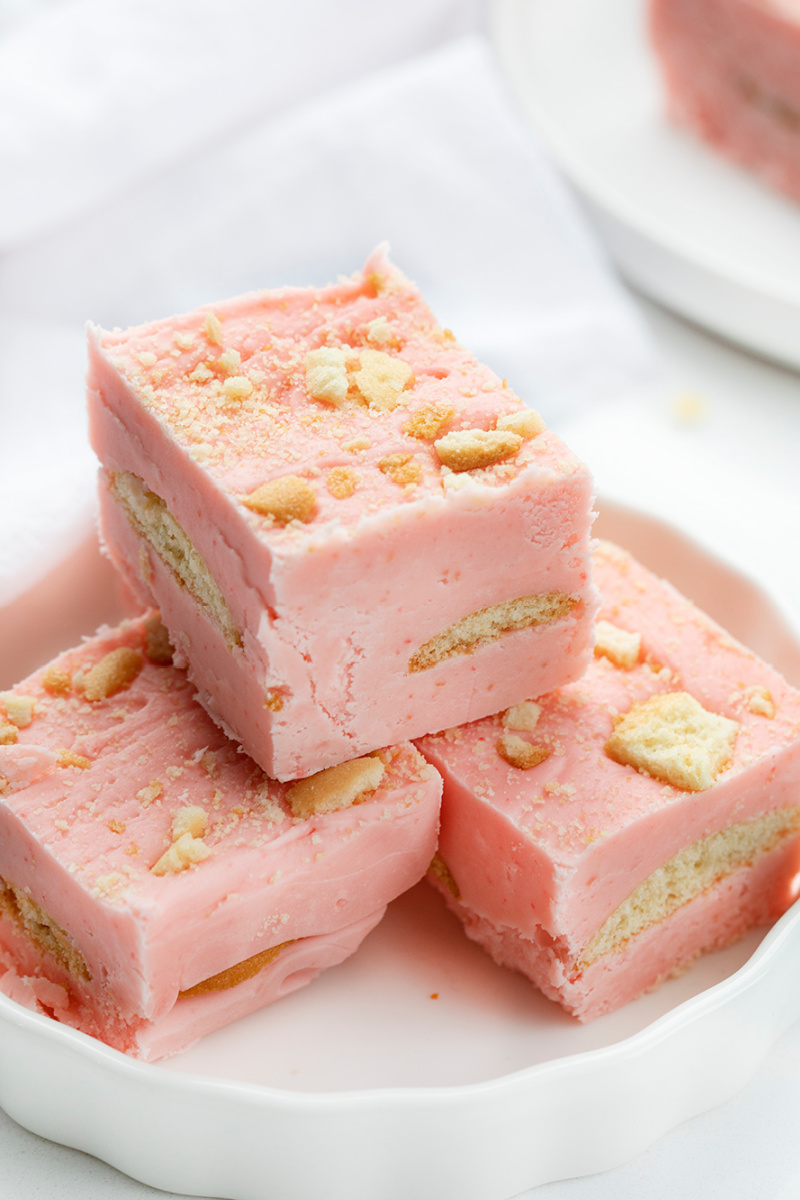 Strawberry Shortcake Fudge by I Am Baker. This sweet treat has two layers of strawberry fudge with vanilla wafers nestled between the layers and topped with crushed wafers.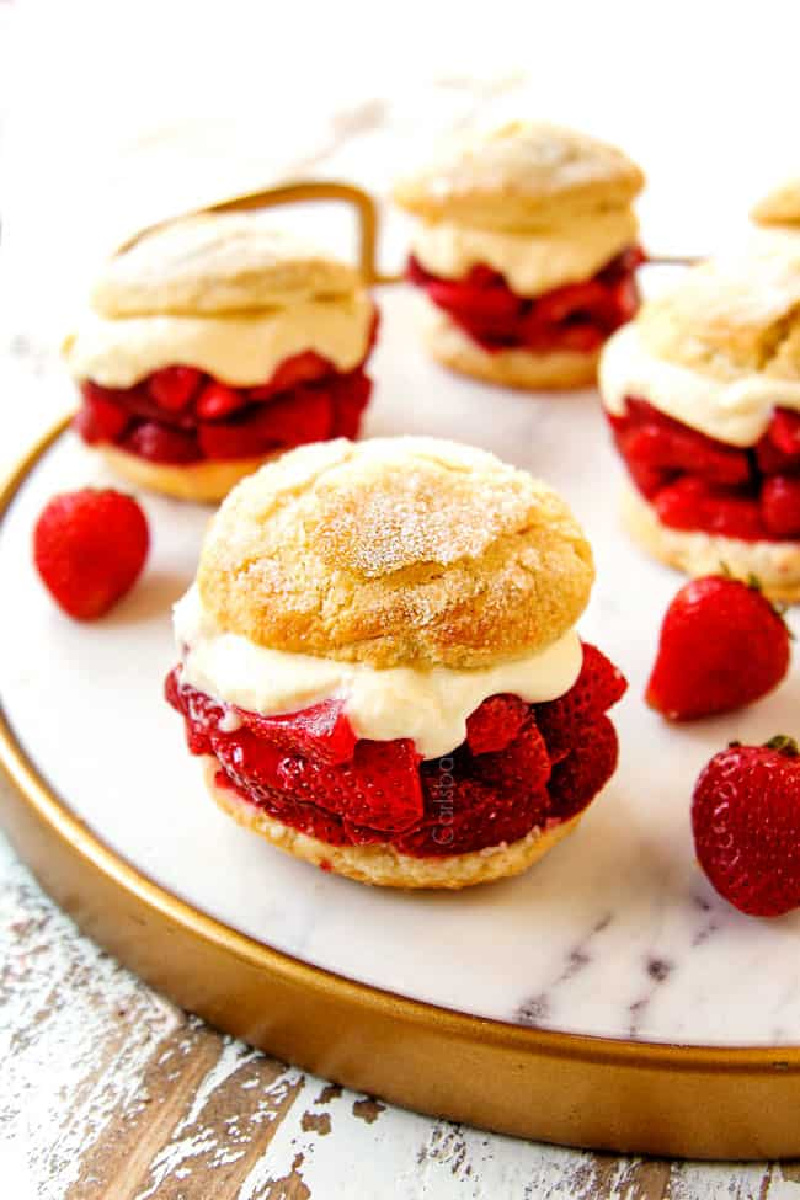 Strawberry Shortcake with Lemon Curd Whipped Cream by Carlsbad Cravings. This shortcake recipe is loaded with fresh sugar kissed strawberries, generous dollops of sweet citrus Lemon Curd Whipped Cream all piled on light, tender cake-like biscuits.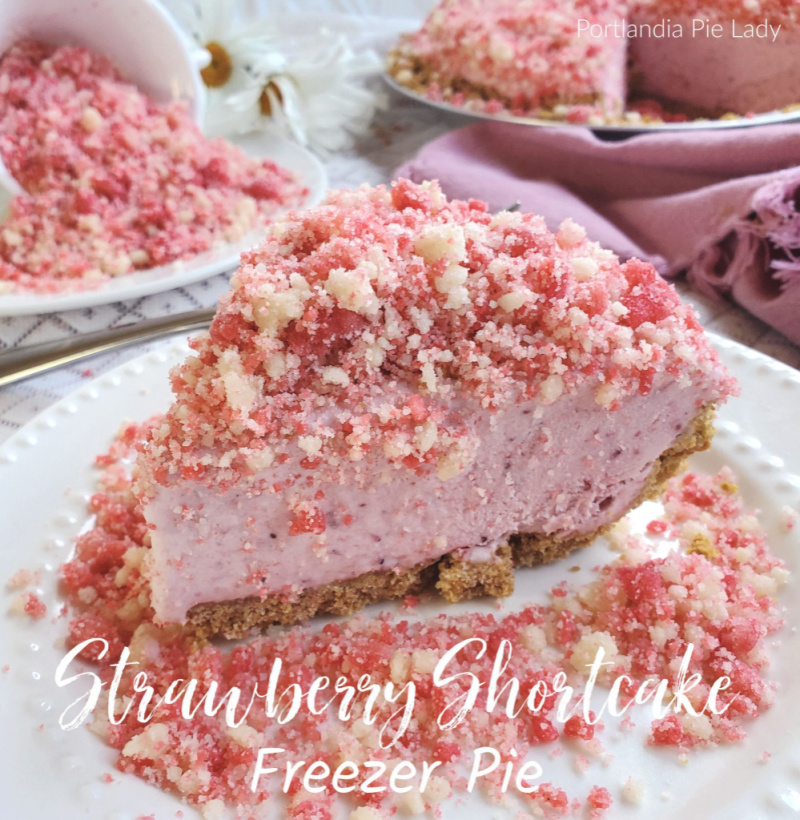 Strawberry Shortcake Freezer Pie by Portlandia Pie Lady. This is a homemade strawberry ice cream pie without any churning, and a pink punch of strawberry shortcake crumbles.
Fun Facts about Strawberry Shortcake:
Shortcake isn't called shortcake because it's short. "Short" is an old English word dating back to the 16th century that means crisp or something crisp with the addition of fat.
In the 1920's, the Continental Bakery Company sold sponge cakes to be used to make strawberry shortcakes. They were called, "Hostess Little Shortbread Fingers." The company also made Twinkies!
Sponge cake, biscuits, angel food cake and pound cake are all commonly used as base for strawberry shortcake.
Strawberries have been replaced with chocolate, peaches, raspberries and other fruits to create different kinds of shortcake.
The largest strawberry shortcake on record was made in the Philippines in 2004. It weighed 21,213 pounds.
Artist Muriel Fahrion created the character Strawberry Shortcake in 1979.