Vanilla Pudding is a smooth, custard-like dessert that can be served warm or cold. This recipe for homemade vanilla pudding is creamy and delicious!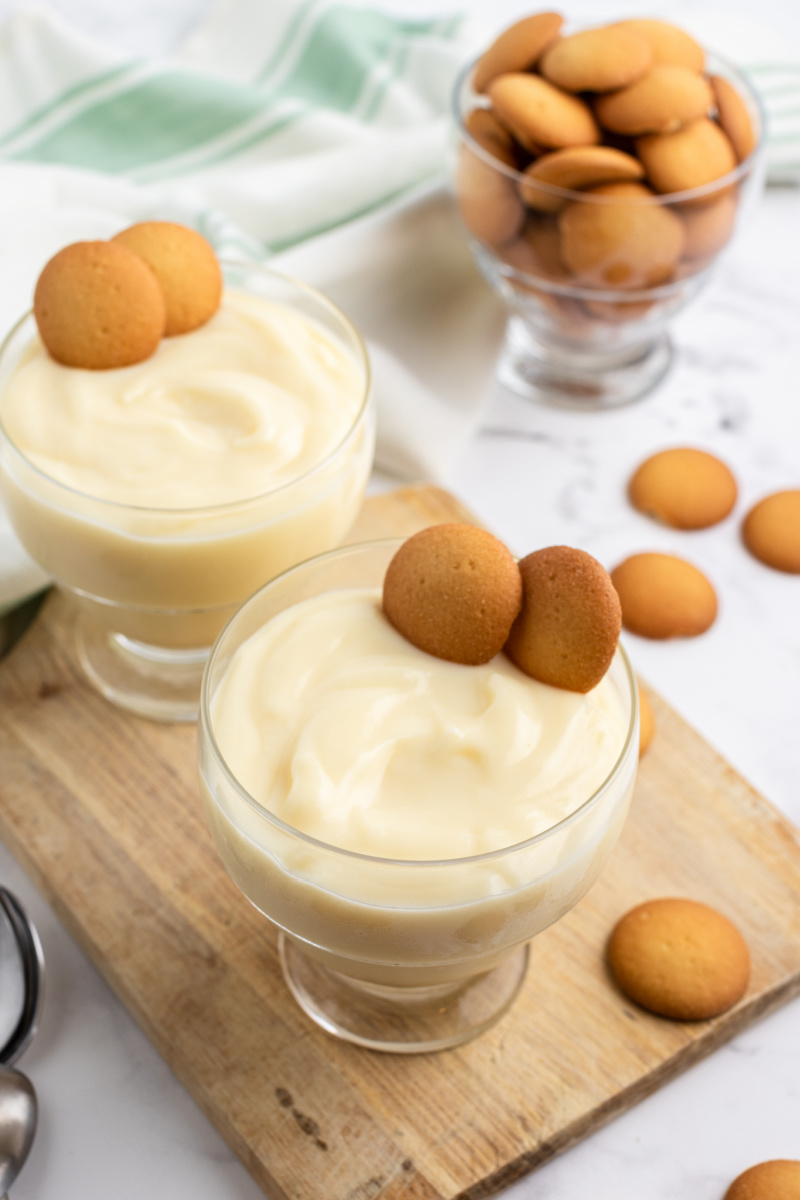 May 22nd is National Vanilla Pudding Day! Celebrate by making some of this delicious, homemade vanilla pudding. It will only take you 10 minutes to make! You can also bake a vanilla pudding sour cream bundt cake or vanilla pudding sugar cookies. Share your creation on social media by using the hashtag #nationalvanillapudding day, #vanillapuddingday and #recipesforholidays. Be sure to follow all of the food holidays in May by following my May Food Holidays calendar.
History of Vanilla Pudding:
In early medieval Europe, a pudding-like dish of milk, almond milk, sugar and meat or fish was common. It was called "white stew" or "blancmange," and it was served warm.
By the 17th century, this dish turned into a dessert when they got rid of the addition of meat or fish. Cream and eggs were added in. Gelatin was an ingredient that was added later.
Cornstarch was incorporated into pudding in the 19th century to create the pudding that we know today.
My-T-Fine produced the earliest packaged pudding (made on the stovetop) in the United States in 1918. Jell-O brand instant chocolate pudding came along in 1936. Its popularity was huge, so other flavors like vanilla, butterscotch and more followed.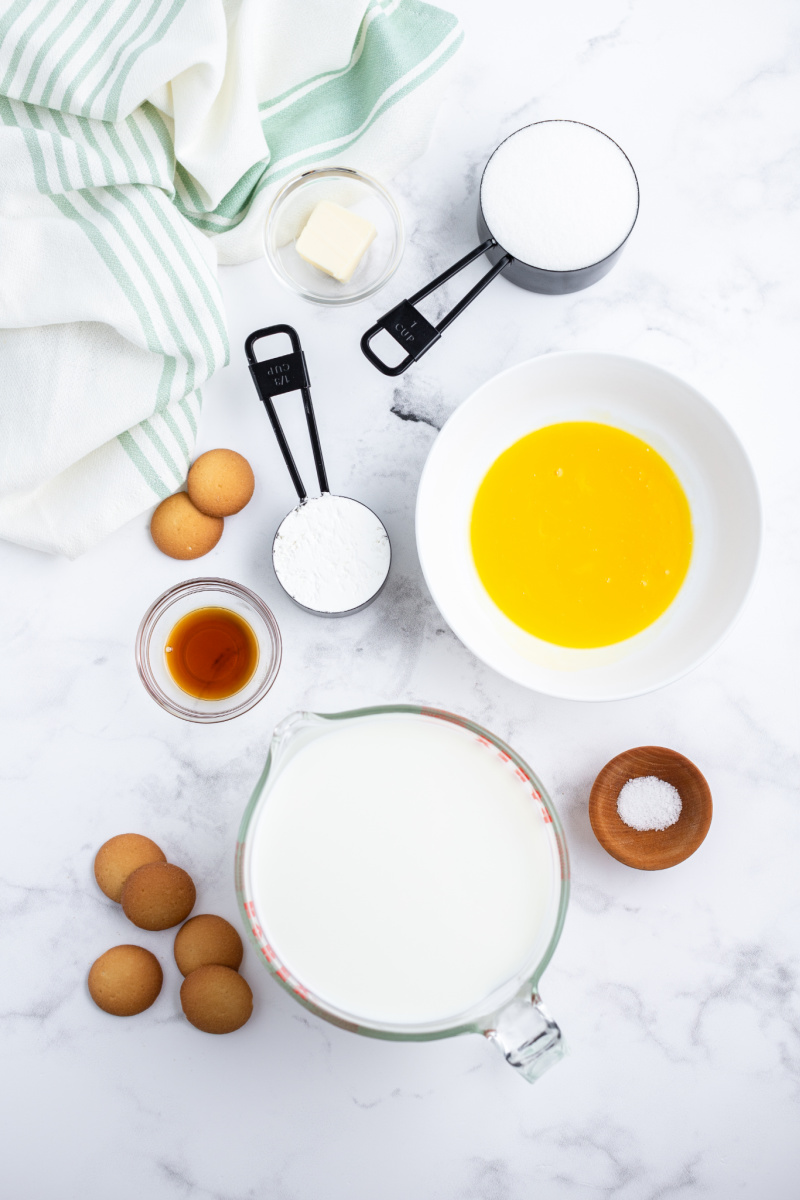 Ingredients needed:
2% milk
white sugar
cornstarch
kosher salt
egg yolks
vanilla extract
salted butter
vanilla wafers (optional!)
How to make Vanilla Pudding:
The complete, printable recipe is at the end of this post.
In a bowl, whisk together milk, sugar, cornstarch, kosher salt and egg yolks. Pour this mixture into a saucepan, and heat over medium-heat for about 10 minutes, whisking constantly. Be sure to whisk the mixture the whole time. You don't want the eggs to separate from the milk and create scrambled eggs!
Remove the pan from heat and add in the butter and vanilla extract.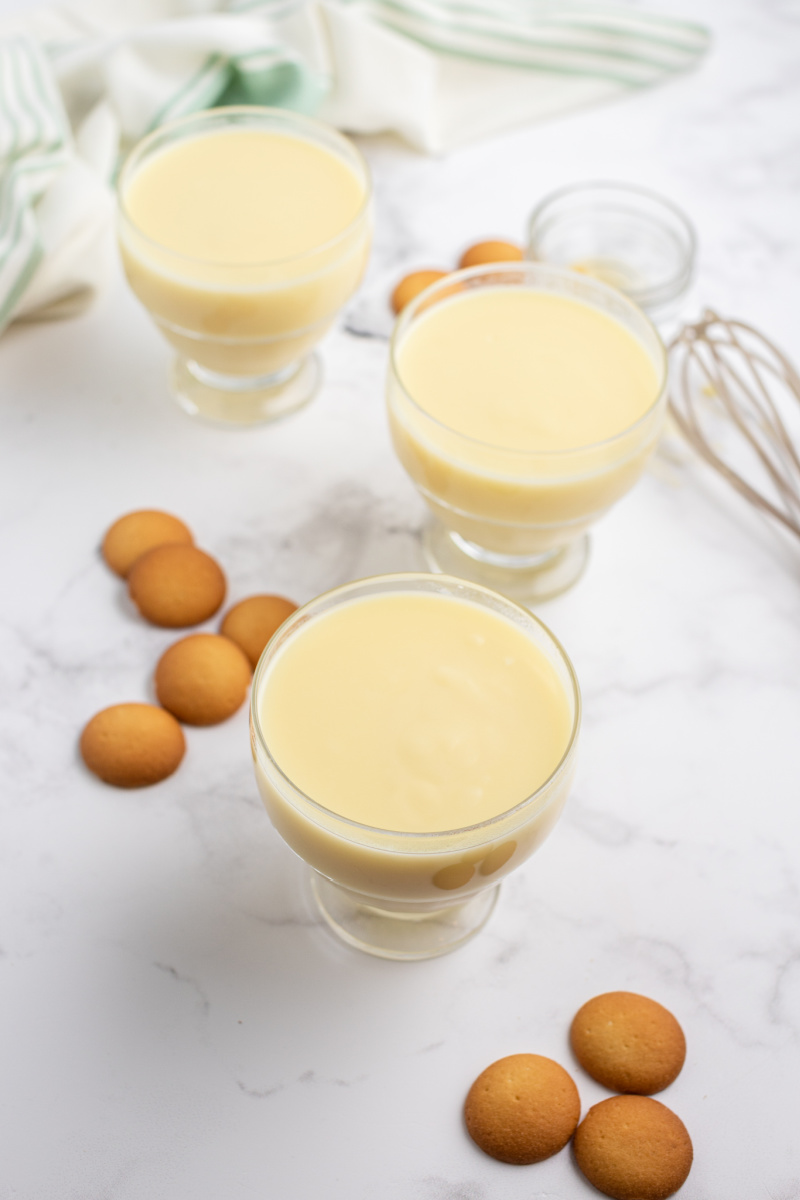 The pudding will be thick and creamy and wonderful at this point. Divide it between 6 serving dishes, and refrigerate until it's well-chilled.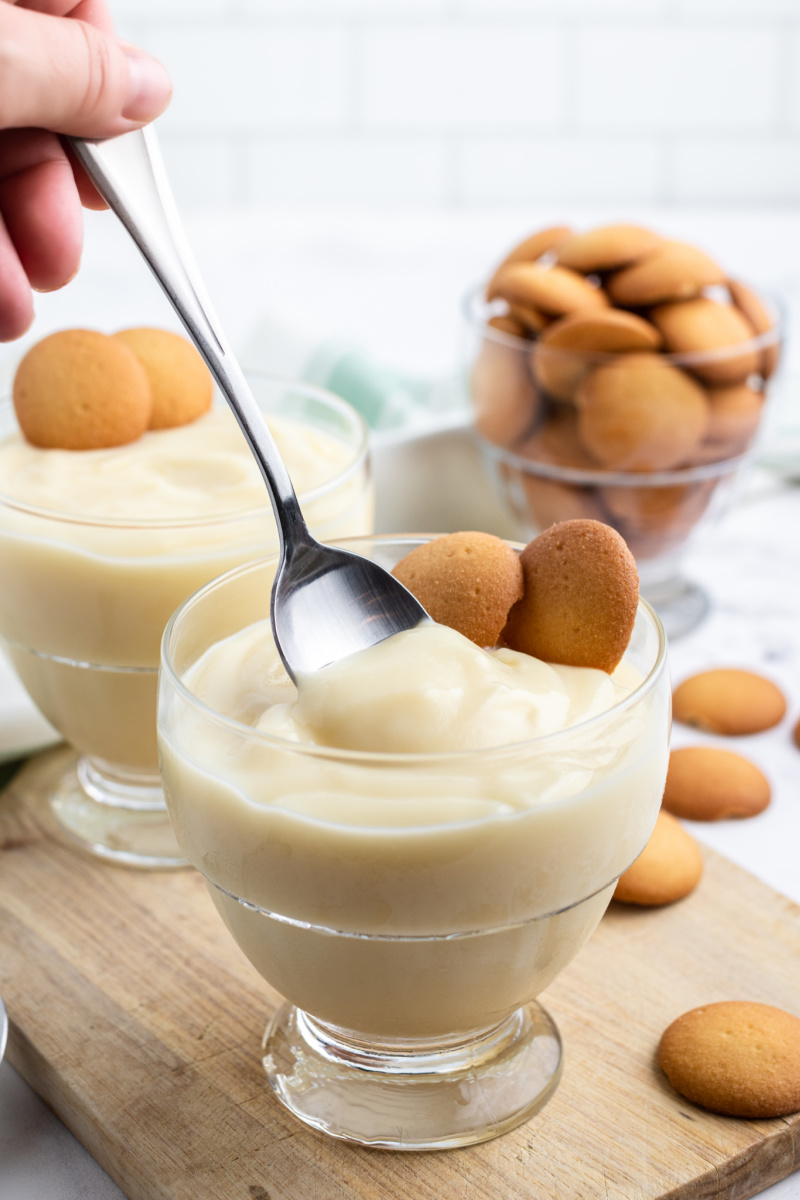 Serve with vanilla wafers, if desired. Vanilla wafers are also a fun "hint" to the flavor of the pudding when used as a garnish.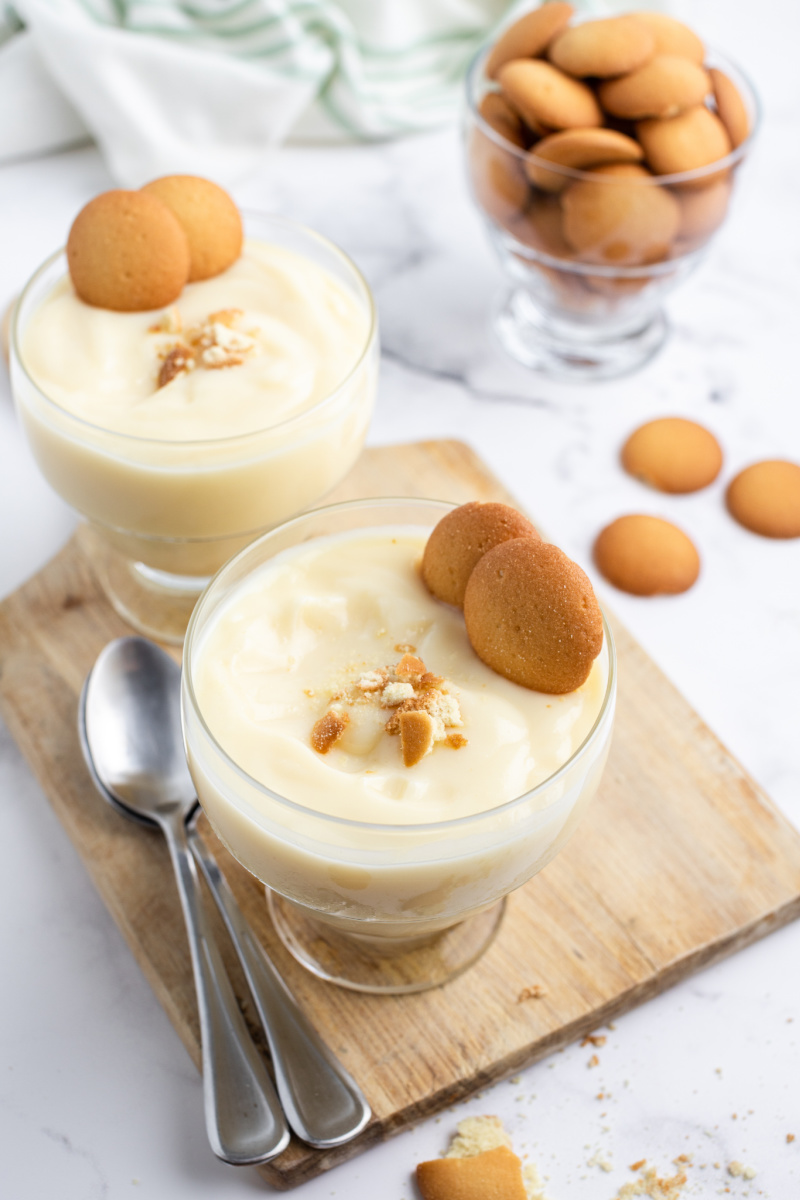 Crumble a few cookies on top, if you'd like.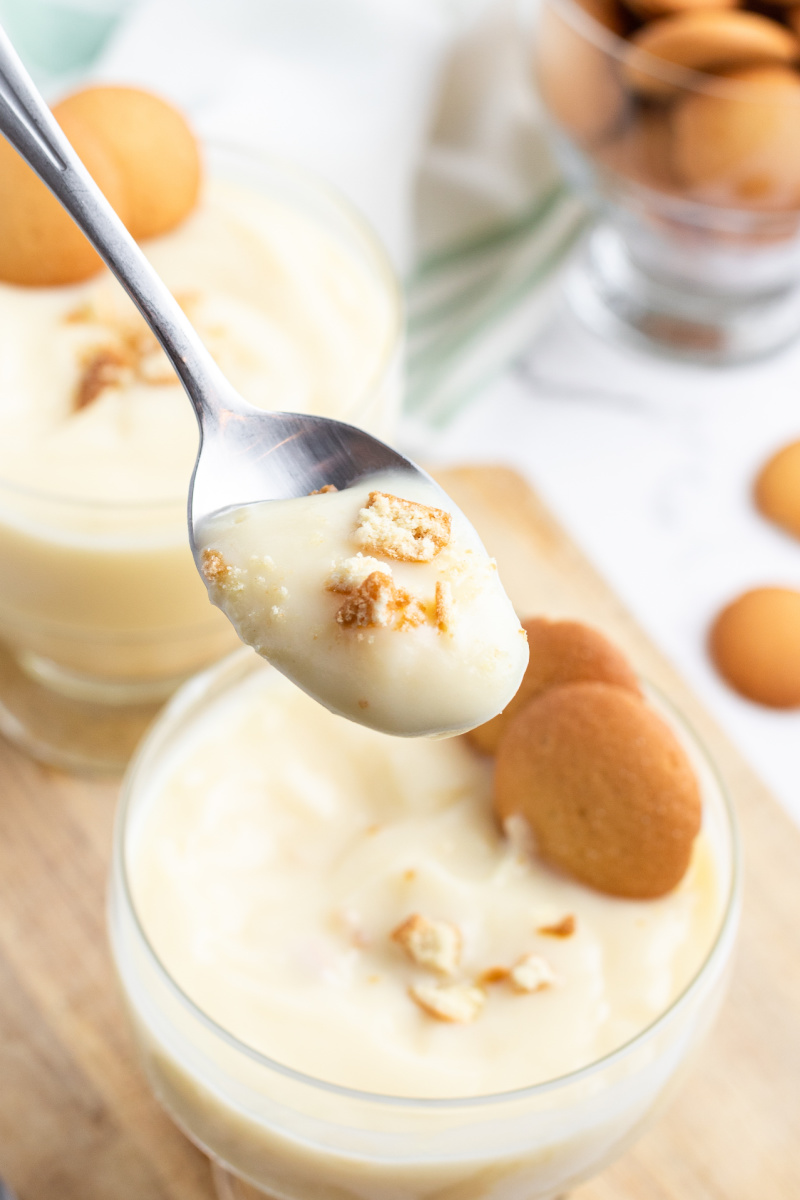 Enjoy this creamy vanilla delight. It's amazing. Enjoy!
Fun facts about Pudding:
In the U.K., the word "pudding" can be used to describe sweet or savory dishes.
Chocolate is the most popular flavor of pudding.
Banana pudding is a very popular dessert recipe in the Southern part of the United States.
Yorkshire pudding is a common English side dish. It's a baked pudding made from a batter of eggs, flour, and milk or water, and it's usually served with roast beef.
Jell-O is the largest pudding brand in the United States.
In older times, rice pudding was used as a medicine for digestive problems.
Pudding is often added to cake batter to help create a light and moist cake.
The song, "Another Brick In The Wall, Part 2" (by Pink Floyd) ends with the voice of a Scottish-accented schoolmaster shouting, "If you don't eat your meat, you can't have any pudding! How can you have any pudding if you don't eat your meat?!"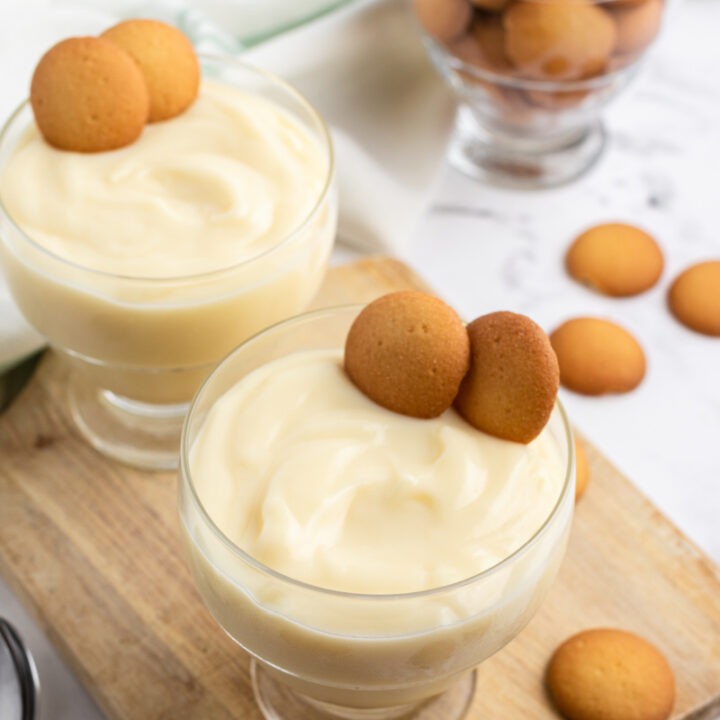 Vanilla Pudding
Super creamy, delicious homemade pudding!
Ingredients
4½ cups 2% milk
1 cup granulated white sugar
1/3 cup cornstarch
Pinch of Kosher salt
5 large egg yolks, beaten
1 tablespoon salted butter
2 teaspoons vanilla extract
Vanilla Wafers, for garnish (optional)
Instructions
In a large bowl, whisk together the milk, sugar, cornstarch, salt and egg yolks. Pour this mixture into a saucepan, and cook over medium heat for 10 minutes- whisking CONSTANTLY.
Remove the pudding from the heat and stir in the butter and vanilla extract.
Divide the pudding between 6 serving dishes, and refrigerate for several hours before serving.
Garnish with Vanilla Wafers.
Nutrition Information:
Yield:

6
Serving Size:

1 serving
Amount Per Serving:
Calories:

337
Total Fat:

10g
Saturated Fat:

5g
Trans Fat:

0g
Unsaturated Fat:

5g
Cholesterol:

205mg
Sodium:

163mg
Carbohydrates:

49g
Fiber:

0g
Sugar:

43g
Protein:

12g
Nutritional information is figured using a nutrition calculator. It's not likely to be 100% accurate.