Reeses Stuffed Chocolate Chip Cookie Bars are the most amazing chocolate chip cookie bars with a Reeses Peanut Butter Cup surprise baked inside!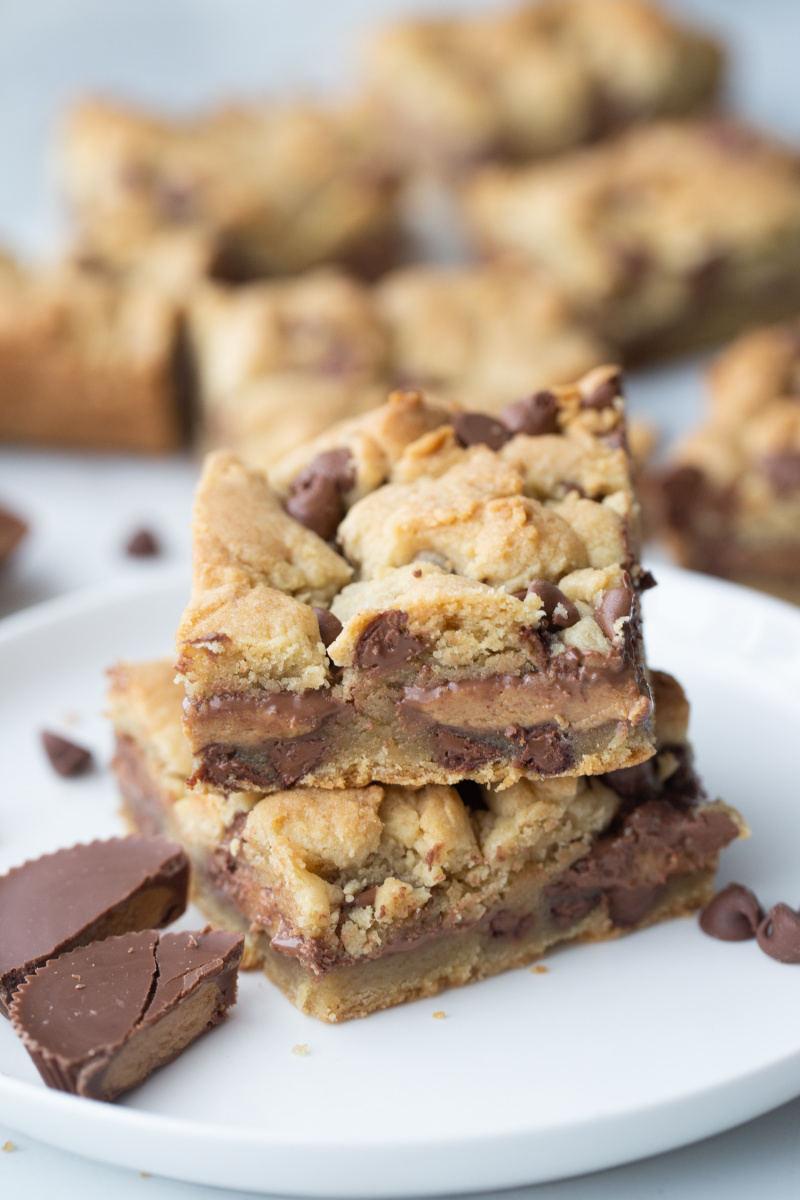 May 18th is "I love Reeses Day!" If you're a fan of Reeses Peanut Butter Cups, then you will love this day! Celebrate by eating Reeses Peanut Butter Cups, for sure. But you can also use Reese to make some fantastic desserts. How about Reeses Peanut Butter Ice Cream? Or Reeses Cheesecake? And, of course, we think these Reeses Stuffed Chocolate Chip Cookie Bars are the most decadent way ever to celebrate I Love Reeses Day! Share the Reeses love on social media today using the hashtag #ILoveReesesDay, #ReesesDay and #RecipesForHolidays. Be sure to follow all of the food holidays in May by following my May Food Holidays calendar.
History of Reeses Peanut Butter Cups:
Harry Burnett Reese, a former dairy farmer and shipping partner for Milton S. Hershey, left the company in 1923 to start H.B. Reese Candy Company out of his basement. He began experimenting with different candy combinations. One of his most popular early sweets was the Lizzie Bar (a chocolate covered caramel and coconut bar that was named after his daughter). Five years later, he invented the Reeses Peanut Butter Cup that would become the breakout star for his company.
Reese died in 1956 and left the company to his six sons. They sold the company to Hershey for 23.5 million dollars in 1963. That was a great move for Hershey because Reeses Peanut Butter Cups went on to become Hershey's best-selling candy. Reeses remains the number one product today for Hershey's with 2 billion in sales per year.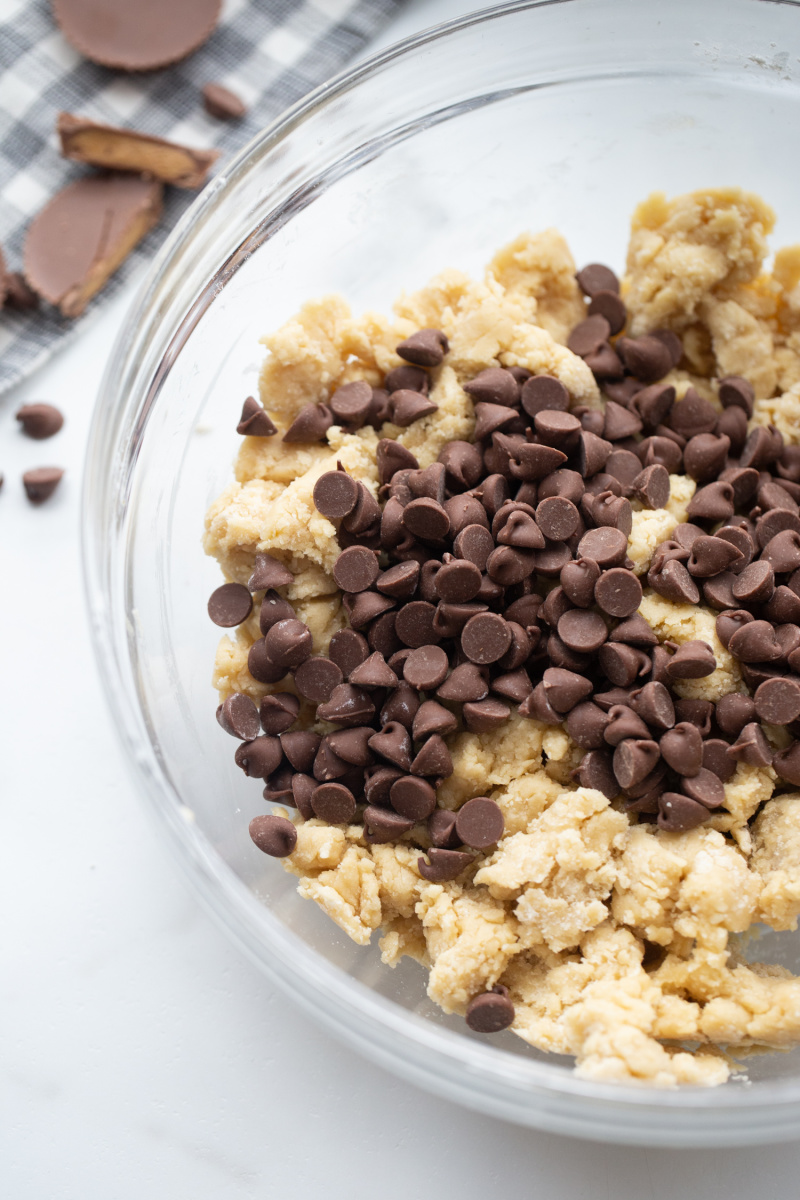 How to make Reeses Stuffed Chocolate Chip Cookie Bars:
You will need a 9-inch square pan and some parchment paper. Make a batch of chocolate chip cookie dough. The recipe I include here is a delicious one, and it's the right amount for using in a square pan.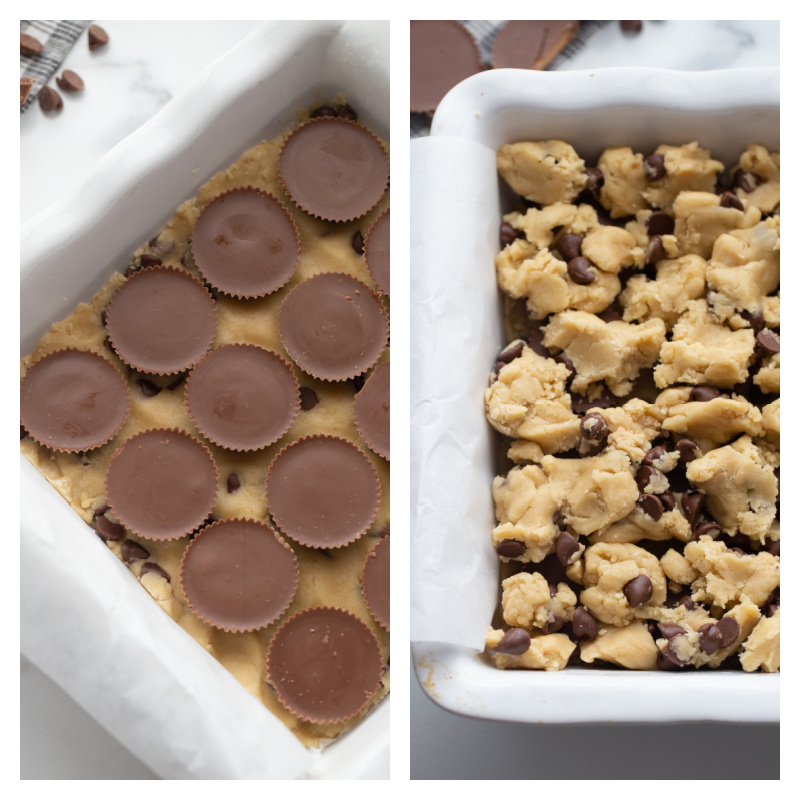 Pat half of the cookie dough into a parchment lined square pan. Place Reeses Peanut Butter Cups on top. Sprinkle pieces of the remaining chocolate chip cookie dough on top of the Reeses. Bake for about 30 minutes.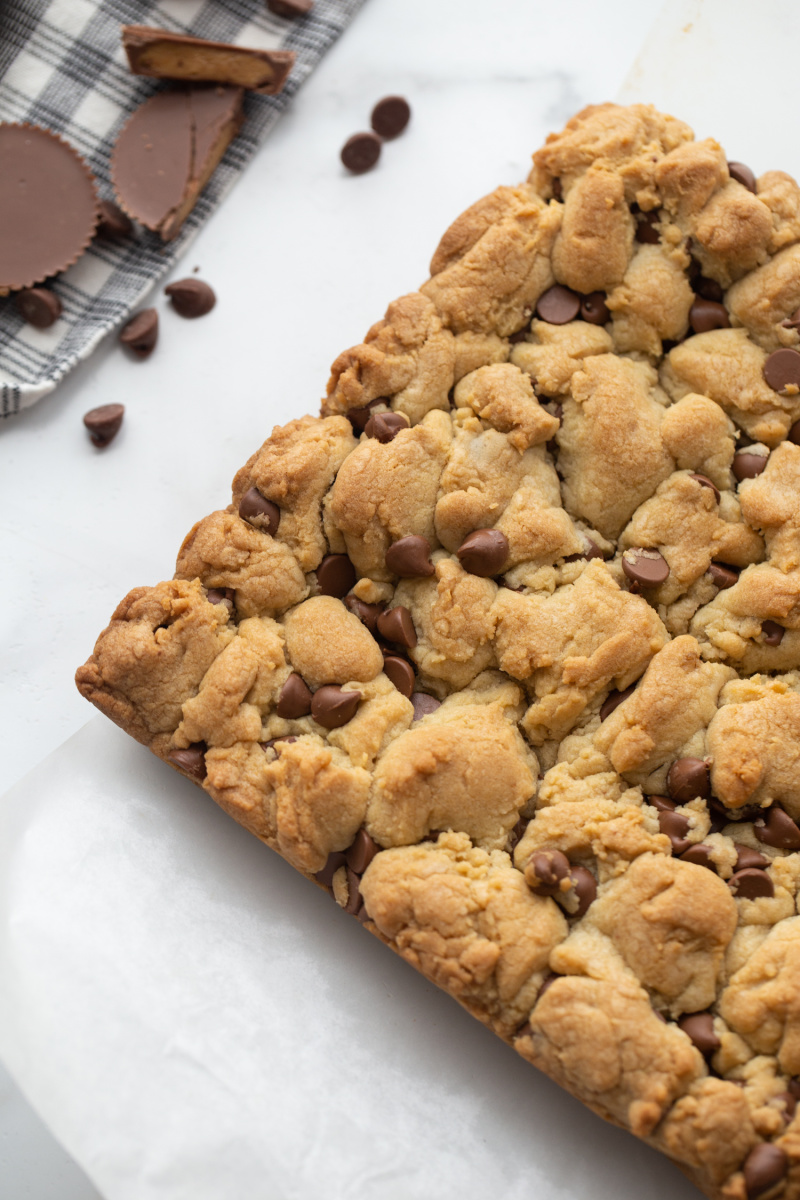 And then you'll have one giant slab of chocolate chip cookies with a layer of Reeses Peanut Butter Cups baked in the middle!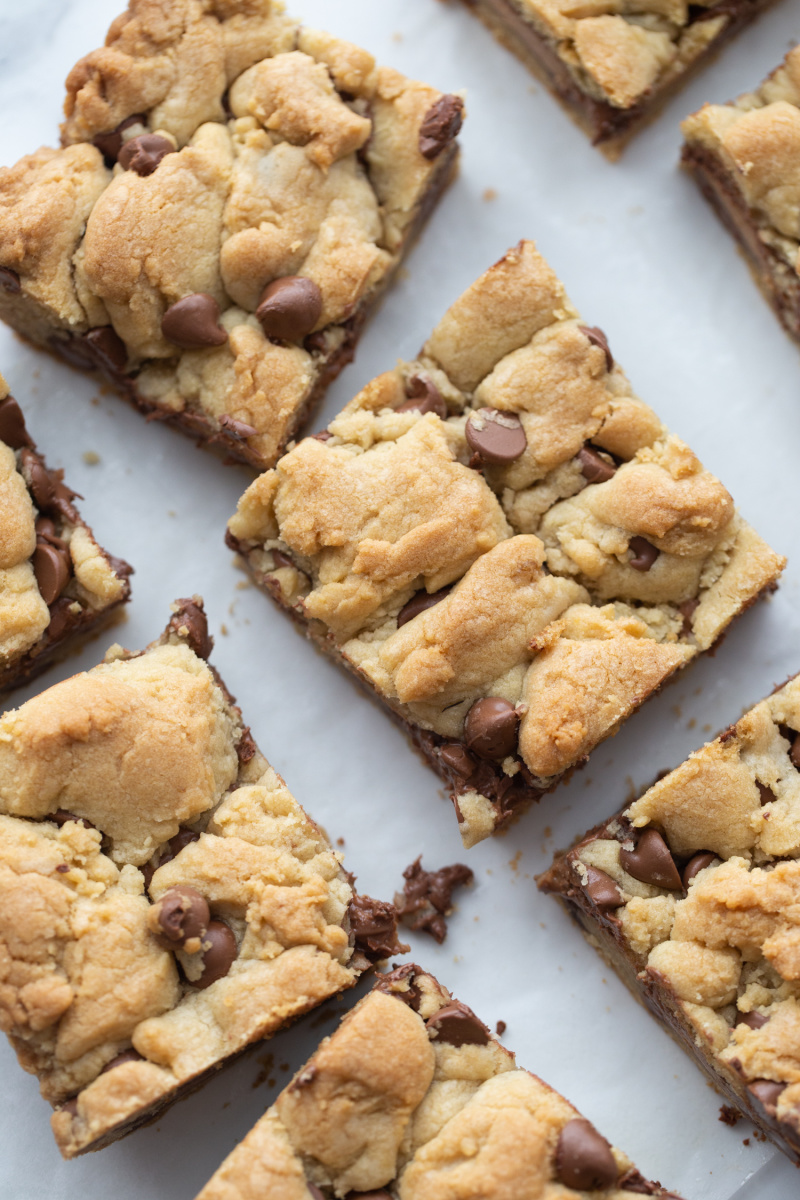 These Reeses Stuffed Chocolate Chip Cookie Bars are pretty much the most amazing dessert ever. If you're a fan of Reeses (who isn't??), then this is the dessert for you.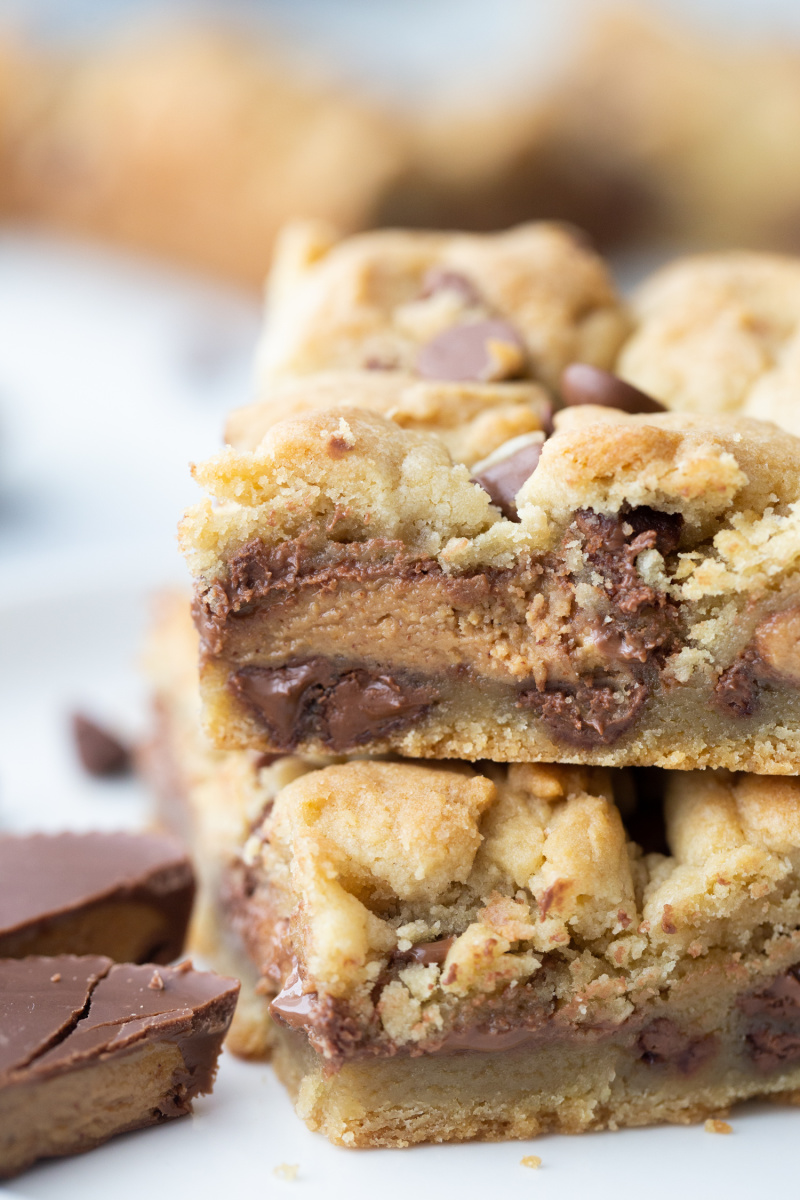 The Reeses candy surprise inside of these bars is just so delicious. These treats are addicting, and they are perfect for lovers of the iconic Reeses Peanut Butter Cup. Enjoy!
Fun Facts about Reeses:
Reeses Peanut Butter Cups were first referred to as "Penny Cups" because they sold for 1 cent at the time.
In 1978, Hershey's developed Reeses Pieces. This new candy quickly became popular, but sales soared after the release of ET in 1982. In the movie, ET (the adorable alien) nibbles on Reeses Pieces.
Reeses is one of the most popular Halloween candies.
There are over 20 variations of the Peanut Butter Cup, including Crunchy, King Size, Sugar Free, White, Pumpkins, Hearts, Christmas Trees and more.
There are over 25,000 people in the United States named Reese.
In 2011, over 40,000 fans joined an online campaign to make May 19th National I Love Reeses Day.
Reeses Peanut Butter Cups are now sold in many countries across the world.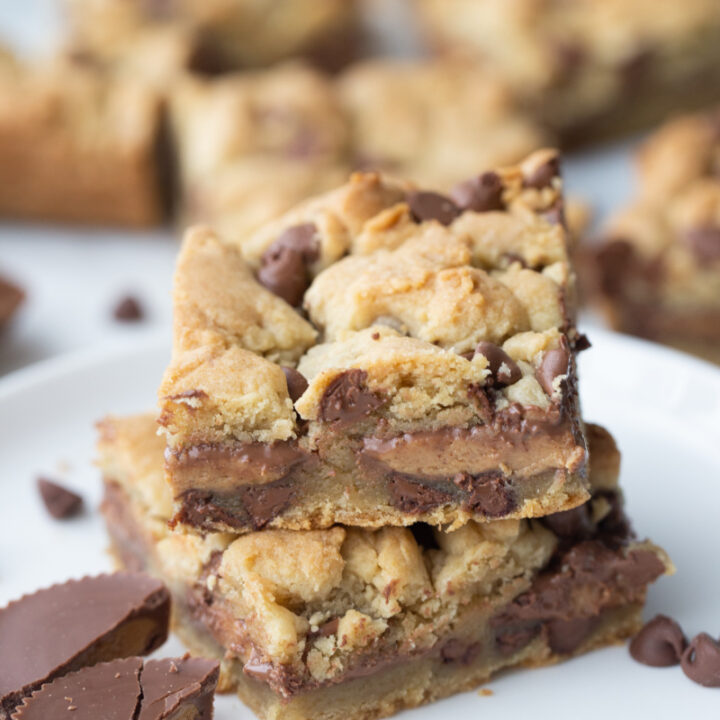 Reeses Stuffed Chocolate Chip Cookie Bars
These delicious chocolate chip cookie bars are baked with Reeses Peanut Butter Cups stuffed inside of them!
Ingredients
2¼ cups all purpose flour
1½ teaspoons cornstarch
1 teaspoon baking soda
½ teaspoon salt
¾ cup (1½ sticks) unsalted butter, melted
1 cup packed light brown sugar
¼ cup granulated white sugar
1 large egg
1 large egg yolk
2 teaspoons vanilla extract
1 cup milk chocolate chips
16 regular-sized Reeses peanut butter cups, unwrapped
Instructions
Preheat the oven to 350 degrees F. Line the bottom and sides of a 9-inch square pan with parchment paper, leaving an overhang on all sides so they can easily be lifted out after baking.
In a large bowl, whisk together the flour, baking soda, cornstarch and salt.
In a medium bowl, whisk together the melted butter, brown sugar and white sugar together. Whisk in the egg and egg yolk + the vanilla extract. Scrape the wet ingredients into the dry ingredients and stir to combine. Stir in the chocolate chips.
Transfer half of the dough to the prepared pan, and press into an even layer. Place the Reeses peanut butter cups on top of the dough in rows of four. Place spoonfuls of the rest of the chocolate chip cookie dough on top, covering as much of the PB cups as possible. If you have more chocolate chips, sprinkle a few more on the top (decorative).
Bake 30 to 35 minutes, until golden brown. Cool completely. Lift out of the pan, cut and serve.
Nutrition Information:
Yield:

16
Serving Size:

1 bar
Amount Per Serving:
Calories:

477
Total Fat:

26g
Saturated Fat:

12g
Trans Fat:

0g
Unsaturated Fat:

4g
Cholesterol:

63mg
Sodium:

317mg
Carbohydrates:

58g
Fiber:

2g
Sugar:

41g
Protein:

9g
Nutritional information is estimated using a nutrition calculator. It's not likely to be 100% accurate.