Chocolate Chip Pudding Cookies are the best chocolate chip cookie recipe with instant vanilla pudding added to the cookie dough.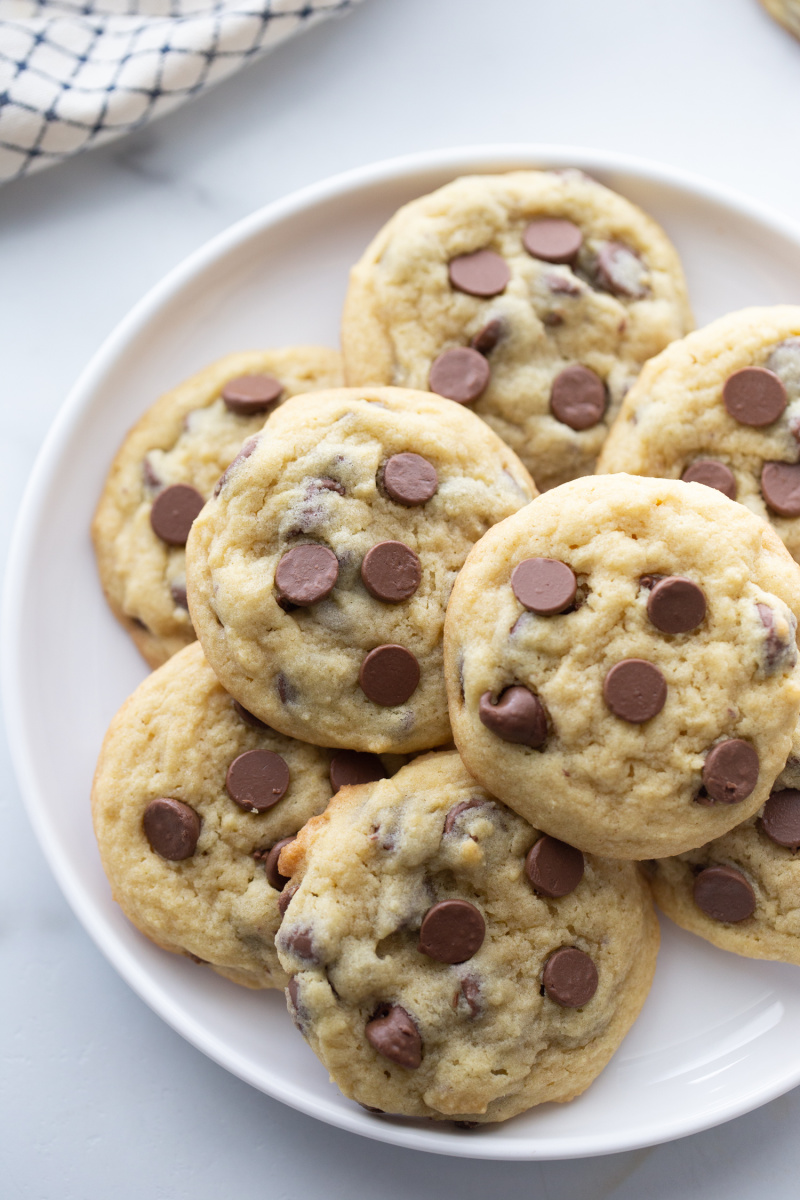 August 4th is National Chocolate Chip Cookie Day! Obviously, you must eat a lot of chocolate chip cookies on this day. I suggest you bake these Chocolate Chip Pudding Cookies, but you can also bake Reeses Stuffed Chocolate Chip Cookie Bars, Secret Ingredient Chocolate Chip Cookies, Toll House Cookies or your own personal favorite recipe. You can also buy chocolate chip cookies from your favorite establishment. Share your chocolate chip cookie celebration on social media today by using the hashtag #NationalChocolateChipCookieDay, #ChocolateChipCookieDay and #RecipesForHolidays.
The History of Chocolate Chip Cookies:
Chocolate chip cookies were created by accident by Whitman, MA Toll House Inn owner Ruth Wakefield in the 1930's. She added broken chocolate bar pieces to her cookie batter- thinking they'd melt into the cookies. They didn't melt, and in fact… they became chocolate chunk cookies that everyone thought were delicous.
Whitman first shared the recipe with a Boston newspaper. They were published as, "Butterdrop Do Cookies."
In 1936, Whitman published a cookbook, "Toll House Tried and True Recipes." Her cookies were published as, "Chocolate Crunch Cookies" in the book.
Eventually, Nestle got wind of the recipe and purchased it from Whitfield. Her payment was a lifetime supply of chocolate from Nestle. Nestle then invented the semisweet "chocolate chip" in 1939, and the rest is history!
During World War II, people in Massachusetts sent chocolate chip cookies in care packages to family serving in the war. Their popularity soared as others learned about these fabulous cookies.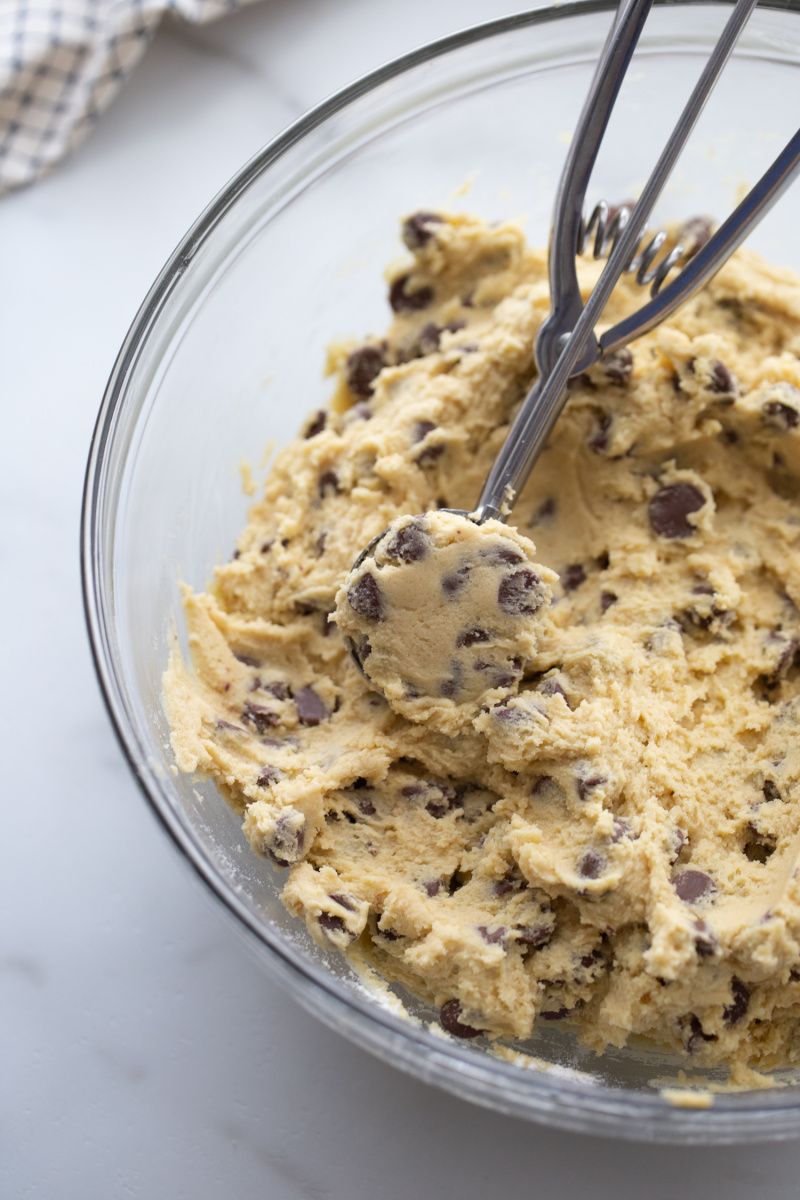 How to make Chocolate Chip Pudding Cookies:
The complete, printable recipe is at the end of this post.
Stir flour and soda together. In a separate bowl, use a mixer to combine butter with brown and white sugars. Add a box of instant vanilla pudding mix. Then mix in eggs and vanilla. Add the dry ingredients and beat until blended. Stir in the chocolate chips.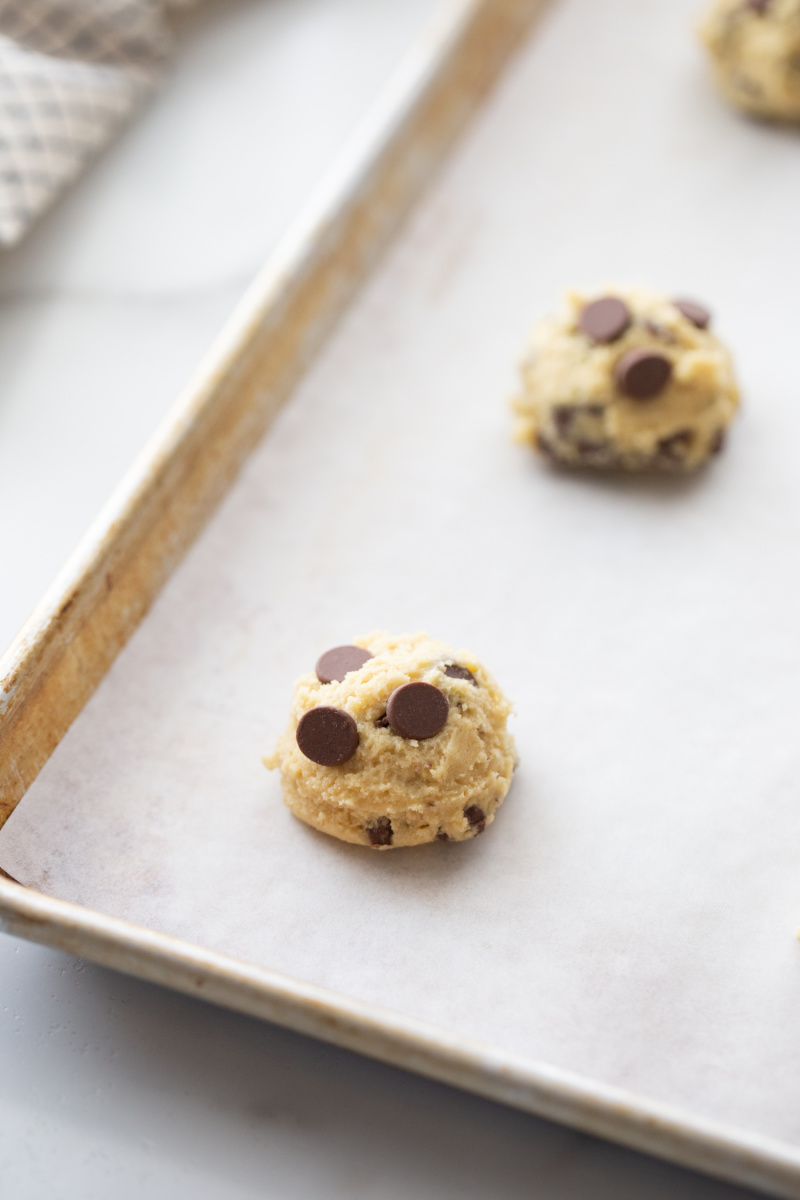 Use a cookie scoop to scoop onto a baking sheet. Top with additional chocolate chips, if you'd like.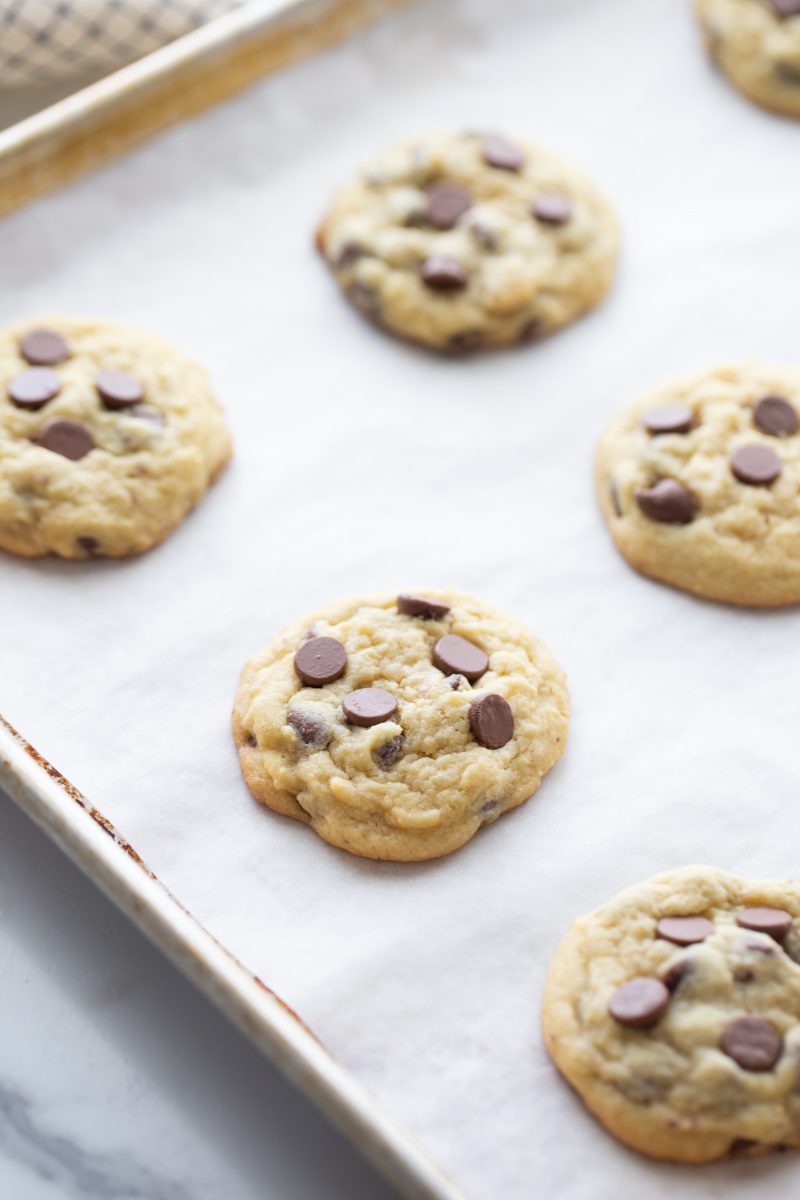 Bake for 10 to 12 minutes. Look how perfect they turn out!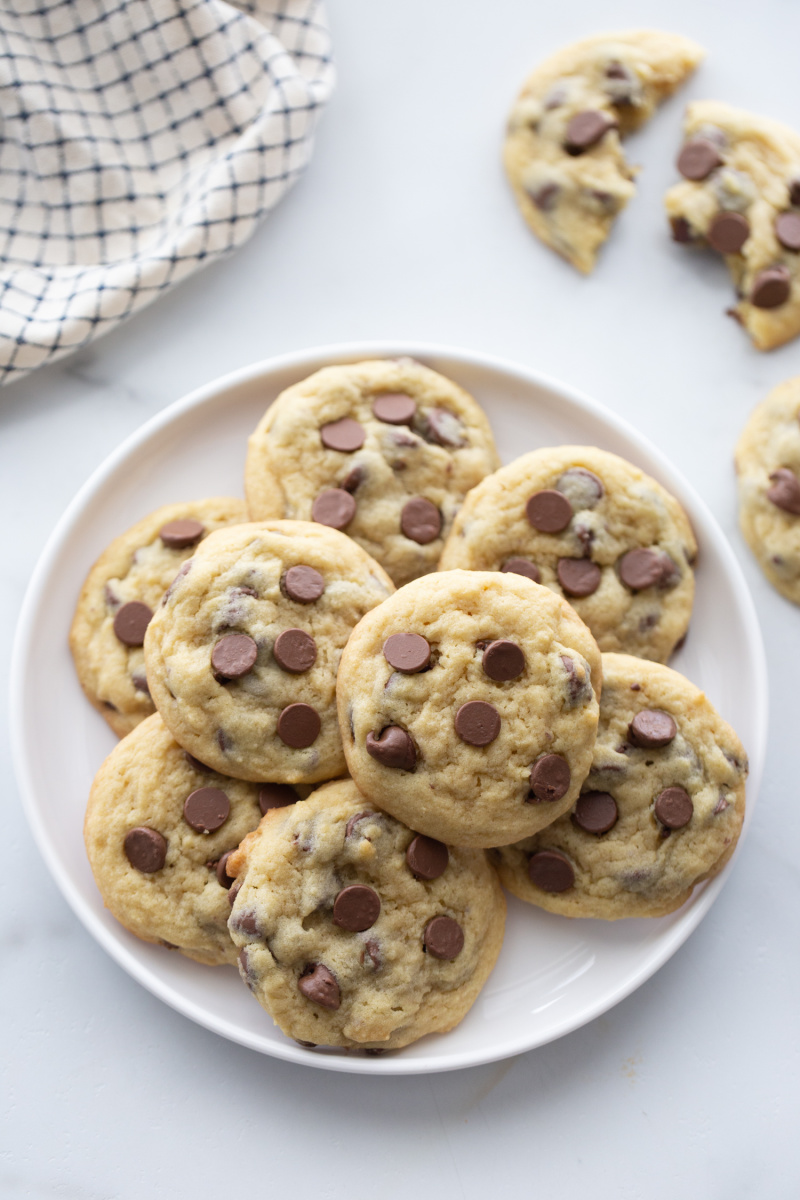 Pile onto a platter, and serve. Or place them all in a sealed container or large freezer zip baggie and eat later (within 2 weeks). Chocolate Chip Pudding Cookies can be stored in the freezer for up to 2 months. Enjoy!
Fun Facts about Chocolate Chip Cookies:
The Chocolate Chip Cookie is America's favorite cookie. 53% of adults prefer chocolate chip cookies over peanut butter cookies (16%) and oatmeal (15%).
7 billion chocolate chip cookies are eaten in the United States every year.
The average American will eat 35,000 chocolate chip cookies in their lifetime.
13% of Americans admit to having eaten 20 or more chocolate chip cookies in one sitting (and those are just the ones who are brave enough to admit it!)
The world's biggest chocolate chip cookie was 40,000 pounds and had a diameter of 101 feet. It was baked by the Immaculate Baking Company in Flat Rock, North Carolina.
Chocolate Chip Cookies became the official cookie of Massachusetts in 1997.
Cookie Monster did not eat real chocolate chip cookies on Sesame Street (they were too greasy). Instead, he ate rice cakes with brown dots drawn on them.
In the Middle East, chocolate chip cookies are topped with chocolate sauce and are eaten with a fork.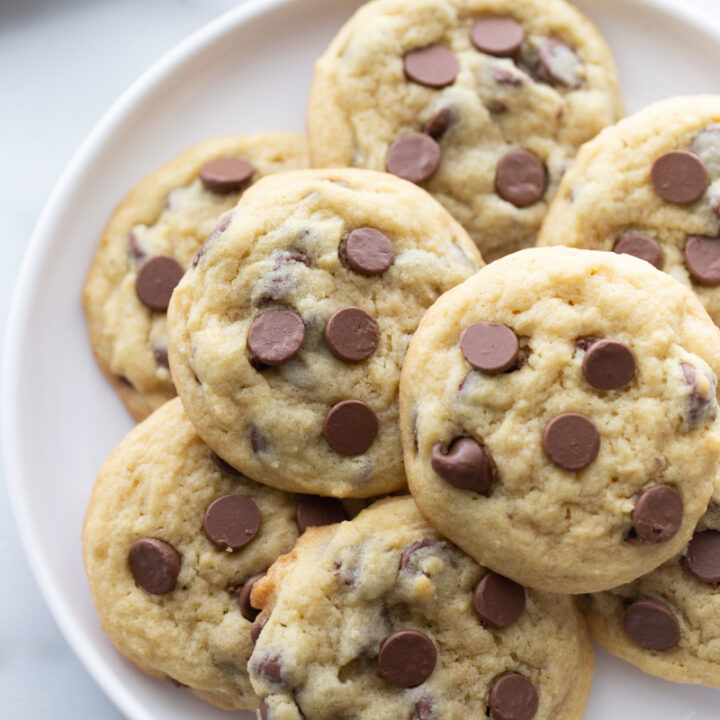 Chocolate Chip Pudding Cookies
A totally delicious chocolate chip cookie with instant vanilla pudding added to the dough!
Ingredients
2 1/4 cups all purpose flour
1 teaspoon baking soda
1 cup (2 sticks) salted butter, at room temperature
3/4 cup packed light brown sugar
1/4 cup granulated white sugar
One 3.4-ounce package instant vanilla pudding mix
2 large eggs
1 1/2 teaspoons vanilla extract
2 cups milk chocolate chips (+ a few more)
Instructions
Preheat the oven to 350 degrees F. Line baking sheets with parchment paper or silpat mats.
In a medium bowl, whisk together the flour and baking soda.
In a large bowl, use an electric mixer to combine the butter and sugars. Then beat in the pudding mix. Add eggs and vanilla and blend some more. Mix in the dry ingredients. Then stir in the chocolate chips.
Use a cookie scoop to drop the cookie dough by rounded tablespoonfuls onto the prepared baking sheets. Dot a few more chocolate chips on top of the dough to create a prettier cookie when baked. Bake 10 to 12 minutes, until the edges are golden. Let cool on the baking sheet for a few minutes before transferring to a cooling rack to cool completely.
Nutrition Information:
Yield:

36
Serving Size:

1
Amount Per Serving:
Calories:

119
Total Fat:

3g
Saturated Fat:

2g
Trans Fat:

0g
Unsaturated Fat:

1g
Cholesterol:

13mg
Sodium:

100mg
Carbohydrates:

20g
Fiber:

1g
Sugar:

13g
Protein:

2g
Nutritional information is estimated using a nutrition calculator. It's not likely to be 100% accurate.