These 25 Recipes to Make with Watermelon come in handy in the hot summer months- when watermelon is ripe and abundant. Grab a juicy watermelon at the store, and make a few new recipes!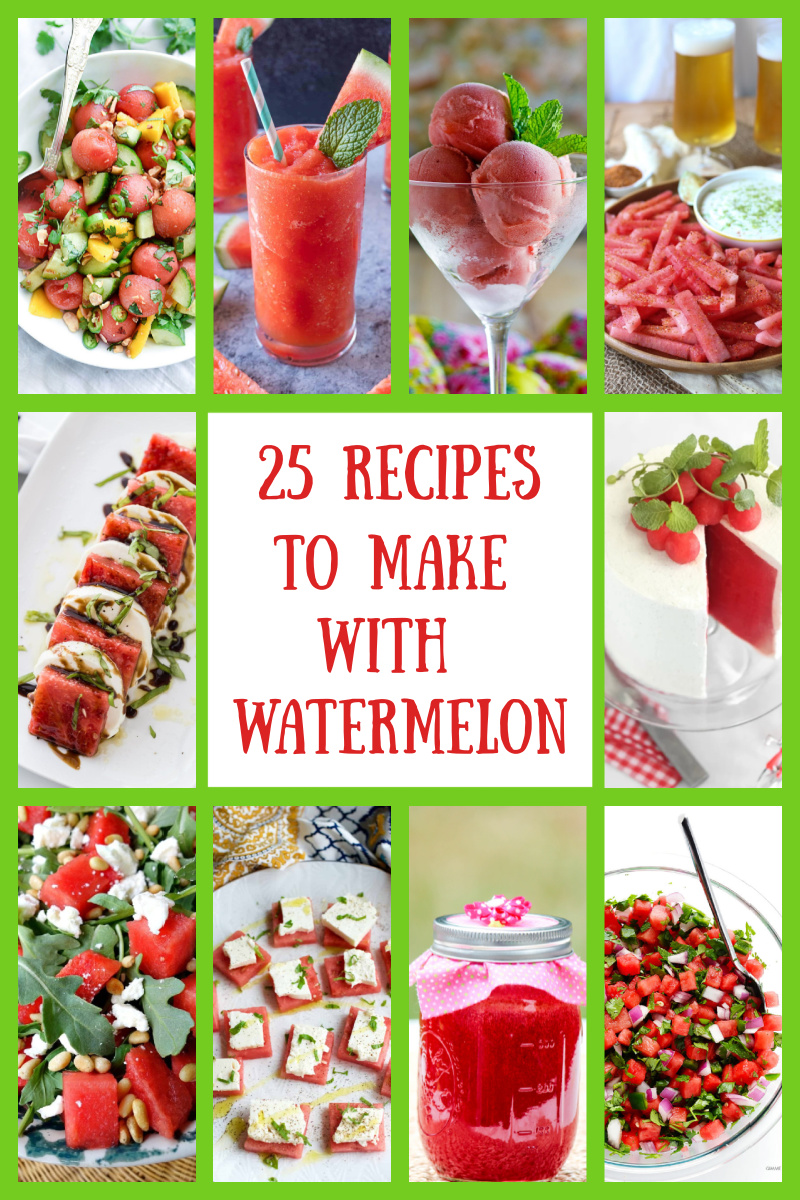 August 3rd is National Watermelon Day. Celebrate by making one of these 25 recipes to make with watermelon. Or cut yourself a slice of ripe and juicy watermelon, and enjoy every bite! Share your watermelon feast on social media by using the hashtag #NationalWatermelonDay, #WatermelonDay and #RecipesForHolidays. Be sure to check out our August Food Holidays page so you can keep track of all the food holidays in the month of August.
The History of Watermelon:
Since watermelon is 92% water, it was used by ancient people as a source of water.
5,000 years ago, a relative of the watermelon was a part of the lives of the indigenous people of the Kalahari Desert. They used it for hydration, and they roasted and ate the seeds.
Watermelon seeds and paintings of watermelon have been discovered in Egyptian tombs that are more than 4,000 years old.
11:5 from the bible refers to watermelon as one of the foods the Israelites longed for after leaving Egypt.
To the Greeks and Romans, watermelon had medicinal properties. They used it for healing, as a diuretic and as a treatment for children who had heatstroke (watermelon rinds were placed on their heads).
Cultivation of watermelons began in India in the 7th century, and it began in China by the 10th century. Its popularity spread through Europe, and by the 17th century watermelon was a commonly grown fruit.
Colonist and slaves brought watermelon to the New World. Early explorers used watermelon as canteens. Watermelon was growing in Florida by 1576 and in Massachusetts by 1629. Thomas Jefferson grew watermelon at Monticello. In the United States, the first recipe for watermelon appeared in a 1796 cookbook. It was for pickled watermelon rinds.
Seedless watermelons were developed in the 1950's are are the most popular variety in modern times. There are currently over 1,200 varieties of watermelon growing around the world.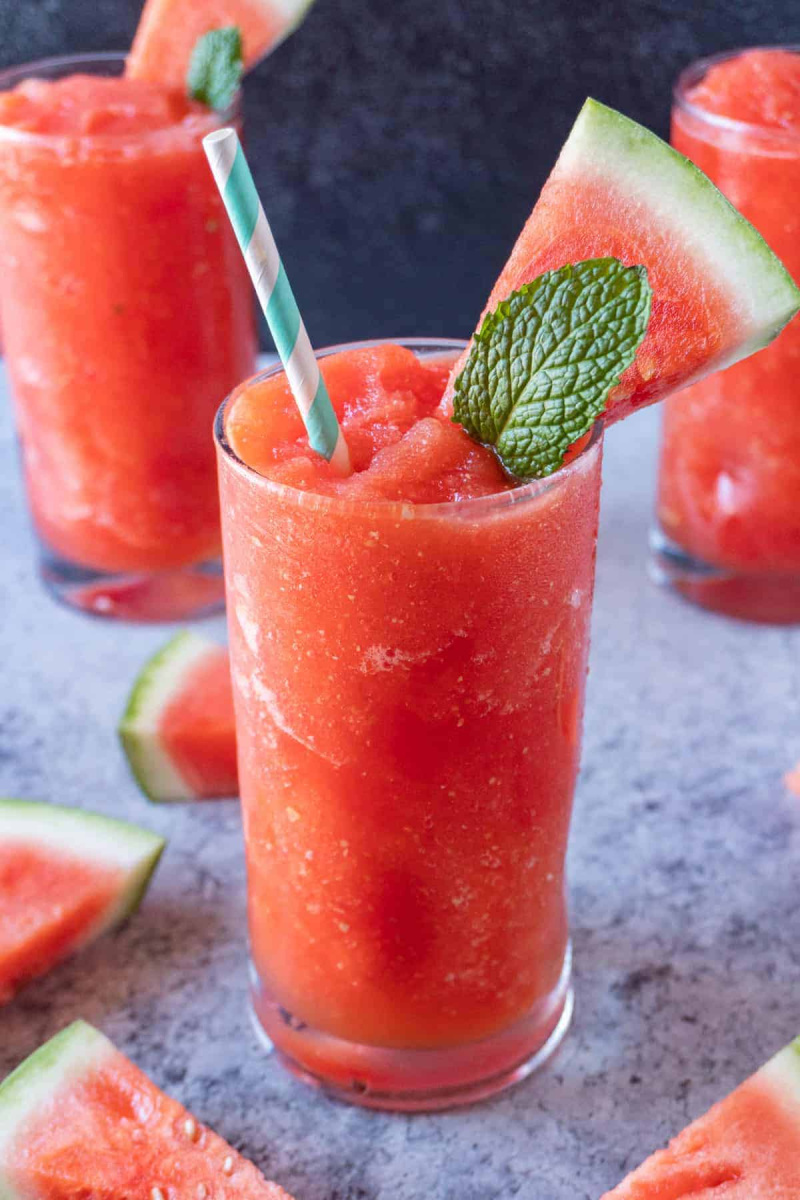 Watermelon Slushies by A Table Full of Joy. This fun watermelon drink is perfect for a hot day! It's the perfect slushie for summer!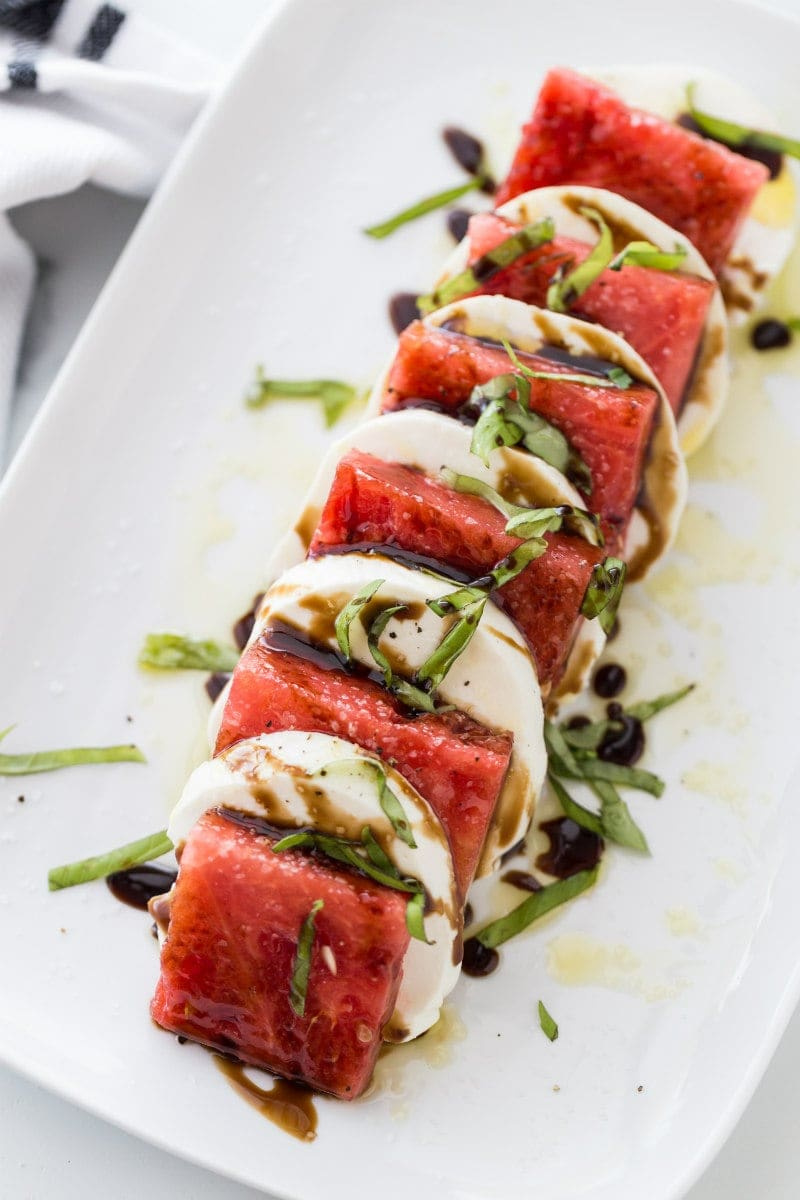 Watermelon Caprese Salad by Recipe Girl. This is a totally delicious caprese salad using watermelon in place of tomato.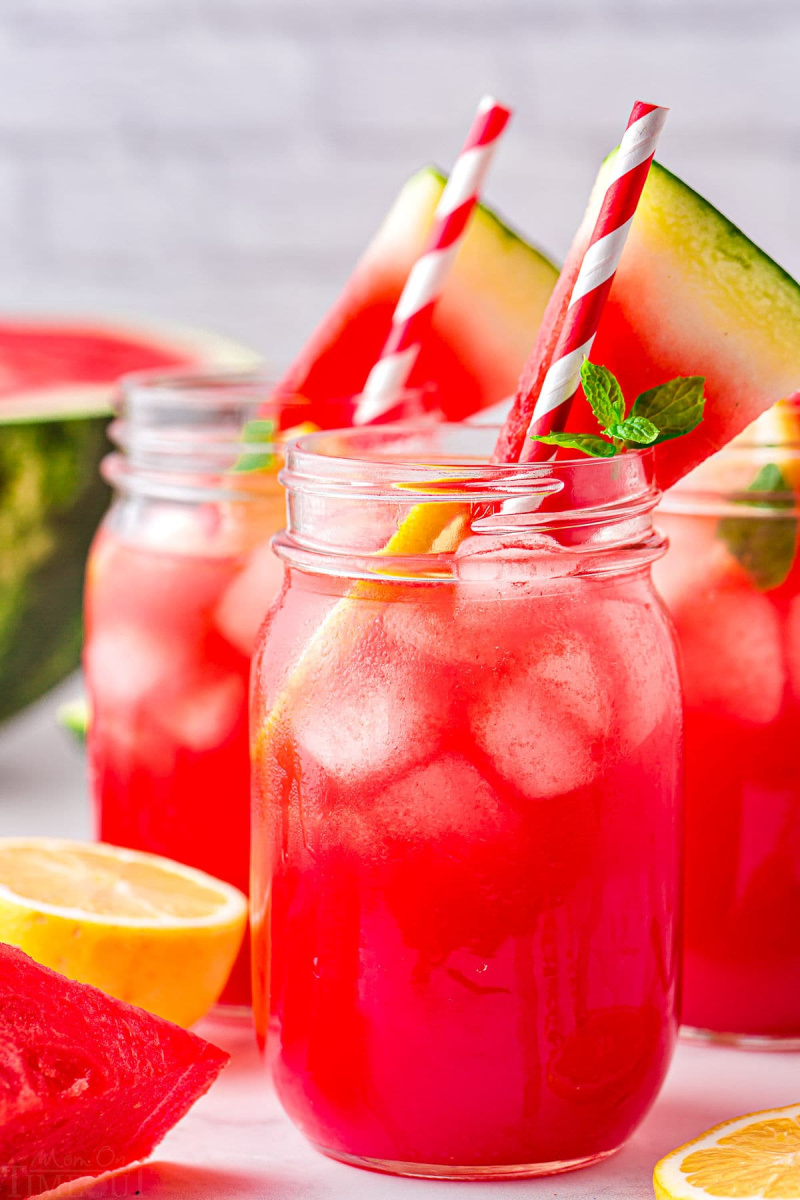 Watermelon Lemonade by Mom on Timeout. This is the perfect summer drink for BBQs, picnics, poolside parties and more! It's easy to make, and it's so incredibly refreshing!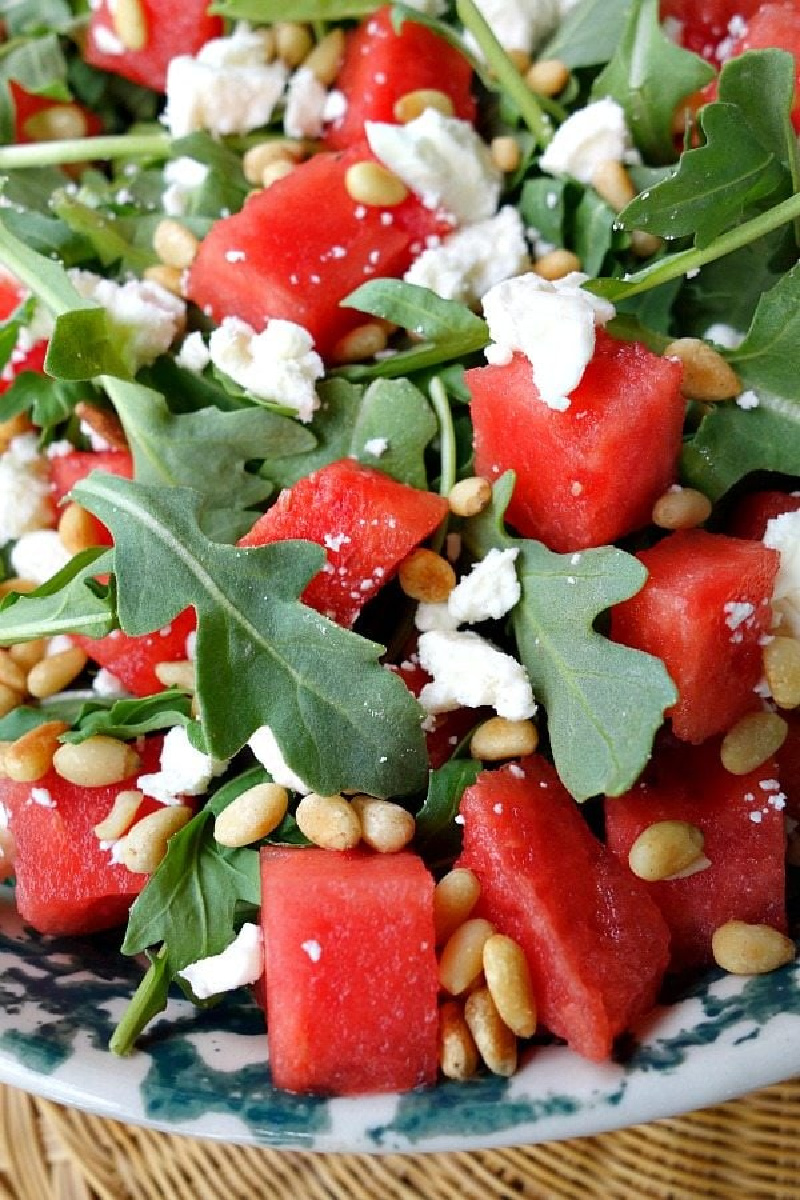 Watermelon, Feta and Arugula Salad by Recipe Girl. Watermelon is mixed with feta cheese, arugula and toasted pine nuts with a simple dressing to create the perfect summer salad!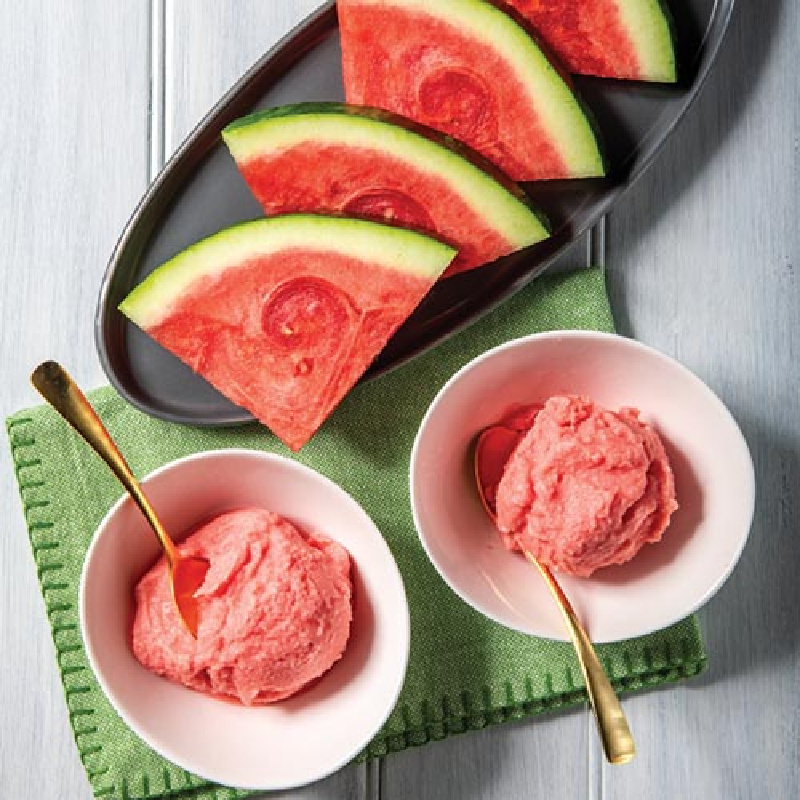 Watermelon Whip by Farm Flavor. Made with just five simple ingredients, this frozen treat is the best way to cool off on a hot summer day.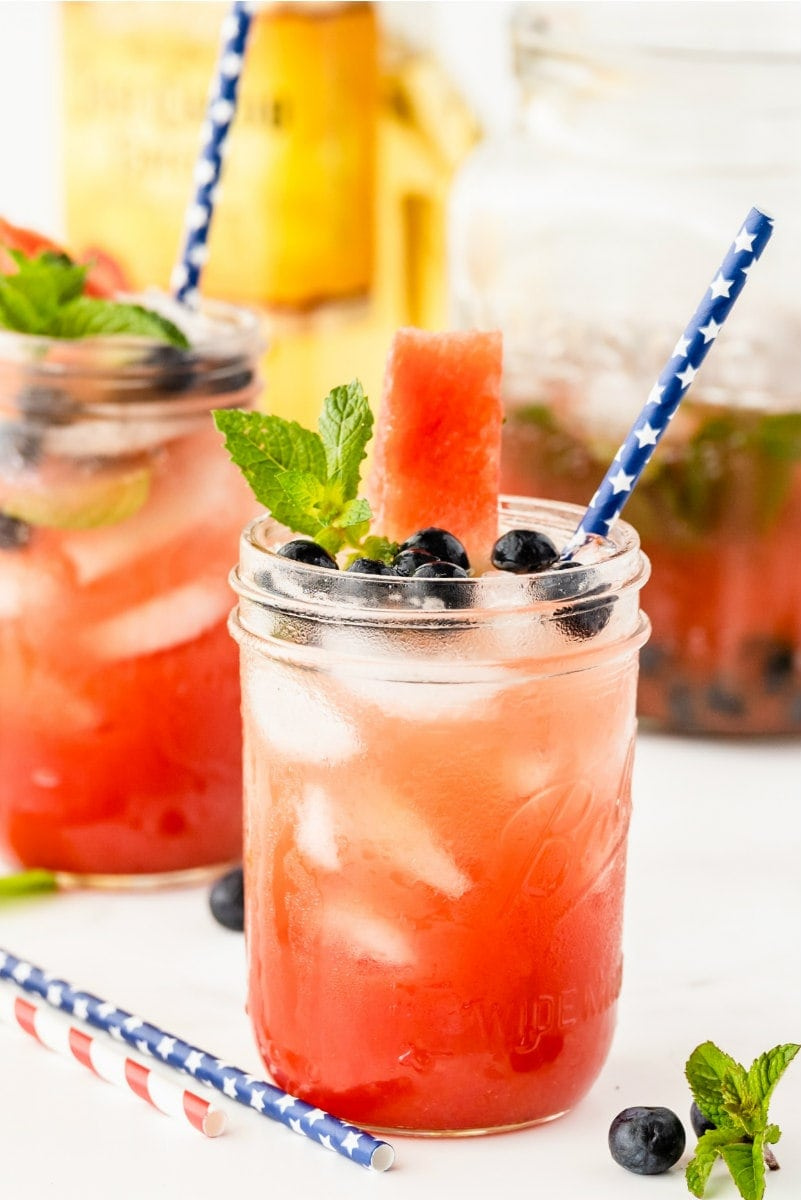 Watermelon Tequila Cocktails by Recipe Girl. Lime, blueberries and mint are a great addition to these watermelon cocktails!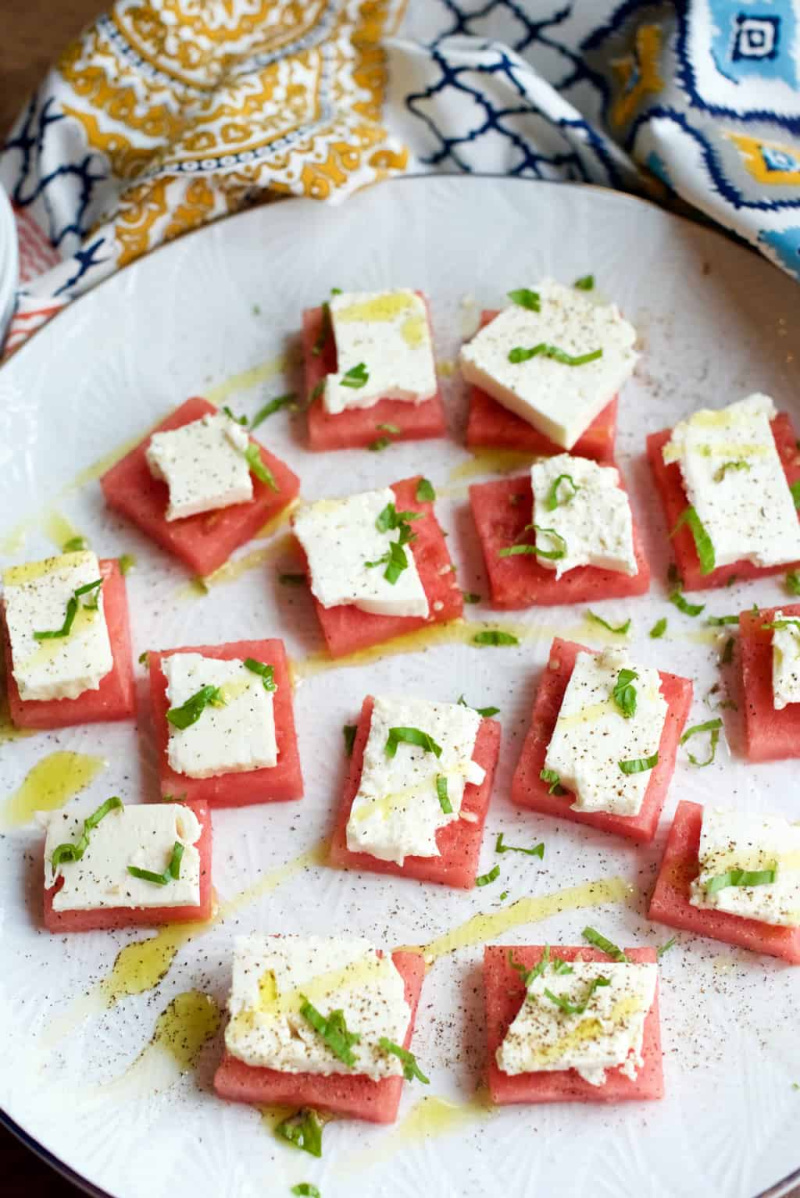 Watermelon Feta Bites by Reluctant Entertainer. This easy 4-ingredient appetizer is like a watermelon-feta salad in appetizer form.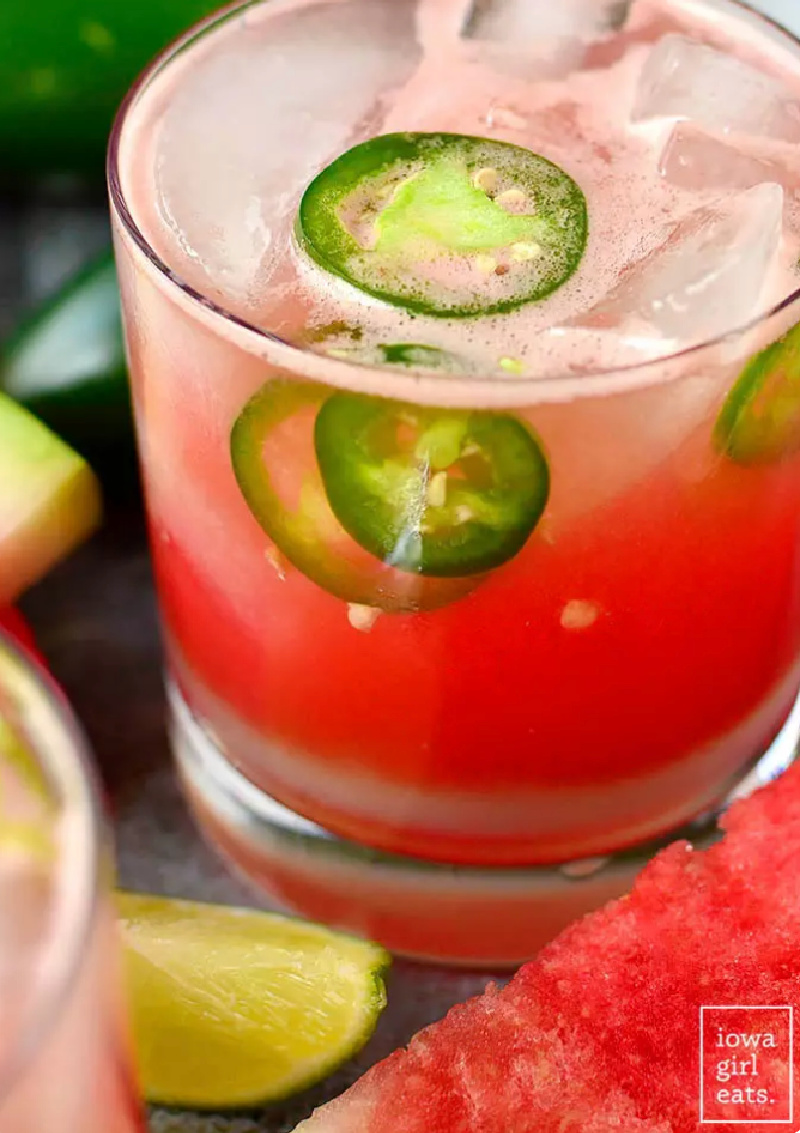 Watermelon Jalapeño Margaritas by Iowa Girl Eats. These margaritas are the perfect balance of sweet and spice.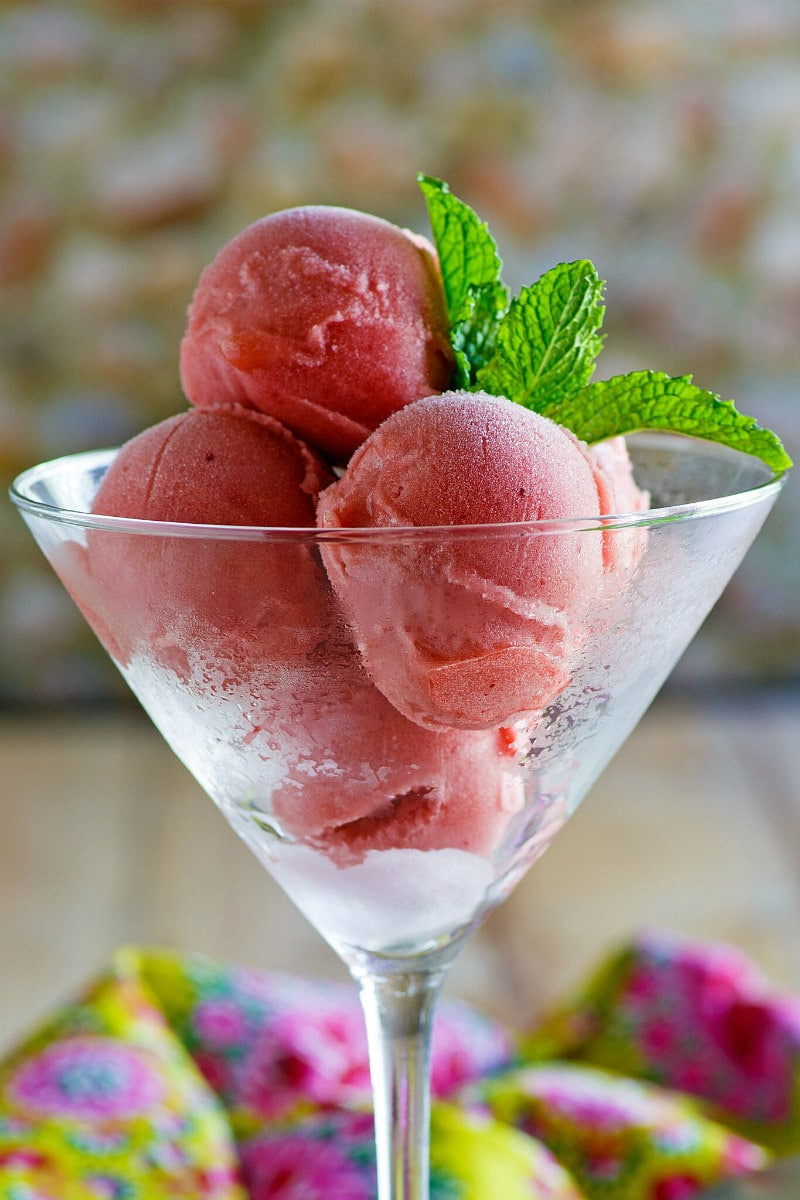 Watermelon Sorbet by Recipe Girl. This is a cold, welcome sweet treat on a hot day!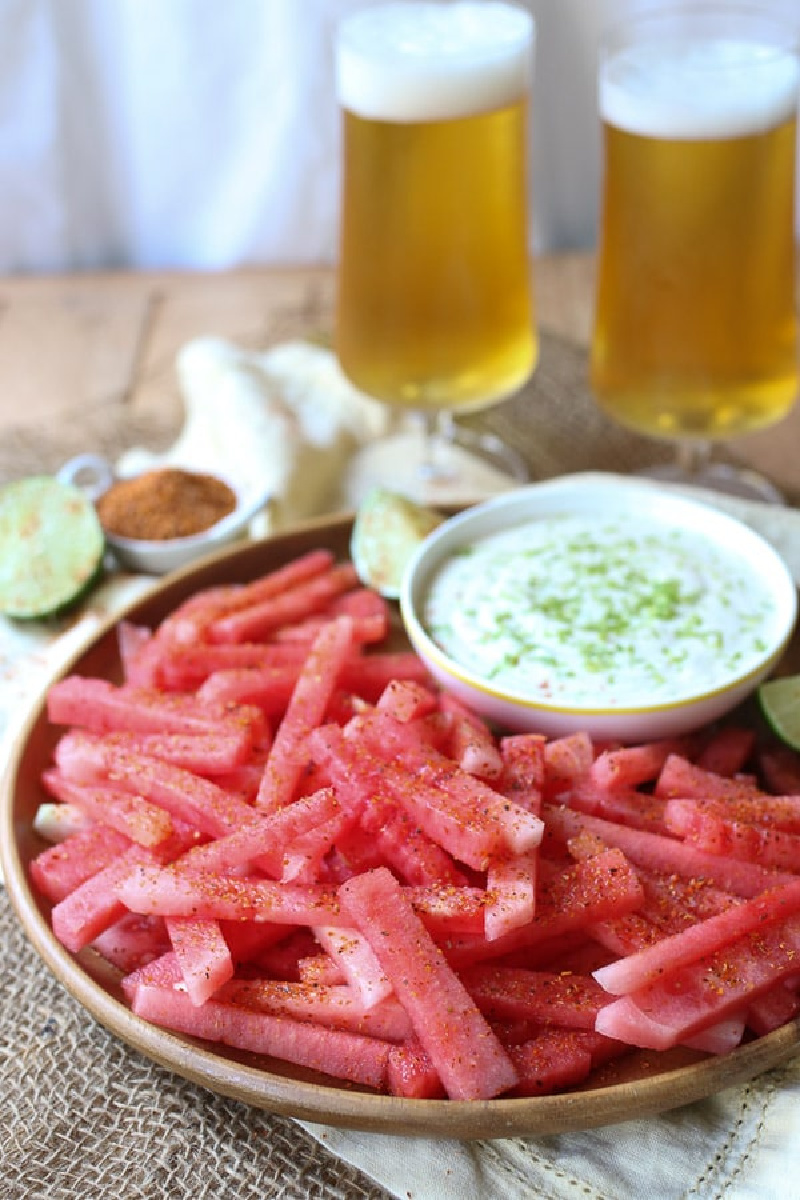 Watermelon Fries with Coconut Lime Dip by Abbey's Kitchen. These are such a fun and delicious snack that is perfect for the summertime! They're gluten-free, vegan, and take little to no time to make!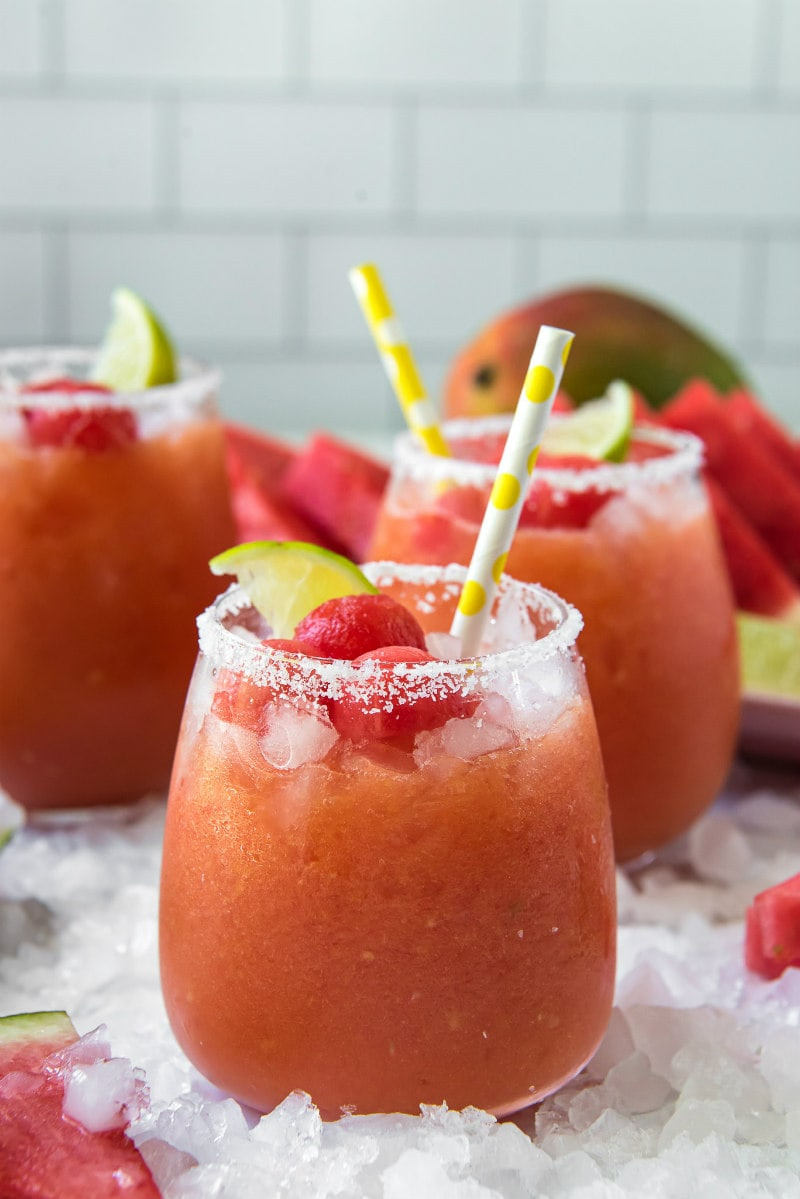 Watermelon- Mango Margaritas by Recipe Girl. This recipe delivers a refreshing drink that feels tropical and satisfying on a hot day.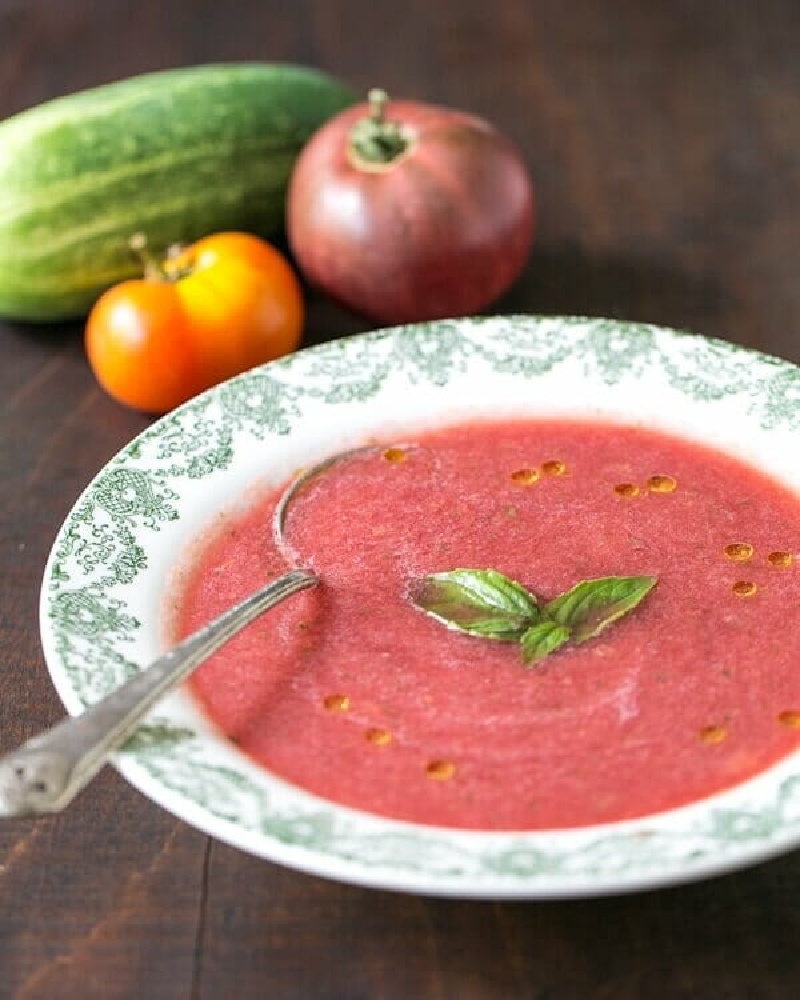 Watermelon Gazpacho by A Couple Cooks. Pairing sweet fruit with tomatoes and cucumber makes for the most refreshing summer soup.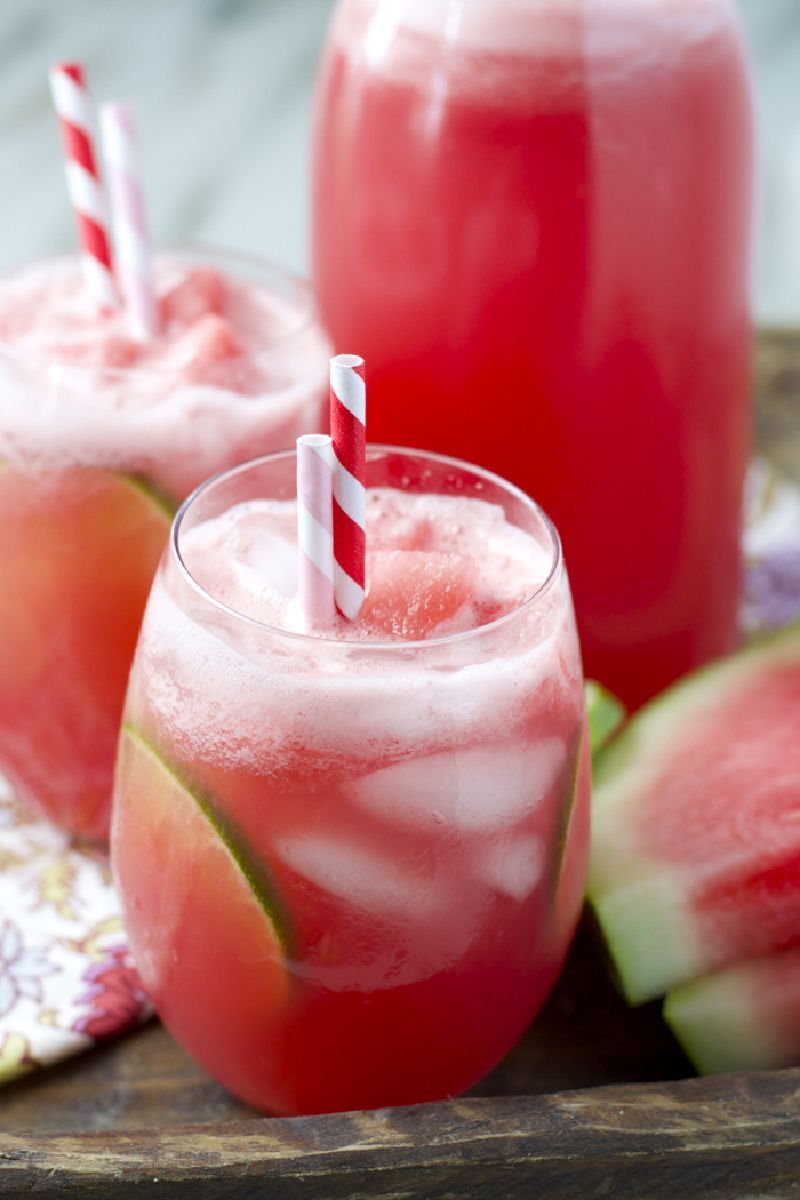 Watermelon Limeade by Maebells. Fresh watermelon juice is the star of this Watermelon Limeade! Combine just two ingredients for the most refreshing summer treat ever!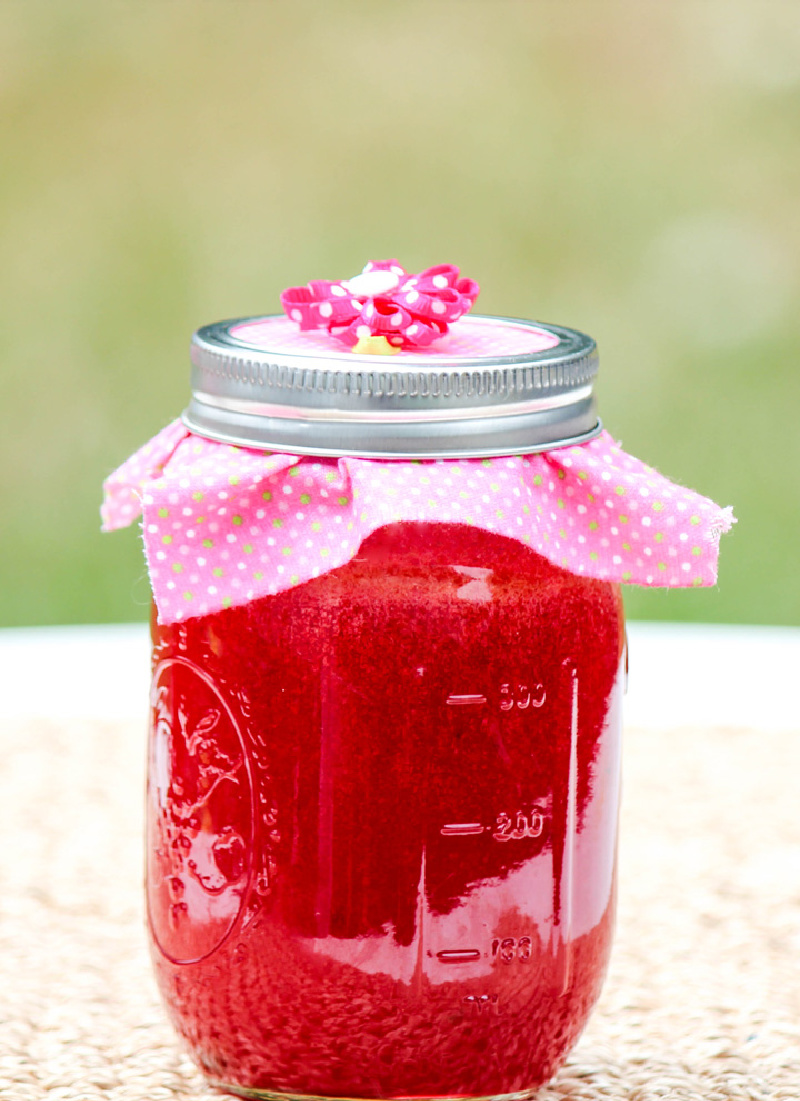 Watermelon Jelly by Daily Dish Recipes. This jelly is delicious and goes great on a slice of bread, topping pancakes or waffles or even used in fruit salad or baked goods.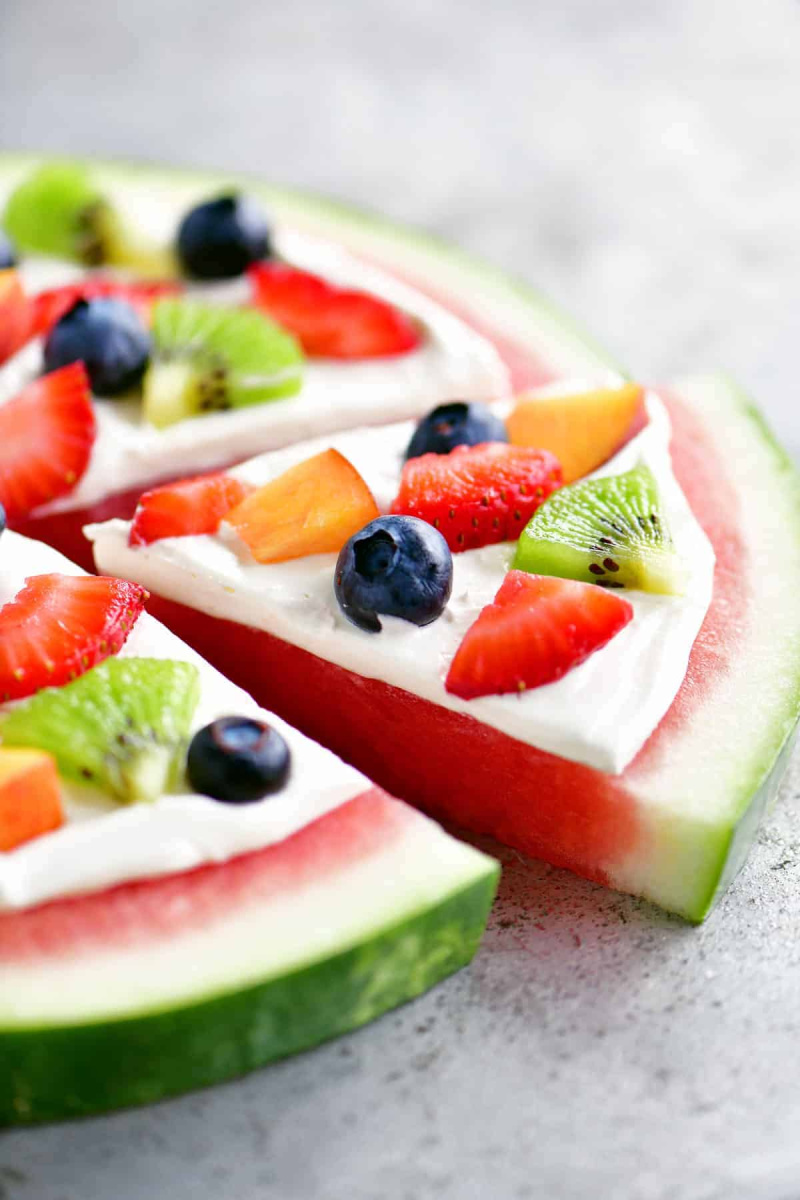 Watermelon Pizza by The Gunny Sack. This summer treat has a watermelon "crust" with cream cheese frosting and colorful pieces of fruit on top.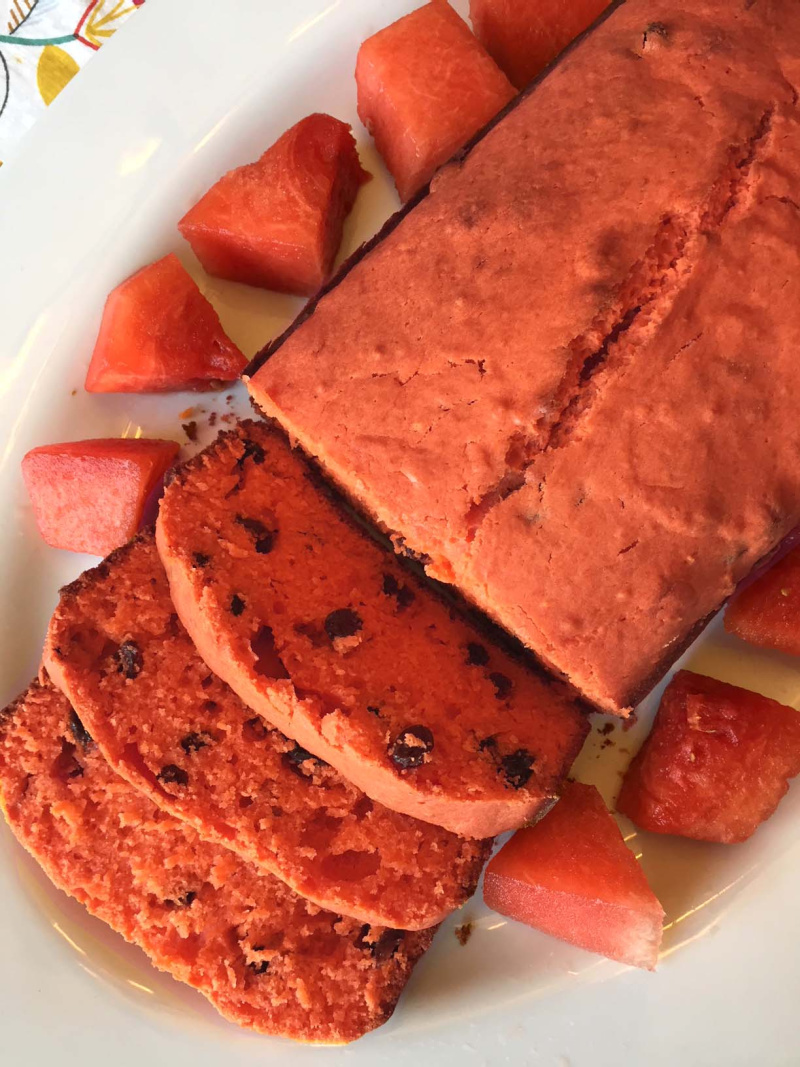 Watermelon Bread by Melanie Cooks. Yes, this bread is made with real, fresh watermelon!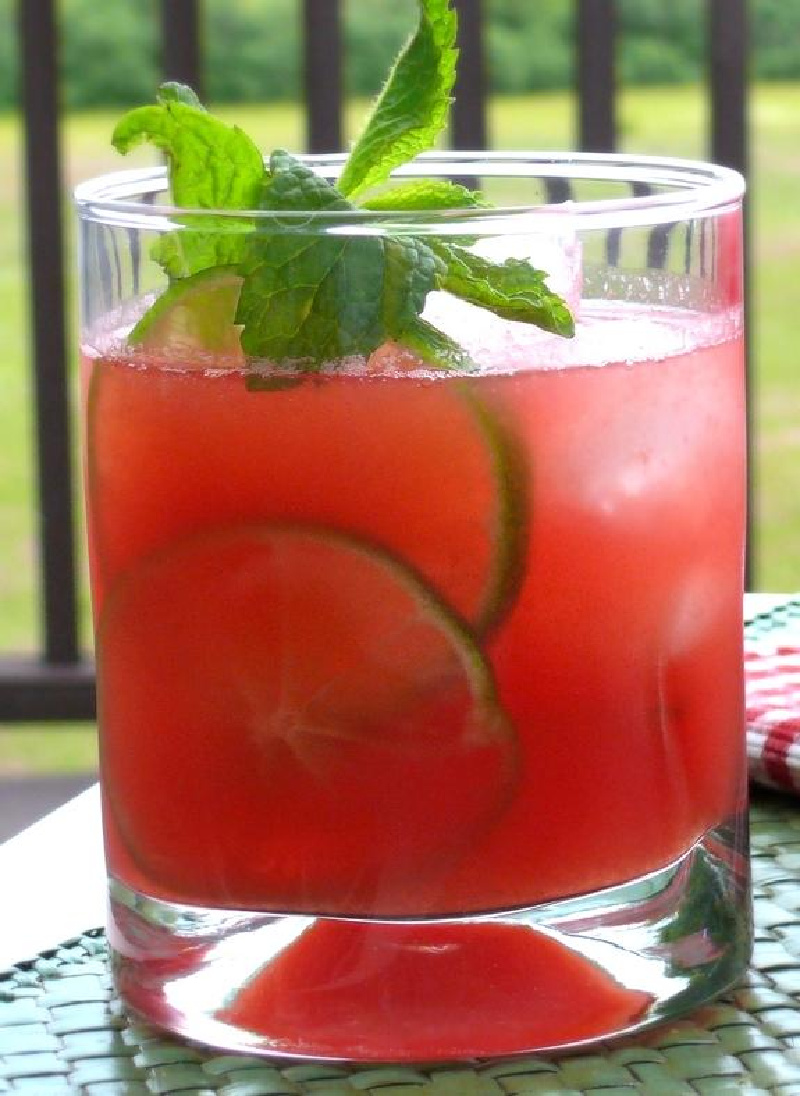 Watermelon Agua Fresca by Noble Pig. This drink is so easy to make, and the kids will love it. If you want to make it into an adult beverage, add tequila!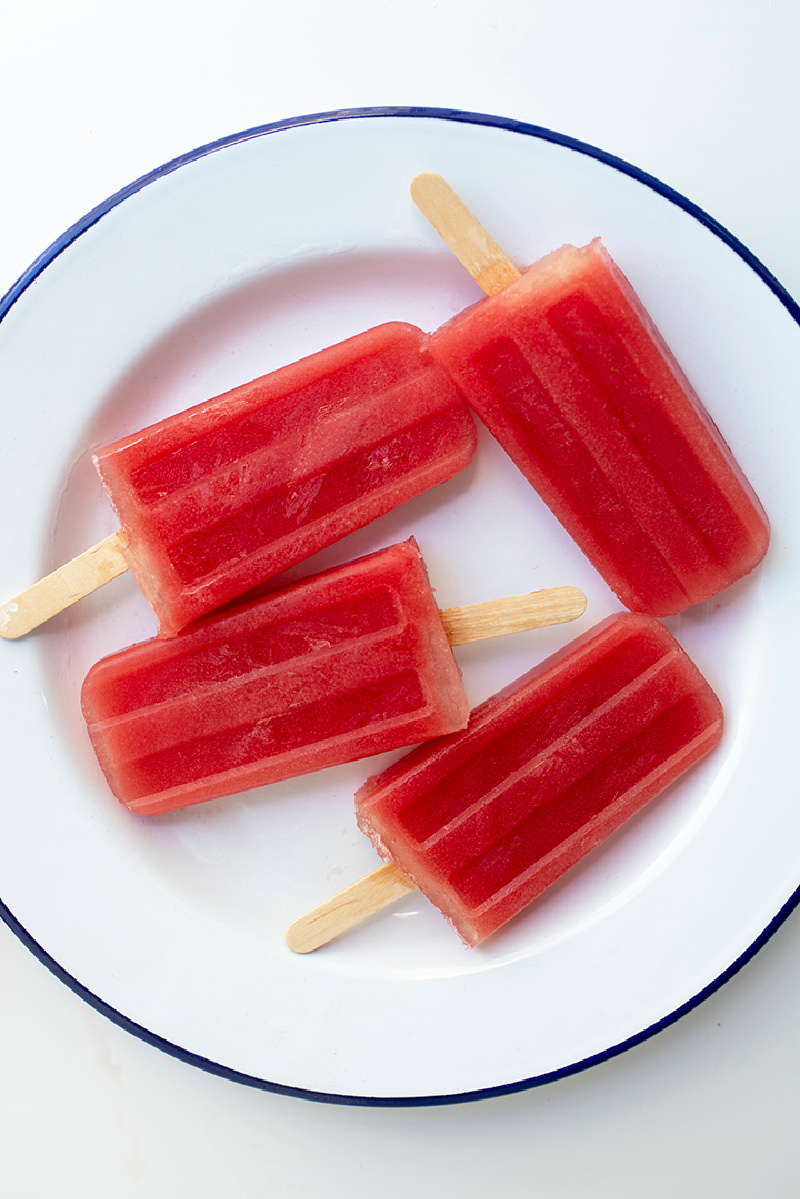 Easy Watermelon Popsicles by Alice and Lois. These popsicles are just like a frozen agua fresca with a hint of lime and honey.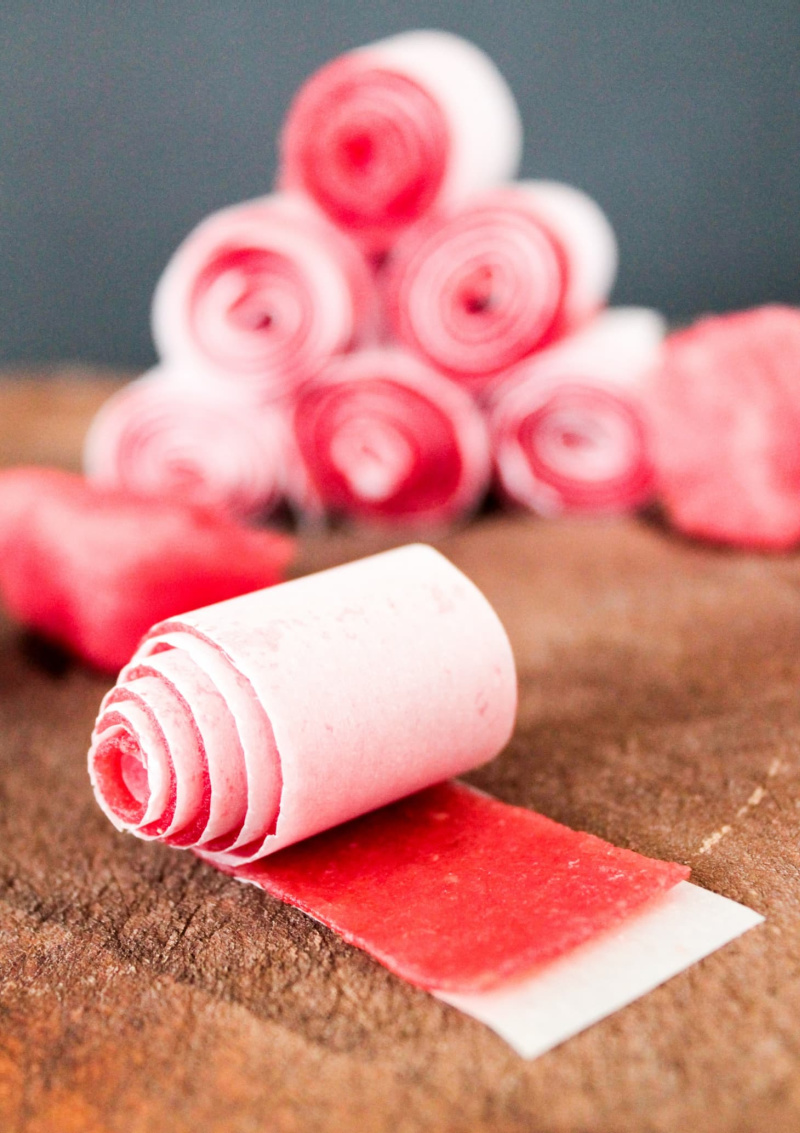 Watermelon Fruit Leather by Domestically Blissfull. You will only need two ingredients to make this summertime treat.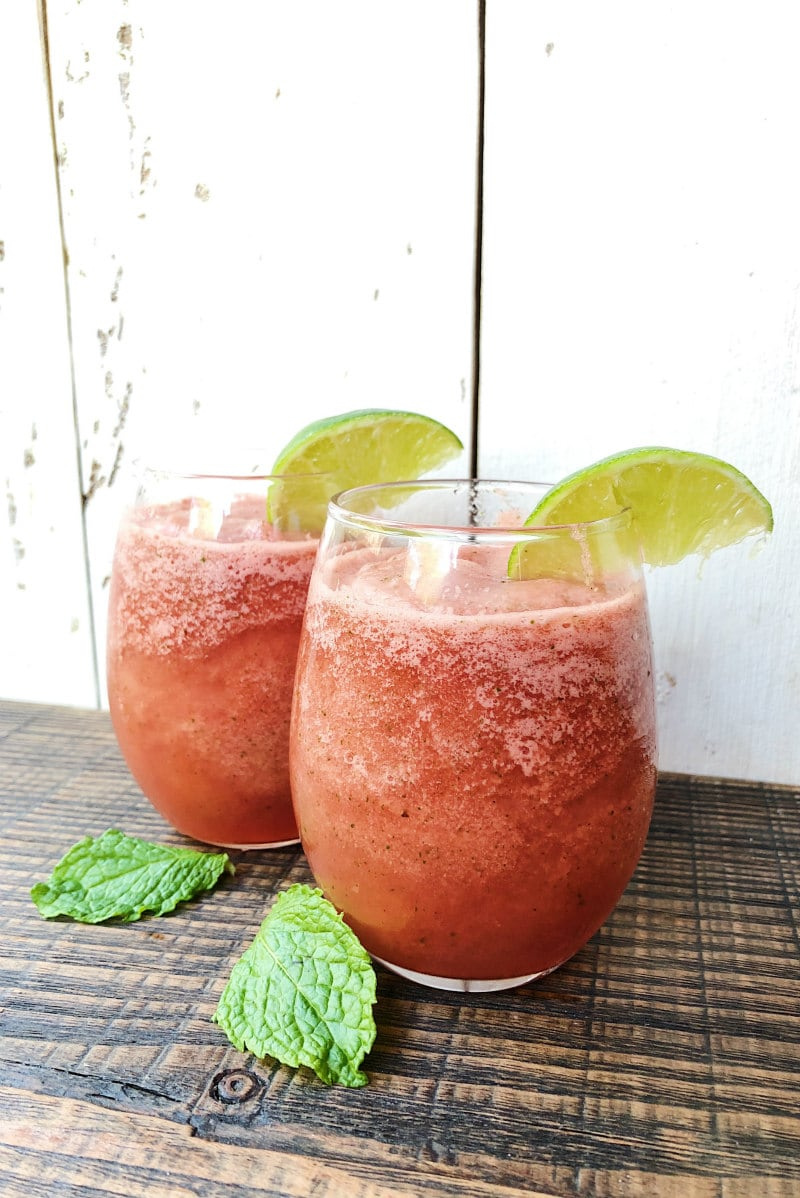 Watermelon Mojitos by Recipe Girl. These sweet, summertime mojitos are blended and frozen.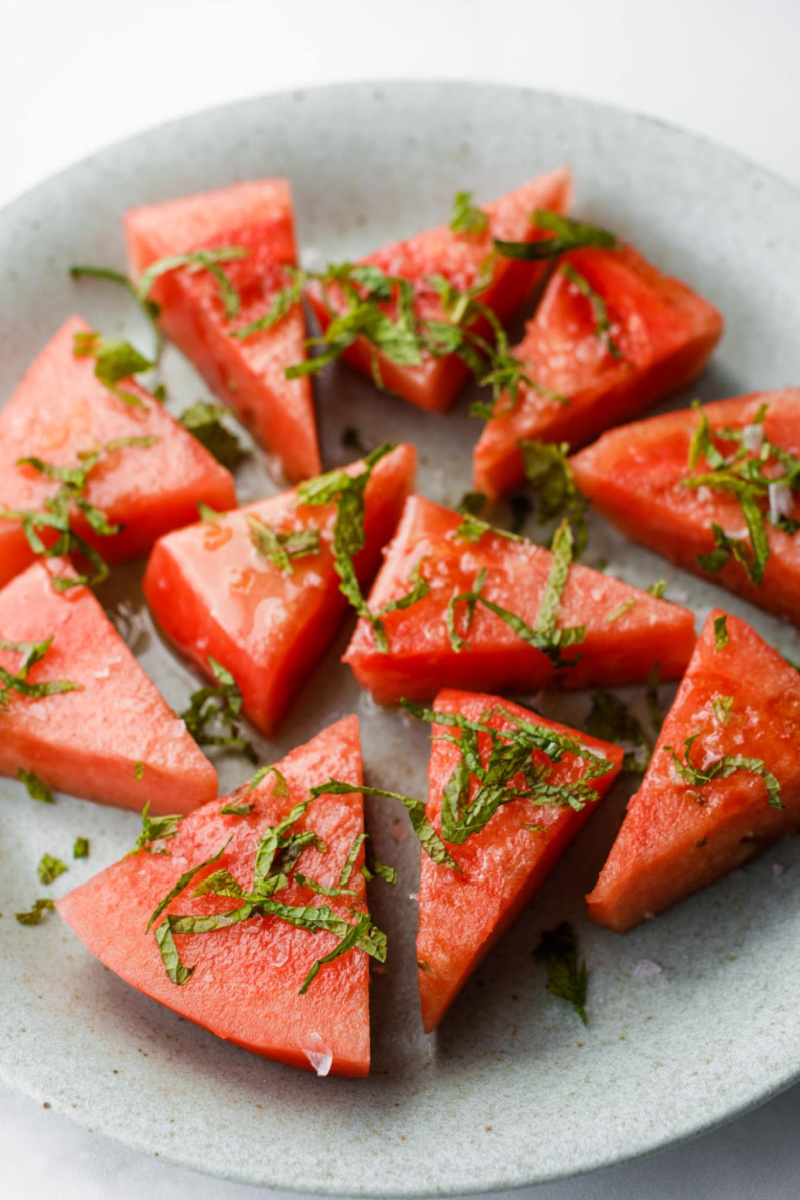 Salted Watermelon with Honey and Mint by Reluctant Entertainer. A super simple treat to serve on a hot day.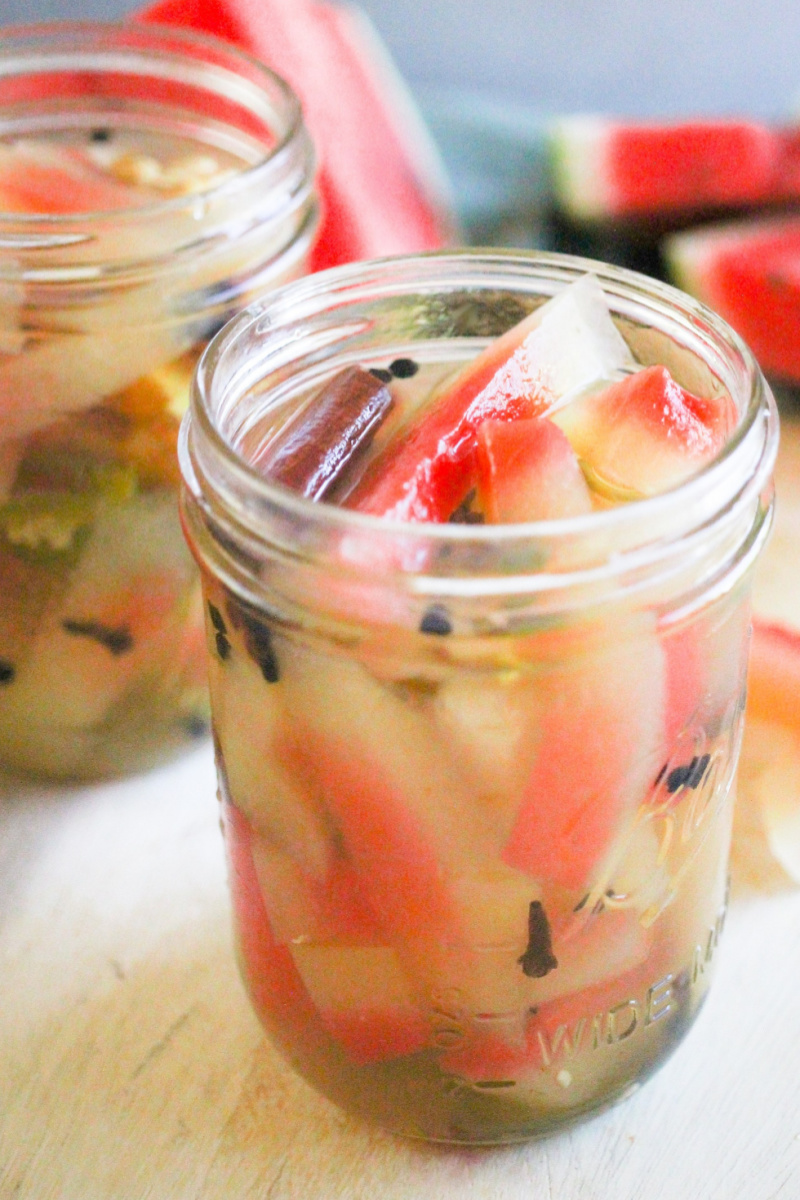 Pickled Watermelon Rind by Grateful Grazer. This Southern-inspired snack is sweet, crunchy, and ideal for making ahead.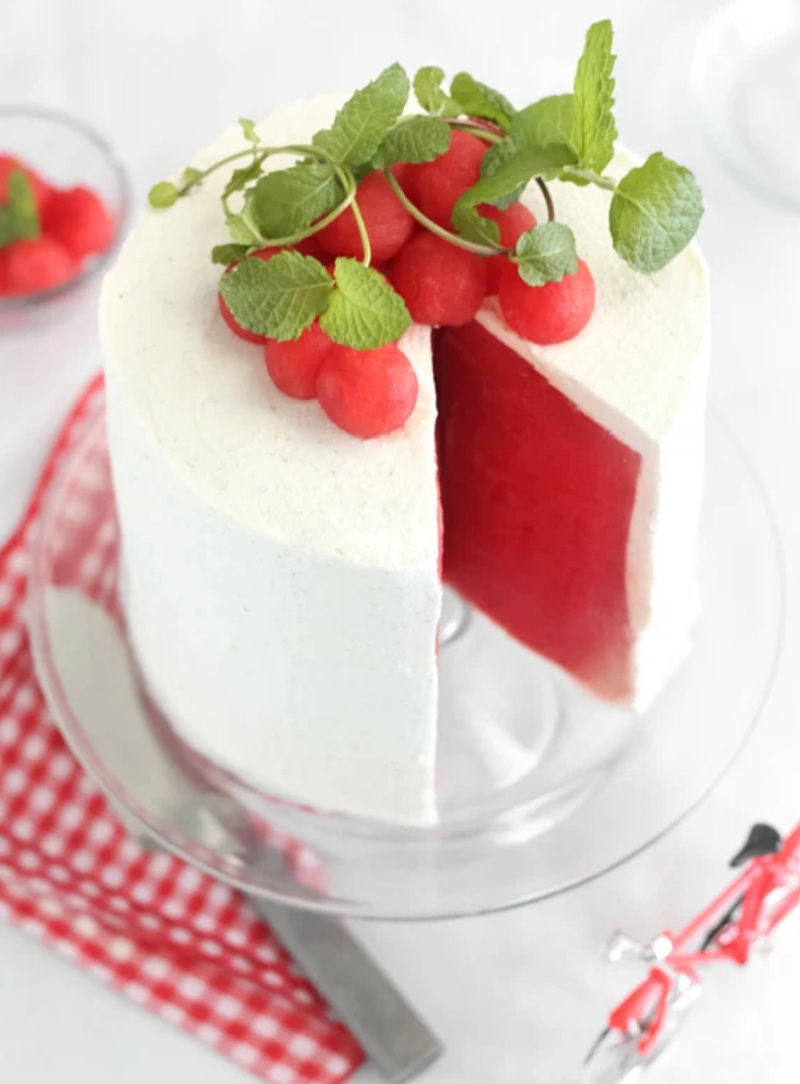 Fresh Watermelon Cake by Sprinkle Bakes. This fun dessert is made with only three ingredients, and it's perfect for any summer potluck.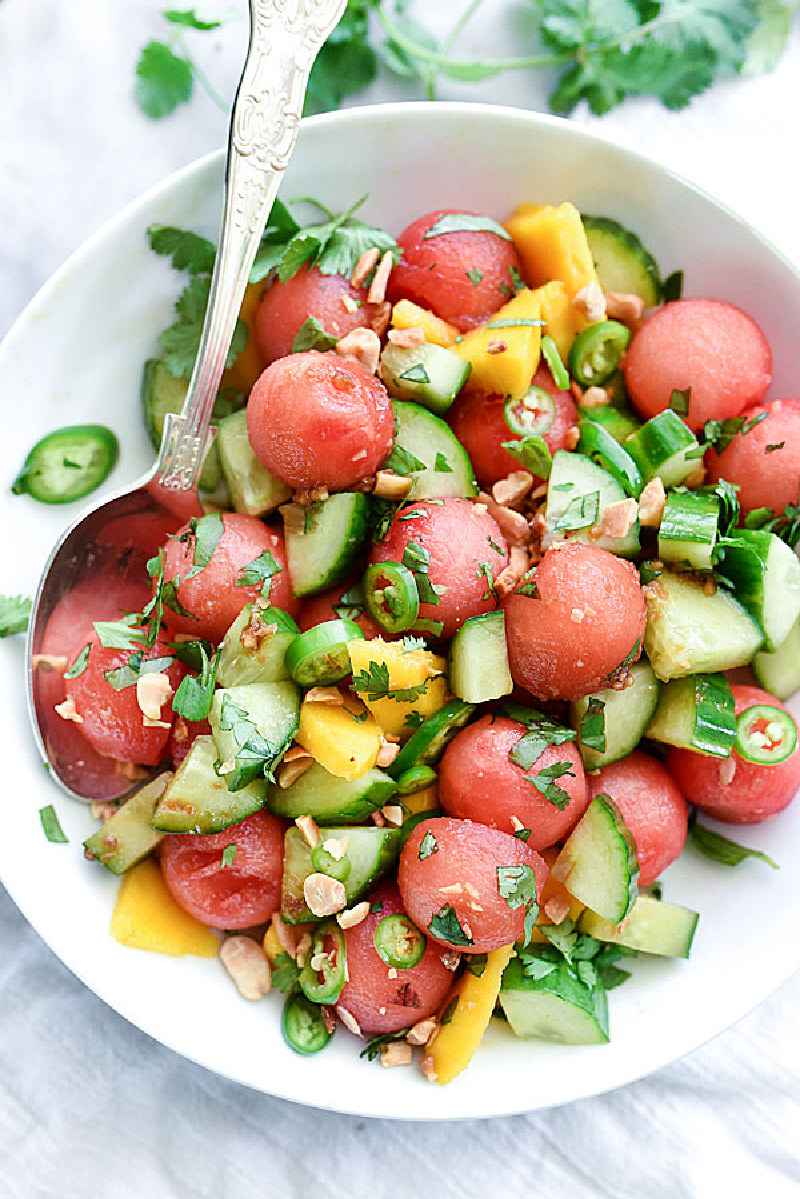 Cucumber Watermelon Salad by Foodiecrush. Fresh fruits of cucumber, mango and watermelon are dressed with a zingy Asian dressing of soy sauce, rice wine vinegar and ginger, with a kick of spice from jalapeño.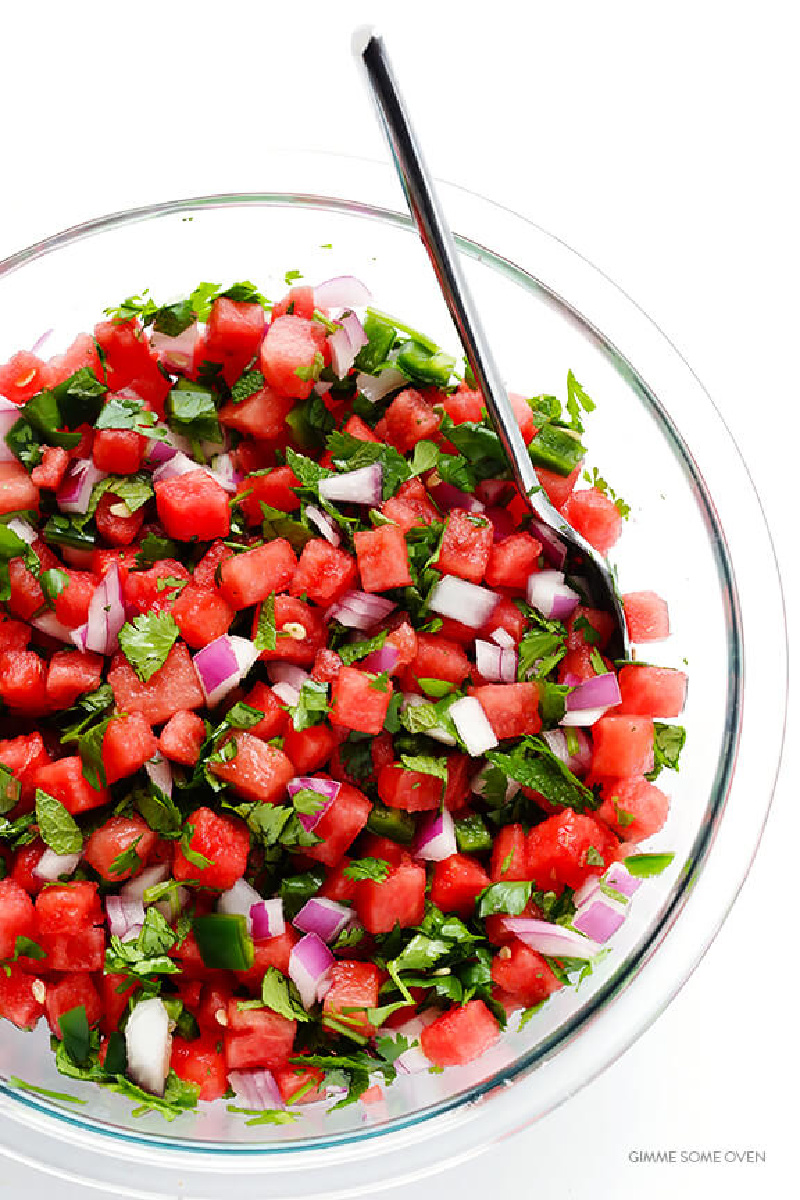 Watermelon Salsa by Gimme Some Oven. This fresh watermelon salsa recipe is quick and easy to make, and tastes so refreshing!
Fun Facts About Watermelon:
China is first in watermelon production. United States is 7th (with the most watermelons grown in Georgia).
Japan has figured out how to grow square watermelons. They sell for about $100 each!
When combined with a healthy lifestyle, eating watermelon can reduce your risk of cancer and diabetes, and it may also help lower blood pressure.
A Watermelon is considered ready for harvest when its belly patch turns from white to creamy yellow.
Once harvested, watermelon can be stored at room temperature for one week. If refrigerated, a watermelon is good for 2 to 3 weeks.
1 cup of watermelon has 45 calories. It's fat free, low in cholesterol and has no sodium.
The heaviest watermelon recorded by the Guinness Book of World Records was 350.5 pounds- grown in Sevierville, Tennessee.
Some people tease that if you swallow a watermelon seed that you will grow a watermelon in your stomach. This is not true. Swallowing watermelon seeds is not harmful.
The white seeds you still see in a seedless watermelon are empty seed coats. They are safe to eat.