These Grilled Lemon Garlic Steak Kebabs are made using a fresh and delicious homemade marinade, and they are grilled with vegetables on skewers.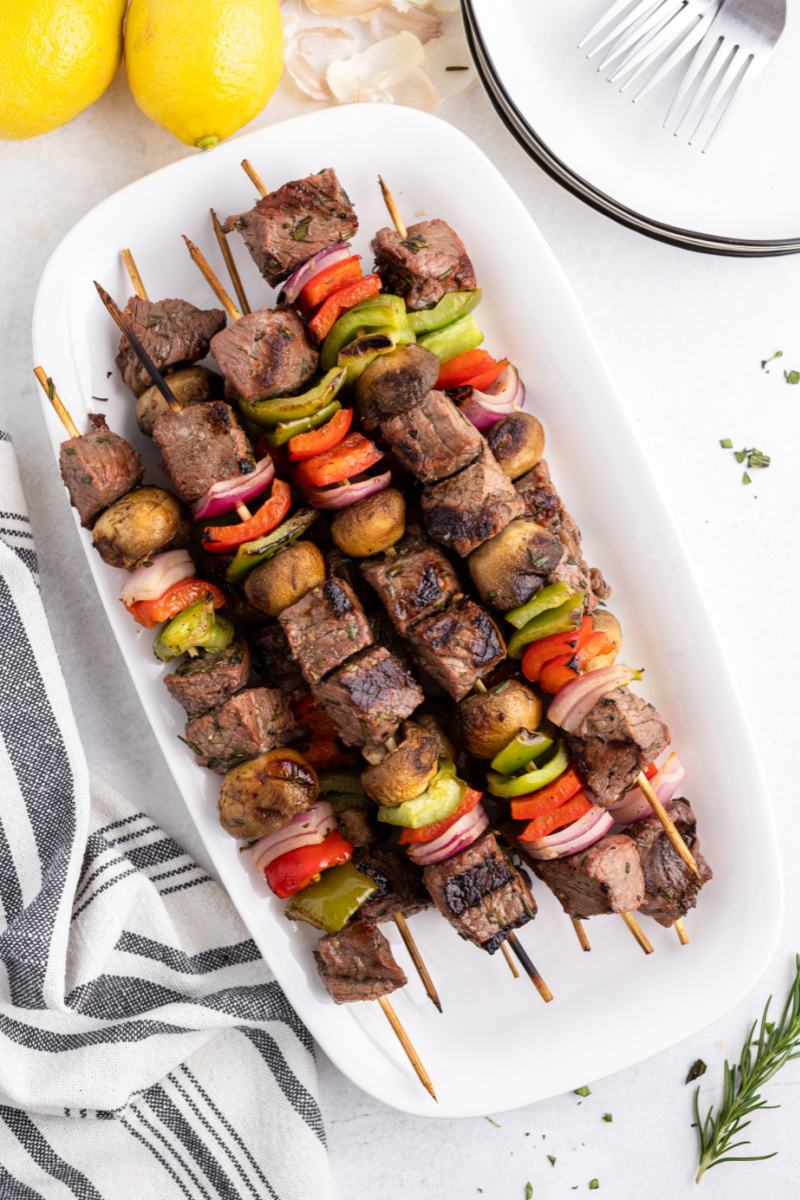 July 9th is World Kebab Day (the 2nd Friday in July). This is a day to make kebabs for dinner or enjoy kebabs in your favorite restaurant. Share your kebabs on social media by using the hashtag #WorldKebabDay, #KebabDay and #RecipesForHolidays. Be sure to check out my July Food Holidays page to follow all of the food holidays for the month of July!
The History of Kebabs:
The word "kebab" means "to roast." Meat cooked on shish-kebabs is usually marinated before cooking. All kinds of meats can be used. Kebabs can be made using only vegetables too!
Kebabs are thought to have originated in Turkey. Turkish soldiers used to grill their hunted animals on their swords over a fire. Eventually, the kebab made its way to Greece- where kebabs are still very popular today. Greek ruins show stones with slots on which to lay skewers.
Why did the popularity of kebabs soar? Small pieces of meat were quicker to cook, and they were less messy or greasy to eat with your hands. The Greeks added vegetables to meat skewers to create the kebabs we know today. Now there are shish kebabs, doner kebabs, kathi kebabs and so many more. Every country has their own spin on the kebab.
In the late 1990's the kebab started becoming extremely popular, and today you'll find a doner kebab seller in almost every single British town. From Wiki: Doner kebab is a type of kebab, made of meat cooked on a vertical rotisserie. Seasoned meat stacked in the shape of an inverted cone is turned slowly on the rotisserie, next to a vertical cooking element. The outer layer is sliced into thin shavings as it cooks. Doner kebabs are a popular street cart food around the world.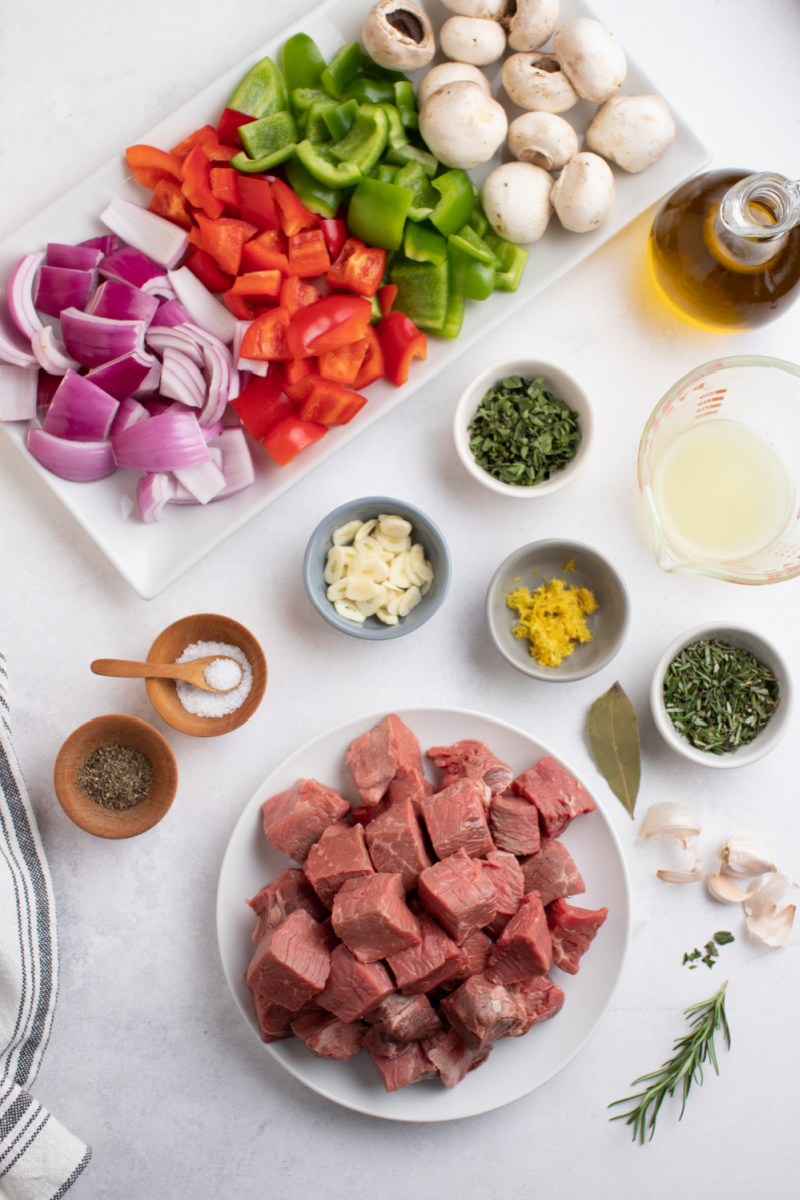 Ingredients needed:
olive oil
lemon juice and lemon zest
fresh oregano
fresh rosemary
garlic
bay leaf
salt and freshly ground black pepper
steak
red and green bell pepper
mushrooms
red onion
skewers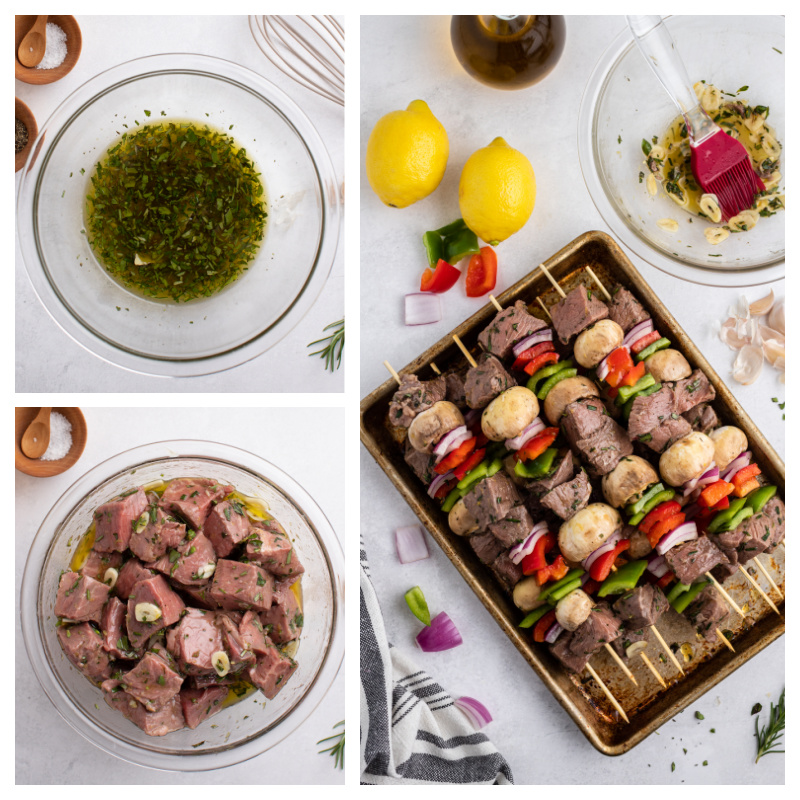 How to make Grilled Lemon Garlic Steak Kebabs:
Mix the marinade in a bowl. Add cubes of steak, cover and refrigerate for two hours to marinate.
Drain the marinade, and thread the steak onto skewers, alternating with mushroom, onion and bell peppers. Set the skewers on a platter or baking sheet and brush with the marinade.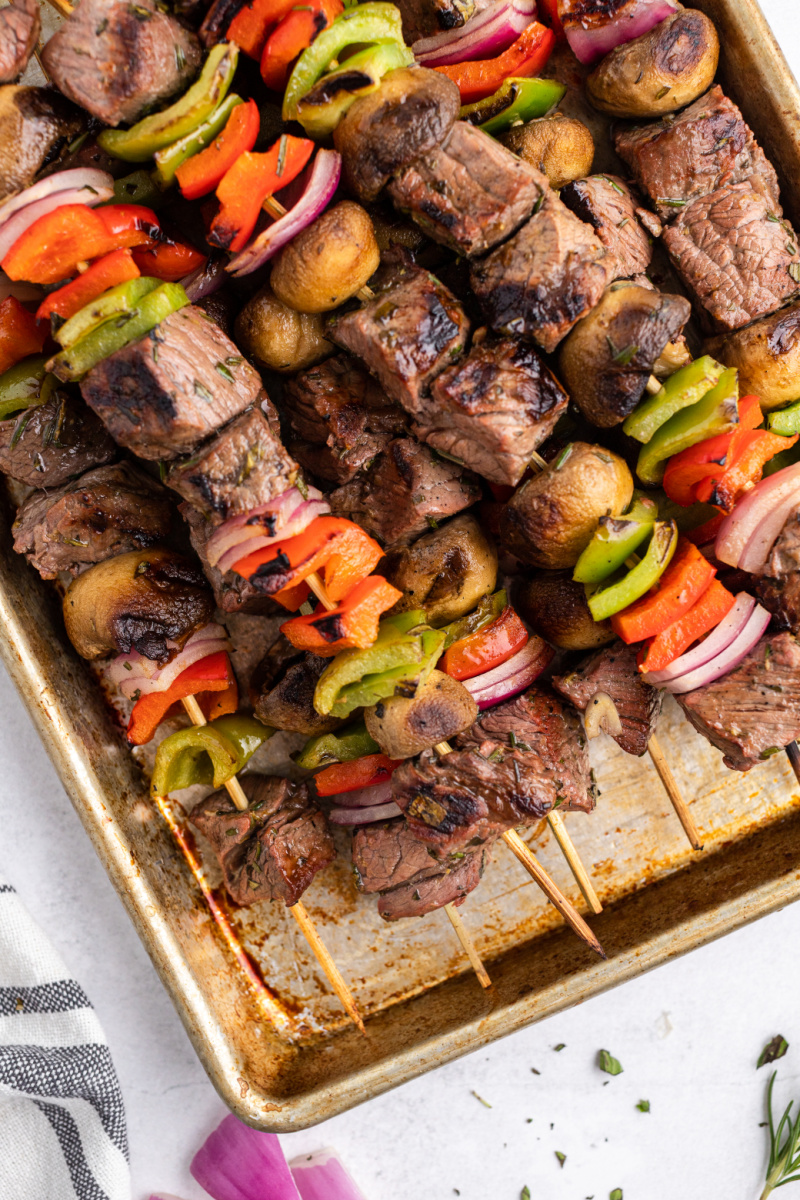 Preheat the grill, and grill the kebabs for 8 to 10 minutes- until the beef is medium rare. Turn the kebabs a few times while grilling.
Why do you soak wooden skewers for kebabs?
Wood skewers can burn when placed on a hot grill. Soaking them in water for 20 to 30 minutes before adding the meat and veggies will help keep the skewers from burning while the food is cooking.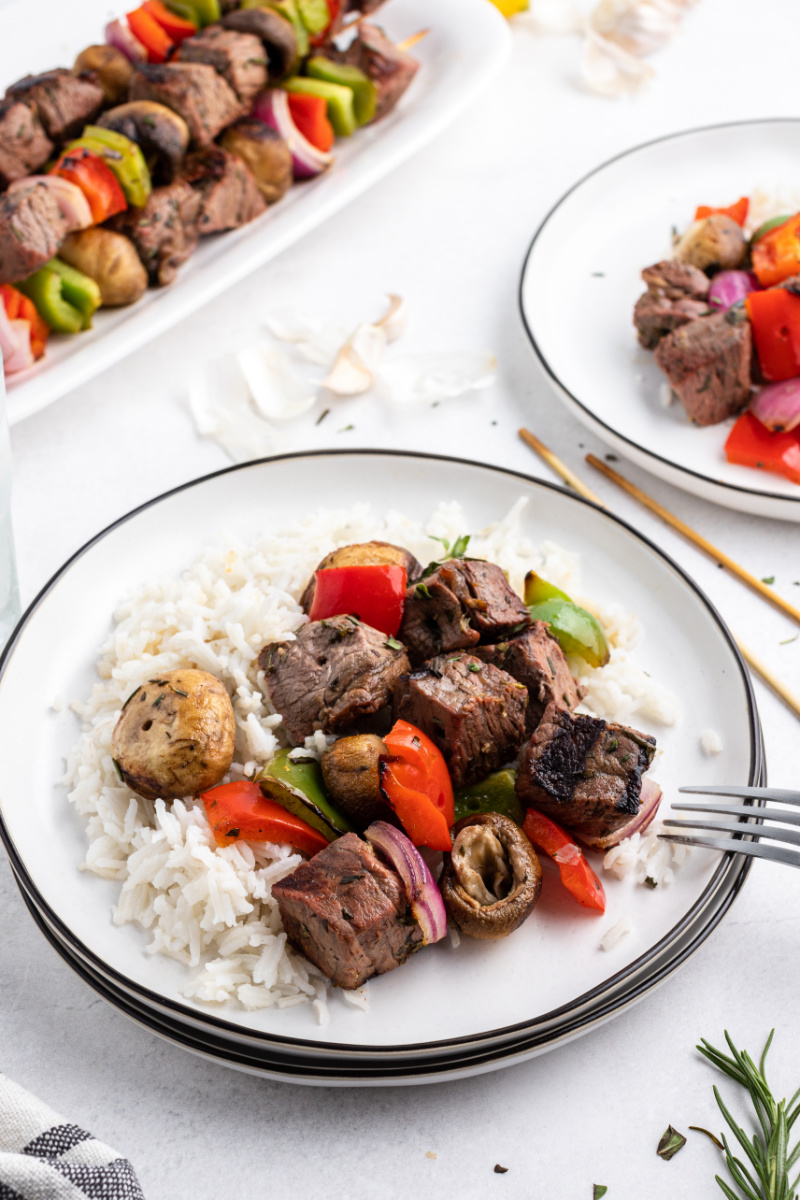 Serve these Grilled Lemon Garlic Steak Kebabs on their own, or you can serve them over rice. Salad or garlic bread would be a good addition too. Kebabs are a great dinner because you can choose what vegetables you'd like to add to the skewer. I suggest you try zucchini and cherry tomatoes too. Enjoy!
Fun Facts about Kebabs:
There are 17,000+ kebab shops across the UK.
Kebab was served in the royal houses during the Delhi Sultanat, and even commoners would enjoy it for breakfast with naan.
Kebabs in Asia are satay or sate, which is roasted skewered meat, usually chicken served with a dipping sauce that's often made from peanuts.
Japan's kebabs are called yakitori, which is grilled skewered fowl.
In France, shish kebabs are called brochettes, meaning "skewers."
The German-style döner kebab was supposedly invented by a Turkish immigrant in Berlin in the 1970's and became a popular German take-away food during the 1990's.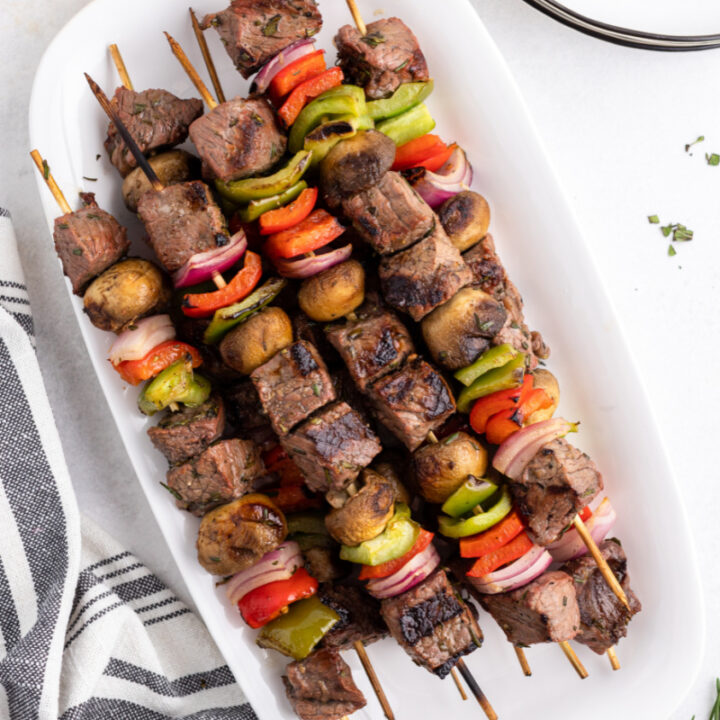 Grilled Lemon Garlic Steak Kebabs
Wonderful marinade for these delicious steak kebabs!
Ingredients
½ cup extra-virgin olive oil
¼ cup freshly squeezed lemon juice
3 tablespoons minced fresh oregano
3 tablespoons chopped fresh rosemary
3 large garlic cloves, thinly sliced
1 tablespoon finely grated lemon zest
1 bay leaf
1 teaspoon salt
Freshly ground black pepper
2 ½ pounds boneless top sirloin or NY strip steak, cut into cubes
1 red bell pepper, cut into pieces
1 green bell pepper, cut into pieces
12 fresh mushroom caps
2 medium red onions, cut into pieces
Wooden skewers (at least 12 inches), soaked in water for 20 to 30 minutes (or use metal skewers)
Instructions
In a large glass bowl, whisk together the olive oil, lemon juice, oregano, rosemary, garlic, lemon zest, bay leaf, salt and a few grinds of pepper. Put the beef cubes in the marinade and toss to coat. Cover. Refrigerate and marinate for 2 hours, turning the beef a couple of times to make sure it's evenly marinating.
Remove the beef from the marinade- discard the bay leaf, but keep the marinade.
Assemble the kebabs by alternating cubes of beef with bell pepper and onion and mushroom. Lay the prepared kebabs in a shallow dish and brush with the reserved marinade.
Preheat the grill to medium. Grill 8 to 10 minutes until the beef is just medium-rare, turning the skewers several times for even cooking.
Nutrition Information:
Yield:

6
Serving Size:

1 serving
Amount Per Serving:
Calories:

657
Total Fat:

45g
Saturated Fat:

13g
Trans Fat:

0g
Unsaturated Fat:

27g
Cholesterol:

174mg
Sodium:

464mg
Carbohydrates:

9g
Fiber:

2g
Sugar:

4g
Protein:

53g
*Nutritional information is estimated using a nutritional calculator. It is not likely to be 100% accurate.