Fluffernutter Bars are made up of peanut butter cookie dough, peanut butter cups and marshmallow creme. They are the perfect, delicious combination!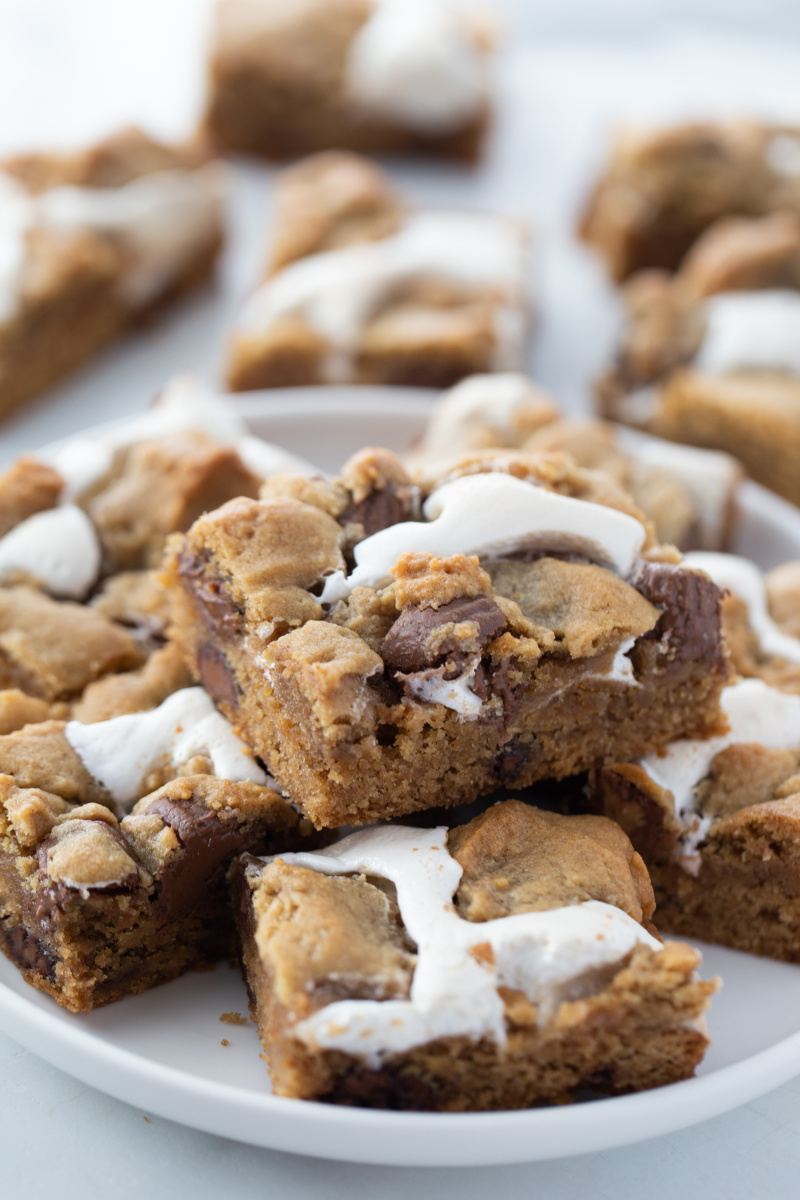 October 8th is National Fluffernutter Day! Celebrate by making yourself a classic fluffernutter sandwich, or bake these Fluffernutter Bars so you can share them with everyone. Share your fluffernutter creation on social media today by using the hashtag #NationalFluffernutterDay, #FluffernutterDay and #RecipesForHolidays. Be sure to check out my complete list of October food holidays so you won't miss a day of fun!
The History of Fluffernutters:
The Fluffernutter Sandwich is a peanut butter and marshmallow creme sandwich served on white bread. It was first created in the early 20th century (during WWI) after marshmallow creme was invented in Massachusetts.
Emma Curtis invented Snowflake Marshmallow Creme in 1913. She sent the recipe for this peanut butter and marshmallow cream sandwich out to customers in 1918. It's believed that this is the origin of the idea for this sandwich.
The sandwich was dubbed as the "Fluffernutter" by an advertising agency in 1960.
Fluffernutter is now a registered trademark of Durkee-Mower, covering ice cream and printed recipes sold as a component of food packaging and cookbooks. Durkee-Mower is the Marshmallow Fluff company. In 2006, Durkee-Mower sued Wiliams Sonoma for infringing upon their trademark by selling a marshmallow and peanut butter candy under the Fluffernutter name.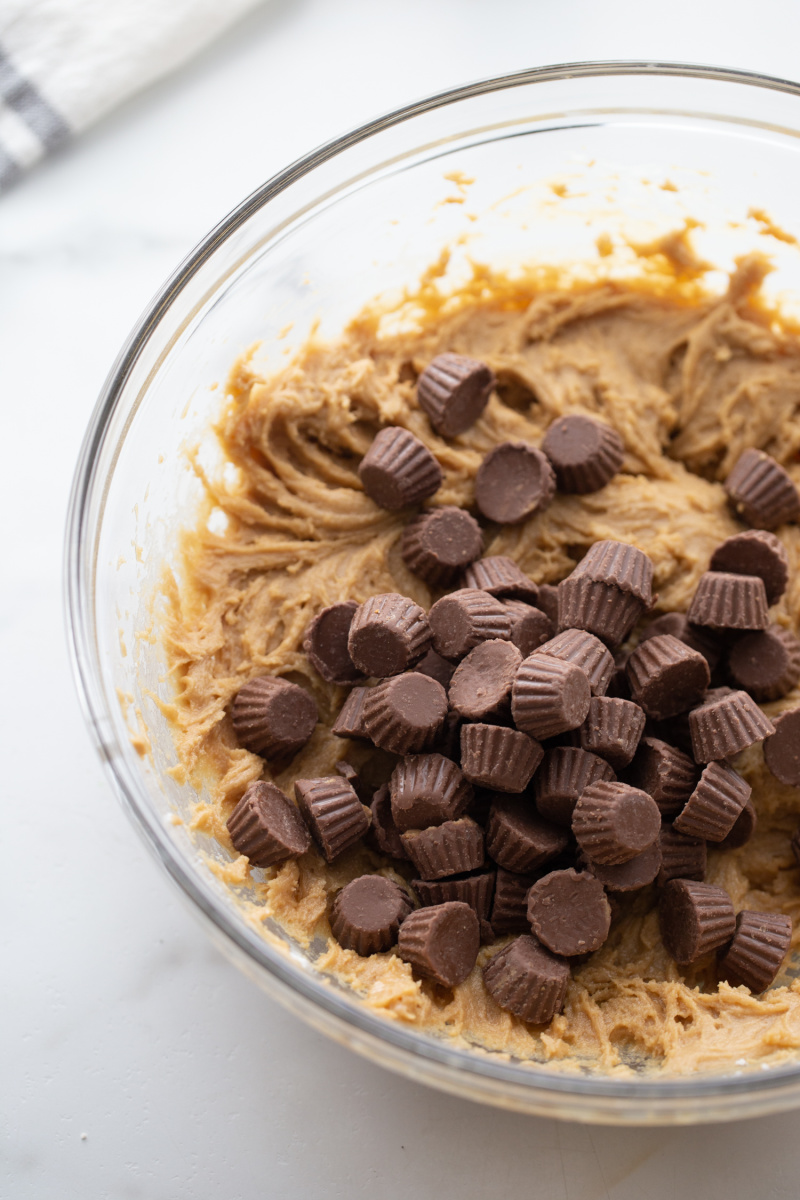 How to make Fluffernutter Bars:
The complete recipe and video for these bars is at the end of this post.
Make a peanut butter cookie dough, and stir in mini Reeses peanut butter cups.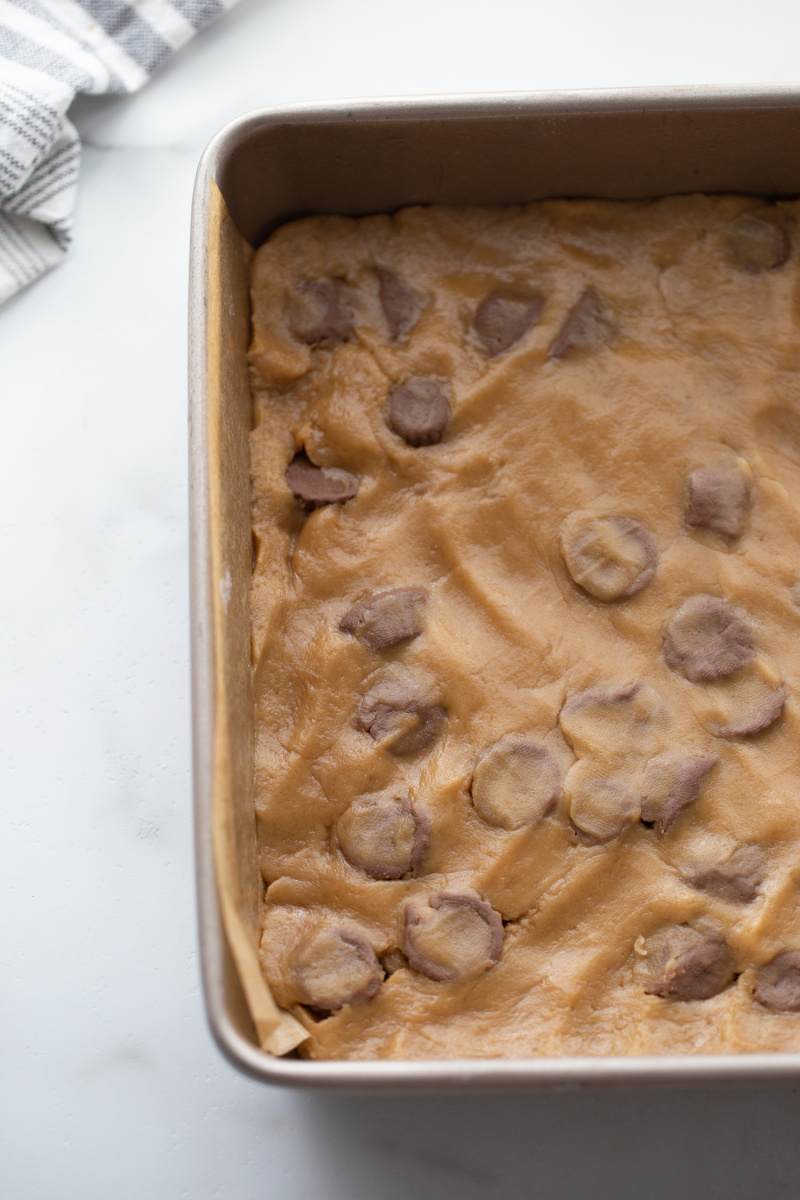 Reserve 1 cup of the cookie dough, and press the rest into an 8×8-inch pan. Bake for 15 minutes.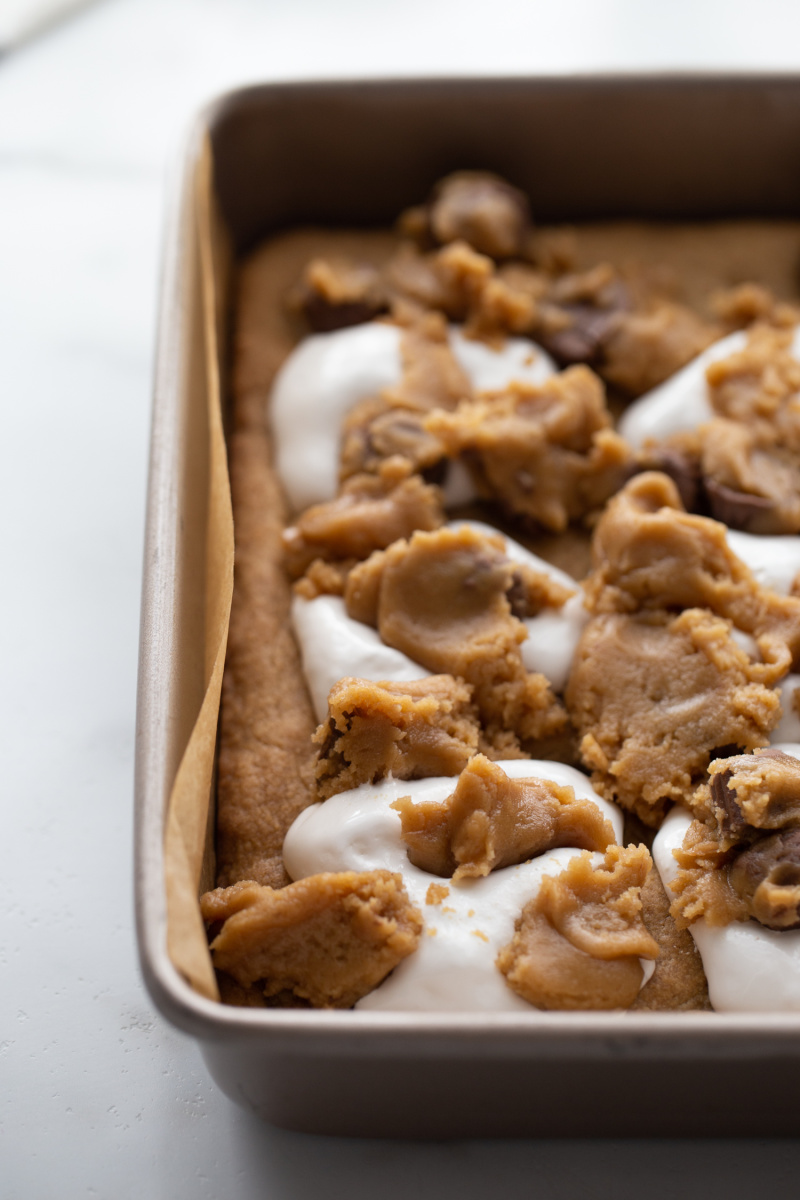 Take the pan out of the oven and sprinkle in remaining cookie dough and spoonfuls of Marshmallow Creme. Bake again.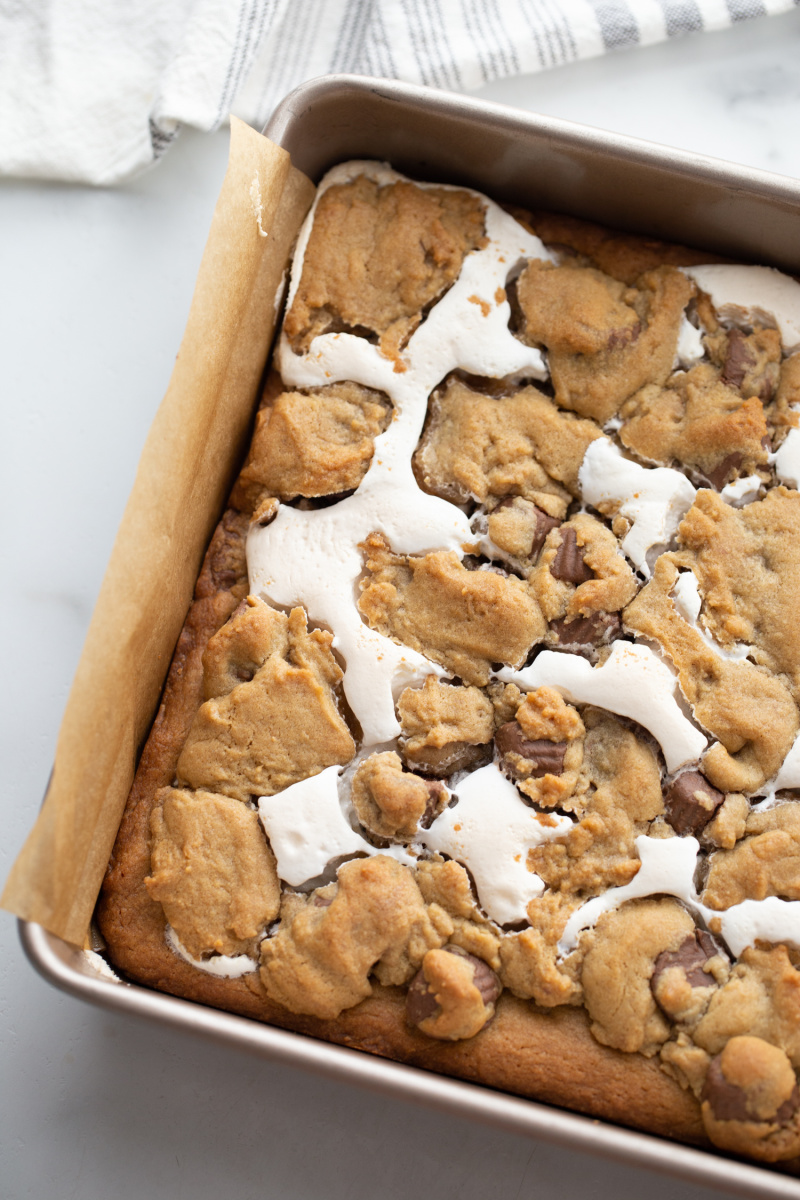 And then you'll have your Fluffernutter Bars!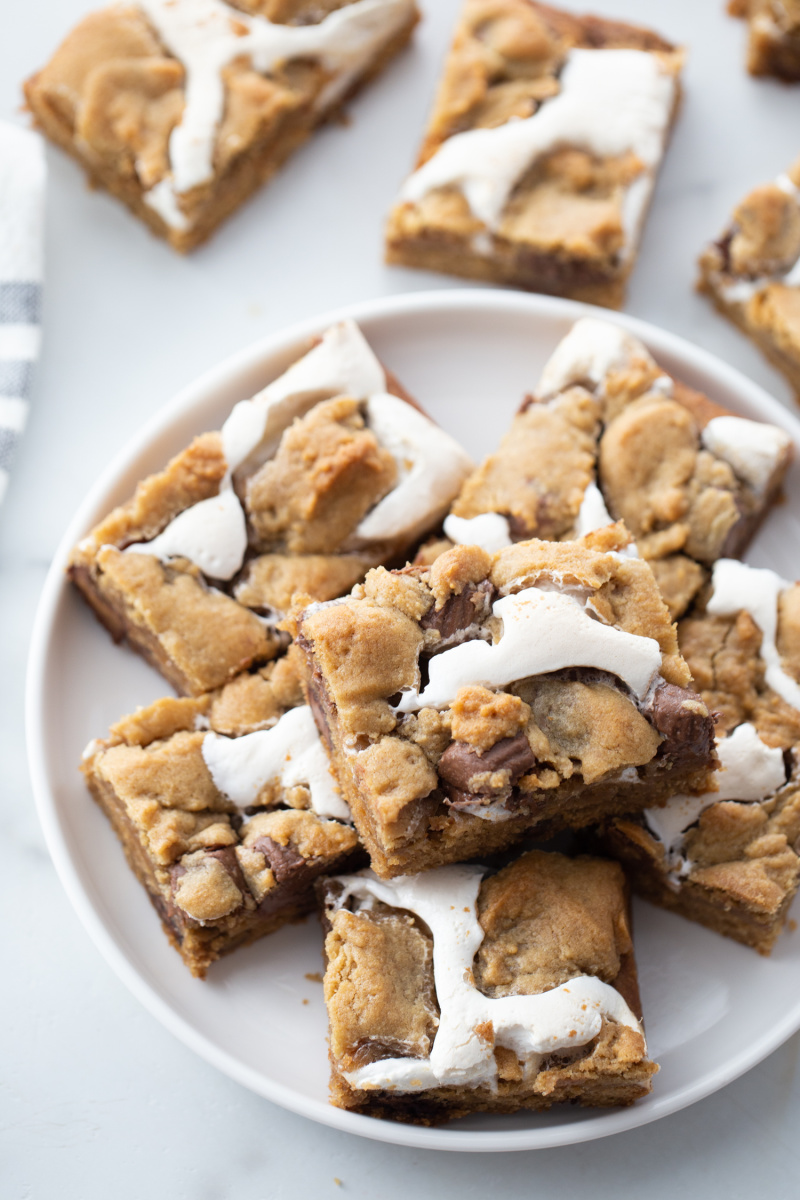 Let cool completely, and then cut and serve. Store leftovers in a sealed container for up to three days. If you love Reeses, you might also like to try our Reeses Stuffed Chocolate Chip Cookie Bars.
Fun Facts About Fluffernutter:
Since the Fluffernutter Sandwich was created in Massachusetts, it has continued to be a popular sandwich in that state. It's been proposed that it should become the official state sandwich, but that legislation hasn't passed yet.
Somerville, Massachusetts holds an annual festival called, "What's the Fluff?" This is a celebration of Marshmallow Fluff and Fluffernutter sandwiches.
In 2006, Brigham's ice cream introduced a Fluffernutter flavor.
In 2011, NASA astronaut Richard Linnehan ate a Fluffernutter while aboard the international space station.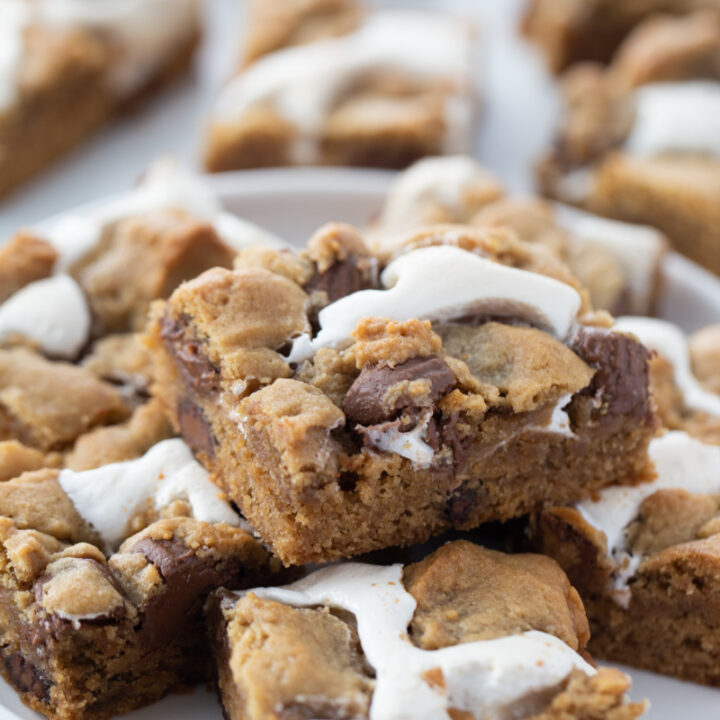 Fluffernutter Bars
This is the sweet bars version of the classic sandwich!
Ingredients
3/4 cup creamy peanut butter
1/4 cup salted butter, at room temperature
1/2 cup packed brown sugar
1/4 cup granulated white sugar
1 large egg
2 tablespoons milk
1 teaspoon vanilla extract
1 cup all purpose flour
1/2 teaspoon baking soda
1/8 teaspoon salt
One 8-ounce package miniature Reeses Peanut Butter Cups
3/4 cup Marshmallow Creme
Instructions
Preheat the oven to 350 degrees F. Line a 9x9-inch baking pan with parchment (hanging over on 2 sides, and spray with nonstick spray.
To a large bowl, add peanut butter, butter, brown sugar and sugar. Use an electric mixer to combine. Beat in the egg, milk and vanilla. In a separate bowl, whisk together the flour, baking soda and salt. Add the dry ingredients to the wet ingredients, and mix just until combined. Stir in the mini peanut butter cups. Set aside 1 cup of the cookie dough.
Press the rest of the cookie dough into the bottom of the prepared pan. Bake for 15 minutes.
Remove the pan from the oven and place spoonfuls of the marshmallow creme over the partially baked cookies. Crumble the reserved cookie dough on top of the marshmallow creme. Return to the oven and bake an additional 14 to 18 minutes.
Cool completely before cutting. Cut into bars, to serve. Keep stored in a sealed container in the refrigerator for up to 3 days.
Nutrition Information:
Yield:

16
Serving Size:

1
Amount Per Serving:
Calories:

252
Total Fat:

14g
Saturated Fat:

5g
Trans Fat:

0g
Unsaturated Fat:

8g
Cholesterol:

20mg
Sodium:

197mg
Carbohydrates:

29g
Fiber:

1g
Sugar:

19g
Protein:

5g
Nutritional information is computed using a nutrition calculator, and it's not likely to be 100% accurate.