Strawberry Ice Cream is a flavor of ice cream made with fresh strawberries or strawberry flavor. This ice cream recipe is made with beautiful fresh strawberries!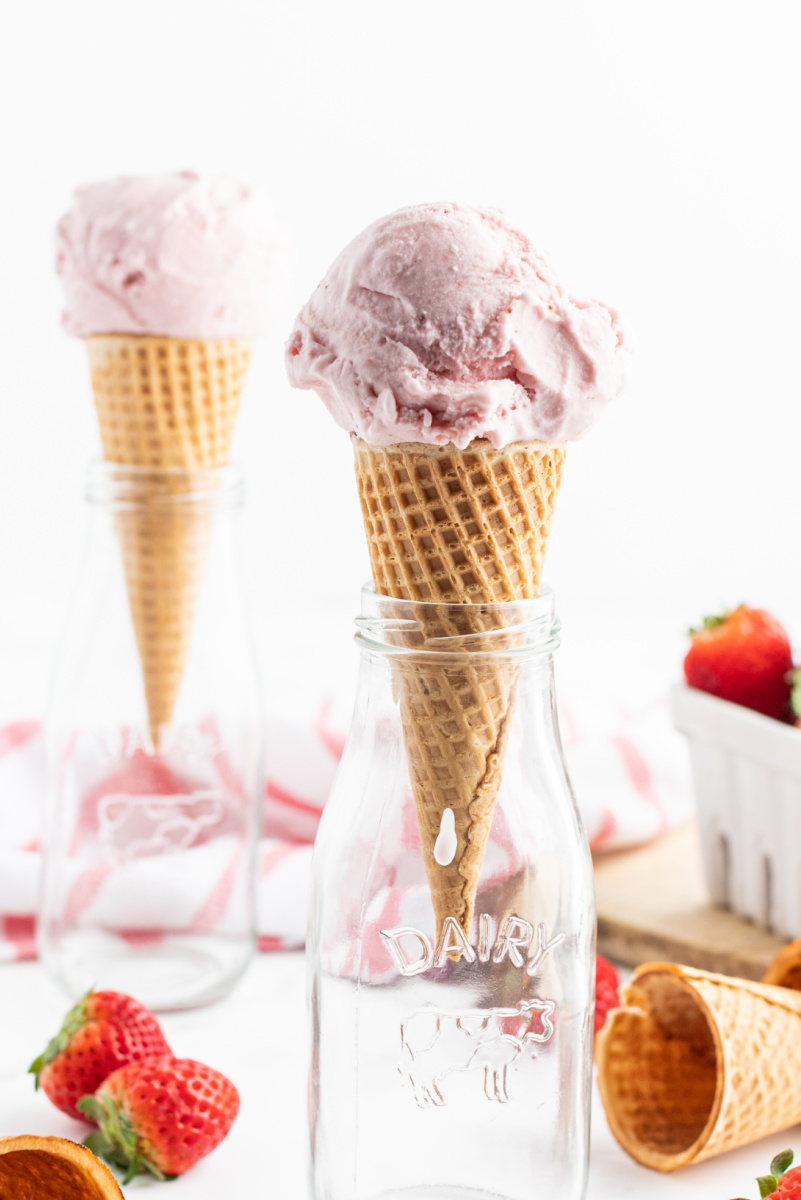 January 15th is National Strawberry Ice Cream Day! I think we can all feel pretty lucky that we have a day to celebrate eating plenty of this fabulous ice cream flavor. Strawberry is the 3rd most popular ice cream flavor (behind chocolate and vanilla).
It's believed that First Lady Dolley Madison was the inventor of strawberry ice cream and served it at James Madison's inauguration banquet in 1813. And people all over the world have enjoyed it ever since.
Variations include strawberry cheesecake ice cream and strawberry ripple ice cream. Strawberry also makes an appearance in Neapolitan ice cream, which incorporates all three popular flavors of chocolate, vanilla and strawberry.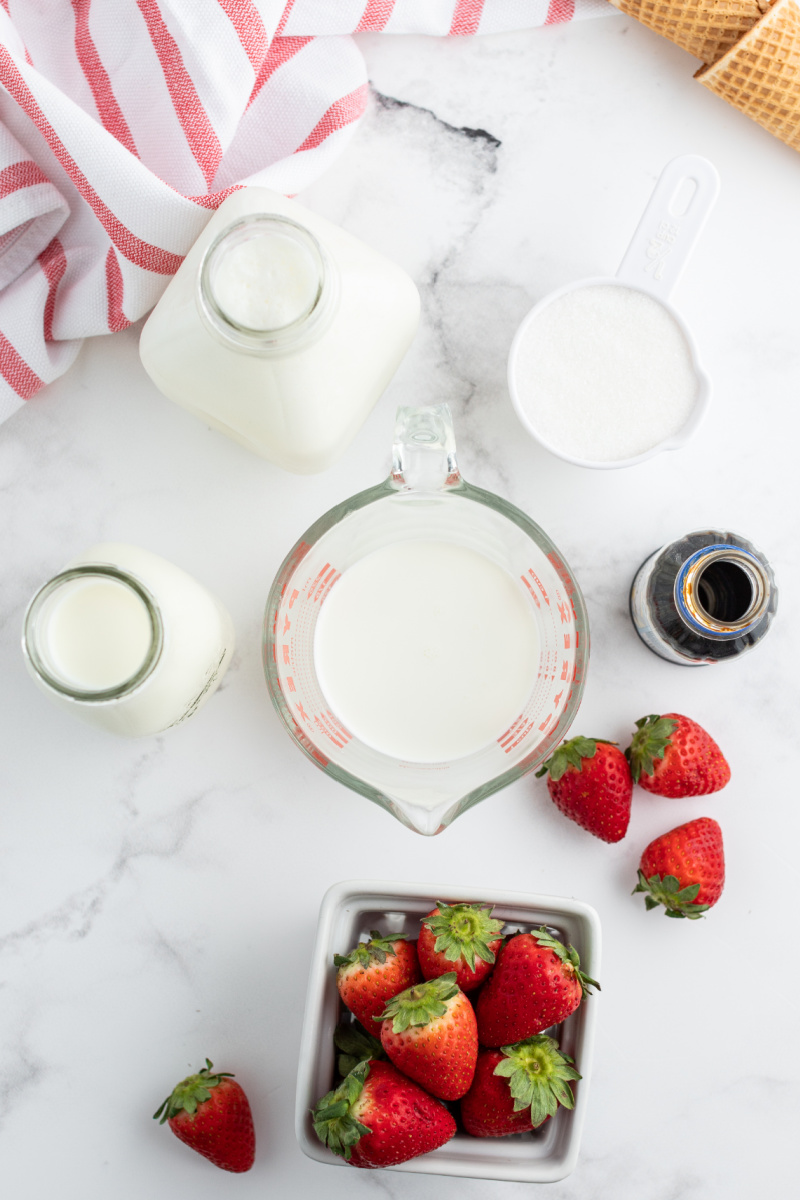 Ingredients needed:
heavy whipping cream
half and half
milk
sugar
salt
vanilla
strawberries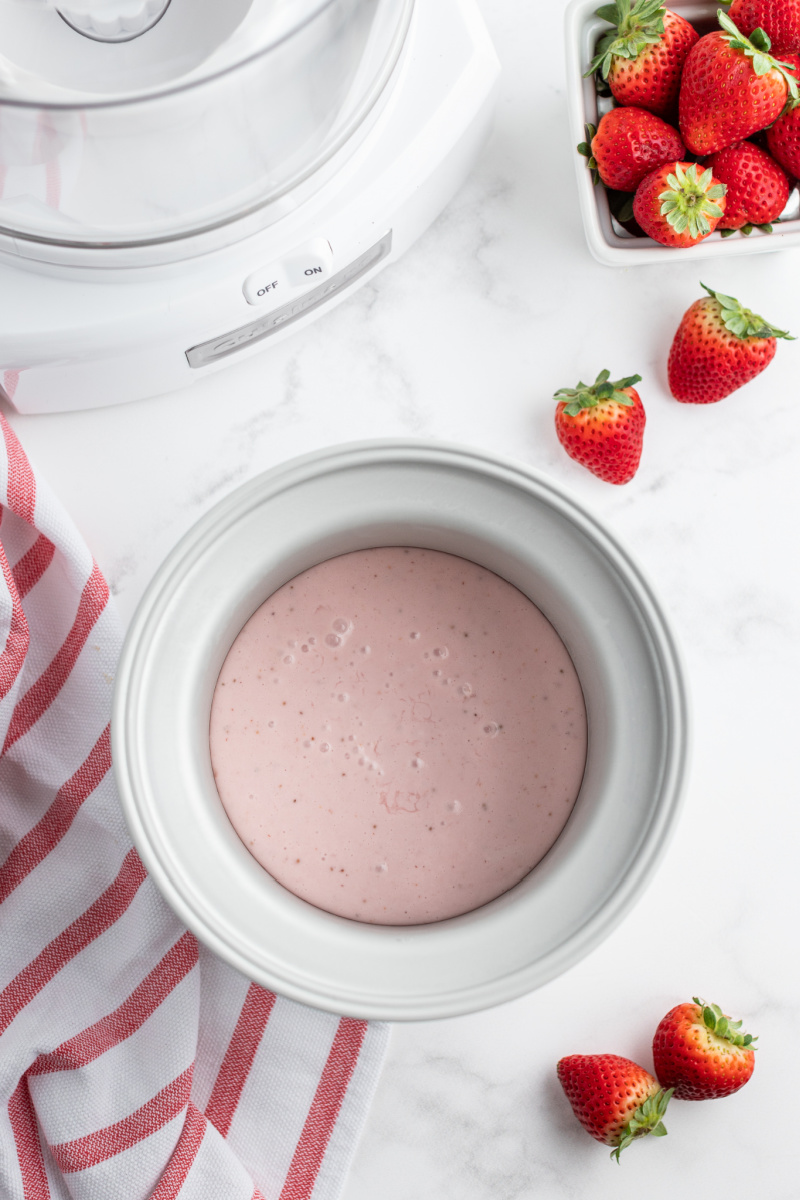 How to make Strawberry Ice Cream:
Make the ice cream base by heating cream, half & half, milk and sugar. Then cool the mixture and stir in salt and vanilla.
Process fresh strawberries until pulverized and add them to the cream mixture. Then refrigerate the base until well-chilled.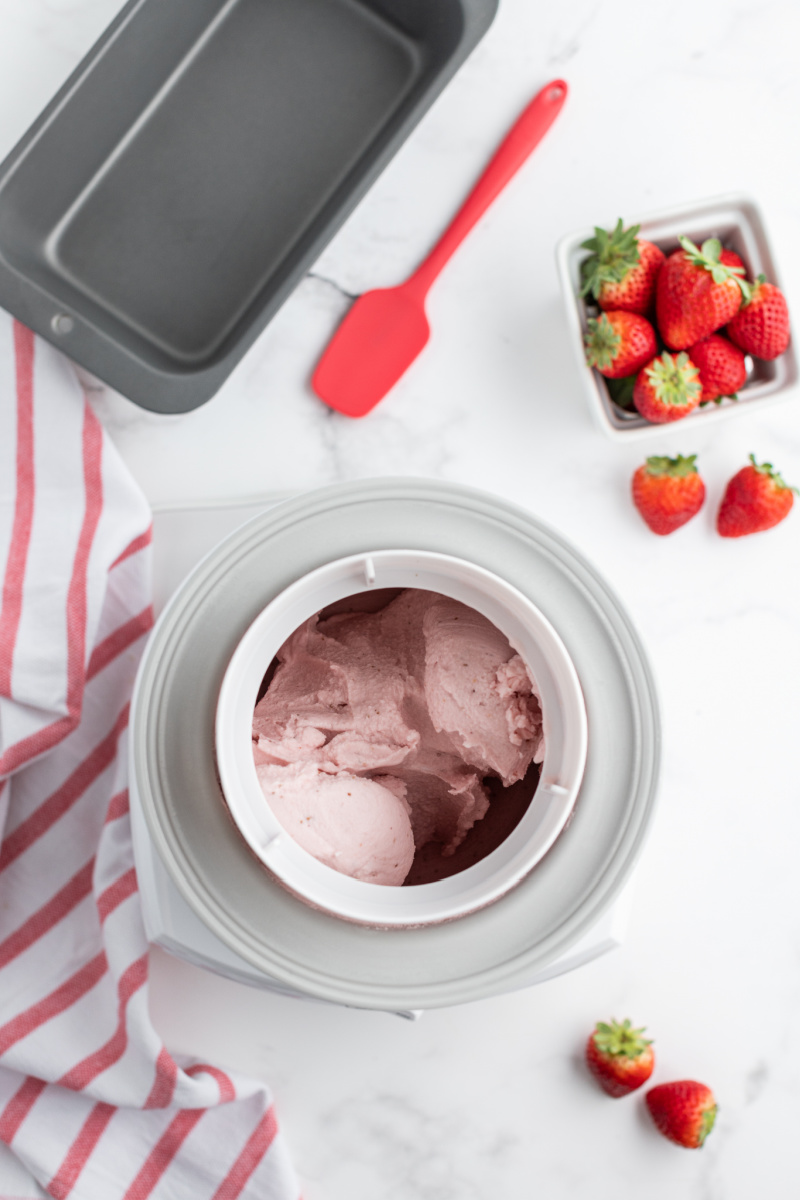 The ice cream base is then poured into a frozen ice cream maker insert and processed until it turns into a creamy, thick ice cream consistency.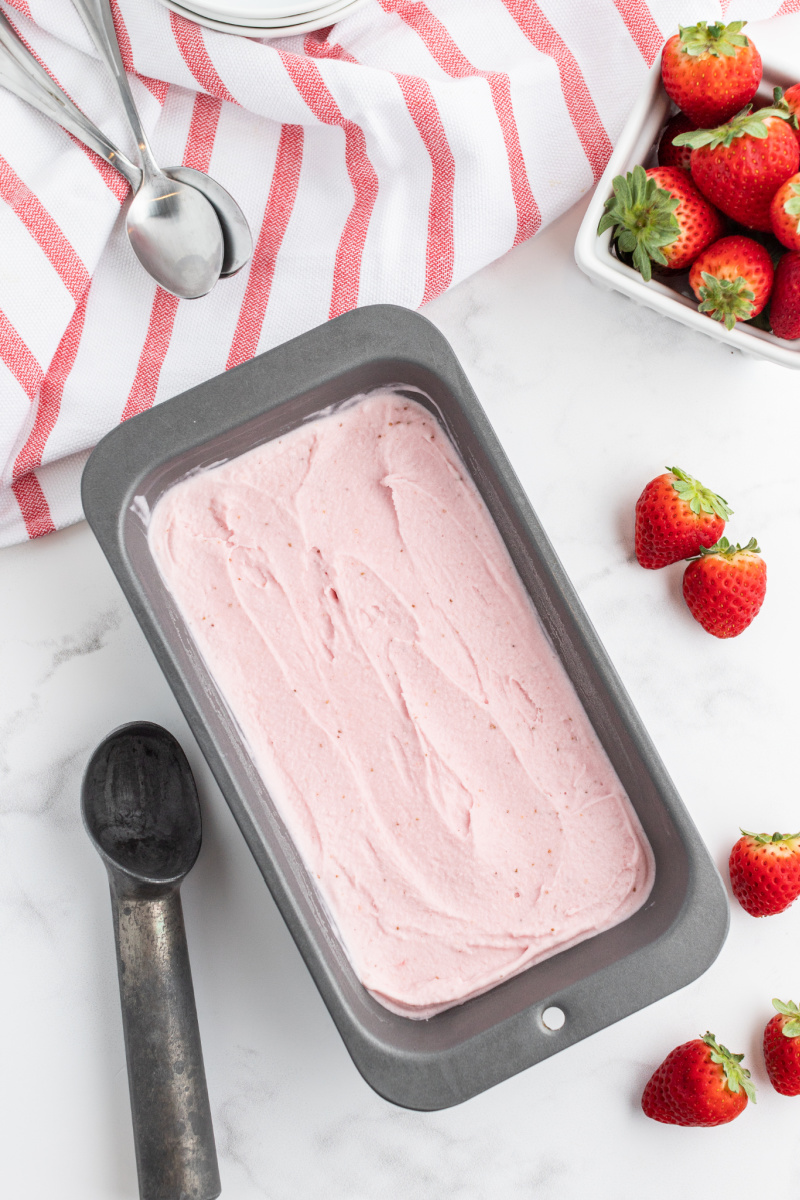 The ice cream is then moved to a container that can be placed into the freezer. Any container will do. It's a good idea to freeze the ice cream for a few hours so it can get to a good frozen state for scooping.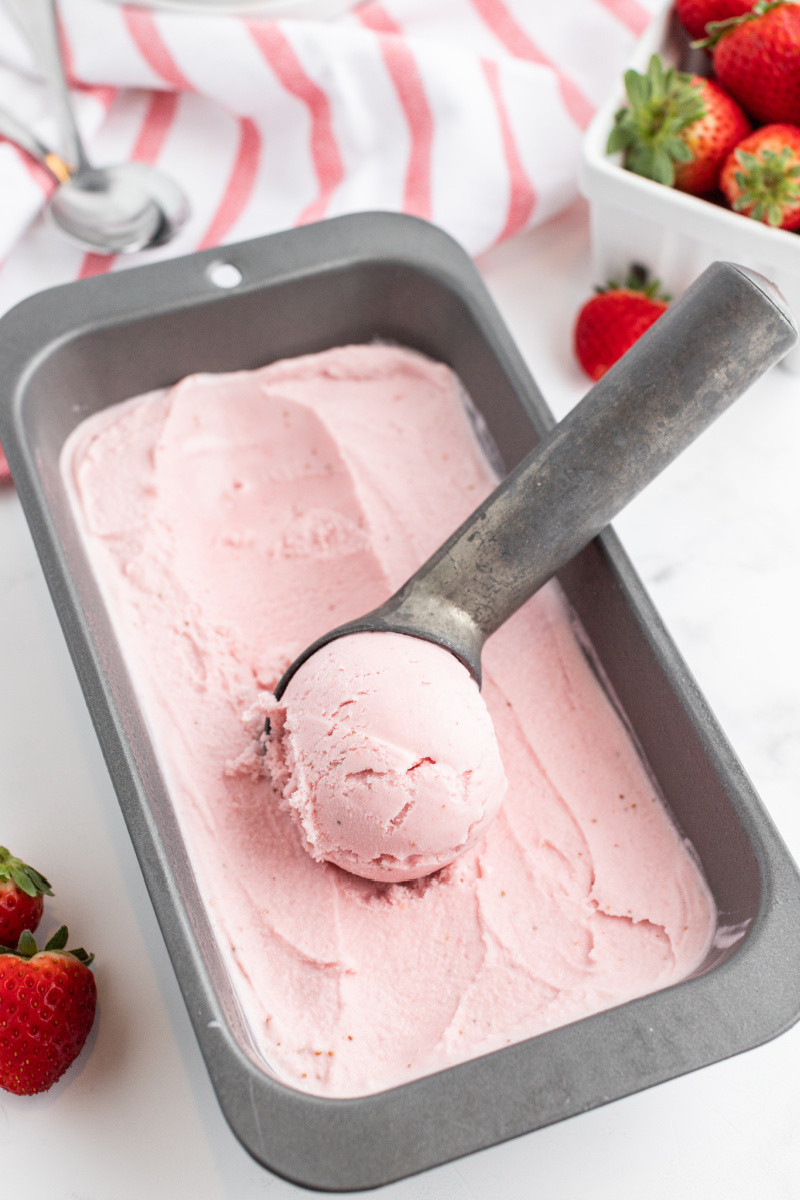 Then the ice cream is ready to scoop and serve!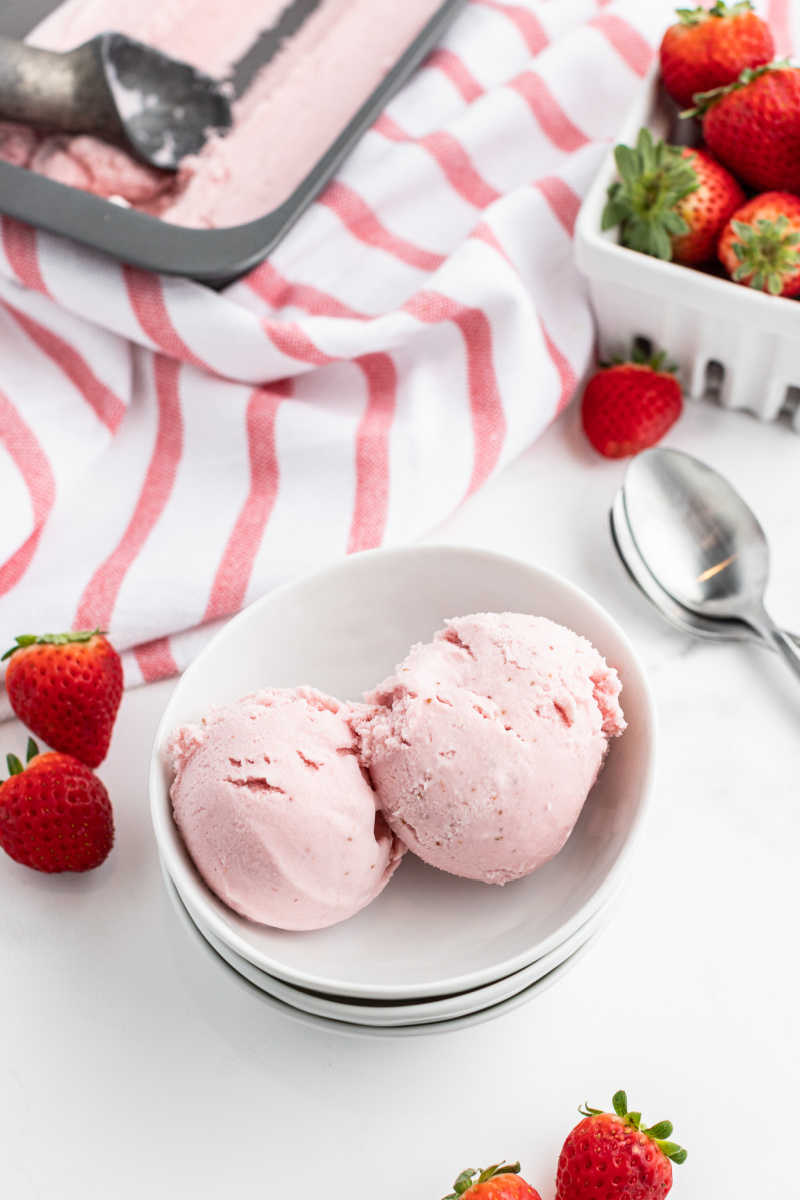 Serve scoops in bowls. It will be creamy and perfect, and it will taste just like sweet, fresh strawberries turned into a frozen confection!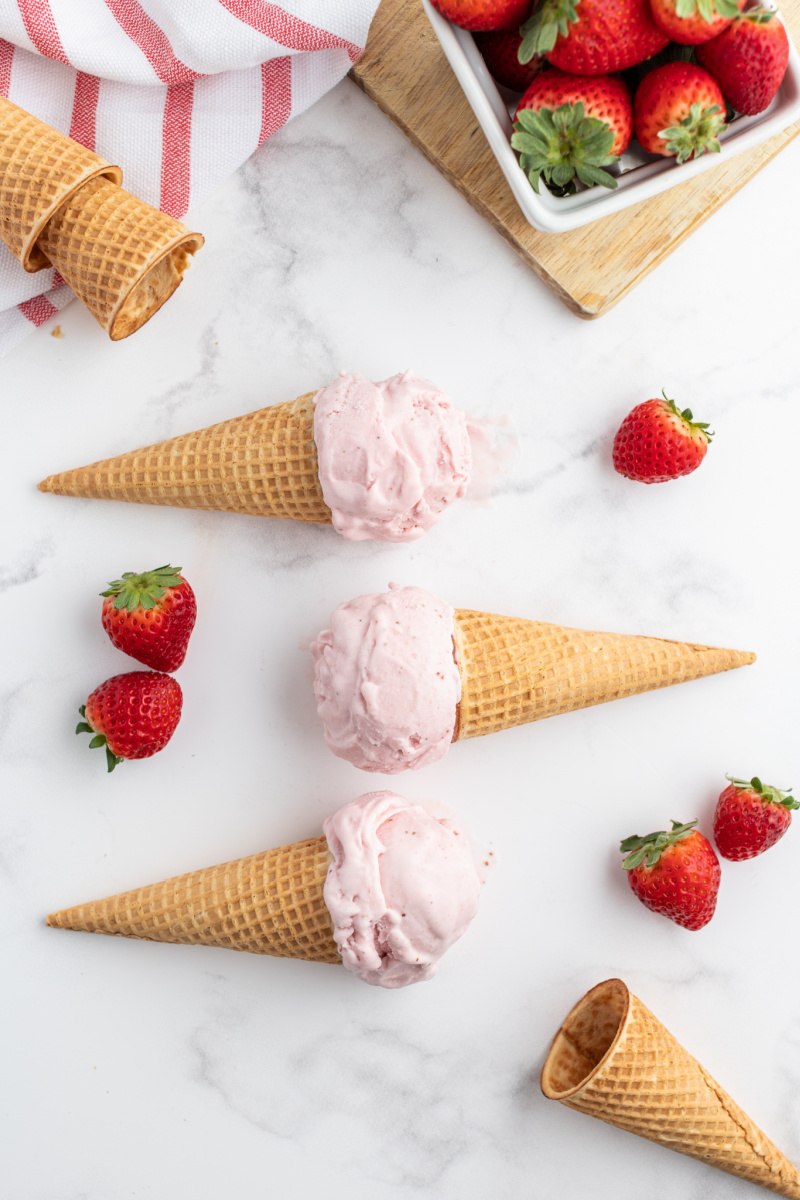 Or grab some ice cream cones and scoop onto cones to serve. If you really love strawberries, then you'll probably enjoy learning how to make chocolate covered strawberries too.
Tips for making the best strawberry ice cream:
Buy my favorite ice cream maker. I have two of these!
Start with well-frozen ice cream maker insert. Don't try to rush it. Freeze the insert for at least 24 hours before serving.
Use fresh, sweet strawberries. If you use strawberries that aren't naturally sweet, your ice cream won't have the best strawberry flavor.
When making the ice cream base, make sure you process the strawberries until they're pulverized (don't leave chunks). You want a nice, smooth and creamy strawberry ice cream- not one with frozen chunks of strawberries in it.
When you make the ice cream base, be sure to refrigerate it until it's very well-chilled (at least 4 hours- or overnight).
I recommend the Zeroll Ice Cream Scoop. It scoops the ice cream so easily into perfect, round scoops!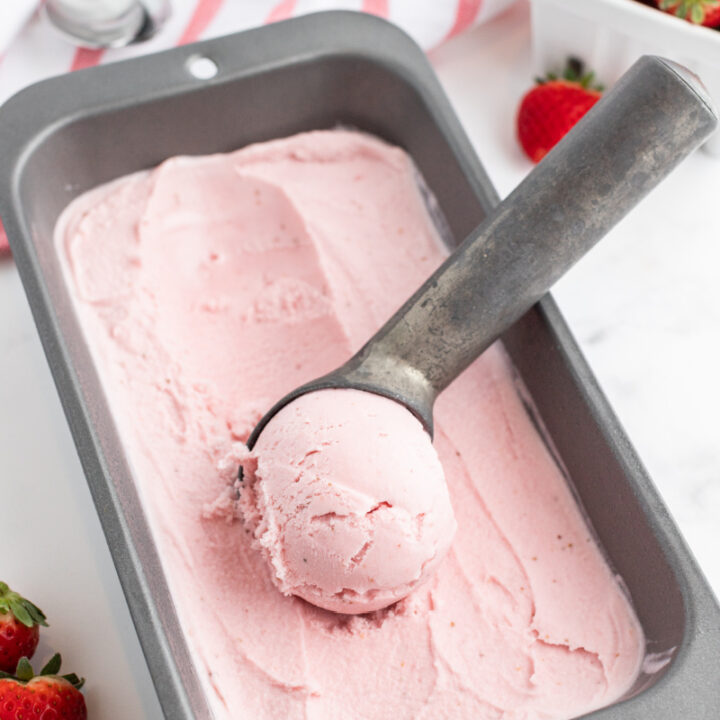 Strawberry Ice Cream
Yield:
8 servings (1/2 cup per serving)
Total Time:
8 hours
25 minutes
The best creamy, homemade fresh strawberry ice cream!
Ingredients
1 cup heavy whipping cream
1/2 cup half and half
1/2 cup milk (whole or 2%)
1/2 cup granulated white sugar
pinch of salt
1/2 teaspoon vanilla extract
1 1/2 cups sliced fresh strawberries
Instructions
Make sure you freeze the ice cream maker container for a full 24-hours before attempting to make ice cream.
In a large saucepan, heat the cream, half and half, milk and sugar. Stir until dissolved, and then remove from heat and let cool. Once cooled, stir in salt and vanilla.
Place the strawberries in a blender or food processor (you want to pulverize them, not leave chunks). Add about 2 cups of the liquid mixture and process until smooth. Combine this mixture with the rest of the liquid mixture and refrigerate until completely chilled (several hours, or overnight).
Process the ice cream base in your ice cream maker, according to instructions. Process for 25 to 30 minutes, until creamy and thick. Transfer to a freezer-safe container and freeze until it becomes a more solid ice cream consistency. Scoop and serve, when ready.
Nutrition Information:
Yield:

8
Serving Size:

1 serving (1/2 cup)
Amount Per Serving:
Calories:

189
Total Fat:

13g
Saturated Fat:

8g
Trans Fat:

0g
Unsaturated Fat:

4g
Cholesterol:

40mg
Sodium:

41mg
Carbohydrates:

17g
Fiber:

1g
Sugar:

16g
Protein:

2g
Nutritional information is estimated and is likely not 100% accurate.