Meatball Subs are the perfect hot hoagie sandwiches to make for dinner! They're soft hoagie buns stuffed with marinara sauce, meatballs and melted mozzarella cheese.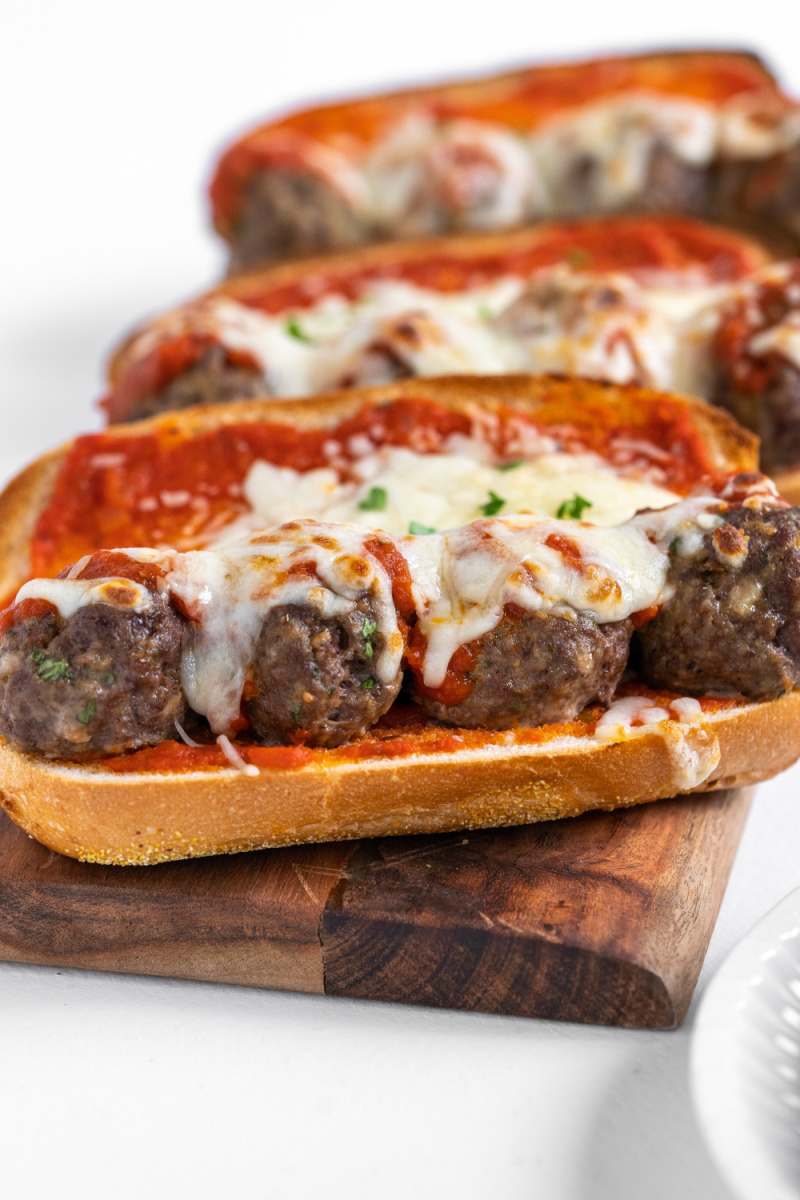 March 9th is National Meatball Day! It's a great day to celebrate meatballs. I suggest you make these Meatball Subs or make everyone's favorite Spaghetti and Meatballs. You could even add meatballs to our Baked Spaghetti Casserole! If you don't feel like cooking at home, visit your favorite Italian restaurant and order all the meatballs! Be sure to share the meatball love on social media today by using the hashtag #NationalMeatballDay, #MeatballDay and #RecipesForHolidays. Follow my March Food Holidays page so you never miss a food holiday in the month of March!
The History of Meatballs:
It's unclear who invented the first meatball, but we have some ideas.
Many people believe that the first meatball appeared in Persia. Persians used leftover meat to make meatballs called, kofta. From Persia, meatballs were likely introduced to the Middle East before making their way to Italy.
Or it could be that traders and explorers brought the meatball to Europe. Or Ancient Romans could have developed a similar recipe!
In any case, Italian immigrants brought the concept of meatballs with them to America in the late 1800's.
Pasta and canned tomatoes were cheap ingredients added to meatballs to help bulk up a meal. Spaghetti and meatballs evolved from this idea.
How do you make Meatballs?
The full, printable recipe is at the end of this post. You will need a rimmed baking sheet for this recipe.
Preheat your oven to 400 degrees F. Line a rimmed baking sheet with foil. Spray the foil with nonstick spray.
Add all of the meatball ingredients to a bowl. Use (clean) hands to mix it all together. Don't over-mix the meat mixture or the meatballs will be tougher in texture.
Roll the meat mixture into balls. You should be able to get about 16. Place them on the baking sheet. Bake for 15 to 20 minutes, until the meatballs are cooked through.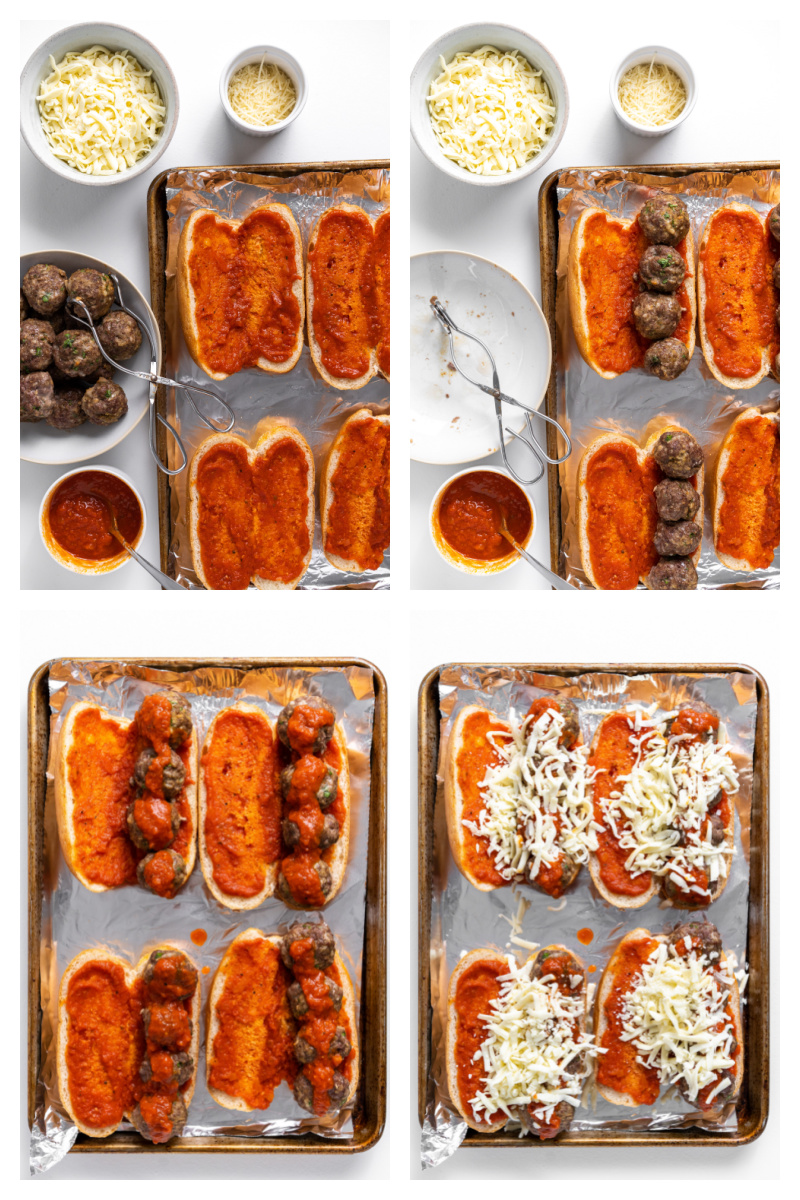 How to make Meatball Subs:
Preheat the broiler. Place a new piece of foil on the baking sheet.
Lay out the hoagie rolls, and split them open-faced. Spread a little marinara sauce on each roll, and then place four meatballs on each roll. Drizzle on a little more marinara. Then sprinkle with mozzarella and Parmesan cheeses.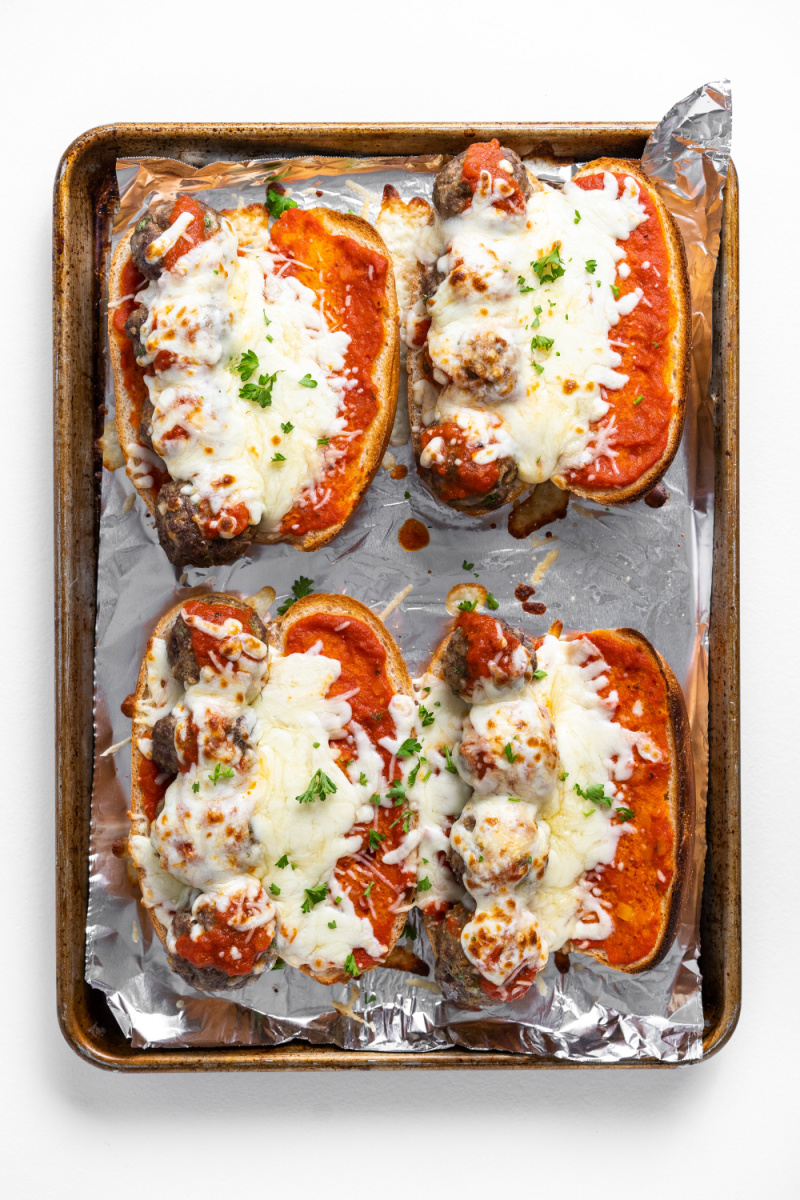 Broil until the cheese is melted. Sprinkle a little chopped fresh parsley on top, if desired.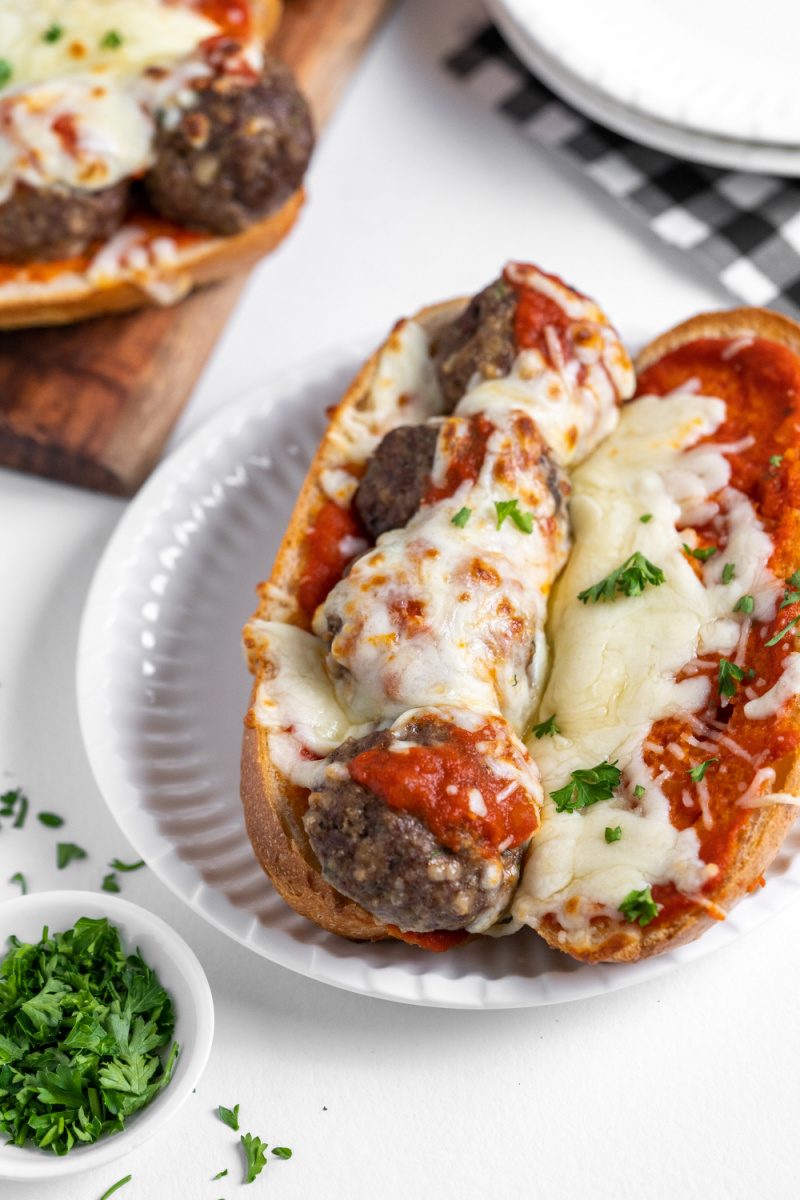 Time to eat! These meatball subs are so delicious with the homemade meatballs. But if you're looking to make them super easy and quickly, you can certainly use frozen (thawed) meatballs instead.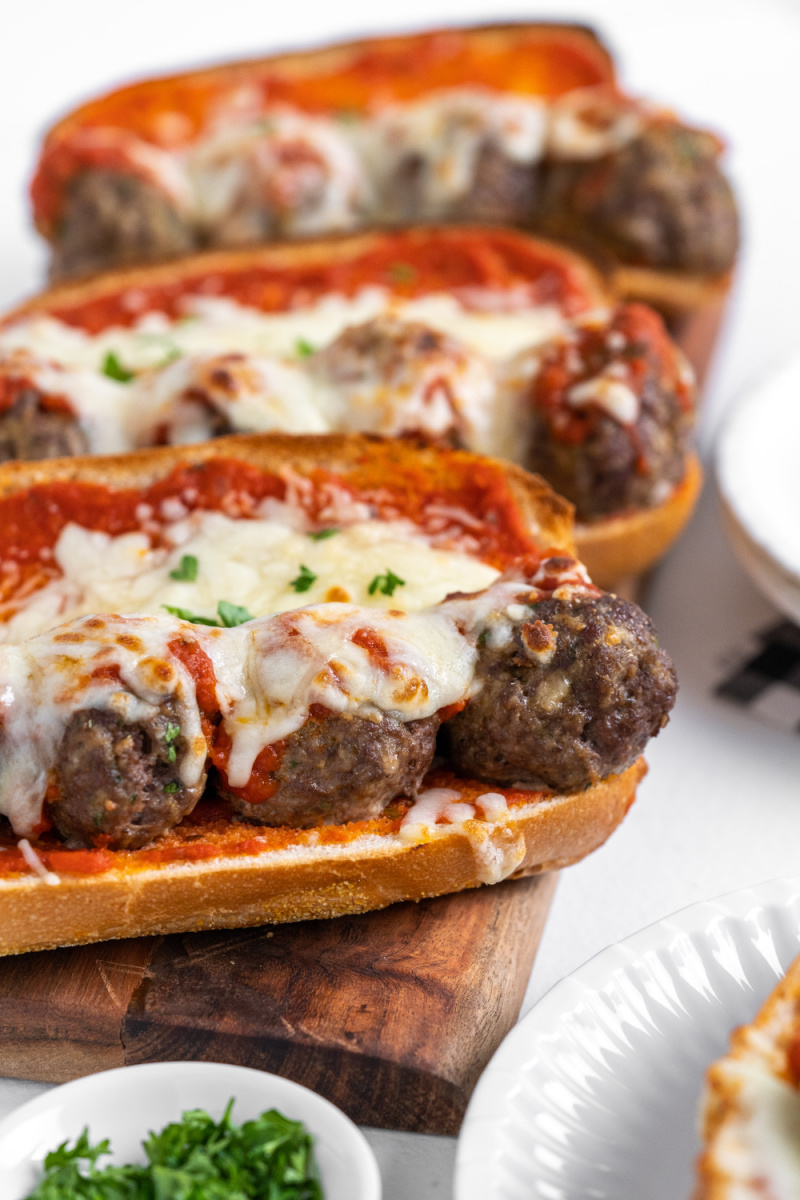 Meatball subs are kid friendly, and they are perfect for a Game Day or a gathering of friends. Everyone loves these classic warm sandwiches!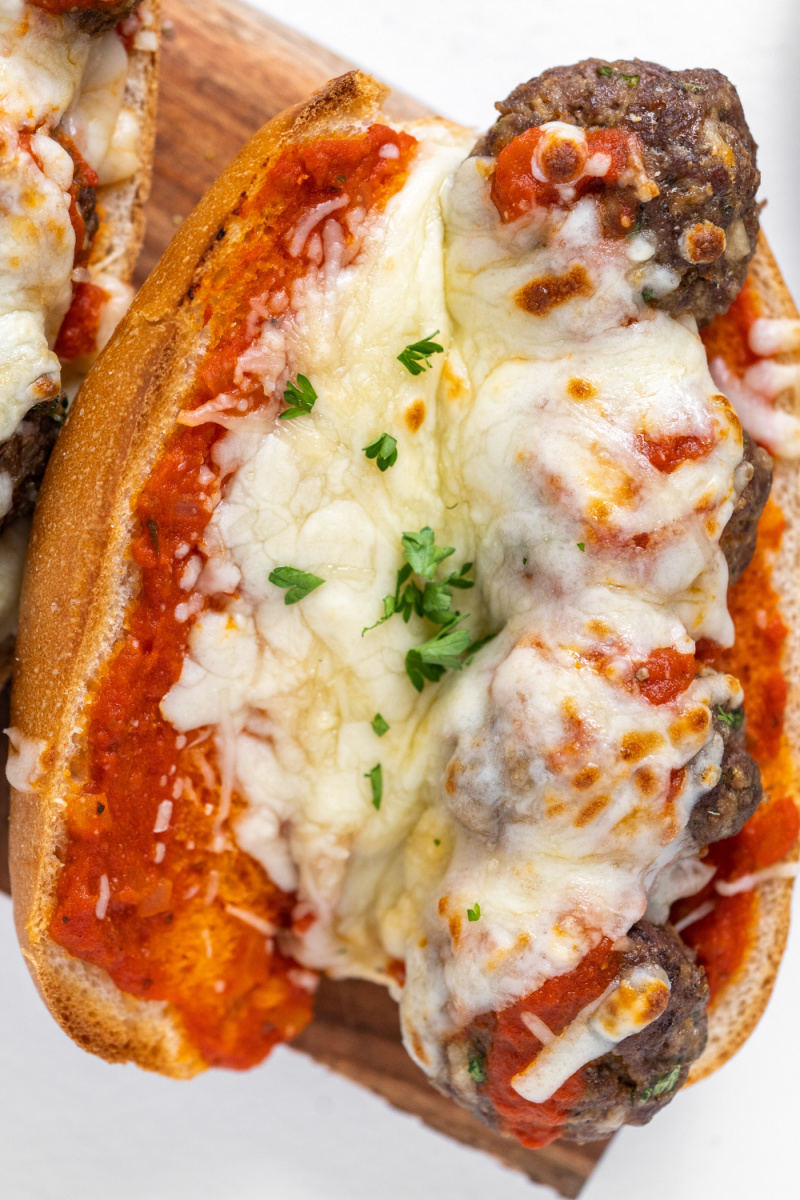 Fun Facts About Meatballs:
Traditional Italian meatballs (in Italy) are served as a separate main course, not with pasta.
In Italy, meatballs are called "polpettes." They are made with beef or veal mixed with garlic, eggs, parsley and cheese. Polpettes are smaller and are sometimes served in broth (not sauce).
Pairing meatballs with marinara sauce and pasta is an American invention.
The Chinese version of meatballs is made with pork or fish. Middle Eastern meatballs are made with lamb. Swedish meatballs are served with a cream sauce.
The world's largest meatball was created by the Italian American club of Hilton Head, South Carolina in 2017. It took one year to create, and it was 1,757 pounds.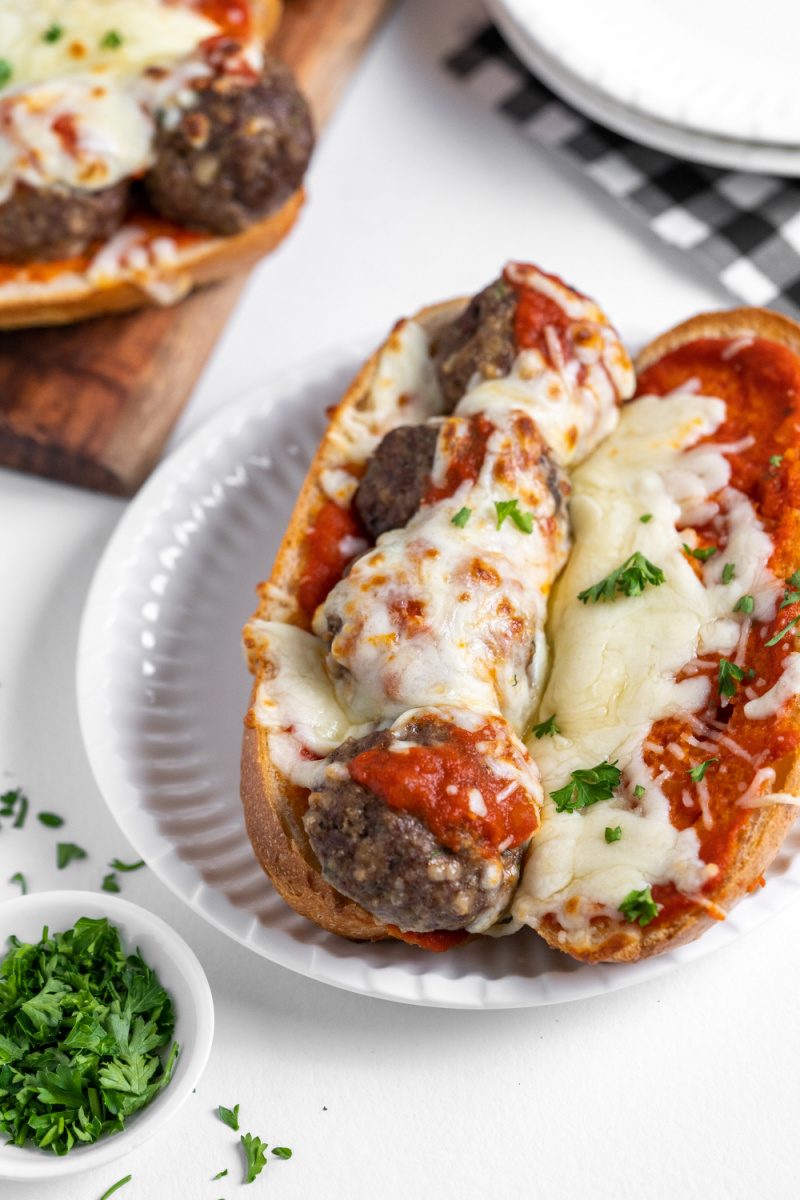 Meatball Subs
These meaty, cheesy Italian sandwiches are a comfort food favorite!
Ingredients
MEATBALLS:
1 1/4 pounds lean ground beef
1/2 cup Italian seasoned breadcrumbs
1 small yellow onion, peeled and grated
2 medium garlic cloves, minced
1/4 cup whole milk
1 large egg
1/4 cup grated Parmesan cheese
2 tablespoons minced fresh parsley
3/4 teaspoon dried Italian seasoning
3/4 teaspoon salt
1/4 teaspoon pepper
OTHER:
4 hoagie rolls, split in half
1 cup marinara sauce, warmed
2 cups shredded mozzarella cheese
4 tablespoons grated Parmesan cheese
fresh minced parsley, for garnish (optional)
Instructions
PREPARE THE MEATBALLS:
Preheat the oven to 400 degrees F. Line a large rimmed baking sheet with foil and spray the foil with nonstick spray.
In a large bowl, add the beef, breadcrumbs, onion, garlic, milk, egg, Parmesan, parsley, Italian herb seasoning, salt, and black pepper. Use your (clean) hands to combine the meat mixture, being careful not to over-mix.
Roll the mixture into meatballs (try to get 16 meatballs), and arrange them on the prepared baking sheet.
Bake until the meatballs are fully cooked, about 15 to 20 minutes.
ASSEMBLE THE SUBS:
Preheat the broiler.
Line a large, rimmed baking sheet with foil. Lay out the split hoagie rolls on the tray.
Spread a couple tablespoons of marinara sauce evenly onto each hoagie roll. Place 4 meatballs in each roll, and top the meatballs on each hoagie with 1 to 2 tablespoons of marinara. Sprinkle the mozzarella on top of the meatballs, and then top with the Parmesan.
Broil until the cheese is melted.
Remove from the oven and sprinkle on the fresh minced parsley if desired.
Serve.
Nutrition Information:
Yield:

4
Serving Size:

1 sandwich
Amount Per Serving:
Calories:

775
Total Fat:

35g
Saturated Fat:

15g
Trans Fat:

1g
Unsaturated Fat:

15g
Cholesterol:

214mg
Sodium:

1739mg
Carbohydrates:

49g
Fiber:

4g
Sugar:

7g
Protein:

64g
Nutritional information is estimated using a nutrition calculator. It's not likely to be 100% accurate.