Hot Buttered Rum is a cocktail containing rum, butter, hot water, a sweetener and spices. Its hot, boozy nature creates a warm sensation in the stomach when sipped. This makes it an excellent drink to have in the chilly fall and winter months.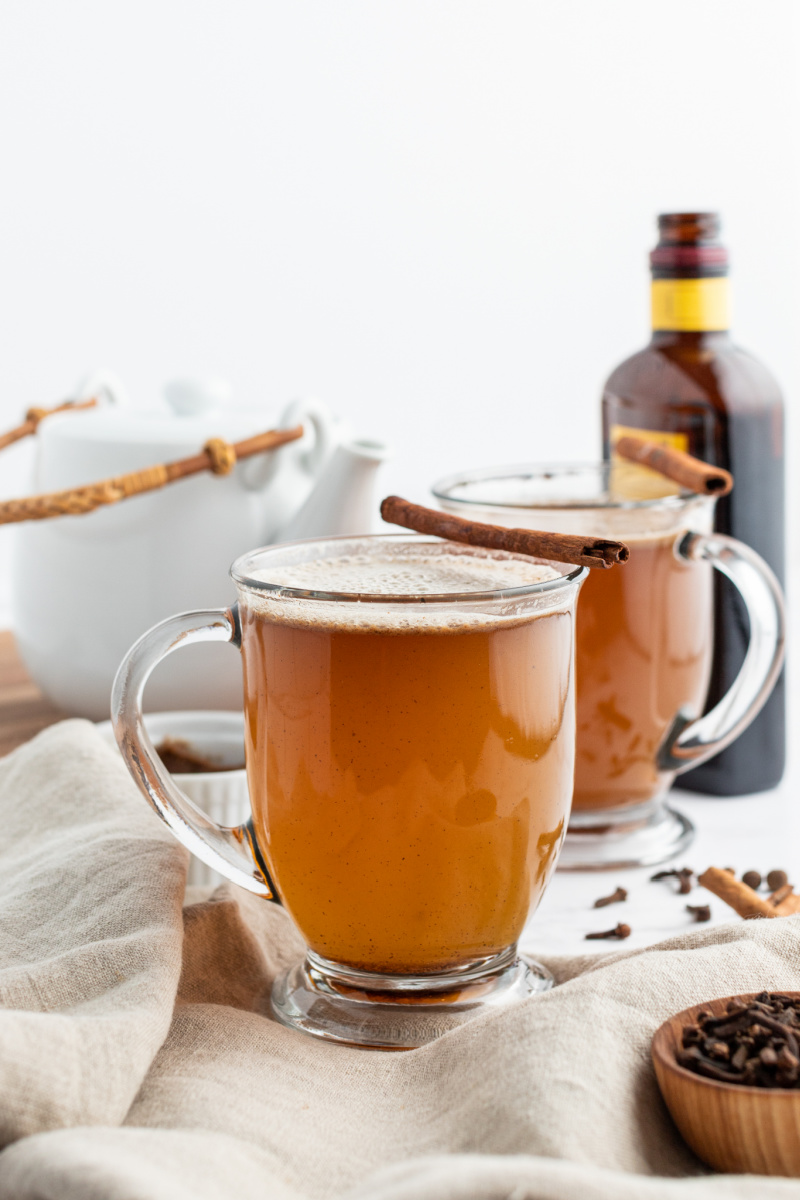 January 17th is National Hot Buttered Rum Day! This is a day to celebrate this old-time hot cocktail, and it's a reason to get the rum out of the depths of the cupboard.
The History of Hot Buttered Rum:
In the USA, this cocktail dates back to the colonial days. In the 1650's Jamaica began importing molasses to the colonies. New England opened distilleries, and rum was plentiful. Early Americans believed that rum was nutritious and made you strong. With the average colonist consuming 5 gallons of rum per year, they found a lot of uses for it.
Rum became an important component of holiday celebrations, and New Englanders began adding alcohol to hot beverages like the Hot Toddy, Eggnog and Hot Buttered Rum. It's said that butter was originally incorporated into this hot cocktail to help lubricate mustaches!
Author Kenneth Roberts included a mention Hot Buttered Rum in his 1937 novel, Northwest Passage. This renewed interest in the cocktail in the 40's. Tiki versions served in ceramic skull mugs appeared (made popular by Trader Vic's.) And it became an iconic drink to prepare during the winter and holiday season since baking spices made it so appealing.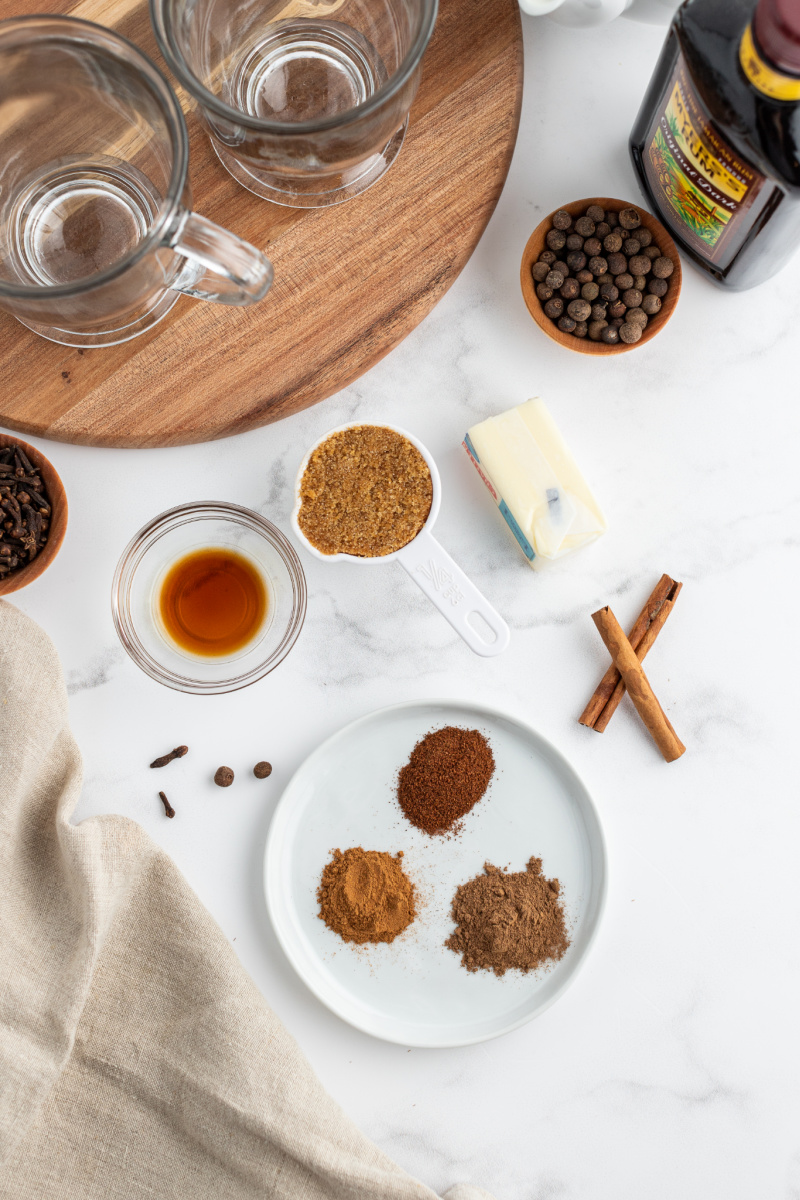 Ingredients needed:
unsalted butter
dark brown sugar
vanilla extract
allspice
cinnamon
cloves
dark rum
hot water
nutmeg
cinnamon stick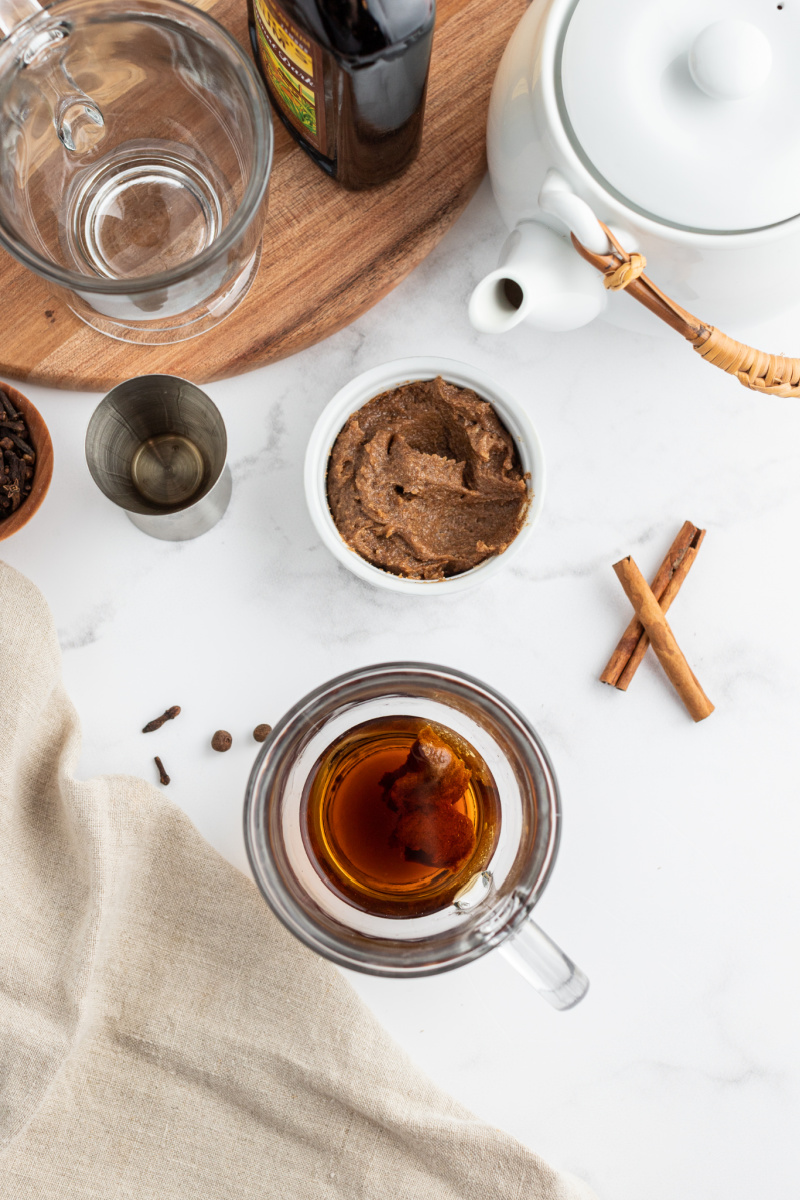 Make the spiced butter:
Combine unsalted butter, dark brown sugar, vanilla extract, allspice, cinnamon and cloves. This recipe makes enough spiced butter to prepare 6 cocktails. You can double or triple the recipe if you want to keep spiced butter on hand for the season. Form it into a log, wrap and freeze for easy portioning out later.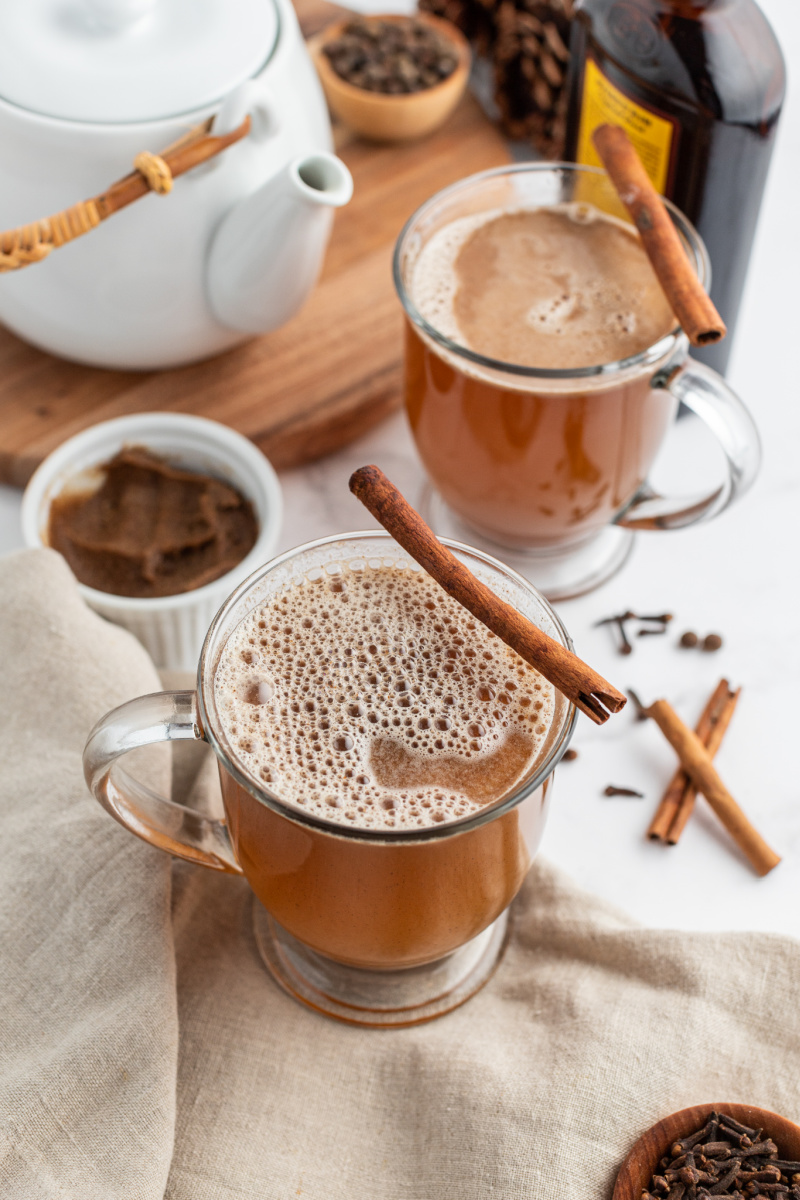 How to make Hot Buttered Rum:
Warm your mug first, if you'd like. Pour boiling water into a mug. Let it sit for a minute, and then dump it out.
Add 2 ounces of rum to your mug. Add 1 to 2 teaspoons of the spiced butter (according to your preference). Top it with boiling water, and then sprinkle with nutmeg.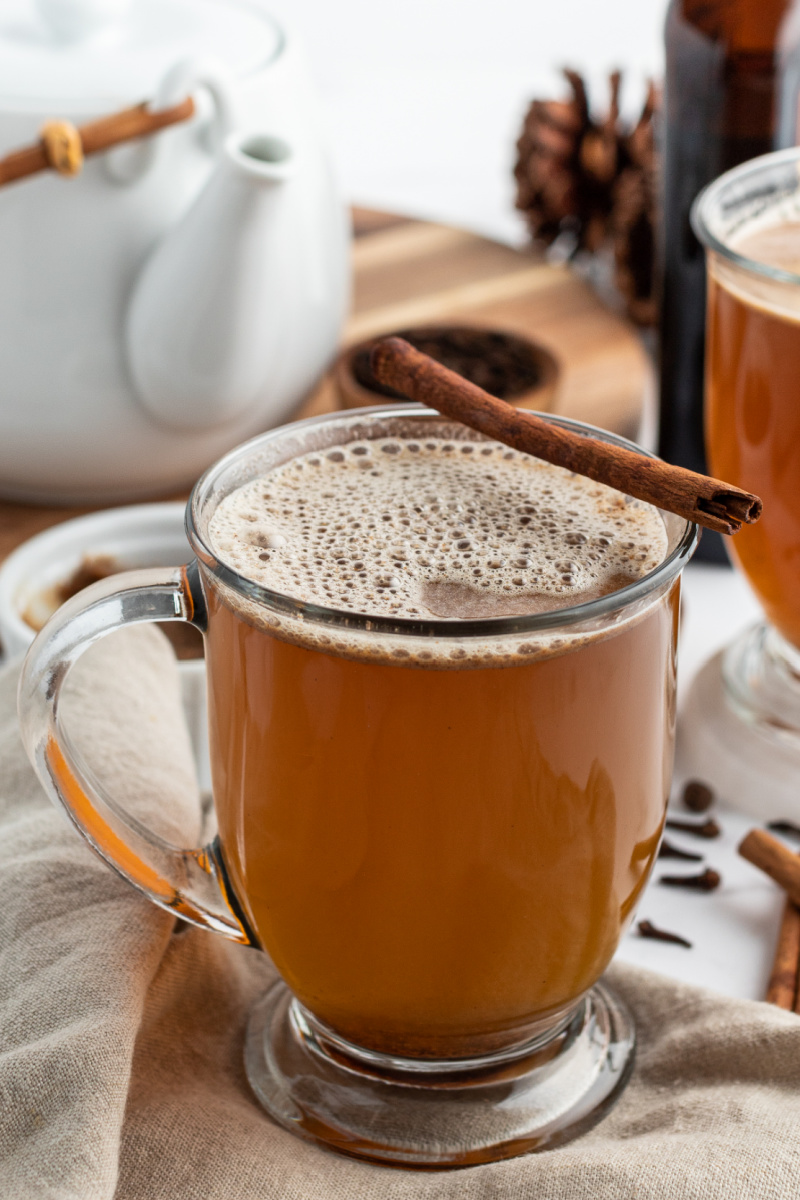 Garnish with a cinnamon stick, which also acts as the perfect stirrer.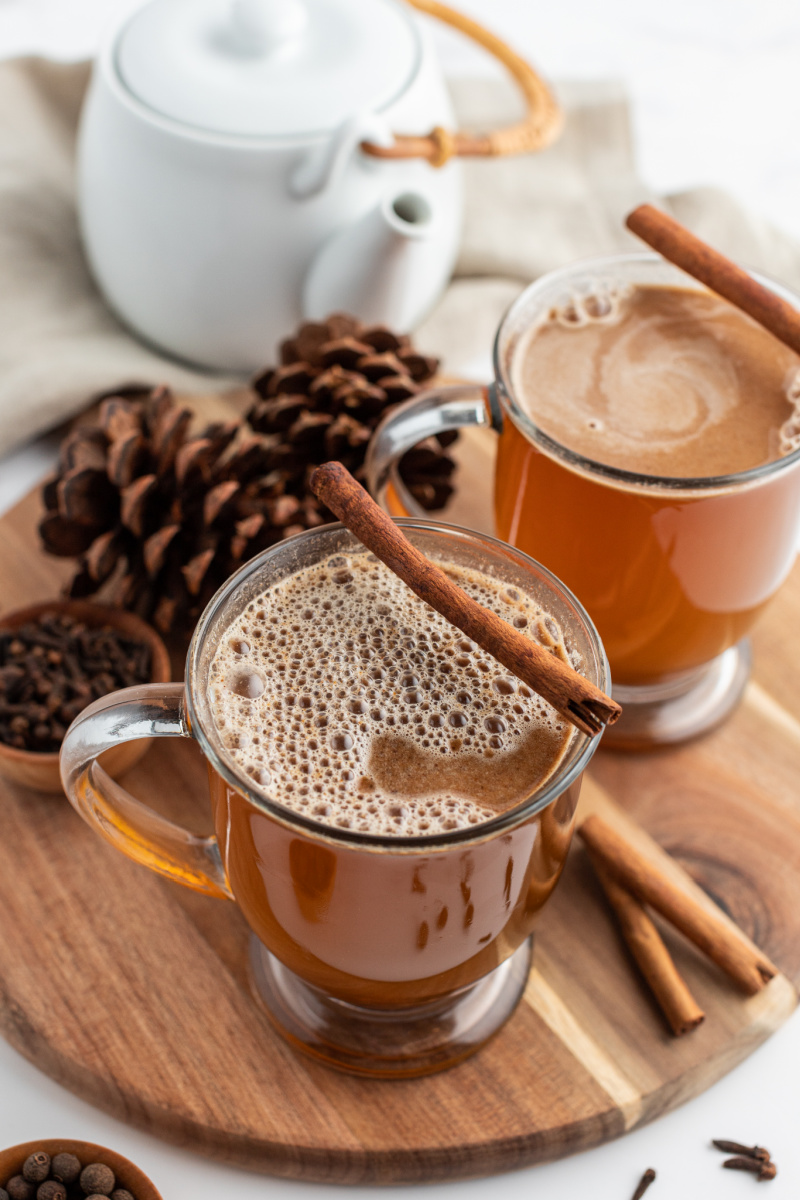 The flavor of liquor when added to a hot drink intensifies. So don't be tempted to add more alcohol. This is a rich cocktail because of the buttery component, so enjoy one Hot Buttered Rum and move on to the next drink!
Variations of Hot Buttered Rum:
Use apple cider in place of water.
Try using spiced rum instead of dark rum.
Swap out whiskey or brandy in place of the rum.
Make it a Vegan "Not Buttered Rum": replace the butter with coconut oil or vegan butter.
Use a clove-studded apple slice as garnish.
Make it spicy- add cayenne pepper.
Add orange zest for a citrus twist.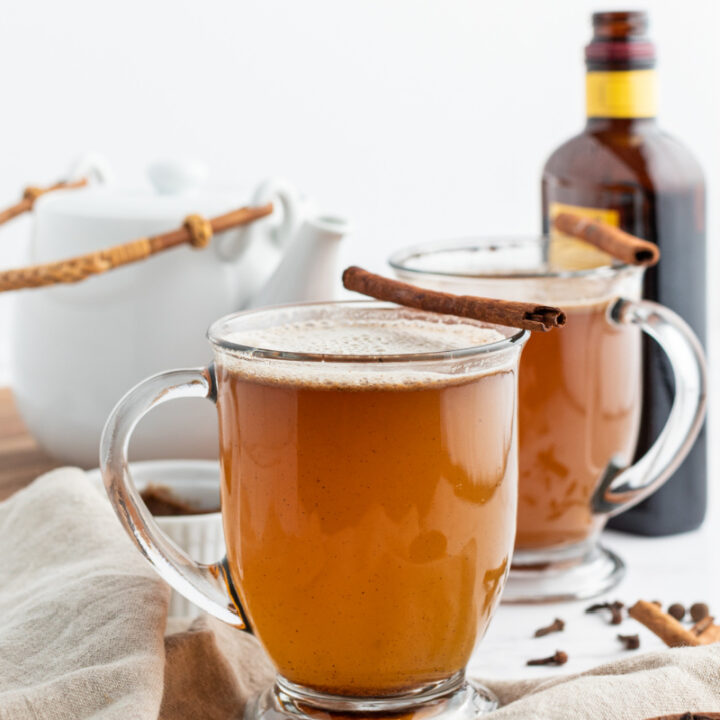 Hot Buttered Rum
The most wonderful, comforting, warm mug cocktail for a cold and blustery day!
Ingredients
SPICED BUTTER
2 tablespoons unsalted butter, at room temperature
2 tablespoons dark brown sugar
1/4 teaspoon vanilla extract
1/4 teaspoon ground allspice
1/8 teaspoon ground cinnamon
1/8 teaspoon ground cloves
THE COCKTAILS:
12 ounces dark rum
4 1/2 cups boiling hot water
freshly grated nutmeg, for garnish
6 cinnamon sticks, for garnish
Instructions
Make the Spiced Butter:
Combine all of the butter ingredients in a bowl and mix to combine.
Assemble the Cocktails:
Add 2 ounces of rum and 1 to 2 teaspoons of the spiced butter to the bottom of each mug. Then pour in 3/4 cup of boiling water into each mug. Stir. The butter should foam to the top. Sprinkle the butter on top with nutmeg, and garnish the cocktail with a cinnamon stick.
Nutrition Information:
Yield:

6
Serving Size:

1 cocktail
Amount Per Serving:
Calories:

182
Total Fat:

4g
Saturated Fat:

2g
Trans Fat:

0g
Unsaturated Fat:

1g
Cholesterol:

10mg
Sodium:

10mg
Carbohydrates:

5g
Fiber:

1g
Sugar:

4g
Protein:

0g