Whole Grain Buttermilk Waffles are the best waffles with additions of whole wheat flour and buttermilk to create a tender waffle with a crisp exterior.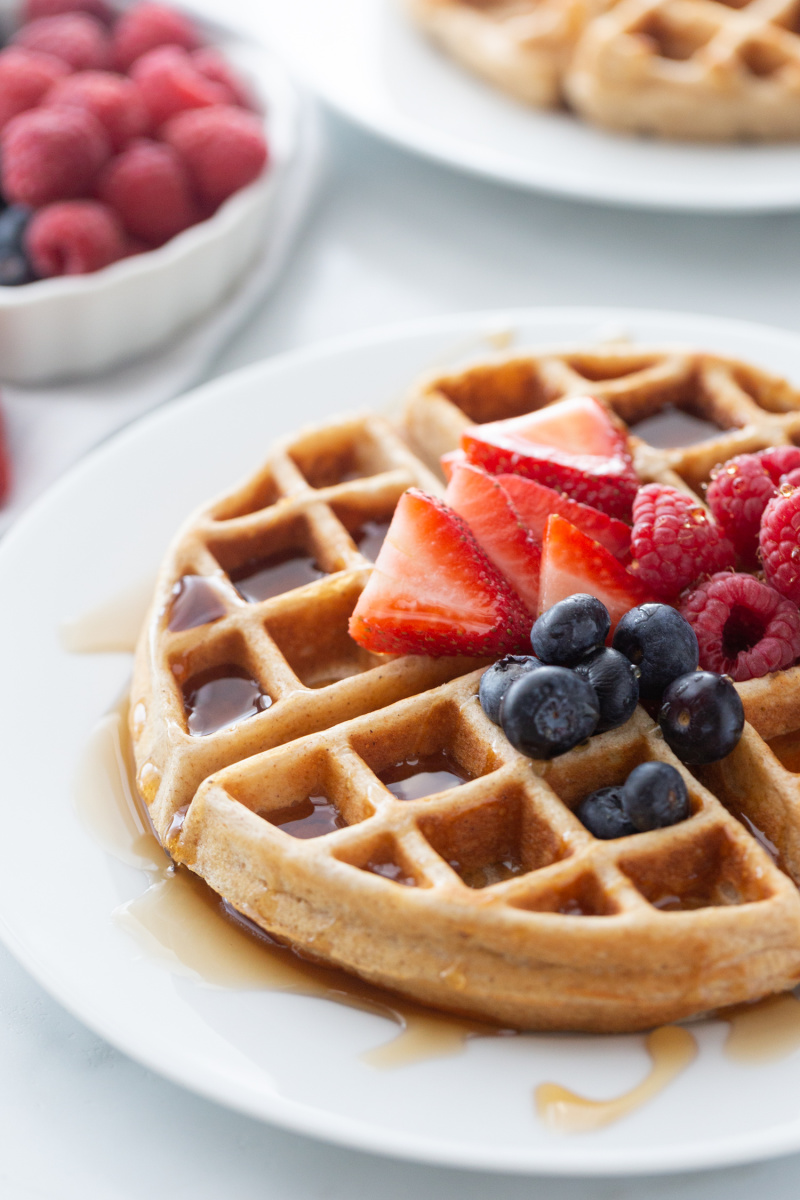 March 25 is International Waffle Day! Waffles are eaten all over the world as sweet or savory treats. On this food holiday, make your favorite waffle recipe, toast some frozen waffles, or order waffles at a restaurant. If you are looking for something new to try in your waffle iron, make these Whole Grain Buttermilk Waffles. Share your waffle celebration on social media by using the hashtag #InternationalWaffleDay or #WaffleDay.
The History of Waffles:
Waffle-like food originates back to the middle ages where batter was cooked between two metal plates over a fire to create "flat cakes." By the 14th century, a grid pattern was added to those plates to create the honeycomb pattern that waffles have today.
In 1789, Thomas Jefferson brought a long-handled waffle iron to the US. And on August 24, 1869, Cornelius Swarthout received the first US patent for the waffle iron (cooked over a fire). We celebrate National Waffle Day on August 24th!
In 1911, the 1st electric waffle iron was invented and sold be General Electric. By the 1930's the electric waffle iron was a commonly found appliance in American kitchens.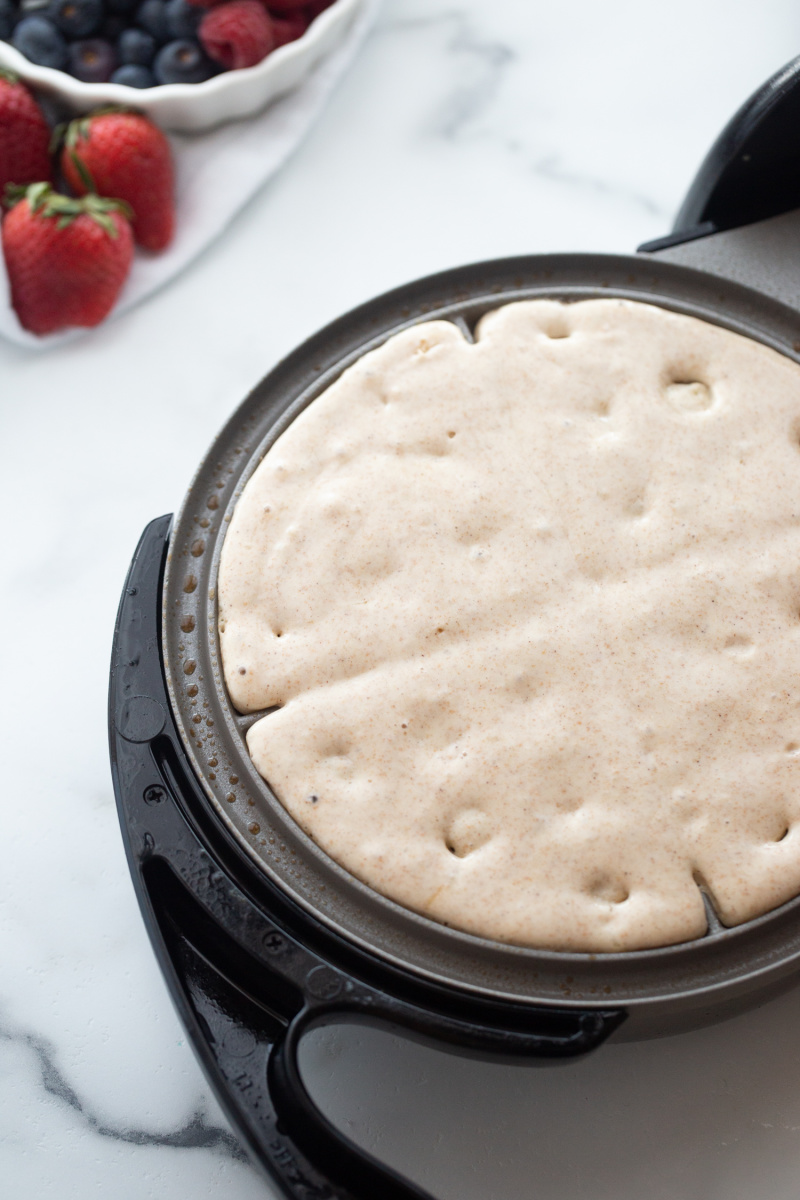 What's the best Waffle Iron to buy?
If you make waffles for a lot of people, it's helpful to have a waffle iron that you can turn and make two waffles at once. While one waffle is cooking, you can take the other one out, give it to a hungry eater, and get batter poured into the other side. Black and Decker makes a good, moderately priced "flip" waffle iron. If there are just two of you in the house, I recommend the Cuisinart Waffle Maker. It's smaller and easier to store.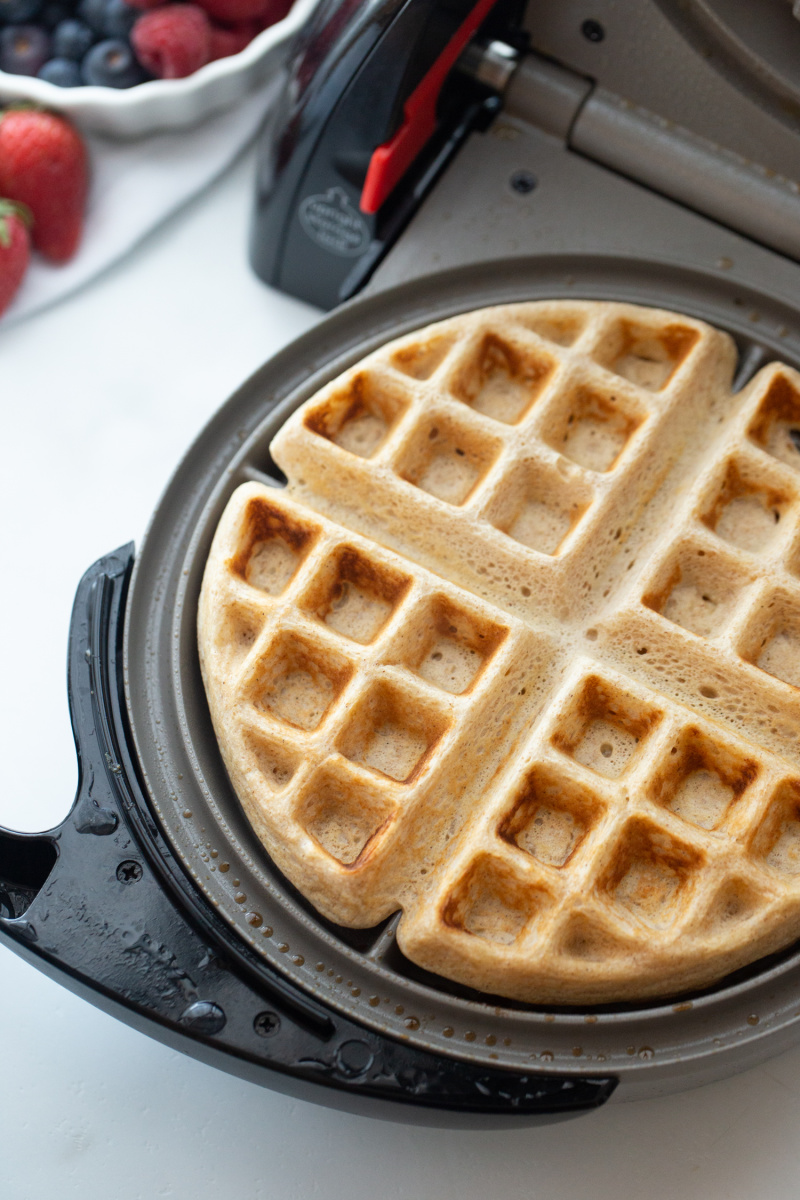 These Whole Grain Buttermilk Waffles are made just like regular waffles. The batter is combined, and then it's spooned into a hot waffle iron. Cook until browned and crisp on the outside.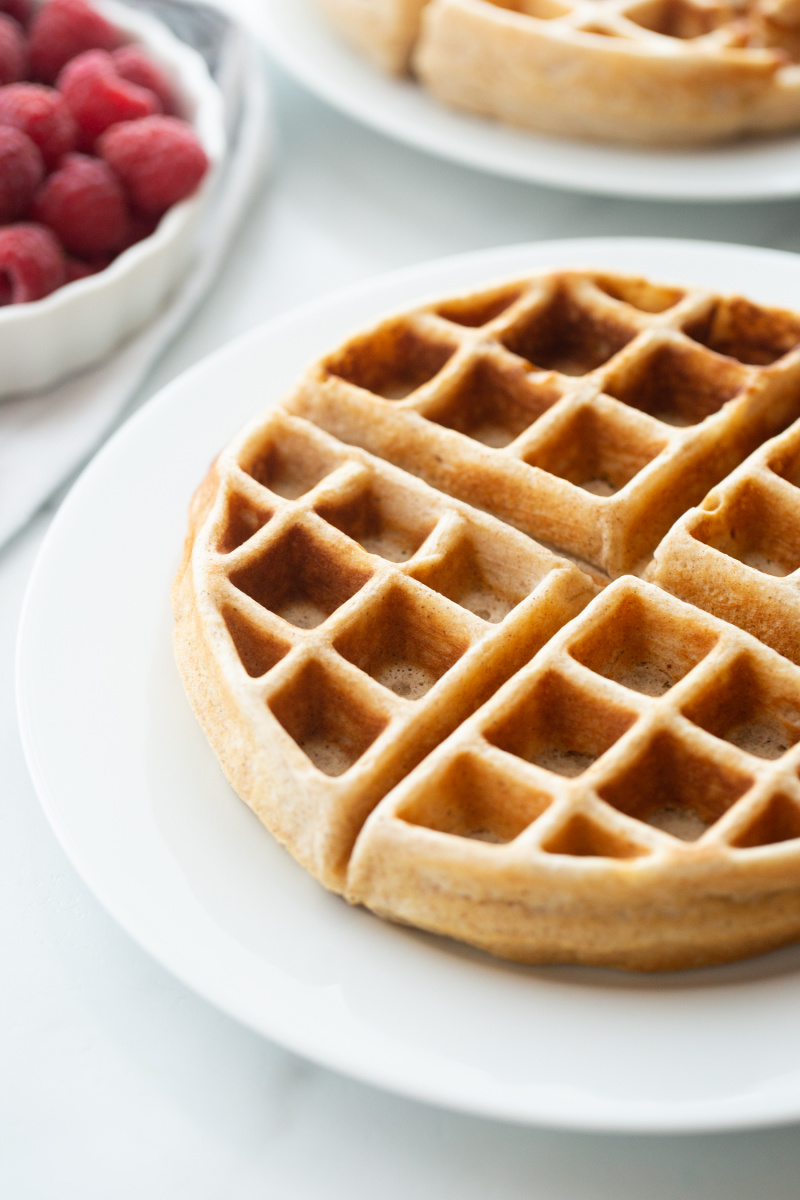 These waffles turn out so perfect and delicious.
How to freeze waffles:
If you make extra waffles, freeze the extras! Just pop them into a freezer zip baggie and store in the freezer for up to 3 months. Any longer than that, and they'll begin to develop unwanted ice crystals. When the mood strikes for a waffle, just place your frozen waffle in the toaster and toast until it's all warmed up and crisp.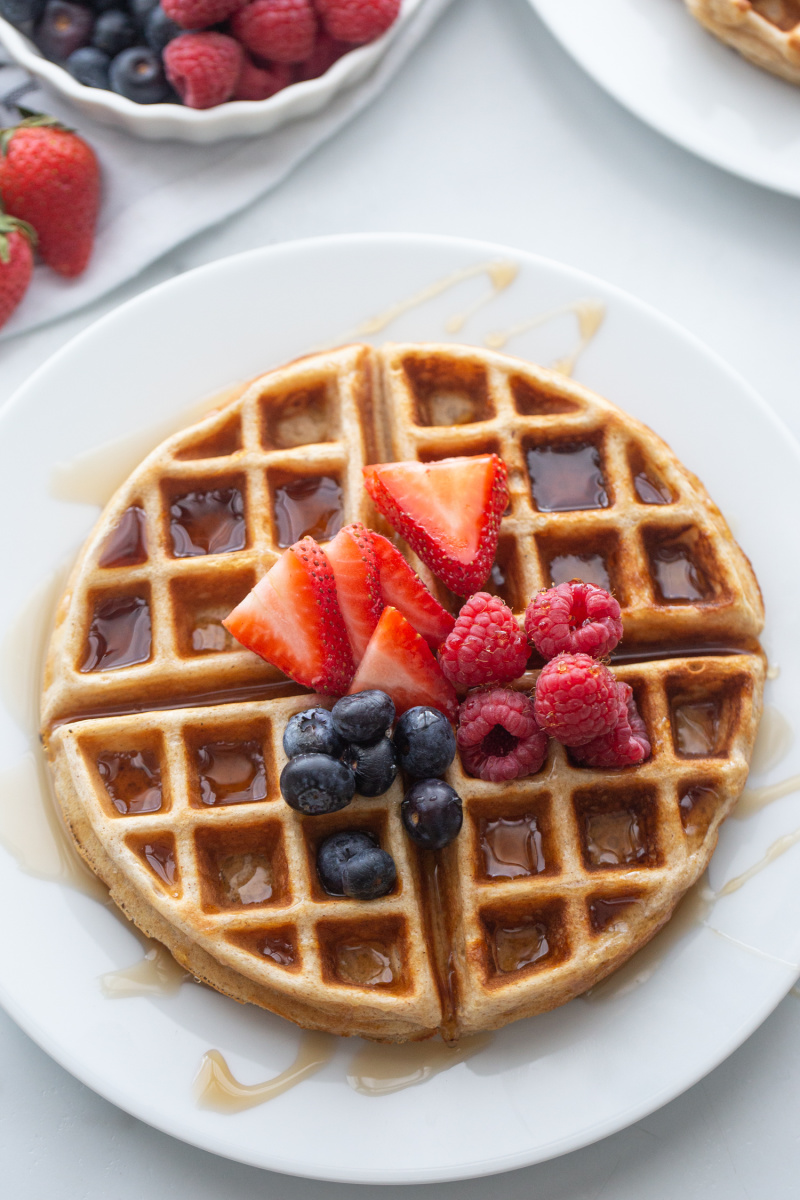 Top your Whole Grain Buttermilk Waffles with warm syrup and fresh berries. Enjoy!
Fun Facts about Waffles:
The waffle cone was (accidentally) invented in 1904 when an ice cream vendor at the World Fair ran out of cups. The waffle vendor helped out by folding waffles into a cone to hold the ice cream.
Eggo founder Frank Dorsa and his brothers invented the frozen waffle in 1953. Initially, they wanted to call them "Froffles" (frozen waffles).
The first Waffle House restaurant opened in Georgia in 1955. Nowadays, there are 2,100 locations, and each location sells about 165 plates of waffles per day. That's 346,500 waffles per day!
Belgian waffles were introduced to America in 1962 as waffles topped with whipped cream and strawberries. Waffles are popular in Belgium (they have over a dozen varieties).
Consumption of pancakes outnumbers waffles 5 to 1.
In 1971, Nike's 1st pair of sneakers "the Waffle Trainer" was inspired by the waffle. Inventor Bowerman got the idea for a waffle-pattern athletic sneaker sole by watching his wife make waffles. He even used an actual waffle iron to create the prototype!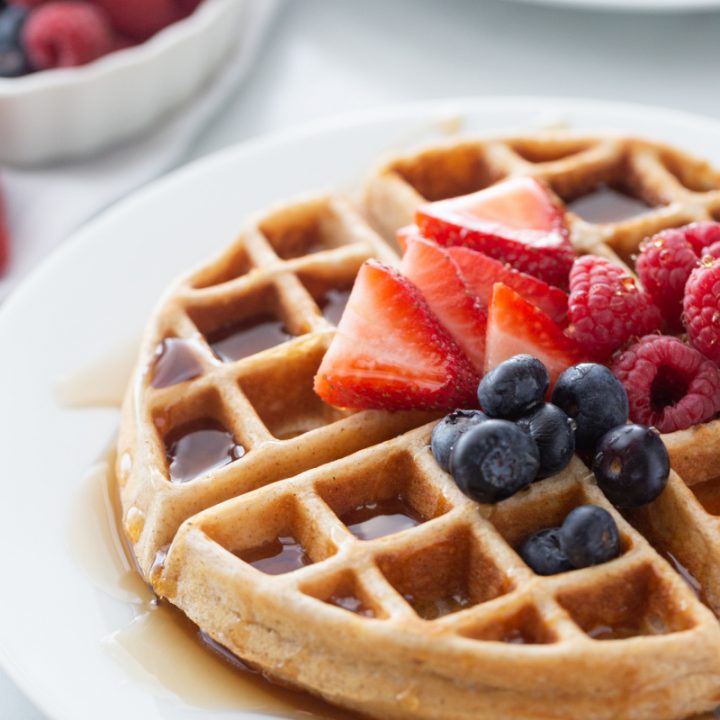 Whole Grain Buttermilk Waffles
A delicious waffle recipe with a whole grain addition!
Ingredients
1 cup whole wheat flour
1 cup all purpose flour
2 tablespoons brown sugar
2 teaspoons baking powder
1/2 teaspoon ground cinnamon
1/2 teaspoon salt
1 3/4 cups buttermilk
2 large eggs
4 tablespoons butter, melted and cooled
1 teaspoon vanilla extract
Instructions
Pre-heat your waffle iron. Spray the waffle iron lightly with nonstick spray.
In a large bowl, whisk together the whole wheat flour, all-purpose flour, brown sugar, baking powder, cinnamon and salt.
In a separate bowl, whisk together the buttermilk, eggs, butter and vanilla.
Add the wet ingredients to the dry, and stir to combine.
Spoon the batter into the waffle iron, and cook until done- usually 3 to 5 minutes.
Serve with fresh fruit and warm syrup.
Nutrition Information:
Yield:

4
Serving Size:

1 waffle
Amount Per Serving:
Calories:

422
Total Fat:

16g
Saturated Fat:

9g
Trans Fat:

0g
Unsaturated Fat:

6g
Cholesterol:

128mg
Sodium:

842mg
Carbohydrates:

57g
Fiber:

4g
Sugar:

11g
Protein:

14g
Nutritional information is estimated using a nutrition calculator.