I've gathered the very Best Peanut Butter Cookie recipes all in one place! The best peanut butter cookie recipe is one that turns out perfect and delicious every time (and of course, has plenty of peanut buttery flavor and a good texture). There are a variety of recipes to choose from in this collection, so everyone will be happy.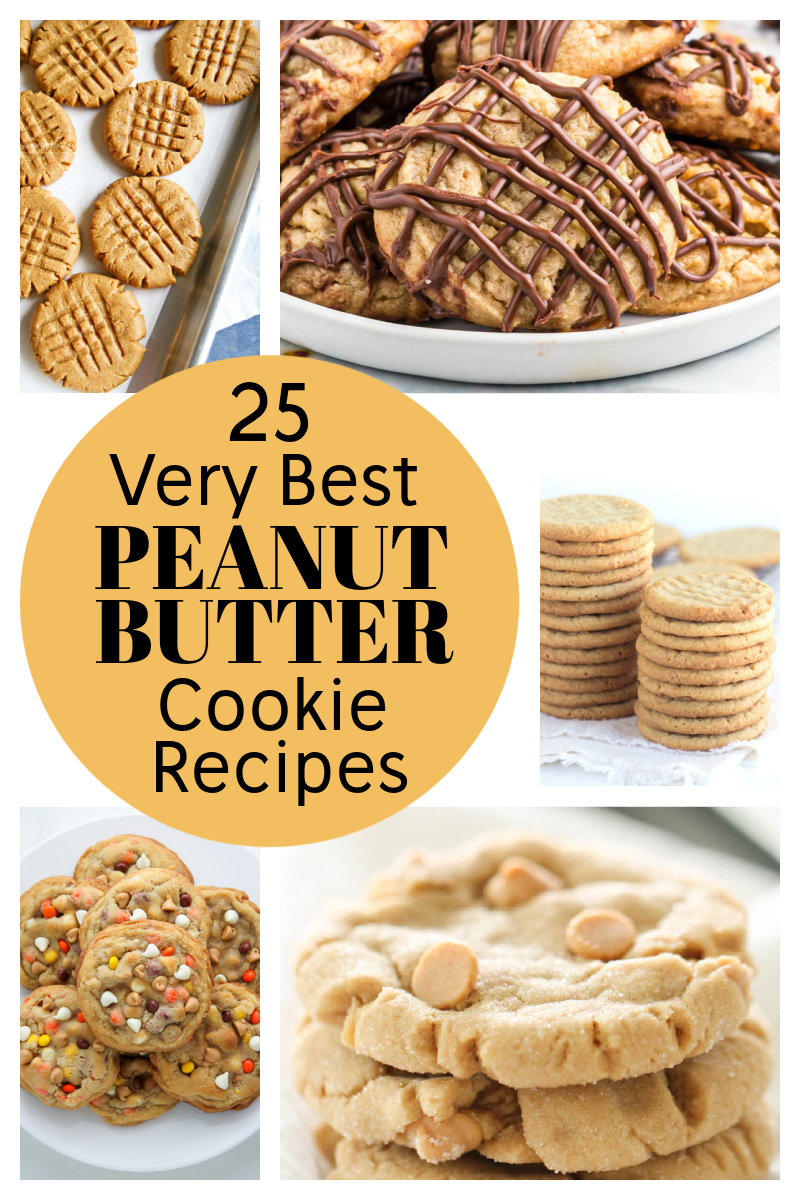 March 1st is National Peanut Butter Lover's Day. Be sure to make some peanut butter dog biscuits for your furry friends today, but you also need to bake the best peanut butter cookies for yourself! You can also buy them at your favorite bakery.
More ways to celebrate: eat a peanut butter and jelly sandwich, spread peanut butter on your toast, eat a Peanut Butter Cup or grab a spoon and a jar of peanut butter and get to work! Share your National Peanut Butter Day celebration on social media by using the hashtag #nationalpeanutbutterday or #peanutbutterday.
The History of Peanut Butter:
The Incas developed peanut butter (grinding peanuts into a buttery consistency) hundreds of years before North Americans. But it was doctor and cereal pioneer John Harvey Kellogg who patented peanut butter in 1895 and began experimenting with it. It was originally made for people who had no teeth!
According to the National Peanut Board, the first recipe for a peanut butter and jelly sandwich appeared in 1901 in the Boston Cooking School Magazine of Culinary Science and Domestic Economics written by Julia Davis Chandler.
Peanut butter was officially introduced to the world in 1904 at the St. Louise World Fair. The first major brand of peanut butter (Skippy) was founded in the 1930's. Peanut butter began appearing as an ingredient in cookies in the 1930's too.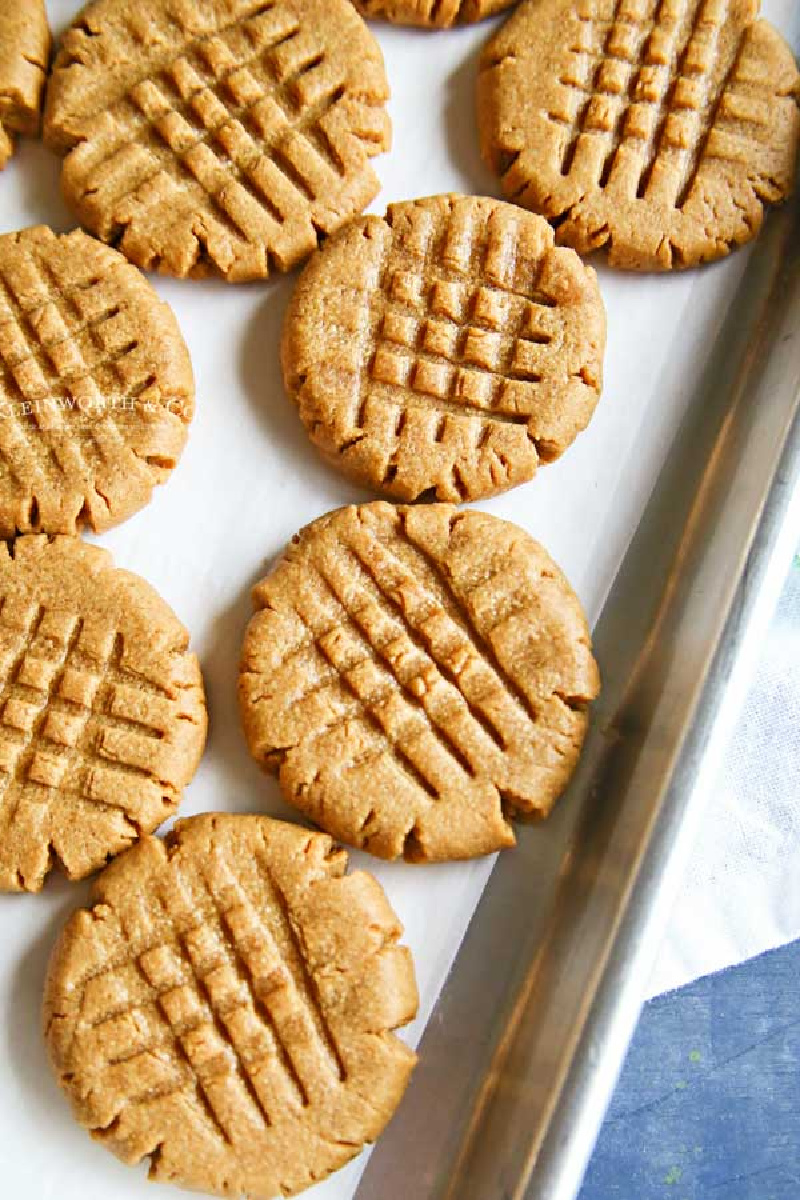 3-Ingredient Peanut Butter Cookies by Kleinworth & Co. Making the best peanut butter cookies doesn't get any easier than this 3-ingredient recipe that turns out so soft and chewy.
Why do peanut butter cookies have criss crosses on them?
Pillsbury popularized the peanut butter cookie "criss cross" with a fork in their peanut butter cookie recipes. It wasn't just for looks though. The purpose was to press down the dense peanut butter cookie dough, allowing the cookie to cook more evenly.
Monster Cookies by Recipe Girl. These are oatmeal- peanut butter cookies with chocolate chips and M&M's added in.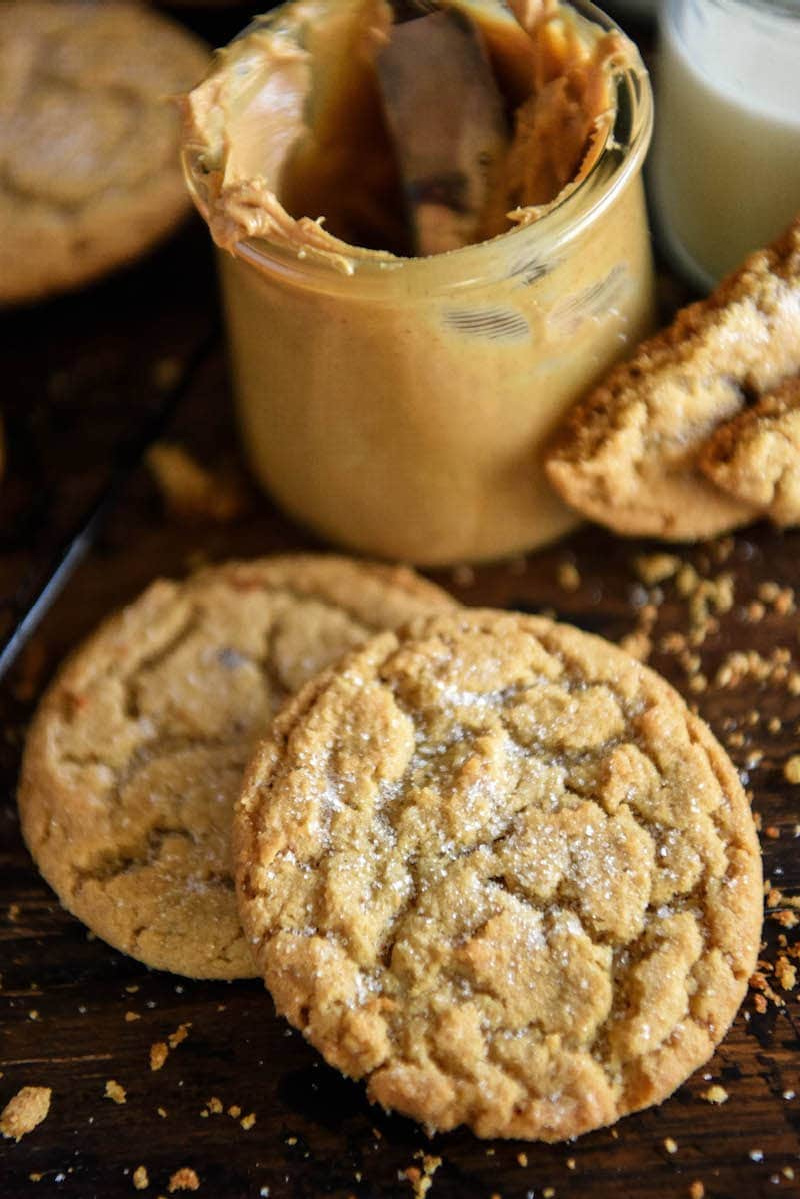 The Best Chewy Peanut Butter Cookies by The Novice Chef. If you're looking for the best peanut butter cookies with super soft chewy centers and tons of peanut butter flavor, this easy recipe is for you.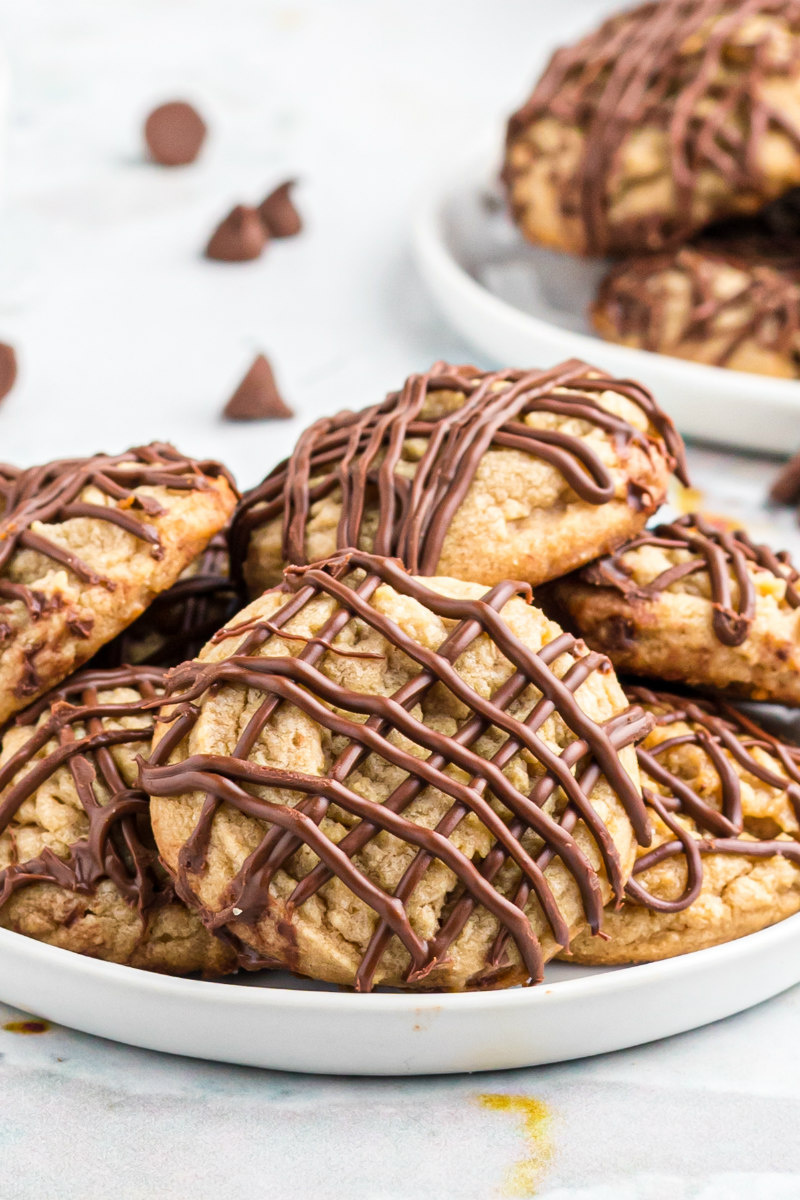 Chocolate Drizzled Peanut Butter Cookies by Recipe Girl. These are a pretty and delicious cookie to make for chocolate and peanut butter lovers!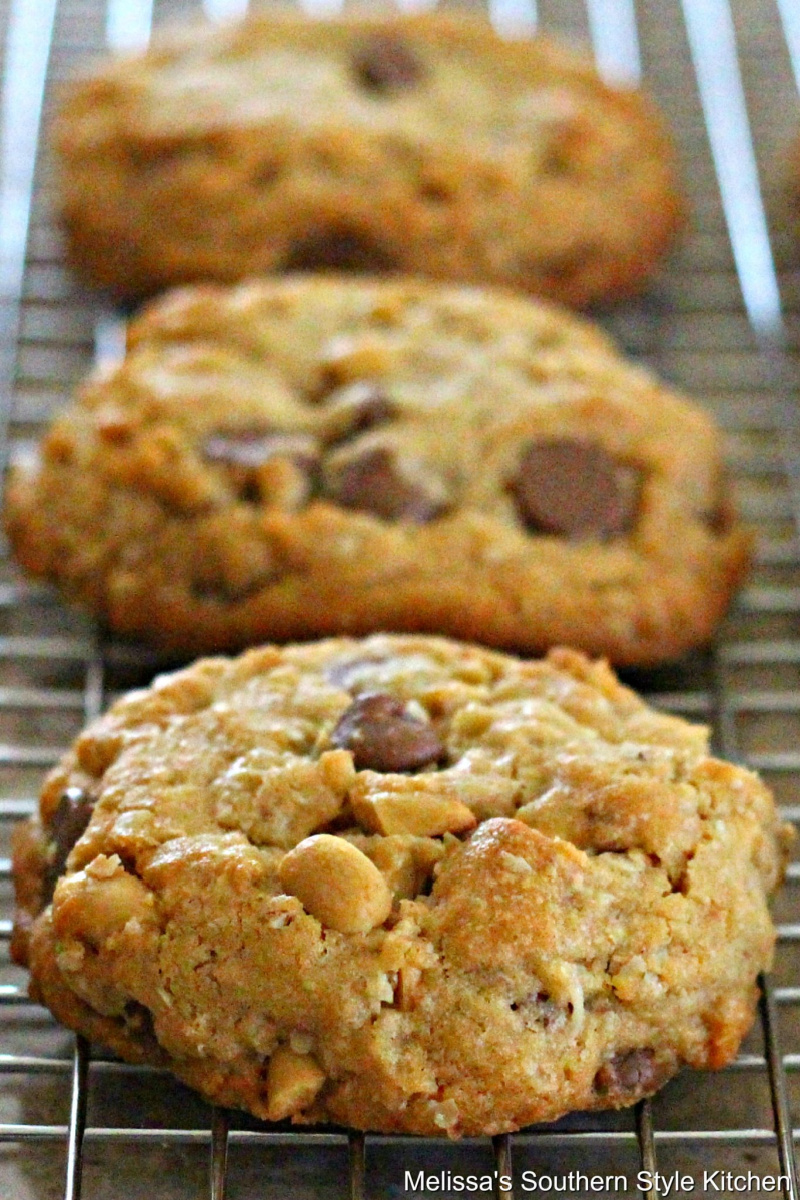 Peanut Butter Cowboy Cookies by Melissa's Southern Style Kitchen. A made-from-scratch creamy peanut butter cookie dough is filled with oats, chocolate chips and salted peanuts.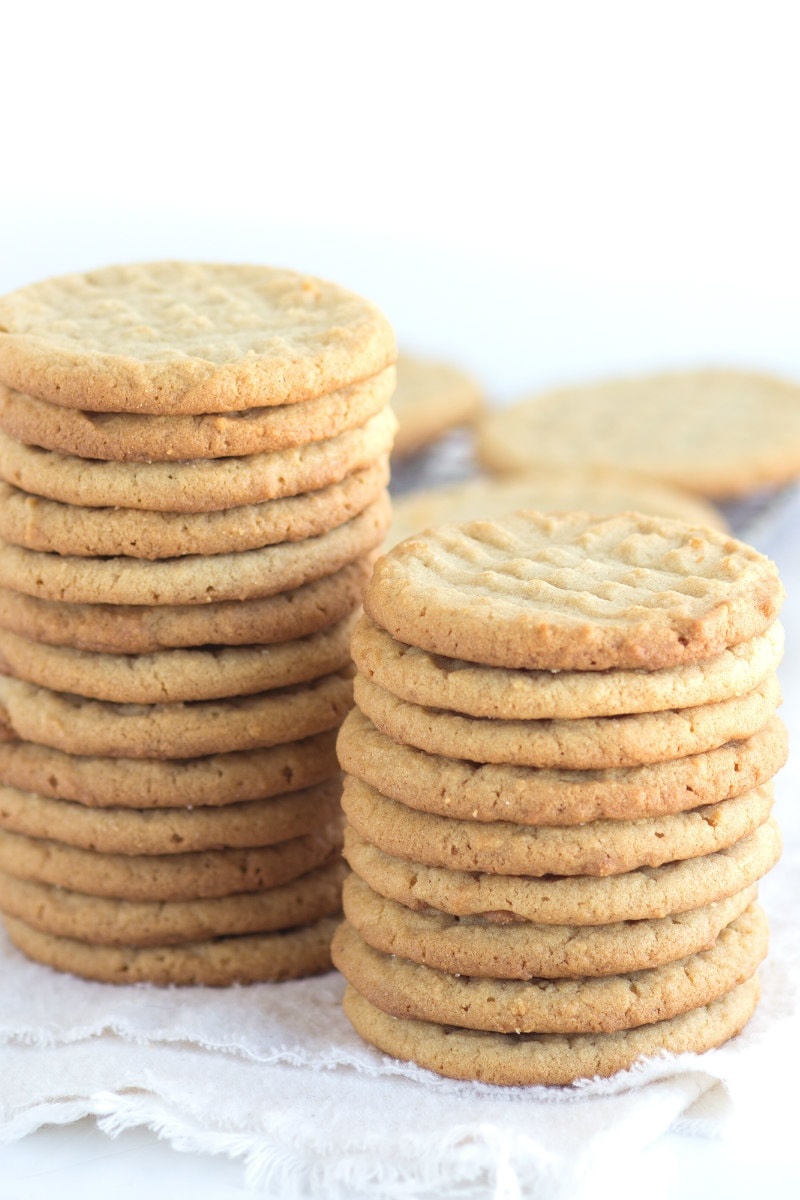 Great Grandma's Peanut Butter Cookies by Recipe Girl. These are slightly crunchy and flaky peanut butter cookies. The texture is perfect to make the best peanut butter cookies!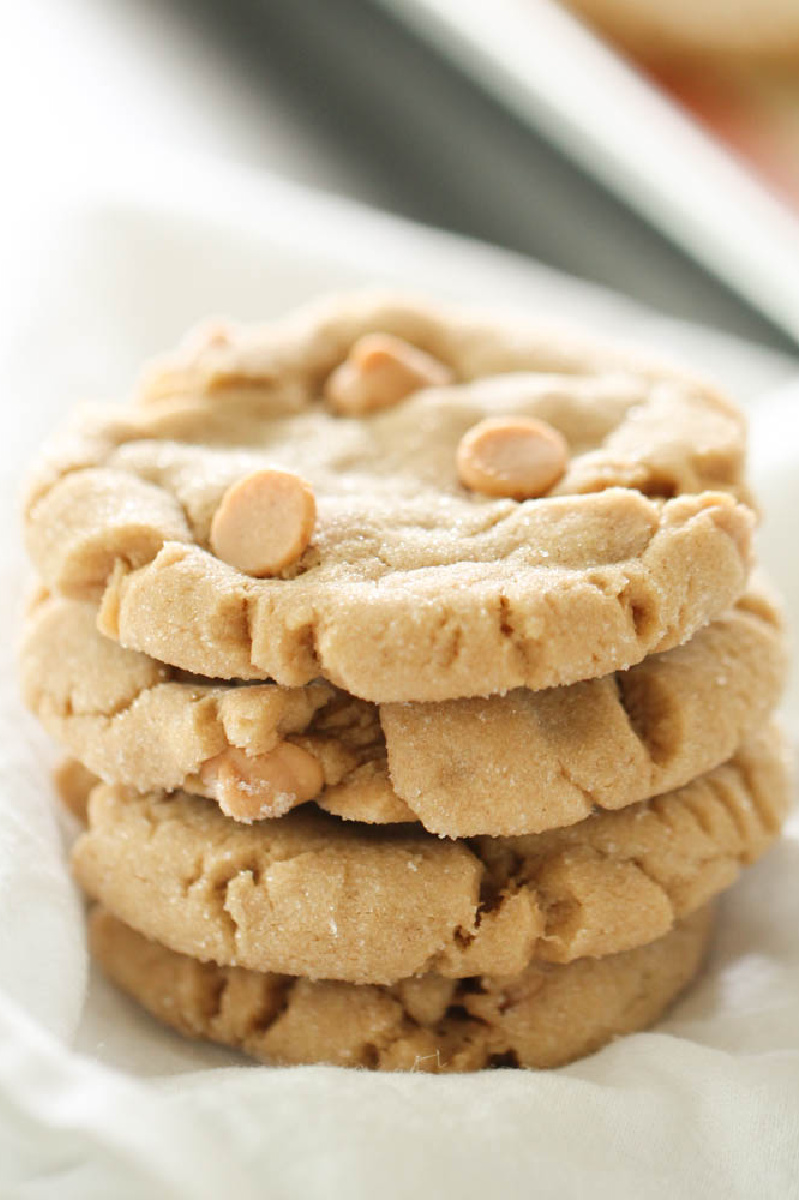 Disneyland's Copycat Peanut Butter Cookies by Six Sister's Stuff. These bakery style cookies are thick, chewy and soft.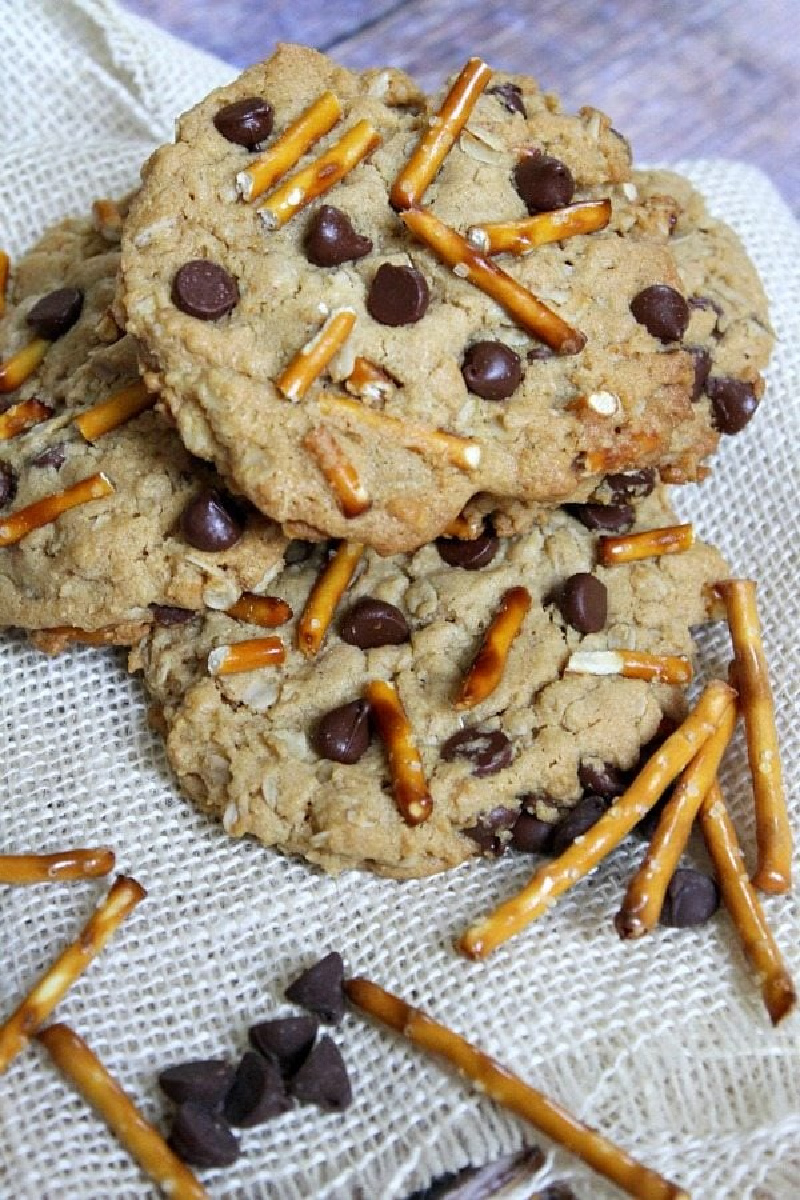 High Energy Peanut Butter Breakfast Cookies by Recipe Girl. These are sweet and salty cookies with 3 grams of protein per cookie.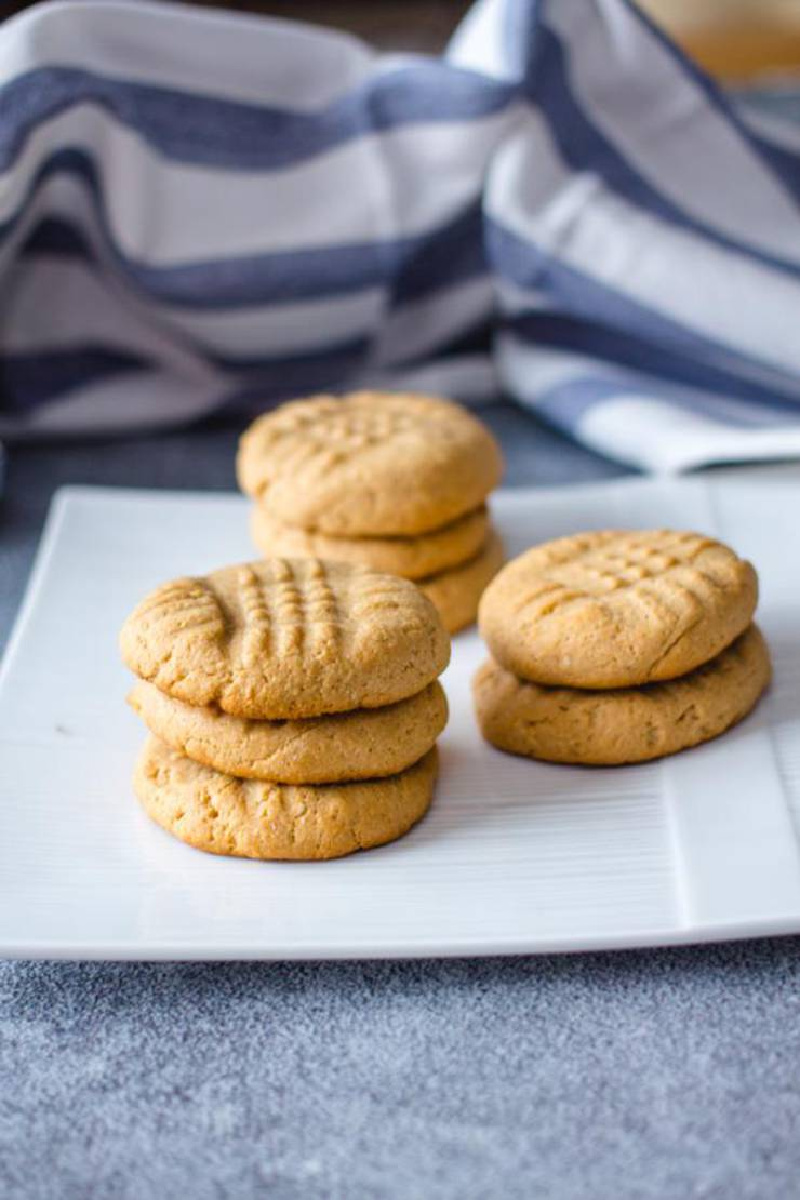 4-Ingredient Keto Cookies by Kimspired DIY. This is an easy, low carb cookie that is gluten free and sugar free.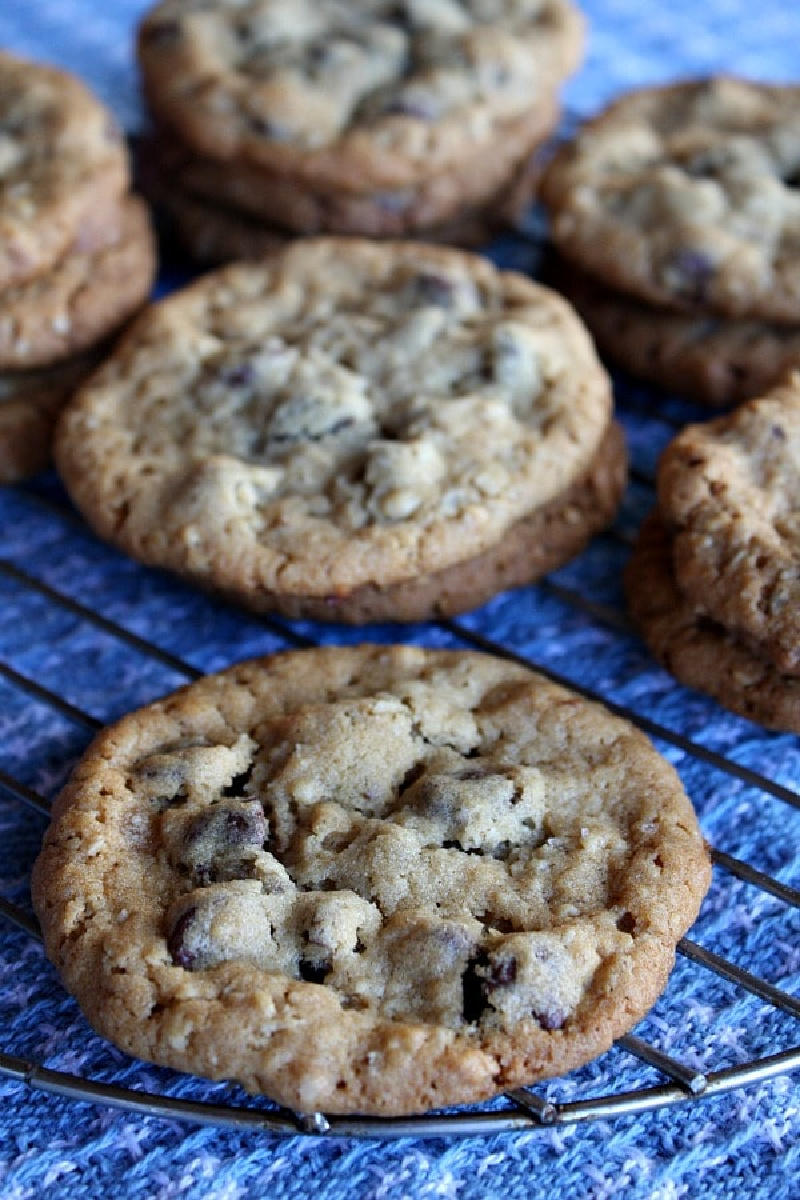 Peanut Butter Chocolate Chip Oatmeal Cookies with Sea Salt by Recipe Girl. Perfect peanut butter- chocolate chip cookies with a hint of sea salt in every bite.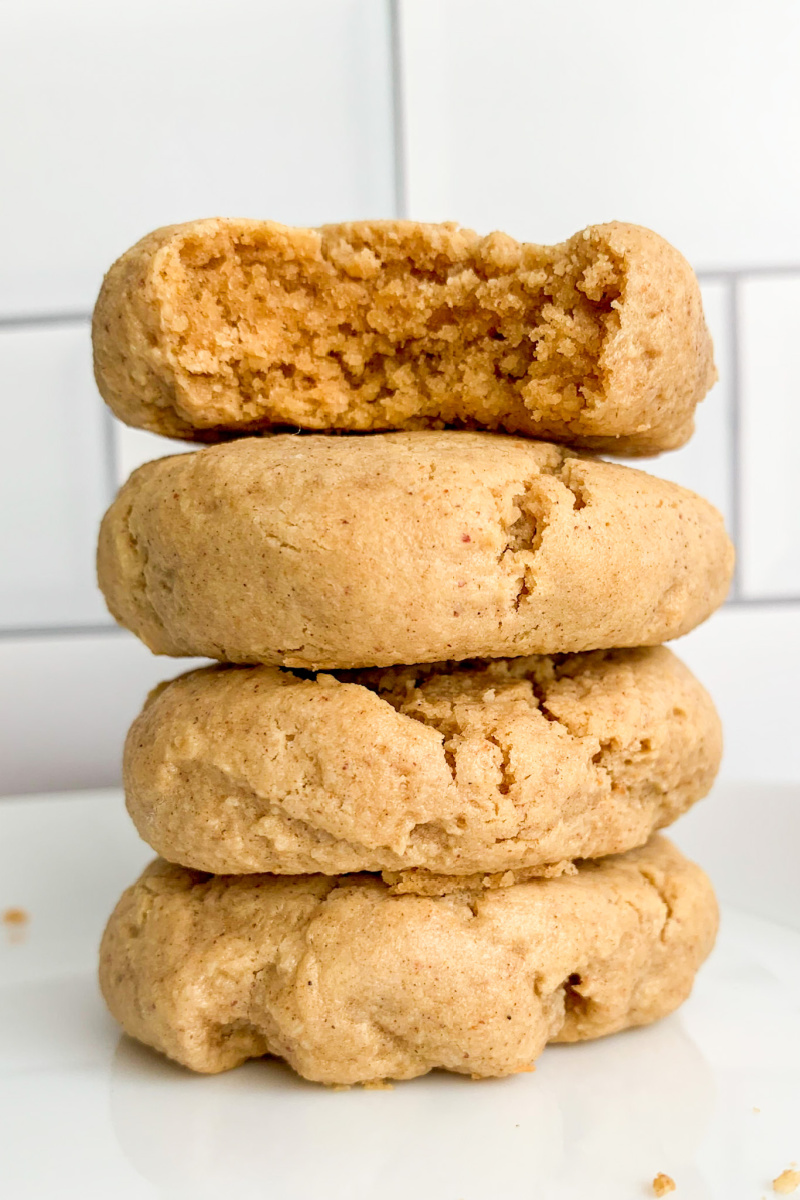 Peanut Butter Cloud Cookies by Wonderfully Made Wellness. These cookies are dairy free and grain free (using almond flour), and they contain only a small amount of maple syrup to sweeten!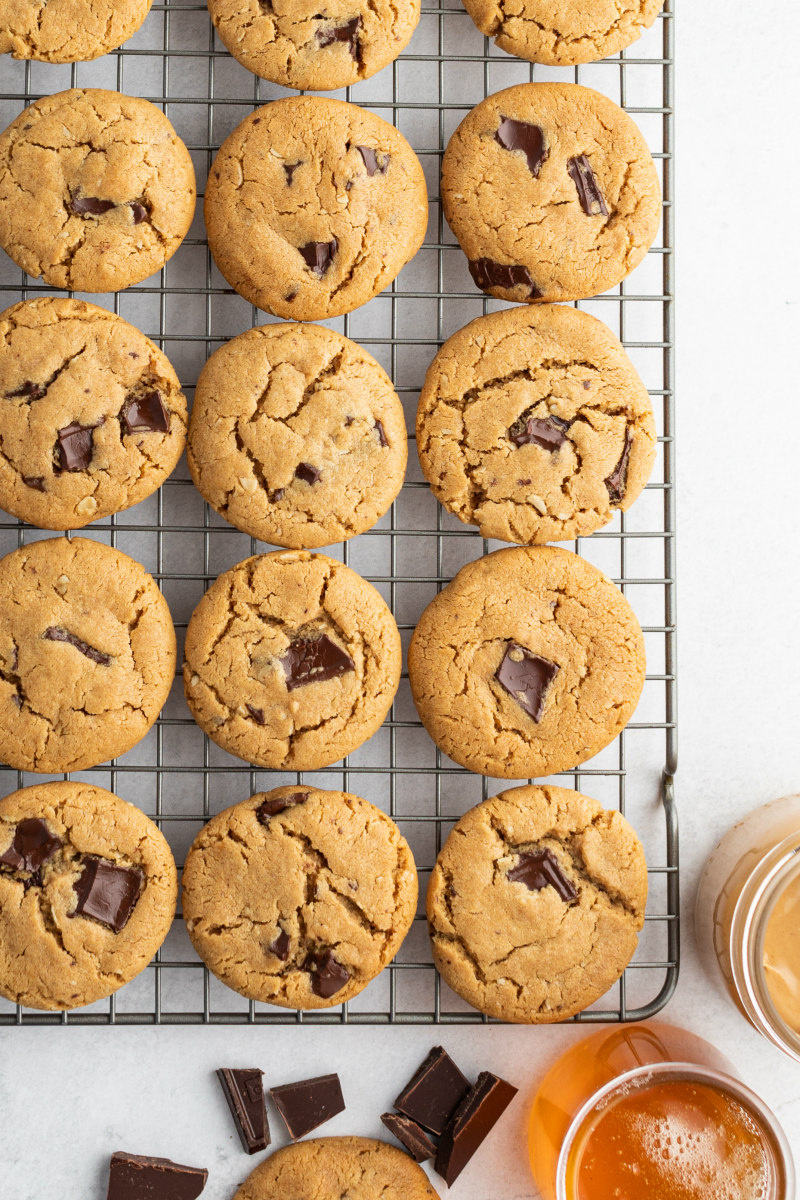 Honey- Peanut Butter Chocolate Chunk Cookies by Recipe Girl. These are a favorite whole wheat peanut butter cookie with chocolate!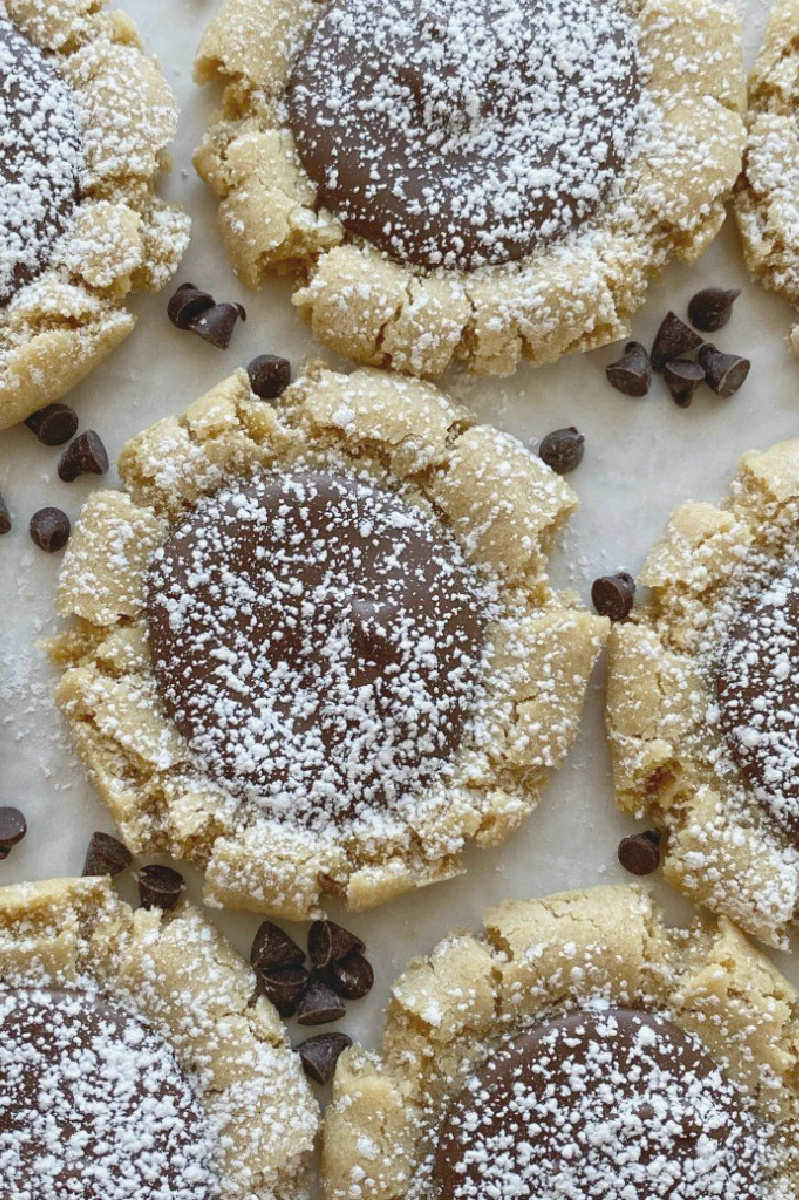 Muddy Buddy Peanut Butter Cookies by Together as a Family. These are a soft-baked peanut butter cookie with a smooth milk chocolate center and dusted in powdered sugar.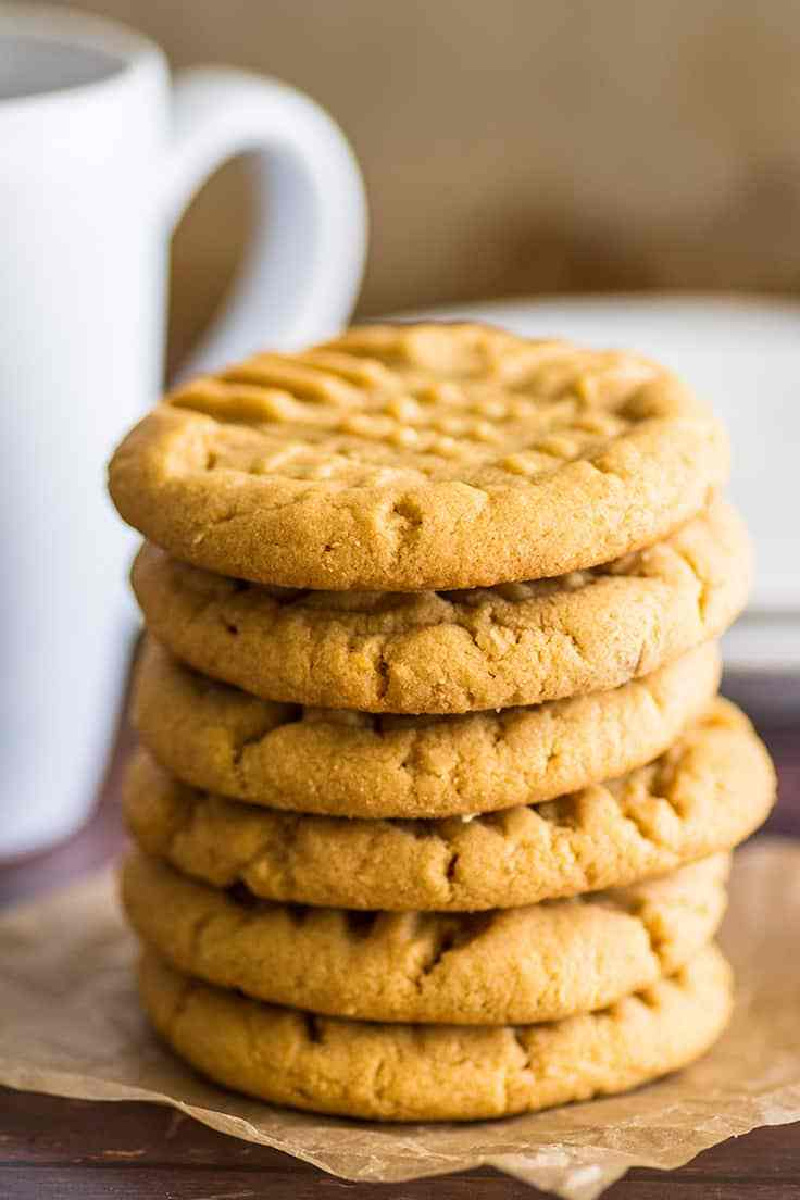 Small Batch Peanut Butter Cookies by Baking Mischief. These cookies are super peanut buttery. The texture is a little soft and crumbly, a little chewy and a little crunchy.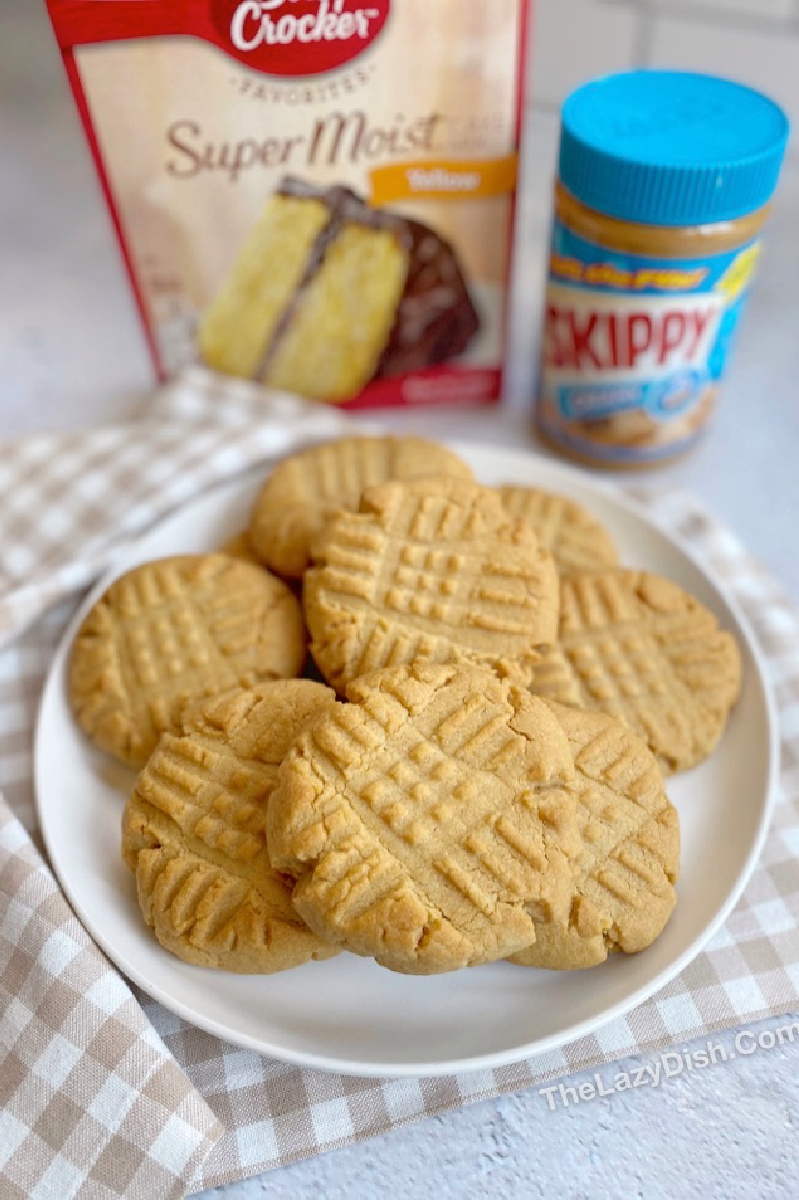 Cake Mix Peanut Butter Cookies by The Lazy Dish. These quick and easy cake mix cookies are made with just 4 ingredients and are incredibly simple to make.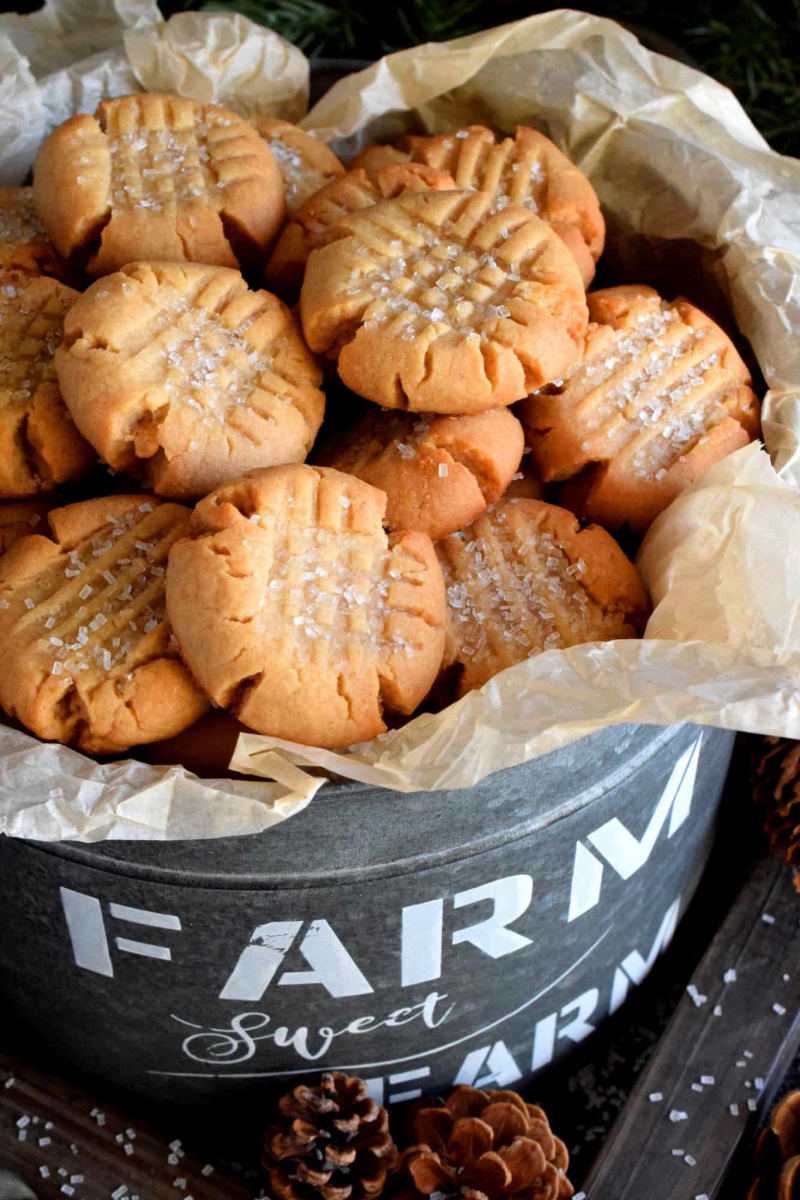 Peanut Butter Shortbread Cookies by Lord Byron's Kitchen. Shortbread is a classic, but adding peanut butter to your shortbread cookie recipe adds a new element of flavor!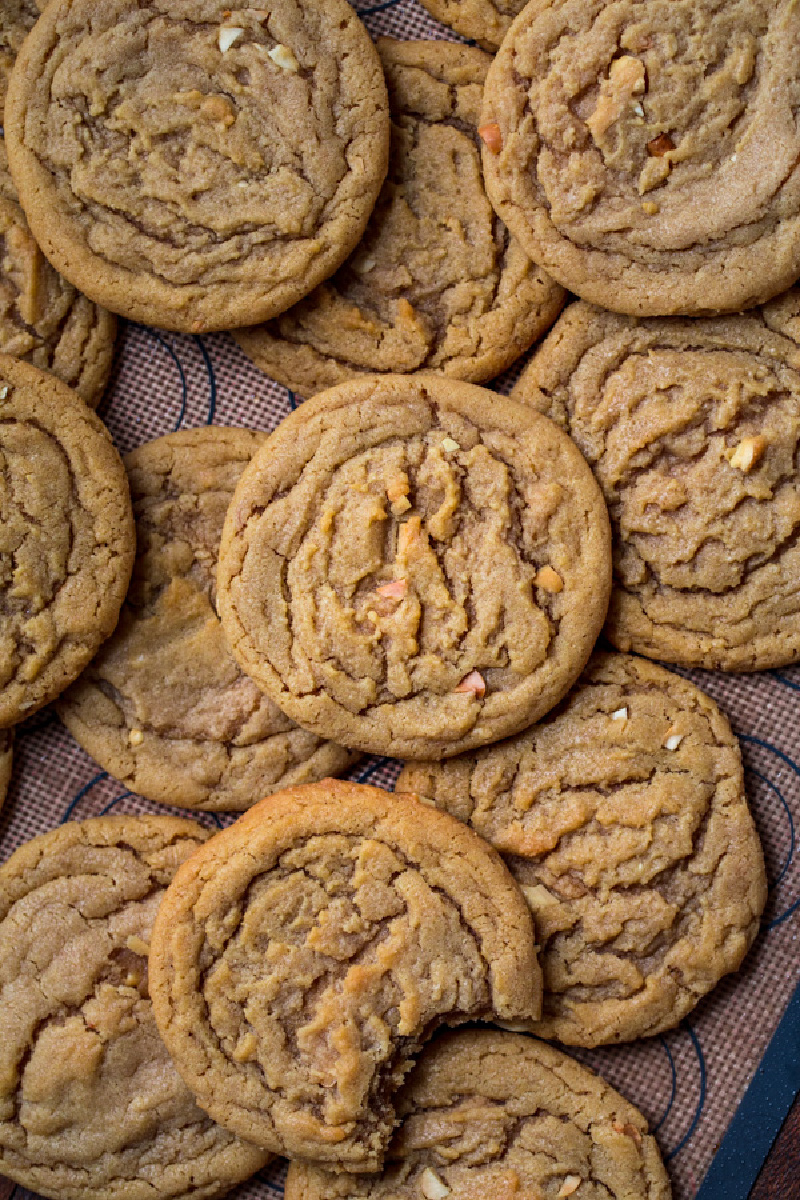 Subway Copycat Peanut Butter Cookies by Alyonas Cooking. These cookies are loaded with peanut butter flavor and peanut chunks. They taste like the Subway Peanut Butter Cookies and are super easy to make.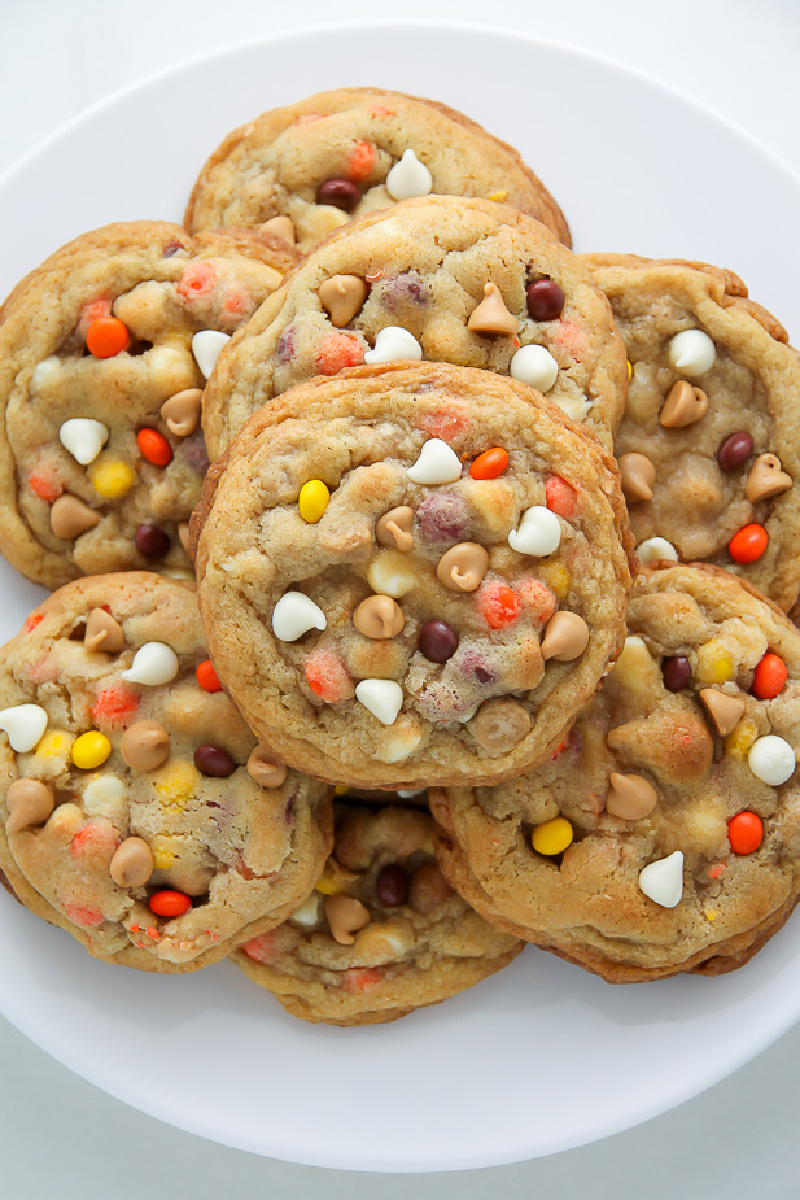 White Chocolate Reeses Pieces Peanut Butter Chip Cookies by Baker by Nature. Soft and chewy cookies loaded with white chocolate, Reese's pieces, and peanut butter chips!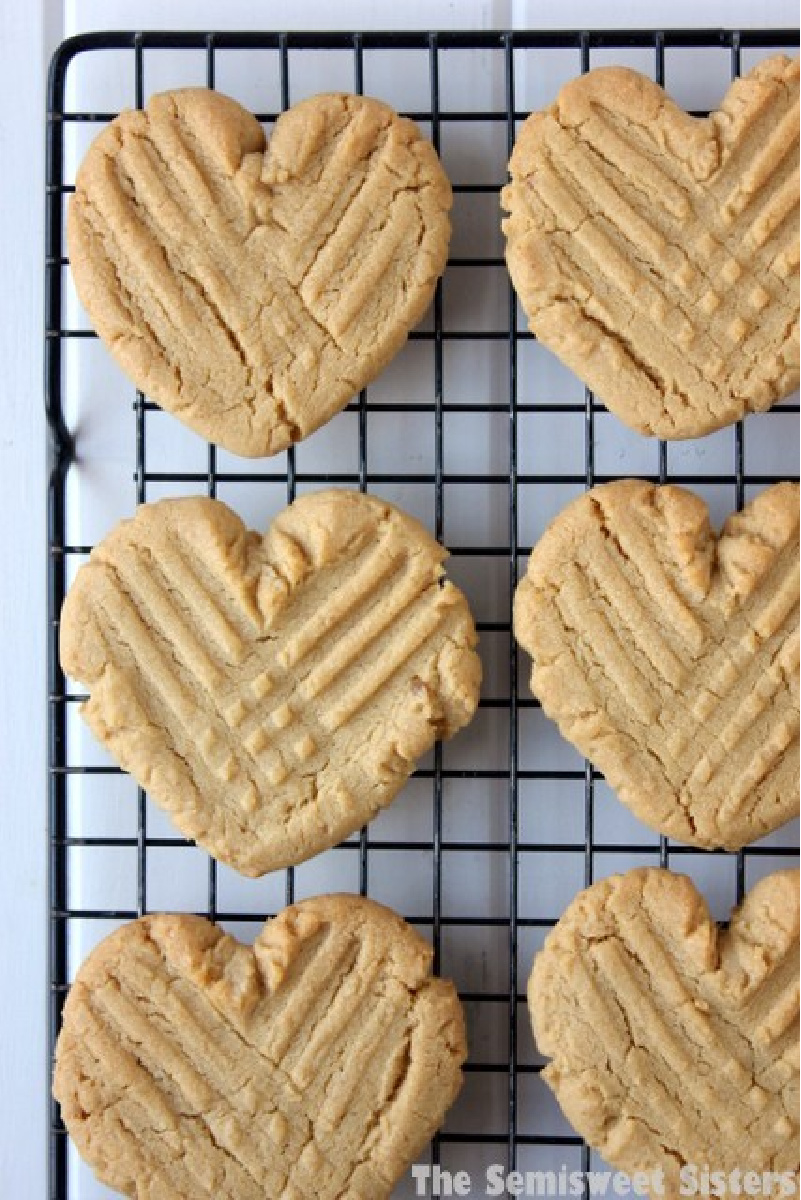 Heart-Shaped Peanut Butter Cookies by The Semisweet Sisters. These are really quite simple to make. No cookie cutter is required, and no rolling out dough either!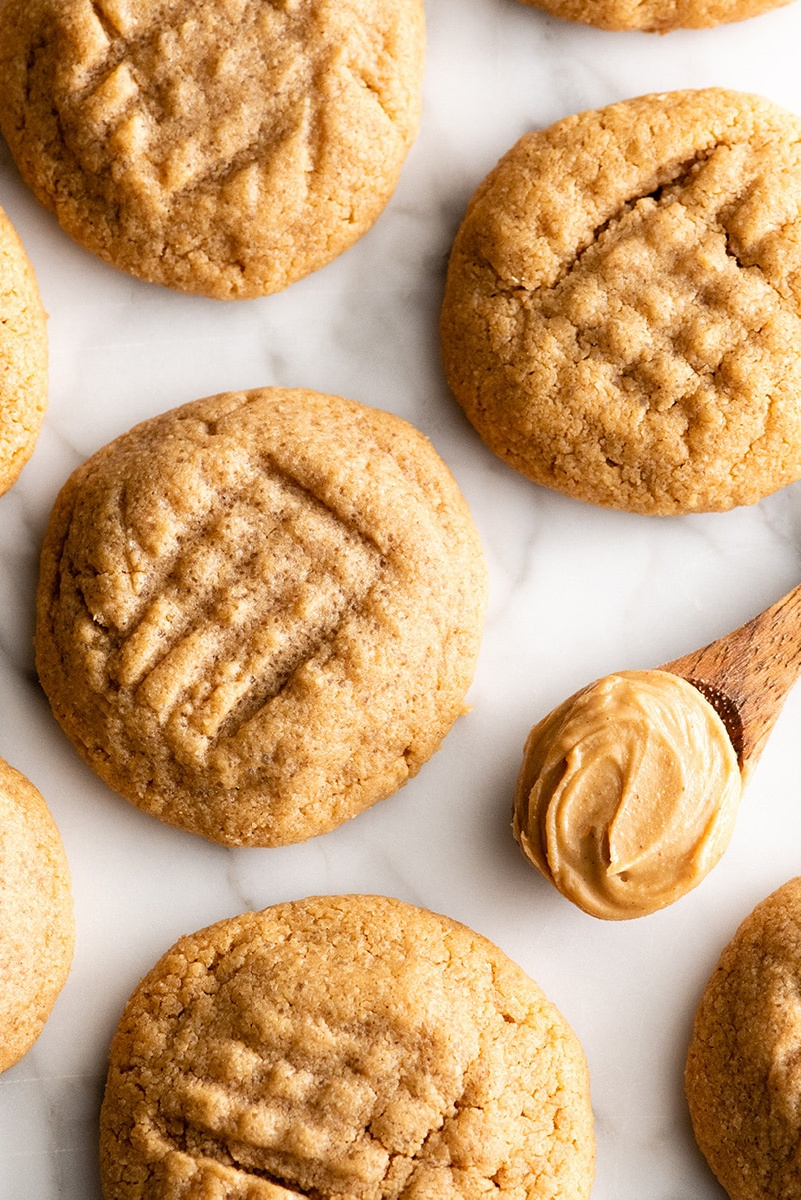 Flourless Peanut Butter Cookies by Joy Food Sunshine. These gluten-free peanut butter cookies are so good no one can tell they're made without flour or butter!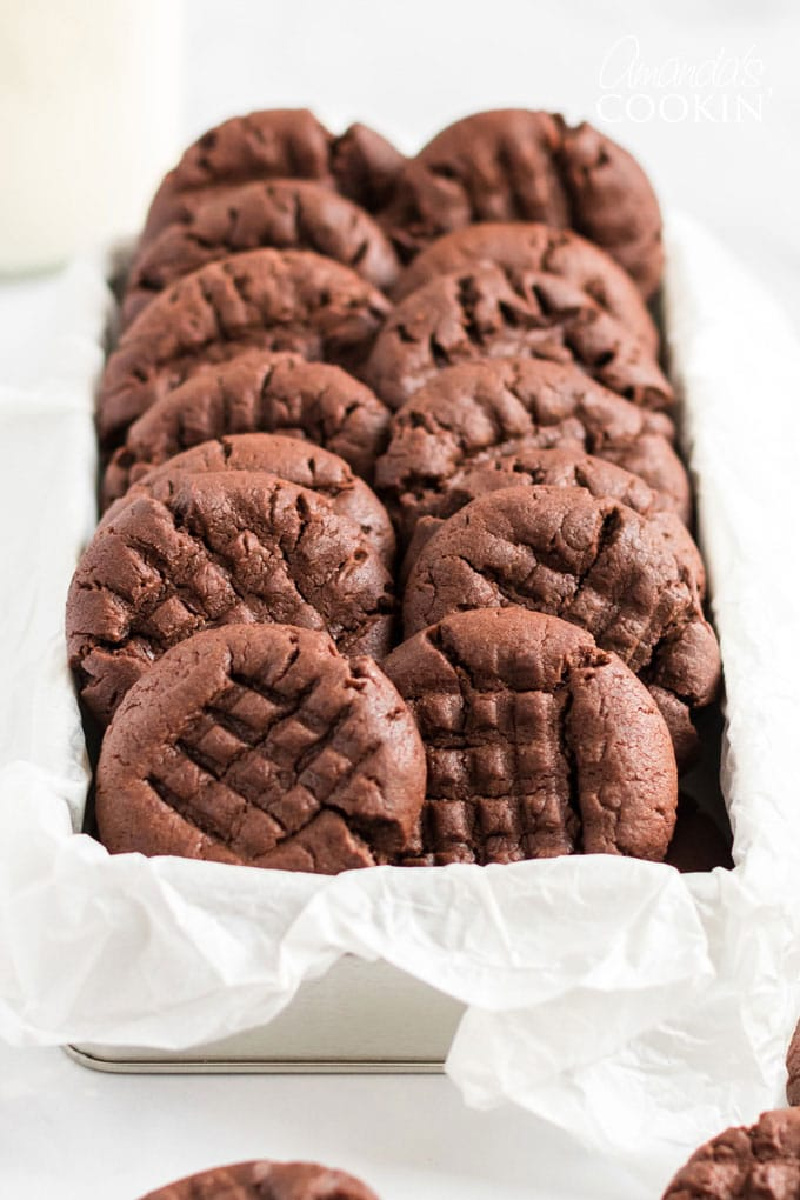 Chocolate Peanut Butter Cookies by Amanda's Cookin'. These cookies are nice and soft and full of chocolate peanut buttery flavor!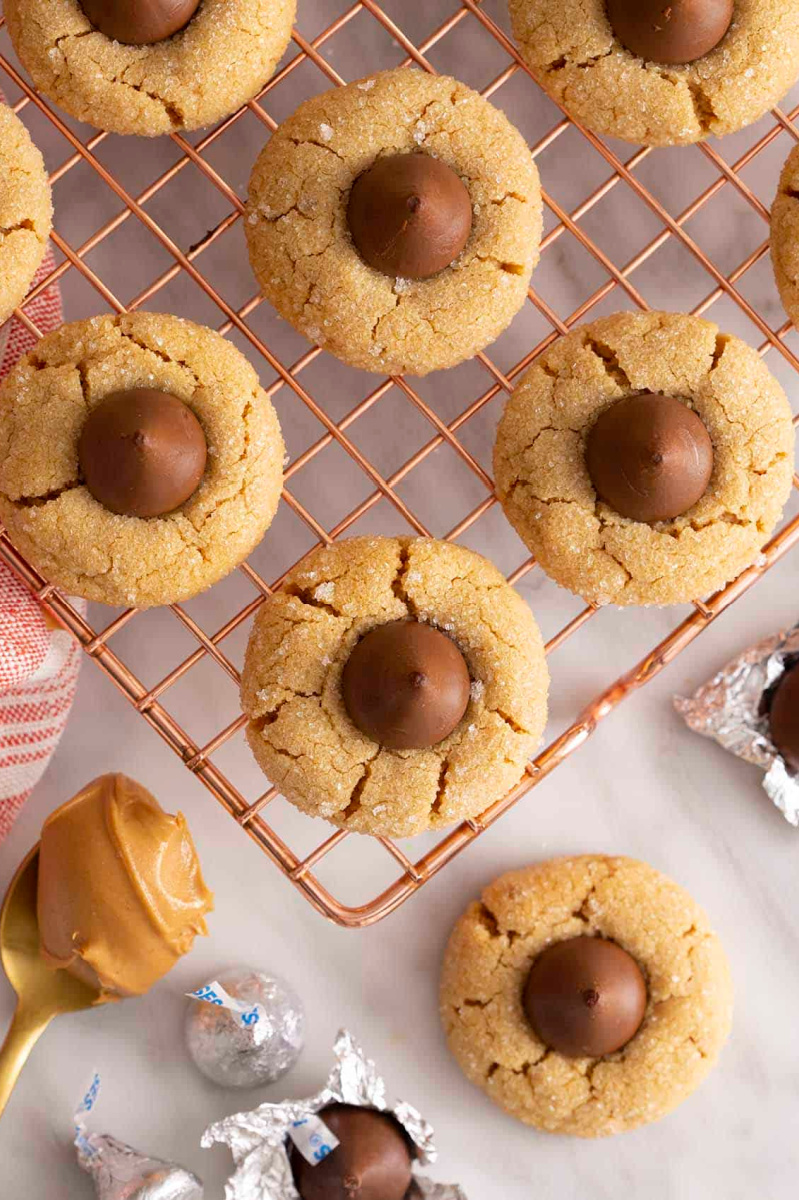 Peanut Butter Blossoms by Preppy Kitchen. These cookies have lots of peanut butter flavor and a big kiss of chocolate right in the middle.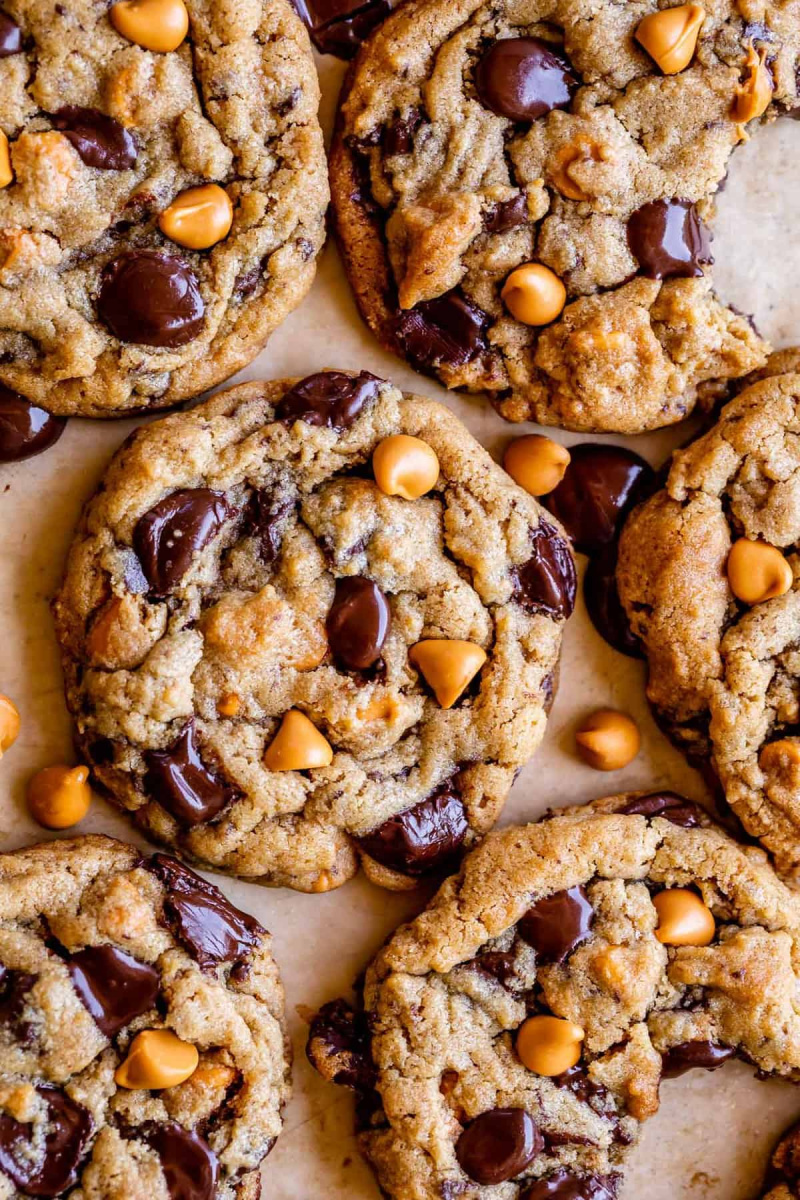 Peanut Butter- Butterscotch Chocolate Chip Cookies by The Food Charlatan. This recipe turns out tender, chewy peanut butter cookies loaded with tons of dark chocolate and butterscotch chips.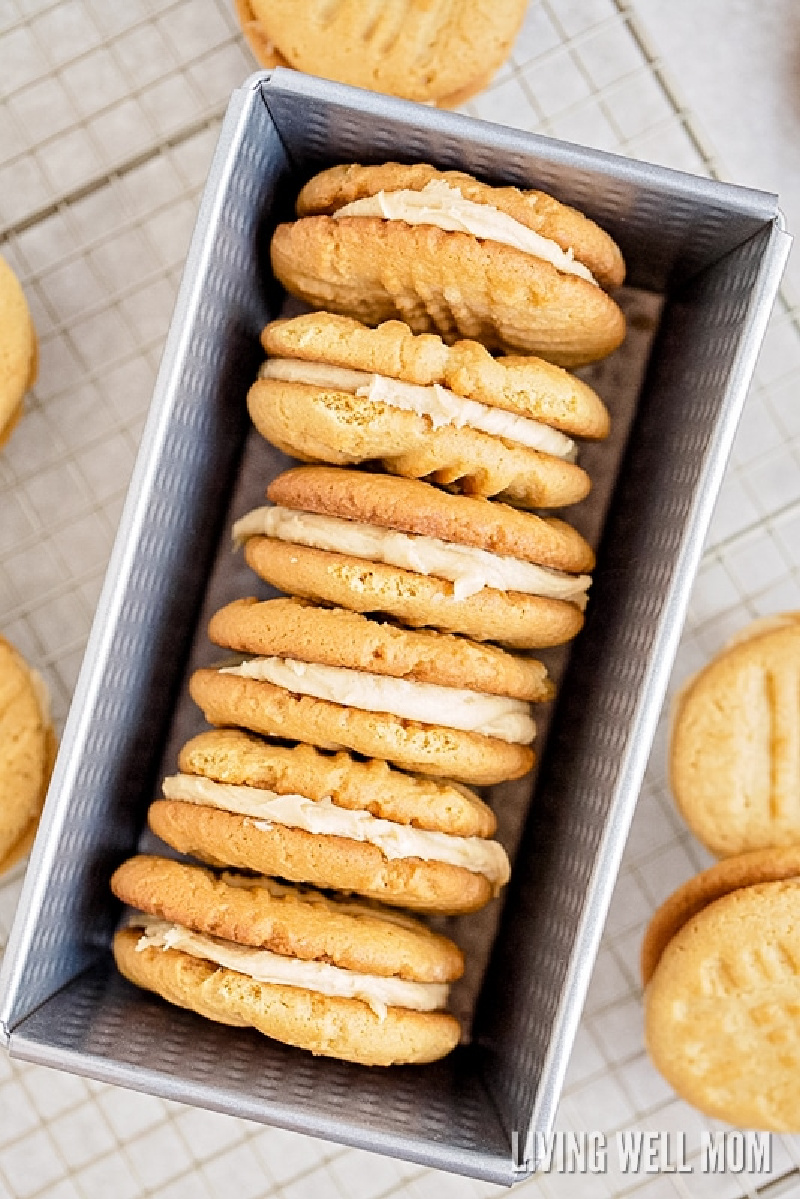 Peanut Butter Sandwich Cookies by Living Well Mom. This recipe takes a delicious chewy peanut butter cookie and nestles a creamy peanut butter filling in the middle.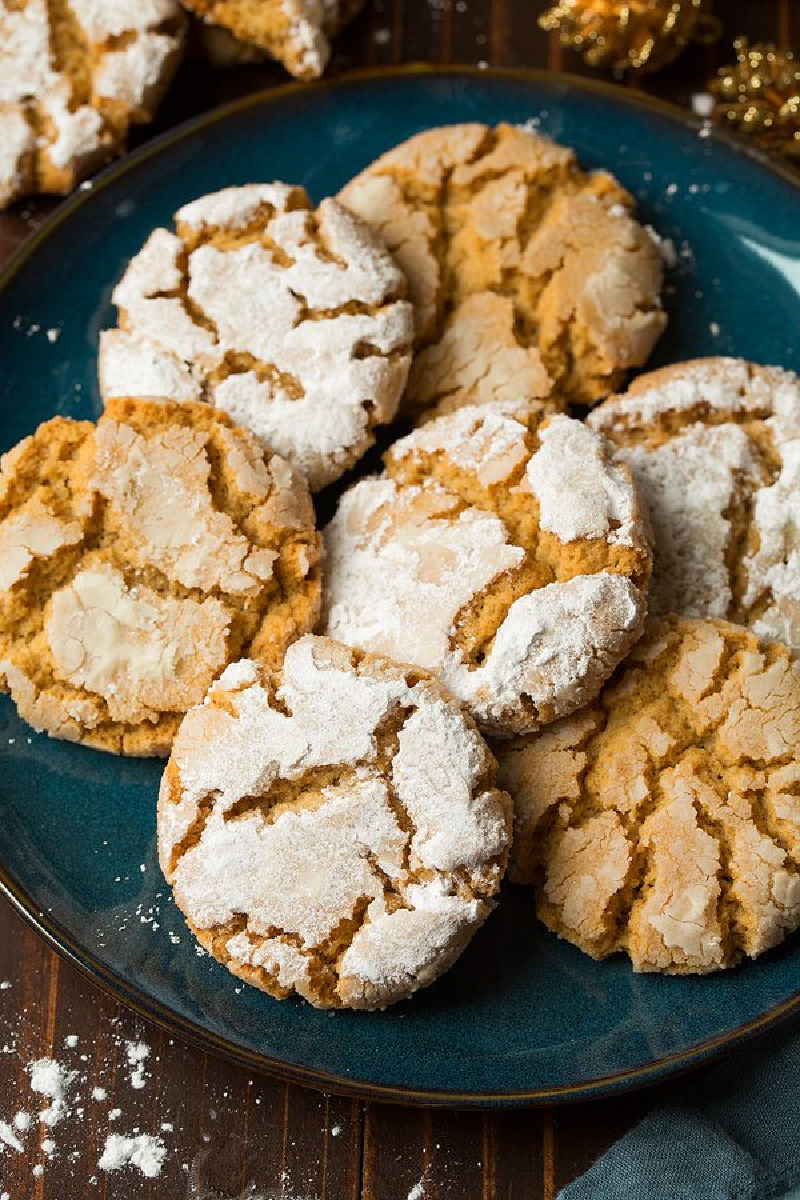 Crisp Peanut Butter Crinkles by Cooking Classy. These cookies have the perfect amount of peanut butter flavor and a crisp melt-in-your-mouth texture.
Fun Facts about Peanut Butter:
It takes 540 peanuts to make a 12-ounce jar of peanut butter.
There is a jar of peanut butter in 75% of American homes.
The average American will eat about 3,000 peanut butter and jelly sandwiches in their lifetime!
Peanut butter is not as popular in Europe. The average European only eats about 1 tablespoon of peanut butter per year.
Women and children tend to prefer creamy peanut butter, and men prefer crunchy.
Archibutyrophobia is the fear of getting peanut butter stuck to the roof of your mouth.