Soft Pretzel Bites are delicious, buttery pretzels in snack size bites baked and served with easy-to-make gooey cheddar cheese sauce. Watch the video in the recipe card at the end of this post to see how to make soft pretzel bites!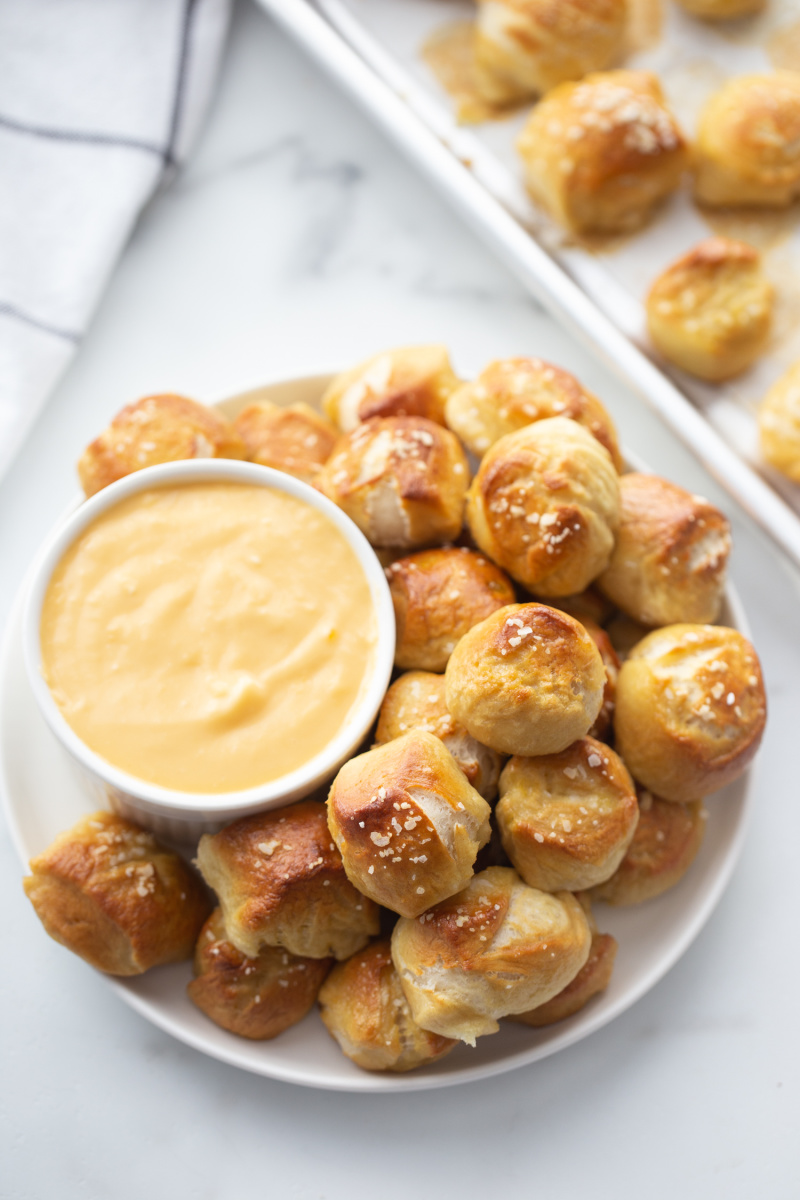 March 4th is National Snack Day! Technically, snacks are a small portion of food that is eaten between meals. 95% of Americans snack at least once per day. The average American will spend an estimated $30,000 on snack foods during their lifetime!
What are the most popular snack foods in America?
Ritz, Lays, Doritos and Cheez-Its are the most popular snack foods in the USA. For National Snack Day, you can pick up your favorite snack, or make some Soft Pretzel Bites to snack on instead!
What is the oldest snack food?
The oldest snack food is said to be popcorn! 7,000 year old corn husks were discovered, which were thought to have been heated and popped by ancient indigenous people.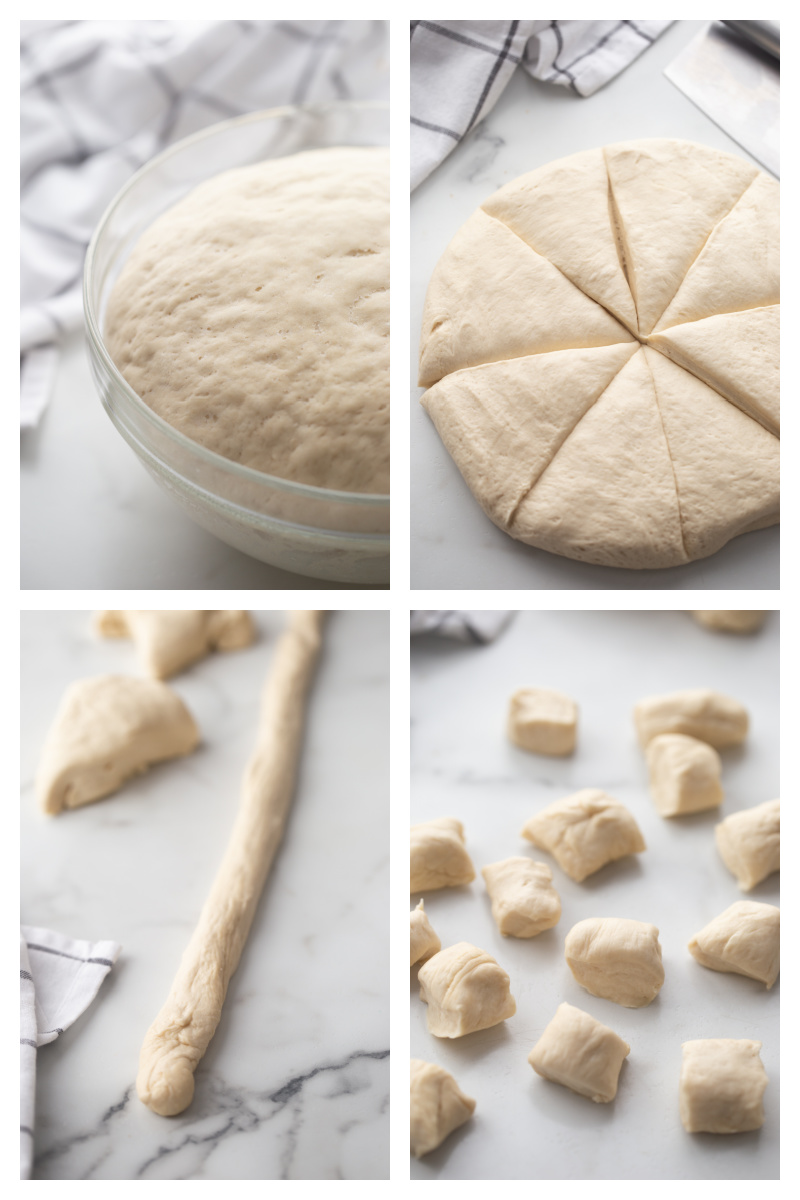 How to make Soft Pretzel Bites:
You'll begin by making a traditional soft pretzel dough. It's a yeasted dough, so it will be kneaded and given a chance to rise.
The risen dough is flattened into a disk and cut into 8 wedges. Each wedge is rolled into a long rope. Each rope is cut into 1-inch bite-sized pieces.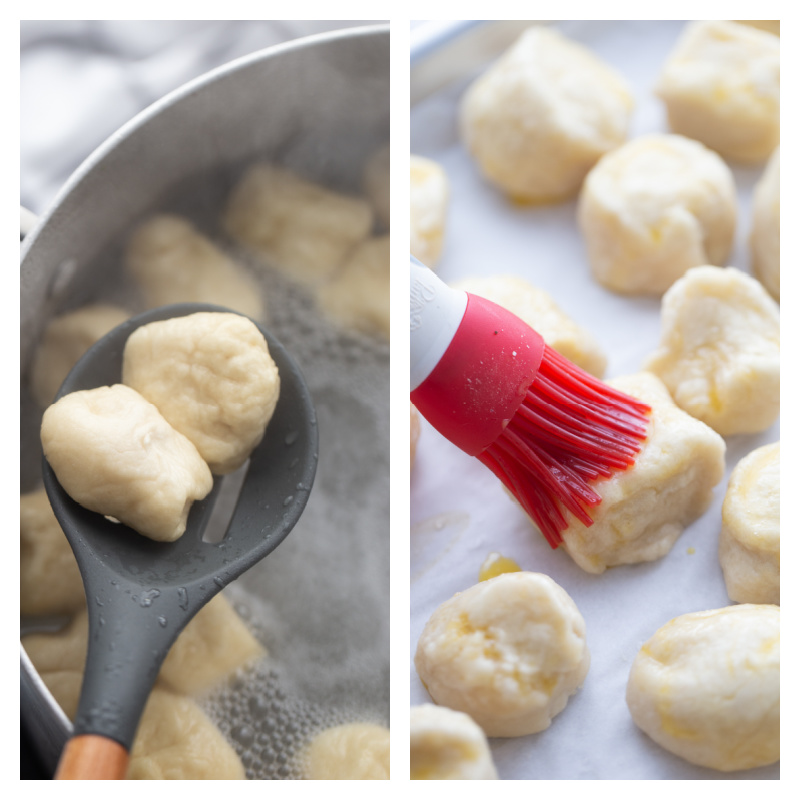 The pretzel pieces are dropped in boiling water for about 35 seconds, and then they are removed from the water and placed onto a baking sheet. An egg wash is brushed on top. And then salt is sprinkled on last.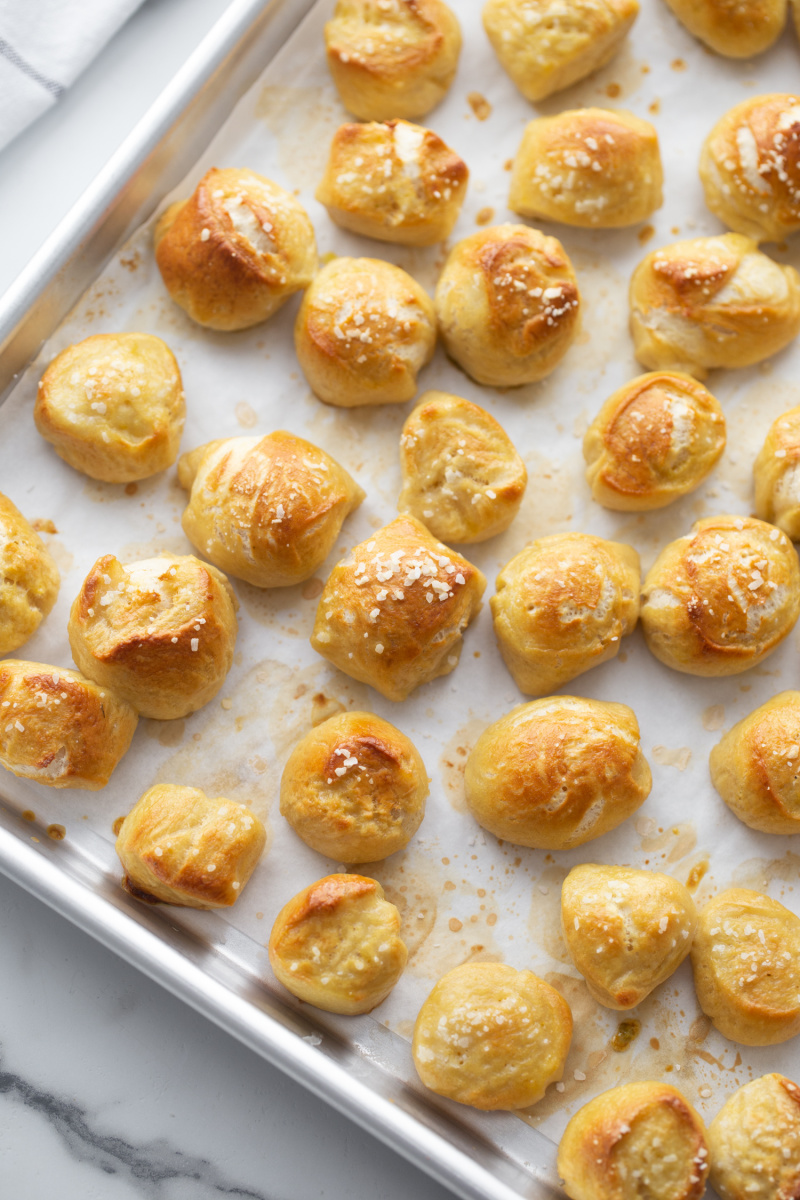 The soft pretzel bites are baked for about 15 minutes- until they are golden brown.
How to make cheese sauce for Soft Pretzel Bites:
Pretzel bites need cheese sauce for dipping! Melt butter in a saucepan. Whisk in flour. Then whisk in milk. Once the milk has thickened, stir in shredded cheese. Then you'll have the most fabulous cheese sauce!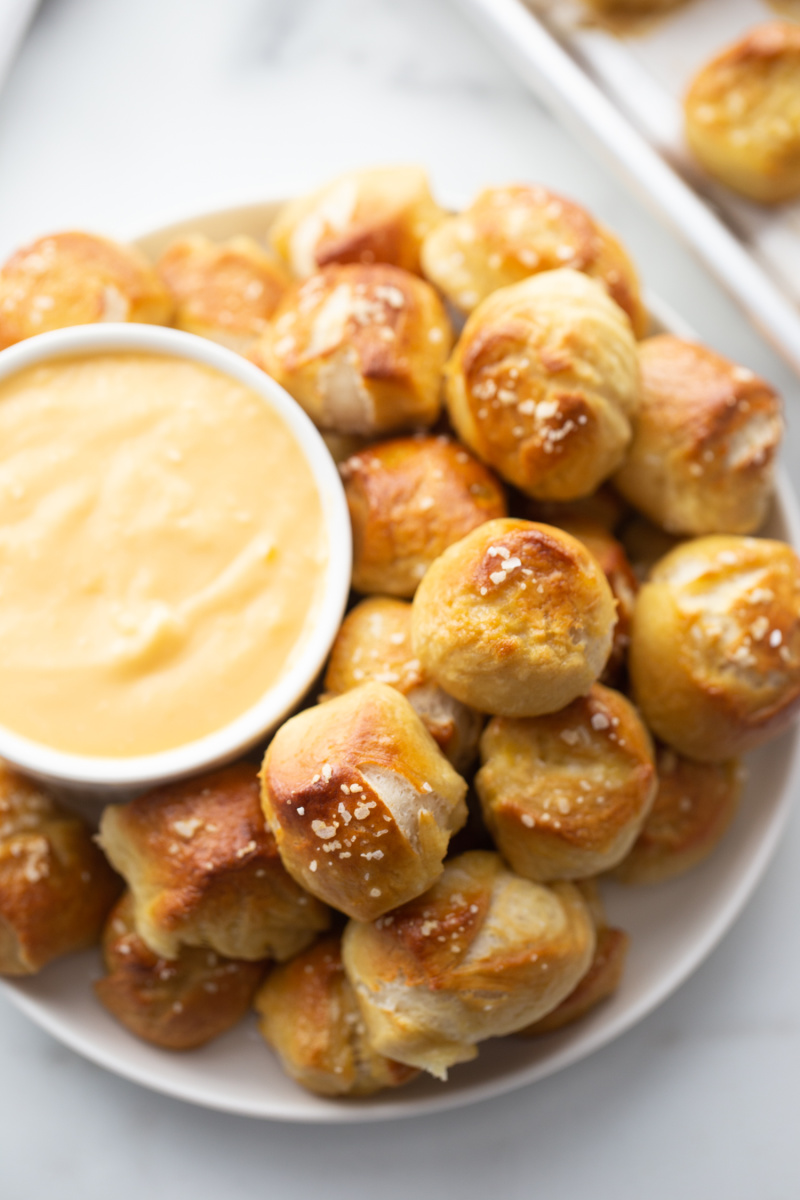 Soft Pretzel Bites with cheese sauce are the perfect snack food. They're a comforting treat for happy hour, Game Day, an appetizer to share with friends or for a rainy day. They are also a fun project to make with kids. Serve with my Queso Fundido for a decadent treat! Enjoy!
Timeline of Snack Inventions:
1896: Cracker Jacks
1903: Triscuits
1909: Snyders of Hanover Pretzels (still in Hanover, PA… and still owned and run by the founding family)
1917: Rold Gold Pretzels
1921: Cheez-Its
1930's: Lays Potato Chips (the first snack food company to buy commercial television spots)
1932: Fritos (inventor Charles Elmer Doolin invented Cheetos too!)
1934: Ritz Crackers
1948: Crunchy Cheetos
1950's: Ruffles (named for a strip of wavy fabric)
1950's: Cheese Doodles
1955: Cheese Nips
1965: Pringles
1966: Doritos (originally invented at Disneyland in an effort to use up stale tortillas. They began as lightly seasoned tortilla chips.)
1966: Bugles
1971: Puffy Cheetos
1972: Nacho Cheese Doritos
1980 Tostitos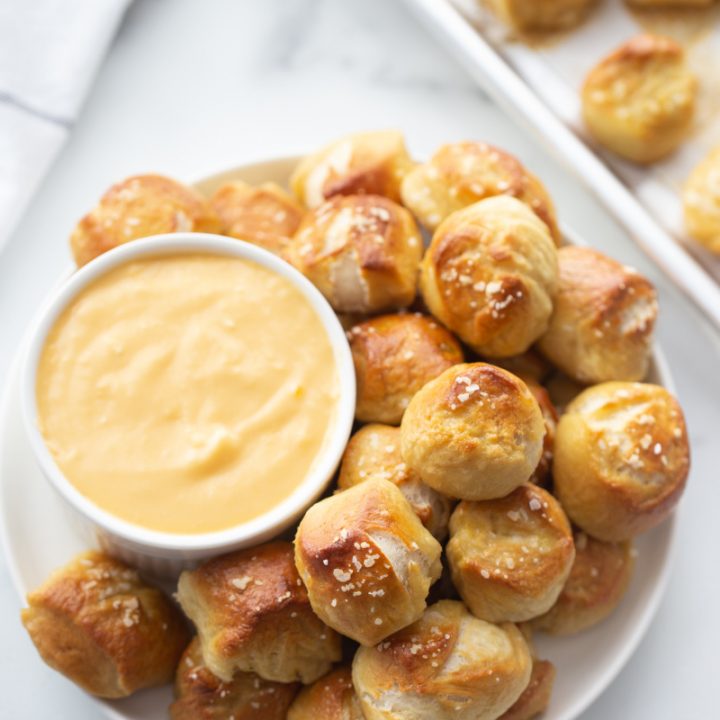 Soft Pretzel Bites with Cheese Sauce
The most delicious little mini pretzel bites with perfect cheese sauce for dunking!
Ingredients
PRETZELS:
1 1/2 cups warm water
6 tablespoons salted butter, melted
2 tablespoons brown sugar
One .25-ounce envelope active dry yeast
2 1/2 teaspoons kosher salt
4 cups all purpose flour
3 quarts cold water
1/2 cup baking soda
1 large egg whisked with 1 tablespoon water
coarse salt
CHEESE SAUCE:
2 tablespoons unsalted butter
2 tablespoons all purpose flour
1 cup milk
8 ounces (2 cups) shredded sharp cheddar cheese
Instructions
PREPARE THE PRETZELS:
In the bowl of a stand mixer with a hook attachment, add the water, butter, brown sugar, yeast
and salt. Mix until well combined. You can do this by hand if you need to- just use a sturdy wooden spoon to mix, and make sure it's mixed well. Let sit for 5 minutes.
Turn the mixer on low speed and add 1 cup of flour at a time. Add an additional ½ cup of flour to the mixture if the dough still seems sticky. Increase speed to medium and knead until the dough is smooth and pulls away from the sides of the bowl, 4 to 5 minutes. Sprinkle in more flour if the dough still seems sticky. Again-- you can do this all by hand if you need to. It'll take some arm strength to stir in the flour and knead the dough.
Spray a large bowl with nonstick spray. Add the dough to the bowl. Cover loosely with a clean dishtowel and let rise in a warm place for about 1 hour.
Preheat the oven to 425 degrees F. Line a large sheet pan with parchment paper.
Bring 3 quarts of water to a boil in a large saucepan. Sprinkle in the baking soda and return to a boil.
While the water is preparing to boil, remove the dough from the bowl and flatten it into a disc. Cut it into 8 wedges. Roll each wedge into a 24-inch rope. Cut each rope into 1-inch pieces.
Drop batches of the dough pieces into the boiling water for about 35 seconds. Then use a slotted spoon to transfer them to the prepared pan and spread them out so none of them are touching.
Brush the egg wash over the tops of each boiled dough piece. Repeat with the remaining dough. Sprinkle with salt.
Bake until golden brown- 14 to 16 minutes. Cool before serving.
PREPARE THE CHEESE SAUCE:
In a small saucepan over medium heat, melt the butter. Whisk in the flour and cook for 30 seconds. Slowly whisk in the milk until no lumps of flour remain.
Bring to a simmer (whisking constantly) over medium-low heat until it thickens, about 3 minutes.
Whisk in the shredded cheese until all of the cheese has melted. Serve immediately while warm- with the pretzel bites.
Nutrition Information:
Yield:

16
Serving Size:

1 serving (12 bites with cheese)
Amount Per Serving:
Calories:

244
Total Fat:

11g
Saturated Fat:

7g
Trans Fat:

0g
Unsaturated Fat:

4g
Cholesterol:

42mg
Sodium:

2367mg
Carbohydrates:

27g
Fiber:

1g
Sugar:

2g
Protein:

8g
Nutritional information is estimated using a nutrition calculator.