Cinnamon Sugar Soft Pretzels are the perfect, easy-to-make, homemade soft pretzels with a buttery cinnamon and sugar coating.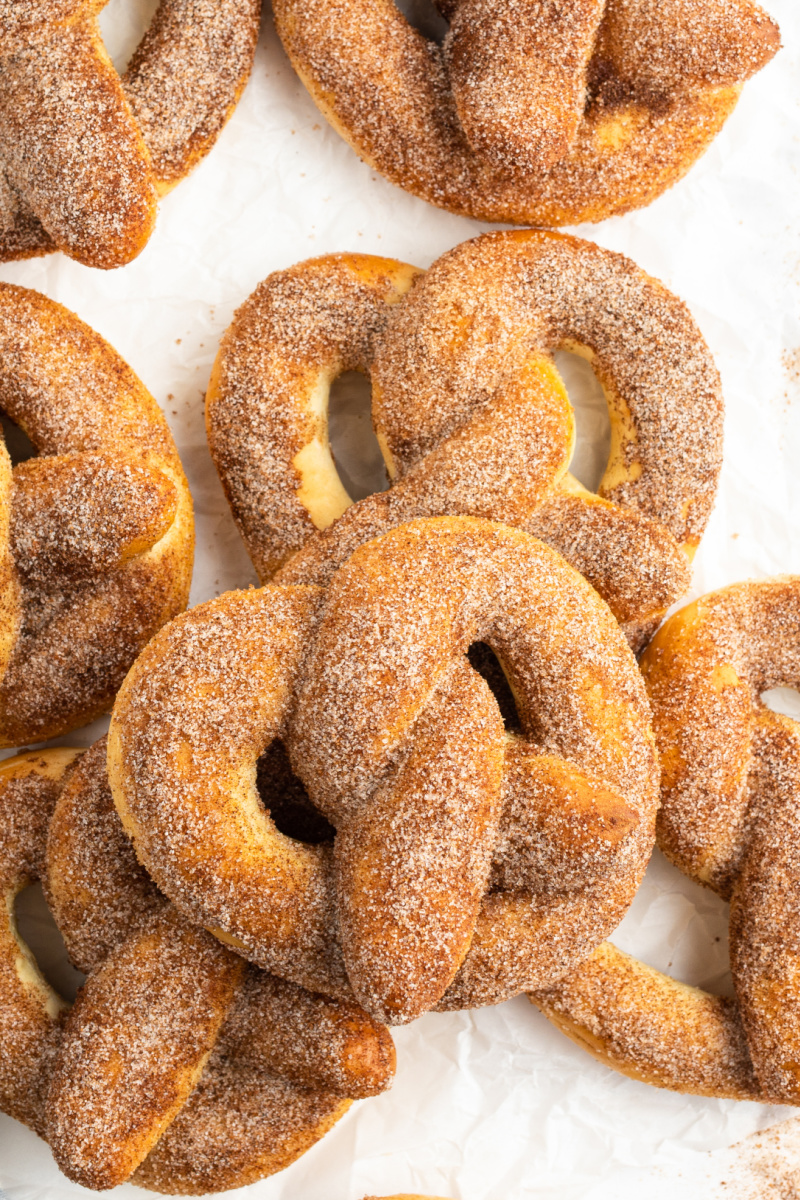 April 26th is National Pretzel Day. Celebrate by eating pretzels! You can grab a bag of pretzels, of course, but it's infinitely more fun to make some homemade pretzels. Try making Soft Pretzel Bites with Cheese Sauce, Classic Homemade Soft Pretzels or these Cinnamon Sugar Soft Pretzels. Use the hashtag #NationalPretzelDay or #PretzelDay, along with #RecipesForHolidays to share your pretzel celebration on social media.
The History of Pretzels:
One story says the pretzel could have been invented by an Italian monk in the year 610 A.D. To reward young children for learning their prayers, he supposedly folded strips of leftover bread dough to resemble the crossed arms of praying children and baked them as snacks. The name pretzel comes from the word "pretiola" or "little rewards." It's not known if this story is true, but most people agree that pretzels do have Christian origins. Pretzels eventually became associated with Lent because a simple recipe of flour and water made them a Lent-appropriate food since many foods need to be avoided during Lent.
Pretzels were part of wedding celebrations in the 16th century. The bride and groom would make a wish, break the pretzel and then each eat half of the pretzel to solidify their union.
Soft pretzels were introduced to America in the 19th century by German and Swiss Immigrants- many of whom settled in Pennsylvania. Hard pretzels were manufactured starting in 1850. Tell City, Indiana is a popular place to get hard pretzels in America. In 1858, a Swiss baker named Casper Gloor settled here and became famous for his pretzels, which came from a secret Swiss recipe. Today, Tell City Pretzels attracts people from all over the world who want to try their pretzels.
In 1935, the first automated pretzel machine was invented (turning out 250 pretzels per minute). Philadelphia is now the biggest city to produce pretzels in the United States, making 80% of the pretzels in America. There are about 45 pretzel companies in the state of Pennsylvania! Pretzels are a popular snack food selling more than 550 million per year.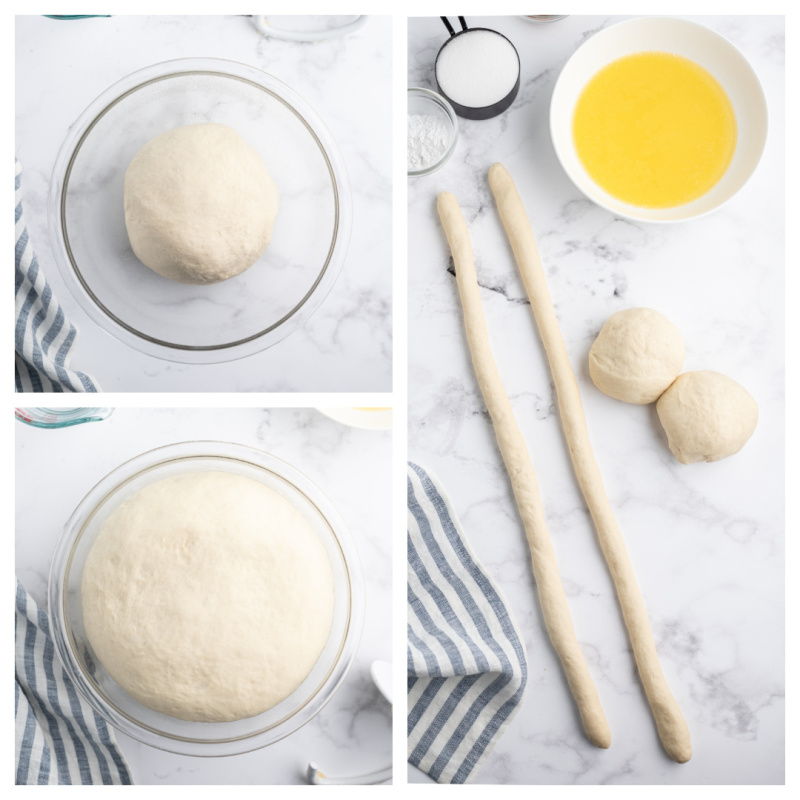 How to make Cinnamon Sugar Soft Pretzels:
Combine yeast, warm water, sugar, flour and salt. Knead until smooth. Then put the dough in a greased bowl, cover it with plastic wrap or a clean dish towel and list it rise for 30 minutes. Divide the dough into 8 equal pieces. Roll each piece into a 24-inch rope.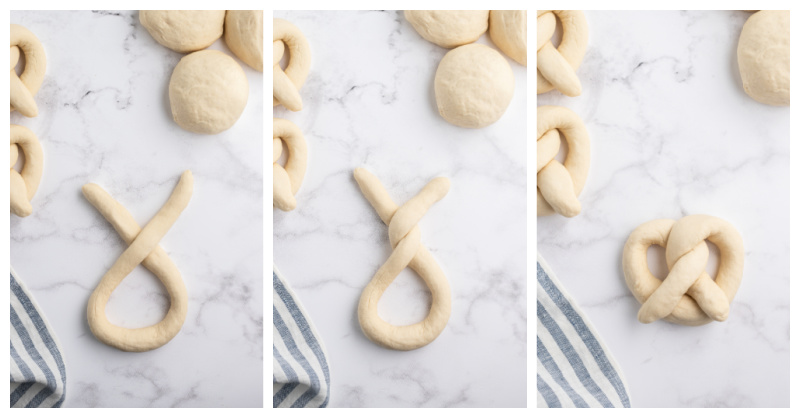 Form the ropes as show above to create pretzel shapes.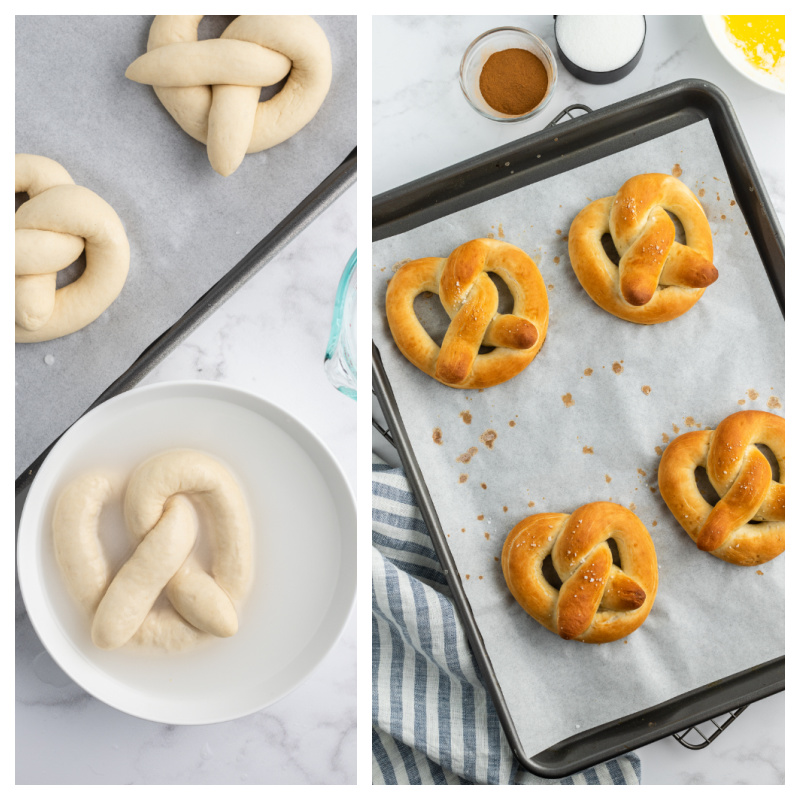 Submerge the shaped pretzels in water that has been mixed with baking soda, sprinkle with salt, and then let them rest on a baking sheet for 5 or 10 minutes. Bake the pretzels until golden brown- 12 to 15 minutes.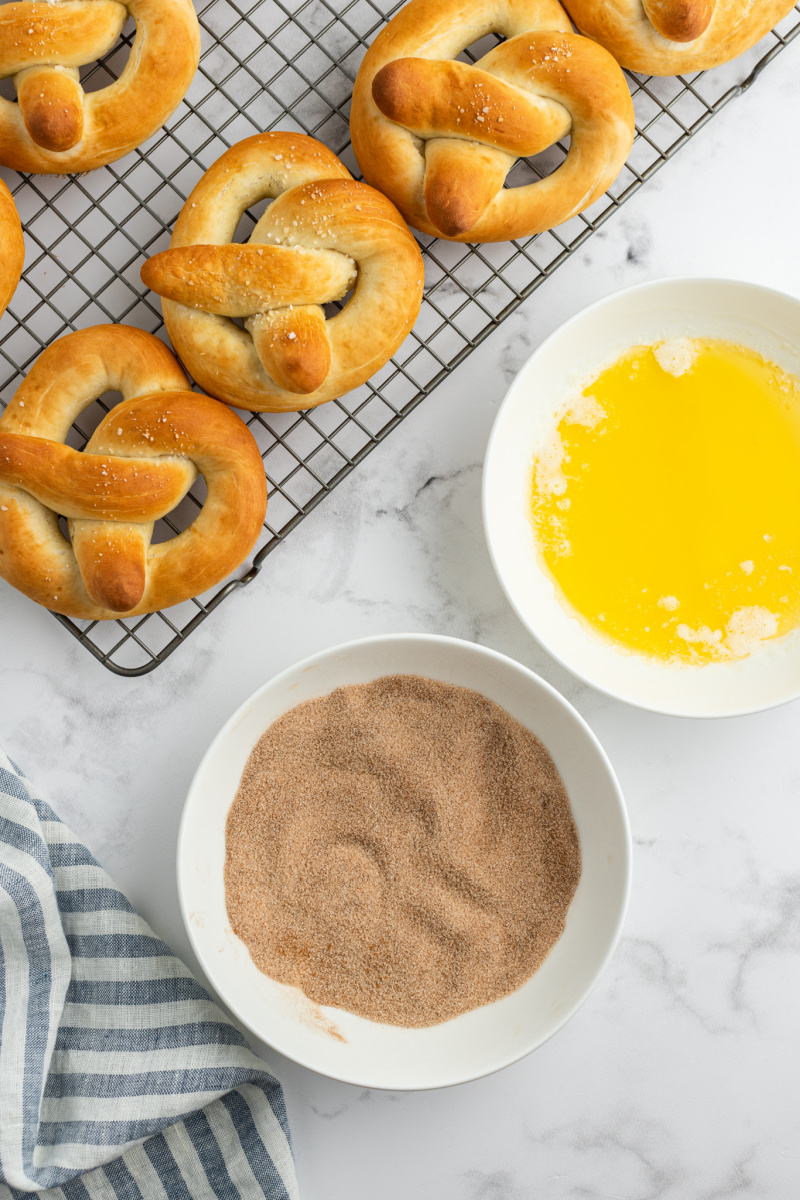 At this point, you can eat the pretzels plain and dipped in butter! But to make them Cinnamon Sugar Soft Pretzels, it's time to coat them. Dip in butter, and then roll in cinnamon and sugar.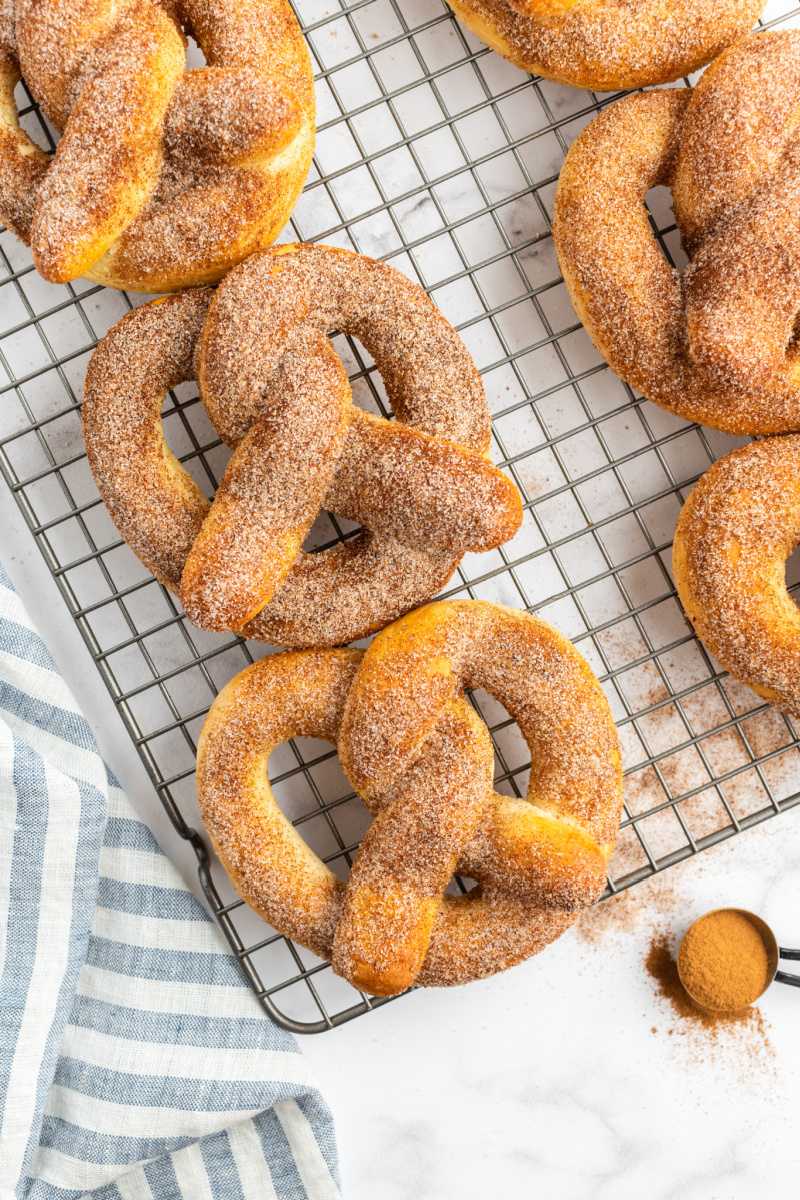 Lay the pretzels on a cooling rack to give the coating a chance to soak in.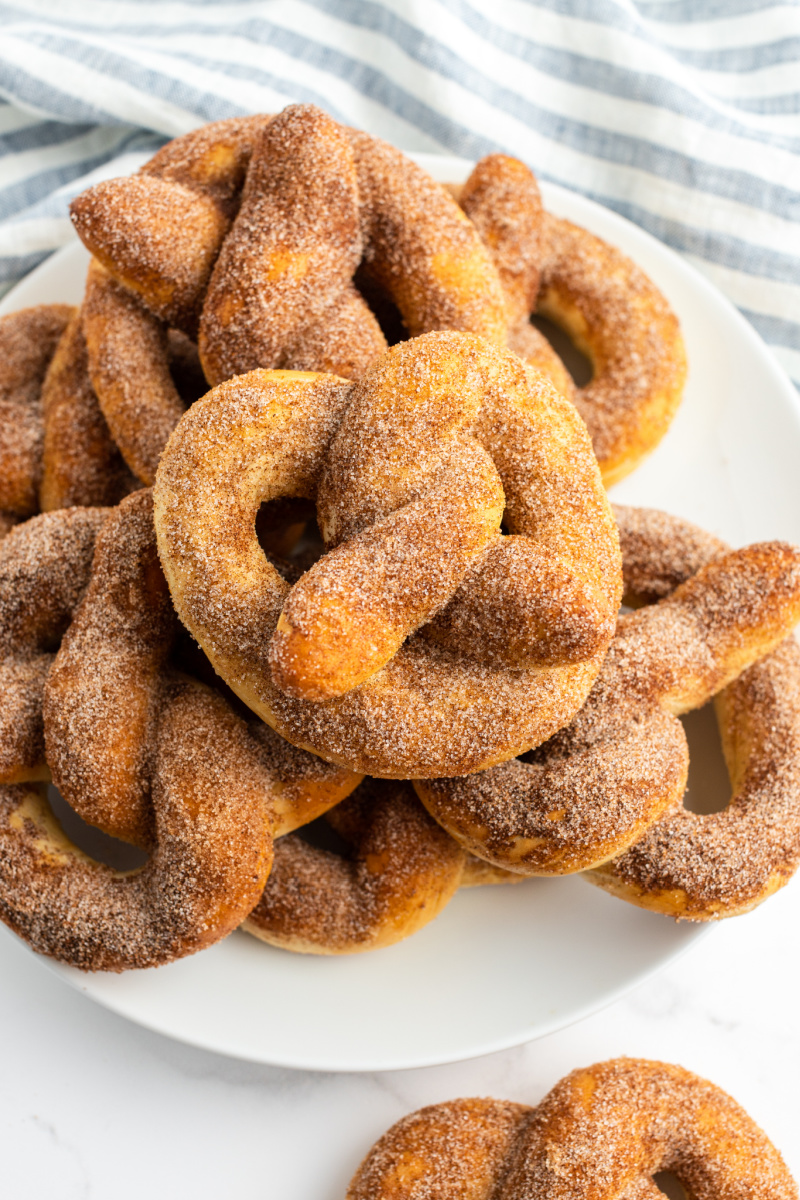 And then your Cinnamon Sugar Soft Pretzels are ready to serve! These are best when eaten the same day. If saving them for a day or two, keep them in a sealed container or a large zip baggie. Enjoy!
Fun Facts About Pretzels:
The average American eats 2 pounds of pretzels per year.
The average citizen of Philadelphia eats 12 pounds of pretzels per year.
Pretzels are sold in classic pretzel shapes, twists, loops, rods, bits and more.
Pretzel dough is used to make pretzel rolls or the covering for pigs in a blanket too.
Pretzels were once a big part of Easter celebrations and were hidden like Easter eggs.
Unsalted pretzels are called "baldies."
Beer and pretzels have been said to be a perfect paring because the salt brings out the flavor and hoppyness in the beer.
Hard pretzels are said to have been accidentally invented by a pretzel baker who left his pretzels baking too long and they became hard and crunchy. Everyone loved them!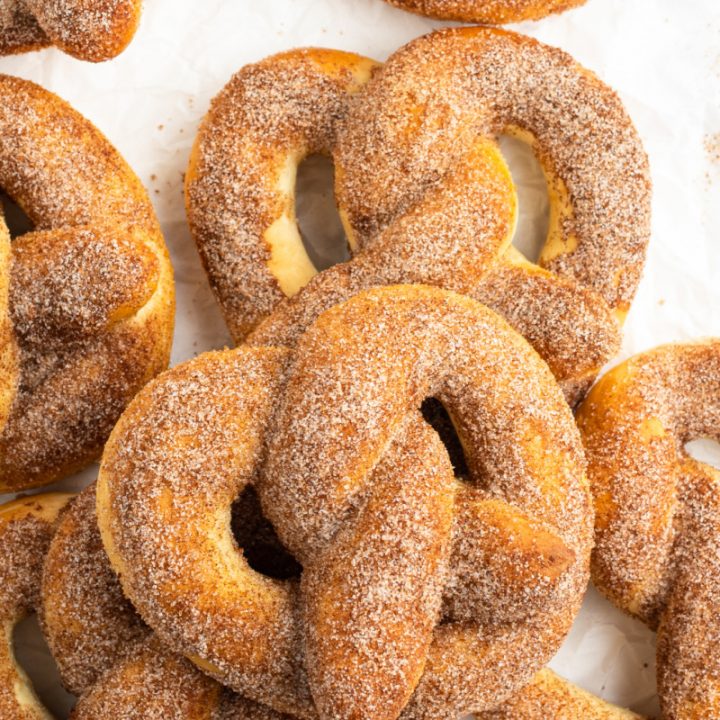 Cinnamon Sugar Soft Pretzels
Additional Time:
30 minutes
Total Time:
1 hour
27 minutes
Delicious baked soft pretzels coated with butter and cinnamon-sugar.
Ingredients
PRETZELS:
3 teaspoons instant dry yeast
1 1/2 cups warm water (about 105 degrees F)
2 tablespoons granulated white sugar
4 cups all purpose flour
1 teaspoon salt
1 cup water
2 teaspoons baking soda
CINNAMON- SUGAR COATING:
1/2 cup granulated white sugar
1 tablespoon ground cinnamon
1/2 cup (1 stick) melted butter
Instructions
MAKE THE PRETZELS:
In a large bowl, combine the yeast, warm water and sugar. Add in the flour and salt and knead until smooth (you can use your hands, or you can use a stand mixer with a dough hook for this part).
Grease a second bowl with nonstick cooking spray and place the dough into the bowl. Cover with greased plastic wrap or a clean dish towel and let rise for 30 minutes in a warm place.
Preheat the oven to 425 degrees F. Line 2-baking sheets with parchment paper or silpat mats.
Divide the dough into 8 equal parts. Roll each part into a rope about 24 to 26 inches long and form into a pretzel shape (follow the photos in the post to see how to shape the pretzels).
In a shallow bowl, combine water and baking soda. Submerge each pretzel in the water and then place on the prepared baking sheets. Sprinkle with salt. Let the pretzels rest for 5 to 10 minutes.
Bake 12 to 15 minutes, or until golden brown. Move the pretzels to a cooling rack.
ADD THE COATING:
When ready to serve, dip in butter and cinnamon/sugar. Combine the sugar and cinnamon in a bowl. Dip the pretzels into the melted butter and then into the sugar mixture. These pretzels are best served the same day.
Nutrition Information:
Yield:

8
Serving Size:

1 pretzel
Amount Per Serving:
Calories:

397
Total Fat:

12g
Saturated Fat:

7g
Trans Fat:

0g
Unsaturated Fat:

4g
Cholesterol:

31mg
Sodium:

675mg
Carbohydrates:

65g
Fiber:

3g
Sugar:

16g
Protein:

7g
Nutritional information is computed using a nutritional calculator. It is not likely to be 100% accurate.