Chocolate Chip Banana Snack Cake is an easy to make, delicious, smaller-portion cake that is great to eat for breakfast, snack-time or dessert.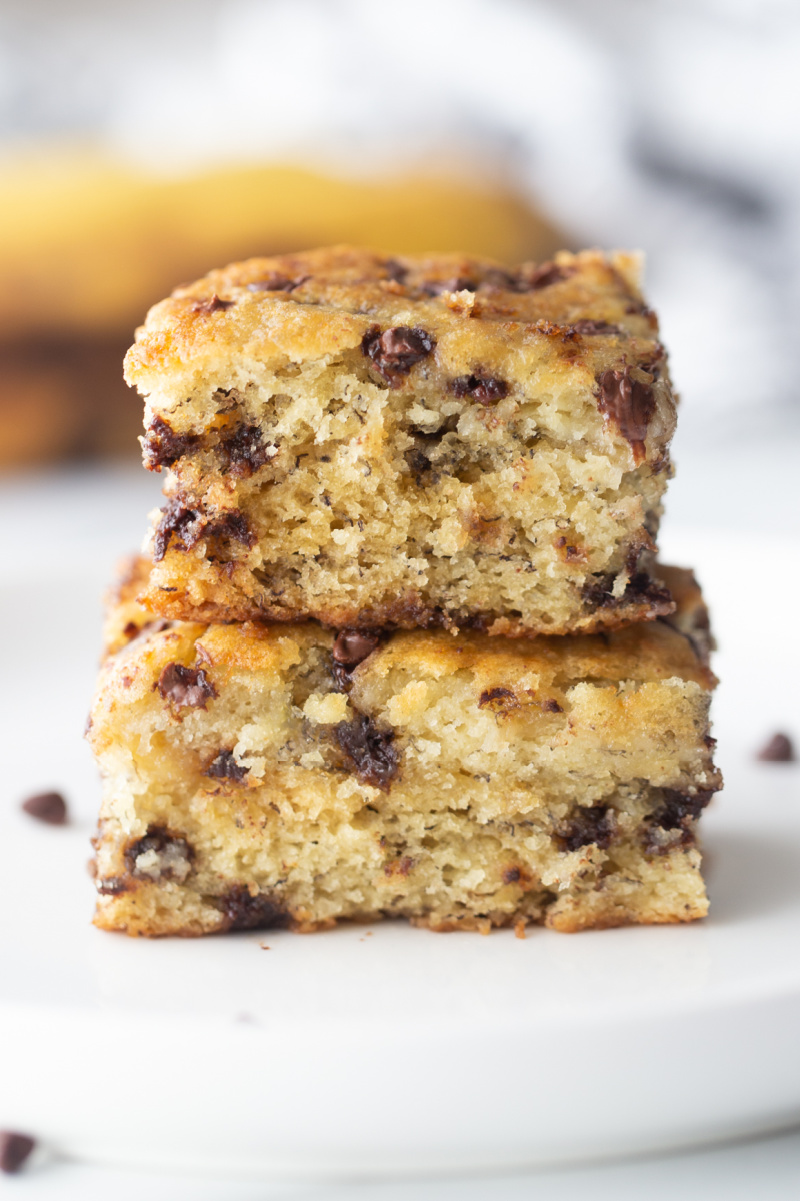 April 21st is National Banana Day! It's a good day to eat a banana. You can also eat a banana split, chocolate covered bananas, make Banana Blueberry Blender Pancakes or bake this Chocolate Chip Banana Snack Cake! Share your banana love on social media by using the hashtag #NationalBananaDay or #BananaDay.
The History of Bananas:
Bananas are believed to have been the world's first cultivated fruit- around 8000 to 5000 BC in Southeast Asia. Explorers brought bananas to the New World in the 1600's. By the late 1880's, their popularity soared when bananas started being mass produced.
The banana split was invented in 1904 by an employee at the Tassel Pharmacy soda fountain in Latrobe, Pennsylvania.
In the United States today, bananas are only grown commercially in Hawaii. Most bananas that Americans eat come from Latin America and South America.
Bananas compete with tomatoes for being the number one world's most popular fruit. More than 100 billion bananas are eaten every year.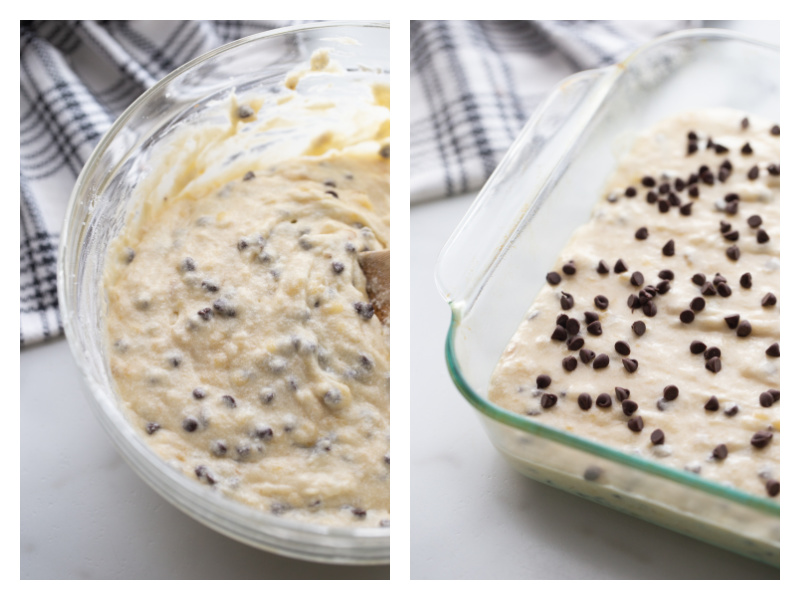 How to make Chocolate Chip Banana Snack Cake:
Use an electric mixer to beat butter and sugar together until fluffy. Mix in the egg. Add mashed banana and milk. Something to note about the banana: the more ripe your banana is, the better. Ripe bananas will have wonderful, sweet flavor and help to make your cake more delicious.
The wet ingredients are combined with flour, baking powder, baking soda and salt. Finally, stir in miniature chocolate chips. Mini chips are best to use because they spread the chocolate love all over the cake much easier than larger chips. More mini chips are sprinkled on top. The cake is baked for about 30 minutes.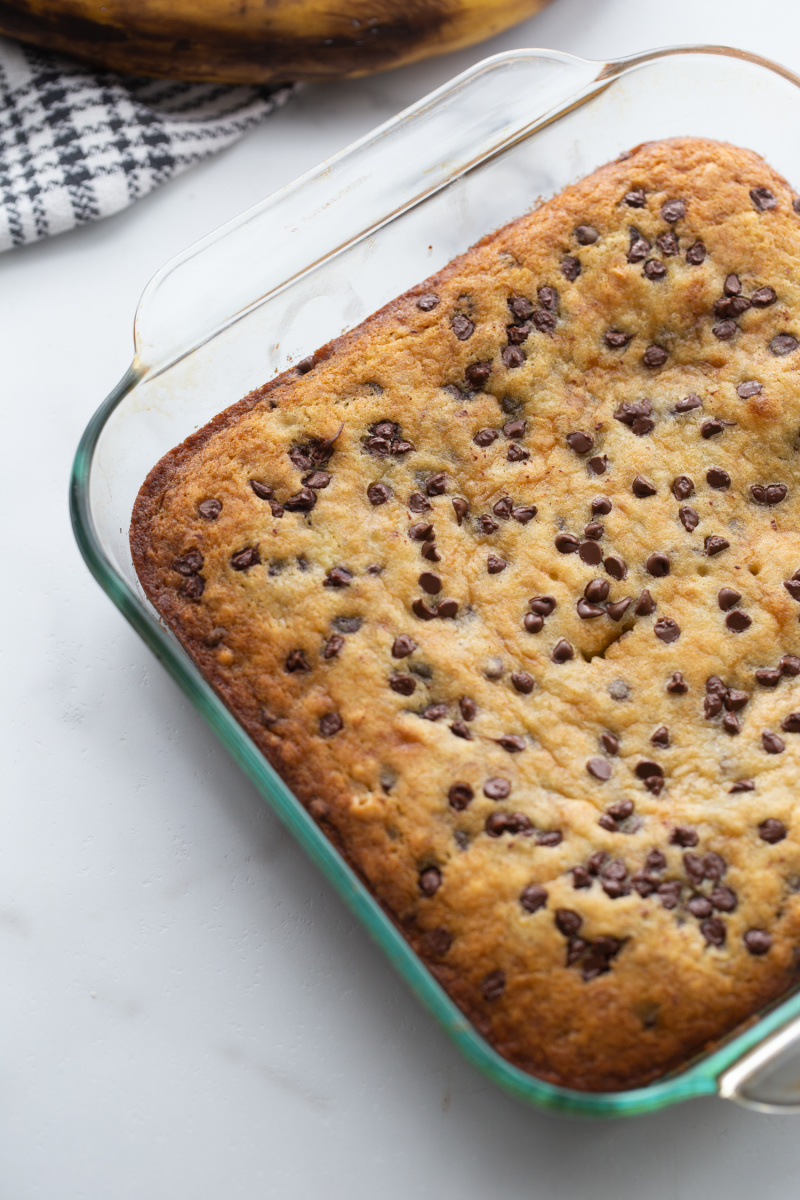 This Chocolate Chip Banana Snack Cake is a little different than banana bread because it has a lighter texture. It's perfect for eating with a cup of coffee or tea.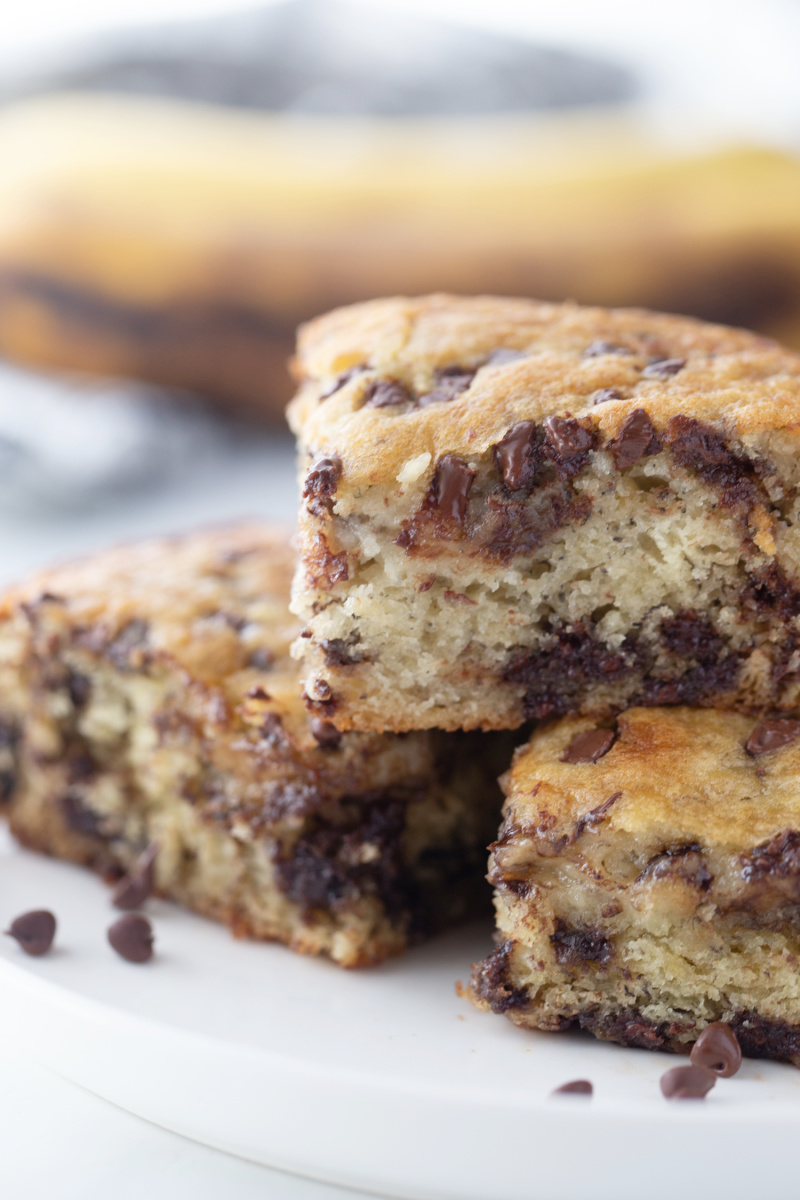 There's the perfect combination of banana cake with little chunks of chocolate strewn throughout. It's a delicious cake that you'll want to bake again and again. Grab those ripe bananas, and get to work. Enjoy!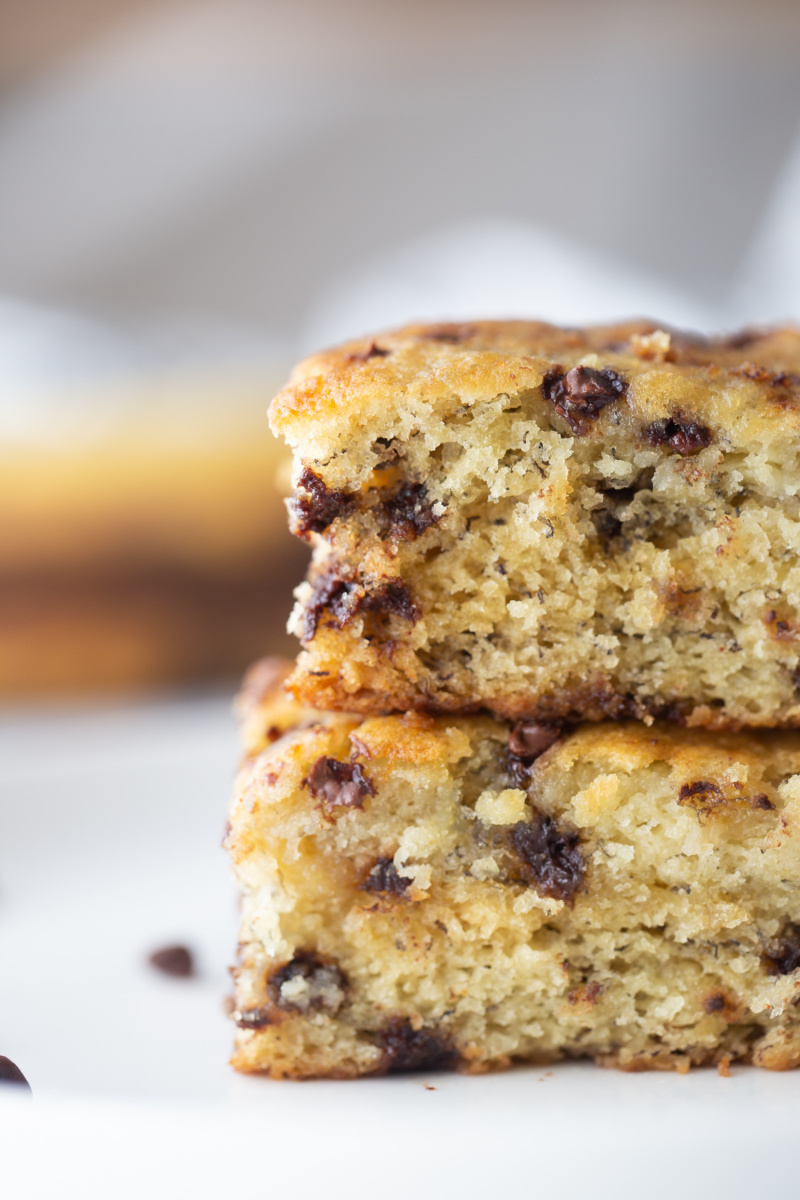 Fun Facts About Bananas:
Every American eats an average of 27 pounds of bananas per year.
Ecuador is the world's largest consumer of bananas.
Bananas float in water because they are less dense compared to water.
More songs have been written about bananas than any other fruit.
The inside of a banana peel can help reduce itching and inflammation (think bug bites!)
There's a banana museum near Victorville, CA that houses more than 17,000 banana-themed items.
Bananas are great pre-workout snacks because their high level of potassium is good for muscle function.
Rubbing a banana peel on your forehead can help cure a headache.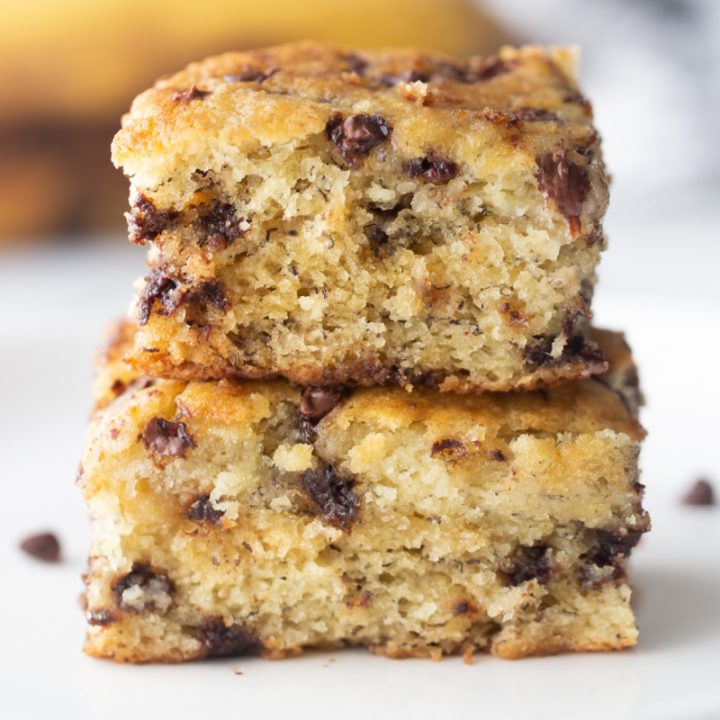 Chocolate Chip Banana Snack Cake
Super easy cake to bake, and it's perfect for snacking!
Ingredients
1/3 cup butter, at room temperature
¾ cup granulated white sugar
1 large egg
1 cup mashed ripe banana
½ cup milk
1½ cups all purpose flour
¾ teaspoon baking powder
¾ teaspoon baking soda
¼ teaspoon salt
¾ cup miniature chocolate chips, divided
Instructions
Preheat the oven to 350 degrees F. Spray an 8x8-inch pan with nonstick spray.

In a large bowl, use an electric mixer to beat together the butter and sugar until flight and fluffy- about 2 minutes. Beat in the egg. Add in the banana and milk, and continue to mix until combined.

In a separate bowl, whisk together the flour, baking powder, baking soda and salt. Stir in the dry ingredients just until combined. Stir in ½ cup chocolate chips.

Scrape the batter into the prepared pan and smooth the top to even it out. Sprinkle ¼ cup of chocolate chips on top of the batter.

Bake 30 to 35 minutes, or until a toothpick tests clean when inserted into the cake. Let the cake cool completely before cutting.
Nutrition Information:
Yield:

8
Serving Size:

1
Amount Per Serving:
Calories:

345
Total Fat:

14g
Saturated Fat:

8g
Trans Fat:

0g
Unsaturated Fat:

5g
Cholesterol:

45mg
Sodium:

310mg
Carbohydrates:

54g
Fiber:

2g
Sugar:

31g
Protein:

5g
Nutritional information is computed using a nutrition calculator and is likely not 100% accurate.