White Chocolate Snickers Cheesecake is a totally decadent and delicious white chocolate cheesecake with plenty of Snickers Bars mixed in and Hot Fudge and more Snickers Bars on top!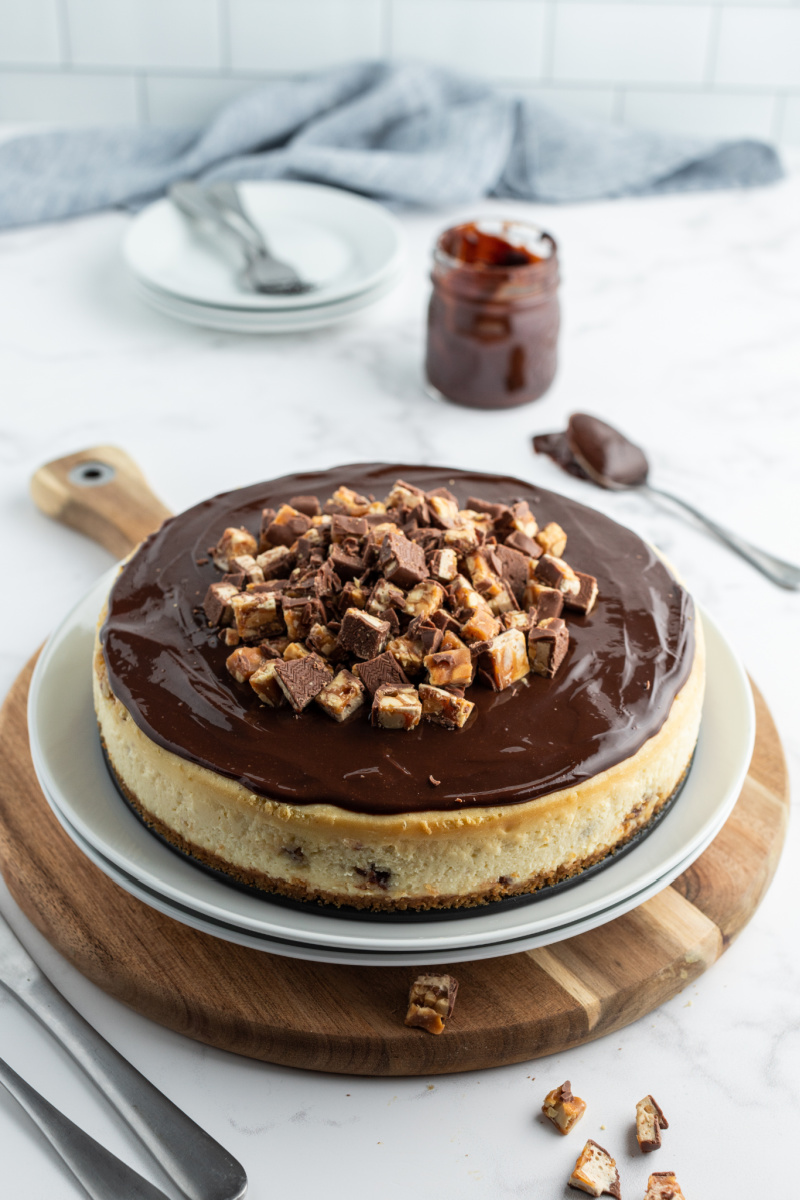 March 6th is National White Chocolate Cheesecake Day! White chocolate isn't actually chocolate at all because it doesn't contain any cocoa. But it's sweet and decadent, and it's a delicious contribution to cheesecake. Celebrate this day by (obviously) baking your own white chocolate cheesecake, and this recipe for White Chocolate Snickers Cheesecake is the one to try!
The History of Cheesecake:
Although it was very different than what we know as cheesecake today, the first cheesecake is said to have surfaced 4,000 years ago in ancient Greece. Cheesecake was thought to have a good source of energy, so it was given to athletes at the 1st Olympic games in 776BC.
In the 18th century, more modern cheesecakes began to appear (more like dessert).
In 1872, a New York dairy farmer who was attempting to make the French cheese Neufchatel accidentally created what we now know as cream cheese. What a great invention! Three years later, cream cheese was packaged in foil and sold as Philadelphia Cream Cheese. It was the perfect cheese to use in baking cheesecakes and making things like Cherry Cream Cheese Pie.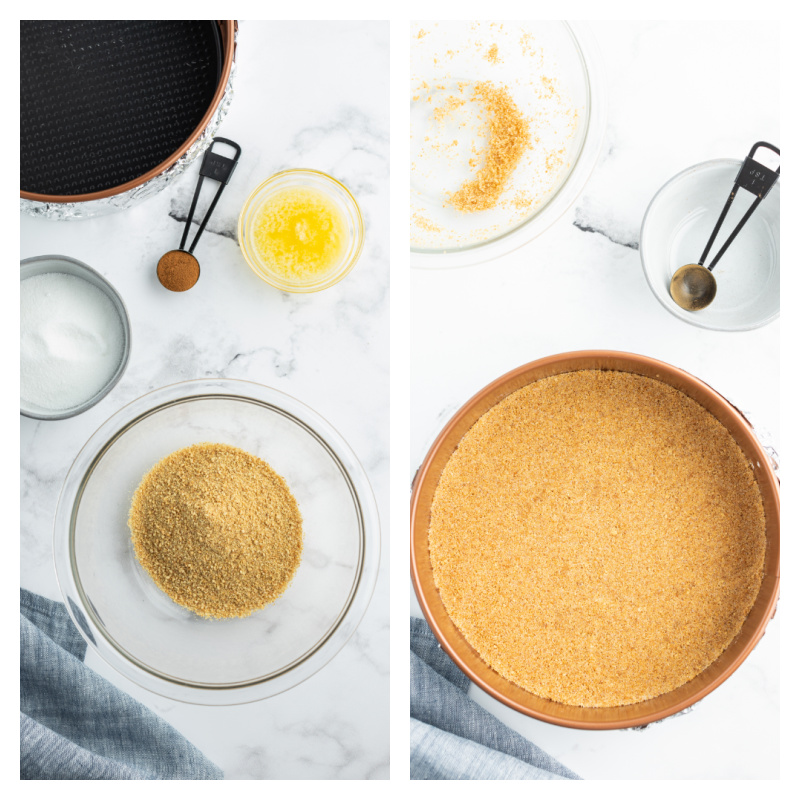 How to make cheesecake crust:
Traditional American cheesecake is made with a graham cracker crust. And that's what we start with for this White Chocolate Snickers Cheesecake. The graham cracker crust is a mix of graham cracker crumbs, sugar, cinnamon and melted butter. The crust is pressed into the bottom of a 10-inch springform pan, but it does not need to be baked.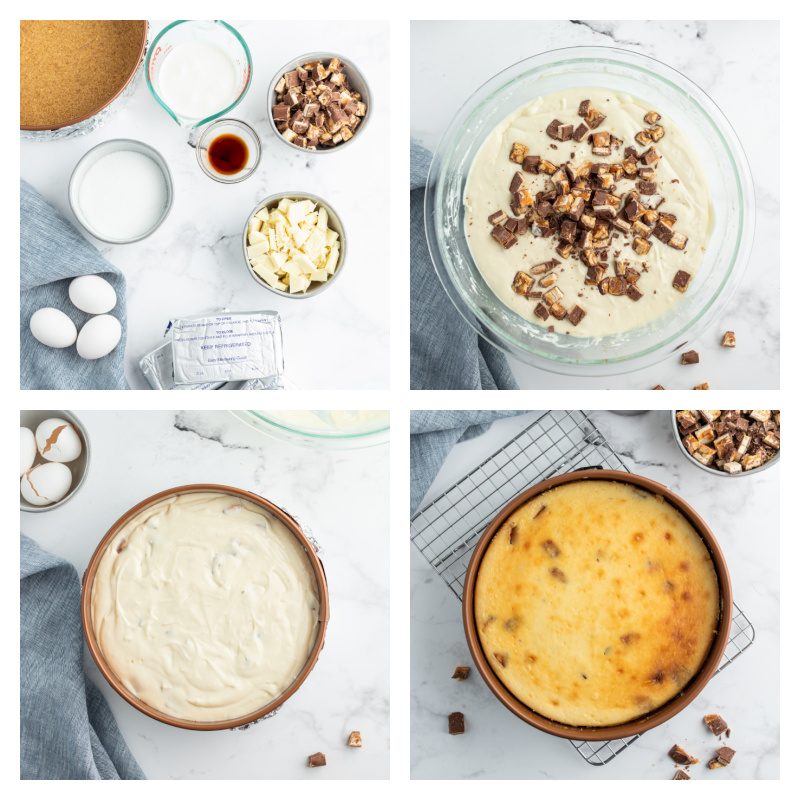 How to make White Chocolate Snickers Cheesecake:
Next is the filling for the cheesecake! A whopping 32-ounces of cream cheese is combined with sugar, eggs, vanilla, white chocolate (that has been melted into warmed heavy whipping cream) and chopped Snickers candy bars.
How to bake a cheesecake in a water bath:
Cheesecakes turn out best when they're baked in a water bath and the water bath will lessen the chance for cracking on top. Wrap the outside of the springform pan with 2-layers of heavy duty foil and set it (filled with the cheesecake filling) in a water-filled rimmed pan. Wrapping the cheesecake ensures that the water will not seep into the pan while baking. Bake the cheesecake for 1 1/2 hours.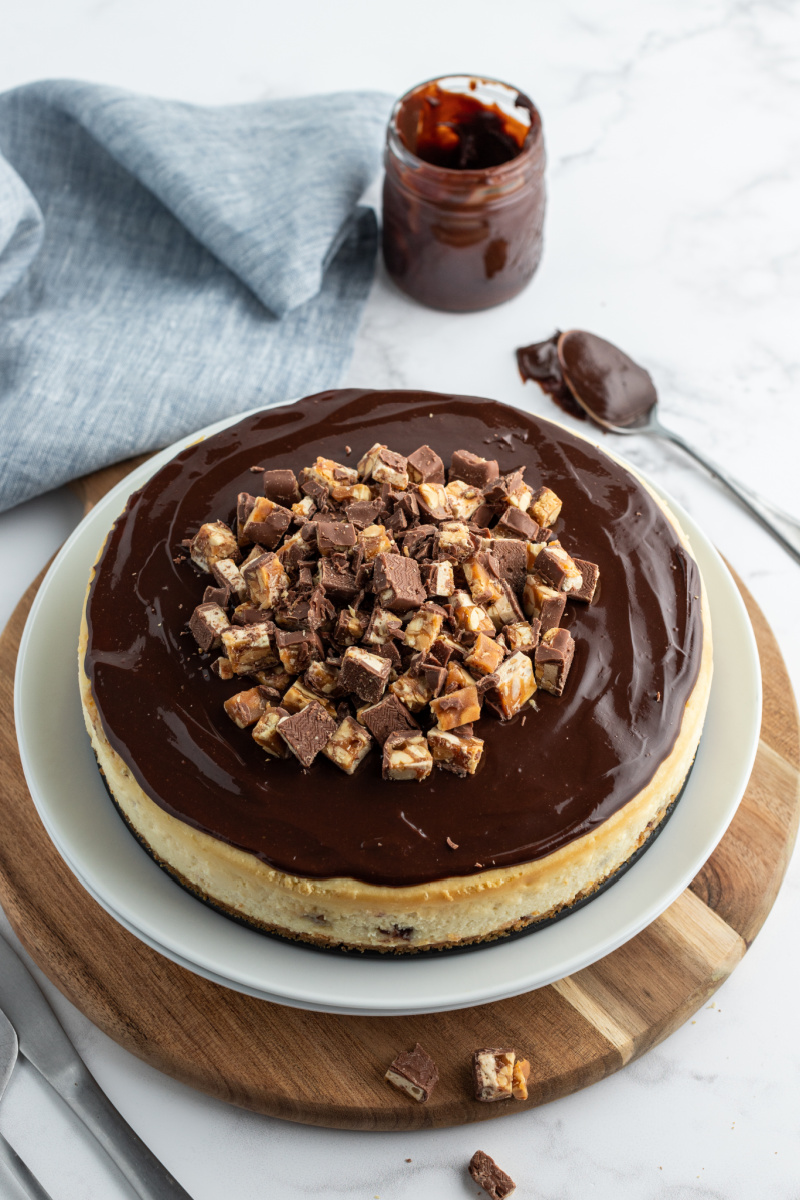 Once baked, remove the cheesecake from the oven and let it cool at room temperature for about 2 hours.
Soften hot fudge in the microwave a little bit, and spread it on top of the cooled cheesecake. Add more chopped Snickers candy bars on top. Refrigerate until ready to serve.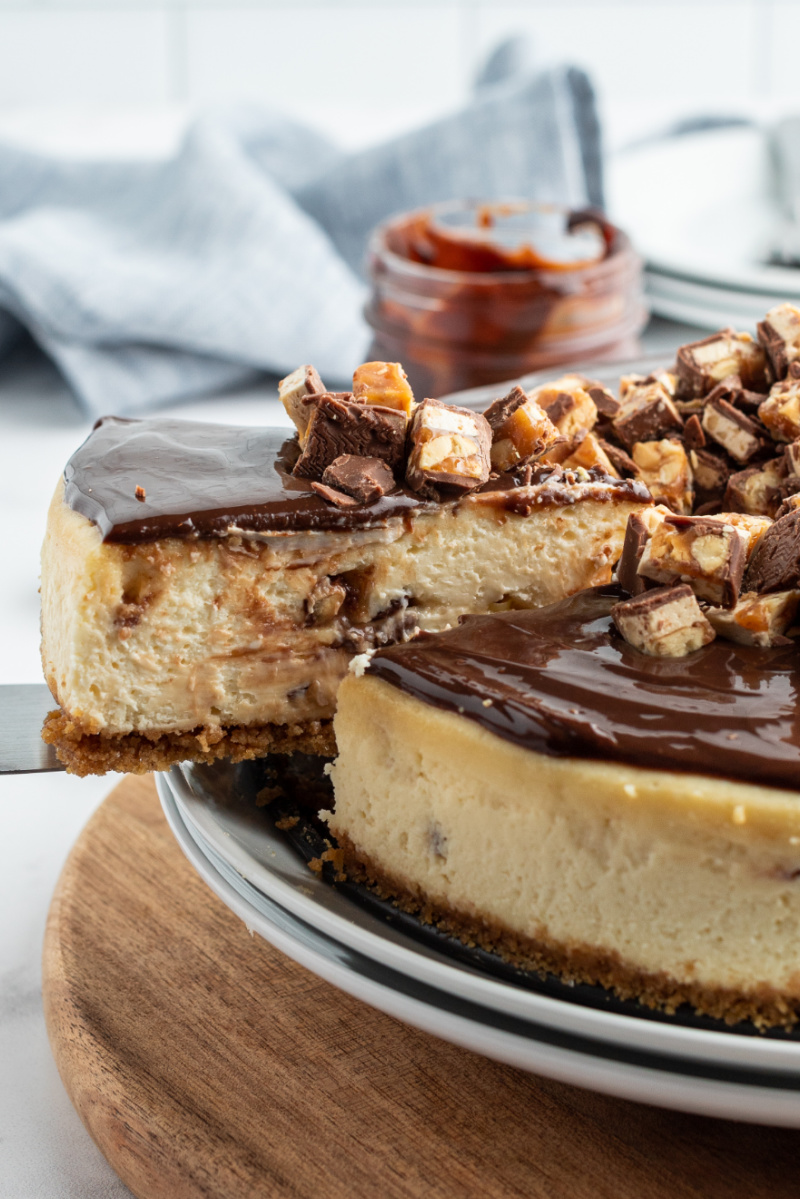 Slice and serve. A little slice will be just fine. This is a very decadent and delicious cheesecake!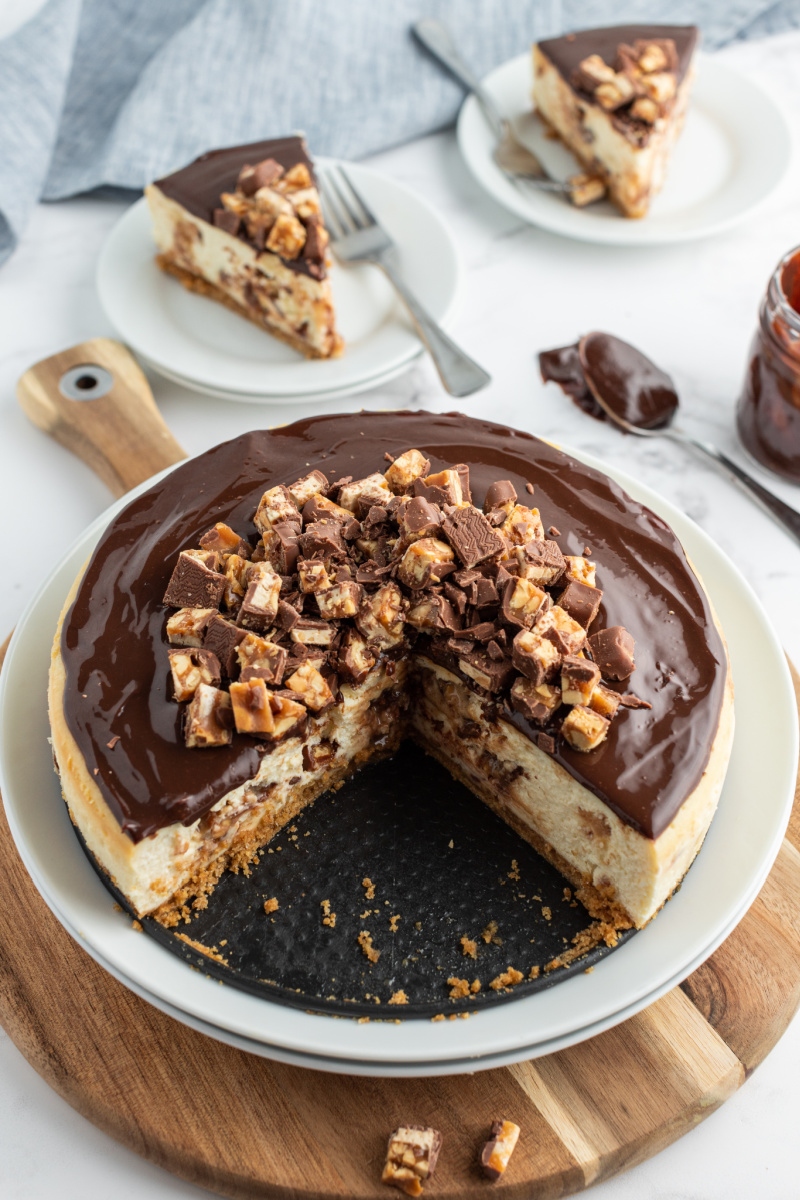 The texture is a rich and creamy white chocolate cheesecake dotted with Snickers candy bars. The chocolate fudge and extra Snickers just put it way over the top as the best cheesecake ever.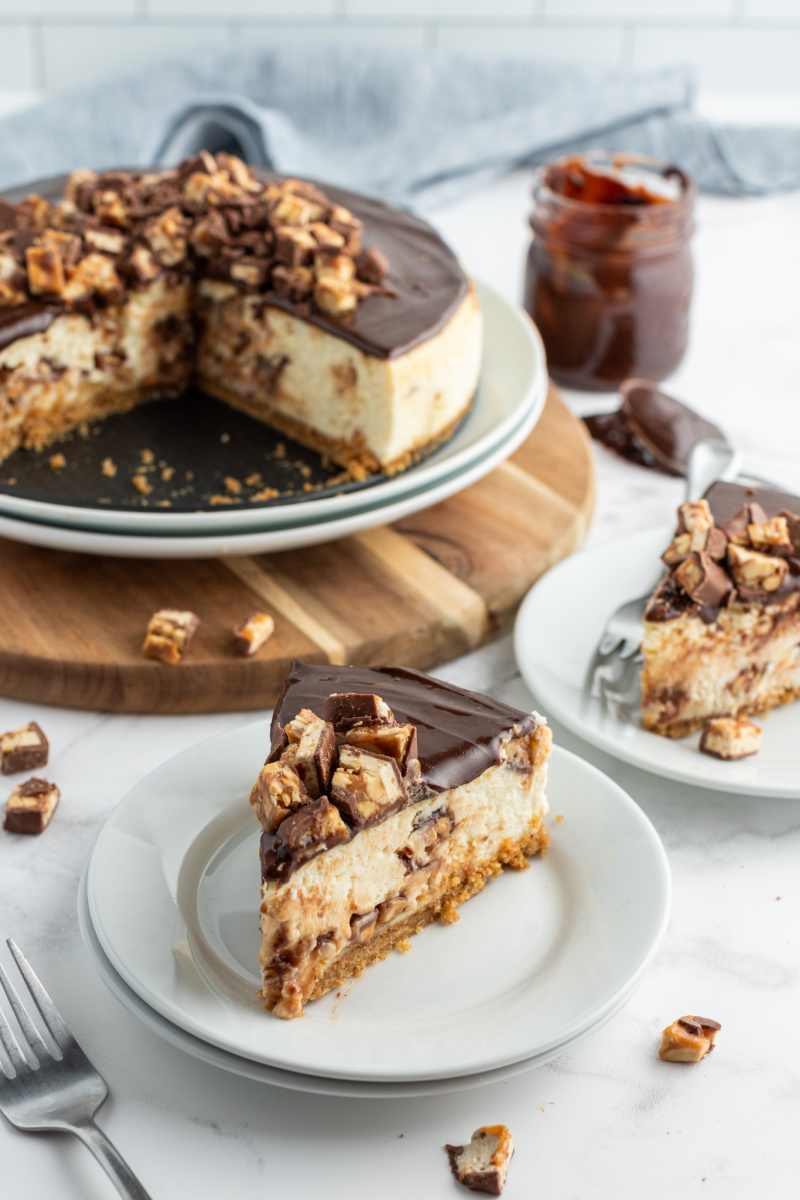 Cheesecakes can be sweet or savory, and they can be baked or unbaked. But we love this White Chocolate Snickers Cheesecake the best! This recipe was adapted from an old Junior League Cookbook called, Stop and Smell the Rosemary. Junior League cookbooks have the greatest recipes!
Cheesecake around the world:
Adding cream cheese to cheesecake is an American addition.
New York style cheesecake is served plain with no toppings. It has more egg yolks in the filling than traditional cheesecake.
In Chicago, sour cream is added to the filling to create a creamy cheesecake.
In St. Louis, Gooey Butter Cake is popular. This is cake on top of cheesecake.
Italians make their cheesecakes with ricotta cheese.
In Greece, cheesecakes are made with mizithra or feta cheese.
Germans use cottage cheese in their cheesecake recipes.
In Japan, cheesecake is made using a combination of cornstarch and egg whites and is served soufflé style.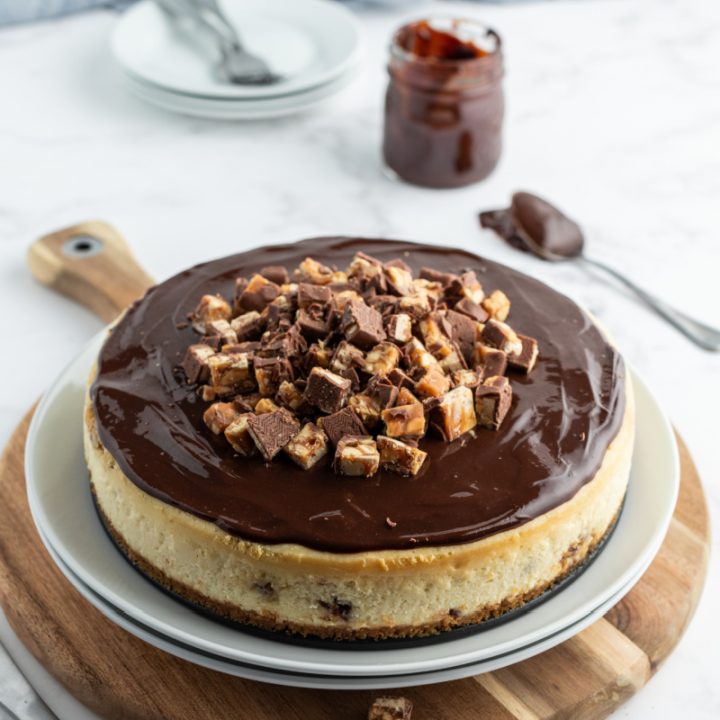 White Chocolate Snickers Cheesecake
Cook Time:
1 hour
30 minutes
Ingredients
CRUST:
2/3 cup graham cracker crumbs
2/3 cup granulated white sugar
1 teaspoon cinnamon
3 tablespoons unsalted butter, melted
CHEESECAKE:
32 ounces cream cheese, at room temperature
2/3 cup granulated white sugar
3 large eggs
1 teaspoon vanilla extract
3/4 cup heavy whipping cream
6 ounces chopped white chocolate
3 regular-sized Snickers candy bars, chilled and finely chopped
TOPPING:
1 cup hot fudge
3 Snickers candy bars, chilled and chopped
Instructions
Preheat the oven to 350 degrees F. Wrap the outside of a 10-inch springform pan with 2 layers of heavy-duty foil (or 3 layers of regular foil)—this will ensure that no water get to the crust while baking. Place a rimmed pan that is larger than the cheesecake pan on the rack in the oven with 1/2-inch of water in it.
MAKE THE CRUST:
In a small bowl, combine the graham cracker crumbs, sugar, cinnamon and butter. Add the crust mixture to the pan and press onto the bottom of the pan.
MAKE THE CHEESECAKE:
In a large bowl, use an electric mixer to beat the cream cheese for 5 minutes until very creamy. Beat in the sugar, and then beat in the eggs, one at a time. Mix in the vanilla.
Heat the cream in the top of a double boiler (or in the microwave) and add the chopped chocolate. Let it sit for about a minute, and then stir until the chocolate is melted and smooth.
Slowly beat in the melted chocolate, mixing until completely combined. Stir in the chopped Snickers bars.
Pour the filling into the prepared crust. Place the cheesecake into the water bath. Bake 1 ½ hours. Remove from the oven and let cool for 2 hours at room temperature.
ADD THE TOPPING:
Soften-up the hot fudge slightly (a short stint in the microwave should do), and spread some fudge sauce on top (about 1 cup). Sprinkle the remaining Snickers bars on top. Chill again until ready to serve.
Nutrition Information:
Yield:

12
Serving Size:

1 slice
Amount Per Serving:
Calories:

772
Total Fat:

50g
Saturated Fat:

27g
Trans Fat:

0g
Unsaturated Fat:

17g
Cholesterol:

154mg
Sodium:

450mg
Carbohydrates:

73g
Fiber:

2g
Sugar:

58g
Protein:

11g
Nutritional information is estimated using a nutrition calculator,