There are many kinds of Chocolate Cake, but people are most familiar with the traditional two-layer cake like this Chocolate Mayonnaise Cake. Mayonnaise is made up primarily of oil and egg yolks, so it serves as the perfect substitute for those ingredients in chocolate cake! It gives chocolate cake a moist, rich texture without changing the flavor. Watch the video in this post to see how to make this recipe.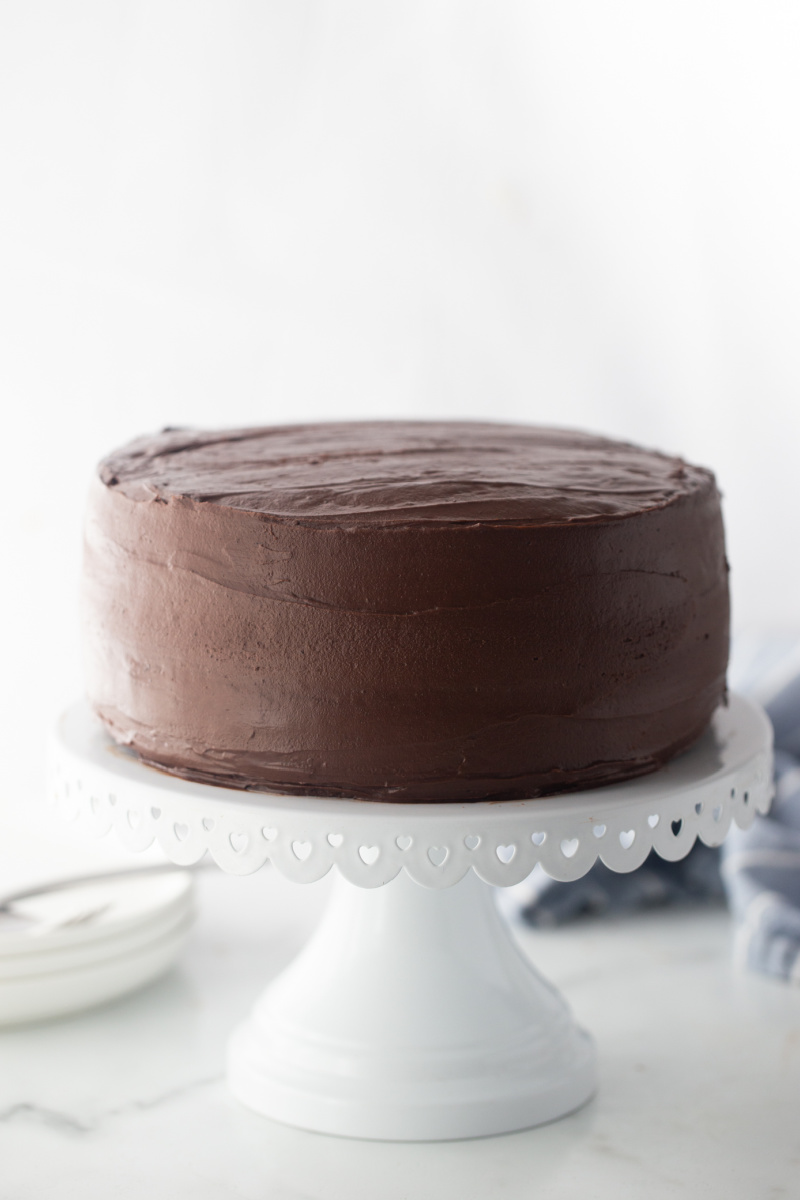 January 27th is National Chocolate Cake Day! Celebrate by eating chocolate cake, baking your own cake (like this Chocolate Mayonnaise Cake) or visiting a bakery to sample cake. It seems like we just had Pie Day where I shared a fabulous Lemon Chess Pie with you. Now it's time to share your chocolate cake experience on social media by using the hashtags #nationalchocolatecakeday and #recipesforholidays.
There are a million ways to make a chocolate cake, and everyone has their favorite recipe. But I think everyone will agree that the best chocolate cake is one that is rich in flavor, super moist and goes perfectly with a tall glass of cold milk. That's what you'll find in this Chocolate Mayonnaise Cake recipe!
The History of Chocolate Cake:
The first known chocolate cake fixings date back to the 1760's. A doctor teamed up with a chocolate maker to grind up cocoa beans and create cakes in molds.
In 1847, the first chocolate cake recipe was published by Eliza Leslie in The Lady's Receipt Book.
And the first chocolate cake mix surfaced in the late 1920's by O'Duff and Sons. Better Crocker cake mixes were sold beginning in 1947- after World War II ended. It was then that chocolate cake really began to take off in America!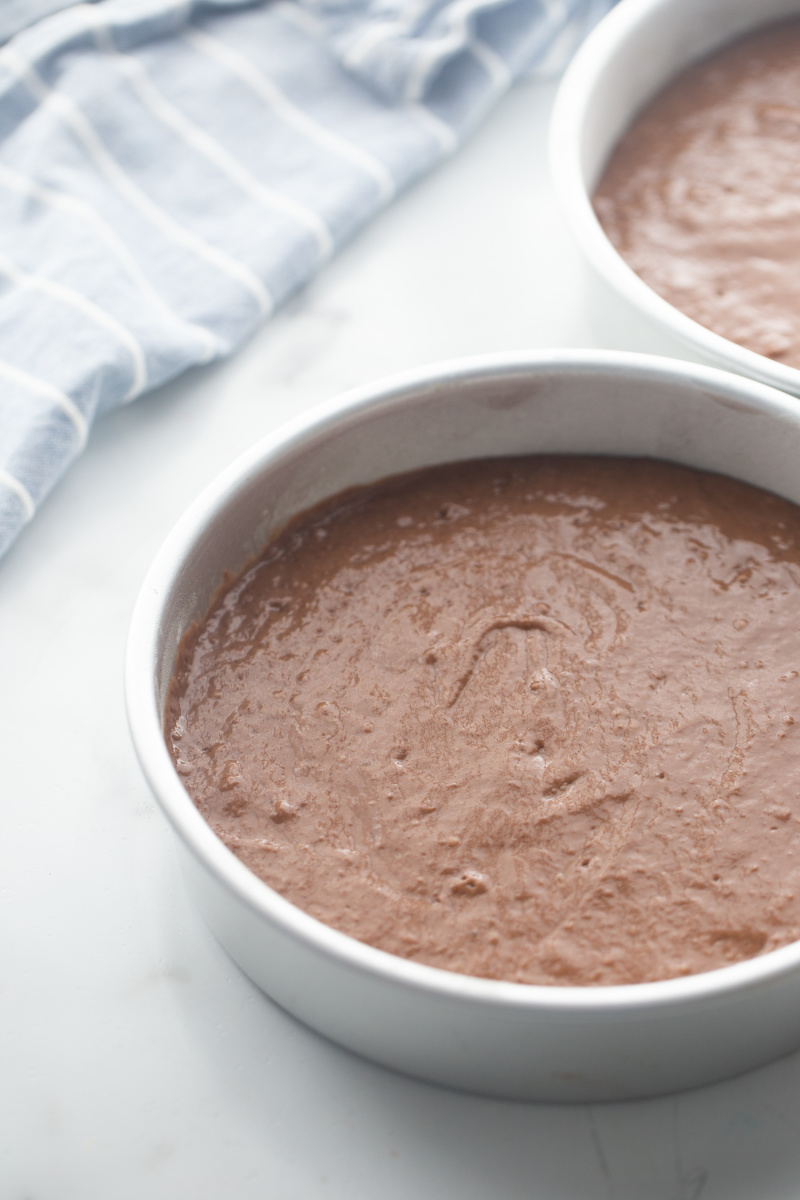 How to make Chocolate Mayonnaise Cake:
You'll be making a typical cake batter for this recipe with one big difference. Mayonnaise will be included as an ingredient. I know this sounds really weird, but don't let it freak you out. Mayonnaise is used instead of eggs and fat in the chocolate cake. It will give you a moist and delicious cake, and I promise you will not taste the mayonnaise in the cake at all (just like you don't taste eggs or oil in a traditional cake).
The batter is divided between two round cake pans and those will be baked for about 30 minutes.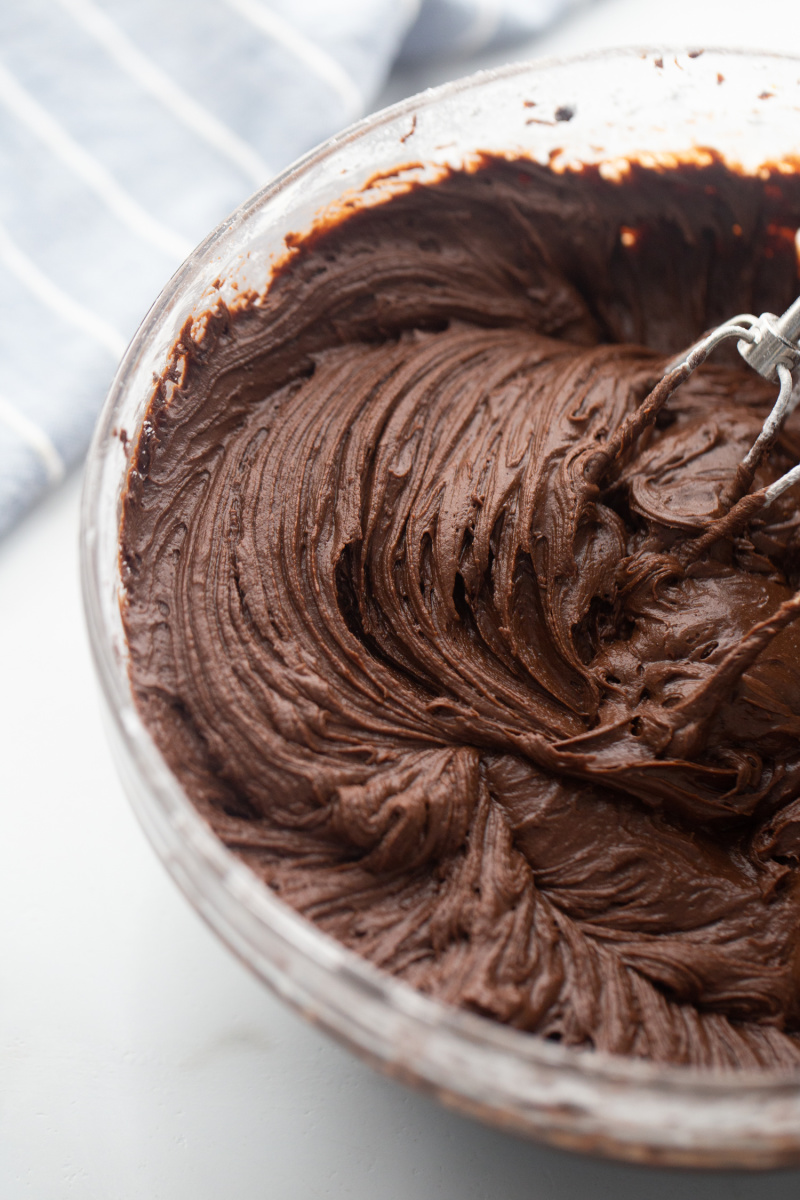 The best chocolate frosting recipe:
If you're ever looking for the best chocolate frosting recipe for a cake or for 24 cupcakes, this is the frosting recipe to use. It's a simple combination of butter, cocoa powder, powdered sugar, milk and vanilla. It turns out perfectly creamy and chocolatey!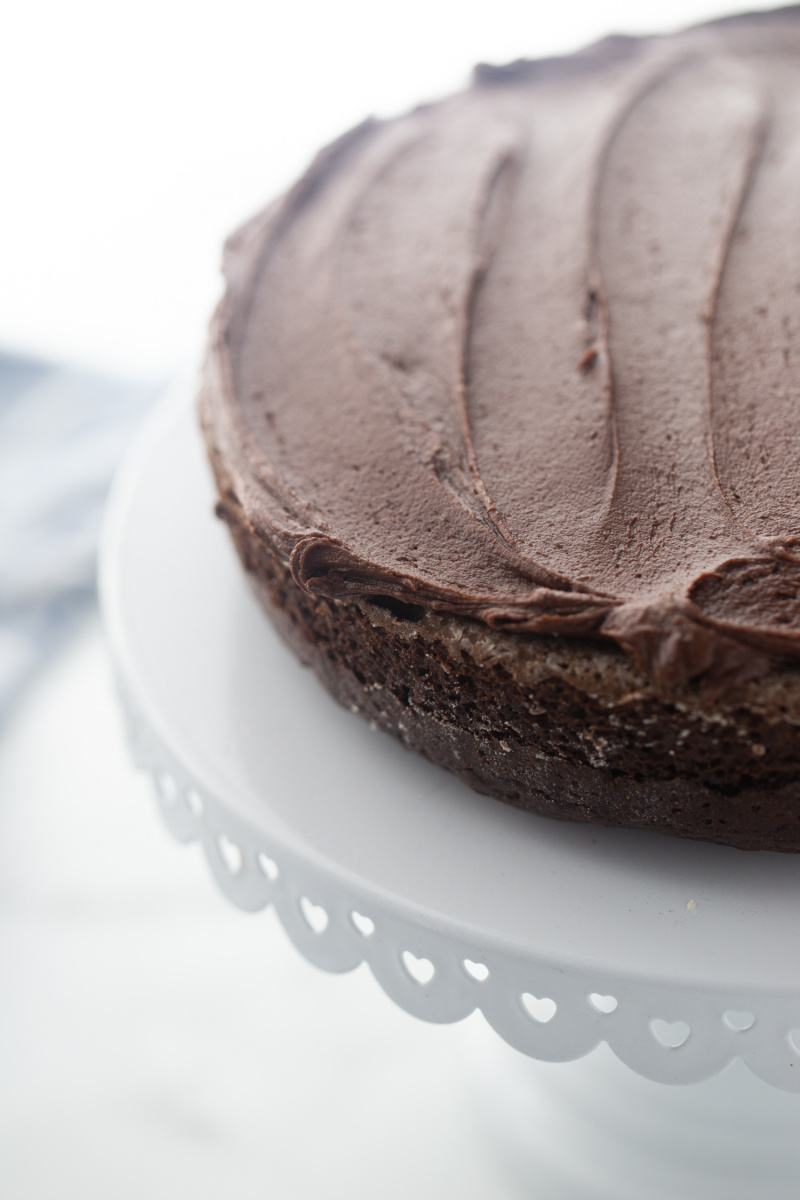 Lay one cake layer on your favorite cake platter. Spread frosting on top of the first layer. Add the second layer and then spread frosting on that layer and all the way down the sides of the cake to cover the entire thing.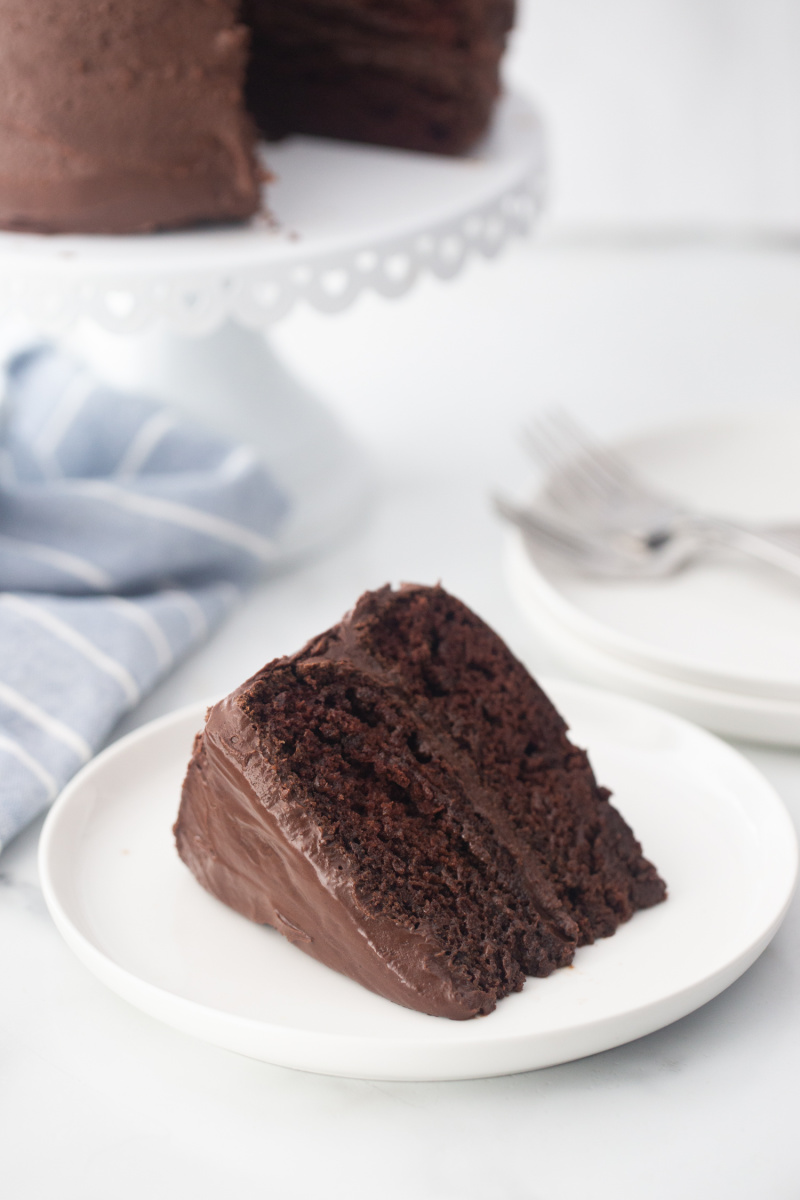 Slices of this cake are pure chocolate cake perfection. The recipe for the base of the chocolate cake comes from The Dukes Mayonnaise Cookbook. But this recipe works with any kind of mayonnaise, of course.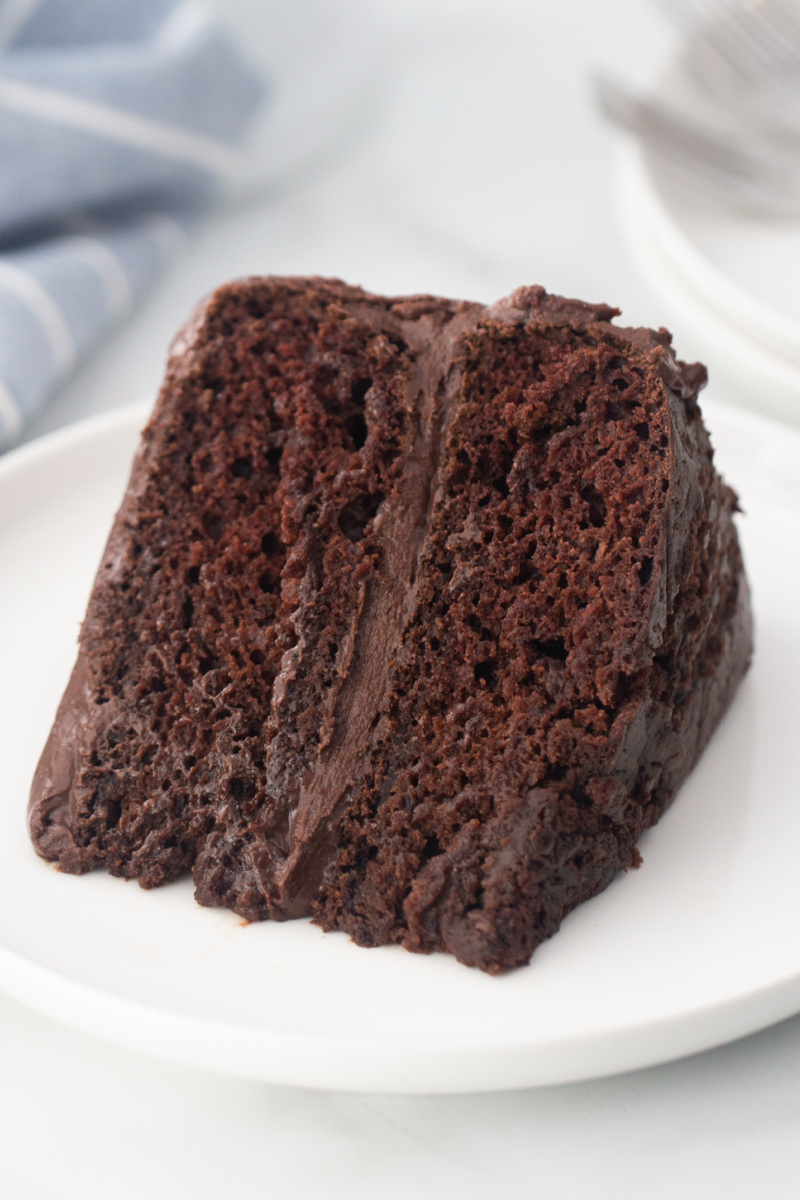 You'll end up with a super tender cake that has great chocolate flavor. It's the kind of tender where the cake sticks to the fork a little bit. You'll want to serve it with your favorite vanilla ice cream and a big glass of milk. Enjoy!
10 Popular kinds of Chocolate Cake:
Chocolate Layer Cake: This is a classic, round 2 or three layer cake separated by layers of frosting and the whole cake covered in frosting too.
2. Chocolate Sheet Cake: A sheet cake is a snack cake made in a sheet pan or a 13×9-inch pan. The frosting is spread on top of the cake.
3. Chocolate Swiss Cake Roll: A very thin layer of cake is baked and then rolled with whipped cream filling to create a cake roll.
4. Chocolate Cupcakes: These are simply the cupcake version of classic chocolate cake.
5. German Chocolate Cake: Having nothing at all to do with Germany, the name comes from Sam German- the inventor of German chocolate. This type of cake is characterized by having a creamy pecan and coconut icing between layers of chocolate cake.
6. Flourless Chocolate Cake: A good, naturally gluten-free option, this cake is made without any flour- resulting in a very rich and decadent cake.
7. Black Forest Cake: This is a chocolate sponge cake with a rich cherry filling.
8. Devil's Food Cake: A moist, rich chocolate layer cake. This is a richer, darker chocolate cake- usually made with squares of melted chocolate instead of cocoa powder.
9. Molten Chocolate Cake: Also known as Chocolate Lava Cake, this cake combines cake with soufflé. When the cake is cut into, a liquid chocolate center oozes out.
10. Chocolate Decadence Cake: This is a silky, rich, flourless cake made popular in the 80's. It usually has a whole pound of chocolate in the cake.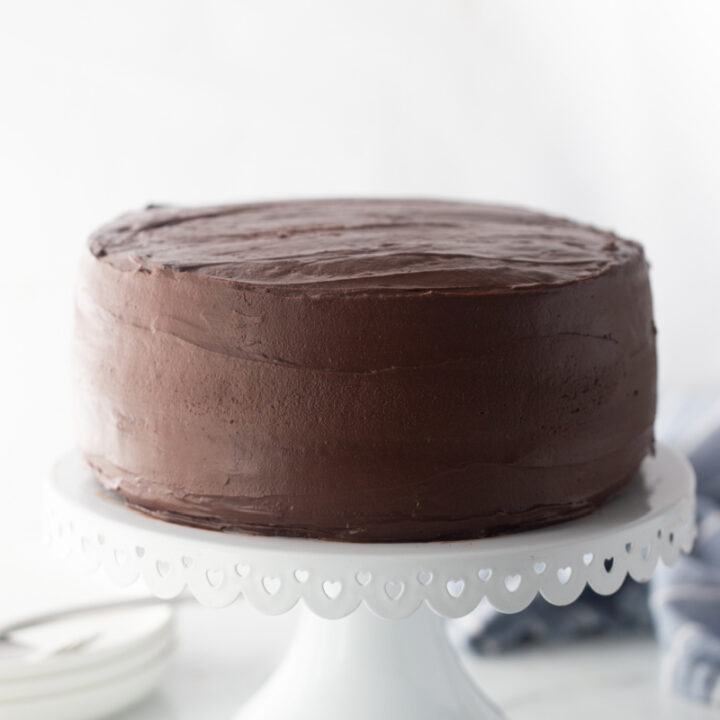 Chocolate Mayonnaise Cake
This chocolate cake is super moist because of the secret, magical ingredient of mayonnaise!
Ingredients
CAKE:
6 tablespoons unsweetened cocoa powder
3 cups all purpose flour
1 tablespoon baking soda
1 1/2 cups granulated white sugar
1/4 teaspoon salt
1 1/2 cups mayonnaise
1 1/2 teaspoons vanilla extract
1 1/2 cups cold water
FROSTING:
1 cup (2 sticks) salted butter, at room temperature
1 1/3 cups unsweetened cocoa powder
6 cups powdered sugar
2/3 cup milk
2 teaspoons vanilla extract
Instructions
PREPARE THE CAKE:
Preheat the oven to 350 degrees F. Grease and flour two 8-inch cake pans.
Sift the cocoa, flour and baking soda into a medium bowl. Stir in the sugar and salt.
In a large bowl, use an electric mixer to combine the mayonnaise, vanilla and water and mix until smooth. Add in the dry ingredients a little at a time, just until all is combined.
Don't over-mix.
Divide the batter between the two cake pans; bake for 30 minutes, or until a tester inserted into the center of the cake comes out clean. Cool on wire racks.
FROST THE CAKE:
Melt the butter in a large saucepan. Stir in the cocoa. Use an electric mixer to alternately add the powdered sugar and milk, beating to spreading consistency. Mix in the vanilla. Frost as you would traditionally frost a 2-layer cake.
Notes
I recommend using Best Foods/Hellmans or Duke's brand of mayonnaise.
Nutrition Information:
Yield:

12
Serving Size:

1 slice
Amount Per Serving:
Calories:

804
Total Fat:

38g
Saturated Fat:

13g
Trans Fat:

1g
Unsaturated Fat:

22g
Cholesterol:

53mg
Sodium:

665mg
Carbohydrates:

112g
Fiber:

3g
Sugar:

79g
Protein:

6g
Nutritional information is estimated and is not likely to be 100% accurate.