Pecan Pie Bars are a decadent and delicious hand-held bars version of the classic, traditional pecan pie recipe.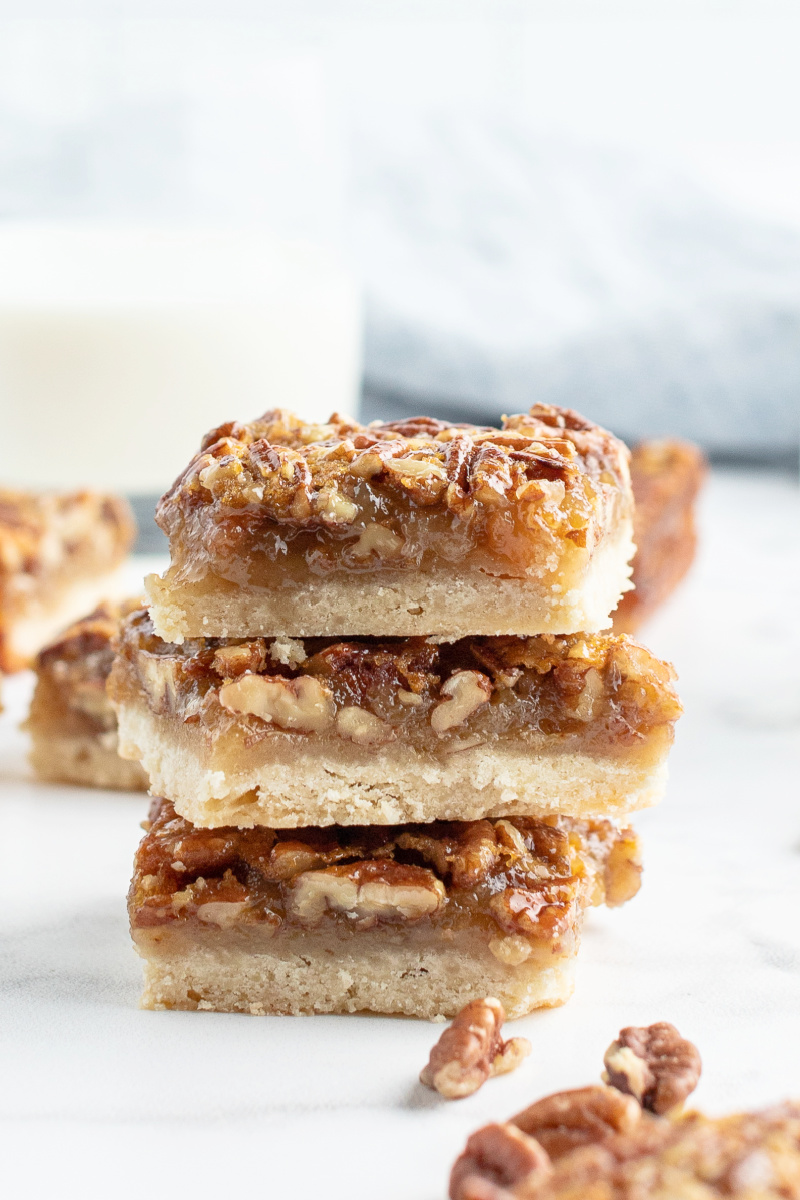 April 14th is National Pecan Day. Pecans are a versatile nut that can be added to desserts, salads, main dishes and other recipes. Celebrate this day by eating pecans or making your favorite pecan recipe, like these Pecan Pie Bars or pecan-topped English Toffee! Share your pecan celebration by using #nationalpecanday or #pecanday on social media.
The History of Pecans:
(info shared from USPecans.org) Pecans originated in the United States. They date back the 16th century, when Native Americans named them "pacane" (nuts requiring a stone to crack). Pecans were a major food source because they were easily available. They were even used as currency.
By the late 1700's, pecans had grown in popularity and there were trees planted all along the east coast and Gulf coast. In the early 1800's, exporting pecans to Europe began. The pecan industry steadily increased, and in 1920 commercial processing of pecans began. The United States remains the largest producer of pecans, and they are exported worldwide.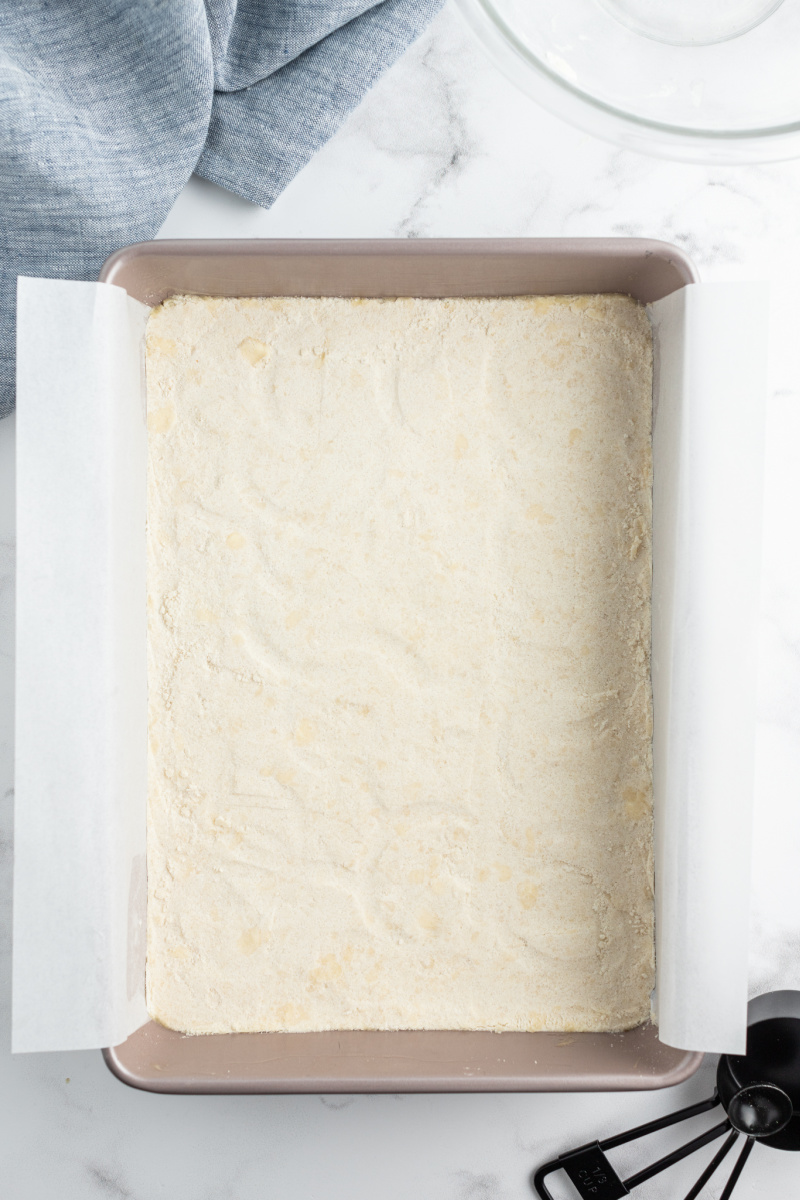 How to make Pecan Pie Bars:
Just as you would when making a traditional pecan pie, you will be baking a shortbread crust first. Use a pastry blender to combine the crust ingredients (flour, sugar, salt and butter) until crumbs come together. Then press the crust into the bottom of a 9×13-inch pan. Bake the crust for 25 minutes.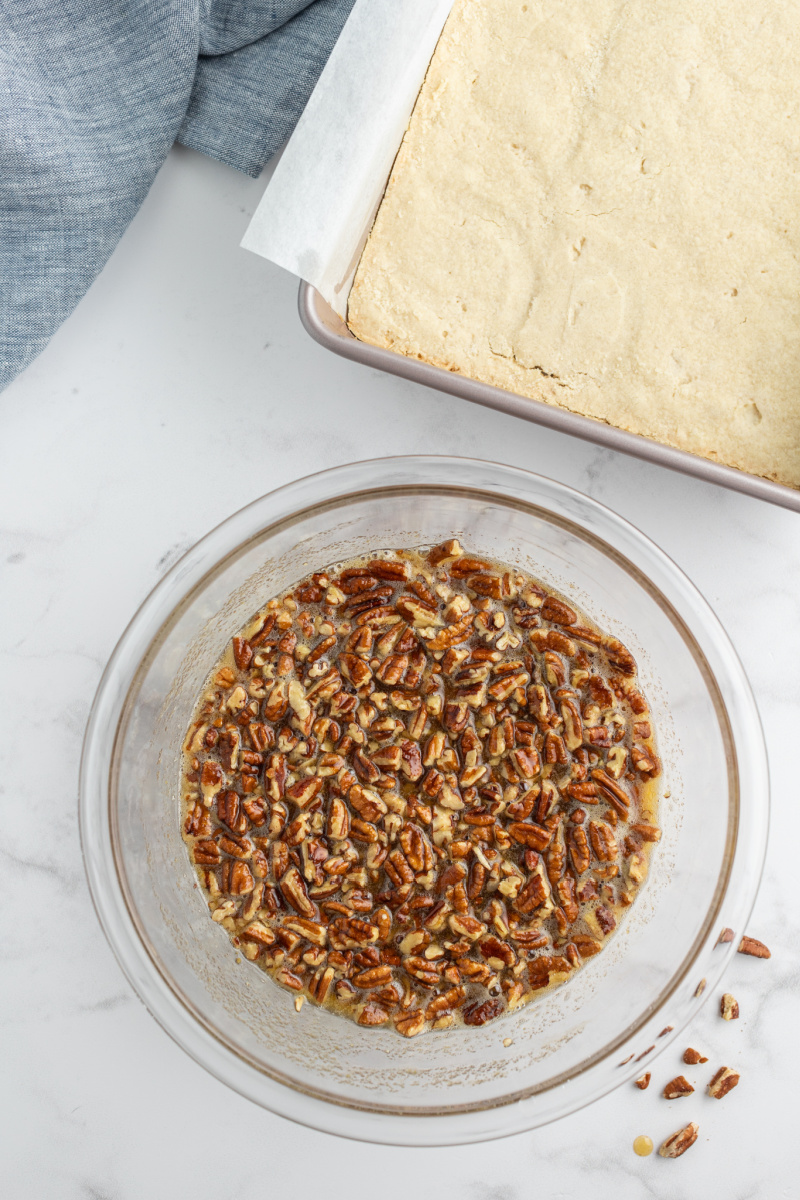 The filling is made next. Whisk together eggs, corn syrup, white sugar, brown sugar, melted butter and vanilla extract. Then stir in toasted pecans. Pour the pecan filling over the baked crust, and bake for another 30 minutes.
How to Toast Pecans:
Preheat the oven to 350 degrees F. Place the pecans on a baking sheet and toast in the oven for 5 minutes.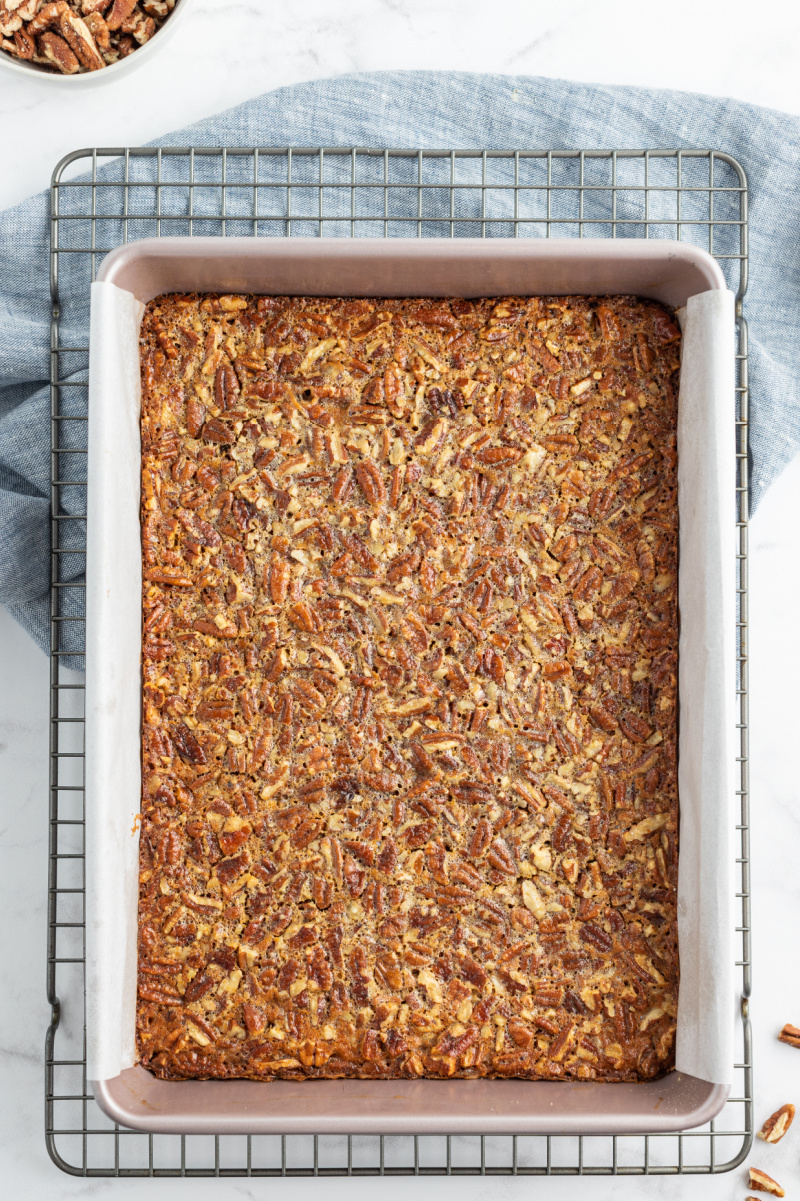 Let the Pecan Pie Bars cool completely before cutting.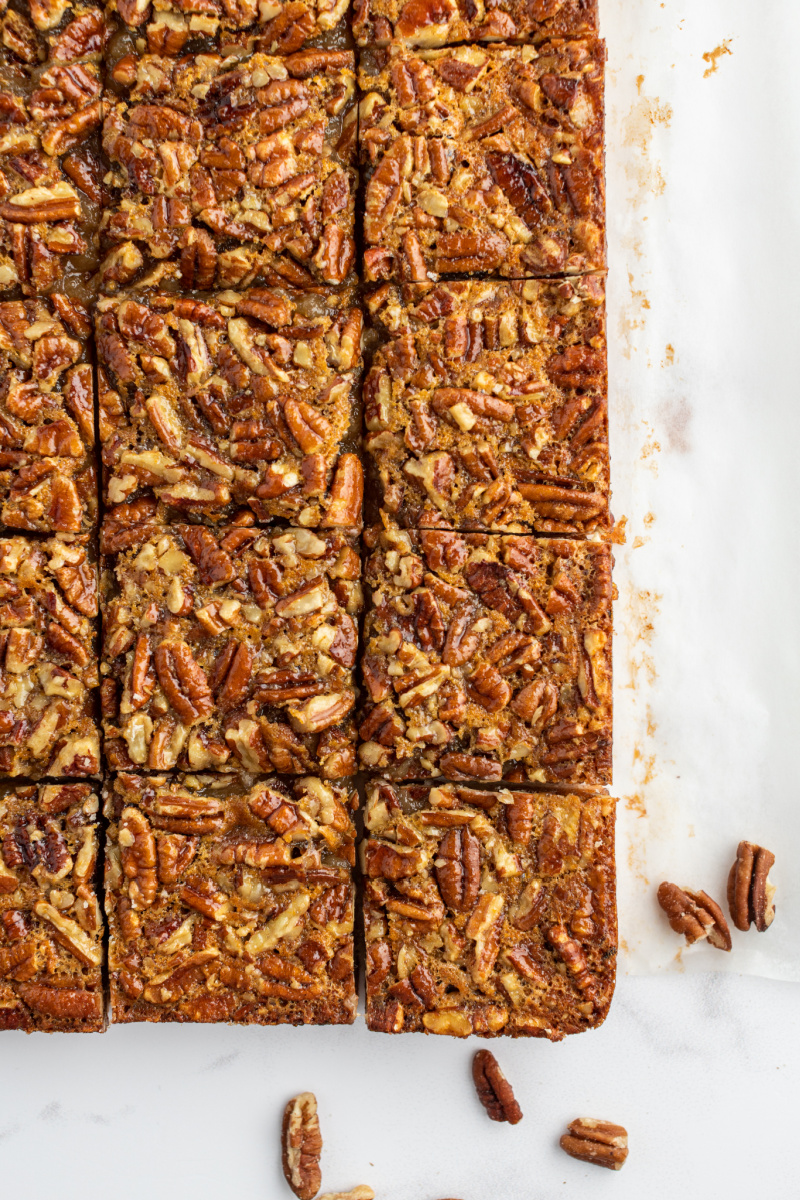 You should get 24 pecan pie bars out of this recipe. They have a simple shortbread crust, and an amazing pecan pie filling on top. These are a version of pecan pie that you can pick up and eat out of your hands!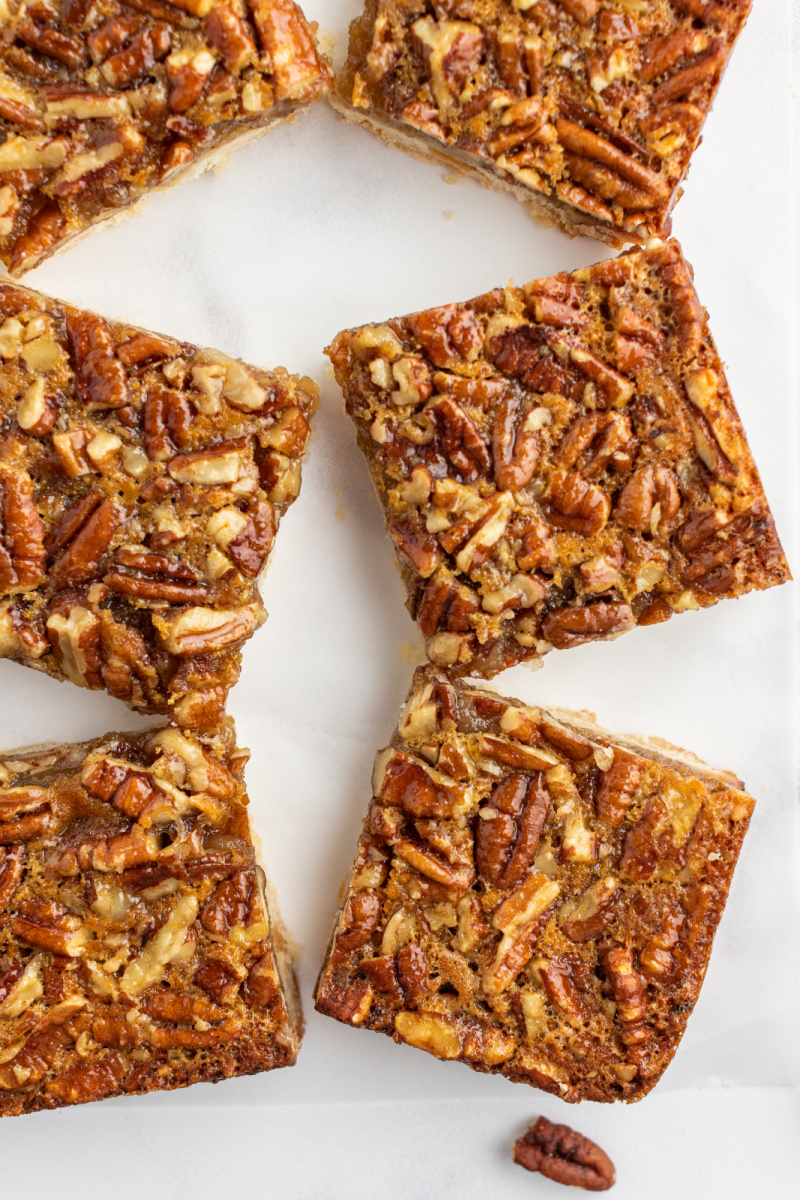 How to store Pecan Pie Bars:
They do not need to be refrigerated. Store them in a covered container for up to 3 days. To extend their edible life by a couple of days, store them in the refrigerator instead. Pecan pie bars also freeze nicely. Cut them into bars and then place them in a sealed container or freezer zip baggie. Freeze up to 3 months. Defrost to enjoy.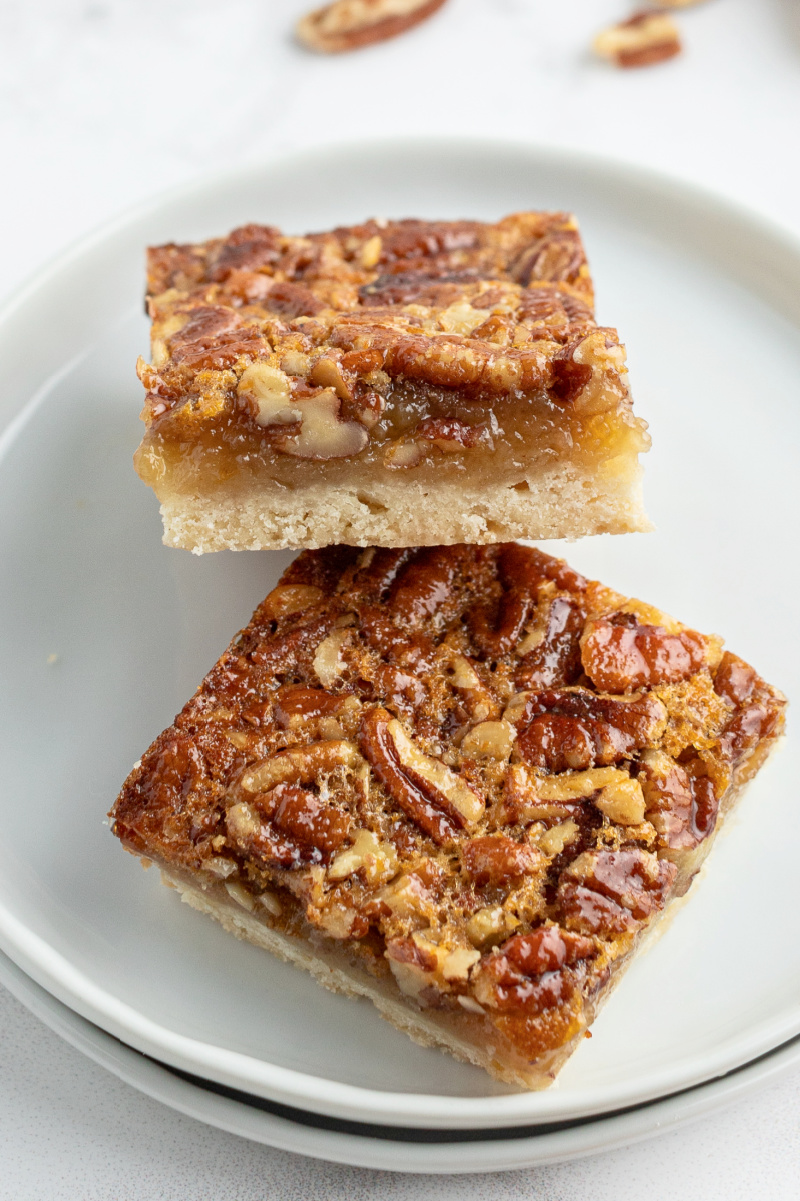 Fun Facts About Pecans:
300 million pounds of pecans are produced every year.
Pecan trees can live for over 200 years.
Pecan trees only produce nuts every two years.
Before pecans can be sold, they must first be cleaned, sized, sterilized, cracked and finally, shelled. Maybe that's why they are so expensive!
George Washington and Thomas Jefferson had pecan trees on their land.
The pecan tree is the state tree of Texas.
Albany, Georgia (known as the pecan capital of the world) has about 600,00 pecan trees.
Pecan pie was invented by the French, who had settled in New Orleans.
About 78 pecans are used to make a pecan pie.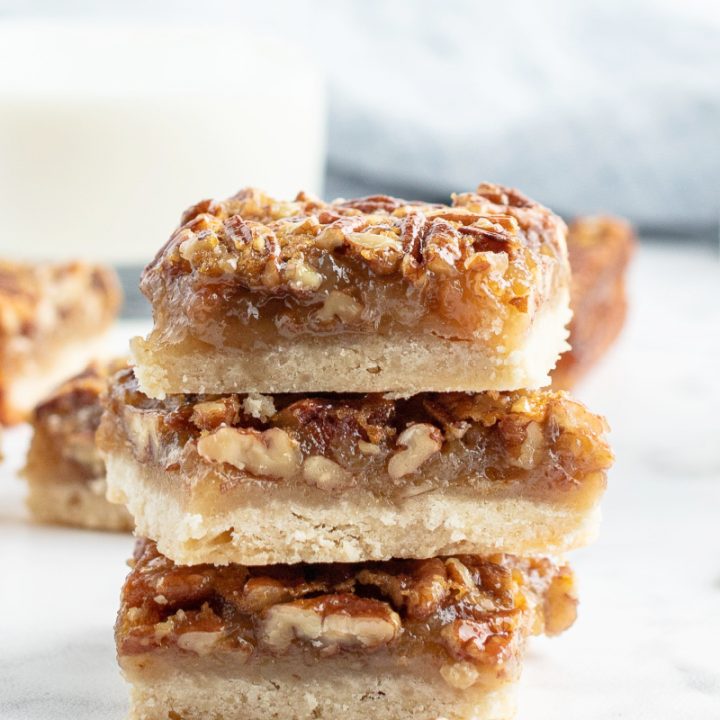 Pecan Pie Bars
Total Time:
1 hour
20 minutes
A delicious hand-held version of the all-time favorite pecan pie!
Ingredients
CRUST:
2 cups all purpose flour
1/3 cup granulated white sugar
1/2 teaspoon salt
2/3 cup unsalted butter
FILLING:
3 large eggs
1 cup light corn syrup
1/2 cup granulated white sugar
1/2 cup packed light brown sugar
2 tablespoons unsalted butter, melted
1 teaspoon vanilla extract
2 cups chopped pecans, toasted
Instructions
Preheat the oven to 350 degrees F. Spray a 9x13-inch pyrex pan with nonstick spray (or spray a metal pan with nonstick spray and then line with parchment paper.
Prepare the crust:
In a medium bowl, stir together the flour, sugar, and salt. Use a pastry blender to cut in the butter until the mixture resembles coarse crumbs. Sprinkle the mixture evenly over the prepared pan, and press into the pan to form the crust. Bake for 25 minutes.
Prepare the filling:
In a medium bowl, use a whisk to combine the eggs, corn syrup, white sugar, brown sugar, butter and vanilla until well-combined. Stir in the chopped pecans. Pour the filling on top of the baked crust and spread to create and even layer.
Bake for 30 minutes, or until the filling is set. Let cool completely, and then cut into bars.
Notes
To toast pecans: Preheat your oven to 350 degrees F. Place the pecans on a baking sheet and toast in the oven for 5 minutes.
Nutrition Information:
Yield:

24
Serving Size:

1 bar
Amount Per Serving:
Calories:

245
Total Fat:

13g
Saturated Fat:

5g
Trans Fat:

0g
Unsaturated Fat:

8g
Cholesterol:

39mg
Sodium:

71mg
Carbohydrates:

31g
Fiber:

1g
Sugar:

22g
Protein:

3g