Sticky Bun Popcorn is the best way to turn popcorn into dessert. Fluffy popcorn and pecans are coated with a sweet cinnamon syrup.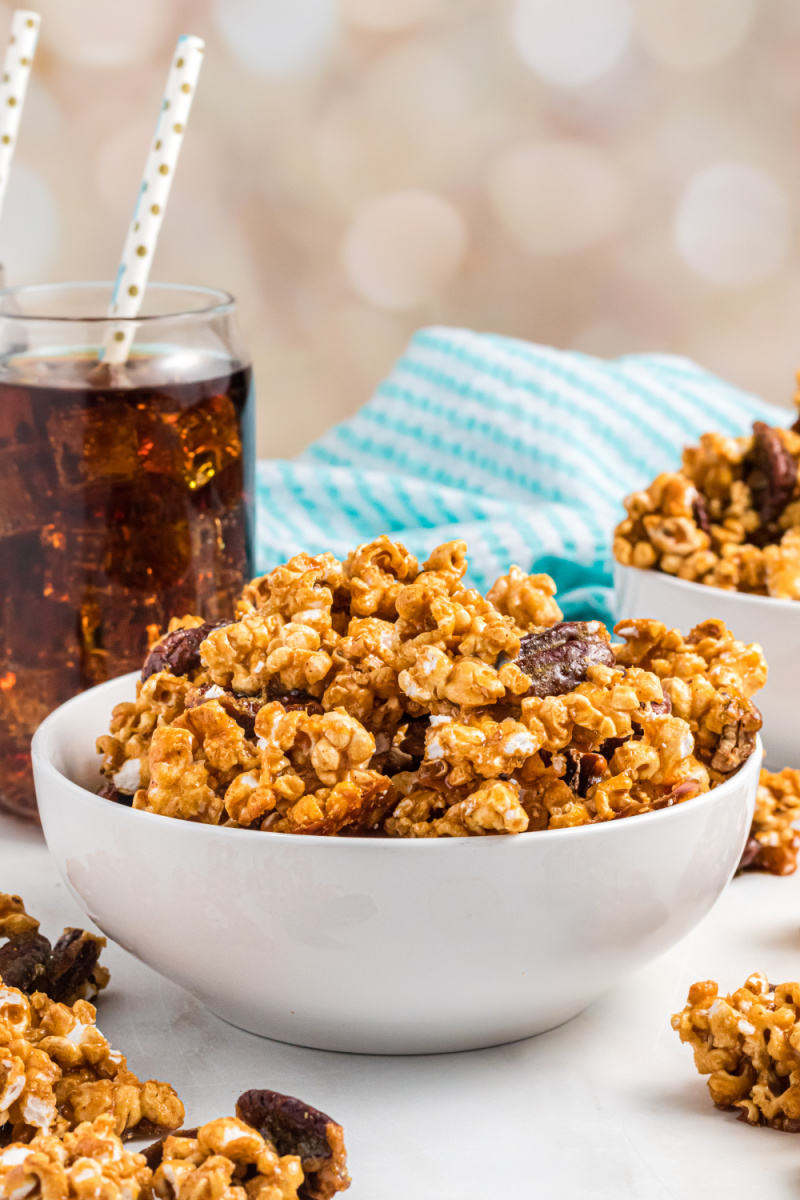 January 19th is National Popcorn Day! It's a great day to eat popcorn and celebrate. Go to the movies and eat a giant bag of popcorn, pop popcorn on the stove at home, make popcorn balls or try making this sticky bun popcorn (the best!) Share your popcorn on social media today by using the hashtag #NationalPopcornDay, #PopcornDay and #RecipesForHolidays. Be sure to follow our January Food Holidays page so you never miss a food holiday in the month of January!
The History of Popcorn:
The first evidence of popcorn was in Peru in 4700 BC. Corn cobs were discovered that were studded with puffed kernels.
When people first enjoyed popcorn as a snack, dried kernels were cooked and they were much like corn nuts.
In 1875, Frederick J. Myers patented a corn-popping device with a stay-cool handle that was used over a fire.
In the 1800's Charles Cretors invented a lightweight electric machine that popped corn in oil. This was great for popcorn vendors who needed to pull a cart to sell in different areas. 8 years later he added a feature that would butter and salt the popcorn too. Cretors is credited with being the inventor of popcorn.
In the 1880's, the 1st popcorn brands emerged (Big Buster and Little Buster was one of them).
In 1896, Cracker Jack hit the scene. It was a crunchy popcorn with salty peanuts coated in molasses.
Initially, popcorn venders sold popcorn at street fairs, festivals and sporting events. During the 1920's, popcorn vendors began setting up outside movie theaters- which were becoming very popular with Americans. Popcorn eventually became popular to sell as a snack while watching movies.
During the Great Depression, popcorn became an "affordable luxury" at 5 to 10 cents per bag. Unlike other products, popcorn sales actually increased during the Depression because of high attendance at movie theaters.
In 1965, Orville Redenbacher (an agricultural scientist) and his partner created a popcorn kernel that would expand twice as much as yellow corn into a fluffy popped corn. Orville Redenbacher popcorn is the number one best selling popcorn in the world.
In 1981, the first microwave popcorn hit the market. Since it contained butter, it had to be refrigerated. Another version by Pillsbury had to be frozen. By 1984, a shelf-stable version of microwave popcorn became available.
Today, Americans eat approximately 17 billion quarts of popped popcorn every year.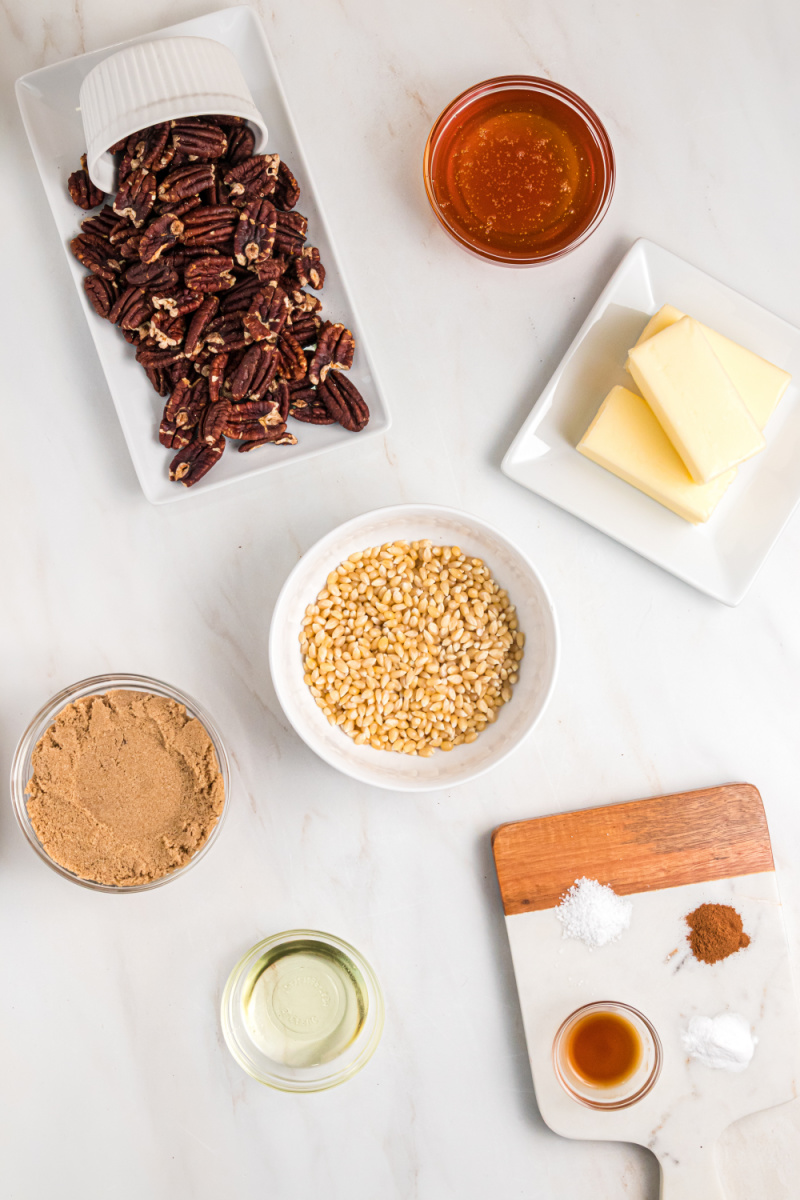 Ingredients needed:
vegetable oil
popcorn kernels
pecan halves
light brown sugar
butter
honey
vanilla extract
kosher salt
baking soda
ground cinnamon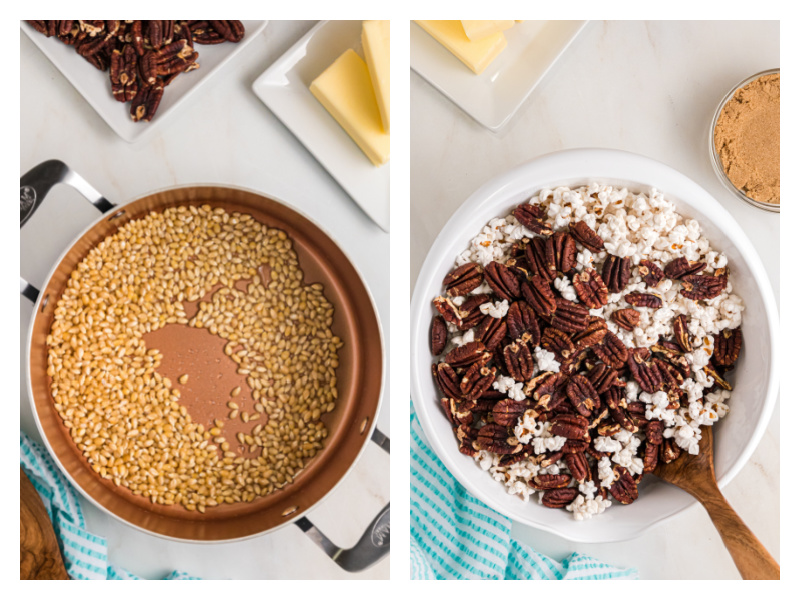 How to make Sticky Bun Popcorn:
The full, printable recipe is at the end of this post. Preheat the oven to 350 degrees, and line two rimmed baking sheets with parchment paper.
Follow the directions in the recipe to pop the popcorn in a pan. Then transfer the popped corn to a bowl and add the pecan halves.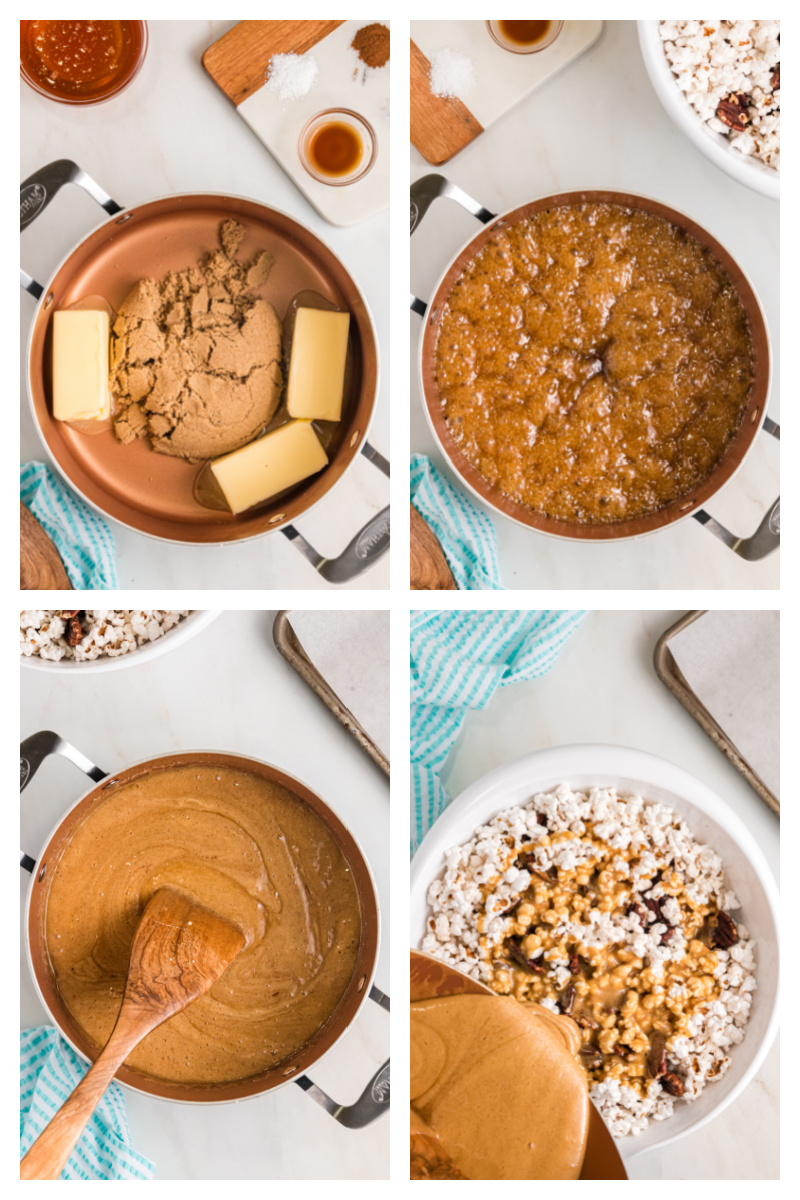 Follow the directions in the recipe to make the gooey cinnamon caramel syrup. Then pour the syrup over the popcorn and pecans in the bowl. Toss to mix well.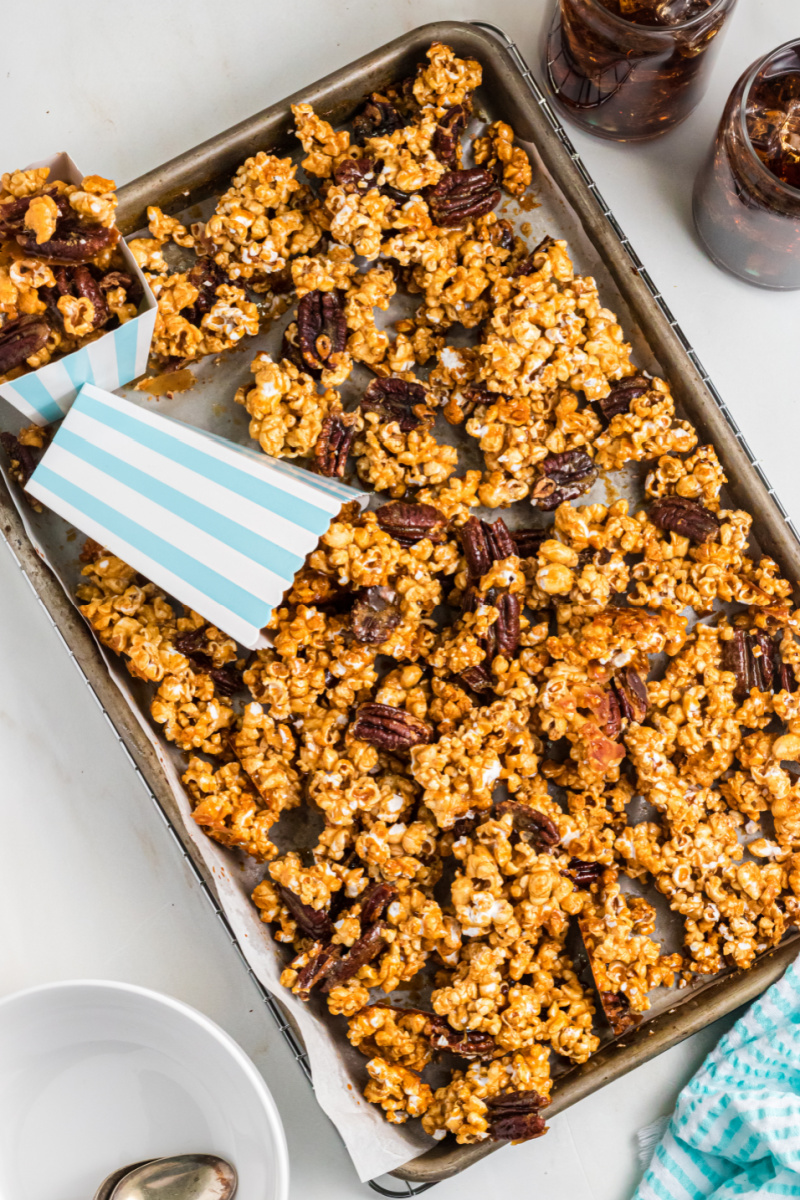 Spread the coated popcorn and pecans on the prepared baking sheets. Bake for about 20 minutes until the nuts are toasted and the popcorn is crisp.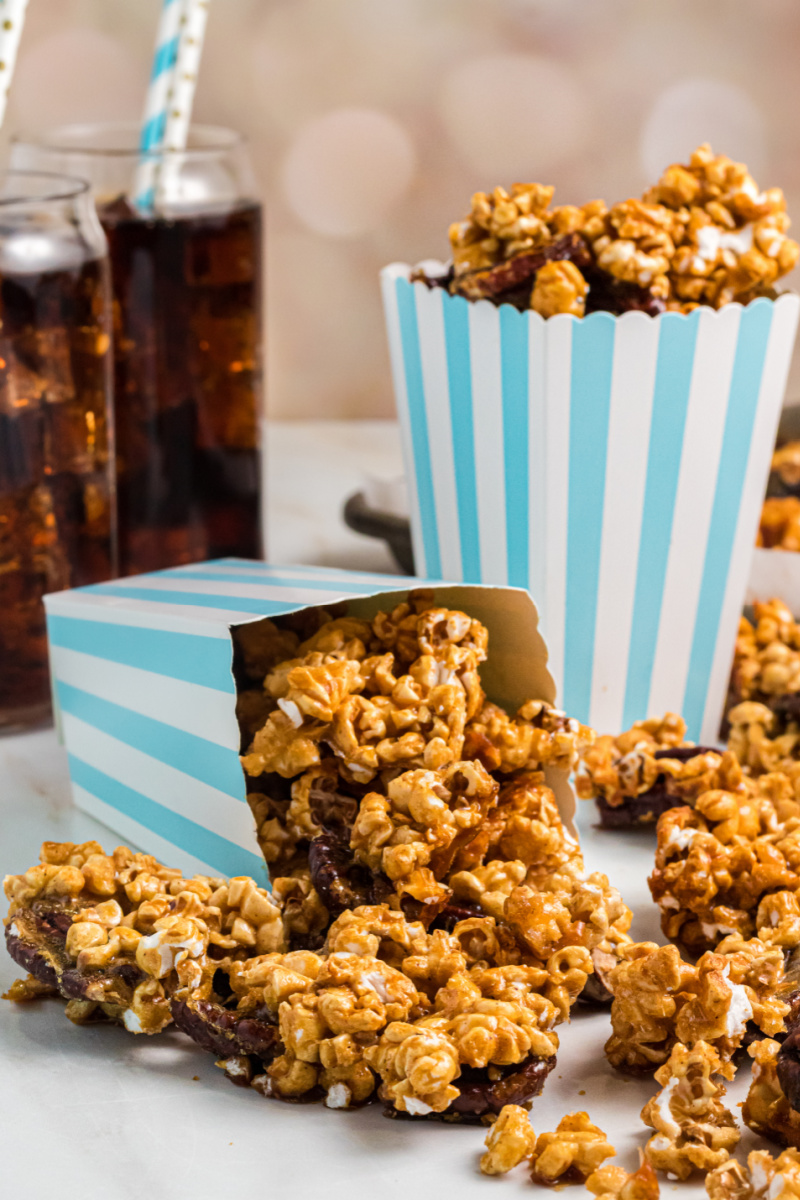 Let the popcorn cool and then break it apart into clusters to serve. Sticky bun popcorn can be stored in a sealed container at room temperature for up to one week. Enjoy!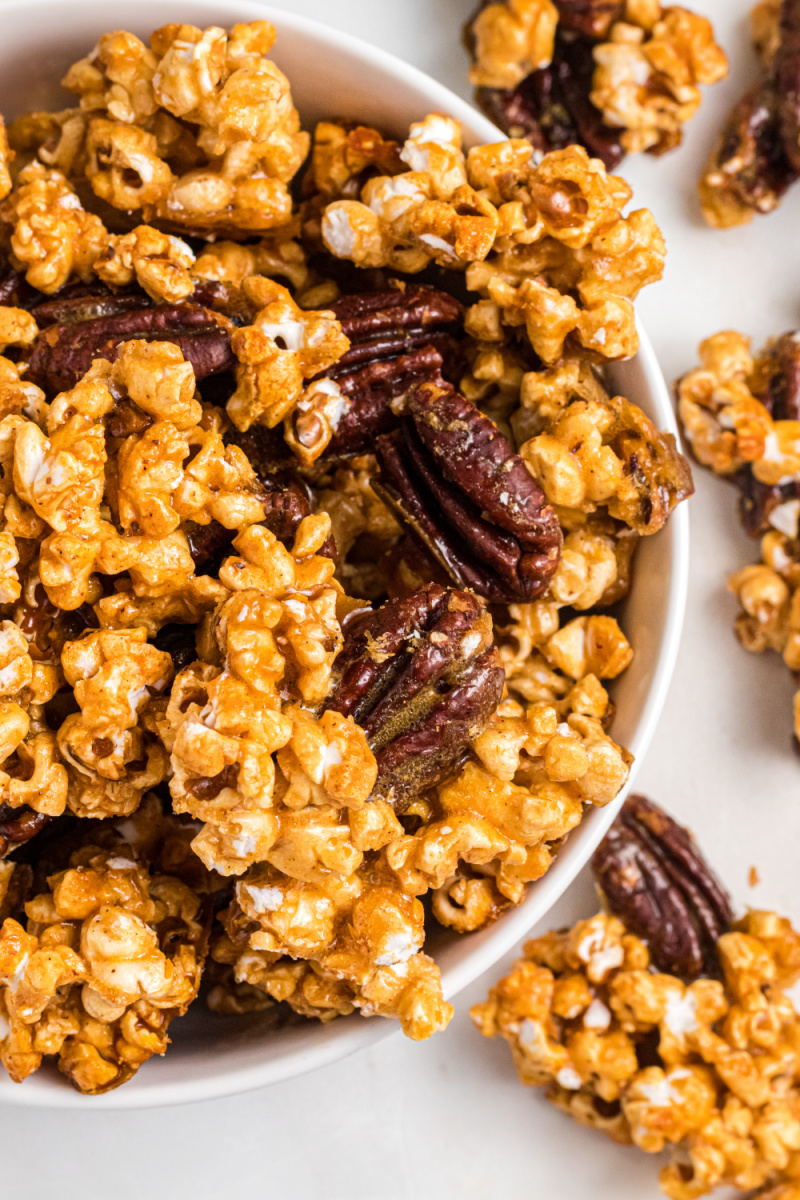 This recipe for sticky bun popcorn comes from the cookbook: Pastry Love by Joanne Chang. It's full of Chang's favorites from her Flour Bakeries. There are plenty of recipes in the book for things like croissants, cakes, cookies, muffins and more. And what could be better than turning regular popcorn into sticky bun popcorn?
Fun Facts About Popcorn:
Americans eat more popcorn than any other country.
The state of Nebraska is the biggest producer of popcorn in the United States.
Popcorn was once a popular breakfast item. During the late 19th and early 20th centuries, popcorn was eaten like cereal is eaten today- with milk and sugar.
Popcorn balls were popular in the late 1800's. They were given as gifts and used as decorations during the holidays. By the turn of the century, most cookbooks featured at least one recipe for popcorn balls.
Most microwave ovens have a "popcorn" button.
Popcorn can reach up to 3 feet in distance when popping.
In 1949, popcorn was temporarily banned from movie theaters for being too loud of a snack.
Popcorn is the official snack of Illinois.
There are 1600 popcorn kernels in a cup.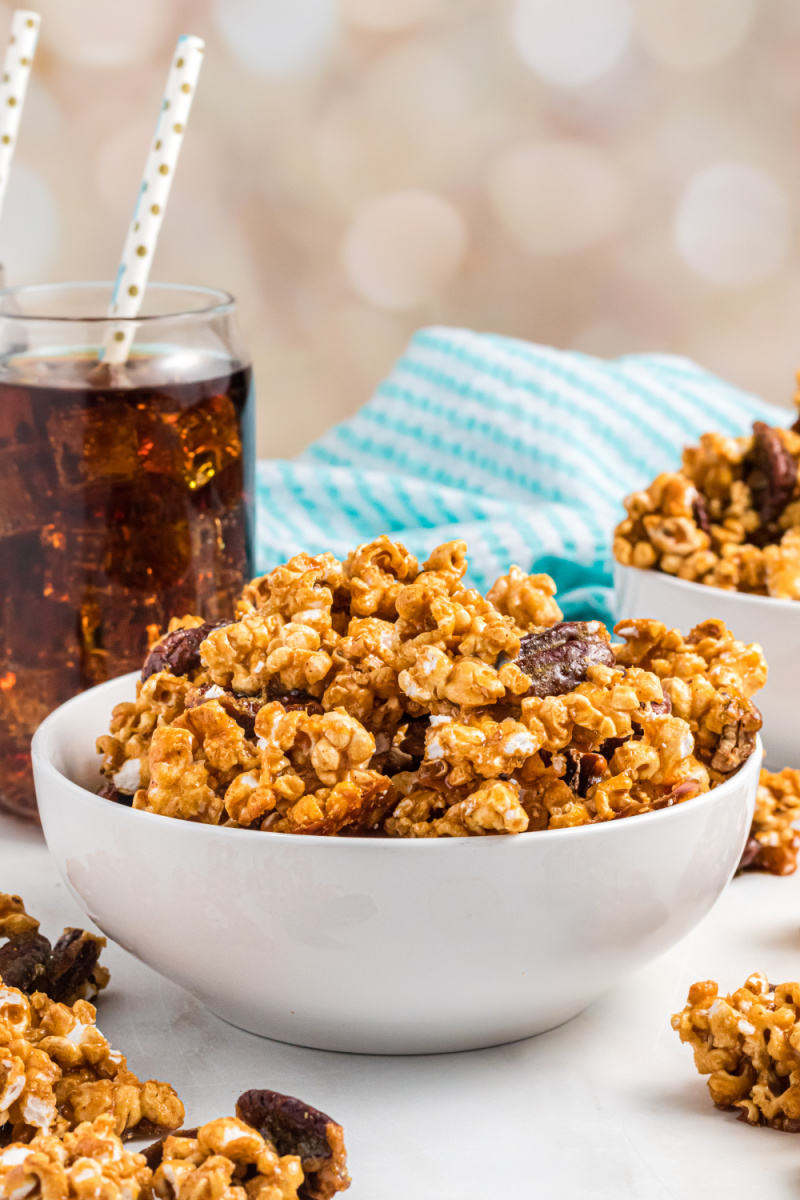 Sticky Bun Popcorn
All of the sticky bun goo drizzled on popcorn instead!
Ingredients
3 tablespoons vegetable or canola oil
3/4 cup unpopped popcorn kernels
2 cups pecan halves, toasted
3/4 cups packed light brown sugar
3/4 cup (1 1/2 sticks) unsalted butter
3/4 cup honey
1/2 teaspoon vanilla extract
1/2 teaspoon kosher salt
1/4 teaspoon baking soda
1/4 teaspoon ground cinnamon
Instructions
Preheat the oven to 350 degrees F. Place racks in the center and bottom third of the oven. Line two baking sheets with parchment paper and set them aside.
In a very large pot with a lid, heat the oil over high heat until hot. Add the popcorn kernels, cover the pot, and reduce the heat to medium-high. Shake the pot every few seconds until you start to hear the popping. As soon as you can hear it popping, shake the pot constantly. When the popping slows down to one pop every few seconds, turn off the heat but keep shaking. When you hear one pop every 5 or 6 seconds, remove the pot from the stove and dump the popcorn into a large bowl. Remove and discard any unpopped kernels. Add the pecan halves to the popcorn.
These next few steps go quickly, so be sure to have all the ingredients and equipment at hand. Return the pot to the stove and add the brown sugar and butter. Heat over high heat until the butter melts. The mixture will get foamy and start to color bit by bit. Cook, stirring constantly with a wooden spoon or silicone spatula, for 3 minutes- the color will deepen a shade and it will smell rich and delicious. Add the honey and bring back to a boil. Remove from the heat and stir in the vanilla, salt, baking soda and cinnamon. (The caramel goo will bubble up and foam a bit from the reaction of the baking soda with the sugar).
Drizzle the caramel goo over the popcorn-pecan mixture and toss to distribute well, until the popcorn is evenly colored. Spread on the prepared baking sheets. Bake for 15 to 20 minutes, rotating the baking sheets and switching their positions midway through the baking time, until the nuts are deeply toasted and the popcorn smells fragrant.
Remove from the oven and let cool on the baking sheets on a wire rack. When the popcorn cools, it will be crunchy and crispy. Break up the popcorn into bite-size clusters after it cools.
Sticky bun popcorn can be stored in an airtight container at room temperature for up to 1 week.
Nutrition Information:
Yield:

16
Serving Size:

1 cup
Amount Per Serving:
Calories:

272
Total Fat:

21g
Saturated Fat:

6g
Trans Fat:

0g
Unsaturated Fat:

13g
Cholesterol:

23mg
Sodium:

66mg
Carbohydrates:

24g
Fiber:

1g
Sugar:

22g
Protein:

1g
Nutritional information is figured using a nutrition calculator. It is not likely to be 100% accurate.