The best Classic Shortbread is one that is made with the right ratio of three ingredients: sugar, butter and flour. It's super buttery and sweet, and it has a crumbly texture.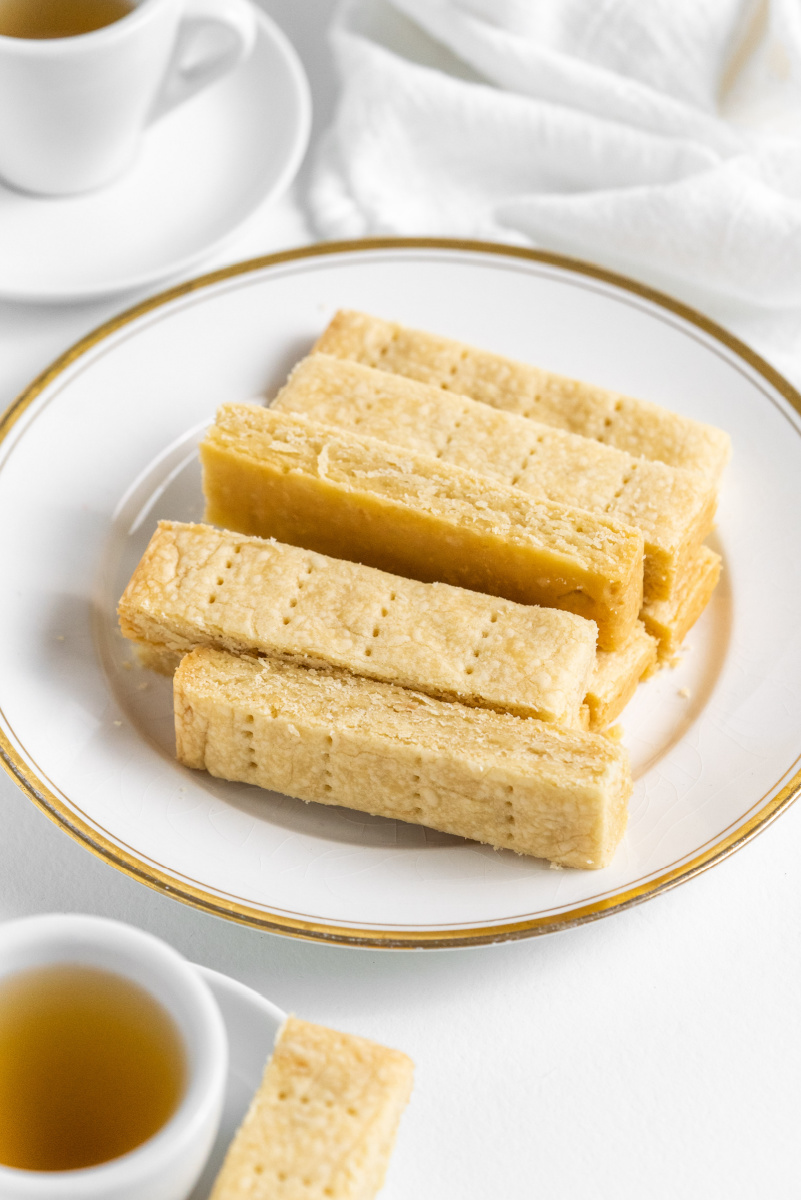 National Shortbread Day is January 6th. Celebrate by baking your own homemade classic shortbread using this easy recipe! Another option is to bake cinnamon shortbread, lemon shortbread cookies or go a little fancy and bake bourbon vanilla bean shortbread. Then grab a cup of coffee or tea, and enjoy a sweet afternoon snack. You can also pick up some shortbread at your favorite bakery, or buy some at the store. Be sure to follow my January food holidays page so you never miss a food holiday!
The History of Shortbread:
Shortbread is a traditional Scottish biscuit that originated in Scotland sometime in the 12th century. It has a high butter content, and there is no leavening (baking powder or baking soda) in it.
It's likely that at some point, Scotland shared their shortbread recipes with French pastry chefs…and then shortbread began to become popular across Europe too.
Mary, Queen of Scots (mid-16th century) was quite fond of Petticoat Tails, a thin, buttery, crisp shortbread with caraway seeds. She didn't invent shortbread, but she certainly called more attention to it.
The first known printed recipe for shortbread was in Mrs. McLintock's Receipts for Cookery and Pastry-Work in 1736.
Joseph Walker opened his first bakery in Scotland in 1898. He was on a mission to create the best tasting shortbread in the world. Today, there are four Walker's Shortbread factories, and it is sold all over the world.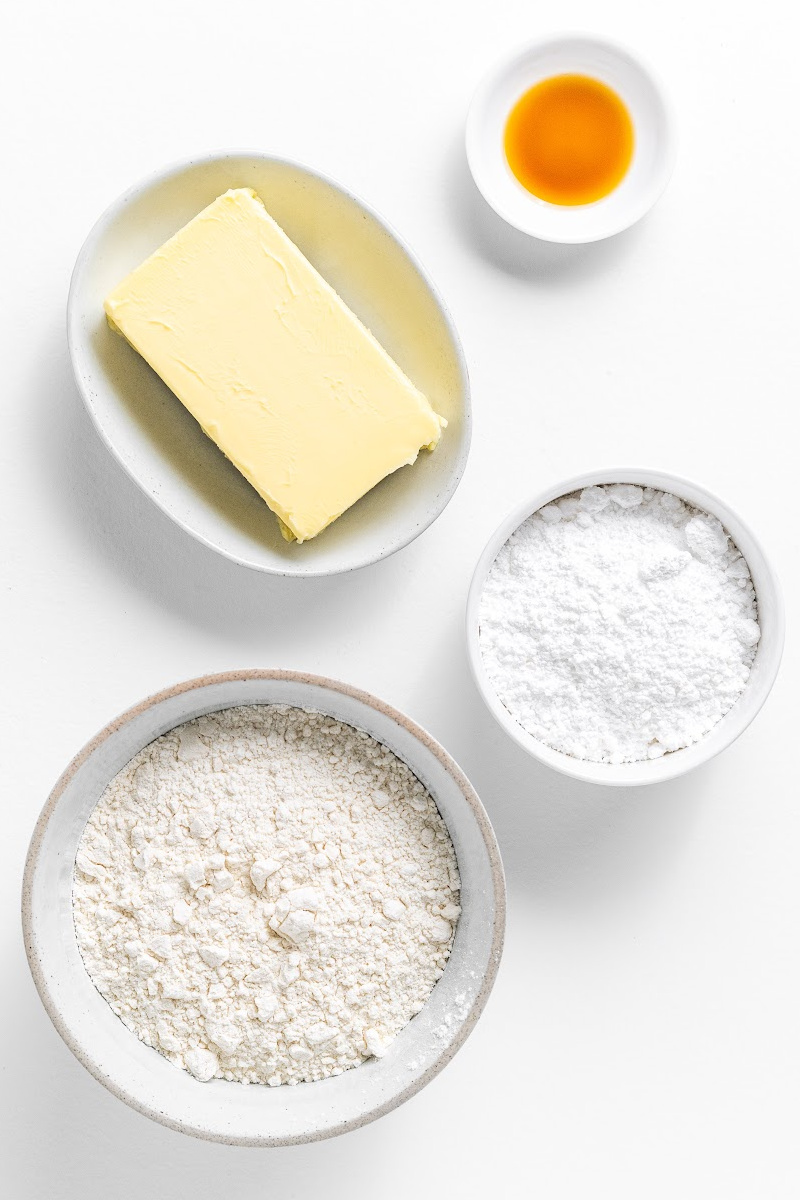 Ingredients needed:
powdered sugar
salted butter
all purpose flour
vanilla extract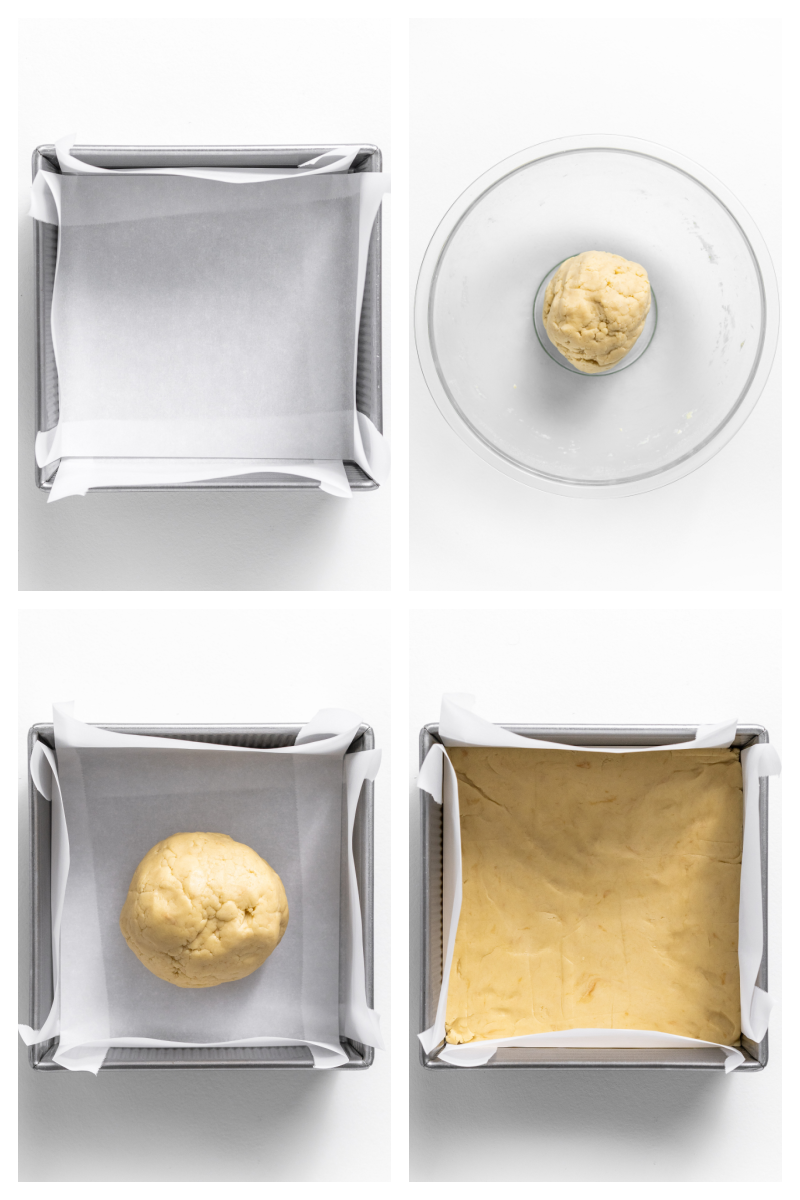 How to make Classic Shortbread:
The full, printable recipe with ingredient amounts and instructions is at the end of this post. It's very helpful to have a kitchen scale to make perfect classic shortbread!
Line a square pan with parchment paper. Mix the shortbread ingredients until they come together into a ball. Place the ball of dough into the pan, and pat it evenly into the bottom of the pan. Bake for 20 minutes.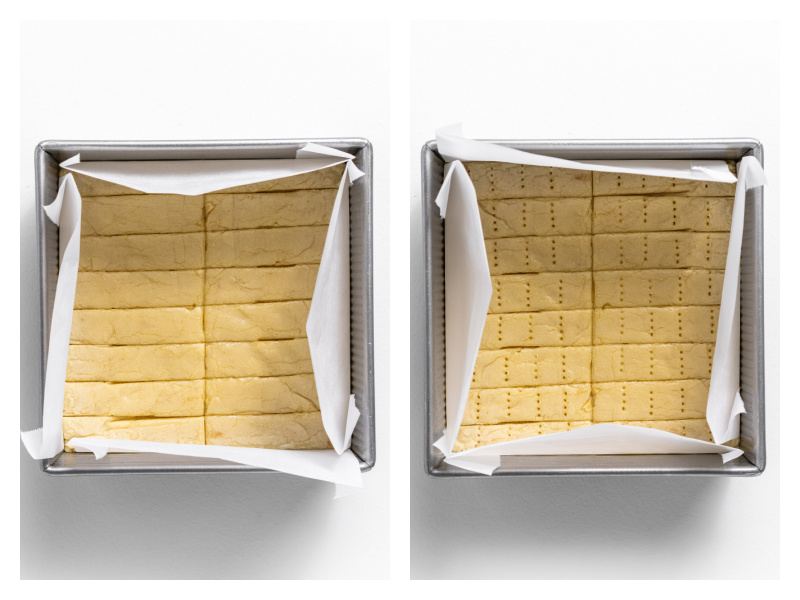 Remove the partially baked shortbread from the oven, and cut the shortbread into 16 "fingers." Poke the top of each cookie with the tines of a fork.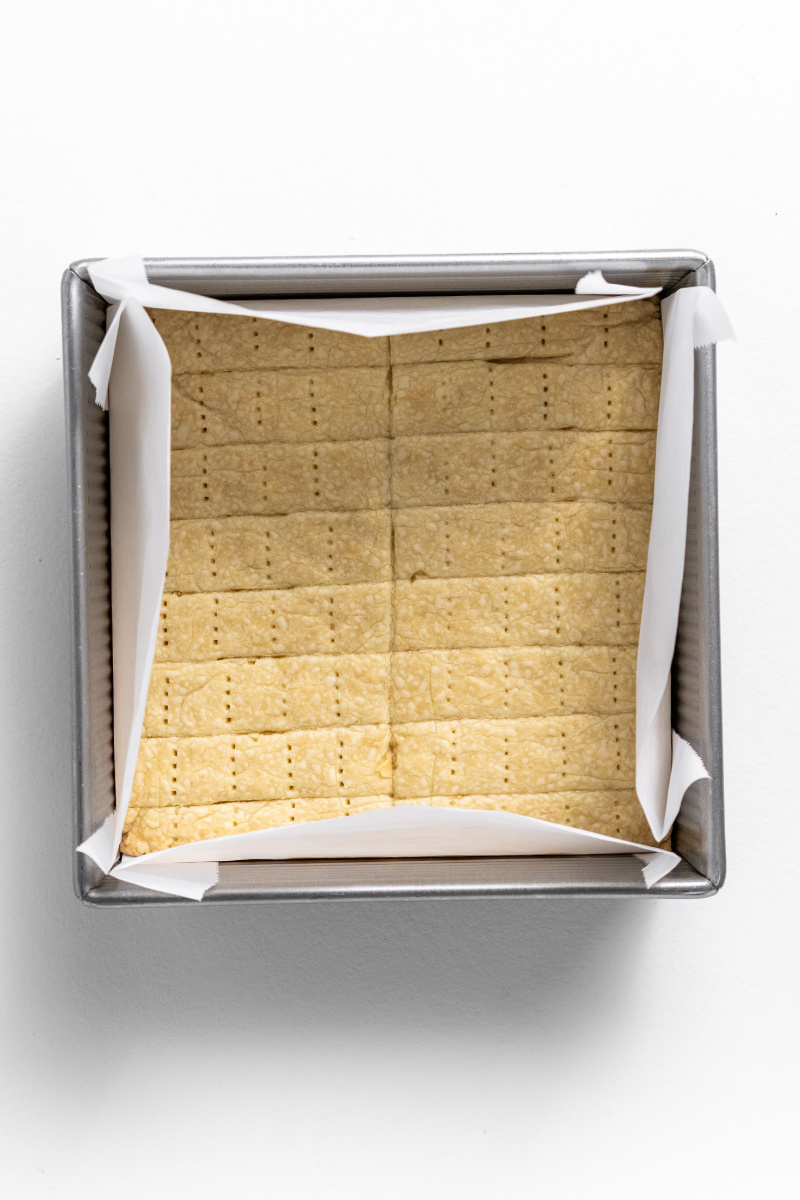 Bake for 25 to 35 minutes more. Classic shortbread should be a nice, sandy color- not browned. Then let it cool completely in the pan.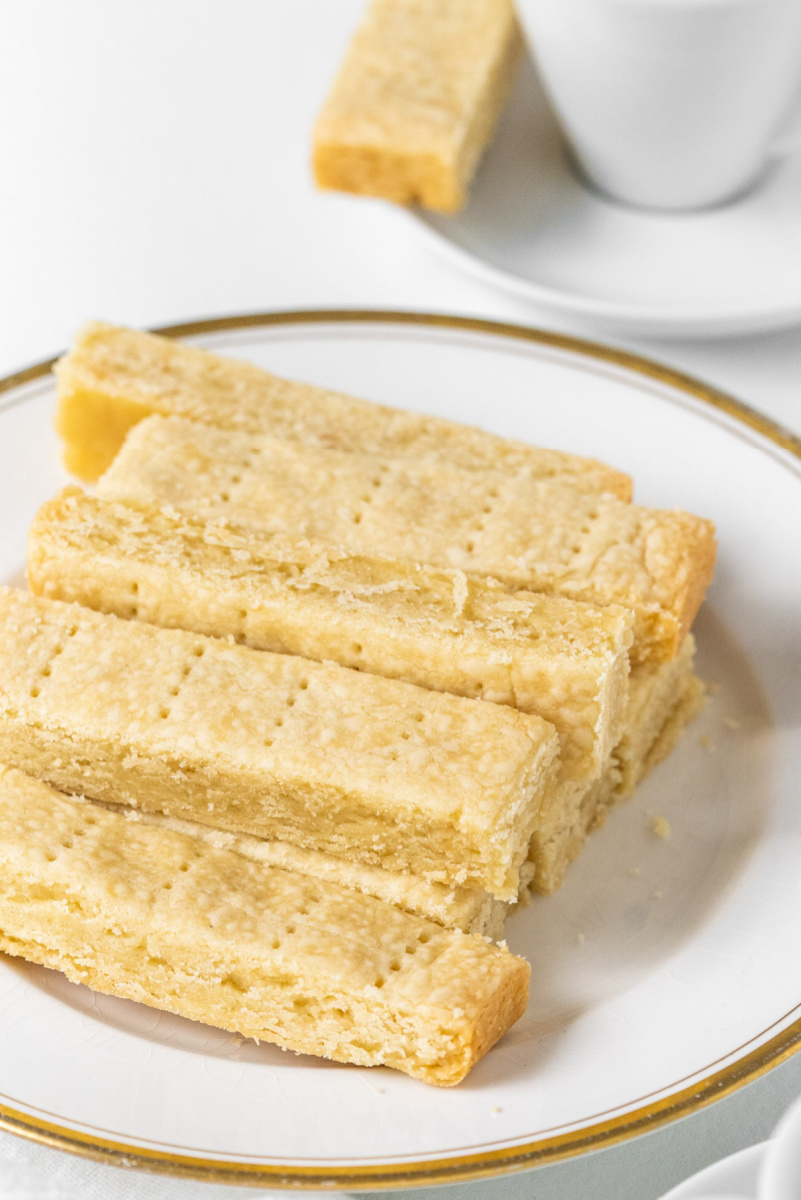 Use a knife to poke along the cuts between cookies. Break the slab of cookies apart to separate the cookies. Store in a covered container at room temperature for up to 2 weeks. Freeze for up to 6 months.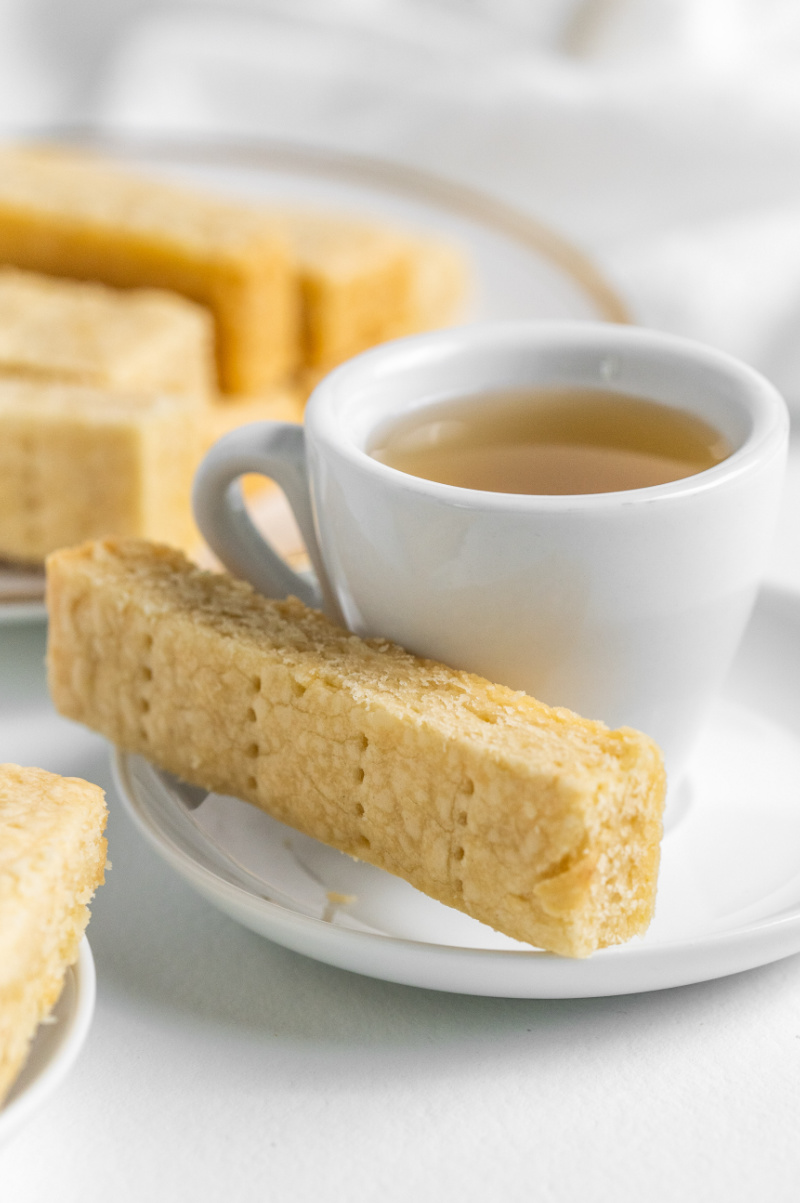 Shortbread happens to be a really delicious treat to have with a cup of tea or coffee. Eat or dunk, and enjoy!
Fun Facts About Shortbread:
Shortbread has been called the ancestor of all butter cookies. It got its name from its short, crumbly, melt-in-your-mouth texture.
Shortbread is typically baked in one of three shapes: one large circle, round biscuits or oblong fingers.
Since it was expensive to make, shortbread was very much a luxury treat served for Christmas or Hogmanay (Scottish New Year's Eve).
In Scotland, it was traditional to break a decorated shortbread cake over the head of a new bride when entering her new home.
Shortbread is a famous accompaniment to tea, coffee, milk and hot chocolate.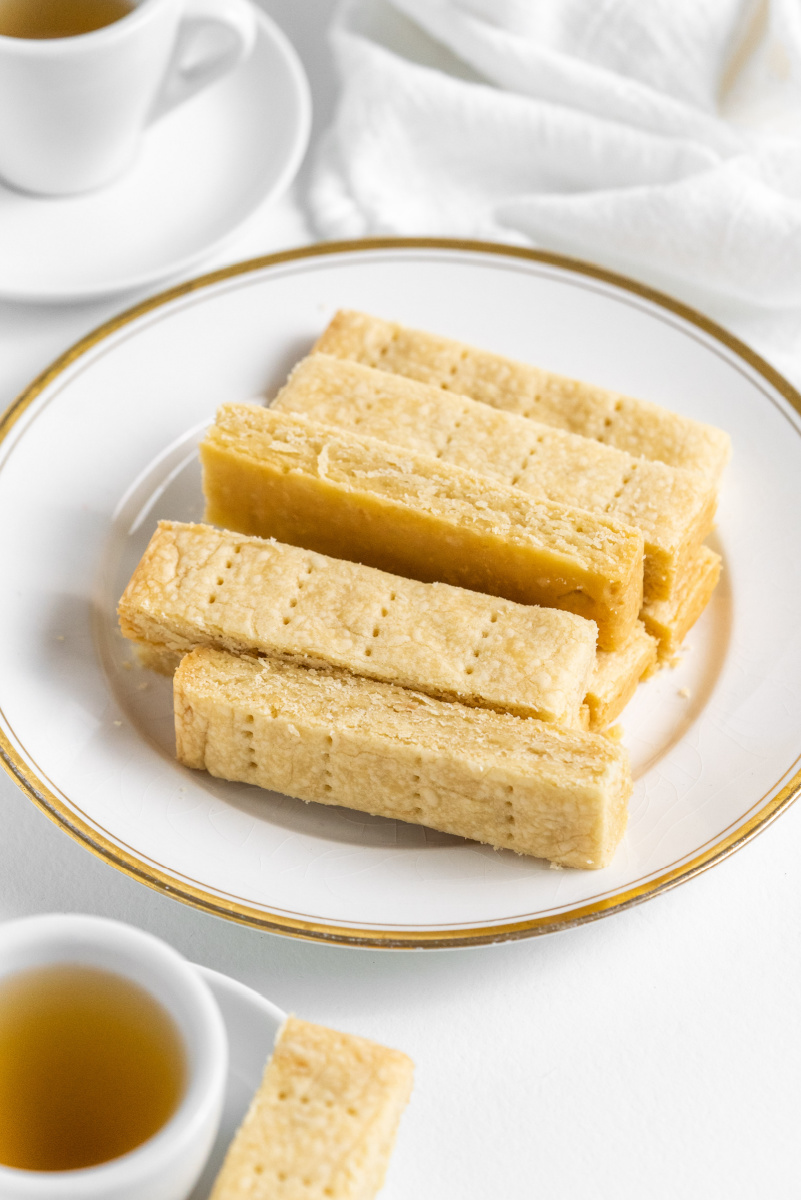 Classic Shortbread
Ingredients
100g powdered sugar (7/8 cup)
200g good quality salted butter, at room temperature (3/4 cup + 2 tablespoons)
300g all-purpose flour (2 3/8 cups)
1 teaspoon vanilla extract
Instructions
Preheat the oven to 300F. Line an 8 by 8-inch baking dish with 2 pieces of parchment paper so it hangs over all 4 sides.
Beat or stir together all ingredients in a large bowl until they come together to form a crumbly dough.
Press the dough evenly into the prepared baking dish. Bake for 20 minutes.
Remove the pan from the oven. With the shortbread still in the pan, carefully cut the shortbread into 16 fingers. To do so, first cut it down the middle, and then make 7 horizontal cuts. You will end up with 16 cookies, each about 1 inch wide by 4 inches long. Dock the shortbread (poke the top of each cookie a few times with the tines of a fork).
Return the pan of shortbread to the oven and cook until it's a sandy color (it shouldn't be brown at all), about 25 to 35 minutes more.
Cool completely, and then break or cut the cookies apart where you made the cuts.
Store in an airtight container at room temperature.
Notes
Use a kitchen scale if you have one- to measure the ingredients precisely.
Nutrition Information:
Yield:

16
Serving Size:

1 pieces
Amount Per Serving:
Calories:

183
Total Fat:

10g
Saturated Fat:

6g
Trans Fat:

0g
Unsaturated Fat:

3g
Cholesterol:

27mg
Sodium:

81mg
Carbohydrates:

21g
Fiber:

1g
Sugar:

6g
Protein:

2g
Nutritional information is estimated using a nutrition calculator. It is not likely to be 100% accurate.