Lofthouse Cookies are a popular cookie found in the bakery section of grocery stores in the United States. They're a soft sugar cookie with a thick layer of sweet, creamy frosting, and they're topped with rainbow sprinkles. This is a copycat recipe for these well-known cookies.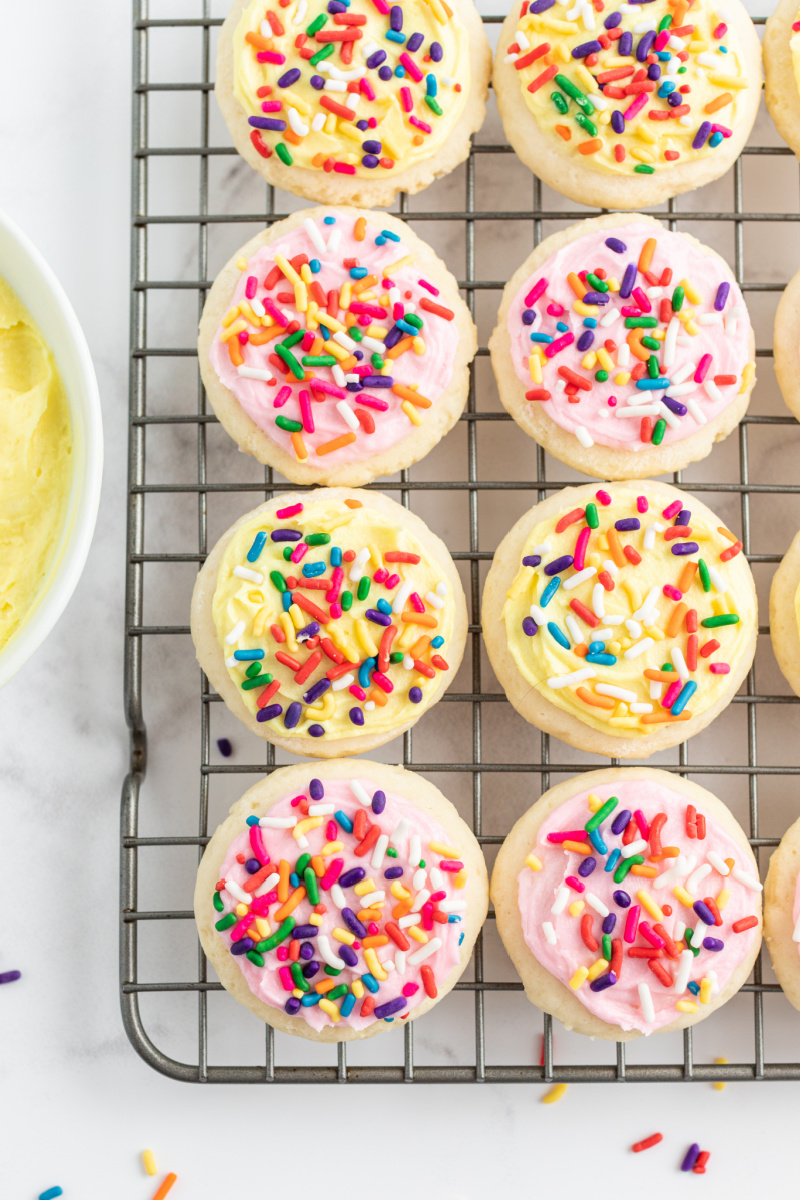 Spring is the best time to make Lofthouse Cookies because they are pastel-colored and pretty. Consider making them for Easter or for a baby shower or birthday party. Pretty, heart-shaped Raspberry Linzer Cookies would be a sweet pairing with these!
About Lofthouse Cookies:
Lofthouse Cookies are different than traditional sugar cookies because they are taller and fluffier. Sometimes sour cream is added to give them a moist and tender texture. In this recipe I'm sharing here, cream cheese is added to the cookie dough instead of sour cream.
Some Lofthouse Cookie recipes use both baking powder and baking soda to achieve a fluffy texture. I find that only baking powder is needed in my recipe. I use cake flour instead of all-purpose flour to keep the cookie texture light and cakey.
The History of Lofthouse Cookies:
Lofthouse Cookies surfaced in 1994 when Lofthouse Foods started producing these cookies to sell to major U.S. supermarket bakeries. The company states that the cookies were "mixed from a family recipe," but that's about all they'll reveal. Nowadays, you'll find many copycat recipes for Lofthouse Cookies.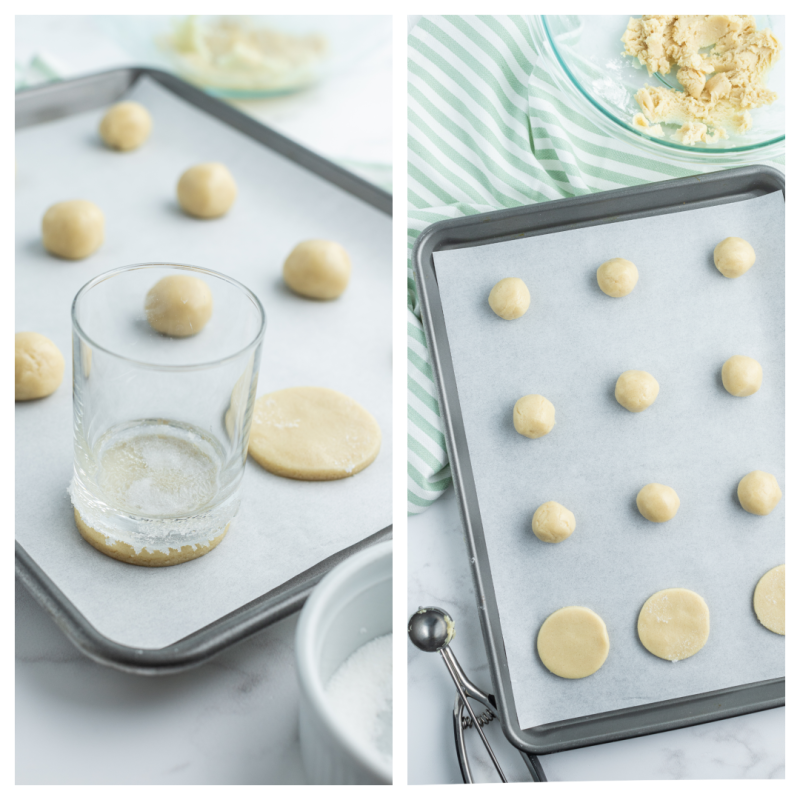 How to make Lofthouse Cookies:
Prepare the dough, and refrigerate the dough until it has had a chance to become firm. Roll the dough into balls, and place them on a parchment-lined baking sheet. Coat the bottom of a glass with sugar, and press the round ball of dough down to a flat circle.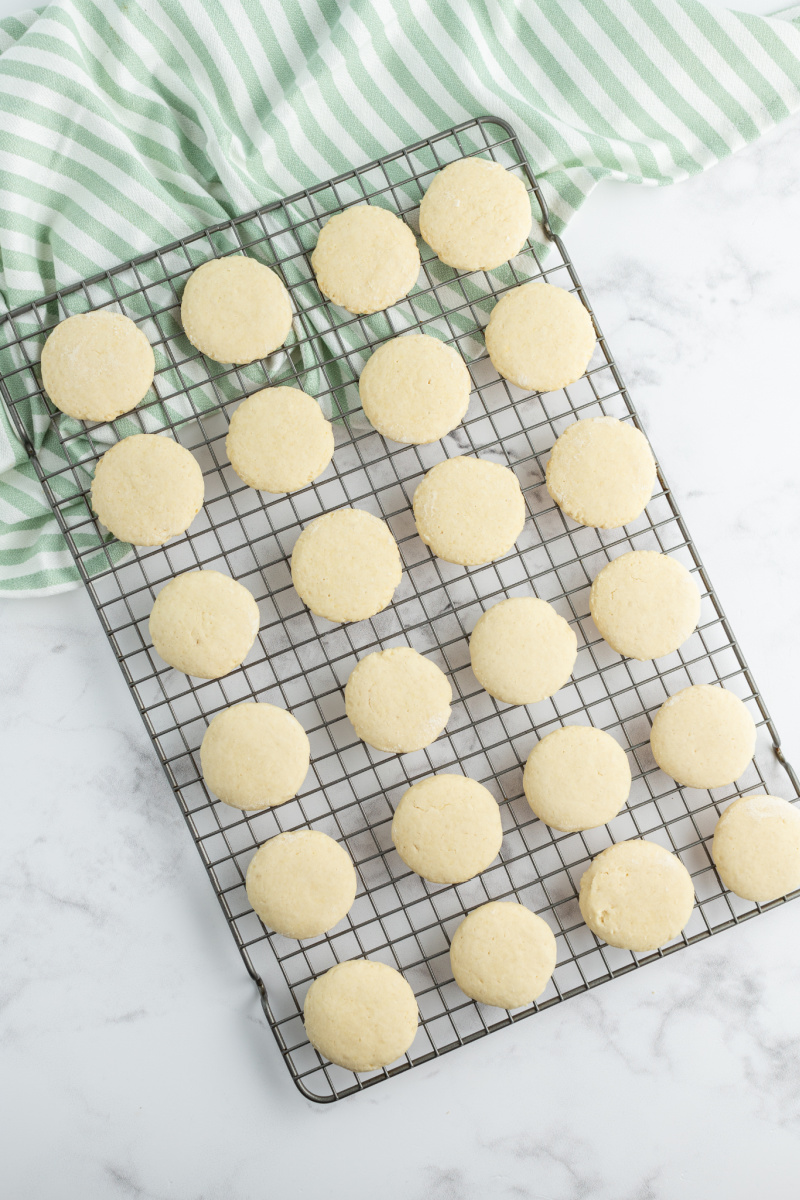 Bake, and cool the cookies on a rack.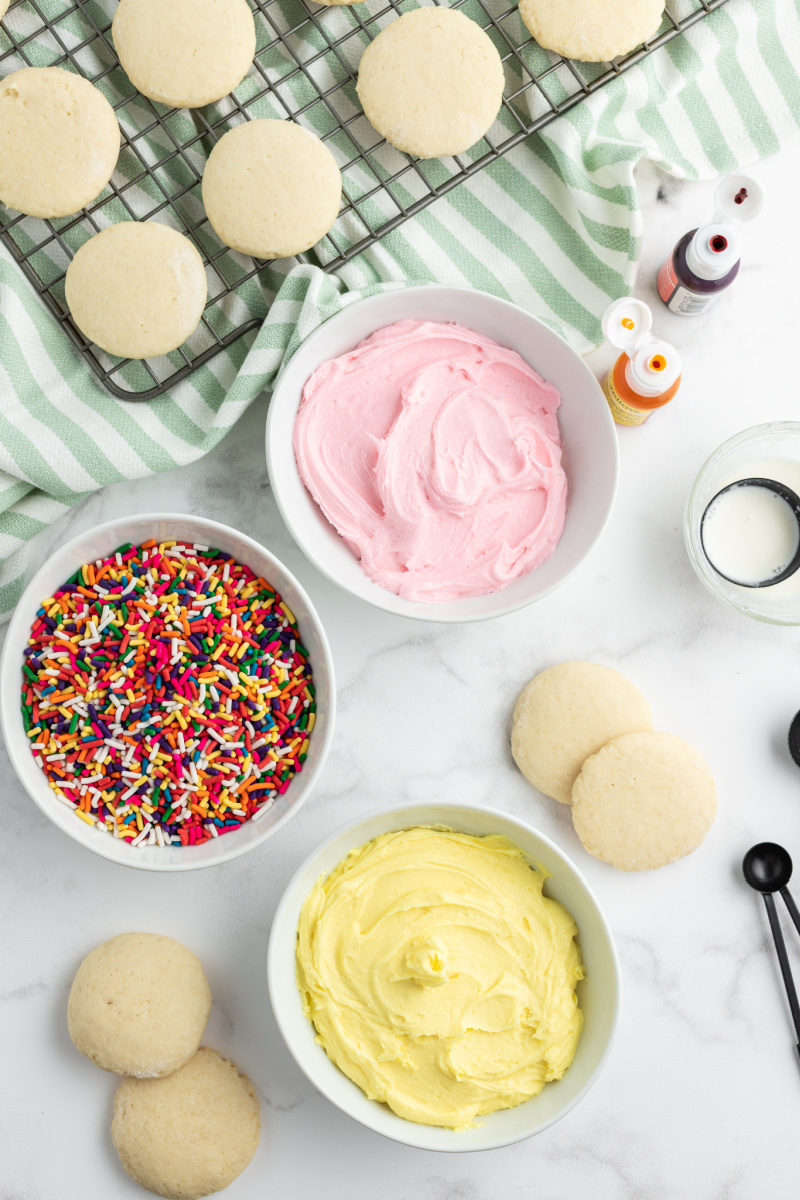 How to prepare the frosting:
Use a mixer to combine butter, vanilla and powdered sugar. Add in heavy cream, and mix until very creamy and spreadable.
Decide how many colors you want to make the frosting. Divide the frosting between bowls, and add in different colors of gel paste food color.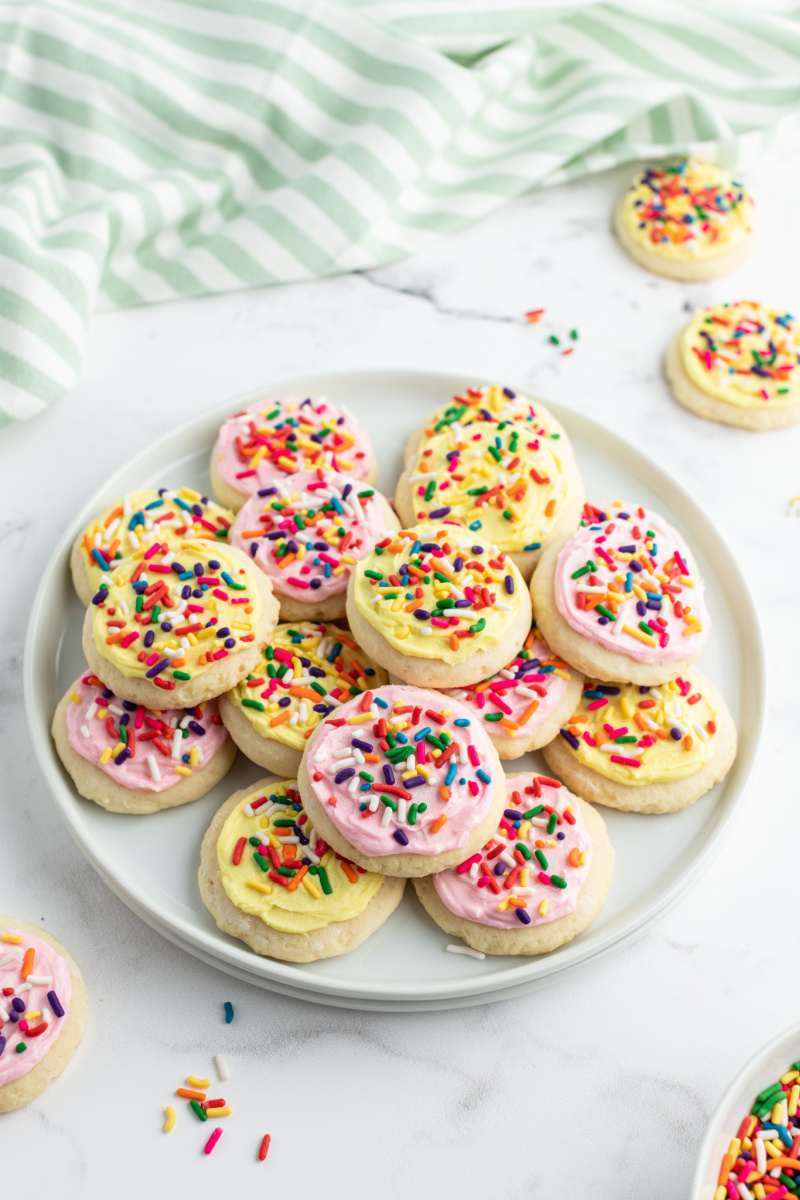 Spread the frosting on the cookies, and top with rainbow sprinkles. Store the cookies at room temperature for 3 to 4 days in a sealed container. They'll store best if they're in a single layer. If you freeze the cookies, they'll be good for 4 to 5 weeks.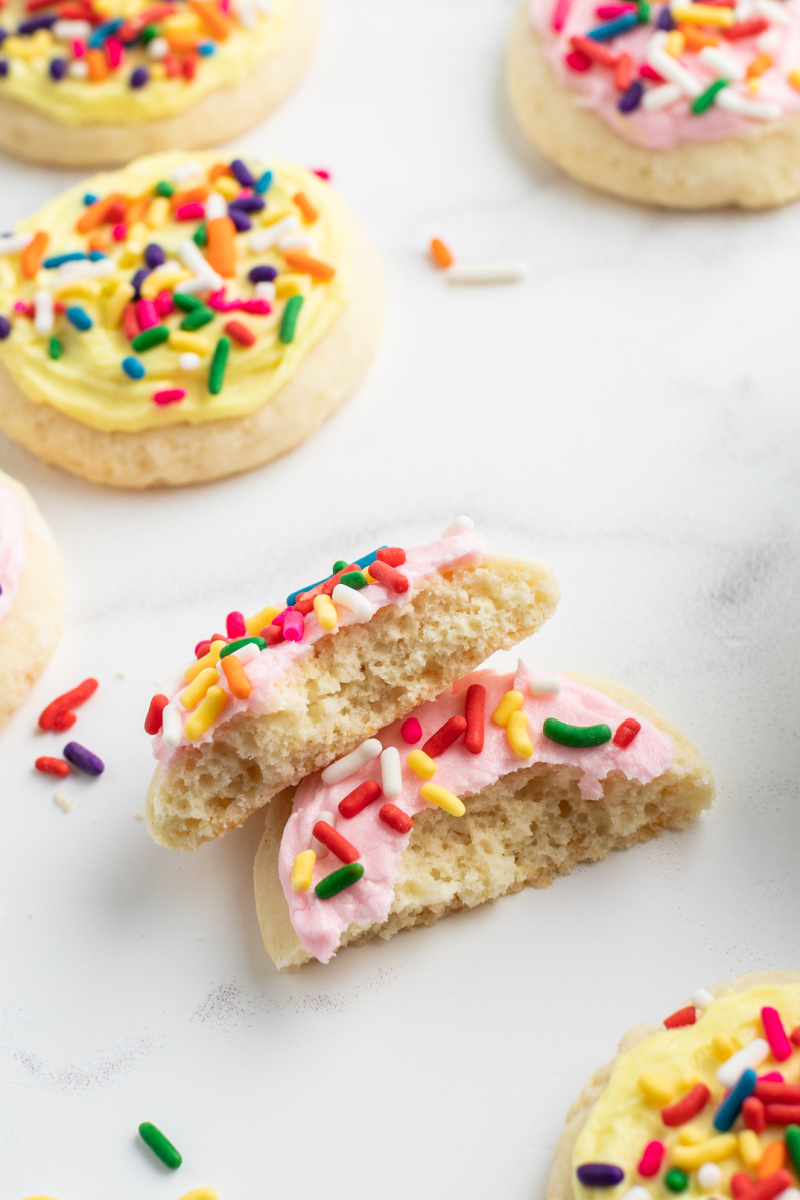 The texture of Lofthouse Cookies is soft and cakey. Some people really like these cookies, and other people despise them. Do you love them or hate them? I guess you'd better make a batch and decide for yourself.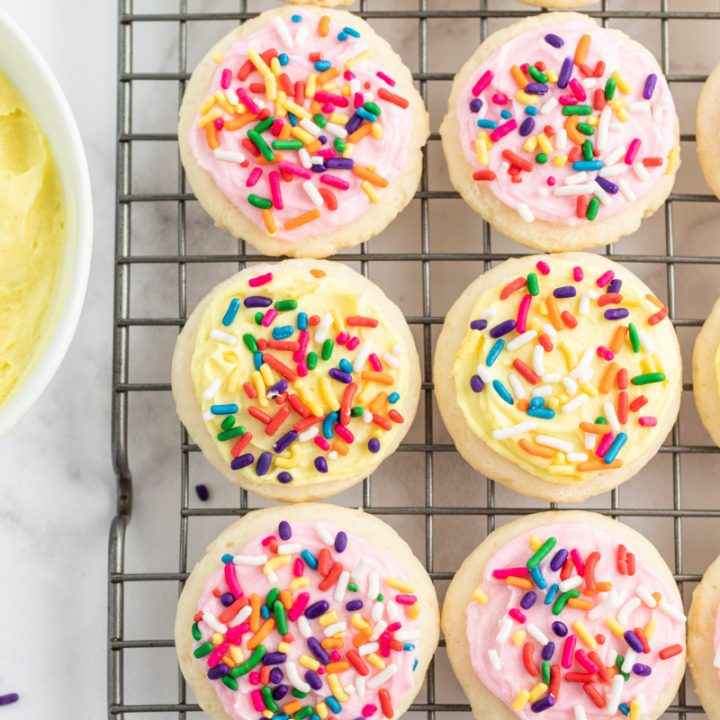 Lofthouse Cookies
Total Time:
1 hour
53 minutes
These Lofthouse Cookies are the perfect copycat of the popular grocery store bakery cookies.
Ingredients
COOKIES:
1/2 cup (1 stick) salted butter, at room temperature
3 ounces cream cheese, at room temperature
1 cup granulated white sugar
1/2 teaspoon kosher salt
2 large eggs, at room temperature
1 tablespoon vanilla extract
2 3/4 cups cake flour
2 teaspoons baking powder
FROSTING:
1/2 cup salted butter, at room temperature
1/2 teaspoon vanilla extract
2 cups powdered sugar
2 to 3 tablespoons heavy whipping cream
gel (or paste) food coloring- yellow and pink
rainbow sprinkles
Instructions
MAKE THE COOKIES:
Preheat the oven to 350 degrees F. Line two baking sheets with parchment paper or silpat mats.
In a large bowl, use an electric mixer to combine the butter, cream cheese, sugar and salt. Beat until smooth and fluffy- 3 to 4 minutes. Add the eggs and vanilla extract and mix for another minute. In a medium bowl, whisk together the flour and baking powder. Slowly add the flour to the wet ingredients and mix just until it's all incorporated. Cover the bowl with plastic wrap and refrigerate until the dough is firm.
Use a cookie scoop to measure an even scoop of dough (1 ½ to 2 tablespoons). Roll the blob of dough into a ball. Place it onto the baking sheet, and use the bottom of a glass that has been dipped in water and sugar to flatten it into a round cookie shape. Repeat with the remaining dough. sheet (space about 2-inches apart).
Bake 12 to 14 minutes until the cookies are no longer looking raw in the middle. Let them cool completely on the pan before transferring them to a rack.
MAKE THE FROSTING:
In a large bowl, use an electric mixer to cream the butter. Then mix in the vanilla. Add the powdered sugar and mix to combine. Mix in 1 tablespoon of cream, and then another. The consistency at this point might be what you are looking for (a nice, spreadable consistency), or you may need a little more powdered sugar or a little more cream.
Decide how many colors you'd like your cookies to be. If you want just one color, add a little of the color to the bowl and stir to combine. If you want two colors, divide the frosting into two separate bowls and add color, as desired. Stir to combine.

Frost the cookies leaving a visible rim around the edge of the cookie (Google Lofthouse cookies to see how others have frosted theirs), and add sprinkles on top. Lofthouse cookies should be refrigerated in a covered container.