Beautiful Raspberry Linzer Cookies can be made into a lot of different shapes. These buttery sandwich cookies are filled with raspberry jam and dusted with powdered sugar.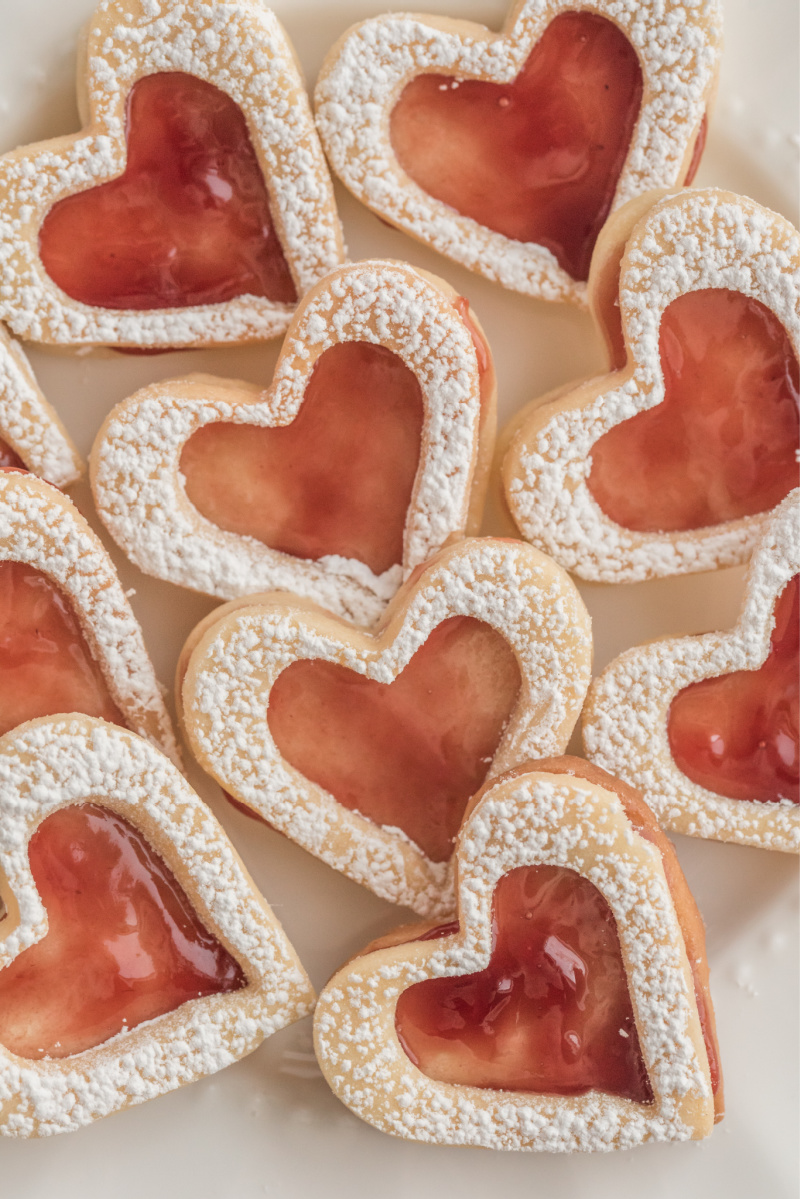 February 14th is Valentine's Day. The perfect way to celebrate is to make some heart-shaped Raspberry Linzer Cookies or Chocolate Dipped Strawberries!
Linzer cookies are German in origin, and they're a takeoff of the Linzer torte (an Austrian pastry). A Linzer cookie is a sandwich cookie with an exposed middle that is filled with fruit jam. The cookie is coated with a layer of powdered sugar.
The History of Valentine's Day:
The History Channel has a great write-up on the complete history of Valentine's Day. Valentine greetings date back as far as the Middle Ages. The first known written Valentines were sometime after 1400.
There are some different thoughts on how Valentine's Day originated. We do know that at the end of the 5th century, Pop Gelasius declared Feb. 14th St. Valentine's Day (whether it was religious or romantic).
By the middle of the 18th century, celebrating Valentine's Day in America became common. And by 1900 printed cards replaced handwritten notes when the printing press became more accessible.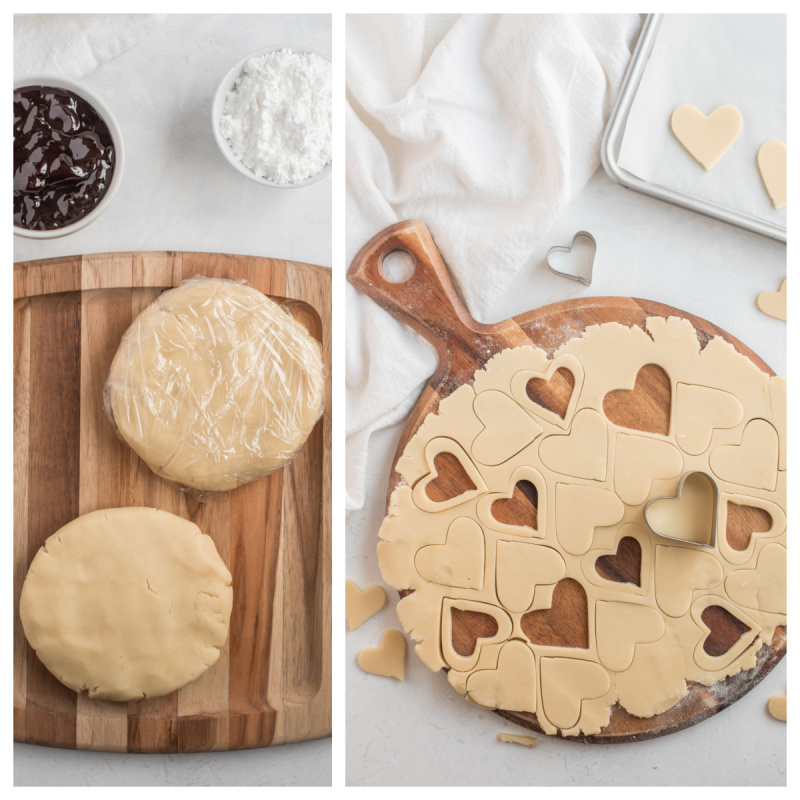 How to make Linzer cookies:
You'll make a buttery, almond-flavored dough and pat it into two disks. Linzer cookie dough will be easiest to roll when it's chilled, so give it about an hour or so in the fridge.
Then you'll roll it out and cut out hearts (or any other symmetrical shape). You'll need two cutters. If you're using hearts, buy a set of heart shaped cutters and you'll be fine.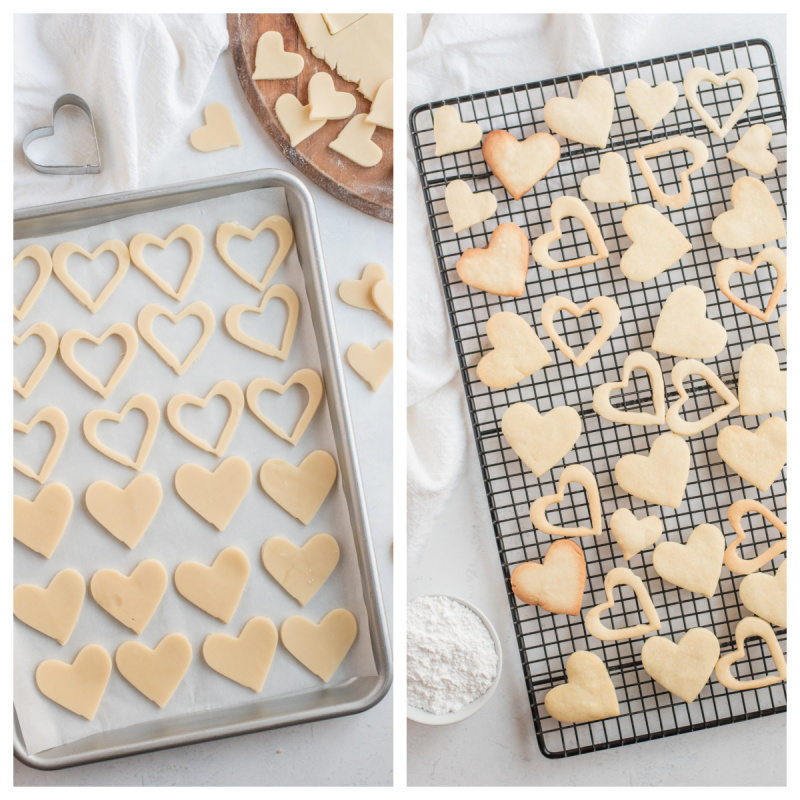 Then you'll take a smaller heart cutter and cut out a smaller heart out of half of the hearts. You won't use the smaller heart cut-outs, but you do need the hearts with the centers cut out since that will be the topper for your cookies. Bake them all. Bake the little hearts too if you want to keep those to eat separately.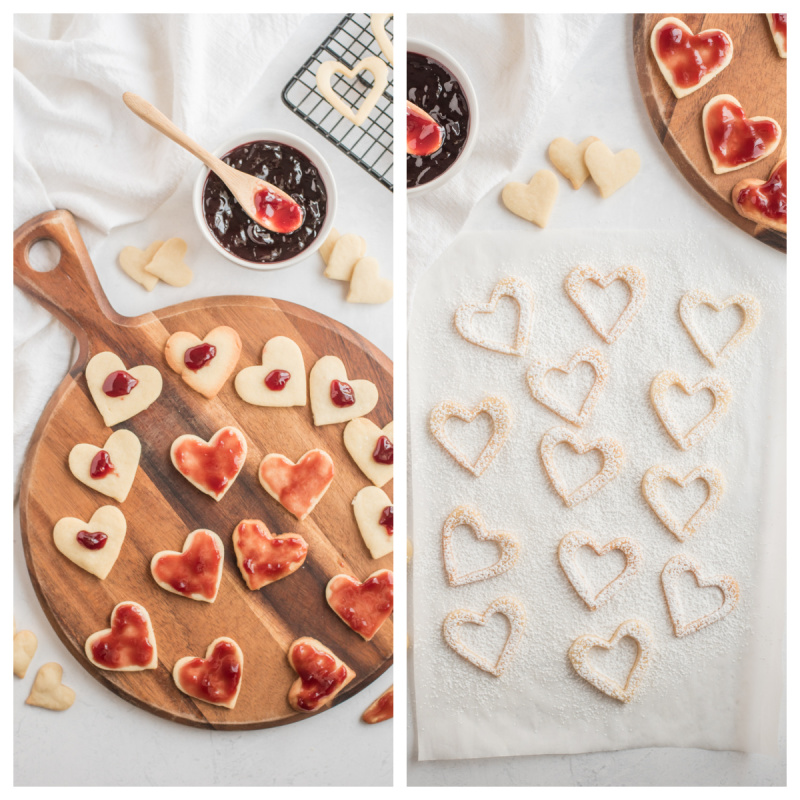 Spread seedless jam on the whole hearts. I think raspberry is best, but you can try different flavors. My Mom used to use red currant jam on her Linzer cookies, and that's good too. Dust the hollowed-out hearts with powdered sugar.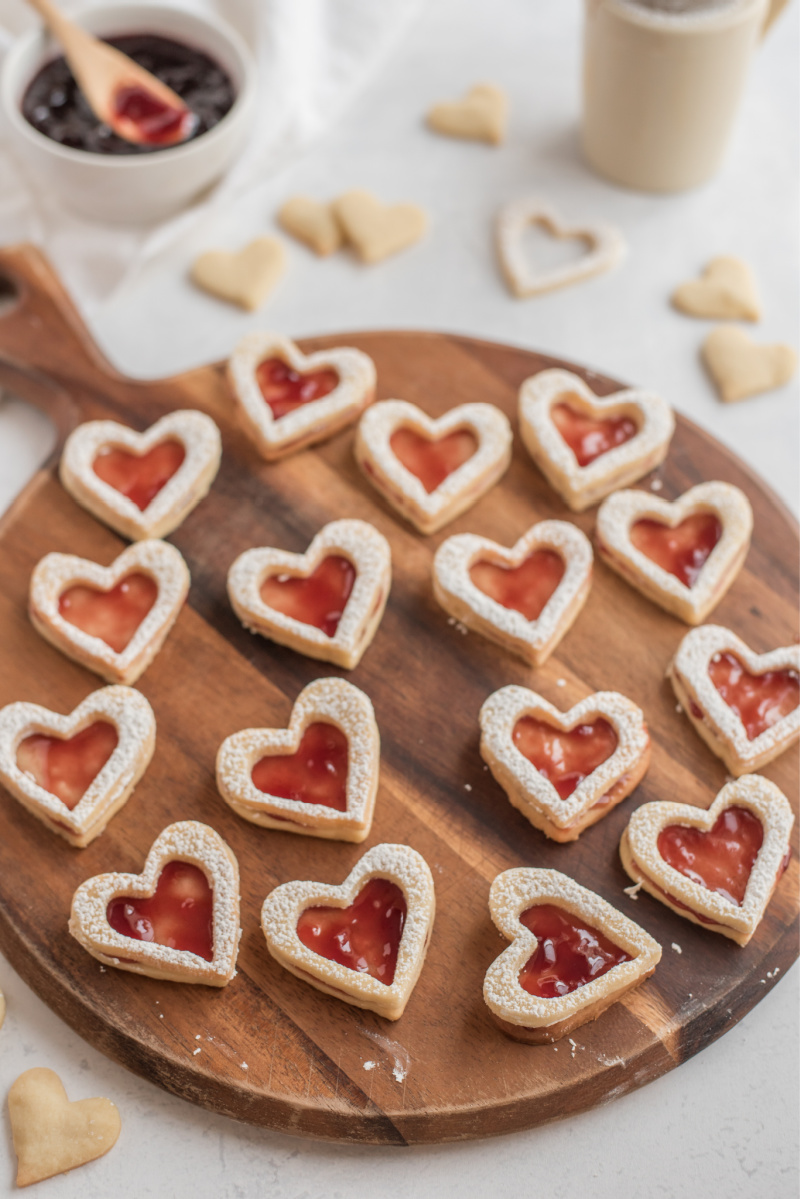 Then place the powdered sugar hearts on top of the jam-topped hearts to make sandwich cookies. That's it. Aren't they so pretty?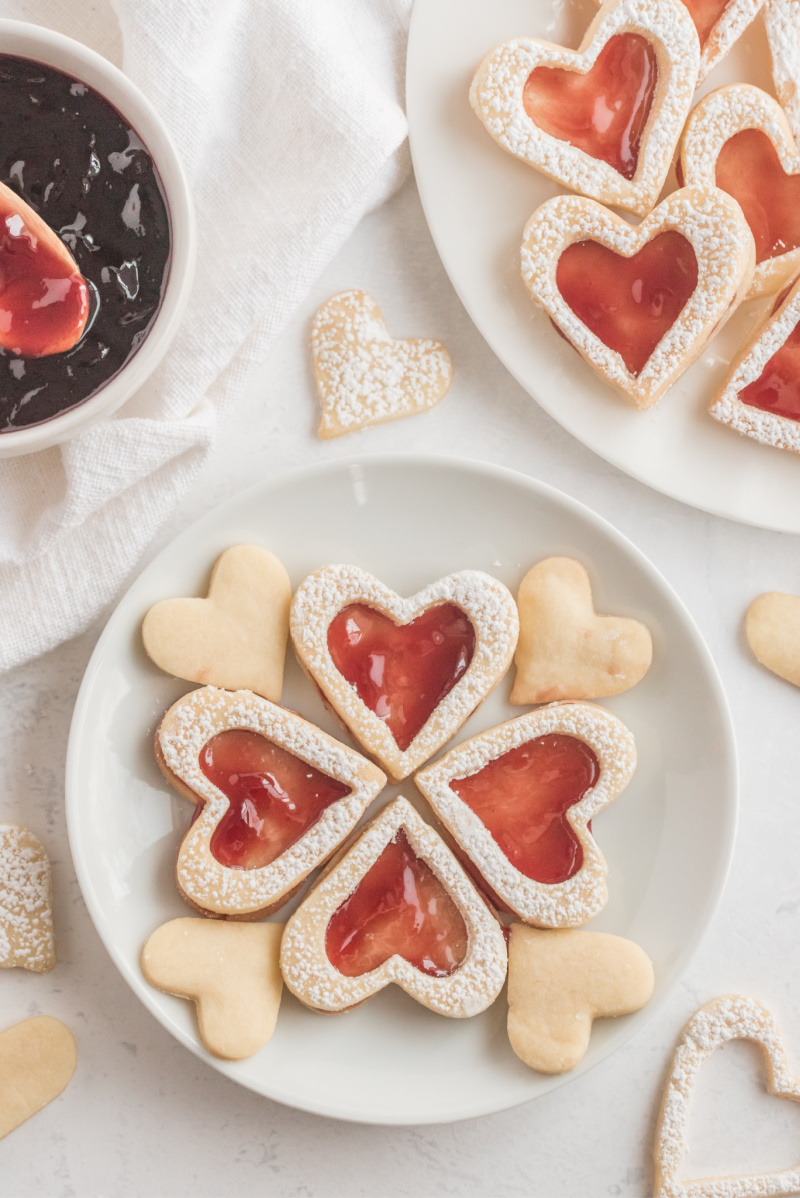 How to store Linzer cookies:
Linzer cookies do not need to be refrigerated. They are fine stored at room temperature in a covered container layered between pieces of parchment paper. You can freeze Linzer cookies in the same manner.
Since the cookies are filled with jam, it's best to serve and consume them as soon as possible. The jam tends to soften-up the cookie a bit, so eat within a few days of making them.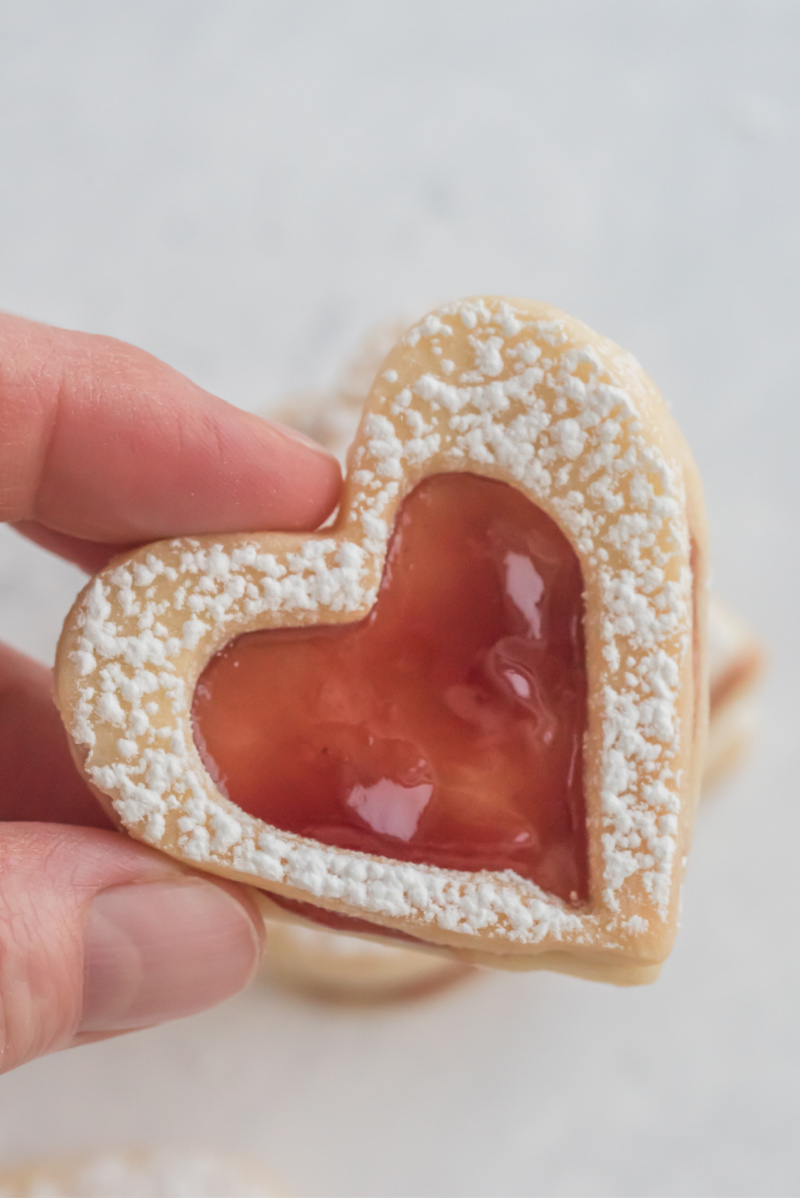 Raspberry Linzer Cookies are also often made as Christmas cookies. Regardless of the occasion, Linzer cookies sure are pretty. Try making them in different shapes like trees and stars, or use fluted round cutters.
Facts about Valentine's Day:
St. Valentine was a Catholic priest who lived in Rome in the 3rd century.
Eros was known to ancient Greeks as the God of love. Today, that God of Love is known as Cupid.
The oldest known Valentine that is still in existence is a poem written in 1415 by Charles Duke or Orleans to his wife while he was imprisoned at The Tower of London. You can see this poem today in the British Library.
In Victorian times, people sent "vinegar Valentines" to ward off non-desirable suitors.
The tradition of giving a box of chocolates was started in the 19th century by a company called, "Cadbury." Sound familiar?
The inventors of the little, chalk-tasting heart candies that are so popular today made lozenges before candy. Their machine eventually started stamping out heart-shaped candies, and they had the unique idea of printing messages on the candy hearts.
145 million Valentine cards are sent each year.
Valentine's Day is the 2nd largest card-sending holiday (after Christmas).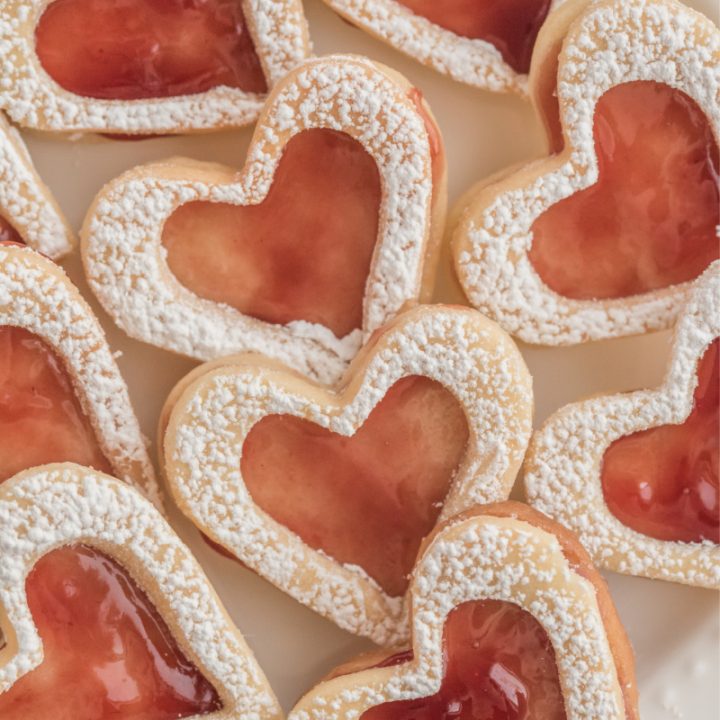 Raspberry Linzer Cookies
Yield:
30 sandwiched cookies
Prep Time:
2 hours
2 seconds
Total Time:
2 hours
9 minutes
2 seconds
These buttery cookies have a tangy raspberry jam filling.
Ingredients
1 cup (2 sticks) butter, at room temperature
½ cup powdered sugar
1 teaspoon almond extract
¼ teaspoon salt
2 cups all purpose flour
More powdered sugar, for dusting
3 to 4 tablespoons seedless raspberry jam
Instructions
In a large bowl, use an electric mixer to combine the butter, powdered sugar, almond extract and salt. Beat until creamy. Add the flour, mixing at low speed, until well-combined.
Divide the dough in half, flatten into two disks and wrap each disk in plastic wrap. Refrigerate for one hour, or until firm.
Preheat the oven to 350 degrees F. Line baking sheets with parchment paper or silpat mats.
Roll out a disk of chilled dough on a lightly floured surface to ¼-inch thickness. Cut with 2-inch heart cookie cutters. For HALF of the cookies, cut out the center of each heart with a smaller heart cookie cutter. Place the cookies 1-inch apart. Bake 7 to 9 minutes, or until the edges are lightly browned. Cool for a few minutes, and
then move to a rack to cool completely. (If you want to bake the mini cut-out hearts, you can bake those too for about 6 minutes).
Place the cookies with the center cut out onto waxed paper. Sprinkle the cookies with a dusting of powdered sugar. Spread the whole heart cookies with jam- just about ¼ to ½ teaspoon. Top with the cut-out cookie (powdered sugar side up).
Nutrition Information:
Yield:

30
Serving Size:

1 cookie
Amount Per Serving:
Calories:

98
Total Fat:

6g
Saturated Fat:

4g
Trans Fat:

0g
Unsaturated Fat:

2g
Cholesterol:

16mg
Sodium:

67mg
Carbohydrates:

10g
Fiber:

0g
Sugar:

3g
Protein:

1g