The Best Fudgy Brownies recipe is this one right here. These are the perfect brownies. They're full of chocolate, and they have a fudgy texture with a light crisp layer on top. Be sure to watch the video in the recipe card at the end of this post to see how to make this recipe.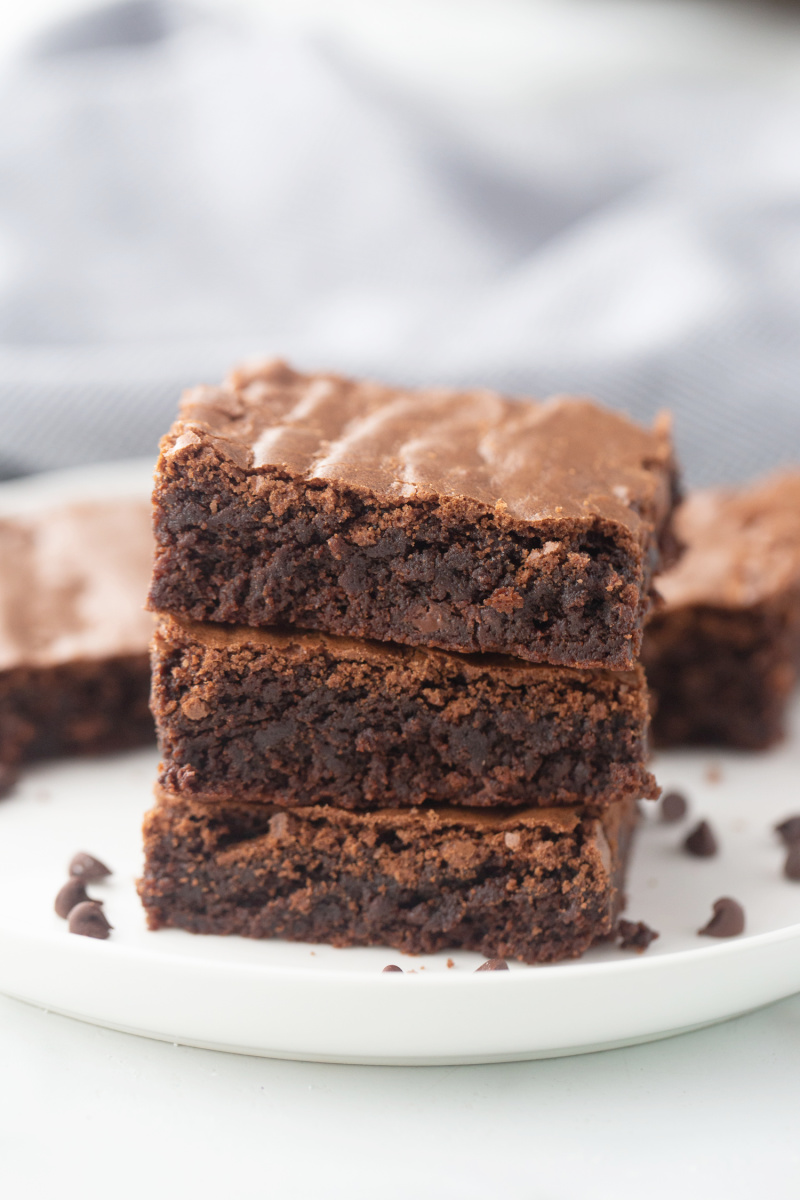 February 10th is National "Have a Brownie" day! And baking these Fudgy Brownies is a great way to celebrate. A basic brownie recipe contains butter, sugar, chocolate, eggs and flour. But there are many varieties of brownies to make!
Fudgy brownies don't have as much flour, utilize melted butter and they don't call for using baking powder. Like a good chocolate cake, cake-like brownies use more flour and less butter that is whipped with a mixer for a higher rise. Chewy brownies use extra eggs. And blondies are brownies without any chocolate in them at all!
The history of brownies:
It's believed that brownies were created at the Palmer House Hotel in 1893 when the owner asked the chef to create a "ladies dessert." The first recipe for brownies was printed in the Fanny Farmer cookbook in 1896, though that version did not contain chocolate (it was more like a molasses cake).
In 1897, the Sears Roebuck catalog began selling a pre-packaged, boxed brownie mix. Brownies became a popular American dessert during the first half of the 20th century. Based on industry estimates, Americans now eat over 1.5 billion brownies per year!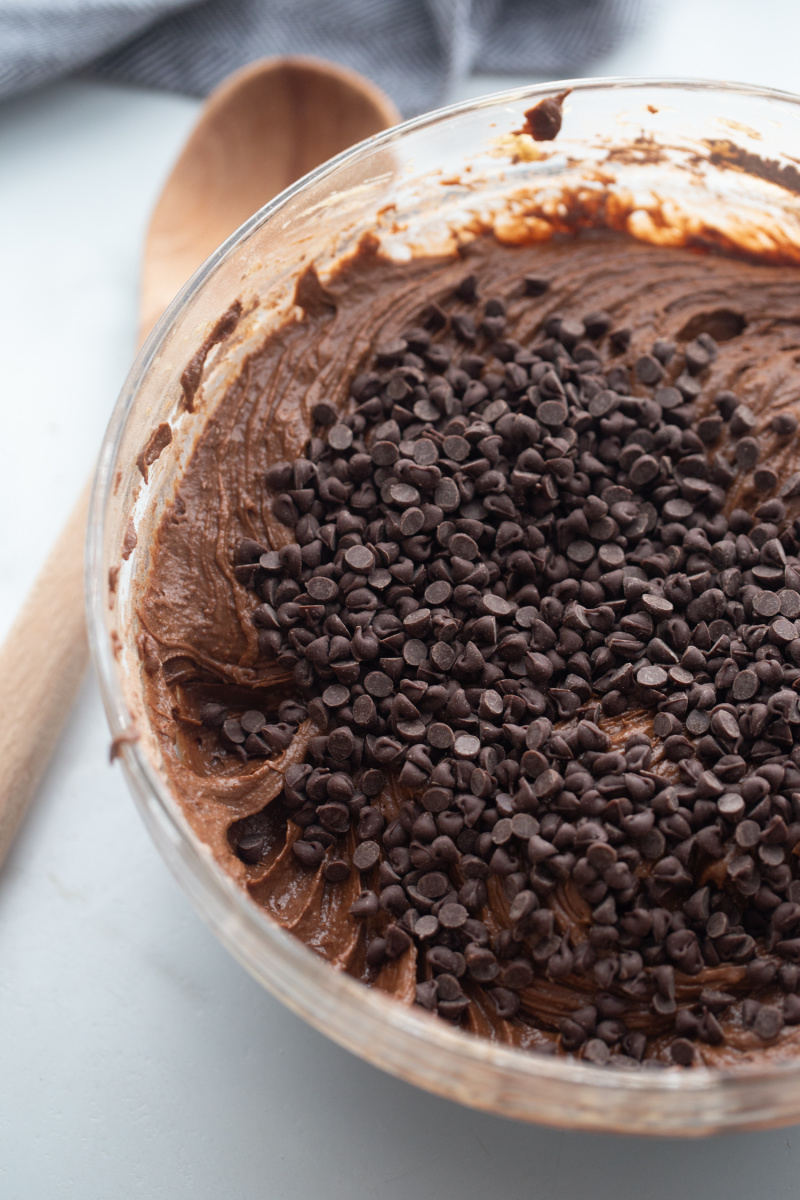 How to make the best fudgy brownies:
The best fudgy brownies begin with using melted butter. The butter is combined with white sugar, brown sugar, vanilla and eggs. Then the wet mixture is combined with the dry ingredients (flour, cocoa powder, salt and baking soda). This gives you the base of your chocolatey brownie batter.
To make these brownies extra special, I've added miniature chocolate chips to the batter. This means they'll mostly melt into the batter while baking, giving these brownies that desired fudgy texture.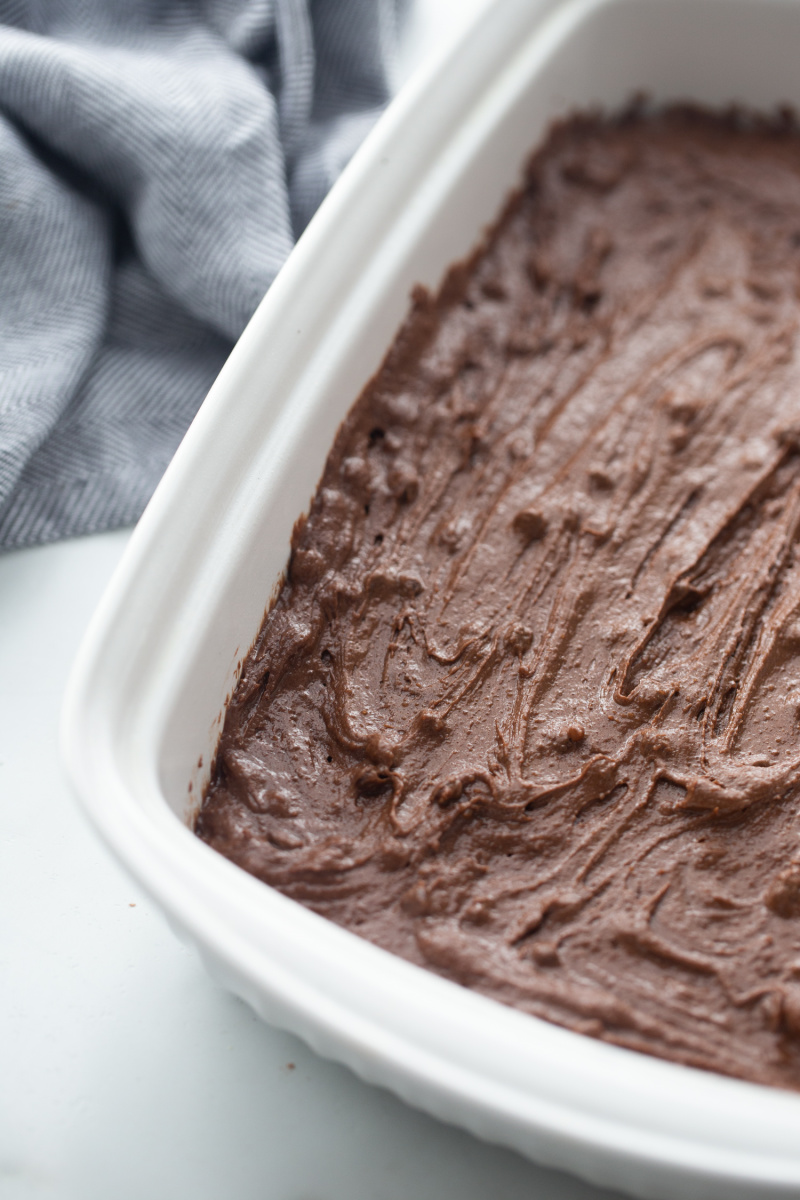 The brownie batter is spread into a 9×13-inch baking pan.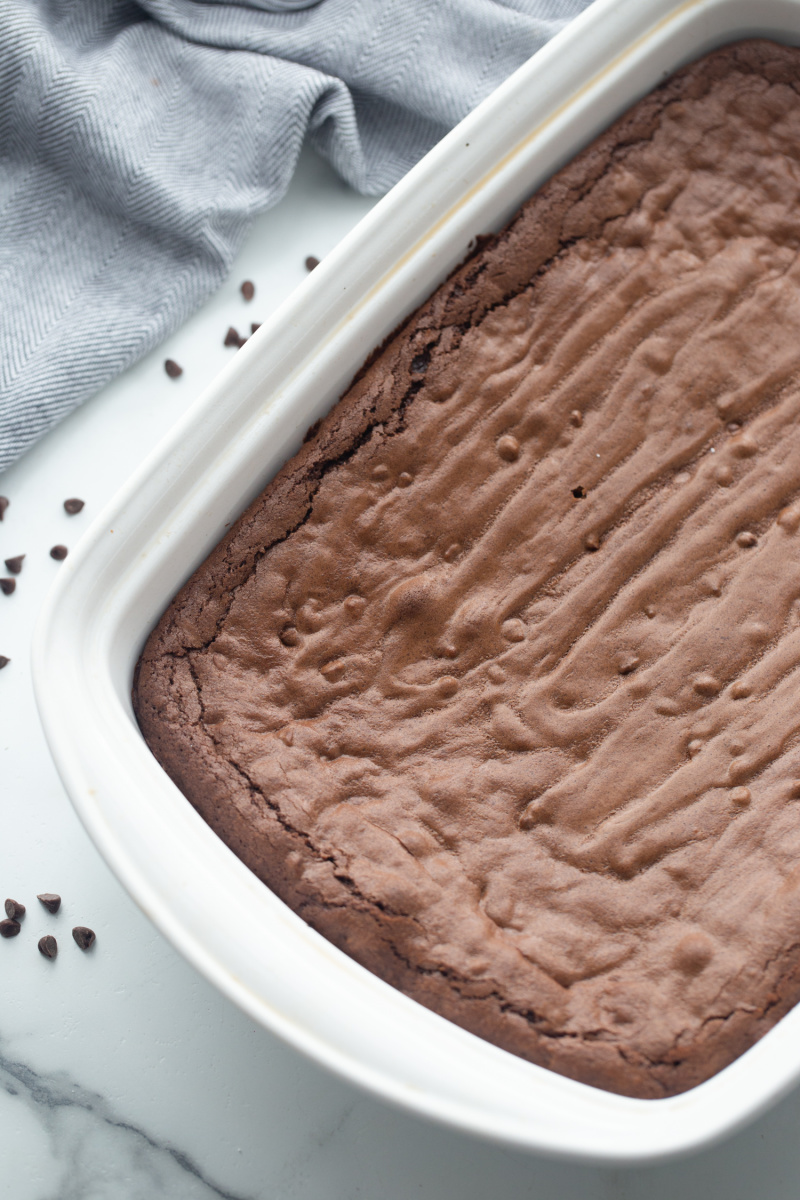 And they're baked for 35 to 40 minutes. I prefer to undercook my brownies slightly, so I stick with the 35 minute mark. Fudgy and gooey makes an awesome brownie, in my opinion!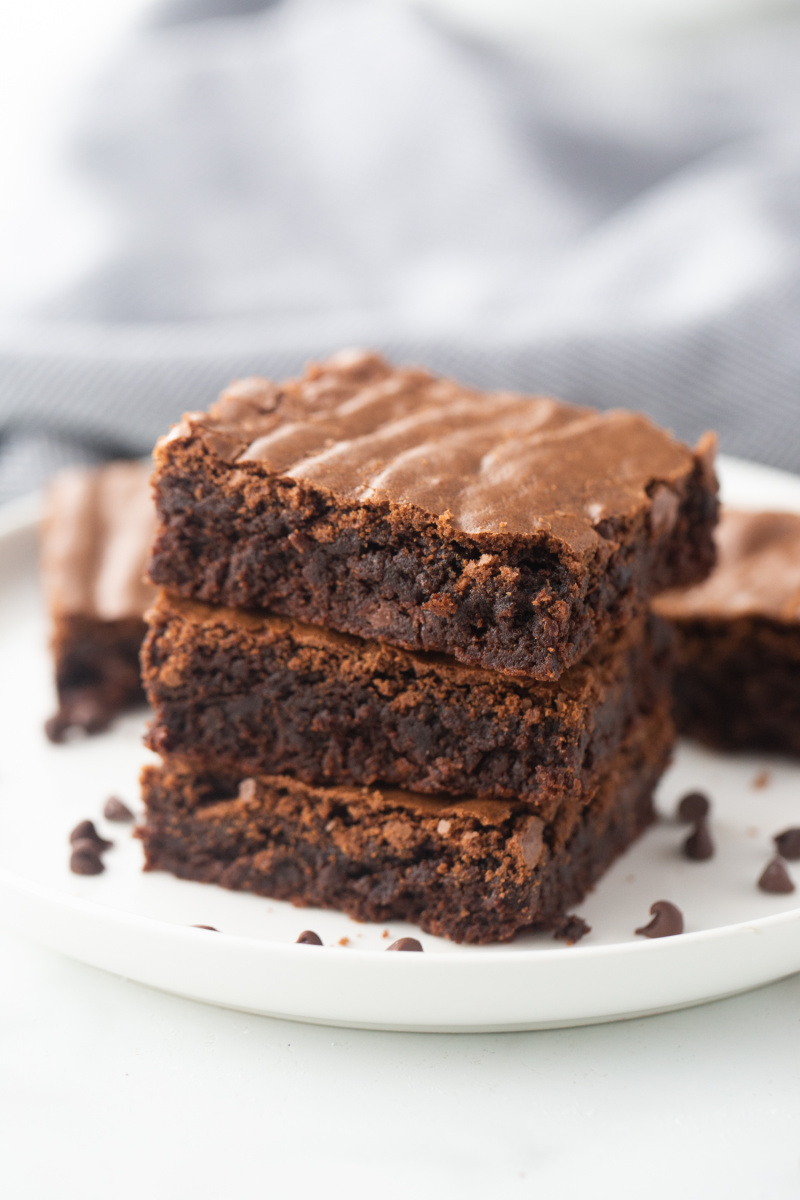 Like a good brownie recipe should, the best fudgy brownies develop a light, crisp layer on top. I'm confident they'll be the best fudgy brownies you've had in a long time.
What's the best way to store brownies:
Cut brownies can be kept in a well-sealed container at room temperature for up to 2 days. If you want them to last longer, don't cut them! You can store a whole pan of uncut brownies (covered) at room temperature for up to 4 days. Keep a whole pan of uncut brownies in the freezer for up to 3 months.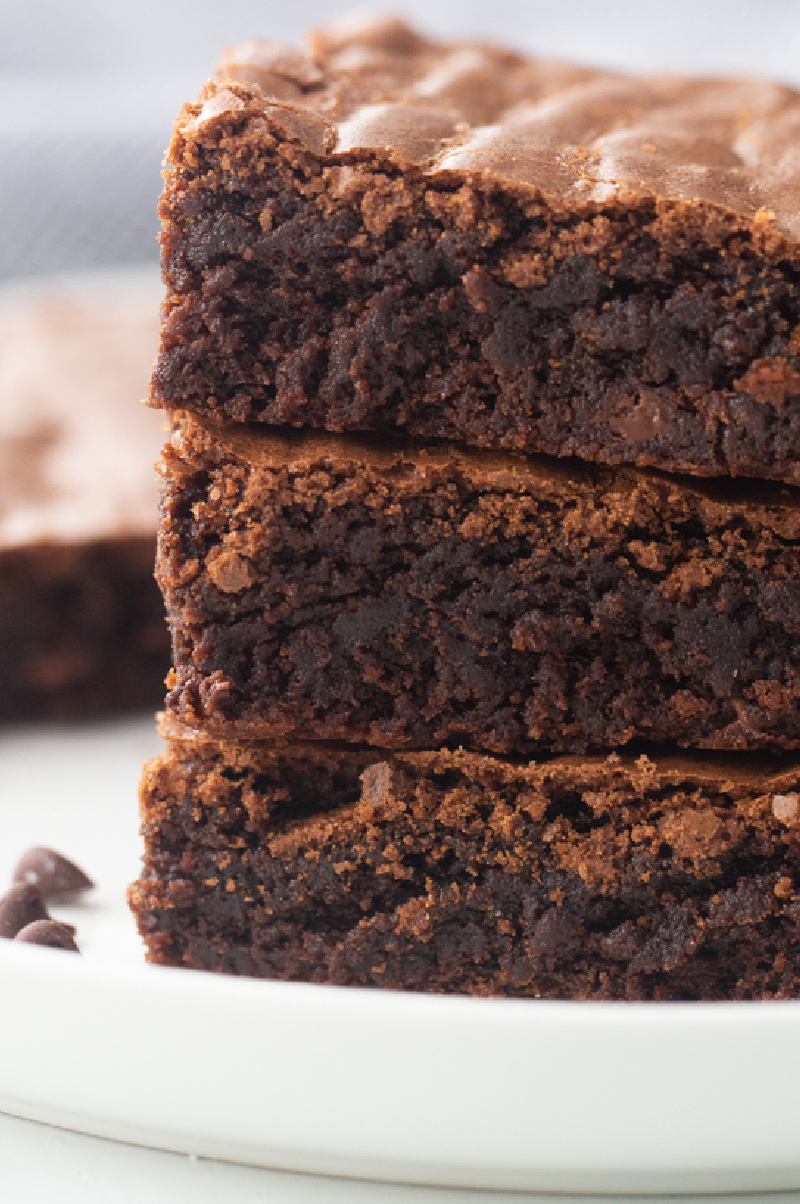 If you like these fudgy brownies, you'll probably like these Ooey Gooey Brownies too.
What are the best mix-ins for brownies?
Add nuts! Walnuts are the most common nuts added to brownies. Try adding slivered almonds of chopped Marcona almonds to your brownies too.
Mix in your favorite chopped candy bars.
Add chocolate chips or another flavor of chips like peanut butter or white chocolate.
Mix in marshmallows, or sprinkle them on top toward the end of baking time.
Add in your favorite spices such as cayenne pepper, chili powder, cinnamon or ground pepper.
Use an alternative to vanilla extract– almond extract, chocolate extract, orange extract or something else!
Mix in crushed pretzels.
Add sprinkles on top.
Controversial of course, but some people mix in cannabis too.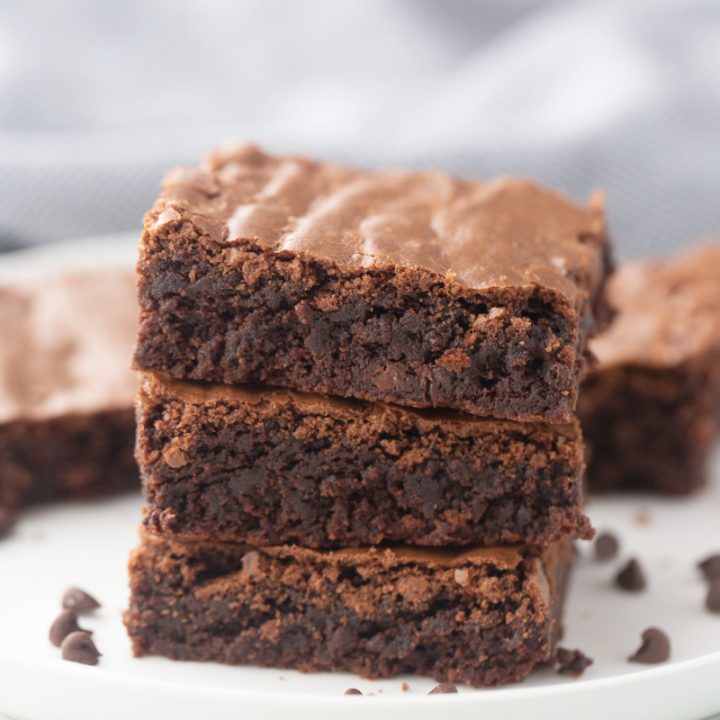 Best Fudgy Brownies
Truly the best fudgy brownie recipe ever!
Ingredients
1 cup (2 sticks) butter, melted
1 ½ cups granulated white sugar
1 ½ cups brown sugar
1 tablespoon vanilla extract
4 large eggs
1 ½ cups all purpose flour
1 cup unsweetened cocoa powder
1 teaspoon salt
½ teaspoon baking soda
½ cup miniature semisweet chocolate chips
Instructions
Preheat the oven to 350 degrees F. Spray a 9x13-inch pan with nonstick spray.
In a large bowl, use an electric mixer to combine the butter, sugars and vanilla. Beat in the eggs, one at a time, mixing well after each addition.
In a separate bowl, whisk together the flour, cocoa powder, salt and baking soda. Add the dry ingredients to the wet ingredients and mix until incorporated. Stir in the chocolate chips.
Spread the batter into the prepared baking pan.
Bake 35 to 40 minutes. Remove and cool the brownies in the pan on a wire rack. Let them cool completely before cutting.
Nutrition Information:
Yield:

24
Serving Size:

1 brownie
Amount Per Serving:
Calories:

233
Total Fat:

10g
Saturated Fat:

6g
Trans Fat:

0g
Unsaturated Fat:

3g
Cholesterol:

51mg
Sodium:

191mg
Carbohydrates:

34g
Fiber:

1g
Sugar:

26g
Protein:

3g