You only need one ingredient (grapes) to make these delicious Grape Popsicles. They're healthy and free of any preservatives!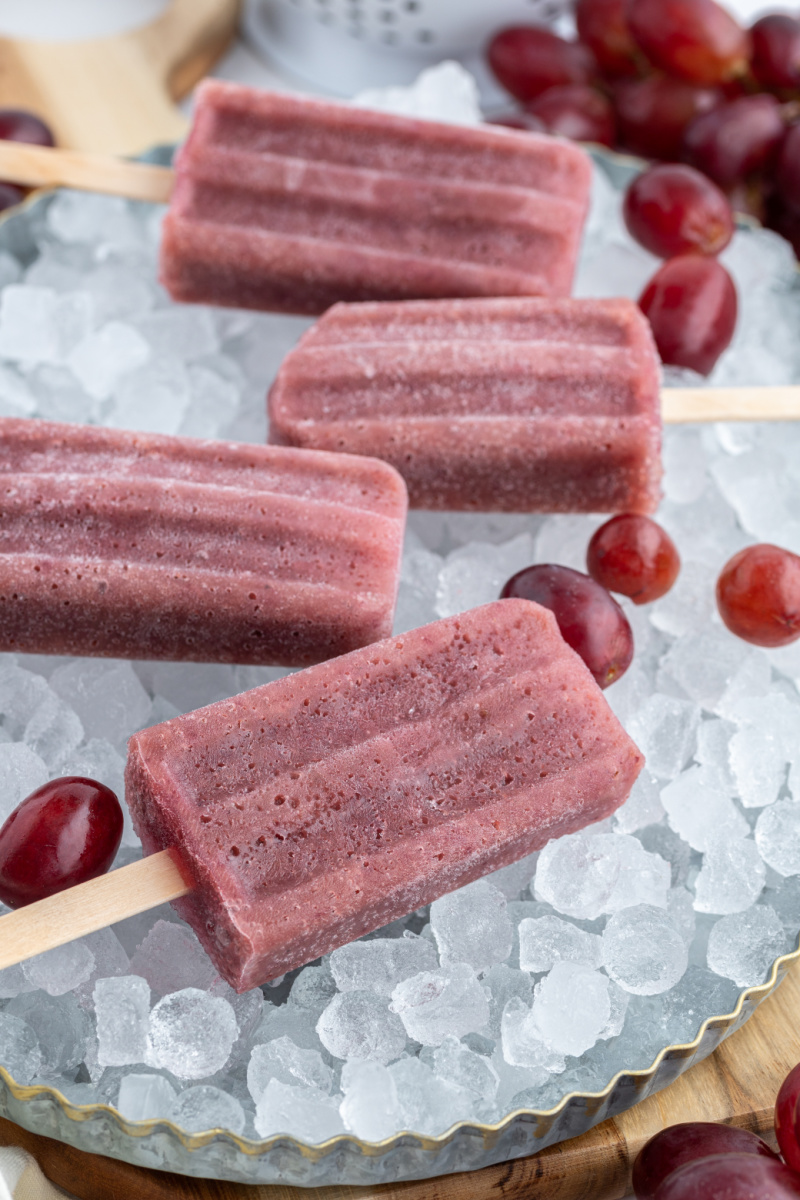 May 27th is National Grape Popsicle Day! Obviously, you must celebrate by munching on some grape popsicles. Sometimes they're hard to find in your local market. But this recipe for Grape Popsicles is so easy to make, so why not make them at home?
Share the grape popsicle love on social media today using the hashtags #NationalGrapePopsicleDay, #GrapePopsicleDay and #RecipesForHolidays.
Be sure to follow my May Food Holidays page so you never miss a food holiday in the month of May!
The History of Popsicles:
Popsicles were invented by accident by an 11-year old boy in 1905. Frank Epperson mixed soda powder and water in a glass, and he left it outside overnight with a stirrer stuck inside. The next day, he found the drink had frozen in the glass. He ran it under hot water, popped it out, held it by the stirrer and licked it. He ended up naming it the "Eppsicle" and began selling them around his neighborhood.
In 1923, Epperson applied for a patent for "frozen ice on a stick." His kids re-named it "Pop's sicles," and the name was changed to "popsicle." He ended up selling the rights to Joe Lowe Co. They added a second stick to create 2 pops stuck together. They were sold for a nickel at Coney Island.
Good Humor sold ice cream on a stick. And they thought popsicle was an infringement of their copyright. A judge decided they were different (one was ice cream and one was frozen ice).
In 1989, Unilever bought Popsicle. Now, there are 2-billion popsicles sold every year.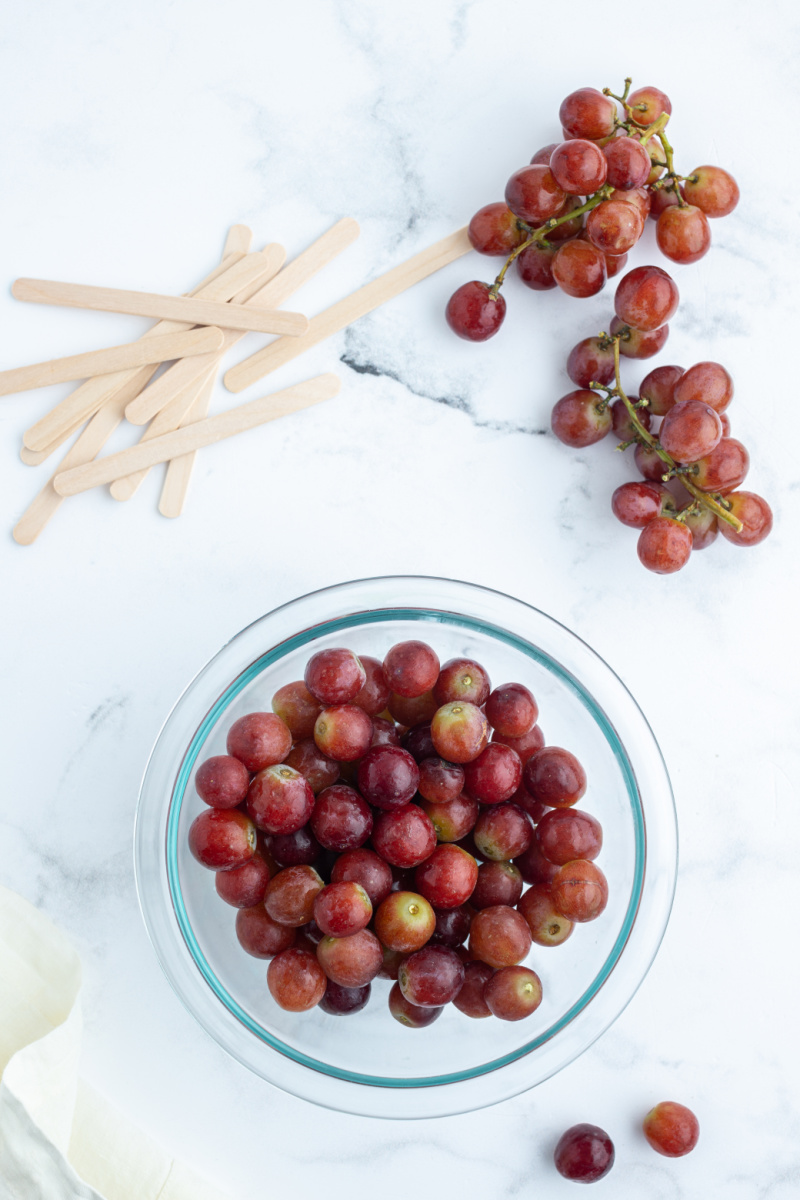 Ingredients needed:
red grapes
popsicle sticks
popsicle molds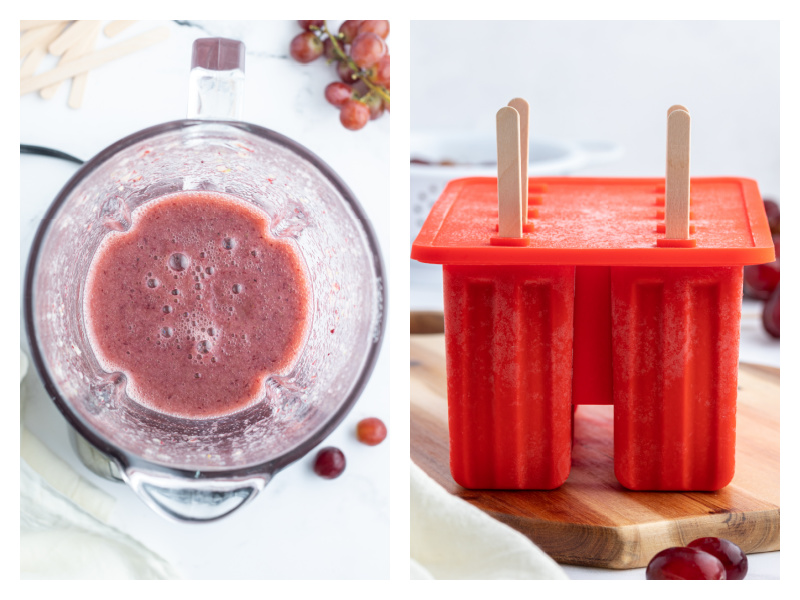 How to make Grape Popsicles:
The complete, printable recipe is at the end of this post.
Add the grapes to a strong blender or food processor. Blend until they are turned into a smooth puree. Add to popsicle molds. Place popsicle sticks inside. Freeze for at least 6 hours (or overnight).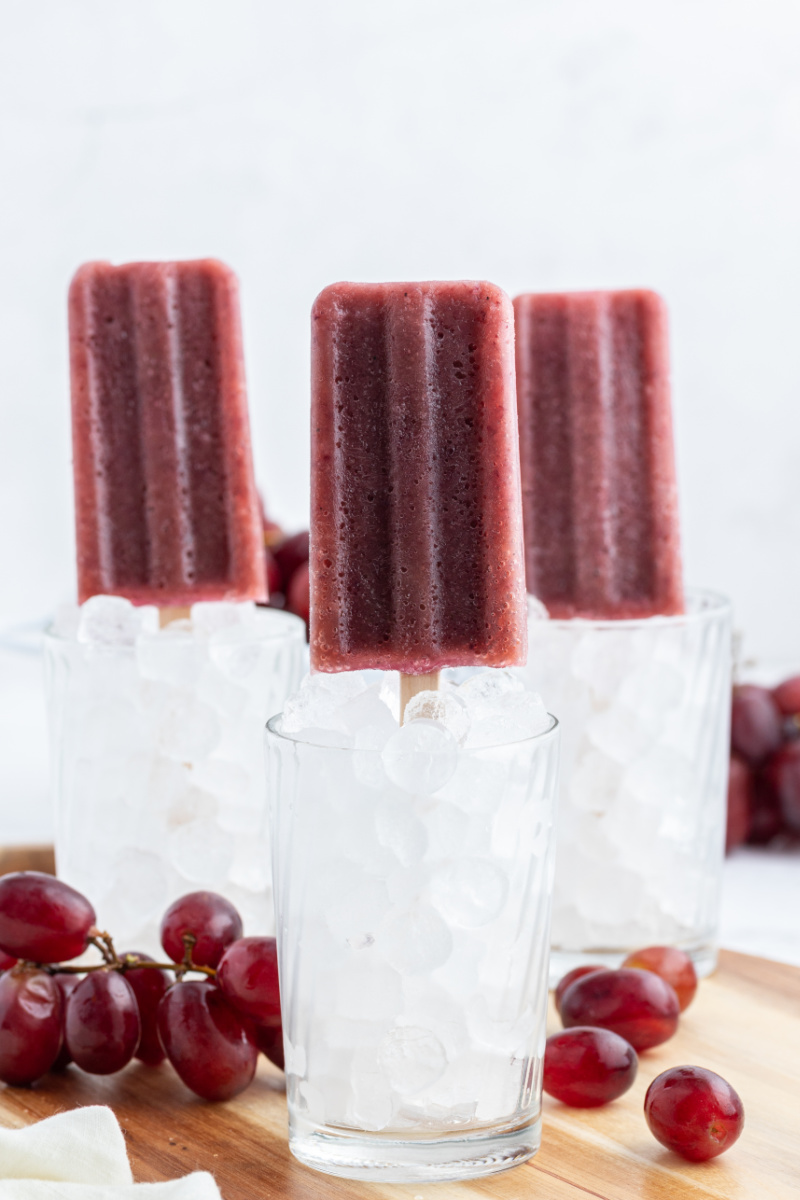 To get the grape popsicles out of the molds, run the molds under warm water (turn upside down) until the popsicles slide out easily.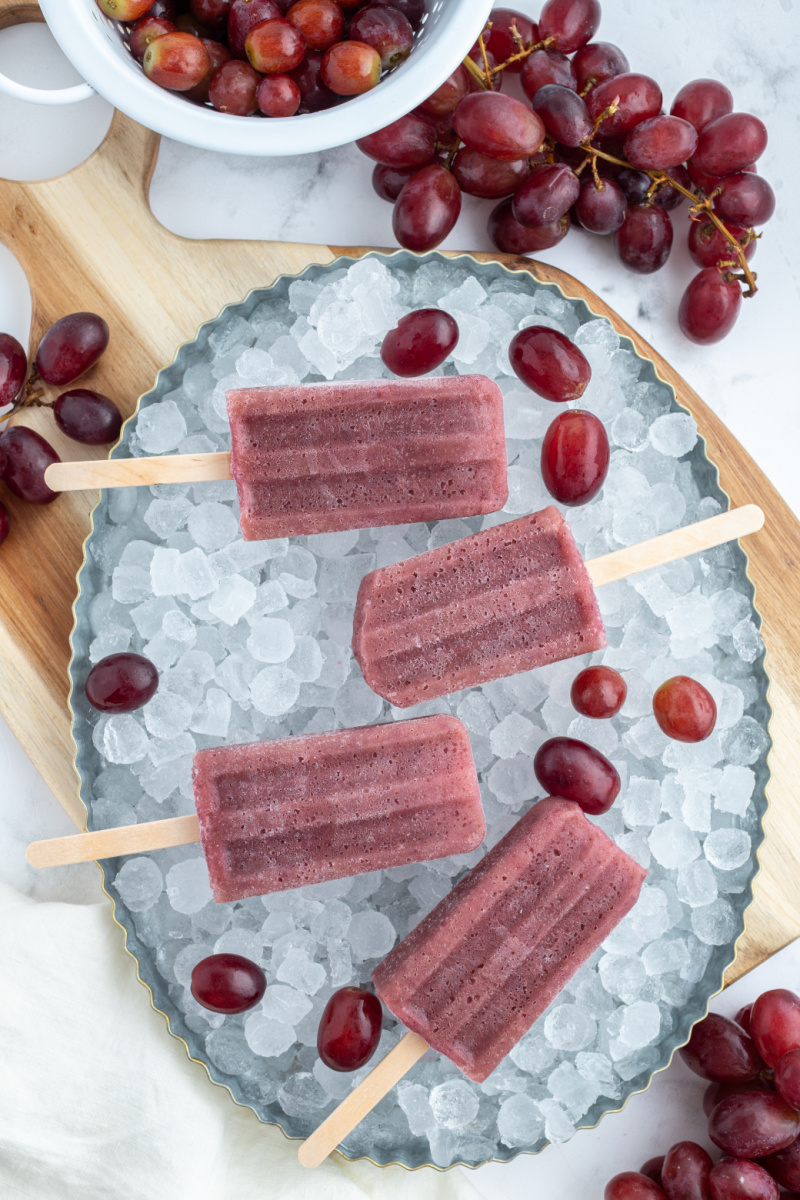 Keep popsicles frozen until ready to eat.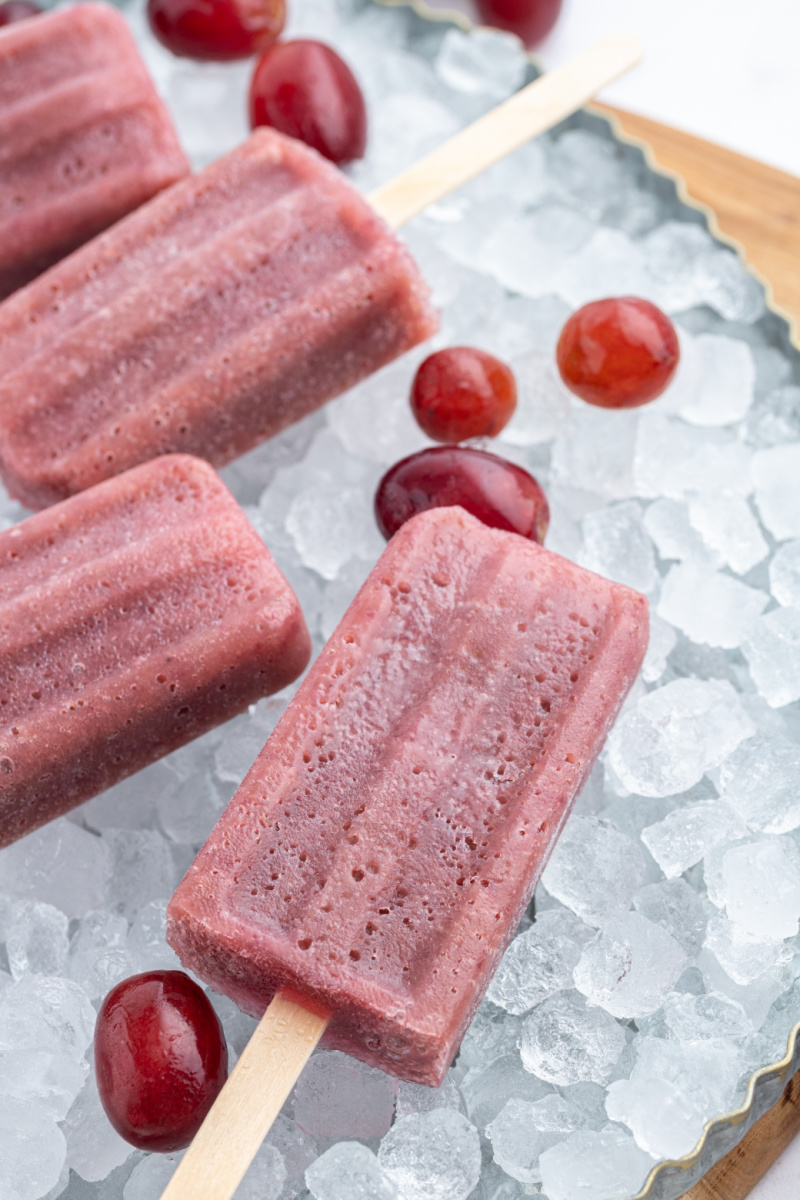 What a great idea to make popsicles out of fruit. Just fruit- grapes! That's it! You can feel good about giving your children a healthy snack to eat. And they're pretty delicious, so they don't have to be just for kids. Enjoy!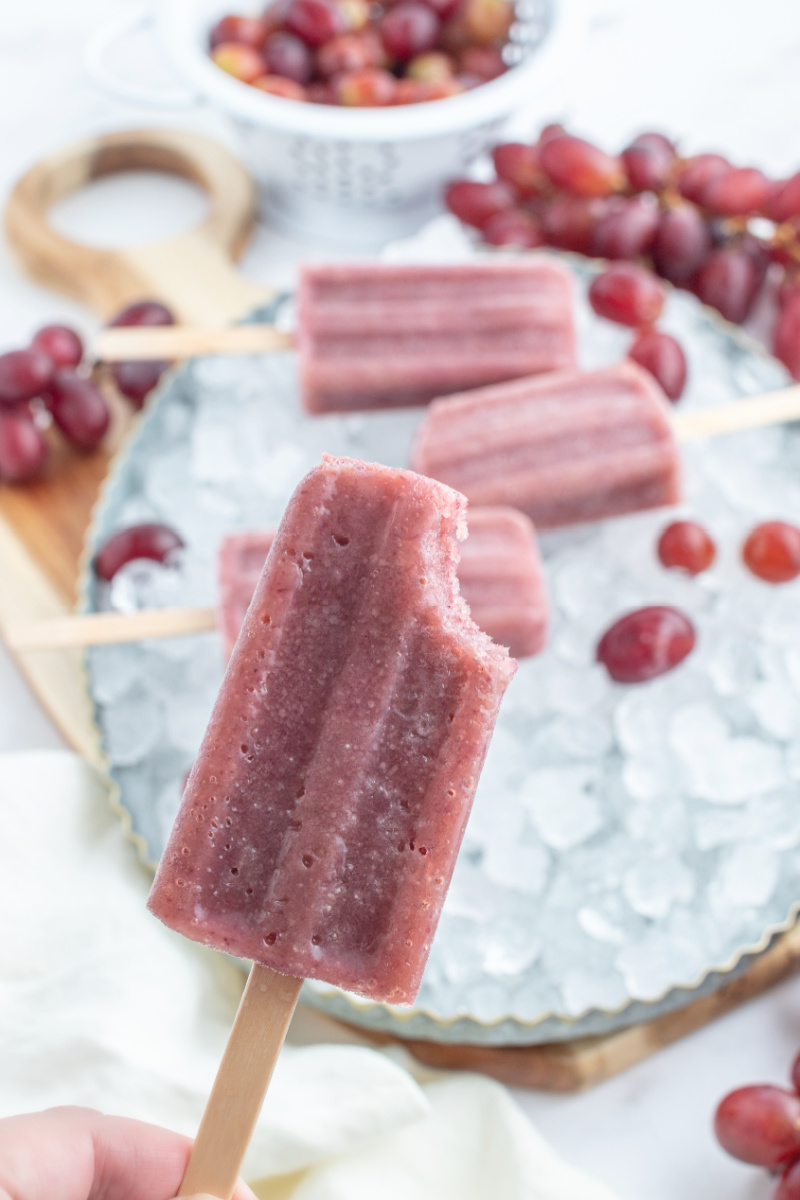 Fun Facts about Popsicles:
There were 7 original flavors of the popsicle: banana, cherry, grape, lemon, orange, root beer and watermelon.
Cherry is the most popular flavor of popsicle.
Additional names for popsicles: freezer pops, paleta (Mexico), ice lollies (UK and Ireland), ice poles (Australia), ice blocks (New Zealand) and ice drops (Philippines).
Popsicle "ice pops" were originally marketed as "frozen drink on a stick."
Popsicle sticks are made of birch wood.
The 1st ice cream truck driver was a man in Nebraska who went around selling popsicle ice pops to children in a horse drawn cart.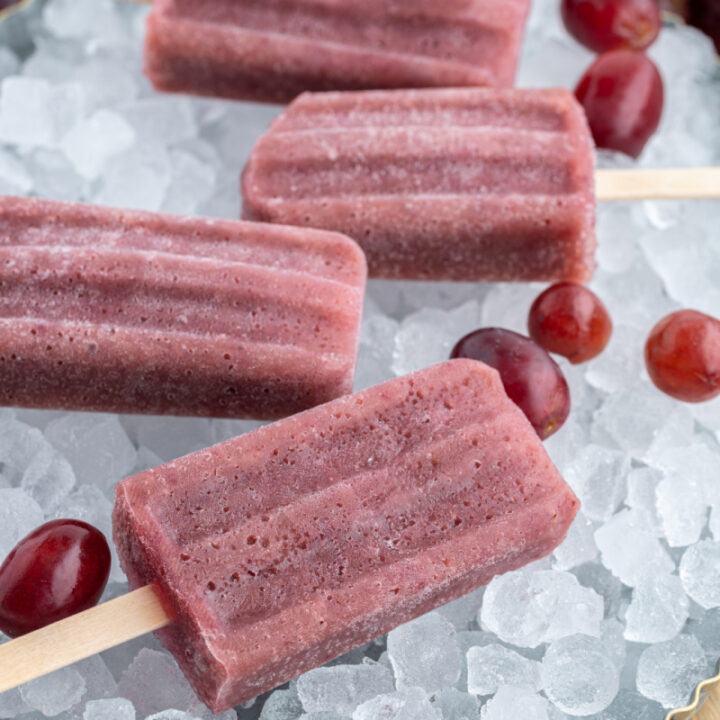 Grape Popsicles
Total Time:
6 hours
10 minutes
Only one ingredient is needed to make these popsicles!
Ingredients
2 1/2 cups seedless red grapes
Instructions
Add the grapes to a strong blender or food processor. Blend until they are turned into a smooth puree. Add to popsicle molds. Freeze for at least 6 hours (or overnight).
Nutrition Information:
Yield:

6
Serving Size:

1 popsicle
Amount Per Serving:
Calories:

43
Total Fat:

0g
Saturated Fat:

0g
Trans Fat:

0g
Unsaturated Fat:

0g
Cholesterol:

0mg
Sodium:

1mg
Carbohydrates:

11g
Fiber:

1g
Sugar:

10g
Protein:

0g
Nutritional information is estimated using a nutrition calculator. It's not likely to be 100% accurate.