Sweet Potato Fries are a delicious variation of classic French fries. Oven Baked Sweet Potato Fries are cut wedges of sweet potato tossed lightly in oil and coated with spices. They're baked, so they're a bit healthier than their fried counterpart.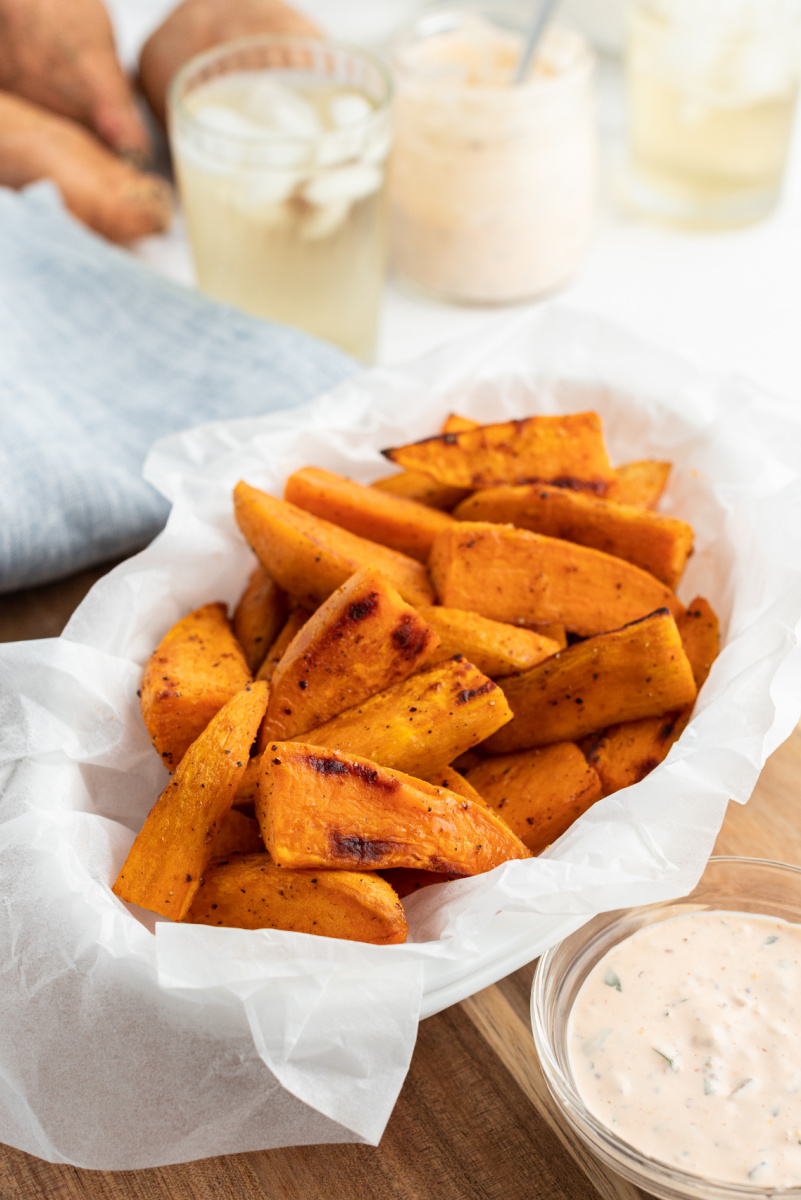 February 22nd is National "Eat a Sweet Potato Day." Celebrate by making oven baked sweet potato fries with your dinner tonight! You can also honor the sweet potato by eating some sweet potato chips, making mashed sweet potatoes, bake whole sweet potatoes, make potato skins, spiralize your sweet potatoes or bake a sweet potato pie. Use the hashtag #eatasweetpotato or #nationaleatasweetpotatoday if you are sharing on social media.
About Sweet Potatoes:
Sweet potatoes are a sweet, starchy root vegetable. You'll see them in orange, white and purple. The orange variation is often referred to as a "yam" in the United States, but is not related to real yams in any way!
Sweet potatoes are distantly related to the common white potato. A lot of people turn to sweet potatoes for their nutritious value.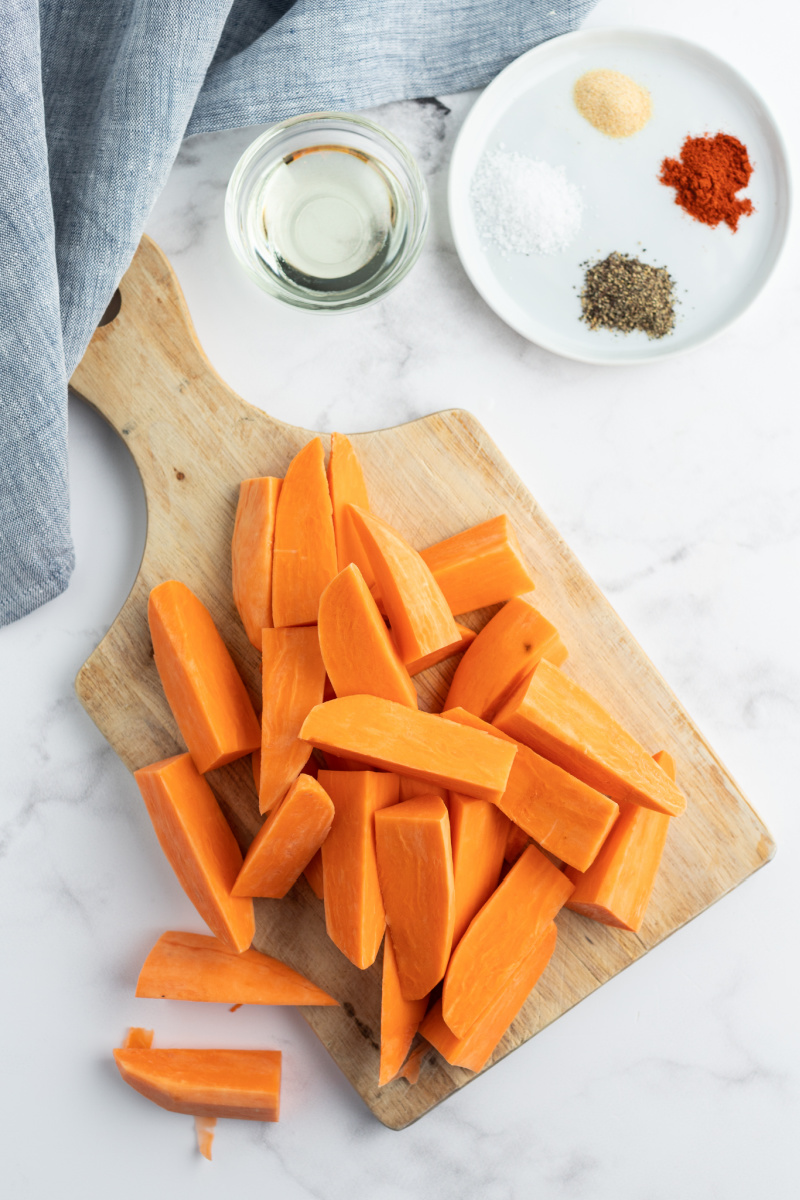 Ingredients needed:
orange flesh sweet potatoes
vegetable or canola oil
sea salt and freshly ground black pepper
paprika
garlic powder
dipping sauce of your choice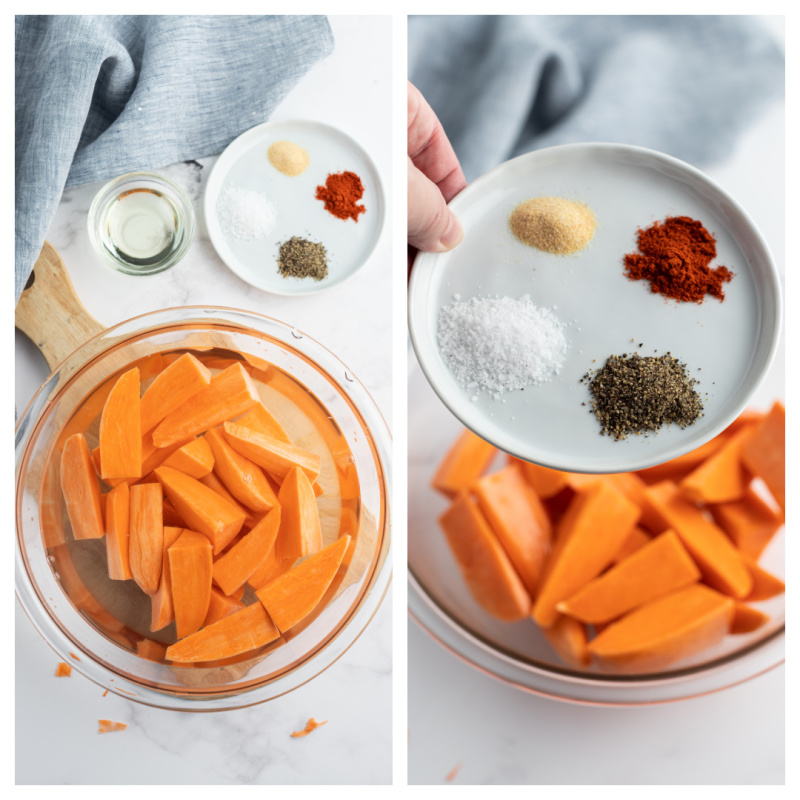 How to make Oven Baked Sweet Potato Fries:
Peel the sweet potatoes and cut them into wedges. Make them all pretty uniform in size so they'll cook evenly in the oven.
Next, soak the cut sweet potatoes in a bowl of ice water for about 40 minutes. Drain the potatoes and then toss them with oil and spices.
Why do you soak potatoes in water before making fries?
This is an important step! Soaking sweet potatoes (or regular potatoes) in water before baking will draw out some of the starch in the potato. This will help your oven baked sweet potato fries to have a crispy texture (instead of soft or soggy) when baked.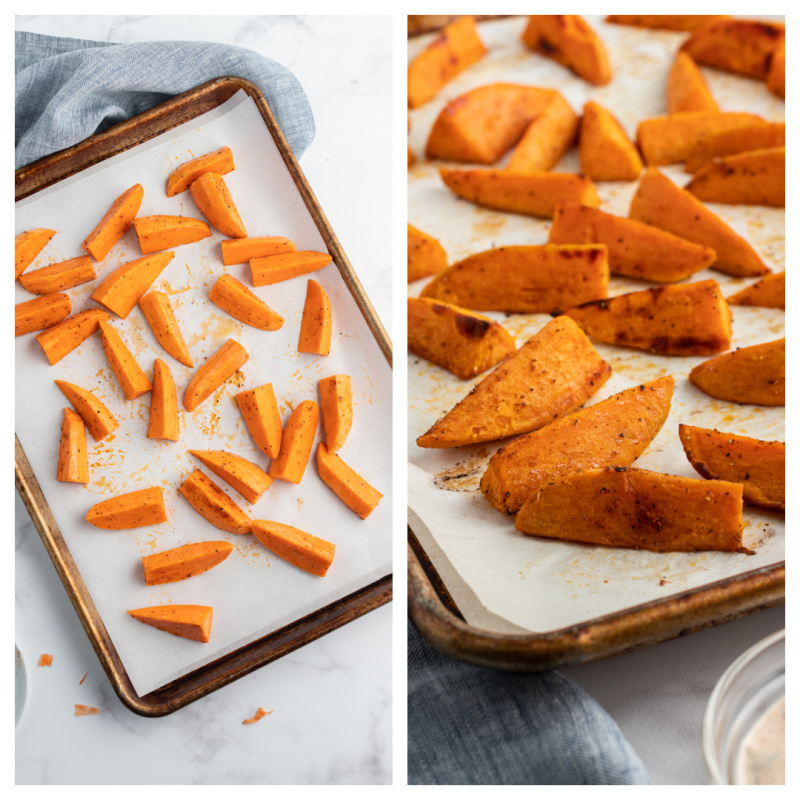 Spread the potatoes out on a parchment-lined baking sheet. Bake at a high heat (425 degrees F) until crisp and lightly browned- 10 minutes and then stir and flip and bake 10 minutes more.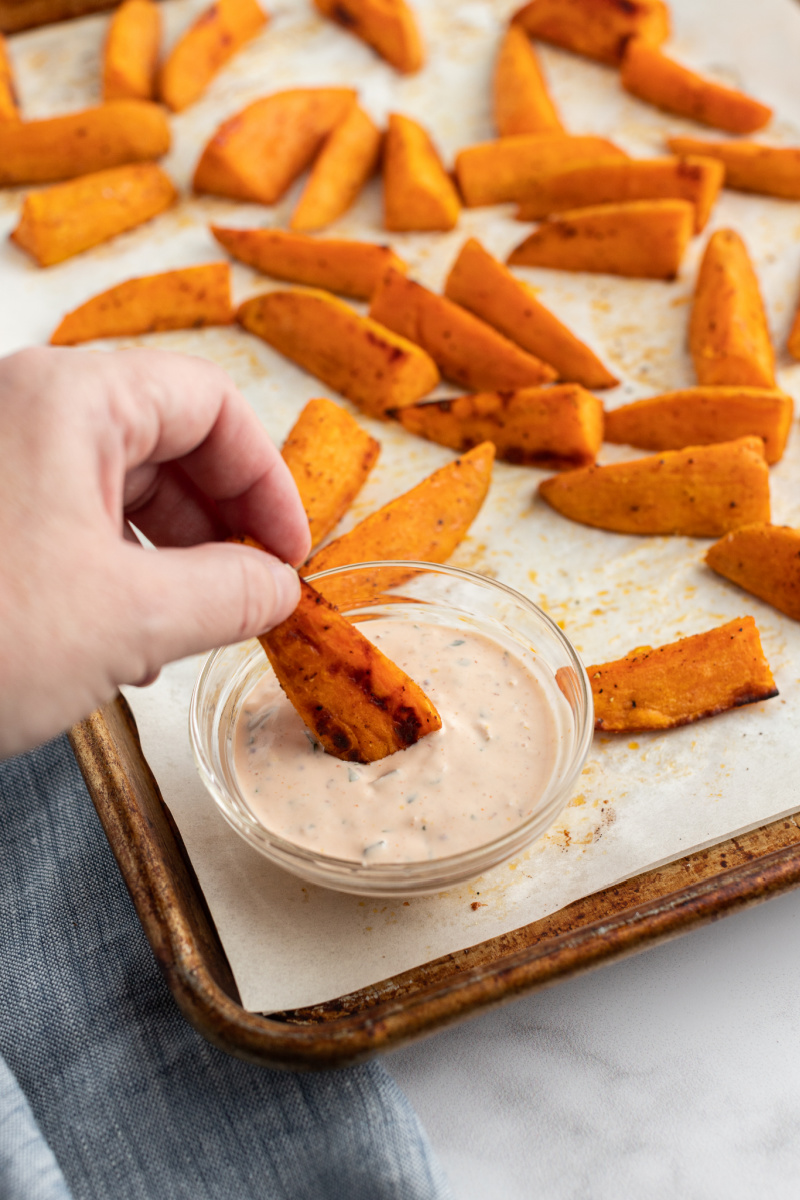 Serve your oven baked sweet potato fries with your favorite dipping sauce. Some people like classic ketchup or ranch dressing, but I prefer thousand island dressing or burger sauce. That's the best pairing for sweet potato fries!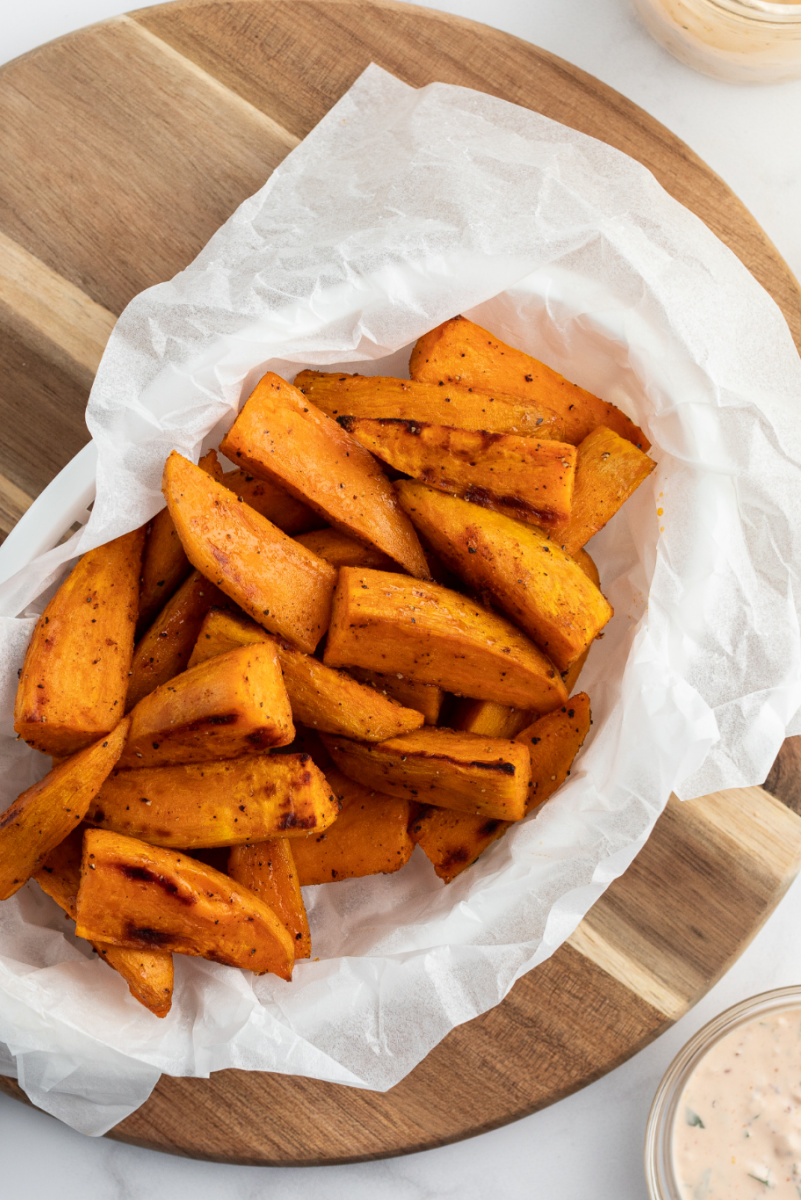 Nutritional facts about Sweet Potatoes:
Sweet potatoes are slightly higher in calories and carbs than white potatoes, but they are more nutritious.
They are rich in beta carotene (an anti-oxidant), which converts to Vitamin A. This helps with vision and a healthy immune system.
The high fiber content in sweet potatoes is good for gut/digestive health. Eating a sweet potato helps you feel full and can help your digestive system to run more smoothly.
Sweet potatoes are still high in carbs, but they're better for your blood sugar. They have a low glycemic index and will not trigger hunger and contribute to obesity as much as higher glycemic index foods.
Sweet potatoes are gluten-free.
They are a low fat food! 1 cup of sweet potato has 180 calories, 41.4 carbs, 4g protein, .3g fat and 6.6g fiber.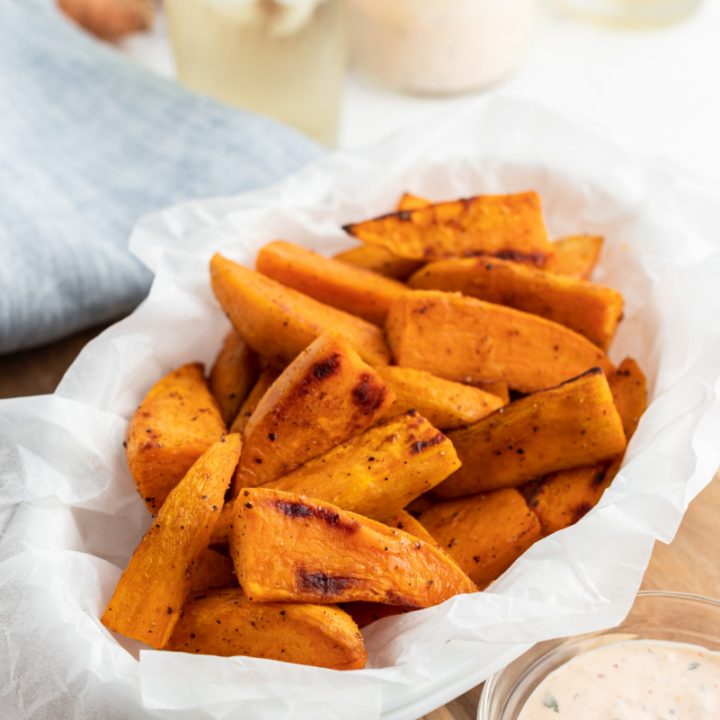 Oven Baked Sweet Potato Fries
Additional Time:
45 minutes
Total Time:
1 hour
30 minutes
Super easy recipe for roasting sweet potato fries in the oven!
Ingredients
2 large (orange flesh) sweet potatoes, cut into 1x3-inch wedges
3 tablespoons vegetable or canola oil
1/2 teaspoon sea salt
1/2 teaspoon freshly ground black pepper
1/4 teaspoon paprika
1/4 teaspoon garlic powder
Thousand Island dressing, for serving
Instructions
In a large bowl, soak the cut sweet potatoes in cold water for 45 minutes. Drain and pat dry.
Preheat the oven to 425 degrees F. Line a rimmed baking sheet with parchment paper.
In a large bowl, toss the sweet potatoes with oil. Sprinkle with salt, pepper, paprika and garlic powder. Toss again.
Arrange the potatoes on the prepared baking sheet in an even layer so that none of the potatoes are crowded or touching. Bake about 10 minutes, then turn them all over and bake for another 10 minutes- until golden and crisp.
Serve with thousand island dressing as a dipping sauce.
Nutrition Information:
Yield:

4
Serving Size:

1 serving
Amount Per Serving:
Calories:

173
Total Fat:

10g
Saturated Fat:

1g
Trans Fat:

0g
Unsaturated Fat:

9g
Cholesterol:

0mg
Sodium:

297mg
Carbohydrates:

19g
Fiber:

3g
Sugar:

6g
Protein:

2g
Nutritional information is estimated using a nutrition calculator.