Longevity Noodles (also known as Long Life Noodles) represent happiness and longevity. They are often eaten during Chinese New Year and at other Chinese celebrations.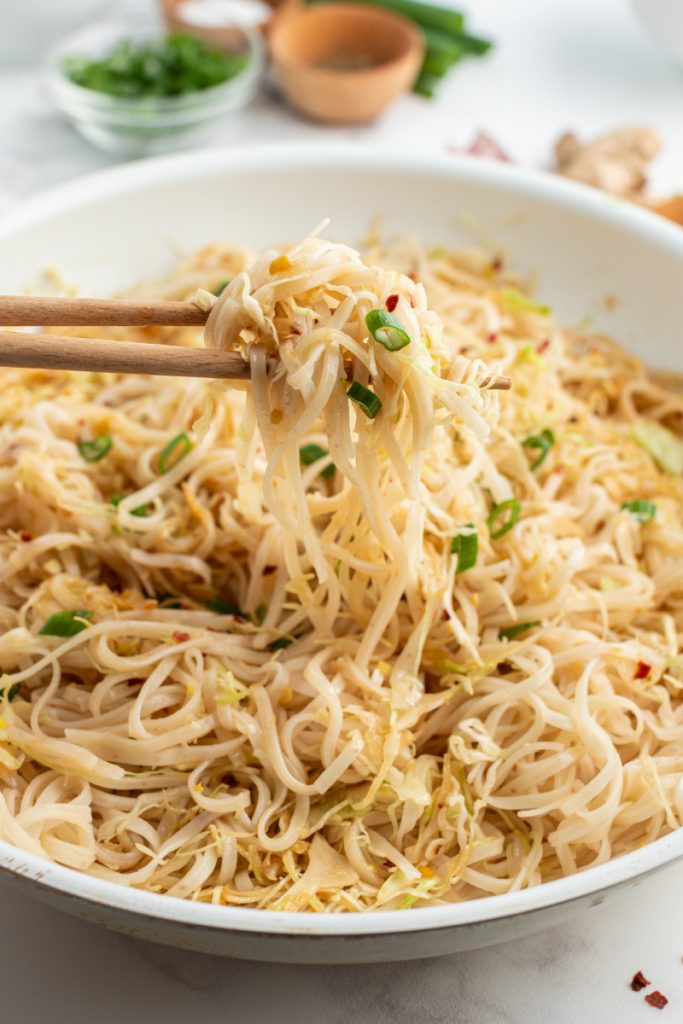 The first day of the Chinese New Year always begins on the day that the new moon appears between the 21st of January and the 20th of February. For 2021, Chinese New Year begins on Friday, February 12th.
Longevity noodles are commonly served during Chinese New Year because they represent the wish for a long life. The noodles are never cut or broken by the cook. The whole noodle should be eaten (without cutting it) or- legend has it- you might cut your life short!
About Chinese New Year:
Chinese New Year is the most important holiday in China- celebrating the beginning of a new year on the traditional Chinese calendar. There are 16 days of celebration – from Chinese New Year's Eve culminating with a lantern festival on the 16th day.
Chinese New Year Traditions:
One tradition that happens during Chinese New Year is to thoroughly clean the house to sweep away bad fortune and make room for good things to come. On Chinese New Year's Eve, it's traditional to have a family reunion dinner. Windows and doors are decorated with red lanterns, red couplets and paper cut-outs. Red envelopes with money (lucky money) are given to the children. Firecrackers and fireworks are set off on New Year's Day. Lots of traditional foods are enjoyed. And lanterns are lit at the end of Chinese New Year.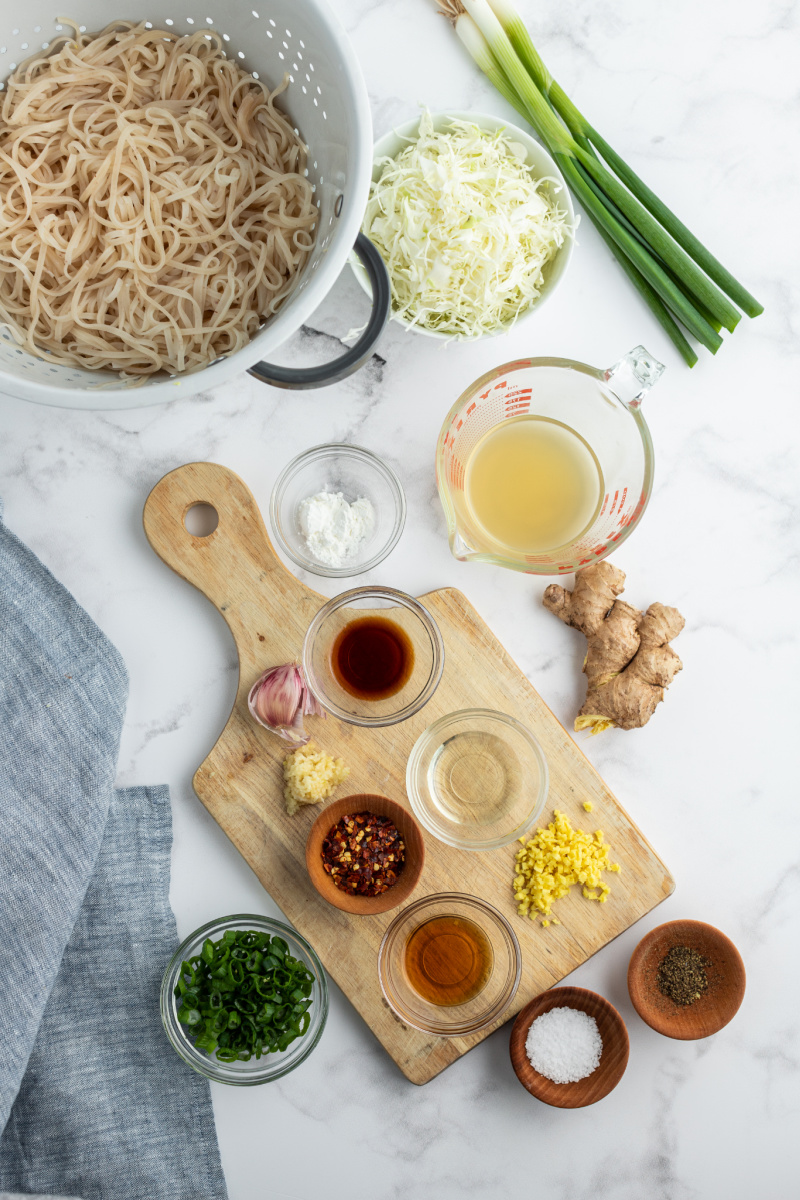 Ingredients needed to make Longevity Noodles:
Chinese egg noodles (or long, thin Asian wheat flour noodles)
vegetable broth
sesame oil
soy sauce
cornstarch
peanut oil
ginger
garlic
red pepper flakes
Napa cabbage
green onion
salt and pepper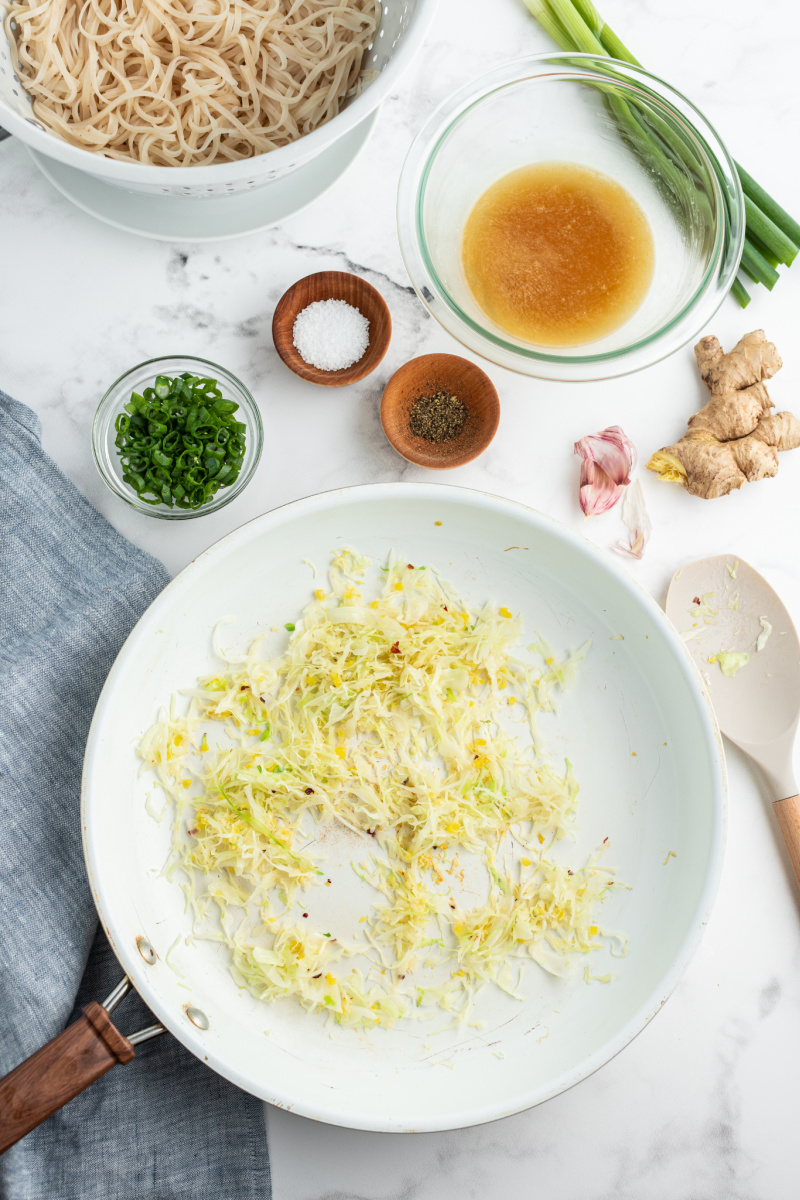 How to make Longevity Noodles:
Cook the noodles according to the package instructions. Rinse them with cold water and set them aside.
Whisk together the sauce (vegetable broth, sesame oil, soy sauce and cornstarch) and set that aside too.
Heat peanut oil in a skillet, and add red pepper flakes, ginger and garlic. Then add in shredded Napa cabbage and cook until wilted.
Note: if you would like to add in sliced mushrooms, this would be the place to do it.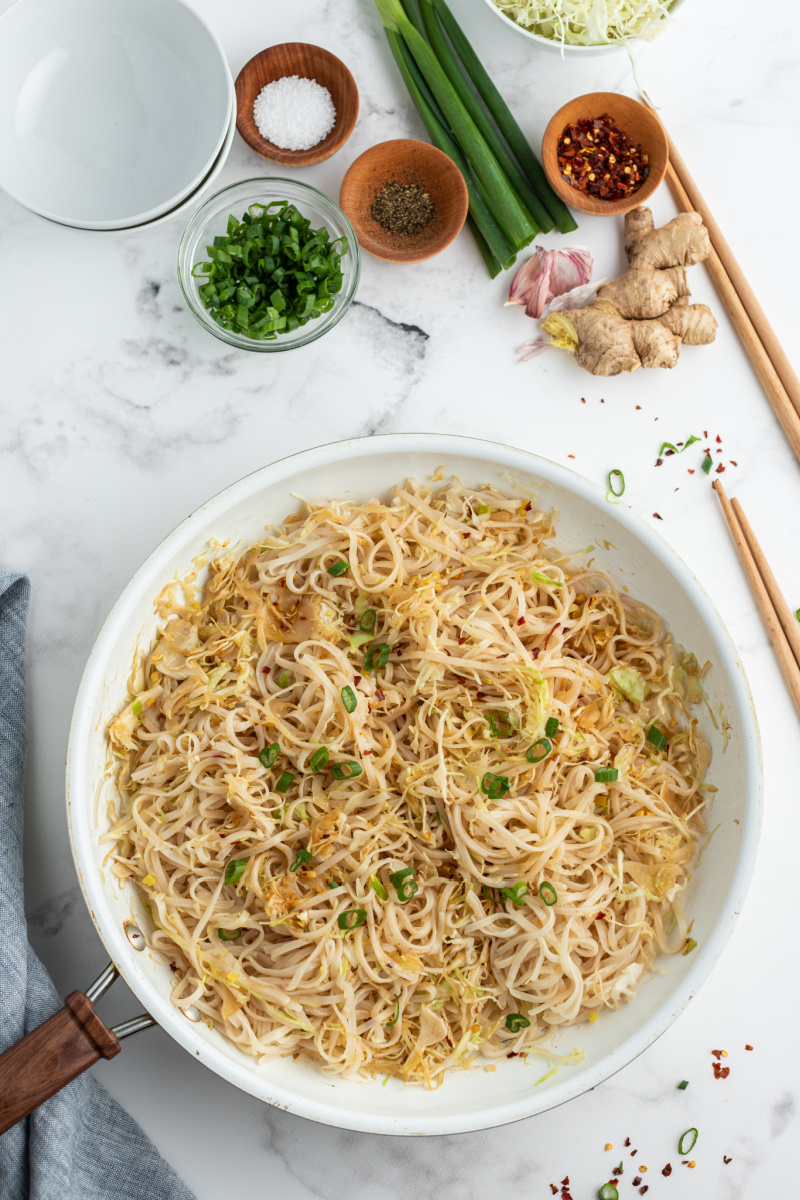 Add sauce and noodles to the pan, and gently simmer to heat through. You don't want to break any noodles!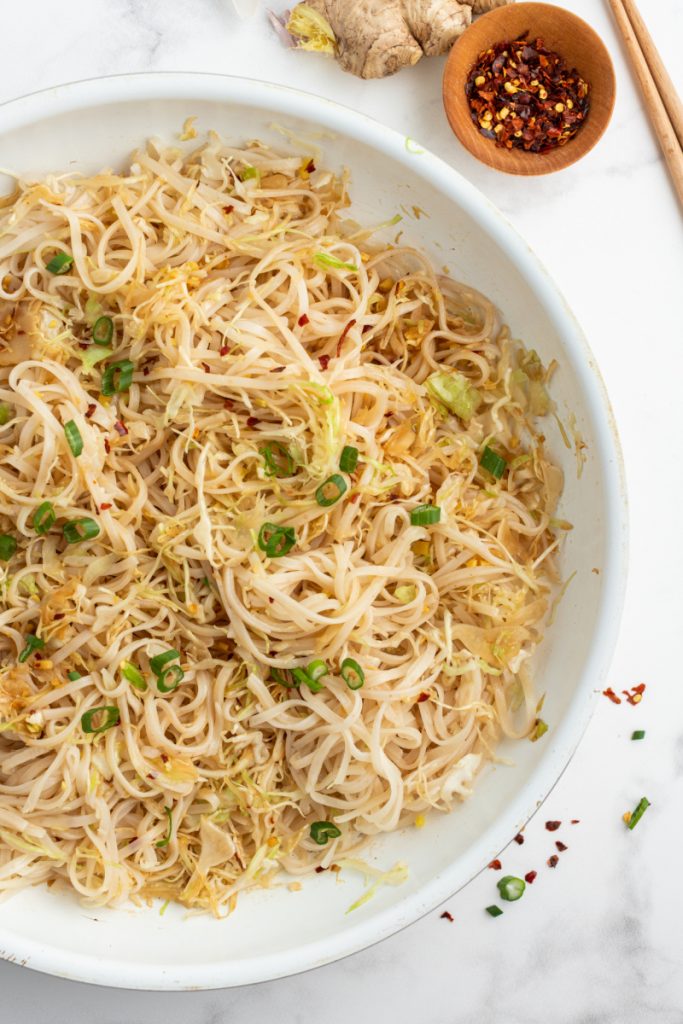 Add some chopped green onions to the noodles, and serve.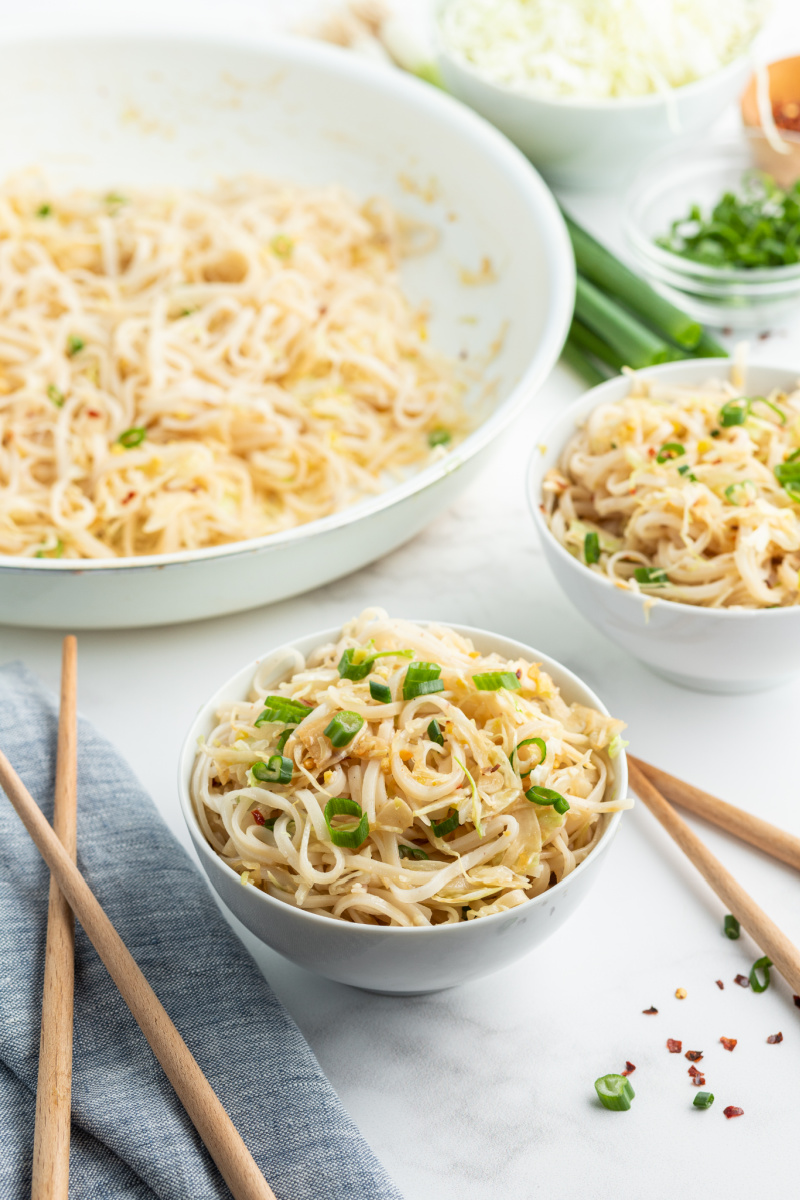 What are the best noodles to use when making Longevity Noodles?
Don't use spaghetti! Asian grocery stores carry "long noodles," so you can look for those. If you are unable to find Chinese egg noodles or Asian wheat flour noodles, it's okay to use Pad Thai brown rice noodles too. Check out the Asian foods aisle in your market, and you're sure to find noodles that will work.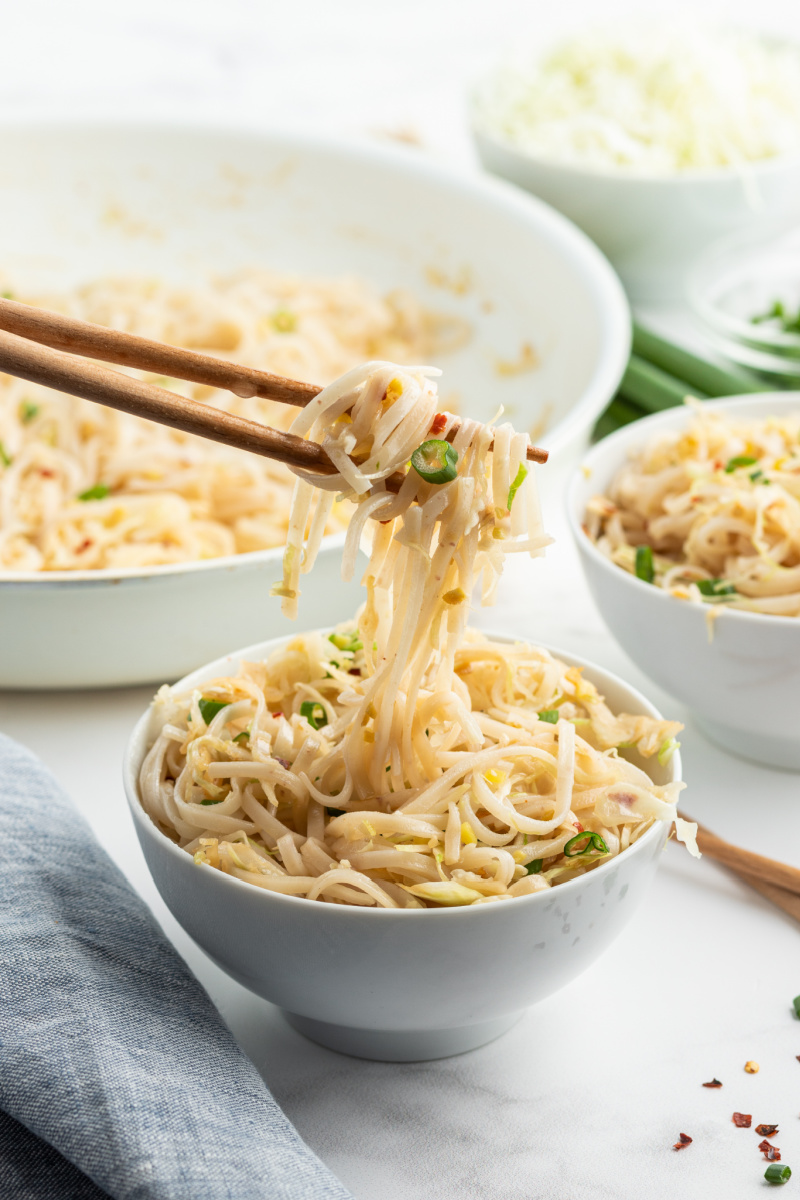 Whether you're planning foods for Chinese New Year or you just want a simple and delicious noodle dish, these Longevity Noodles are a must-try!
Common foods eaten on Chinese New Year:
Jiaoza AKA Dumplings (representing wealth)
Whole Fish (representing an increase in prosperity)
Whole Chicken (representing togetherness and unity)
Longevity Noodles (representing happiness and longevity)
Spring Rolls (representing wealth)
Tangyuan AKA Sweet Rice Balls (representing family togetherness)
Nian Gao AKA Glutinous Rice Cake (representing higher income or higher position)
Candy and other sweets (representing a sweet life)
Good Fortune Fruit (representing fullness and wealth)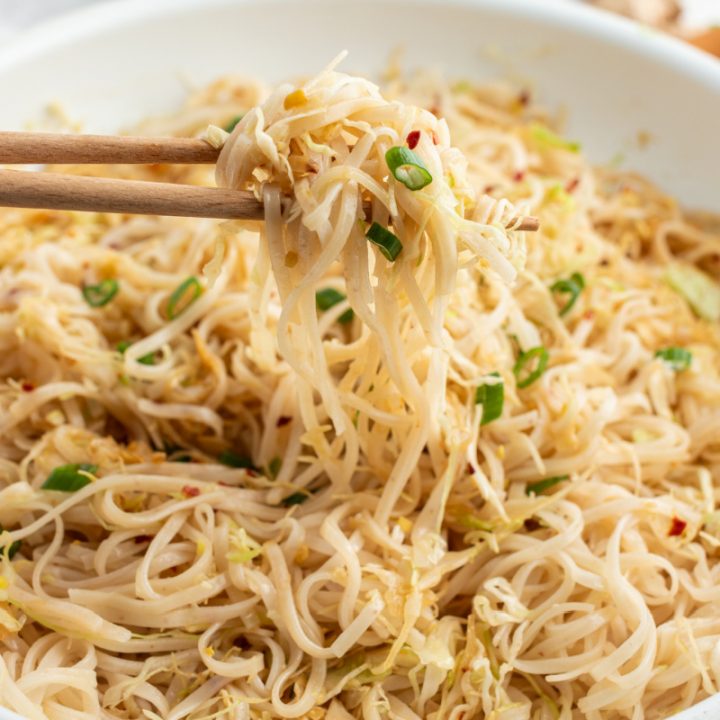 Longevity Noodles
These noodles represent happiness and a long life. They're often eaten on Chinese New Year.
Ingredients
8 ounces fresh Chinese egg noodles or long, thin Asian wheat-flour noodles
½ cup vegetable broth
4 teaspoons sesame oil
2 teaspoons soy sauce
2 teaspoons cornstarch
1 tablespoon peanut oil
2 teaspoons minced ginger
1 large garlic clove, minced
Pinch of red pepper flakes
2 cups finely sliced napa cabbage
Salt and white pepper, to taste
Chopped green onion, for garnish
Instructions
Cook noodles according to package instructions. Rinse with cold water and set aside.
In a small bowl, whisk together the vegetable broth, sesame oil, soy sauce and cornstarch.
In a large skillet or wok, heat the peanut oil. Add the red pepper flakes, ginger and garlic; stir and cook for 20 seconds. Then add the cabbage and cook until wilted- 1 to 2 minutes.
Add the broth mixture and the noodles to the pan, and toss to combine and heat through. Add salt and pepper, to taste.
Serve the noodles garnished with green onion.
Notes
Tip: Don't break the noodles! Eating long noodles symbolizes a long life.
Nutrition Information:
Yield:

4
Serving Size:

1 serving
Amount Per Serving:
Calories:

176
Total Fat:

9g
Saturated Fat:

1g
Trans Fat:

0g
Unsaturated Fat:

7g
Cholesterol:

16mg
Sodium:

239mg
Carbohydrates:

21g
Fiber:

2g
Sugar:

3g
Protein:

4g
Nutritional information is estimated.