King Cake is a traditional New Orleans pastry with a small plastic or porcelain baby inside of it that is served during the Mardi Gras season. The baby symbolizes Jesus ("King"), and the baby represents luck and prosperity to whoever gets the baby in their slice of cake. The lucky person who gets the baby is also responsible for providing the King Cake the next year (or holding a party).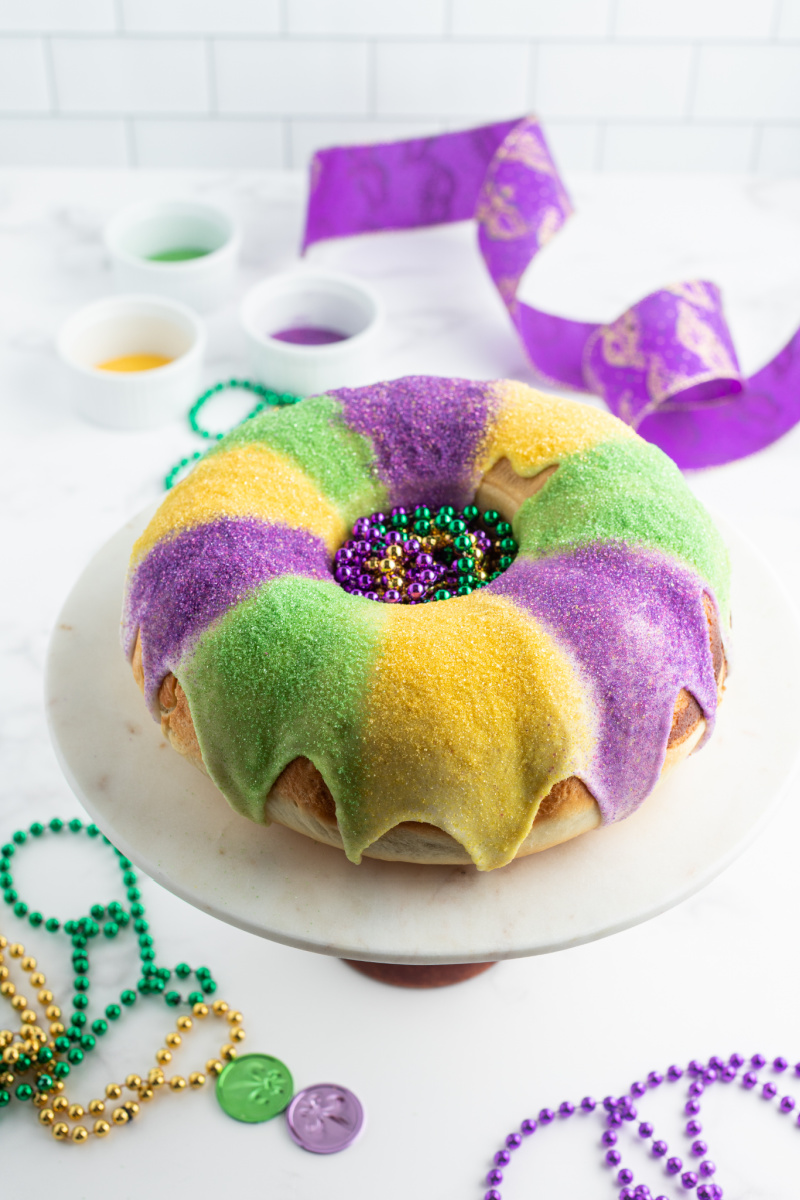 About Mardi Gras:
This year in 2022, Mardi Gras day lands on Tuesday, March 1st- also known as Fat Tuesday (a Louisiana state holiday). Mardi Gras season begins 12 days after Christmas (feast of the Epiphany), and it lasts until Fat Tuesday (Mardi Gras day)– which is always the day before Ash Wednesday. The Mardi Gras celebration is commonly held in New Orleans for 5 days, beginning the weekend prior to Fat Tuesday.
French- Canadian explorers landed in Mobile, Alabama on Fat Tuesday in 1699- naming the location Point du Mardi Gras. They celebrated with a party. Future French travelers began coming to the location to celebrate Fat Tuesday. Mobile, Alabama still has big Mardi Gras celebrations, but New Orleans, Louisiana is more widely known as the place to celebrate Mardi Gras.
King Cake:
A King Cake is most often baked as a yeasted cinnamon roll style dough that is topped with icing. It's covered with purple, green and gold sanding sugars. Purple symbolizes justice, green symbolizes faith, and gold symbolizes power.
King Cake may be eaten as a cake, breakfast pastry or snack with afternoon tea. In order to avoid bad luck, it should only be eaten during the Mardi Gras season (Jan. 6 through Fat Tuesday). 750,000 King Cakes are sold in New Orleans every year.
The "baby in the cake" tradition began by people baking a porcelain baby inside the cake. Nowadays, a plastic or porcelain baby is usually placed inside the cake after baking.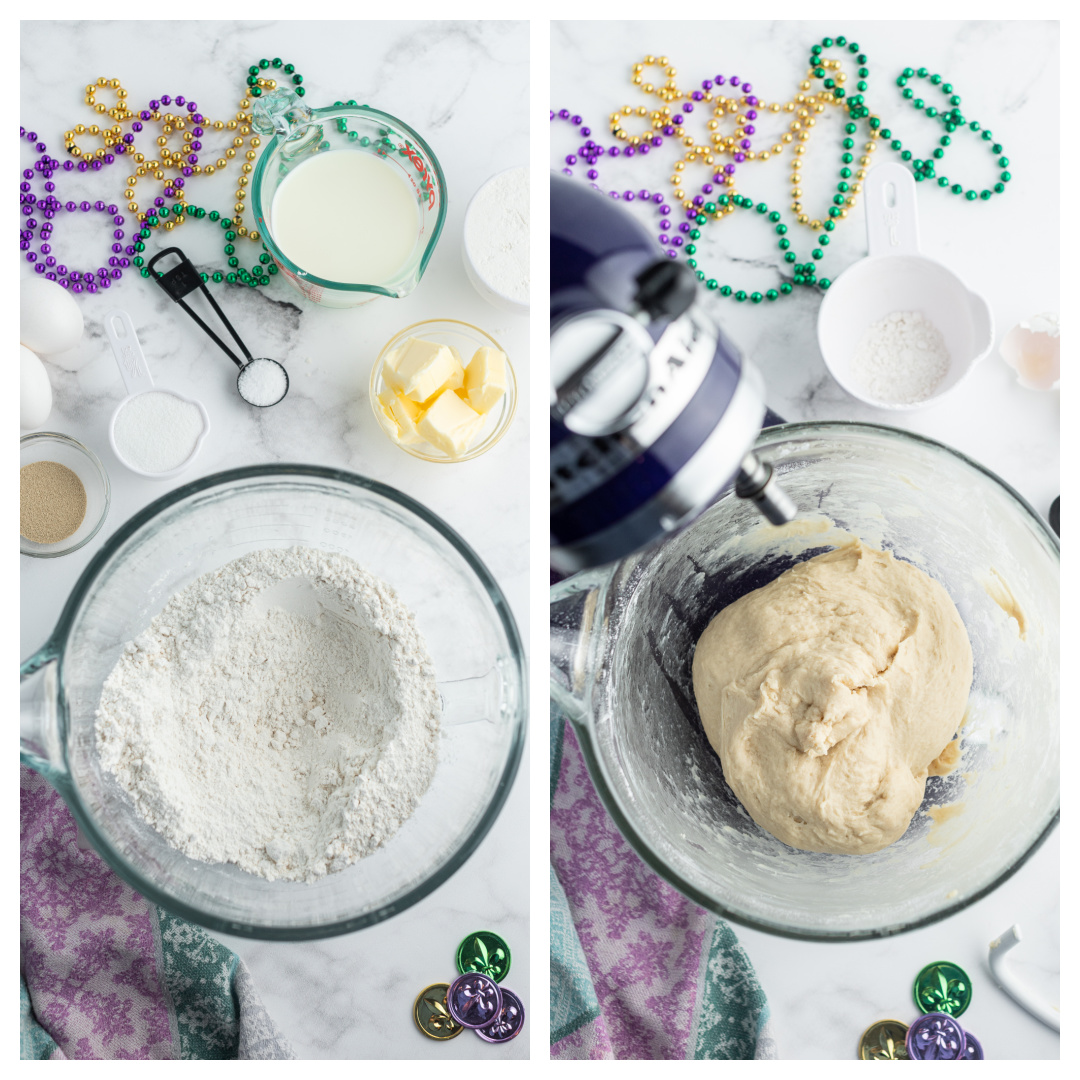 How to make King Cake:
This recipe is shared from America's Test Kitchen: The Perfect Cake cookbook. The first thing you'll do is make a yeasted dough. It's much like a dough you'd make if you were making homemade cinnamon rolls. Kneading is involved, so you can either use a stand mixer with a dough hook for kneading or you can knead the dough by hand.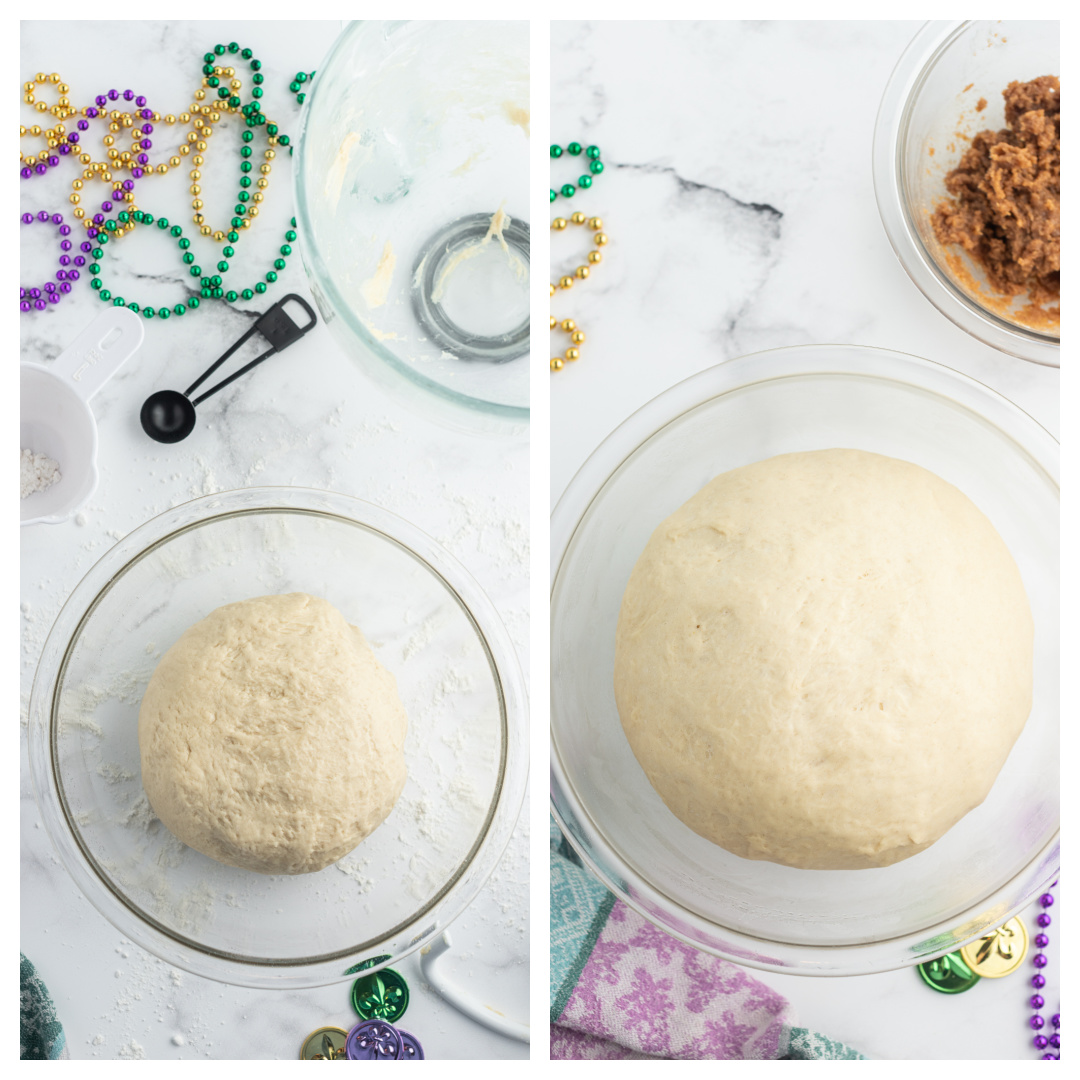 The kneaded dough is then placed into a greased bowl, covered with plastic wrap and place in the refrigerator to rise for 1 hour.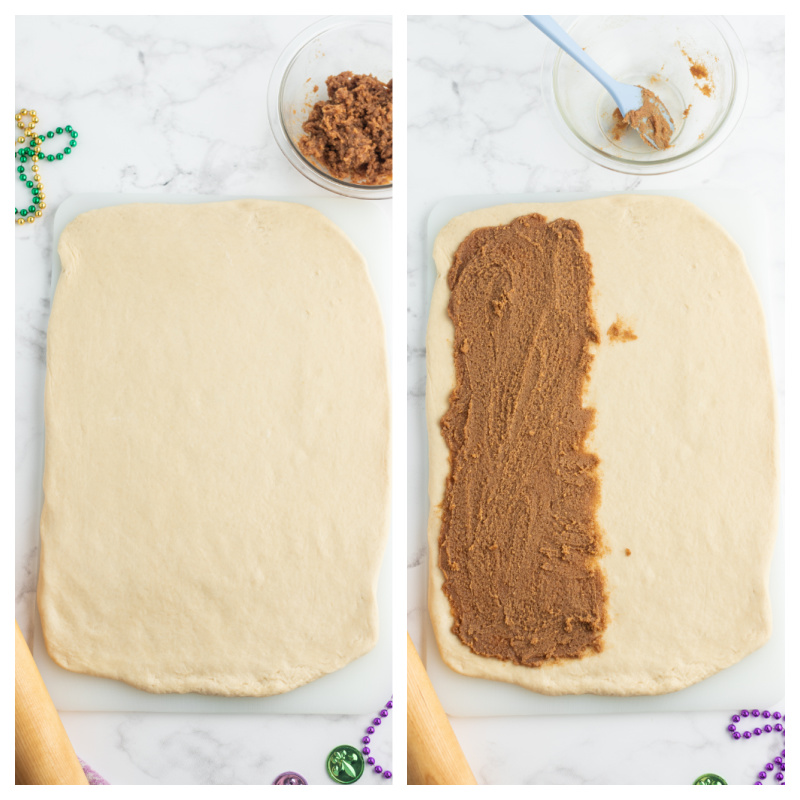 The chilled dough is rolled out into a rectangle. A filling of butter, brown sugar and cinnamon is spread onto half of the dough.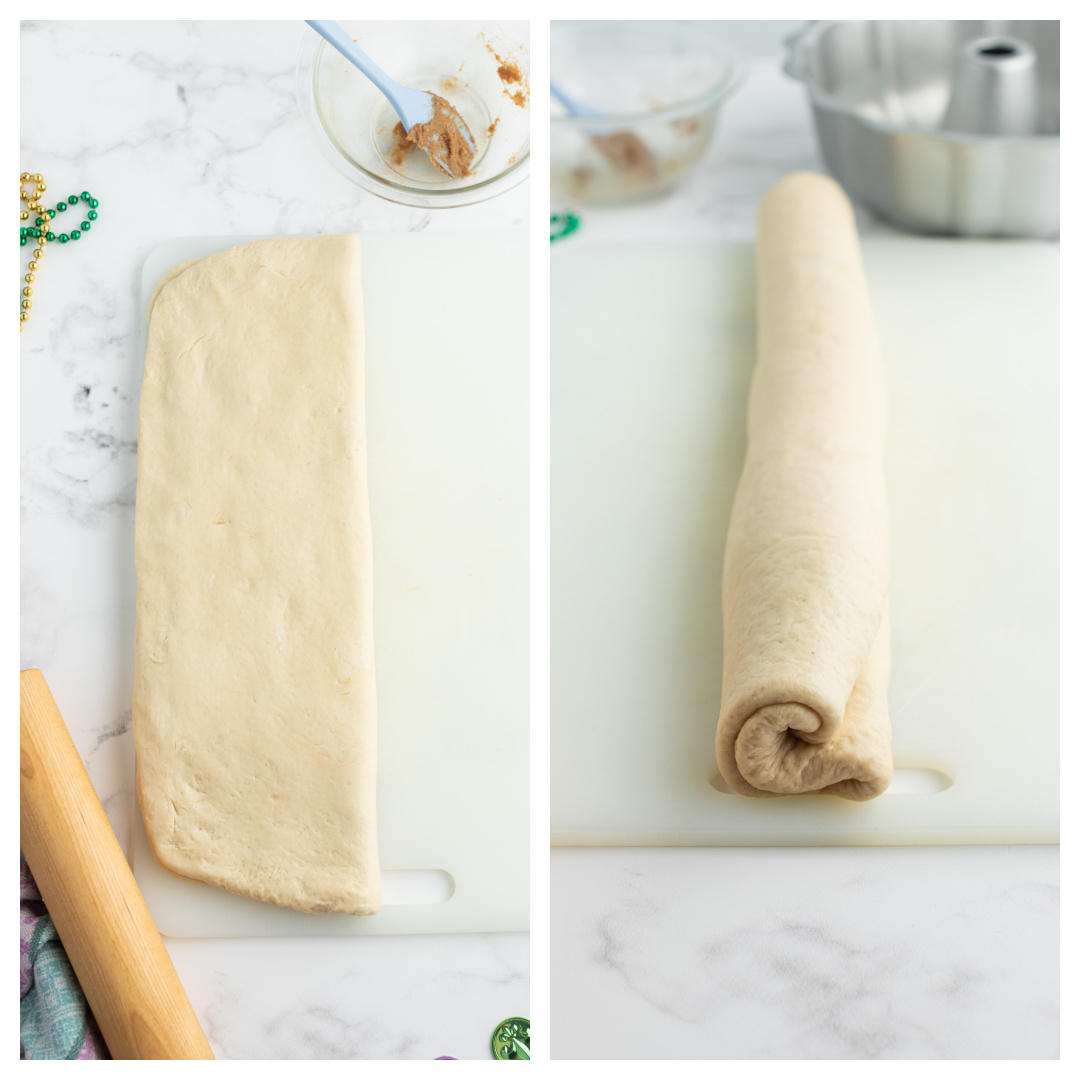 Then the dough is folded over, and it's rolled up jelly-roll style.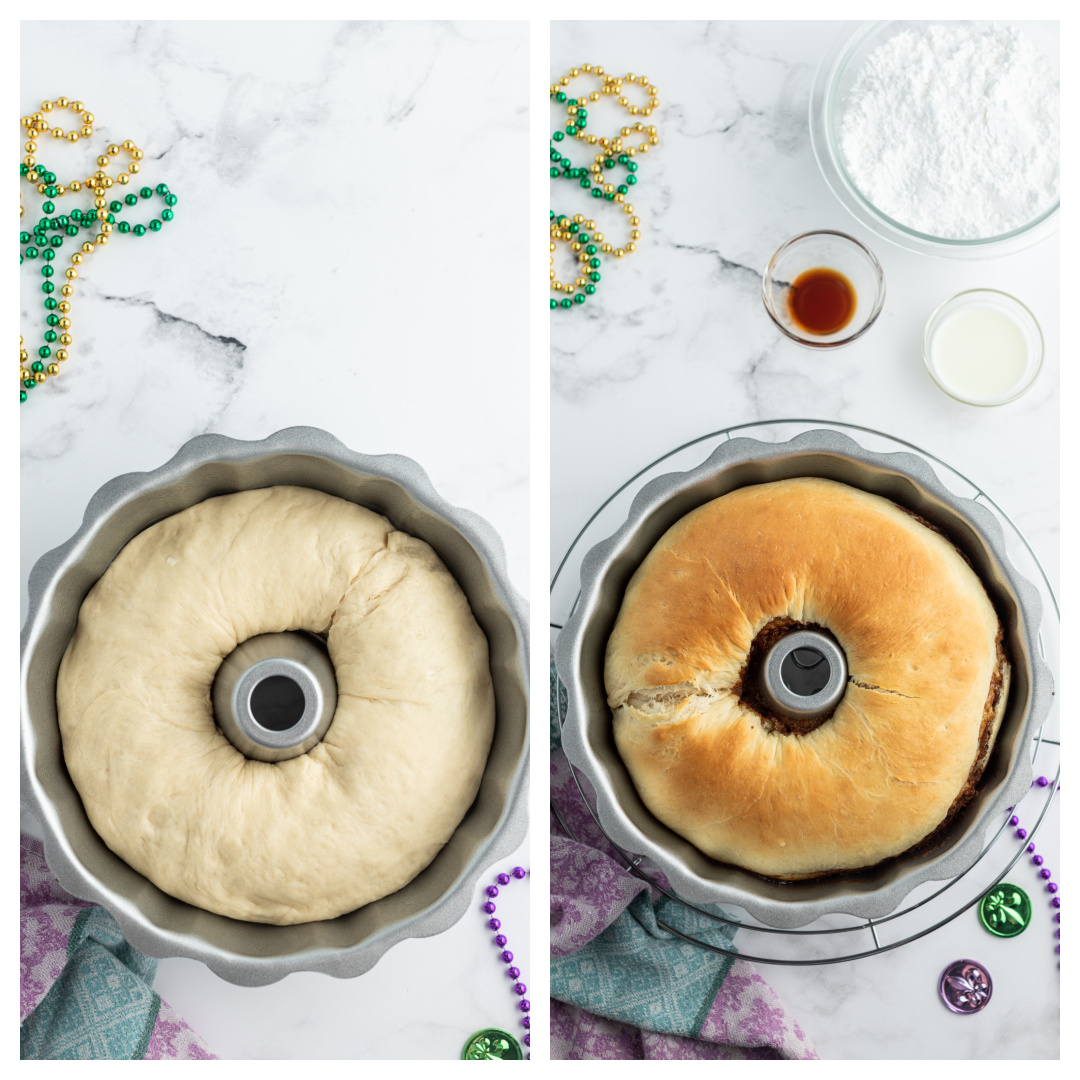 The rolled dough is placed into a greased bundt pan, covered with plastic wrap and left to rise for 1 hour. Then the King Cake is baked for about 25 to 30 minutes- until it's cooked through.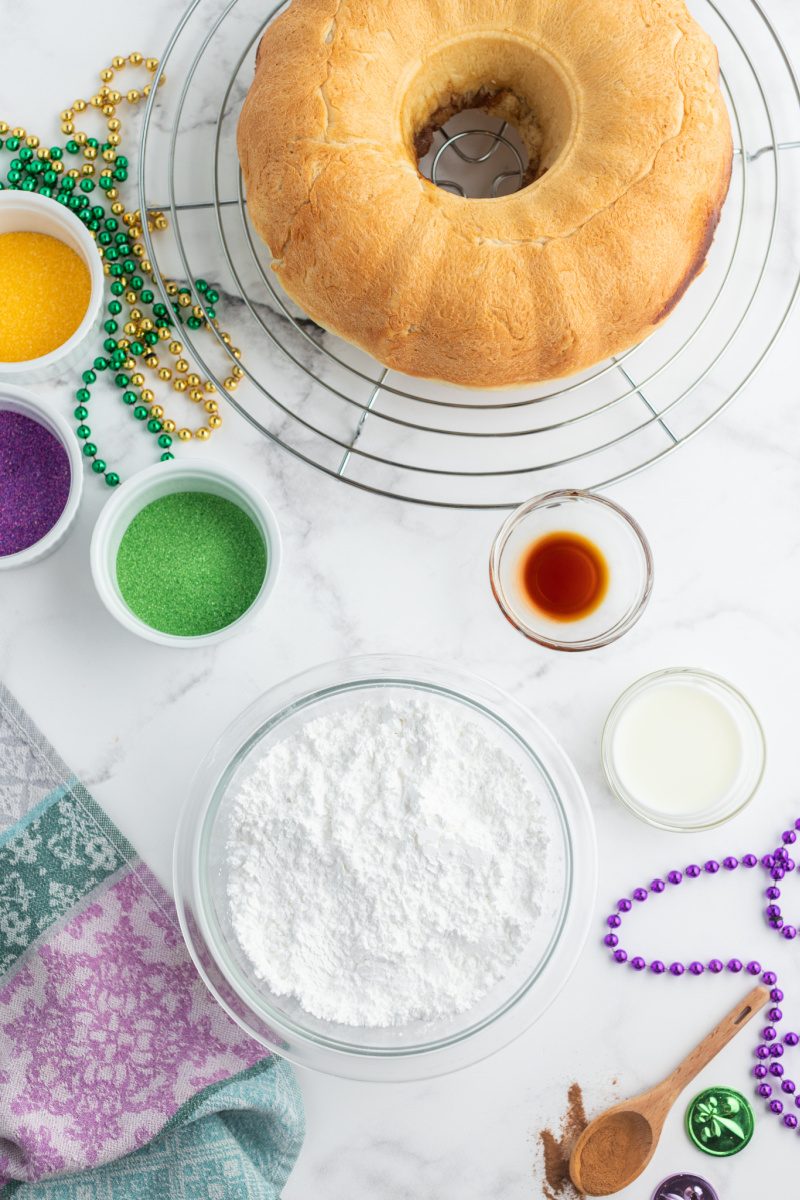 The cake can be moved to a cooling rack. Then you'll get the toppings ready for your King Cake. You'll make a simple icing made of powdered sugar, milk and vanilla extract.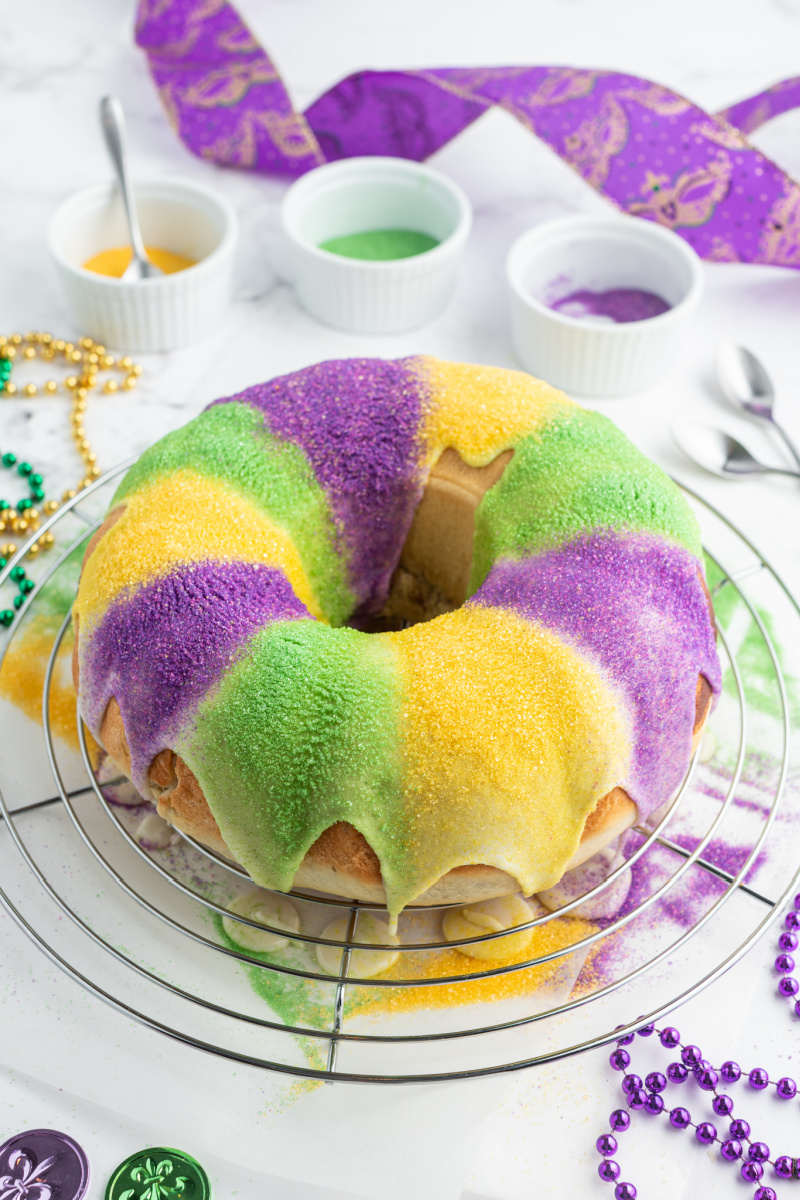 The icing is drizzled over the cake, and the colored sugars are immediately added to the top.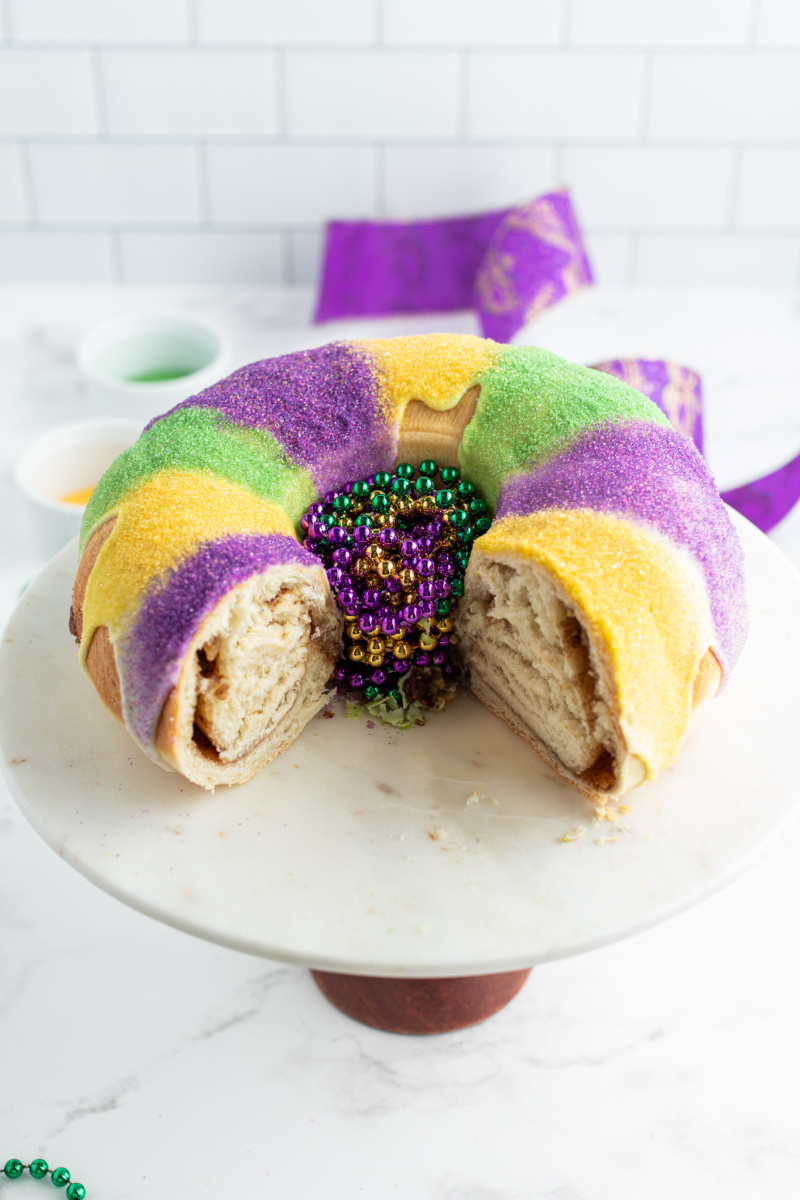 Put some green, gold and purple beads on the inside of your King Cake, if you'd like.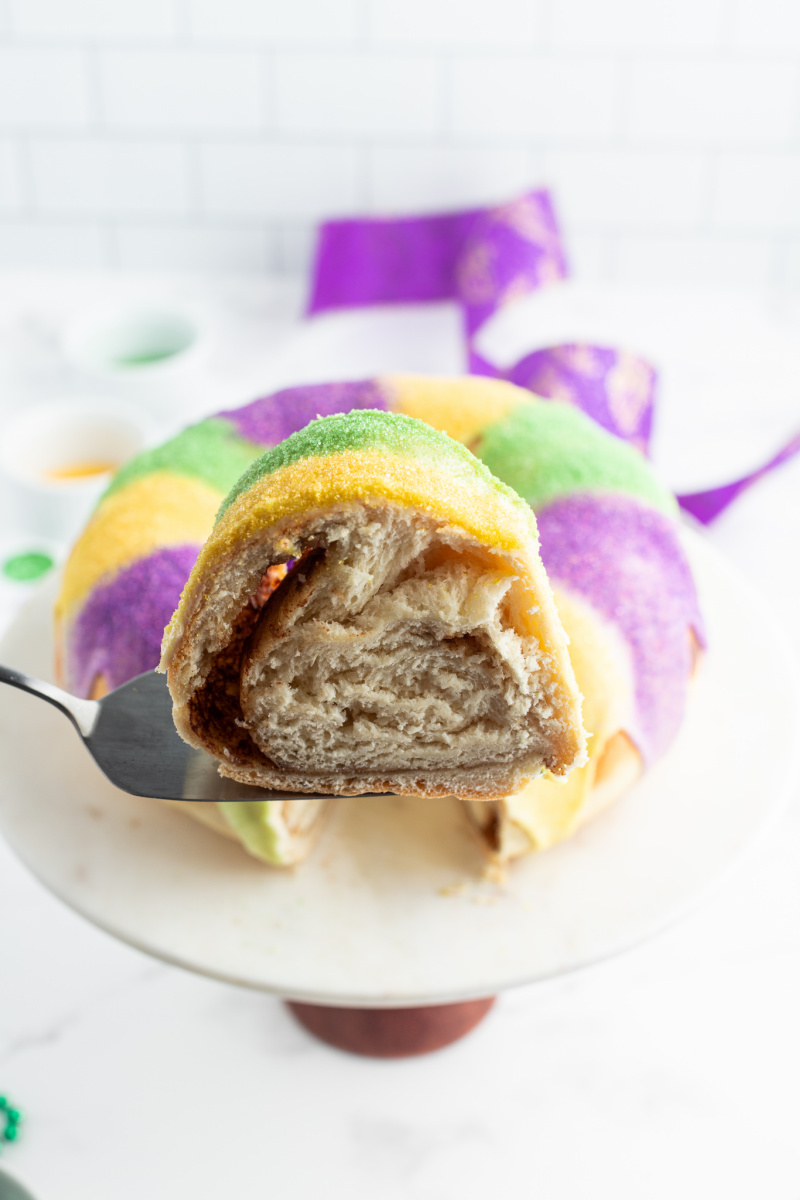 When you cut the cake, you can see how much it looks like a cinnamon roll inside. Enjoy!
Fun Facts about Mardi Gras:
Galas, parades and parties are held all throughout the Mardi Gras season. Mardi Gras parades date back to 1856.
It's a law that masks must be worn if you're riding on a float in a parade.
No masks are allowed to be worn in New Orleans except during Mardi Gras.
It's a tradition to throw and collect beads during Mardi Gras celebrations. 25 million pounds of purple, green and gold beads are thrown during Mardi Gras every year.
It's illegal for women to flash their breasts for beads during Mardi Gras parades in New Orleans (but it happens anyways). It's said that this tradition began because everyone has to get out all of their naughty behavior before going to church on Ash Wednesday. People are encouraged to shout, "Throw me something!" or blow kisses to receive beads- instead of flashing!
There are some family friendly events during Mardi Gras, but for the most part… it's best to leave the kids off the main Parade route. Lots of drinking and partying happens during Mardi Gras.
"Laissez les bon temps rouler" is the official greeting of Mardi Gras. It translates to, "Let the good times roll!"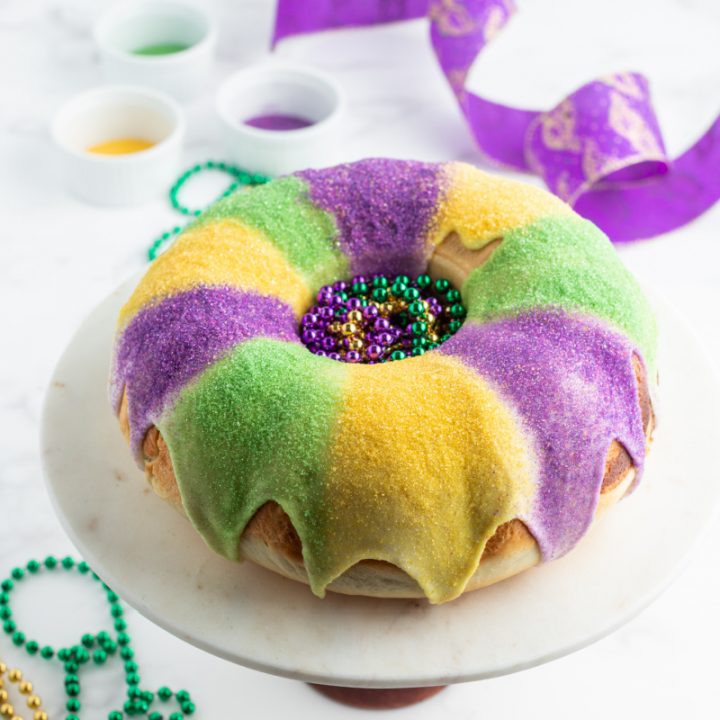 King Cake
Total Time:
1 hour
25 minutes
King Cake is the beautiful, traditional cake made for a Mardi Gras celebration! This recipe is shared from America's Test Kitchen: The Perfect Cake cookbook.
Ingredients
DOUGH
3 1/2 cups all purpose flour
2 1/4 teaspoons Rapid Rise (instant) yeast (one envelope)
1 cup milk
1/4 cup granulated white sugar
1 teaspoon salt
2 large eggs
6 tablespoons unsalted butter, softened and cut into pieces
FILLING:
2/3 cup packed light brown sugar
1 1/2 teaspoons ground cinnamon
4 tablespoons unsalted butter, at room temperature
ICING:
2 cups powdered sugar
2 tablespoons milk
1 teaspoon vanilla extract
DECORATION:
dark green, purple and yellow/gold sanding sugars
Instructions
PREPARE THE DOUGH:
Mix 2 1/2 cups flour and yeast in mixing bowl of stand mixer, using the paddle attachment, on low for about 30 seconds.
Heat milk, sugar, and salt in a small saucepan over medium heat until sugar is dissolved and milk is between 120°F to 130°F.
With the mixer on low, pour in liquids and mix until incorporated. Add eggs one at a time. Continue mixing until a shaggy dough forms. Clean off paddle and switch
to dough hook. Mix in the remaining 1 cup flour a little at a time, adding more or less flour as needed to make a soft dough. Add the softened butter, a piece at a time, kneading until each piece of butter is absorbed.
Knead for eight minutes on low. The dough should completely clear the sides of the bowl. If it is too sticky, add additional flour 1 tablespoon at a time, mixing
in thoroughly before determining if more flour is needed. If the dough seems too dry, spritz with water from a spray bottle a couple of times, mixing in thoroughly before determining if more water is needed. Every 2 minutes, stop the machine, scrape the dough off the hook, and then continue kneading.
Turn the dough out onto a lightly floured surface and knead a few times by hand to be sure it's smooth and elastic. Form the dough into a ball. Place dough into a greased bowl. Turn once so greased surface is on top. Cover bowl with plastic wrap and refrigerate for 1 hour.
ADD THE FILLING AND SHAPE:
While the dough is chilling, make cinnamon filling. In small bowl, combine the brown sugar and ground cinnamon. Combine butter with cinnamon mixture and mix well.
Roll the chilled dough into a 10 x 20 inch rectangle. Spread the filling on half of the long side of the dough. Fold the dough in half covering the filling. Pat the dough down firmly so the dough will stick together. Roll up the dough into a log- jelly-roll style. Shape it into a circle/oval and press the edges together.
Spray a 12-cup bundt pan with baking spray. Transfer the ring to the pan. Cover the pan with plastic wrap and let it rise until doubled, about 1 hour. While the dough is rising, preheat the oven to 350°. Bake the cake until it is golden brown, 20
to 35 minutes. Remove from oven and let cool 10 minutes on baking sheet and then place it on a cooling rack to cool completely before icing.
ADD ICING AND DECORATIONS:
In a small bowl, mix powdered sugar, milk and vanilla until smooth (add additional milk if mixture is too thick or powdered sugar if too thin).
Spoon the icing over top of the cake. Immediately sprinkle on colored sugar, alternating between the three colors.
Nutrition Information:
Yield:

12
Serving Size:

1 slice
Amount Per Serving:
Calories:

372
Total Fat:

11g
Saturated Fat:

7g
Trans Fat:

0g
Unsaturated Fat:

4g
Cholesterol:

58mg
Sodium:

281mg
Carbohydrates:

62g
Fiber:

1g
Sugar:

32g
Protein:

6g
Nutritional information is estimated using a nutritional calculator.