Chocolate Mint Oreo Truffles are the most delicious 3-ingredient dessert recipe. This is an easy recipe that happens to be super impressive looking too.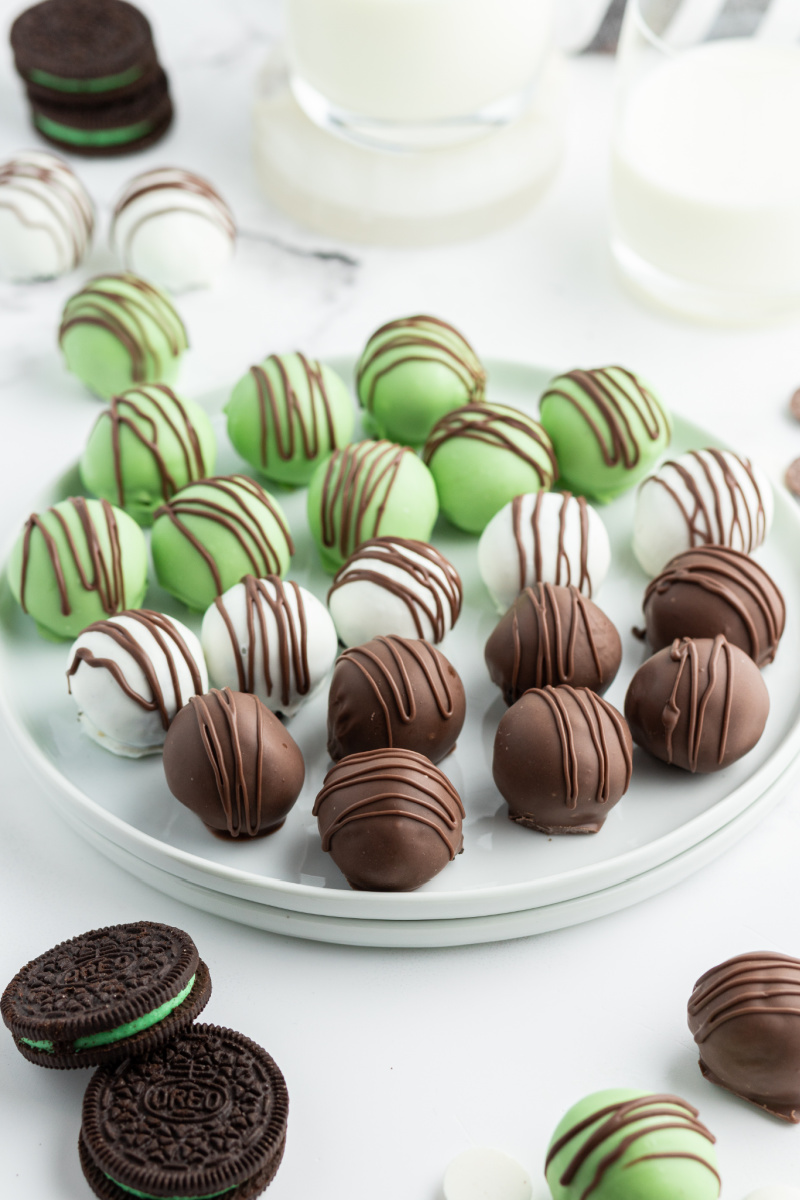 February 19th is National Chocolate Mint Day! This is a day to celebrate chocolate paired with mint. Mint is usually paired with dark chocolate since it's known for being bitter and not quite as sweet as other chocolates. But you'll find mint chocolates made using all kinds of chocolate.
Mint has a fresh flavor, so it's not surprising that people in ancient times discovered its usability for medicines and beauty products. Today, mint is also added to candy, desserts, ice cream, hot chocolate and air freshener. And of course chocolate mints have emerged as a favorite all on their own.
Chocolate Mint History:
Greeks and Romans discovered that mint could help with digestion and freshening breath. The Greeks also believed that mint could cure hiccups!
In the 1800's mint chocolates began appearing in candy shops, but it wasn't until the invention of the York Peppermint Pattie in the 1940's that chocolate mint began to solidify its popularity as a flavored chocolate.
Mint chocolate ice cream was one of the original 31 flavors when Baskin Robbins opened in 1945. The flavor was made popular by Marilyn Ricketts in 1973 when she entered the flavor in a competition to provide the dessert for a royal wedding in the UK.
Andes Mints came along in 1950, and they are still the #1 after-dinner mint today.
Thin Mint Girl Scout cookies made their debut in 1953, and they remain to be the #1 favorite flavor of Girl Scout cookies. Mint Oreos came along in 1985.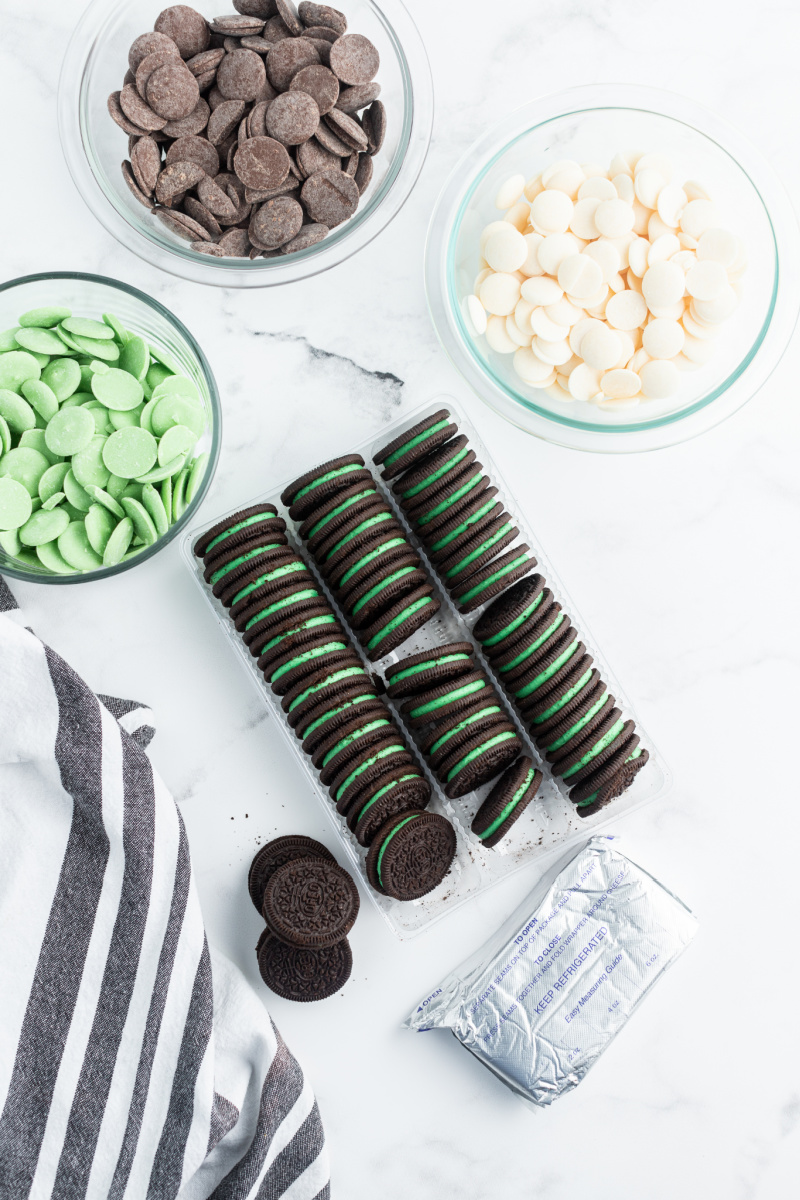 Ingredients needed:
36 mint Oreo sandwich cookies
One 8-ounce package of cream cheese
melting chocolate disks (or chocolate chips)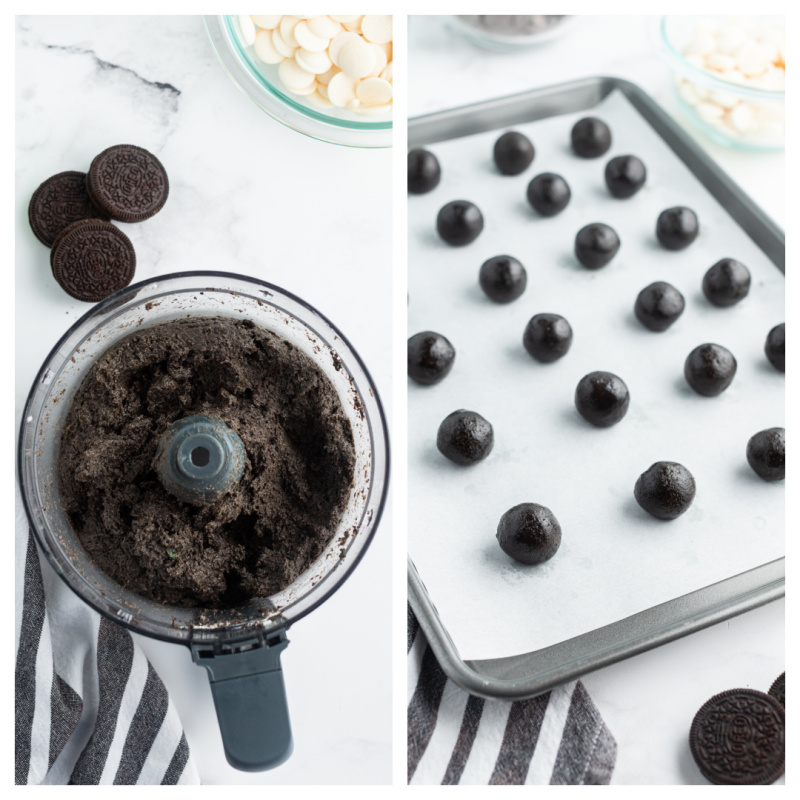 How to make Chocolate Mint Oreo Truffles:
The Oreos are processed in a food processor until they are fine crumbs. The whole Oreo is processed- the frosting too! Then the cream cheese is added in until it all comes together like a cookie dough.
Use a cookie scoop to scoop out rounds of dough. Use clean hands to roll the dough into balls to set on wax or parchment paper. Put them in the freezer to chill.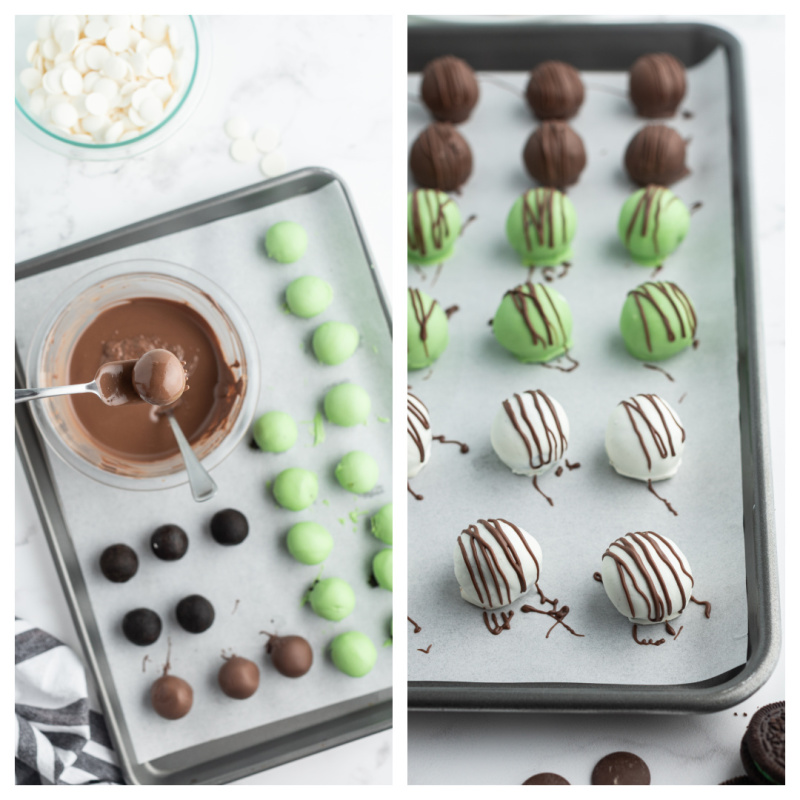 Then melt your chocolate disks in bowls. You can use any flavor or color disks you'd like. Find some in the grocery store, and Wilton sells them as "Candy Melts." Alternately you can use chocolate chips.
Use a spoon to dip the chilled Oreo ball into the chocolate, and then set it on the waxed paper to dry. You can drizzle some chocolate on top by putting it in a little zip baggie and snipping the end. Squeeze and drizzle.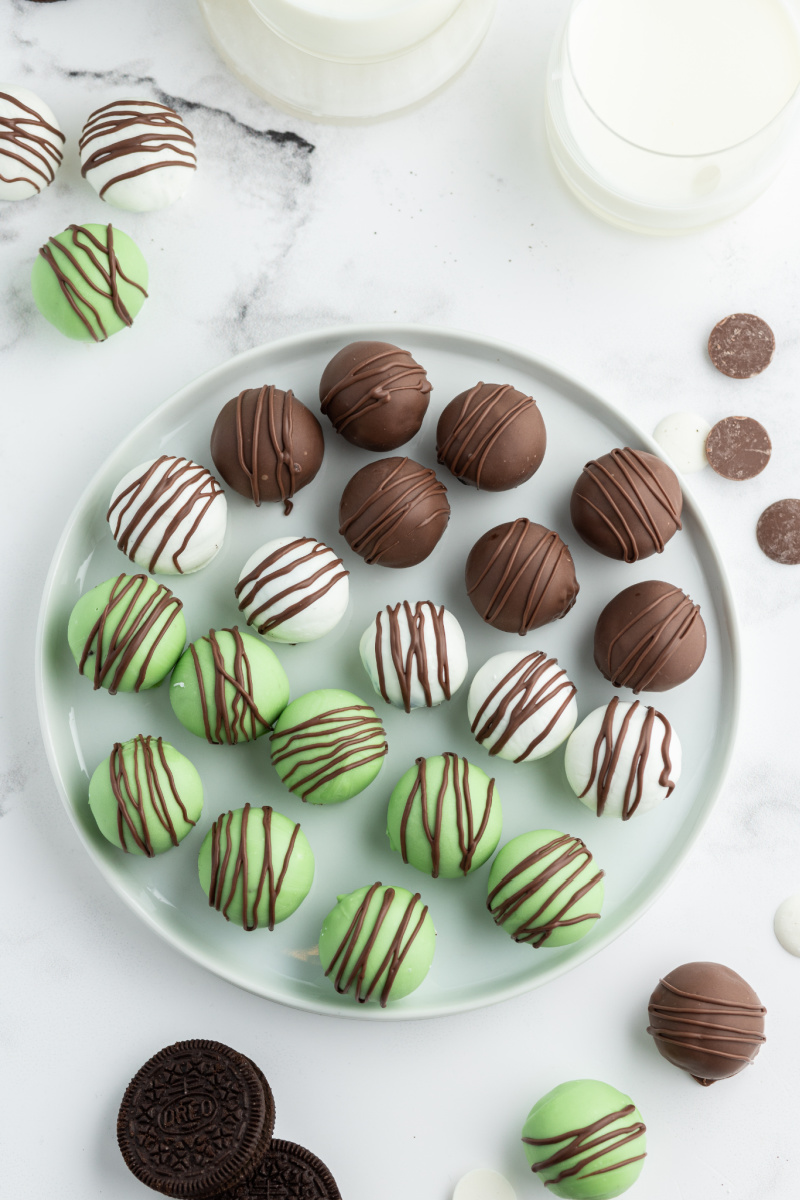 Let the Chocolate Mint Oreo Truffles sit at room temperature until set. Store them in the refrigerator longer term. They'll set more quickly in the refrigerator too. If you store them in the freezer, the chocolate might crack.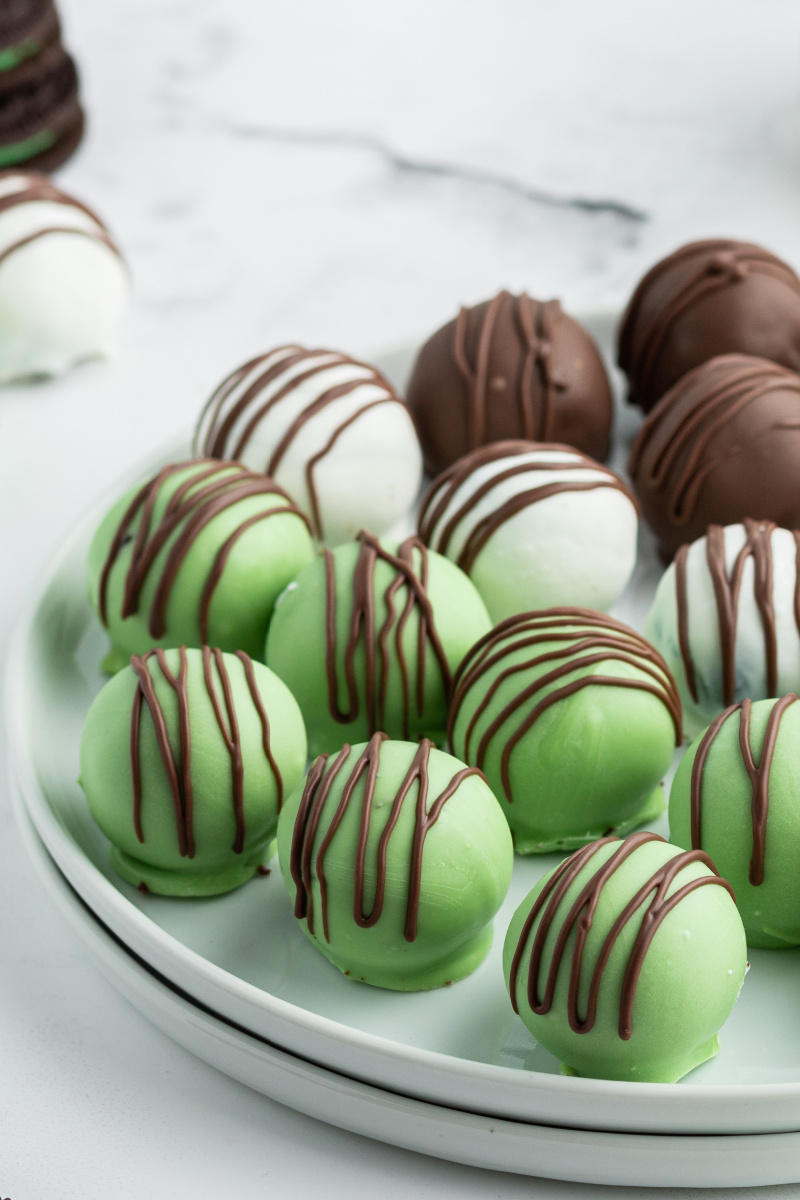 These are a pretty confection for National Chocolate Mint Day, but they'd be cute for St. Patrick's Day too. And of course during the Christmas holidays they'd be a hit with some festive holiday sprinkles added to the top.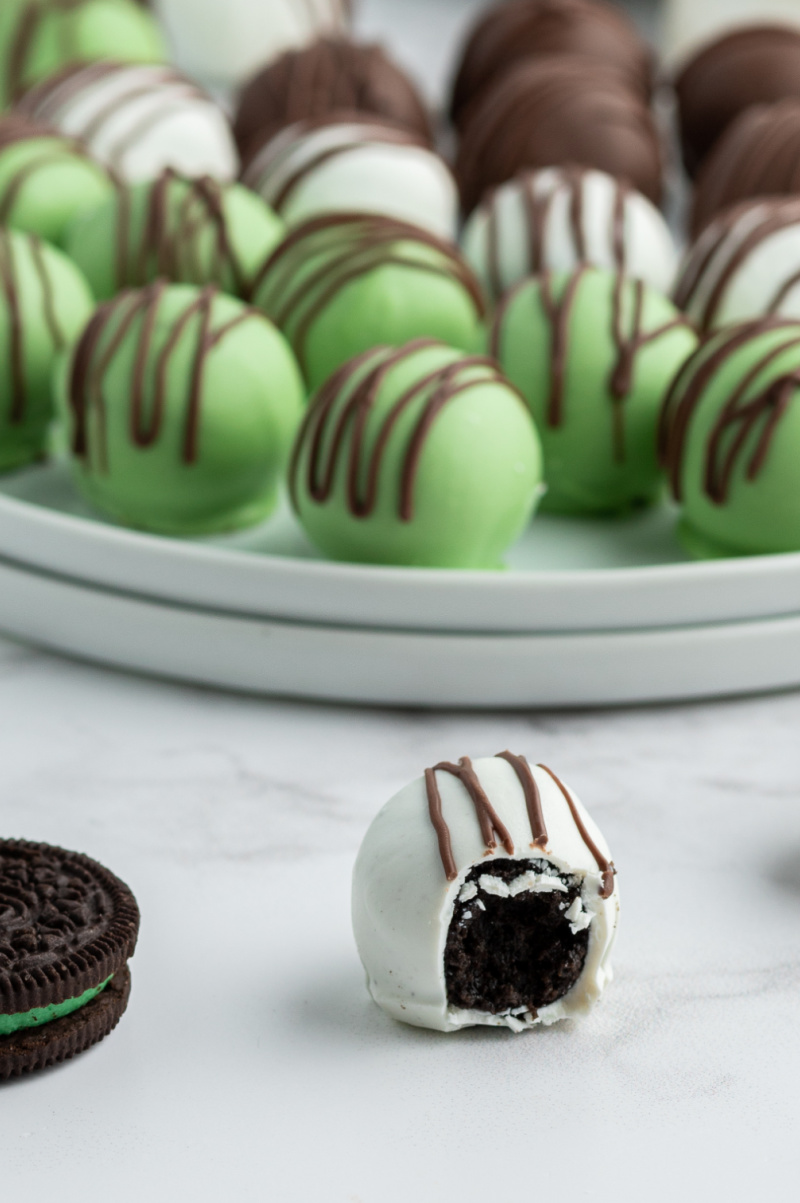 The inside of these Chocolate Mint Truffles is a delicious mix of crushed Oreo and cream cheese. They're decadent little bites.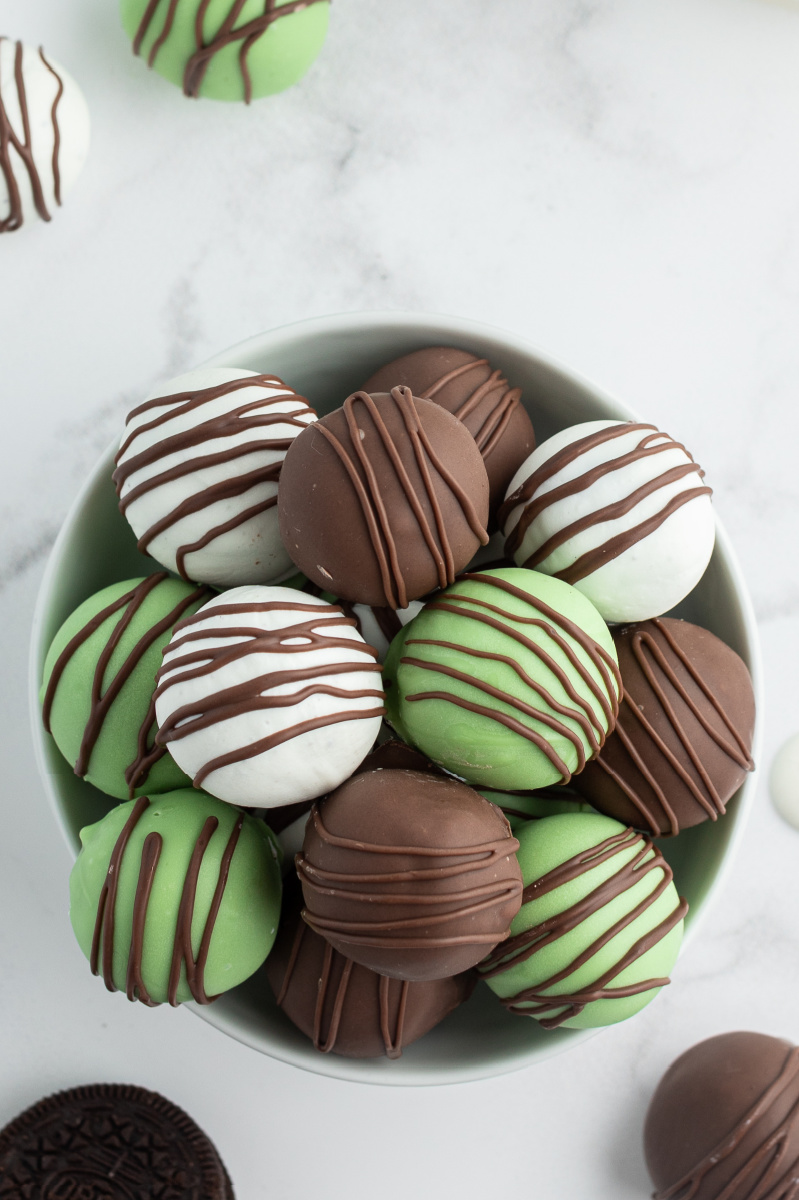 And they're so pretty to display for a party too. Enjoy!
How to celebrate National Chocolate Mint Day:
Make these Chocolate Mint Oreo Truffles!
Make your favorite mint cookie recipe.
Eat your favorite mints: Andes, Frango, Ghirardelli, Lindt, York, After Eight or Junior Mints.
Prepare some hot chocolate, and add mint to it!
Plant some chocolate mint in your garden.
Order a couple of scoops of mint chocolate chip ice cream.
Buy some Thin Mint Girl Scout cookies.
Put a chocolate mint on everyone's pillow in your house before they retire for bed.
Use the hashtag #NationalChocolateMintDay or #ChocolateMintDay to share your chocolate mint celebration on social media!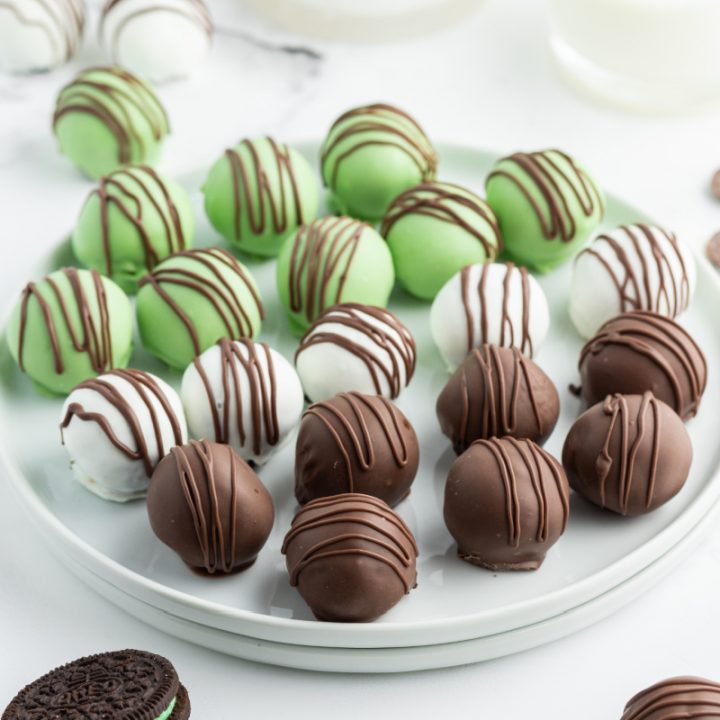 Chocolate Mint Oreo Truffles
Easy mint chocolate truffles coated with chocolate!
Ingredients
36 Chocolate Mint Oreos
8 ounces cream cheese, at room temperature
16 ounces vanilla or chocolate candy melts (if you can find mint green, that would be cool to do a few in green too- usually can find at Michaels)
Instructions
Line a rimmed baking sheet with wax or parchment paper. This should be a baking sheet that will fit in your freezer, so make room!
Process the Oreos in a food processor (cooking and filling) and pulse until you reach "fine crumbs." Add the cream cheese and pulse until well-combined.
Scoop out to form 1-inch balls and place them in rows on the prepared baking sheet. Place the baking sheet with the truffles in the freezer for 15 minutes.
Melt the chocolate melts according to package instructions. Remove the truffles from the freezer and use a spoon to dip into the chocolate. Dip some in vanilla and some in chocolate (and mint green, if you have it). Lift up the truffle and let the chocolate drip off. Return the truffle to the baking sheet and carefully set it down and allow the chocolate to set.
Use the extra chocolate to drizzle decoratively on top of the truffles. Because these are Mint Chocolate Oreo Truffles, if you have any green sprinkles or nonpareils, you can add those on some of the truffles, if you'd like. If not, it's okay!
Notes
Use regular Oreos to make non-mint truffles!
Nutrition Information:
Yield:

36
Serving Size:

1 truffle
Amount Per Serving:
Calories:

91
Total Fat:

4g
Saturated Fat:

2g
Trans Fat:

0g
Unsaturated Fat:

1g
Cholesterol:

7mg
Sodium:

29mg
Carbohydrates:

6g
Fiber:

0g
Sugar:

5g
Protein:

1g