Baked Chili Dogs are hot dogs smothered with homemade chili and cheddar cheese, and baked until hot and gooey and melted. They're topped with sour cream, green onions and crushed Fritos corn chips.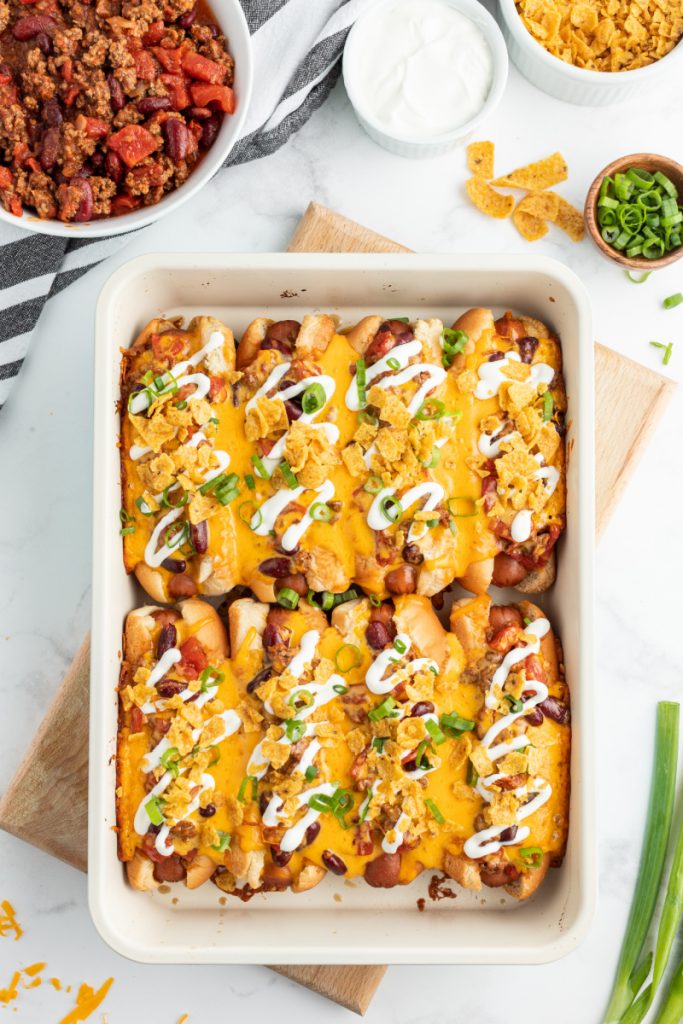 Both March 30th and July 21 are designated as National Hot Dog Day! I've decided to celebrate by making the most delicious Baked Chili Dogs. You can celebrate too by eating hot dogs in your own favorite way or by visiting a hot dog restaurant and ordering a hot dog or two to go. Use the hashtag #NationalHotDogDay or #HotDogDay on social media to share your hot dog feast!
History of Hot Dogs:
There's a bit of a mystery as to where hot dogs actually originated. They likely got their start in Vienna, Austria or Frankfurt, Germany as a variation of the "sausage." Frankfurt claims that they invented the hot dog in their city in 1487. Another claim is that is was invented in Coburg, Germany in the late 1600's and was then promoted in Frankfurt.
The first hot dog in America was sold by a German immigrant out of a food cart in New York in the 1860's.
In 1893, an immigrant from Vienna took the recipe for hot dogs with him to the World's Fair in Chicago and introduced fair-goers to the hot dog.
The name "hot dog" probably began as a joke about the German's small, long, thin dogs.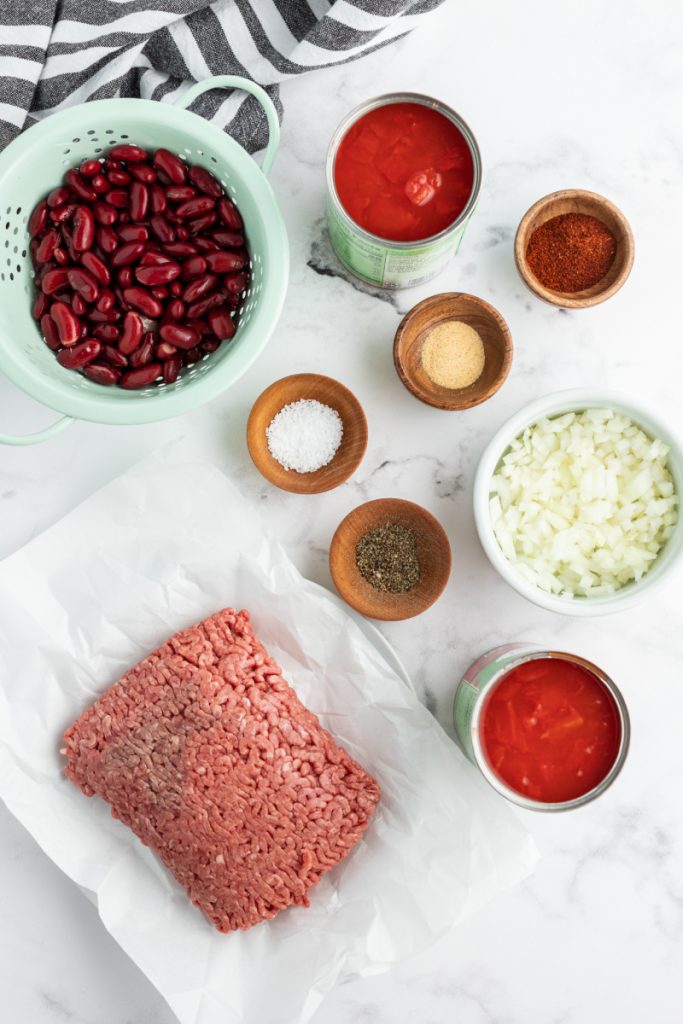 Ingredients needed for Chili:
ground beef or ground turkey
small onion
can of kidney beans
two cans of diced tomatoes
chili powder
garlic powder
salt and pepper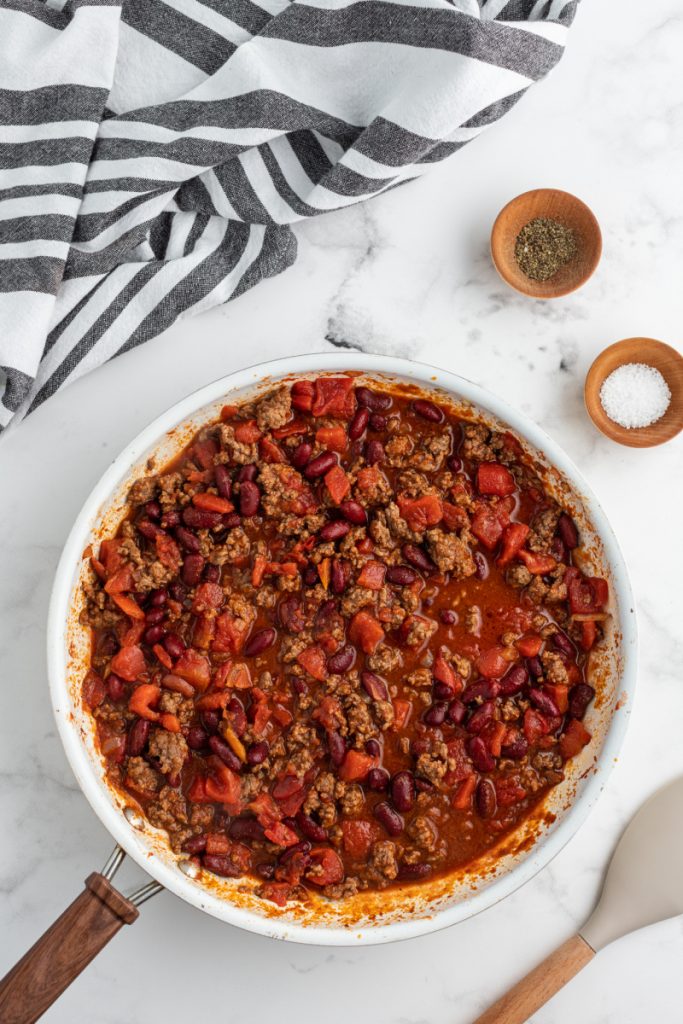 Cook the ground meat and onion in a skillet until the meat is browned and the onion is softened. Add the rest of the ingredients and simmer for 20 minutes. That's your simple chili recipe! If you have another chili recipe you prefer, it's okay to use your own recipe.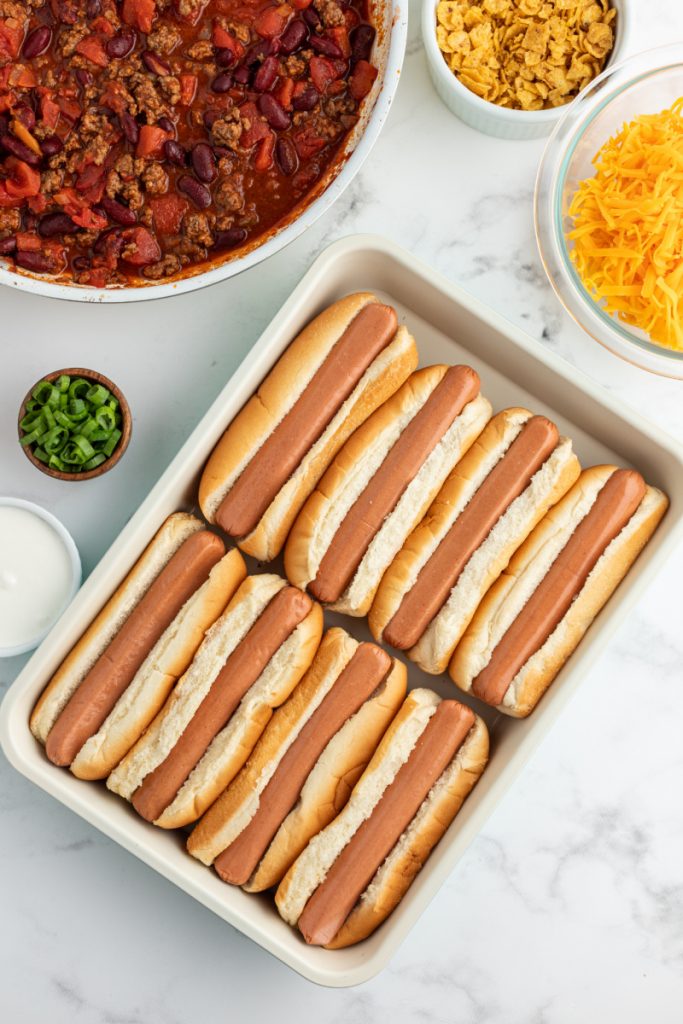 How to make Baked Chili Dogs:
Line up the hot dogs in a pan. Use a throw-away pan if you don't want to deal with any mess. You'll have enough chili in this Baked Chili Dogs recipe to make more than 8 chili dogs, if you'd like.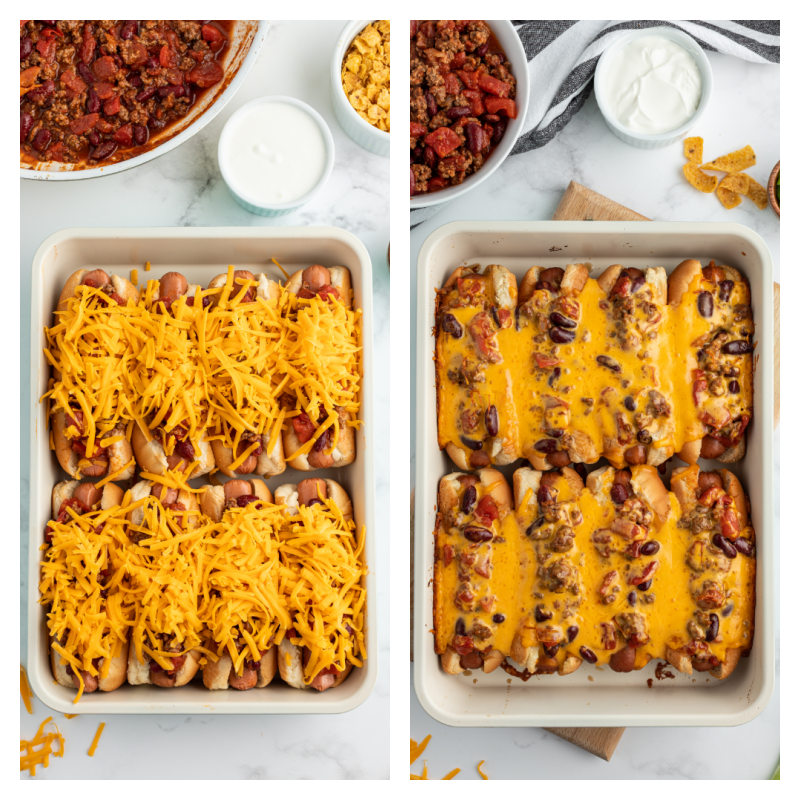 Spoon chili and shredded cheese on top. Cover with foil and bake for 30 minutes.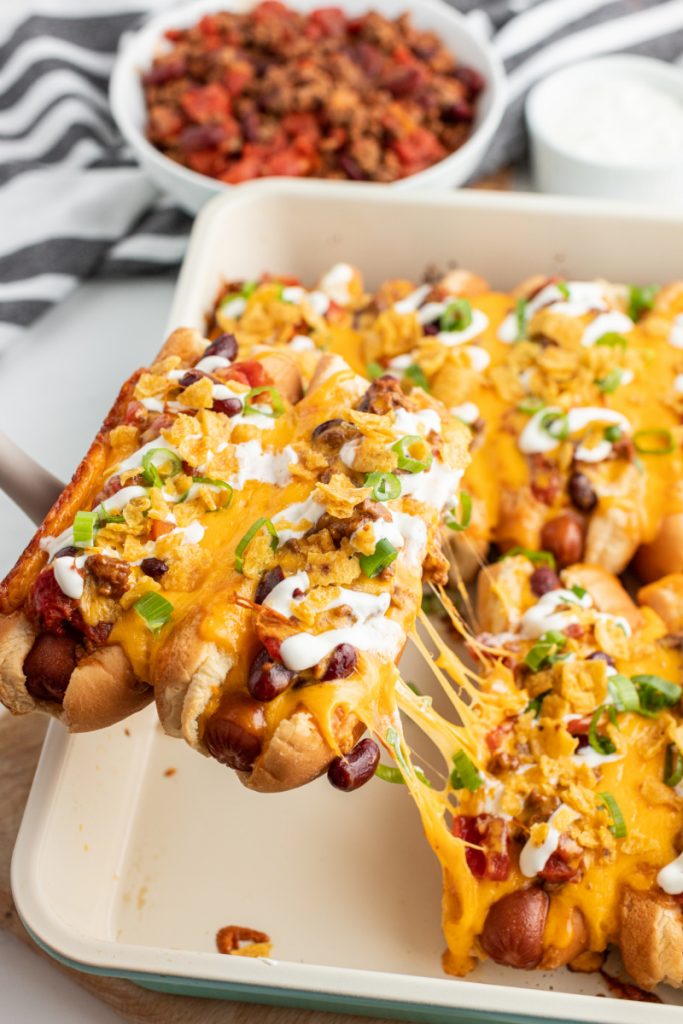 Drizzle sour cream on top. Add chopped green onions. And a sprinkle of crushed Fritos corn chips makes them complete.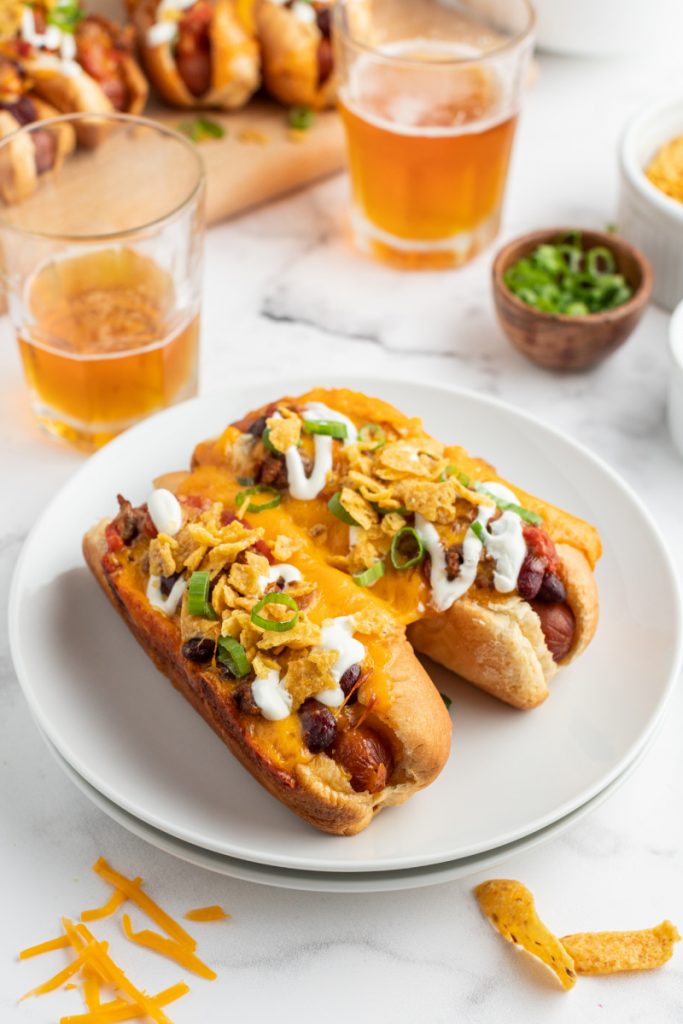 Start with some Caramelized Onion Dip, and then serve Baked Chili Dogs with ice cold beer (or a more family-friendly beverage!) for an easy-to-make dinner or as the star of the show for your game day meal.
Fun Facts about Hot Dogs
Hot dogs were 1st sold at baseball games in 1893.
71% of people choose mustard is their favorite hot dog topping. 52% of people prefer ketchup as the best topping for hot dogs.
Los Angeles is the American city that consumes the most hot dogs.
Chicago-Style Hot Dogs have onion, relish, pepper, pickle, tomato, mustard, and celery salt.
Coney Island hot dogs have chili, cheese, mustard, and onions (also popular in Michigan).
A prime spot for a hot dog vendor is outside of New York's Central Park Zoo. It costs the vendor about $300,000 to operate in that location.
One of the first foods eaten on the moon was the hot dog.
Peak season for hot dog consumption is from Memorial Day to Labor Day. 7 billion hot dogs are consumed during this time period.
On 4th of July, Americans eat about 150 million hot dogs.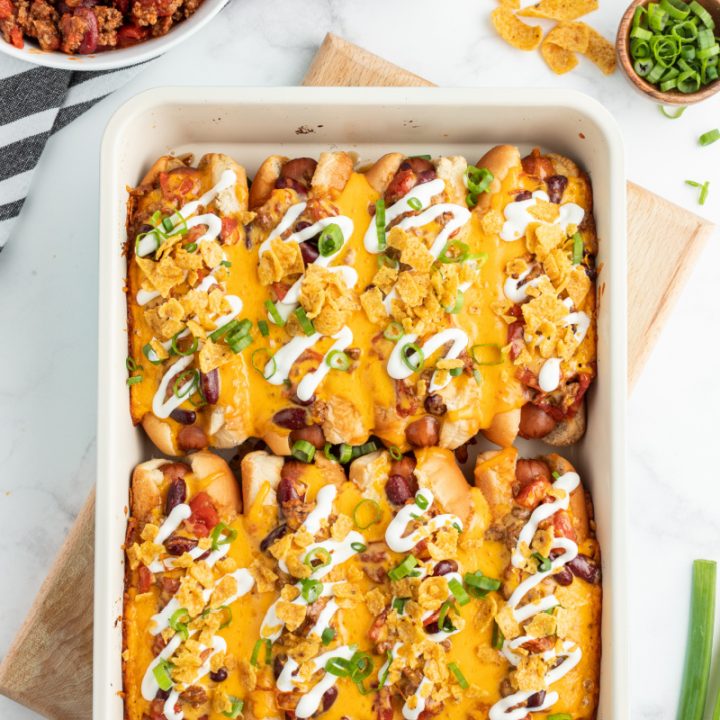 Baked Chili Dogs
Total Time:
1 hour
25 minutes
An easy way to get your craving for hot dogs and chili satisfied!
Ingredients
EASY CHILI RECIPE
16 ounces ground beef or turkey
1 small onion, peeled and chopped
One 15-ounce can kidney beans, drained and rinsed
Two 15-ounce cans diced tomatoes, undrained
2 teaspoons chili powder
1/2 teaspoon garlic powder
salt and pepper, to taste
CHILI DOGS:
8 hot dog buns
8 hot dogs
Chili (use recipe above, or make your own)
2 cups shredded cheddar cheese
1/2 cup sour cream
1/3 cup green onions
1 cup crushed Fritos corn chips
Instructions
MAKE THE CHILI:
In a large pot, cook the ground meat and onion together on medium-high for 5 to 10 minutes, until the meat is no longer pink.
Add the beans, tomatoes, chili powder and garlic powder to the meat. Stir to combine. Bring the mixture to a boil, then reduce the heat and simmer for 20 minutes. Season with salt and pepper, as desired.
ASSEMBLE THE CHILI DOGS:
Preheat the oven to 375 degrees F. Spray a 9x13-inch pan with nonstick spray.

Line up the hot dog buns in the pan. Add a hot dog in each bun. Top each hot dog with 1/3 cup of the chili. Sprinkle all of the cheese on top. Cover with foil (spray the foil with nonstick spray so it won't stick to the cheese). Bake for 30 minutes.
FOR SERVING:
Drizzle sour cream on top (place in a plastic baggie and snip the end to use for a squeezing vessel). Sprinkle with green onions and crushed Fritos.
Notes
Nutritional information in this recipe is taking into account that all of the chili will be consumed. So the numbers given are likely to be less if you don't use all of the chili for the baked chili dogs.
Nutrition Information:
Yield:

16
Serving Size:

1
Amount Per Serving:
Calories:

419
Total Fat:

24g
Saturated Fat:

9g
Trans Fat:

0g
Unsaturated Fat:

12g
Cholesterol:

57mg
Sodium:

658mg
Carbohydrates:

31g
Fiber:

4g
Sugar:

5g
Protein:

20g
Nutritional information is estimated using a nutrition calculator.