Hot Pastrami Sliders are the perfect way to share the hot pastrami sandwich love. Everyone gets a little sandwich or two to taste!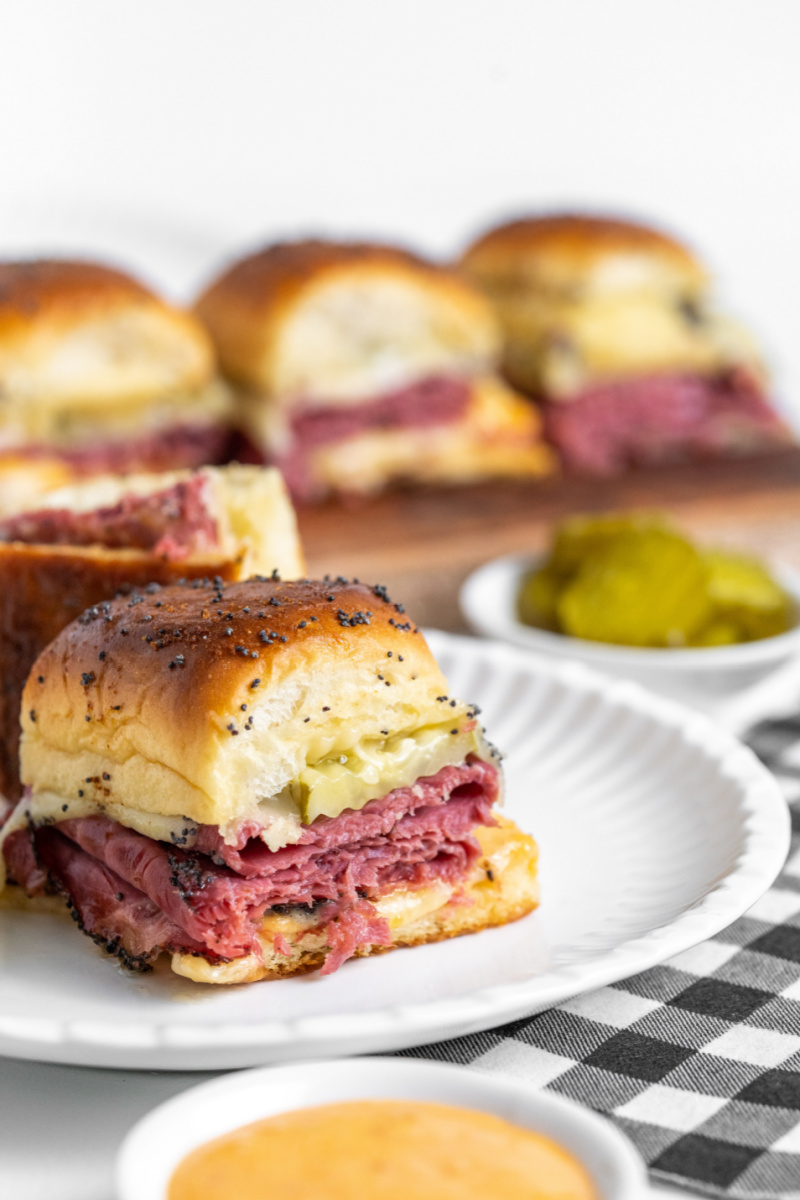 January 14th is National Hot Pastrami Sandwich Day! Celebrate by making a batch of these Hot Pastrami Sliders to share with friends and family. Or visit your favorite deli and order a traditional Hot Pastrami Sandwich. Share your pastrami love on social media today by using the hashtags #NationalHotPastramiSandwichDay, #HotPastramiSandwichDay and #RecipesForHolidays. Be sure to follow my January Food Holidays page so you never miss a food holiday in the month of January!
The History of Hot Pastrami Sandwiches:
Hot Pastrami Sandwiches were first served in New York City in 1887 by a kosher butcher immigrant from Lithuania. His name was Sussman Volk. The recipe was given to him by a Romanian friend in re-payment for a favor. Volk eventually opened his own New York City deli, where he served pastrami on rye bread.
Hot Pastrami Sandwiches became quite popular, and even more so in the 1920's and 30's- especially in deli's around New York's theater district.
Katz's Deli is the oldest New York deli (est. 1888), and it's famous for its monster-sized, stuffed pastrami sandwiches. One of the most famous scenes in movie history (from When Harry Met Sally)- the "I'll have what she's having" scene was filmed at Katz's. Meg Ryan was really eating a turkey sandwich, but Billy Crystal was enjoying a pastrami sandwich.
Pastrami on rye is now considered a standard at traditional Jewish deli's.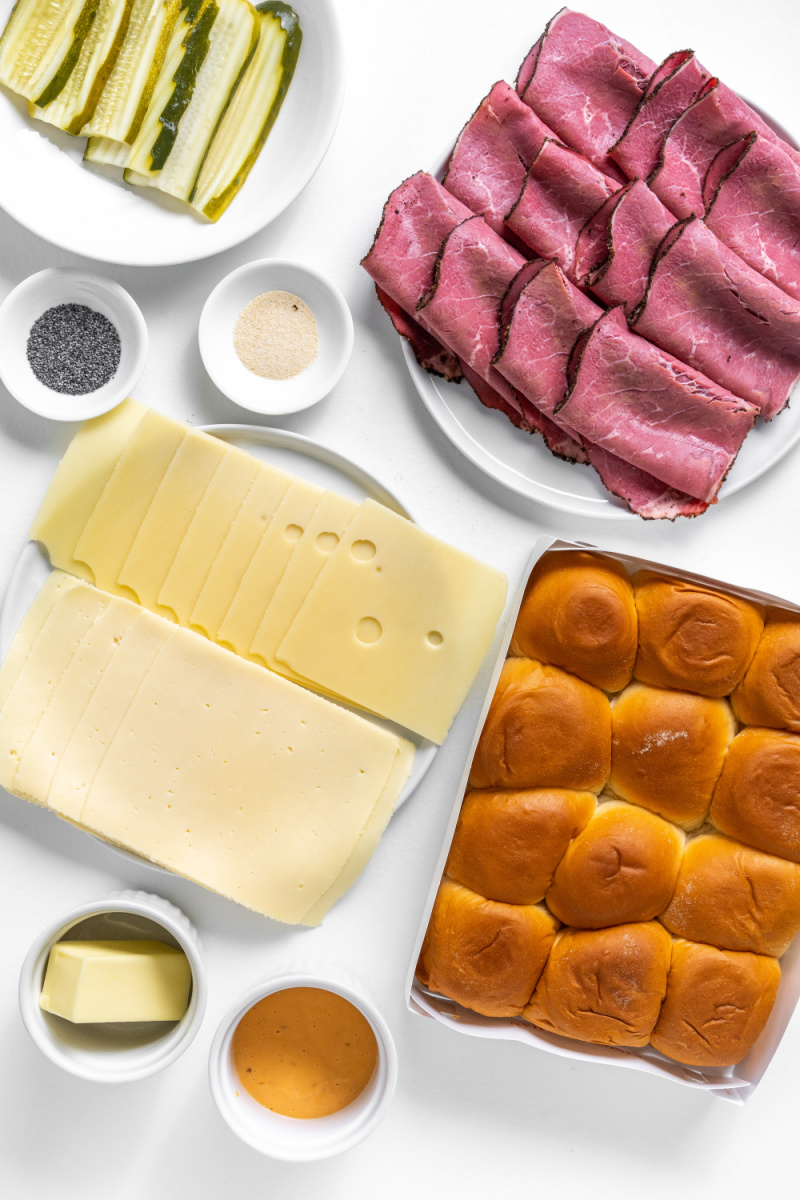 Ingredients needed:
slider buns or rolls
Russian dressing
Havarti cheese
sliced pastrami
Swiss cheese
dill pickles
butter
poppy seeds
onion powder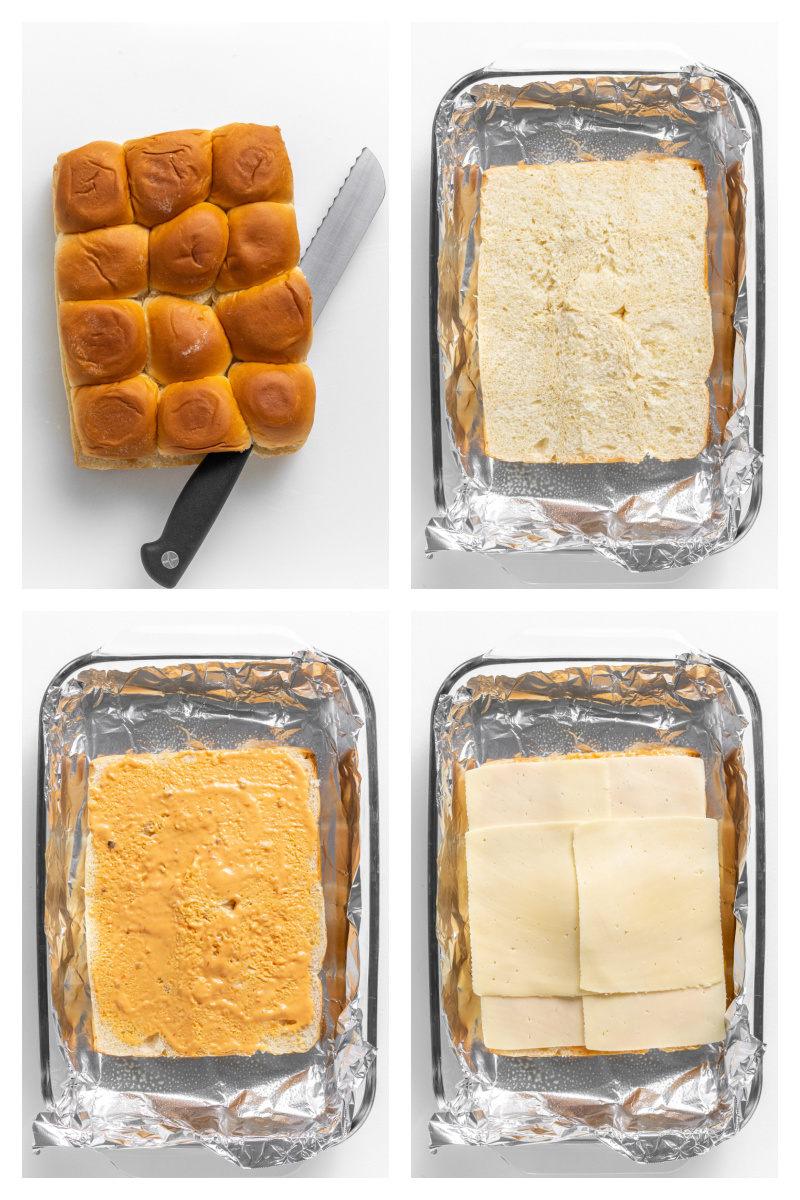 How to make Hot Pastrami Sliders:
The full, printable recipe is at the end of this post.
If you buy Hawaiian rolls, they come in a convenient slab of rolls. So you can just take a bread knife, and cut through the whole slab. Place the bottom half of the rolls in a foil-lined pan that has been sprayed with nonstick spray.
Spread the bottom half of the rolls with Russian dressing. If you prefer, you can spread them with spicy brown mustard instead (that's the more traditional route with hot pastrami sandwiches).
Next, add a layer of Havarti cheese slices.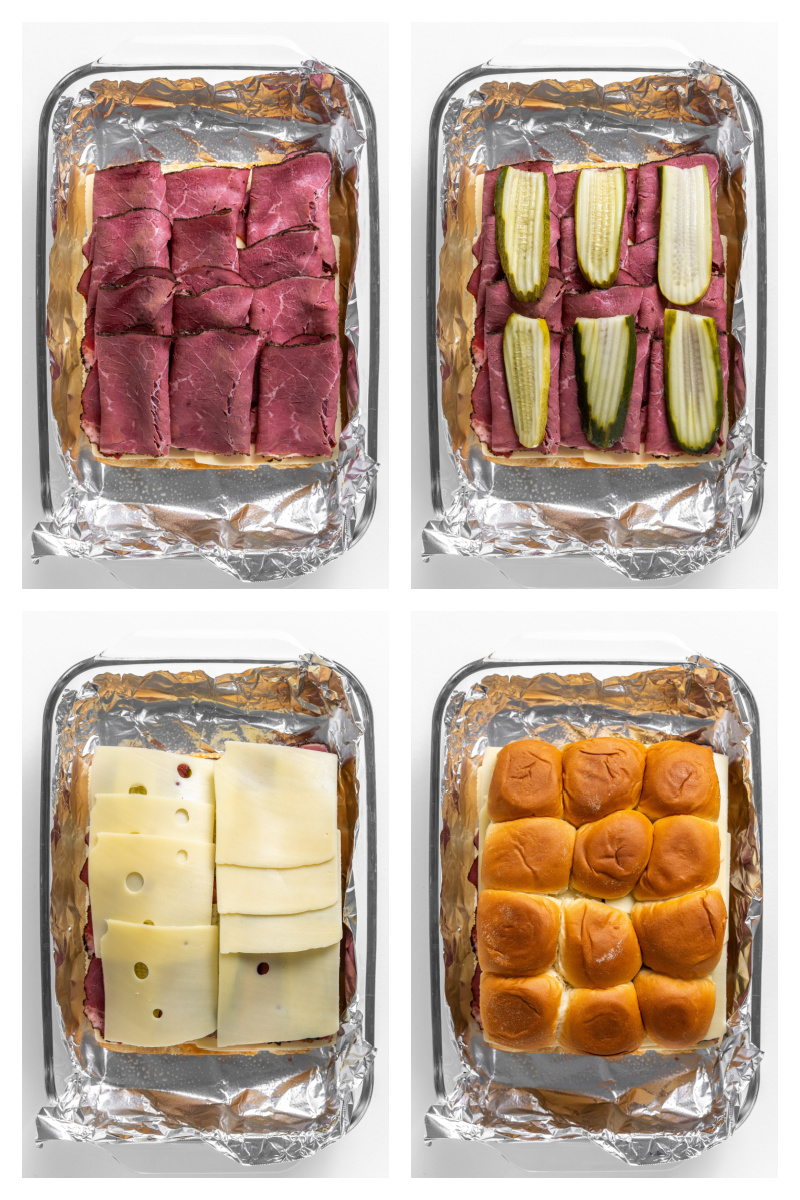 Then add a layer of sliced pastrami. Place sliced dill pickles on top of the pastrami. When you order this kind of sandwich in a deli or restaurant, a dill pickle is typically served on the side. In these hot pastrami sliders, we're putting it "in" the sandwich!
The next step is adding a layer of sliced Swiss cheese. And then you can place the top slab of the slider buns on top.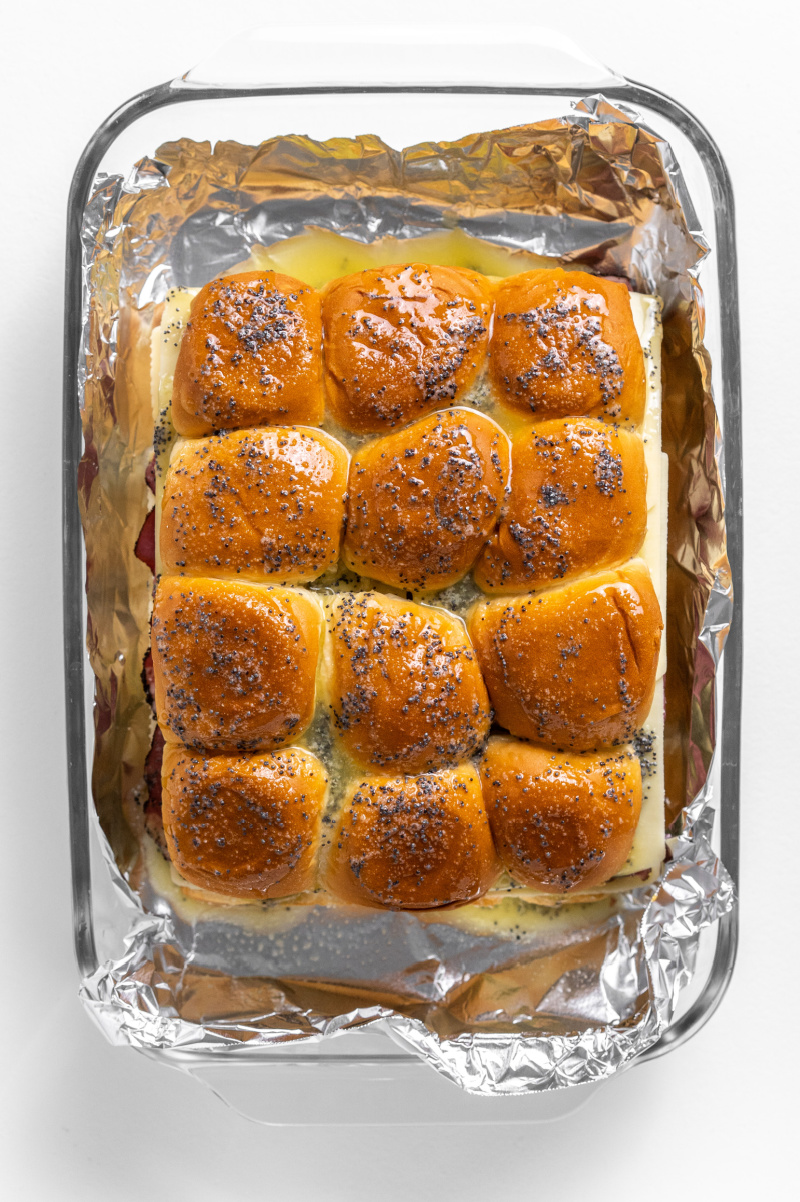 Drizzle a mixture of melted butter, poppy seeds and onion powder on top of the sliders. Cover with foil, and bake for 20 minutes at 350 degrees F. If you'd like, you can remove the foil toward the end of baking to brown the tops of the sliders.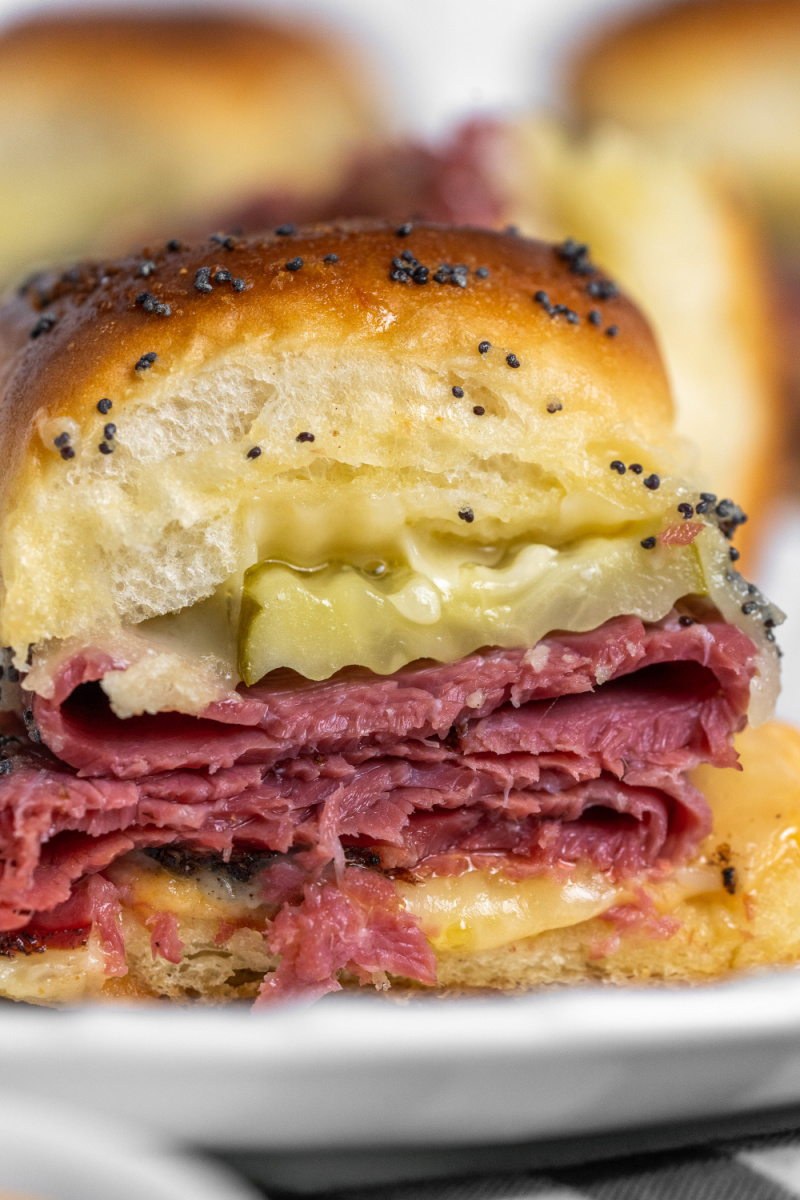 Use a spatula to remove the warm sliders from the pan. They are piled with pastrami, melted cheese and a dill pickle. The Russian dressing gives a hint of flavor too. And you can serve with a dish of additional Russian dressing for dunking, if you'd like.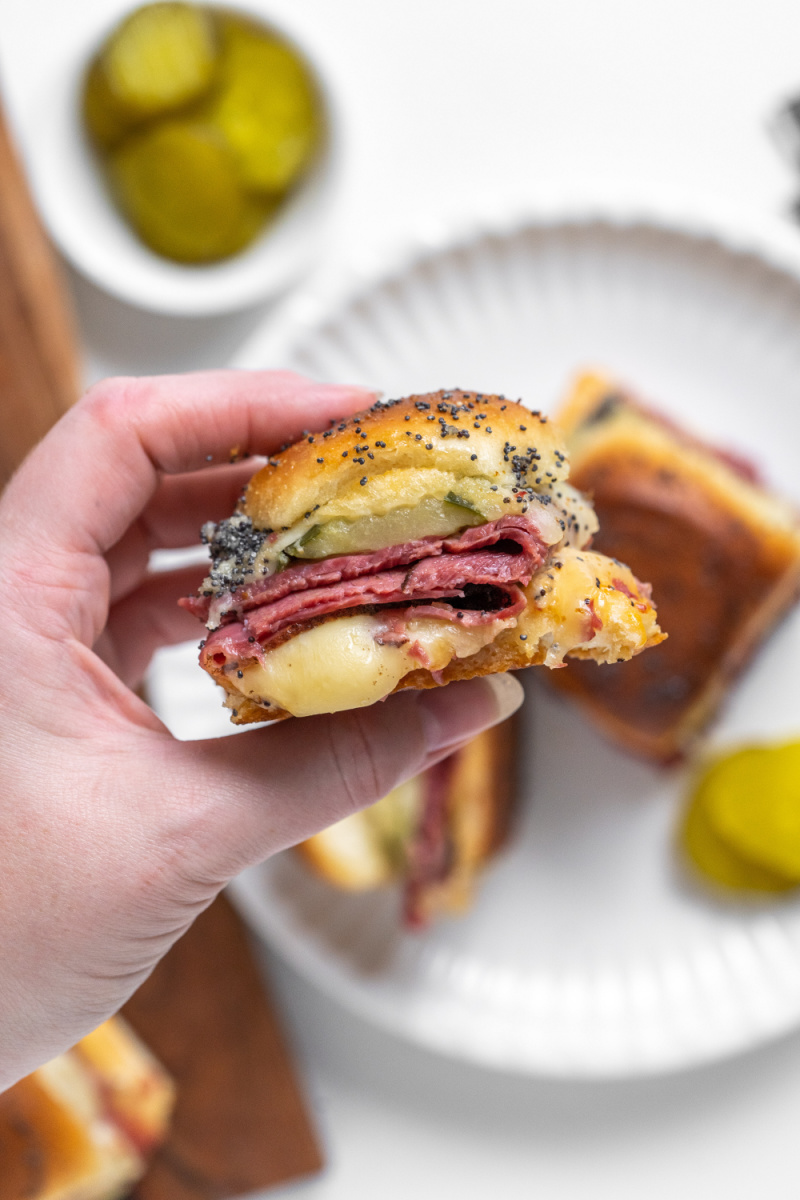 This is a fun way to eat a hot pastrami sandwich. You might miss the rye bread, but I think you'll like these hot pastrami sliders just the same. Enjoy!
Fun Facts about Hot Pastrami Sandwiches:
Pastrami originally came from Romania.
Smoke corned beef, and it turns into pastrami.
Warsaw, Poland celebrates its annual Pastrami Festival in June.
The show Food Wars dedicated an episode to New York Pastrami Wars.
In 1962, the Dartells recorded a song called, Hot Pastrami. It peaked at #11 on U.S. pop charts.
In 1973, Joey Dee and the Starlighters released a song called, Hot Pastrami with Mashed Potatoes.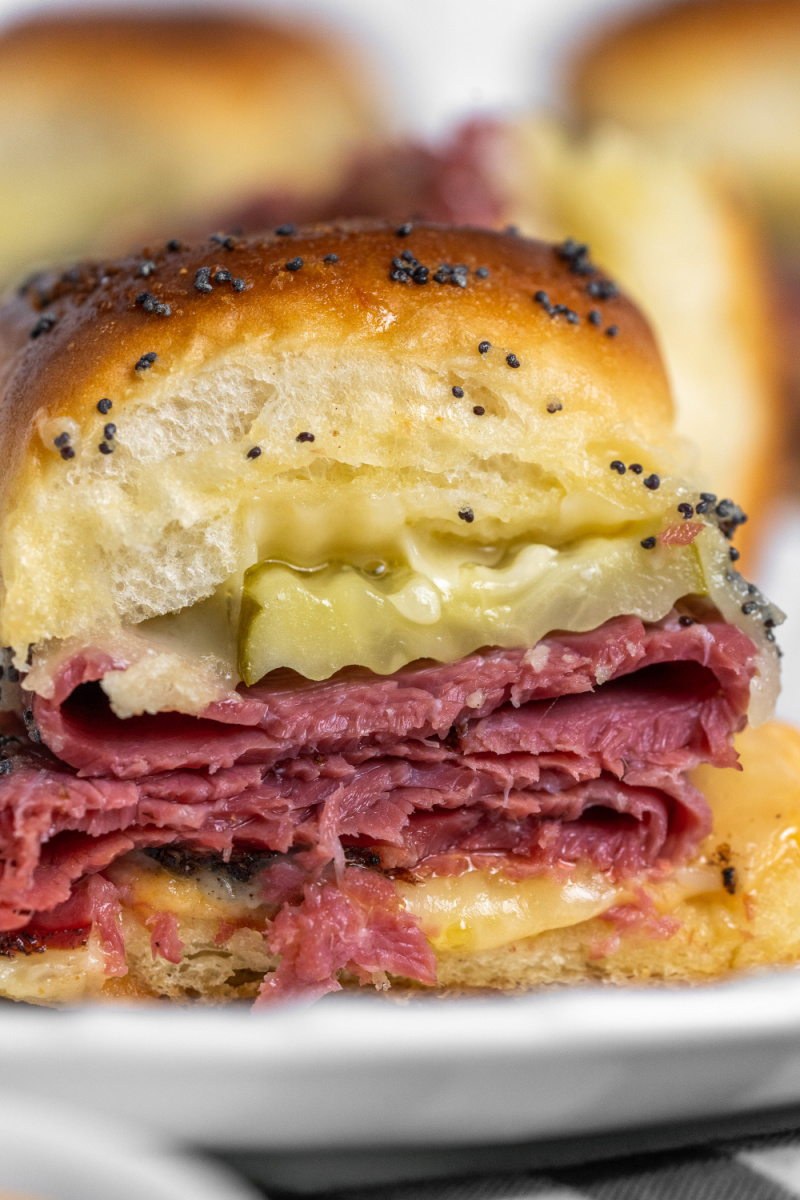 Hot Pastrami Sliders
Hot and cheesy and wonderful for a party!
Ingredients
Olive oil cooking spray
One (12-count) package slider buns (such as King's Hawaiian)
4 tablespoons Russian dressing
6 to 8 (1-ounce) slices Havarti cheese
Twelve (1-ounce) slices pastrami
6 to 8 (1-ounce) slices Swiss cheese
6 sandwich-style dill pickle slices
4 tablespoons unsalted butter, melted
1 teaspoon poppy seeds
1/2 teaspoon onion powder
Instructions
Preheat the oven to 350 degrees F. Line a large baking tray or 9x13-inch casserole dish with foil and spray the bottom with cooking spray.

As 1 unit, slice the rolls in half horizontally. Place the bottom half of rolls on the prepared tray.

Spread the Russian dressing out onto the rolls. Arrange the Havarti slices on top, then arrange the pastrami slices on the Havarti, then arrange the Swiss cheese on the pastrami, and finally arrange the pickle slices on top of the Swiss. Place the top half of rolls on top.

In a small bowl, mix together the melted butter, poppy seeds, and onion powder, and brush on top of the rolls.

Cover the rolls with foil and bake until they're warm throughout and the cheese is melted, about 20 minutes. If needed, remove the foil and broil after baking to brown the tops. Serve warm.
Nutrition Information:
Yield:

12
Serving Size:

1 slider
Amount Per Serving:
Calories:

312
Total Fat:

19g
Saturated Fat:

10g
Trans Fat:

0g
Unsaturated Fat:

7g
Cholesterol:

72mg
Sodium:

687mg
Carbohydrates:

19g
Fiber:

1g
Sugar:

6g
Protein:

17g
Nutritional information is estimated using a nutrition calculator. It's not likely to be 100% accurate.