25 totally delicious Ice Cream Sandwich Recipes, including classic, chocolate chip, strawberry, neapolitan, snickerdoodle, lemon and more!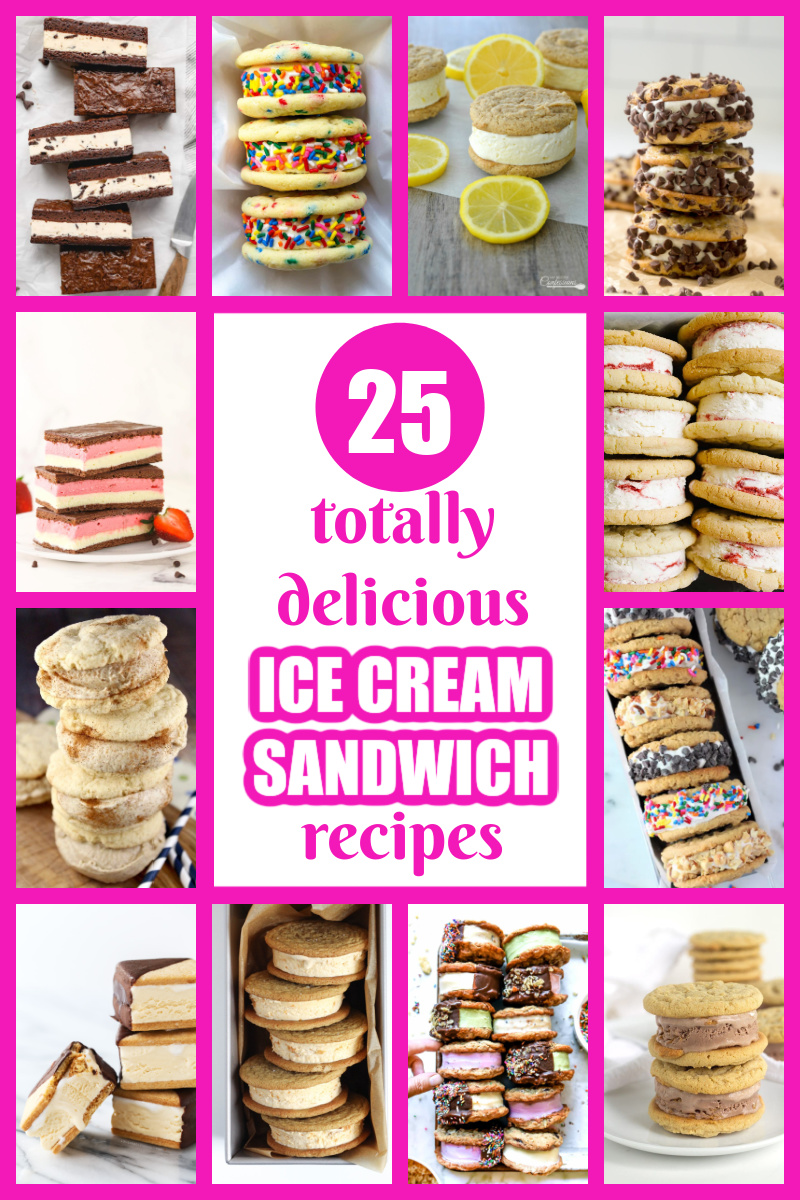 August 2nd is National Ice Cream Sandwich Day! You can certainly celebrate by enjoying your favorite ice cream sandwiches from the grocery store. But how much fun would it be to make them homemade? Choose your favorite from this collection of 25 Totally Delicious Ice Cream Sandwich Recipes!
Share the ice cream sandwich love on social media today using the hashtags #NationalIceCreamSandwichDay, #IceCreamSandwichDay and #RecipesForHolidays.
Be sure to follow my August Food Holidays page so you never miss a food holiday in the month of August!
The History of Ice Cream Sandwiches:
In the late 1800's street vendors sold a "Hokey Pokey" (which was a slice of ice cream tucked into a piece of paper so people could hold it and eat it). They were referred to as "ice cream sandwiches," and they were sold for a penny. By the early 1900's this confection transitioned into using sponge cake instead of paper. And eventually that transitioned into using graham crackers.
In 1928, George Whitney created the It's It (two oatmeal cookies with ice cream in the middle and dipped in chocolate).
In 1945, ice cream sandwiches made their way into baseball games when Jerry Newberg sold two chocolate cookies sandwiched with vanilla ice cream.
Richard LaMotta created the Chipwich in 1978 (chocolate chip cookies sandwiched with vanilla ice cream and edged in more chocolate chips).
Ice cream sandwiches are now so engrained in American culture that they're sold at the Smithsonian Institute in Washington, D.C.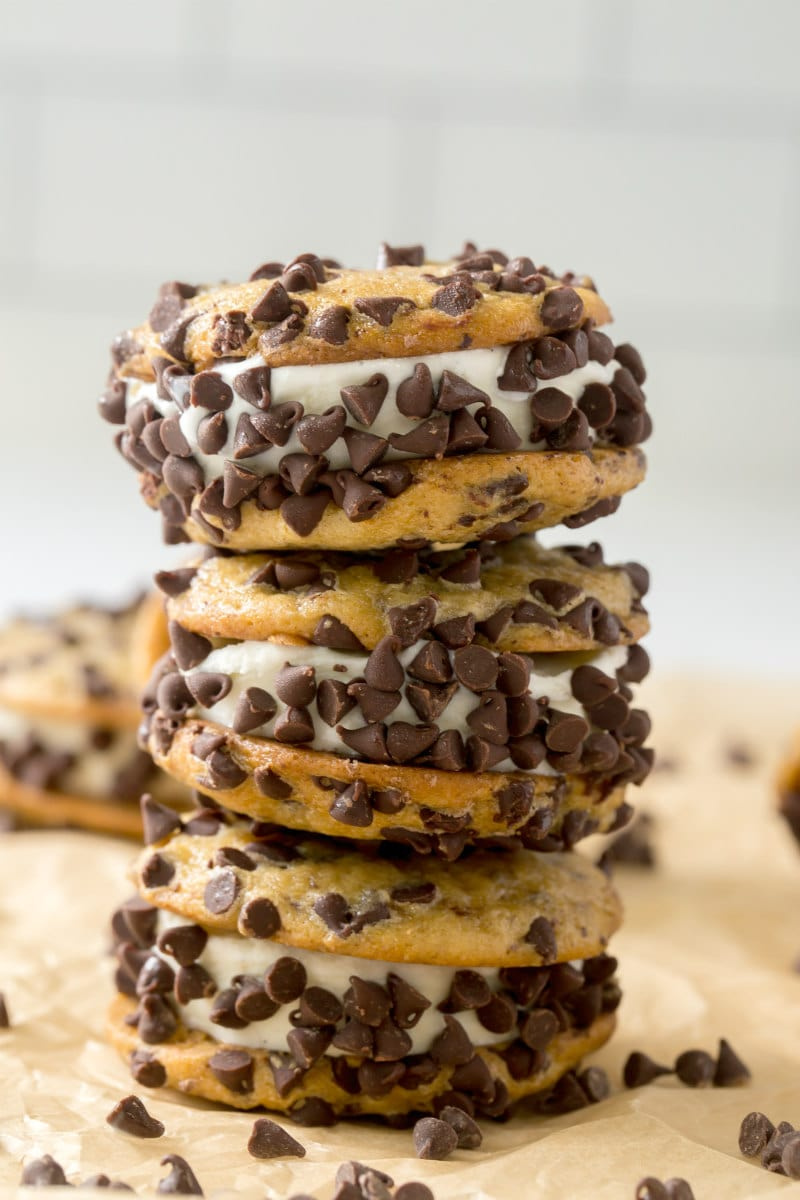 Mini Chocolate Chip Ice Cream Sandwiches by RecipeGirl: These are like a mini version of Chipwich Ice Cream Sandwiches. They're a totally satisfying ice cream treat!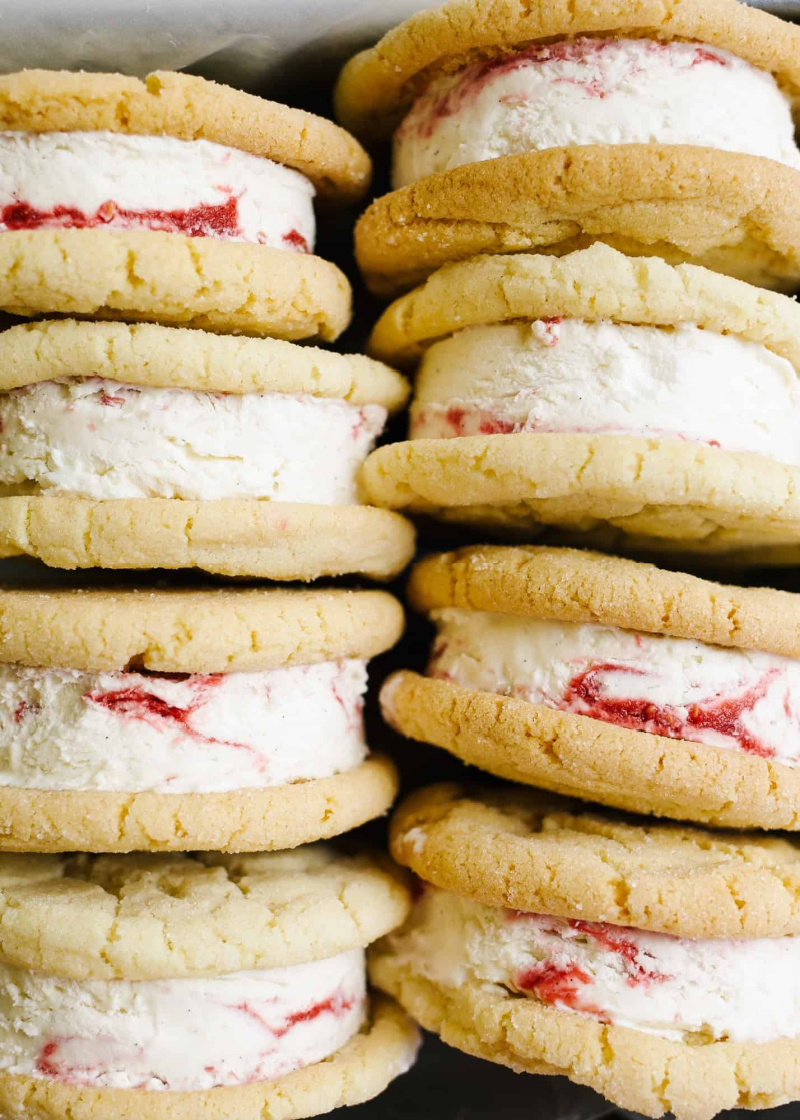 Sugar Cookie Raspberry Ripple Ice Cream Sandwiches by Wood and Spoon: These feature a delicious no-churn raspberry ripple ice cream in the middle of two sugar cookies that make for a yummy frozen dessert!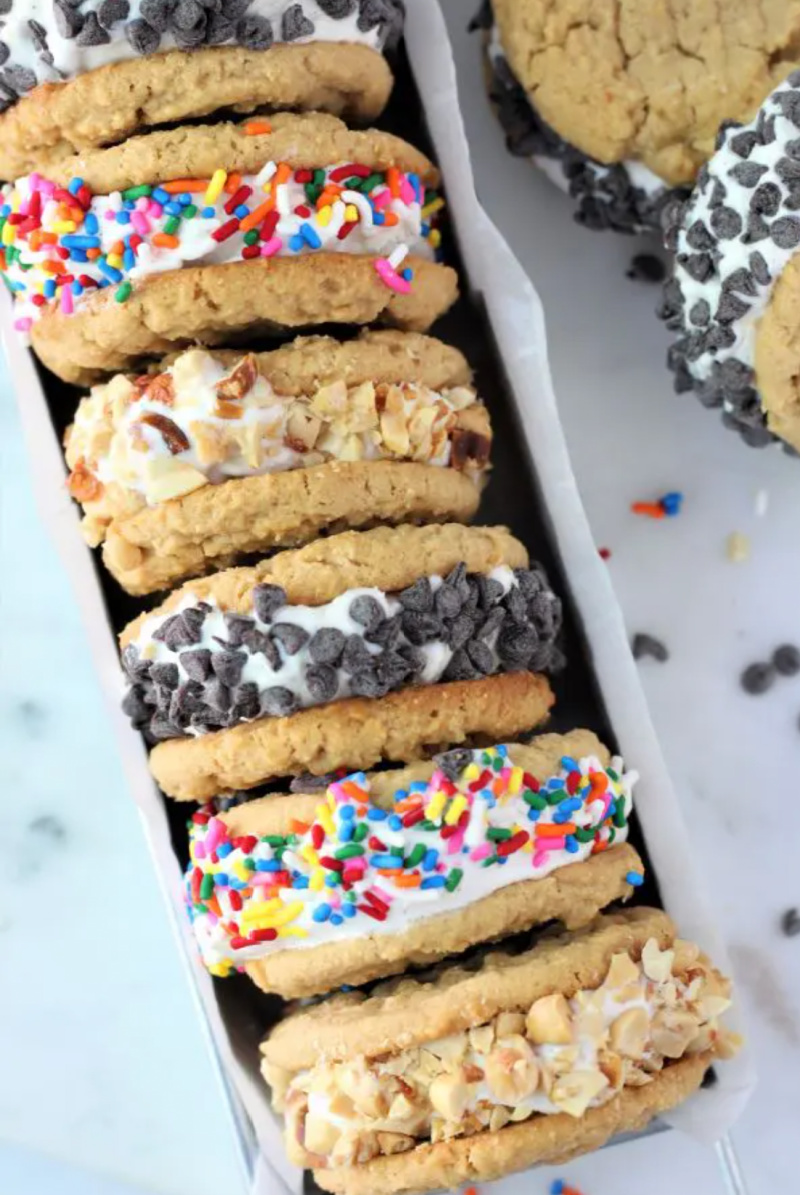 Peanut Butter Cookie Ice Cream Sandwiches by Ways to My Heart: The best peanut butter cookies ever! They are so perfect for ice cream sandwiches because they are soft and chewy.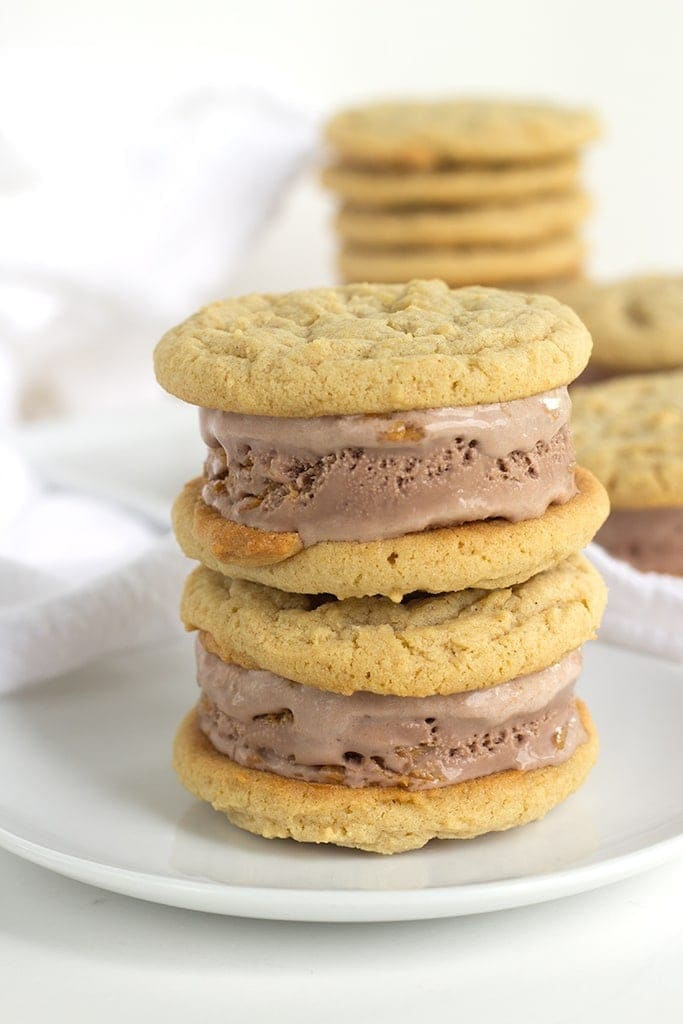 Peanut Butter Cookie Chocolate Ice Cream Sandwiches by Yellow Bliss Road: These are semi-homemade, with perfectly chewy peanut butter cookies stuffed full of a chocolate peanut butter cup ice cream.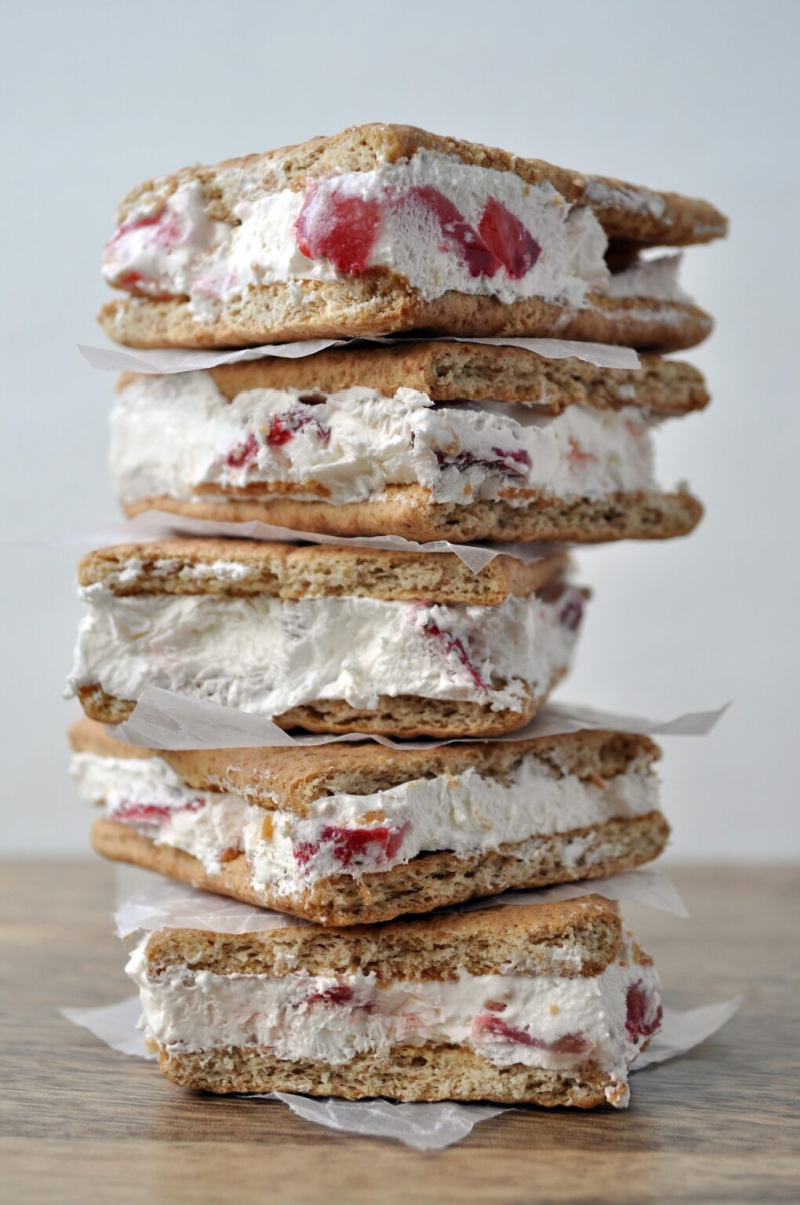 Strawberry "Ice Cream" Sandwiches by Little Glass Jar: This recipe for "diet ice cream sandwiches" is super simple to make!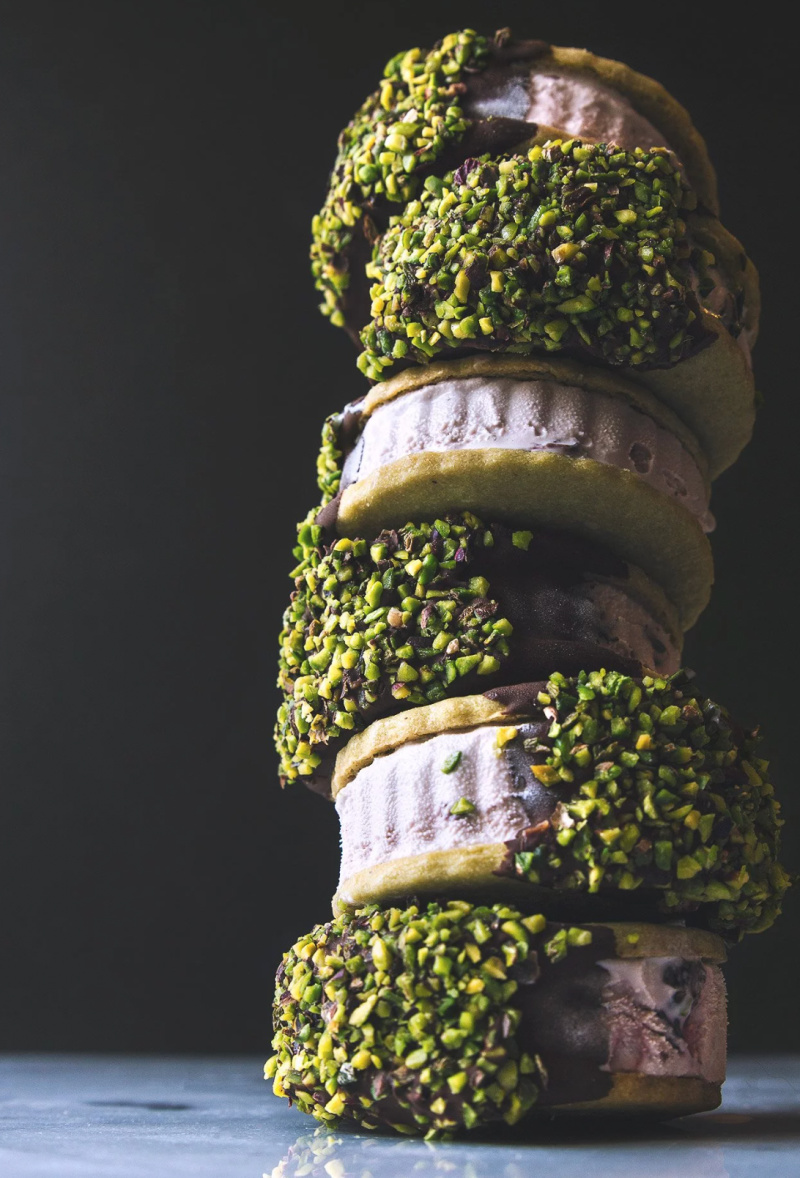 Spumoni Ice Cream Sandwiches by Honestly Yum: These have creamy cherry ice cream sandwiched between two buttery pistachio shortbread cookies, and they are dipped in gooey bittersweet chocolate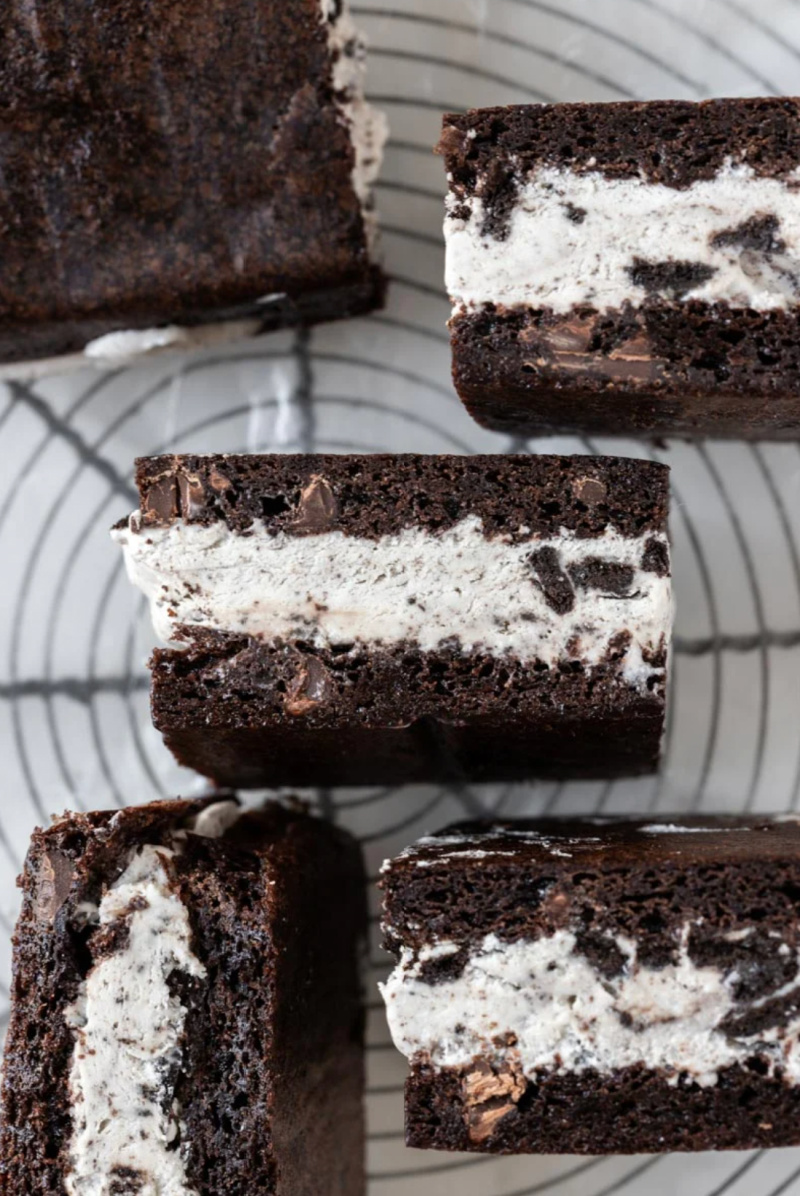 Oreo Ice Cream Sandwiches by Cookin' with Mima: Oreos, ice cream and chocolate brownies are all in one delicious treat.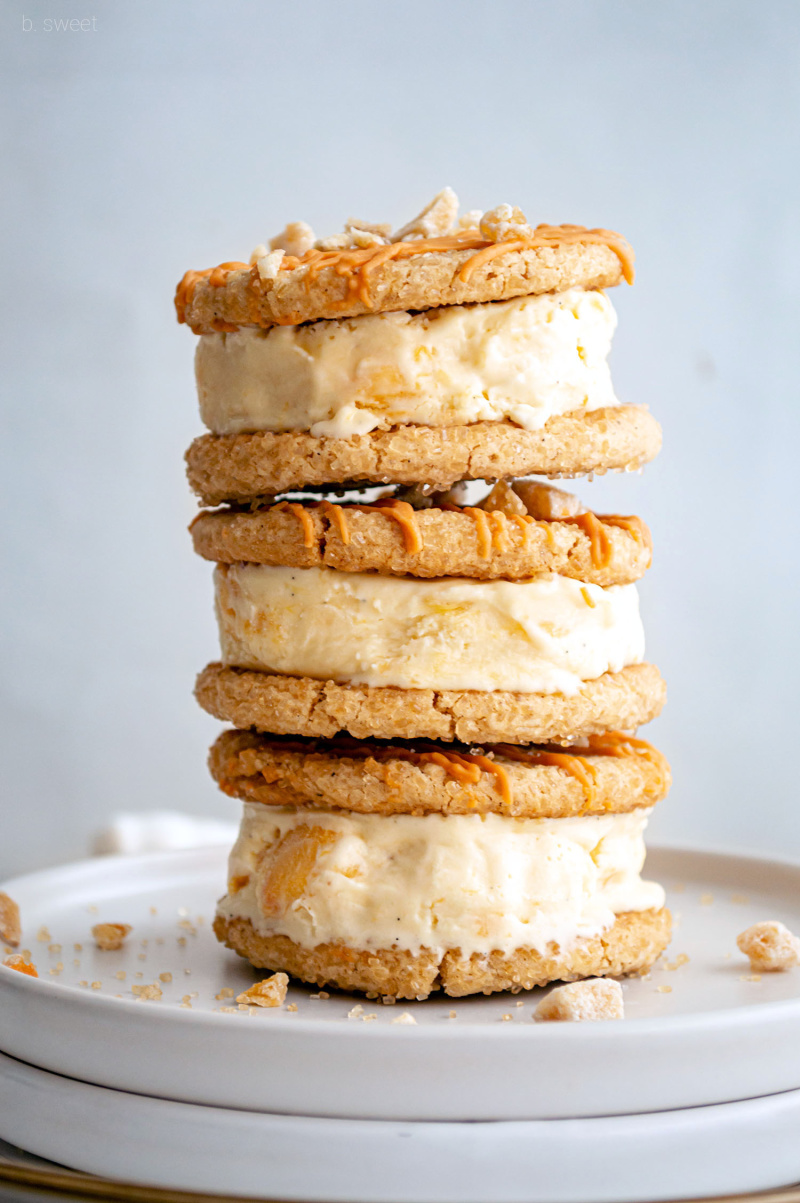 Peach Ice Cream Sandwiches with Ginger Brown Butter Cookies by B Sweet Dessert Boutique: Fresh peach ice cream is sandwiched between two brown butter, brown sugar, ginger cookies. Then, the sandwiches are drizzled with butterscotch magic shell and sprinkled with crystalized ginger.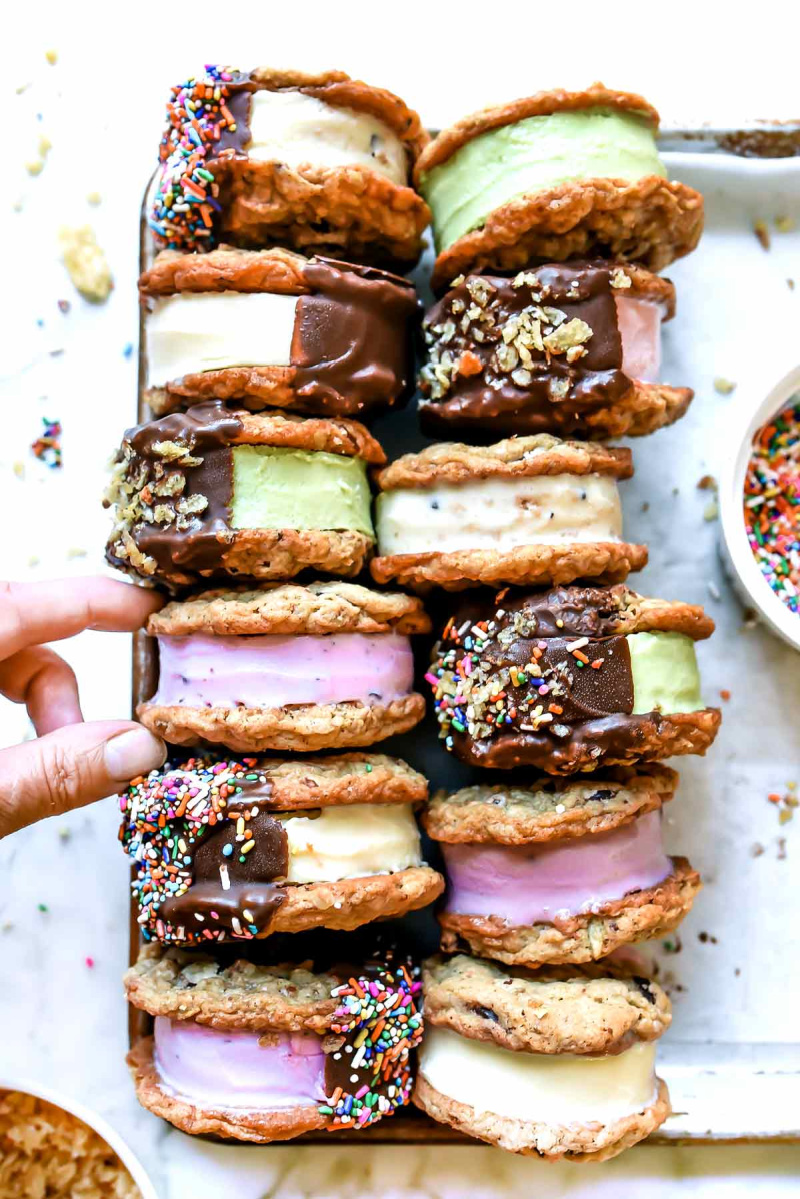 Potato Chip Cookie Ice Cream Sandwiches by FoodieCrush: These are made of chocolate chip cookies with oatmeal, nuts, and potato chips sandwiching cool colors of ice cream for an easy dessert that'll chill everyone out.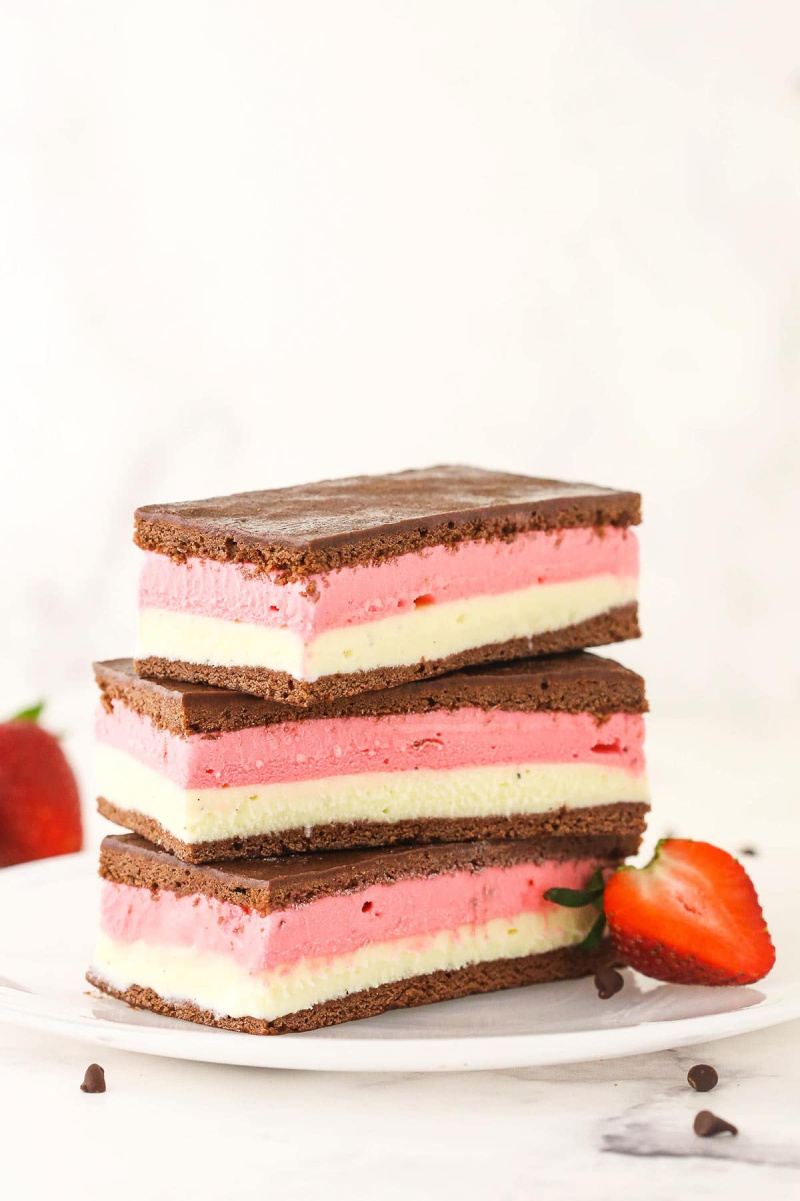 Neapolitan Ice Cream Sandwiches by Life, Love and Sugar: Creamy vanilla and strawberry ice creams are sandwiched between two soft chocolate cookies in these easy ice cream sandwiches. They're even better than the classic store-bought kind!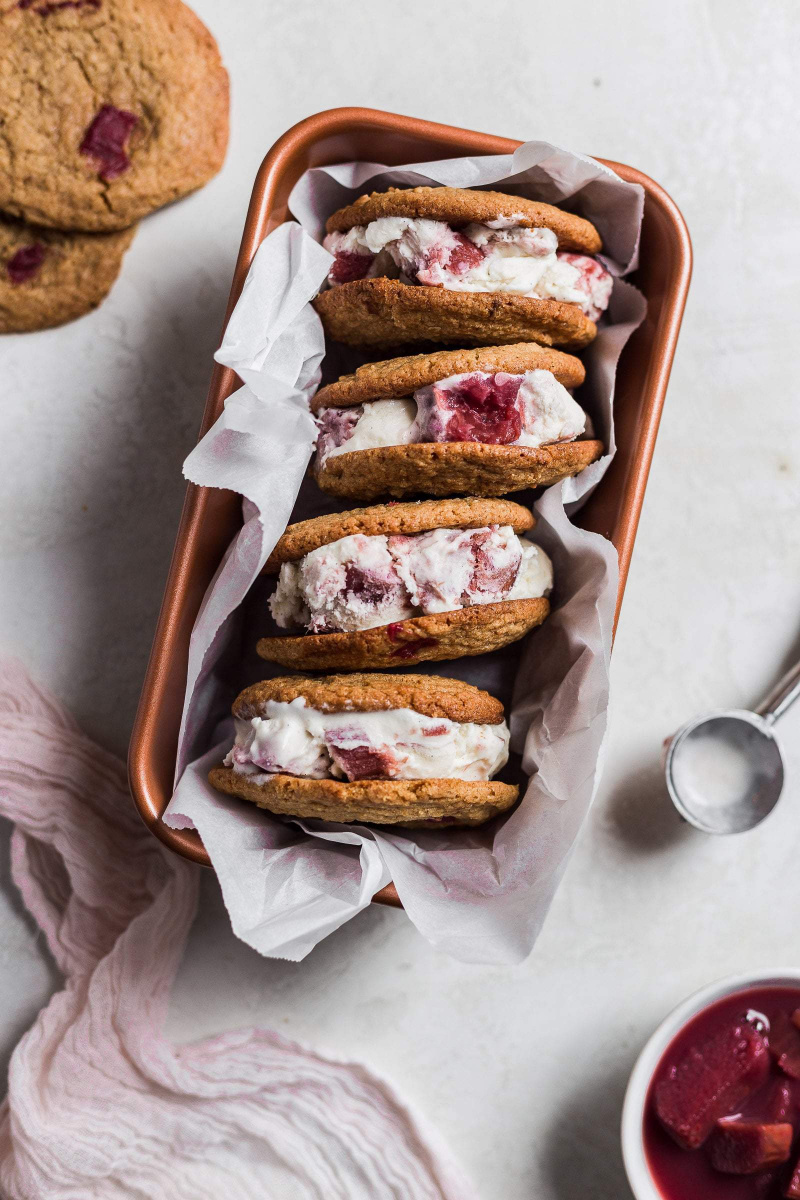 Rhubarb Strawberry Ice Cream Sandwiches by Frosting and Fettuccine: Vanilla bean ice cream is swirled with sweet, strawberry infused chunks of rhubarb sandwiched between two buttery, chewy, soft cookies.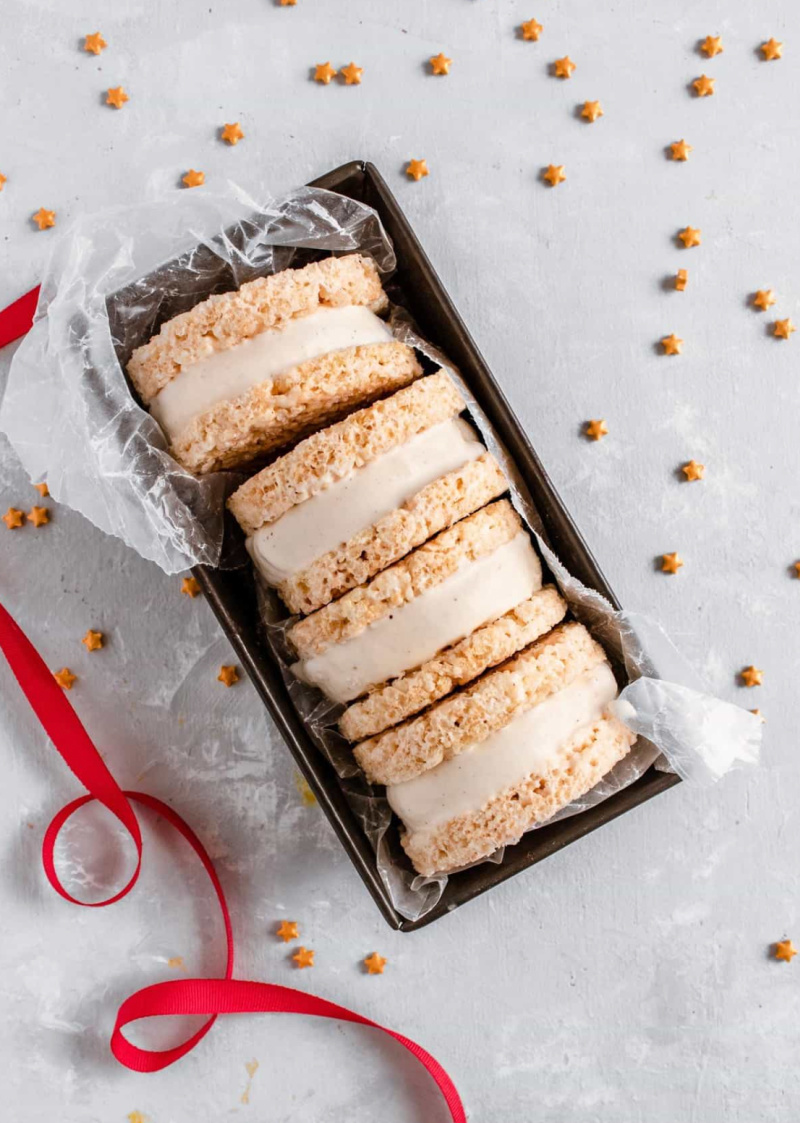 Rice Krispie Ice Cream Sandwiches by One Sarcastic Baker: Everyone's favorite Rice Krispie treats are sandwiched with vanilla ice cream!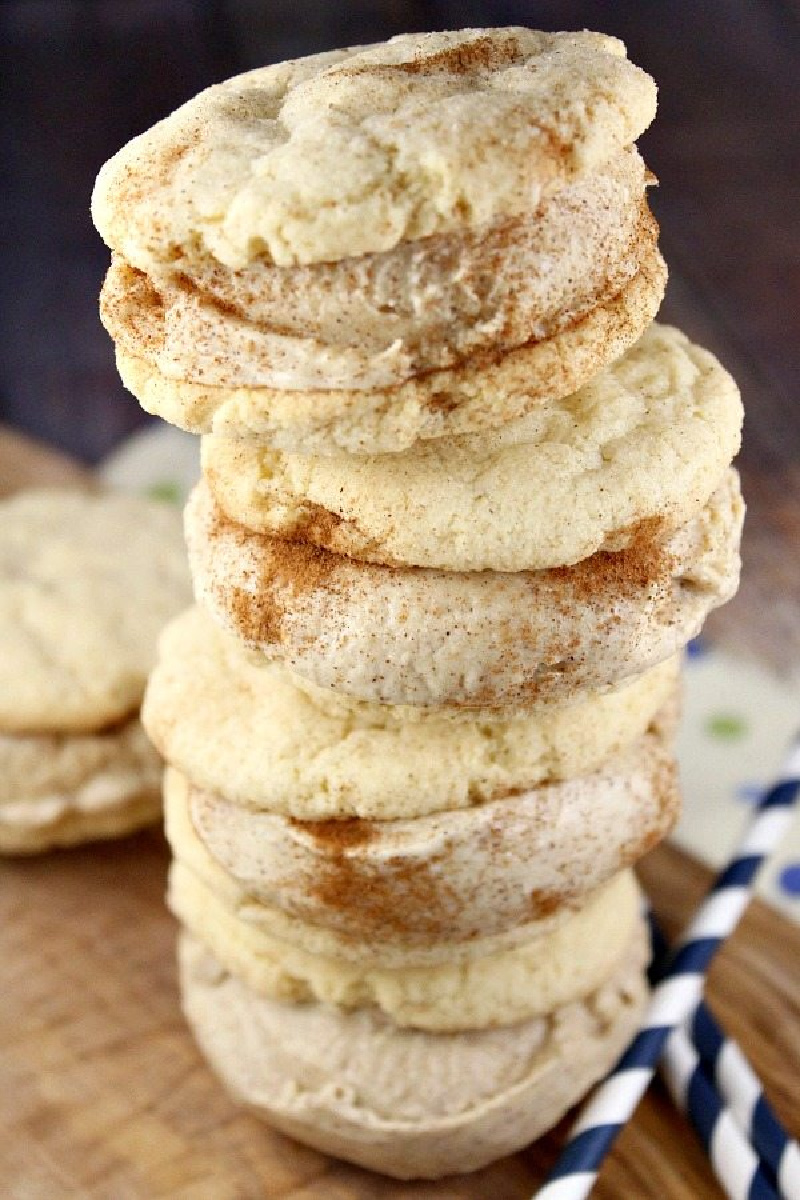 Snickerdoodle Ice Cream Sandwiches by RecipeGirl: These are made with homemade cinnamon ice cream and snickerdoodle cookies and are a perfect treat for snickerdoodle lovers!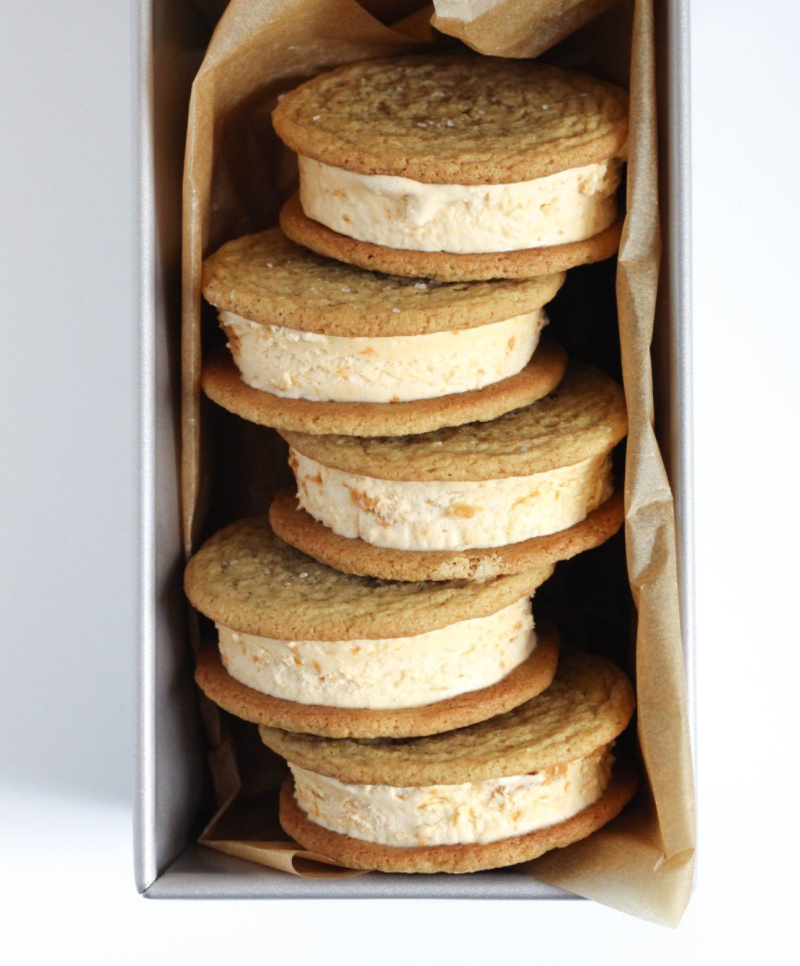 Salted Brown Sugar Butterscotch Ice Cream Sandwiches by Dough-Eyed: These are salted brown sugar cookies stuffed with a no-churn butterscotch ice cream.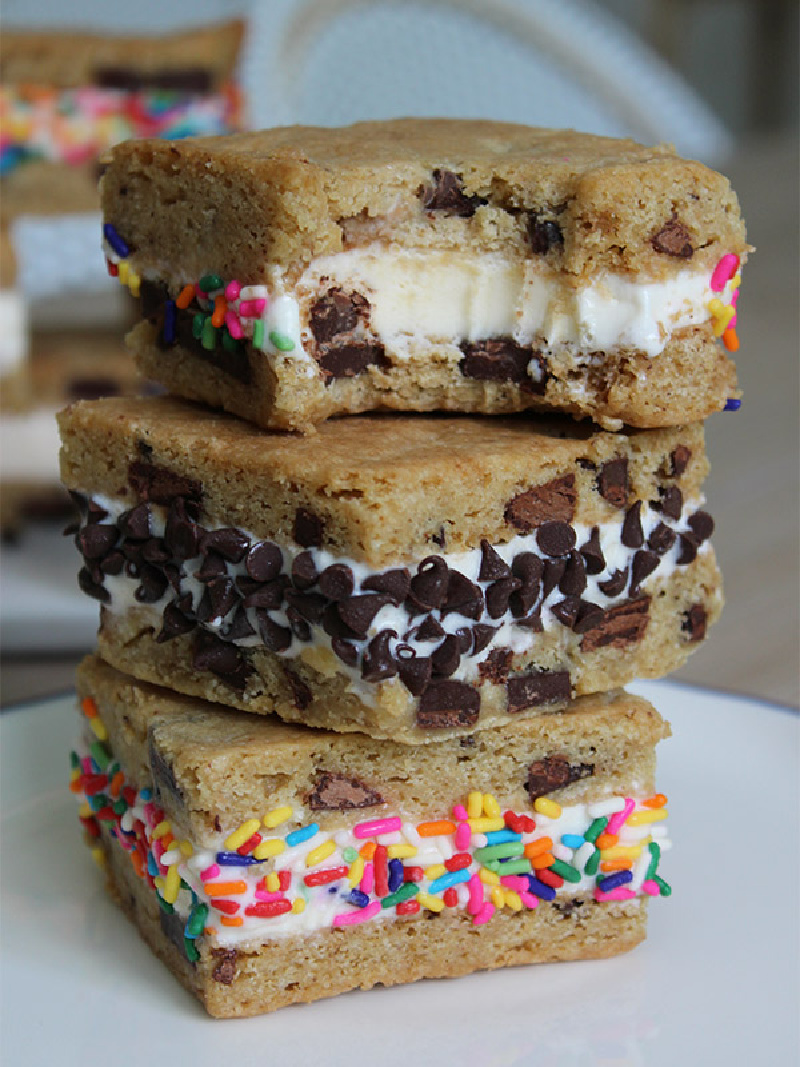 Sheet Pan Chocolate Chip Cookie Ice Cream Sandwiches by LideyLikes: This is an easy way to make a whole bunch of ice cream sandwiches at the same time!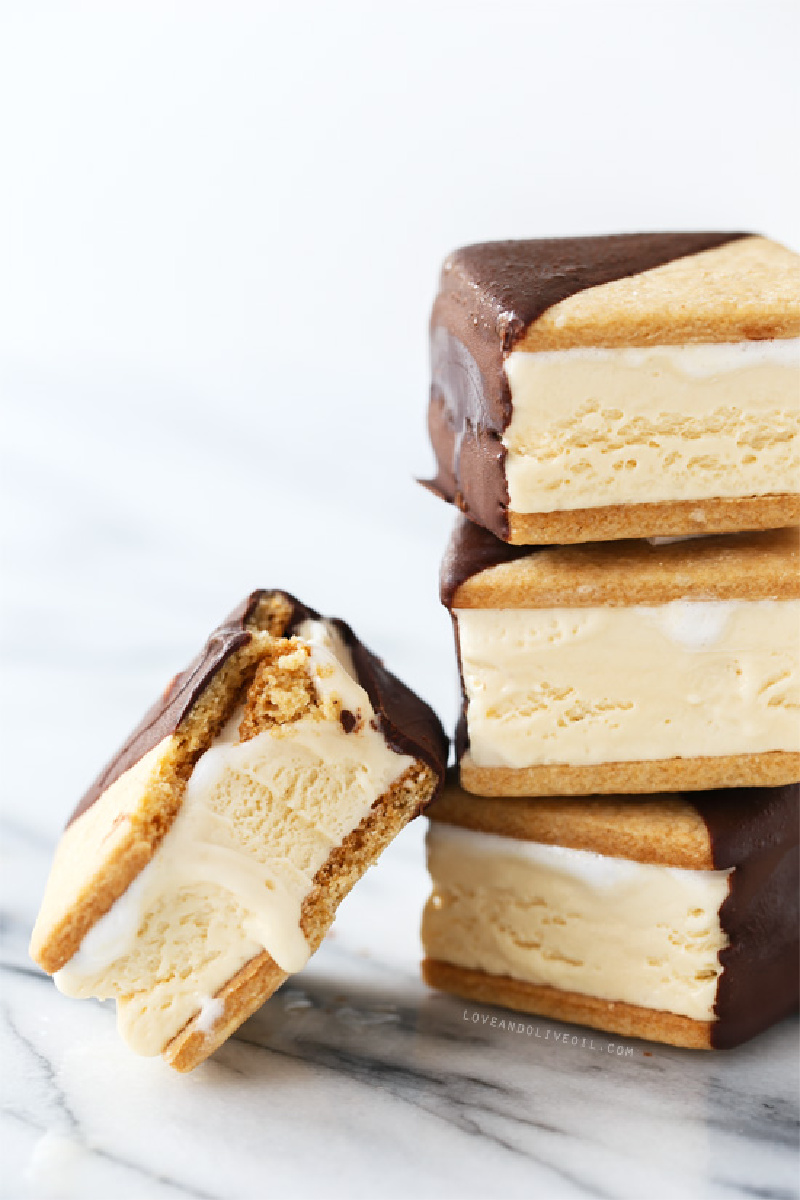 Chocolate-Dipped S'Mores Ice Cream Sandwiches by Love and Olive Oil: The cookie is a graham/shortbread type cookie sandwiched with homemade toasted marshmallow ice cream and dipped in chocolate.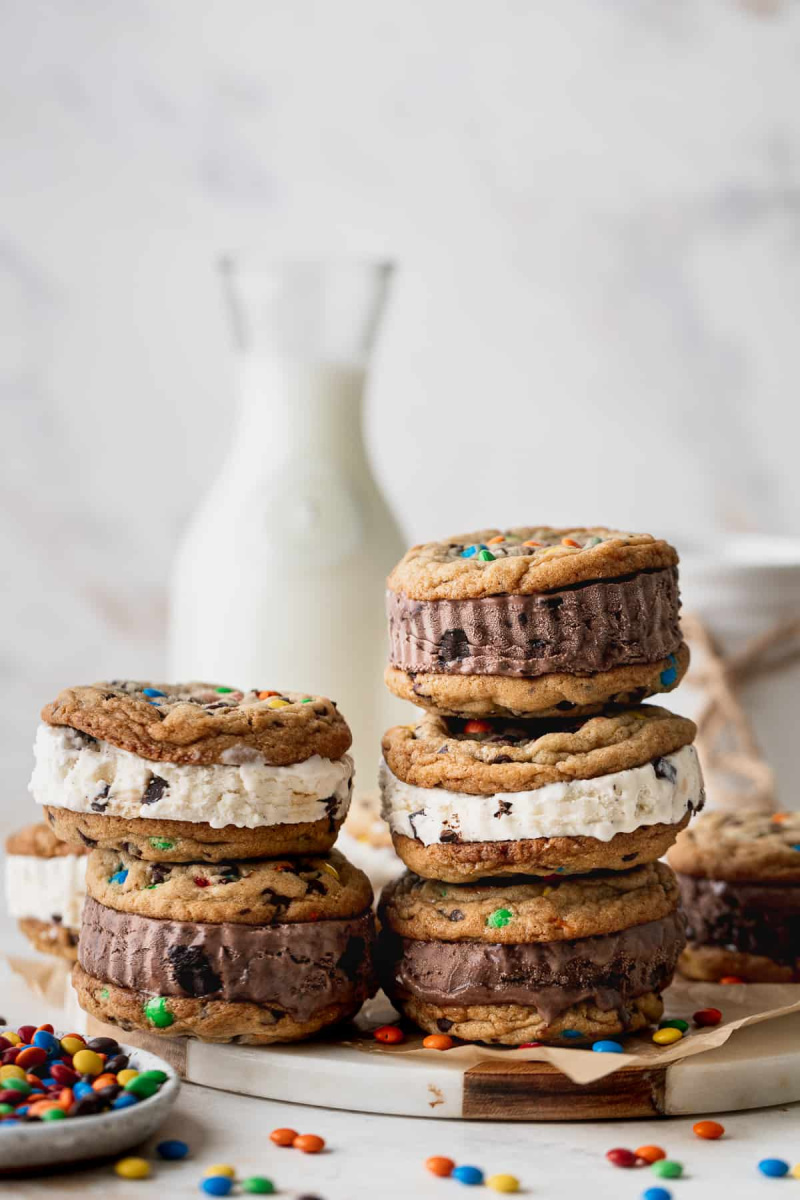 M&M Cookie Ice Cream Sandwiches by Stephanie's Sweet Treats: These large bakery style cookies are full of mini chocolate chips and mini M&M's. They are filled with vanilla and chocolate ice cream.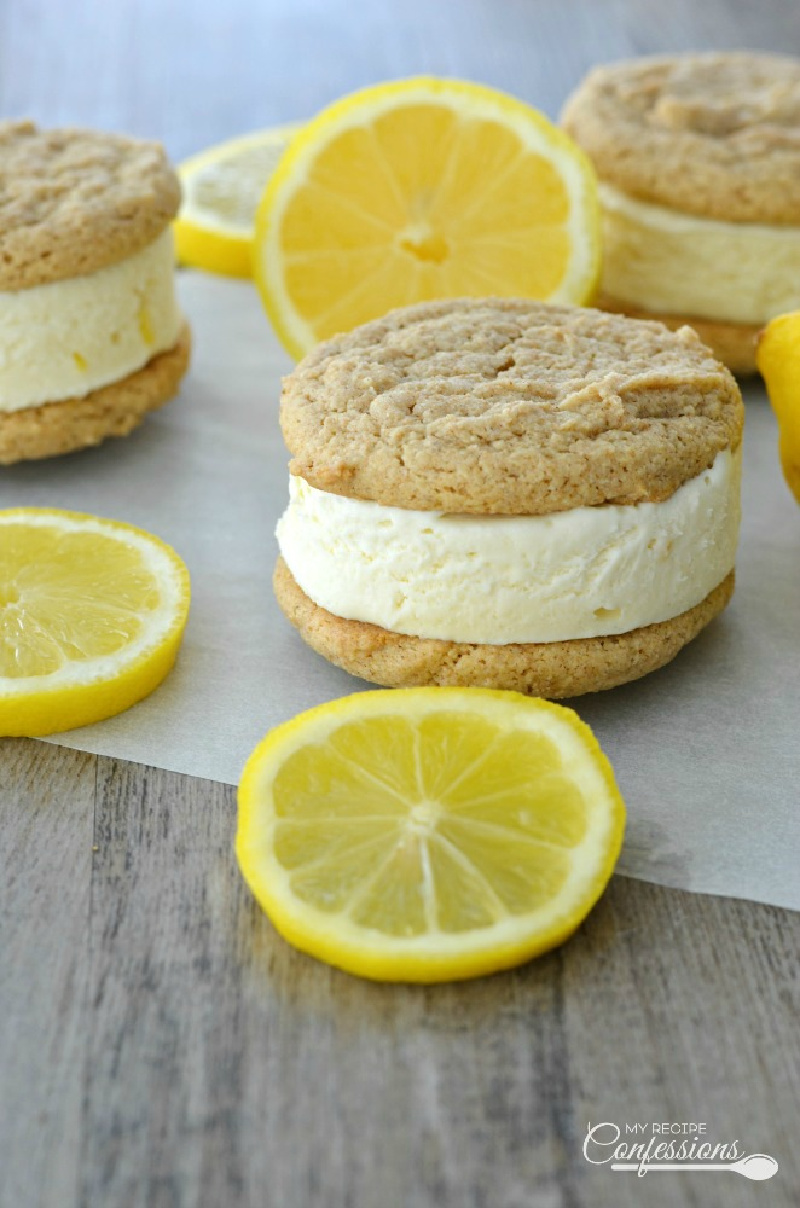 Lemon Cheesecake Ice Cream Sandwiches by My Recipe Confessions: The bright and vibrant lemon ice cream sandwiched between the soft and chewy graham cookies taste just like you are biting into a slice of lemon cheesecake!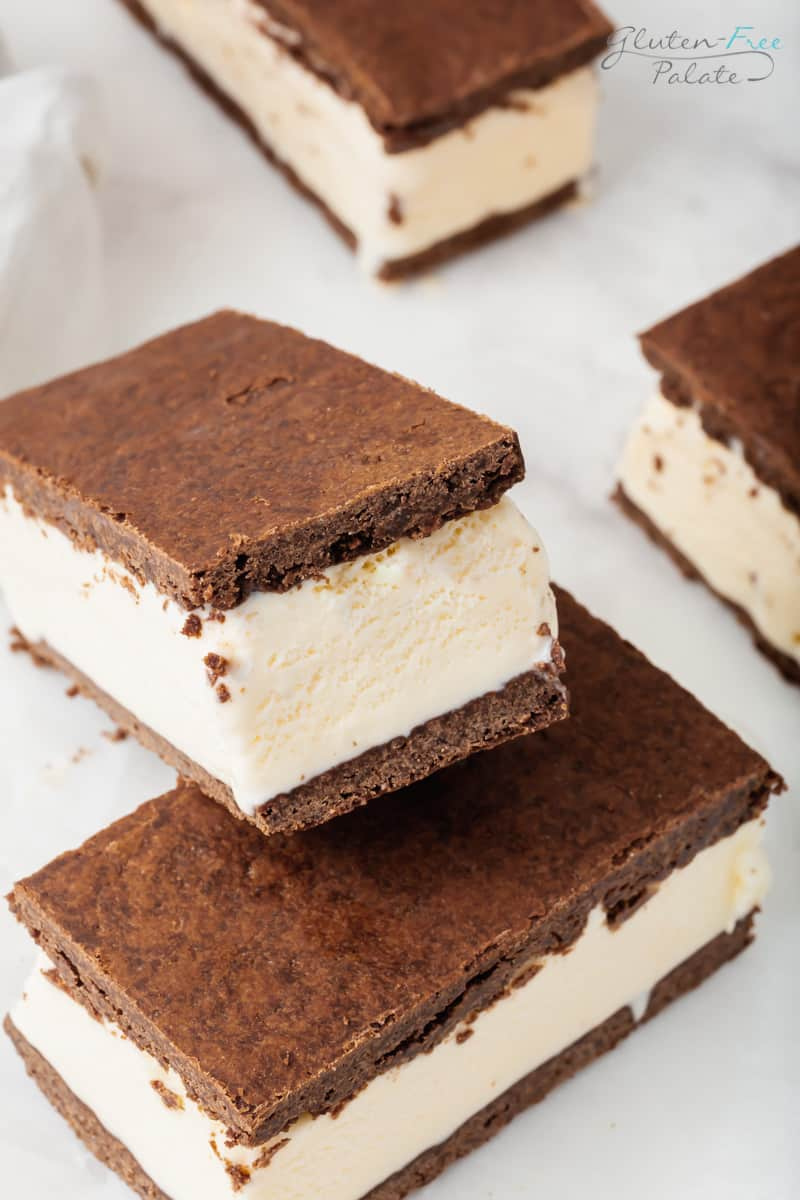 Gluten-Free Chocolate Dipped Ice Cream Sandwiches by Gluten Free Palate: These taste just like the original, but without gluten. The chocolate outer layer is perfect with any ice cream.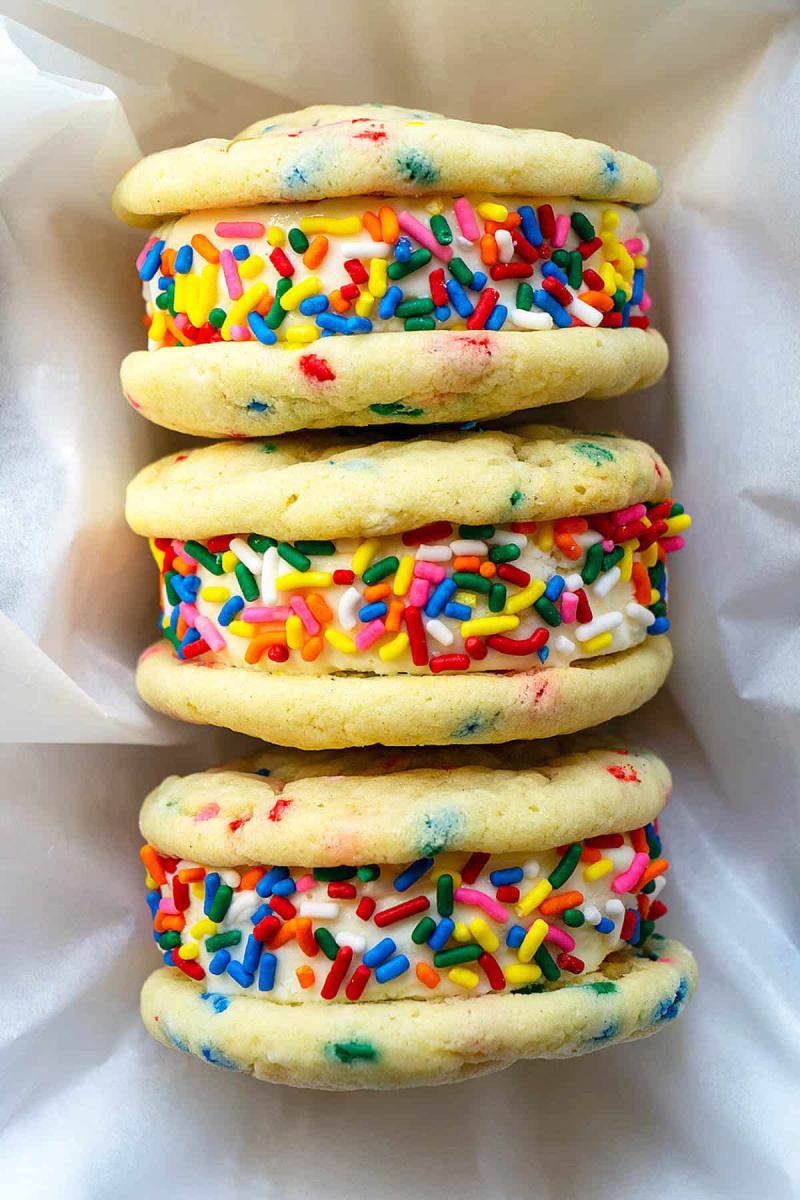 Funfetti Ice Cream Sandwiches by Foodtasia: Soft and chewy Funfetti Cookies are sandwiching a scoop of vanilla ice cream then dipped into sprinkles.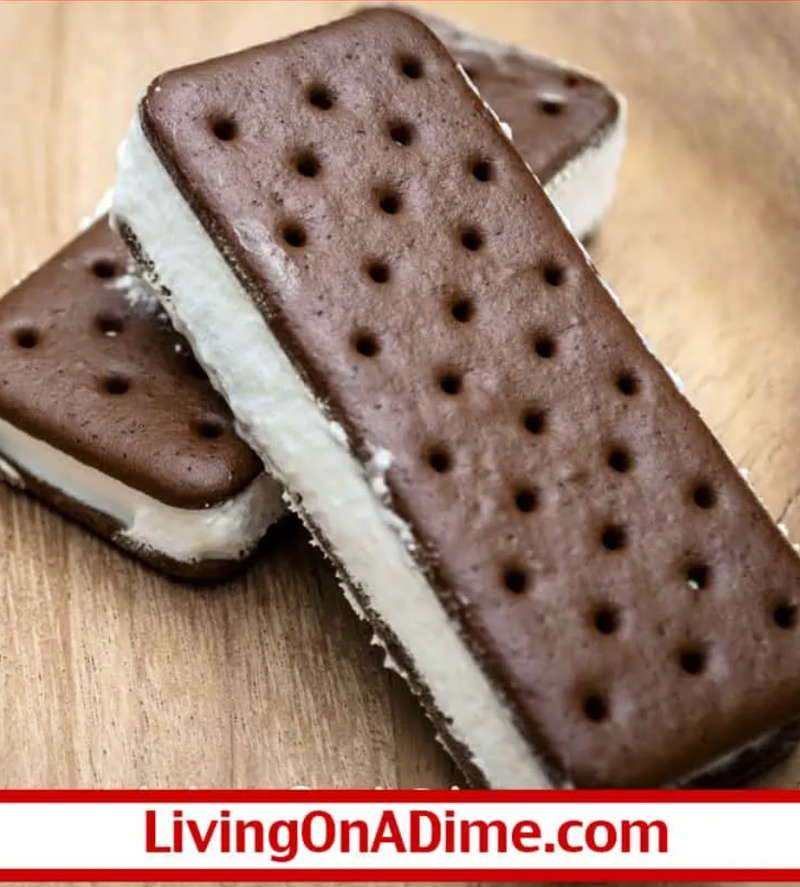 Classic Ice Cream Sandwiches by Living On a Dime: Fresh and tasty, homemade is better than store-bought!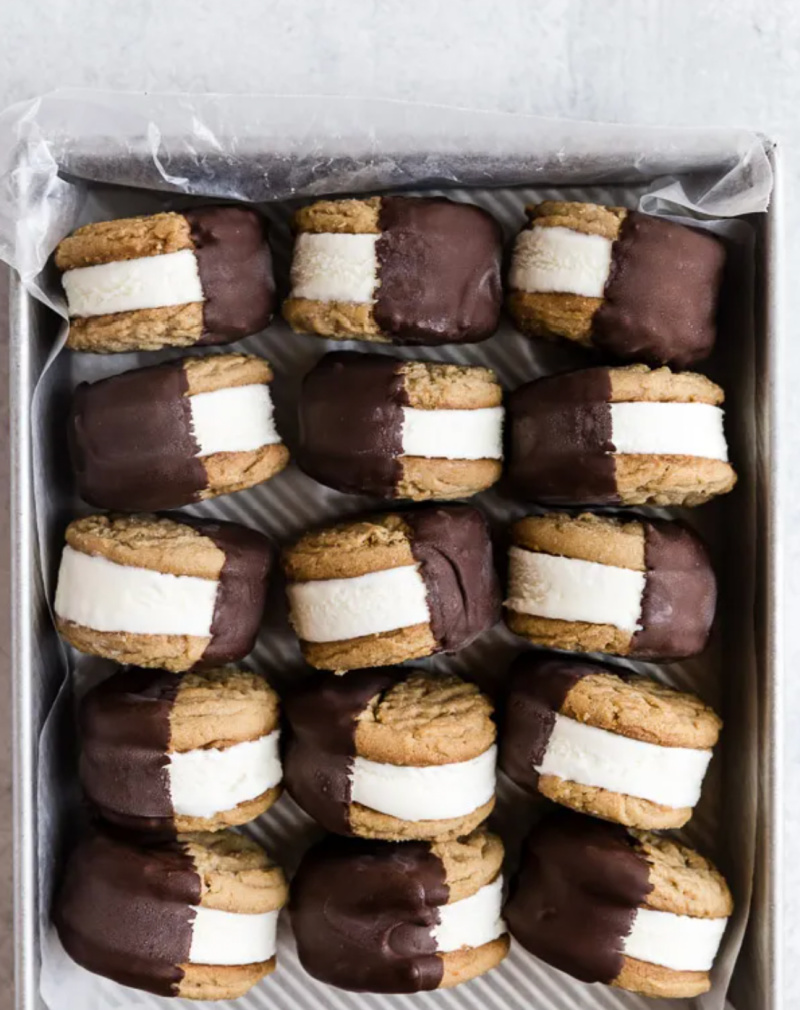 Chocolate Dipped Peanut Butter Cookie Ice Cream Sandwiches by Browned Butter Blondie: These treats are sweet and salty and oh so delicious.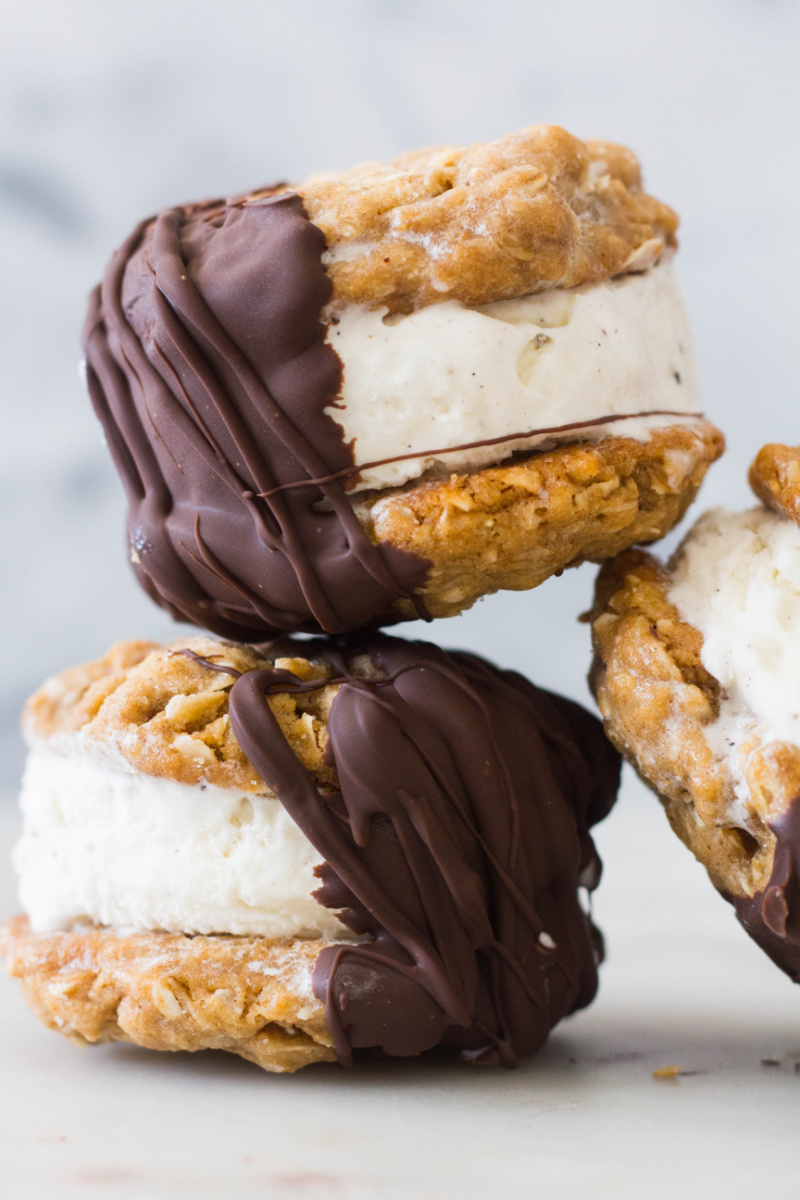 Chocolate Dipped Oatmeal Ice Cream Sandwiches by The Sweet and Simple Kitchen: Vanilla bean ice cream is sandwiched between the chewiest homemade oatmeal cookies and then dunked in dark chocolate.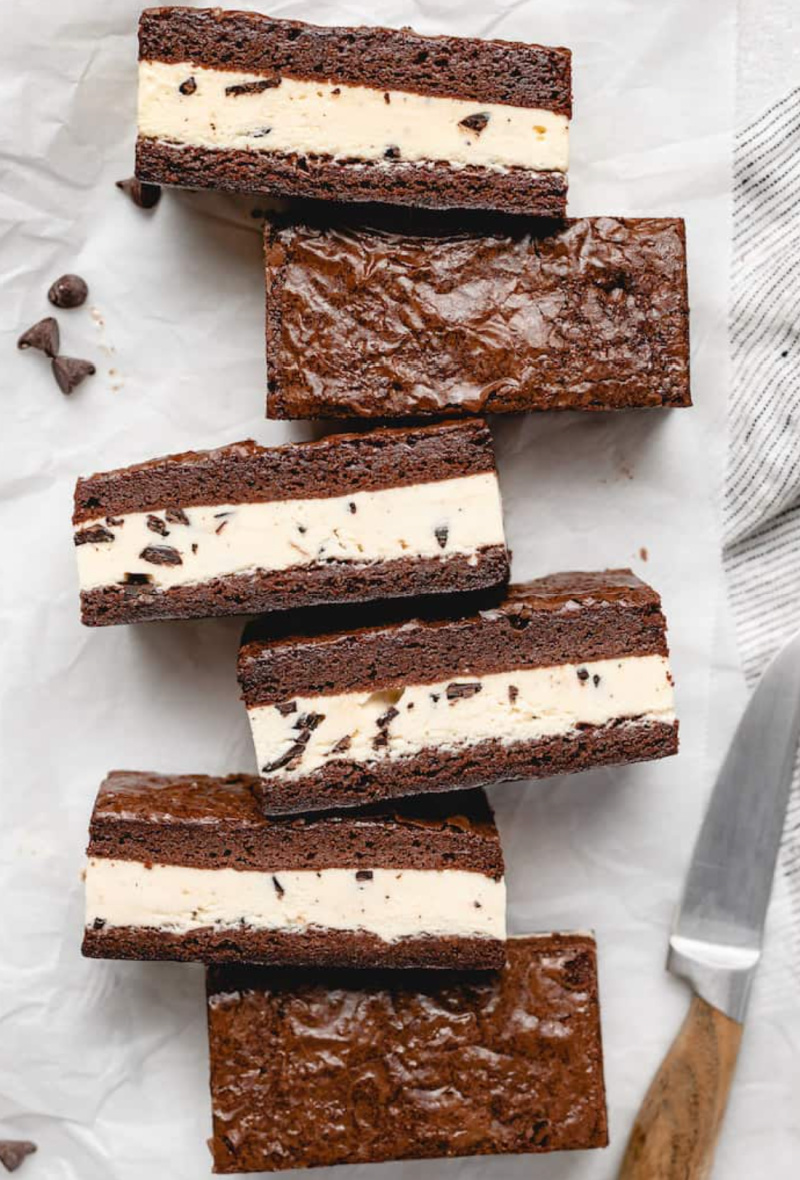 Brownie Ice Cream Sandwiches by Grandbaby Cakes: Rich fudge brownies and your fave ice cream get sandwiched together to create the perfect Summer treat!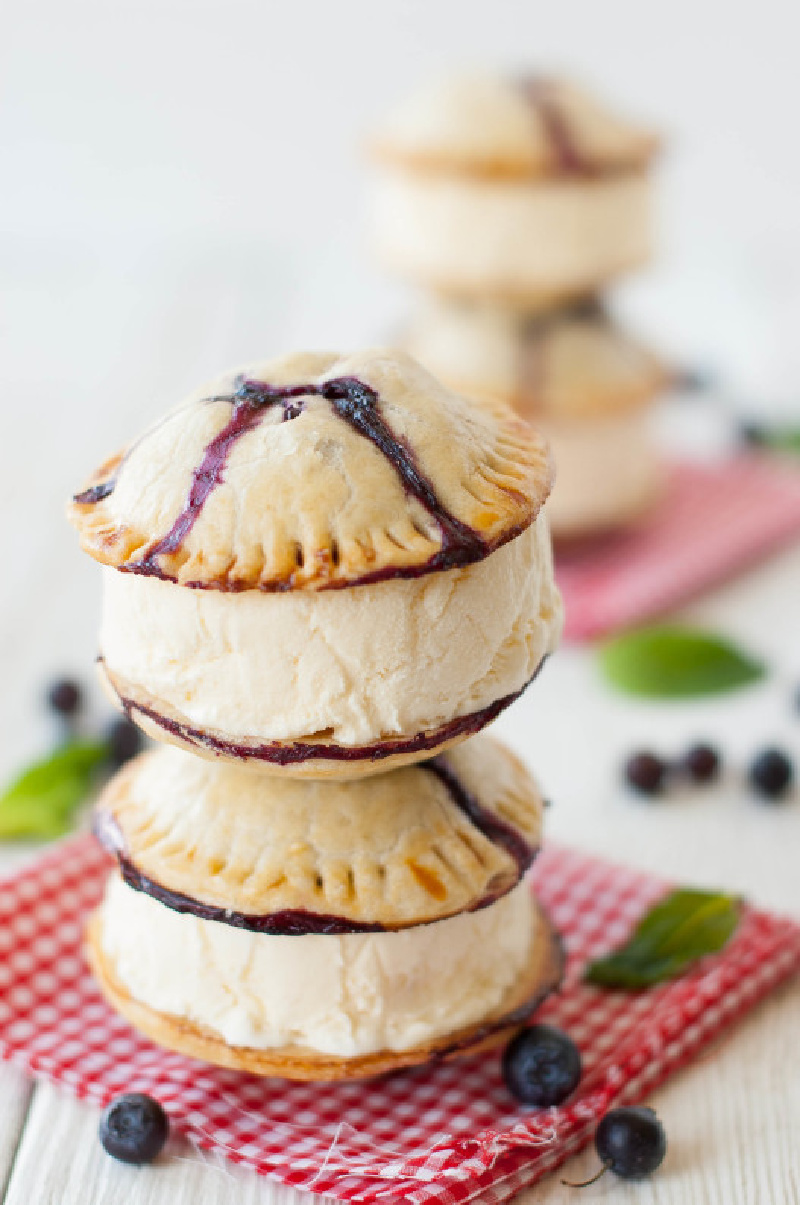 Blueberry Pie Ice Cream Sandwiches by The Kitchen McCabe: Pie and ice cream go together, so this ice cream sandwich is a no-brainer!
Fun Facts About Ice Cream Sandwiches
Ice cream sandwiches are the number one selling novelty ice cream in America.
If one year's supply of America's ice cream sandwiches were lined up end to end, they'd circle the earth 3.5 times.
48 ice cream sandwiches are eaten every second in the United States.
In Scotland and Ireland, ice cream sandwiches are called "Sliders", and Australians refer to them as a "Giant Sandwich."
Joey Chestnut has the world record eating 25 ice cream sandwiches in 6 minutes.