These Bakery Style Giant M&M Cookies are just like the big sugar cookies with M&M's that you might spot on the shelves in a gourmet bakery.
M&M's are multi-colored, round chocolates with an "M" printed in white on one side. They have a candy shell surrounding a chocolate filling.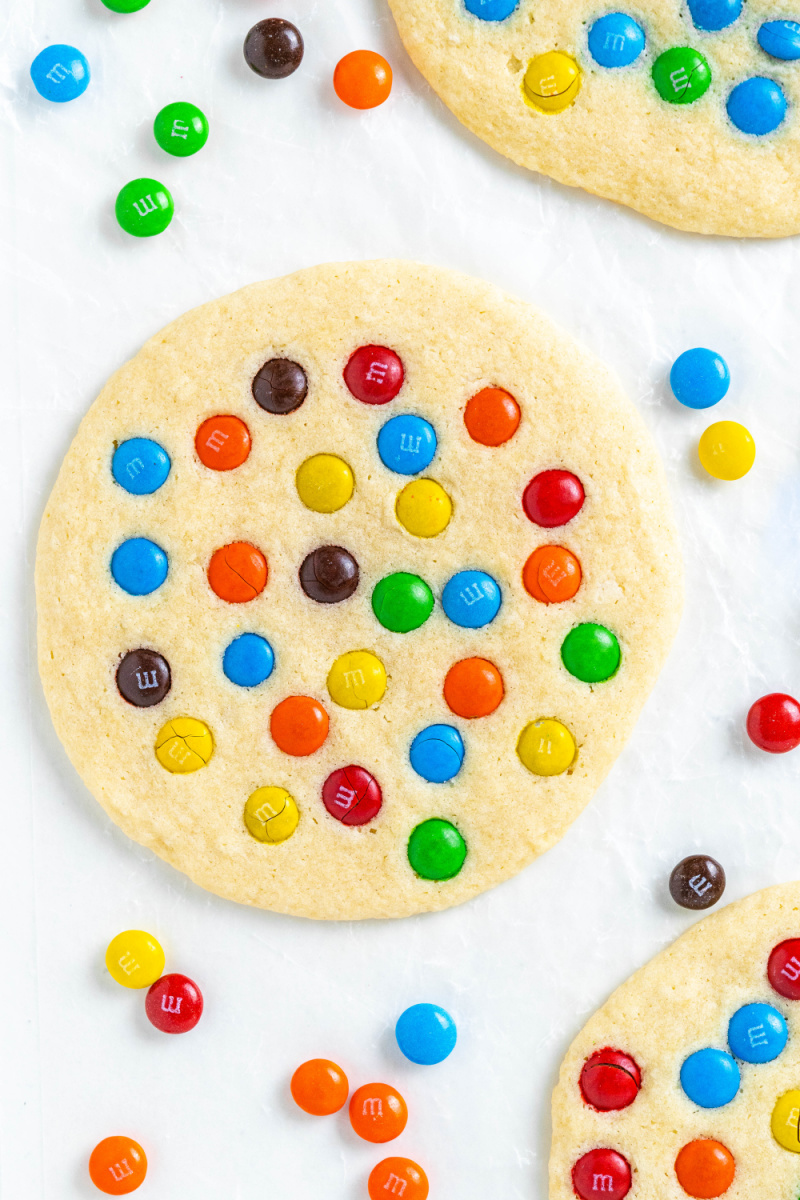 October 13th is National M&M Day! Celebrate by grabbing a bag of M&M's and eating every little chocolate covered candy. Or go homemade and make these Bakery Style Giant M&M Cookies, Monster Cookies or a Kit Kat Cake! Share your M&M's creation on social media today using the hashtags #NationalM&MDay, #M&MDay and #RecipesForHolidays. Be sure to check out my October food holidays page so you follow all of the food holidays celebrated in the month of October!
The History of M&M's:
M&M's were patented and produced beginning in 1941, by Forrest Mars, Sr. (son of the Mars co-founder) when he copied the idea from candy carried by soldiers in the Spanish Civil War (1936-1939). The soldiers carried candy-coated chocolates, which helped prevent the chocolate from melting in warm climates.
The two M's represented the names of Forrest Mars, Sr. and Bruce Murrie (son of the Hershey's president). The arrangement between the two allowed for the candies to (originally) be made with Hershey's chocolate.
Their first big customer was the U.S. Army. The first M&M's package was a cardboard tube, which made it easier for the soldiers to carry and consume.The popularity of M&M's in the Army spread to the public, and they began selling everywhere.
In 1949, the long-lasting slogan was created: "M&M's melt in your mouth, not in your hands." This reflects the original story about M&M's not melting easily because of the candy coating.
In 1950, the "M" imprinted on the candies was black. It changed to white in 1954.
Nowadays, M&M candies are the most popular candy among Americans. There are many varieties to choose from: peanut, pretzel, almond, dark chocolate, caramel, crispy, peanut butter and more. And they are sold all over the world in more than 100 countries.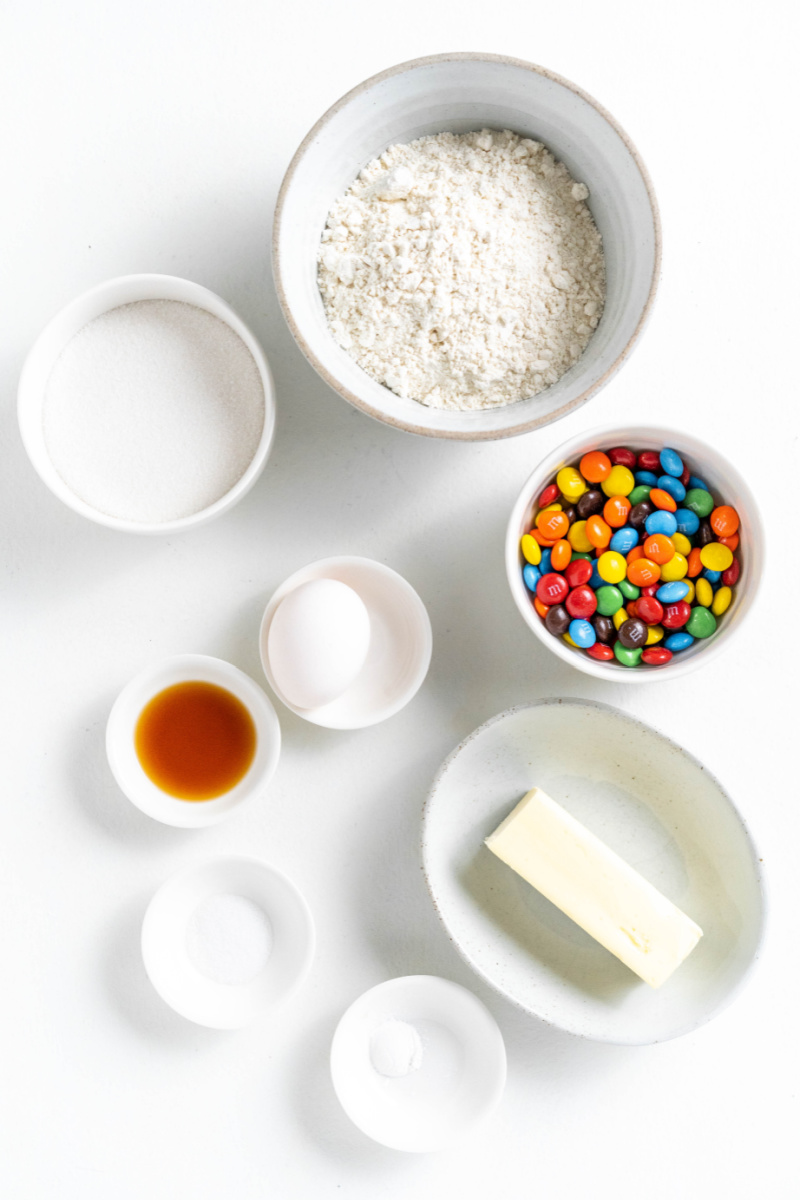 Ingredients needed:
white sugar
unsalted butter
egg
vanilla extract
all purpose flour
salt
baking powder
M&M's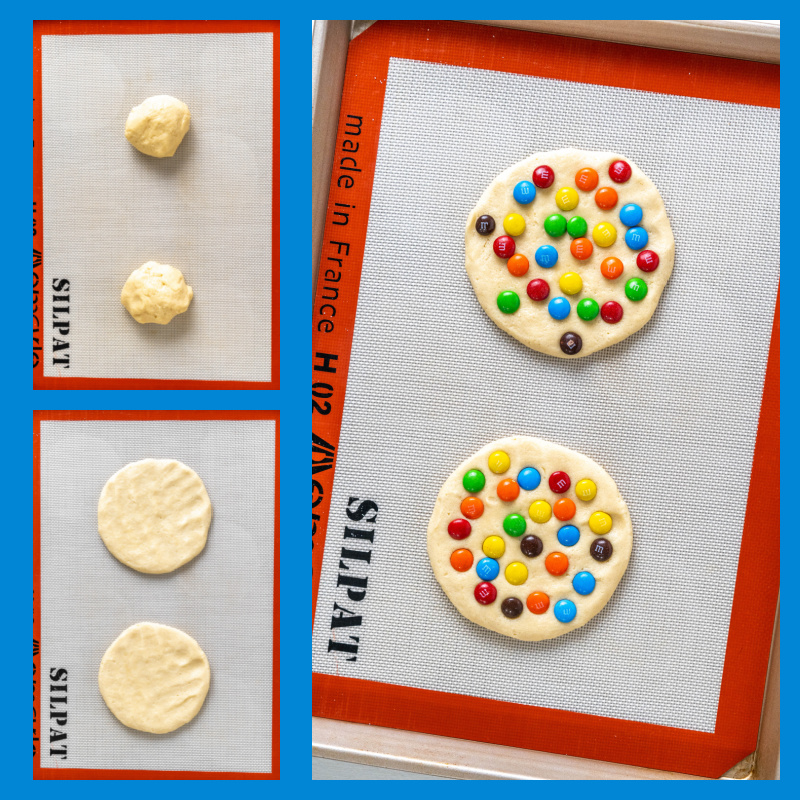 How to make Bakery Style Giant M&M Cookies:
Once you mix the dough, you will divide the dough into four equal parts. This recipe makes four giant cookies! Pat each piece of dough into a circle. Put them on a parchment or silpat-lined baking sheet. Two cookies should go on each baking sheet since they will need room to spread out when baking. Press M&M candies into the top of each flattened piece of cookie dough.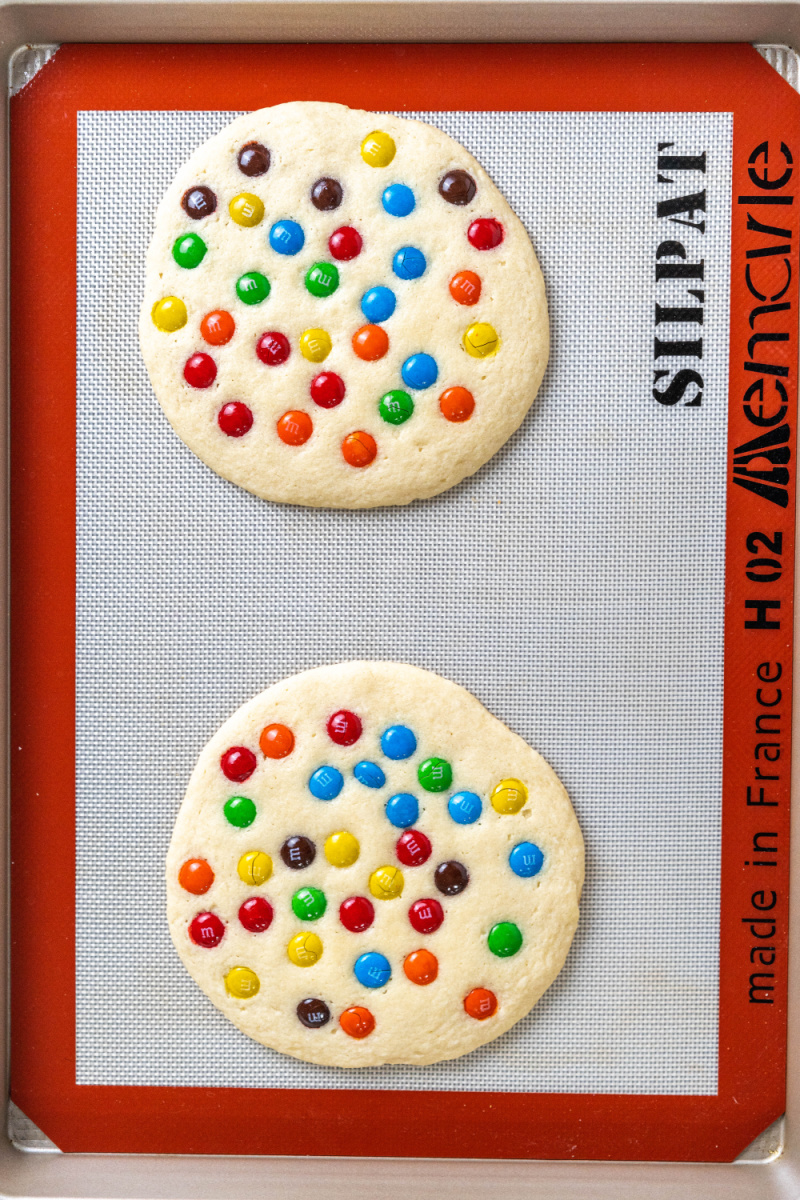 Bake! They will spread out nicely. Some of the M&M's might crack because of the heat of the oven. But you will have perfect Bakery Style Giant M&M Cookies!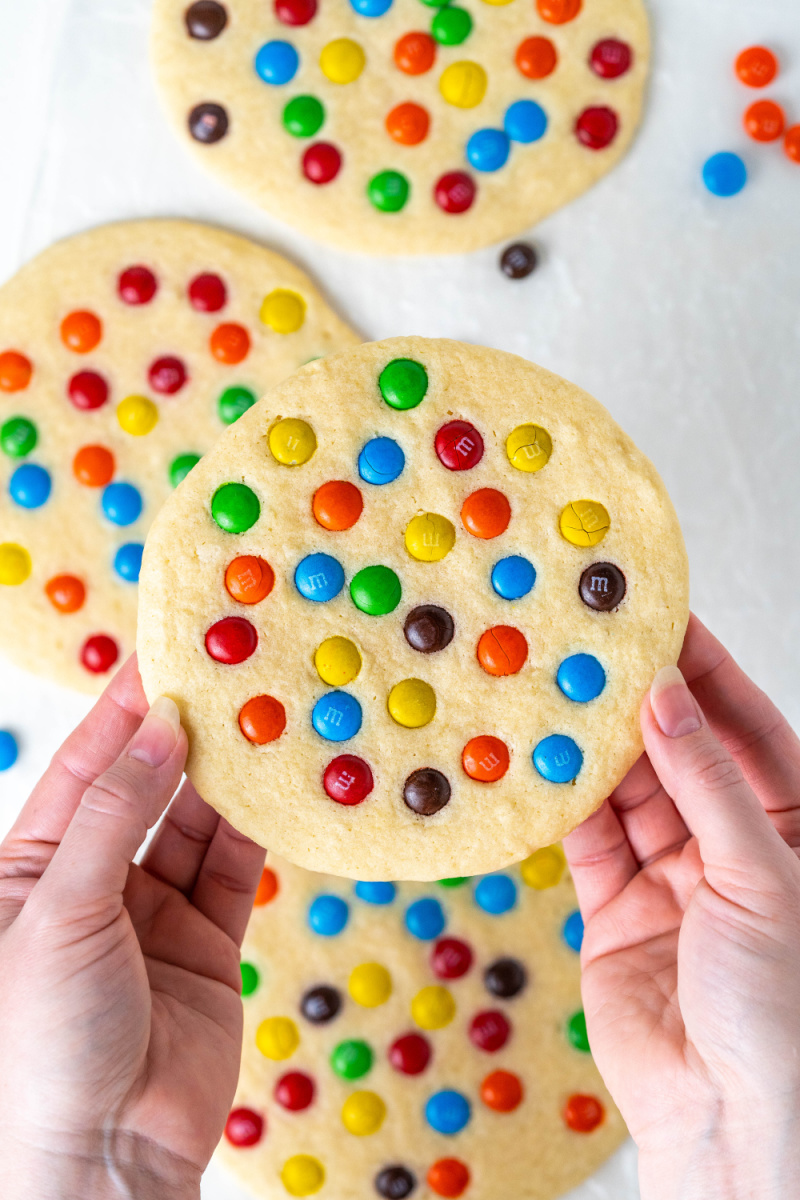 You can see how big they really are by the photo showing the hands holding a cookie. I think giant cookies are fun, but if you want them to be smaller, you could always make normal-sized cookies instead. I don't have a baking time for smaller cookies, so you'd just have to keep an eye on them until they seem like they are cooked through.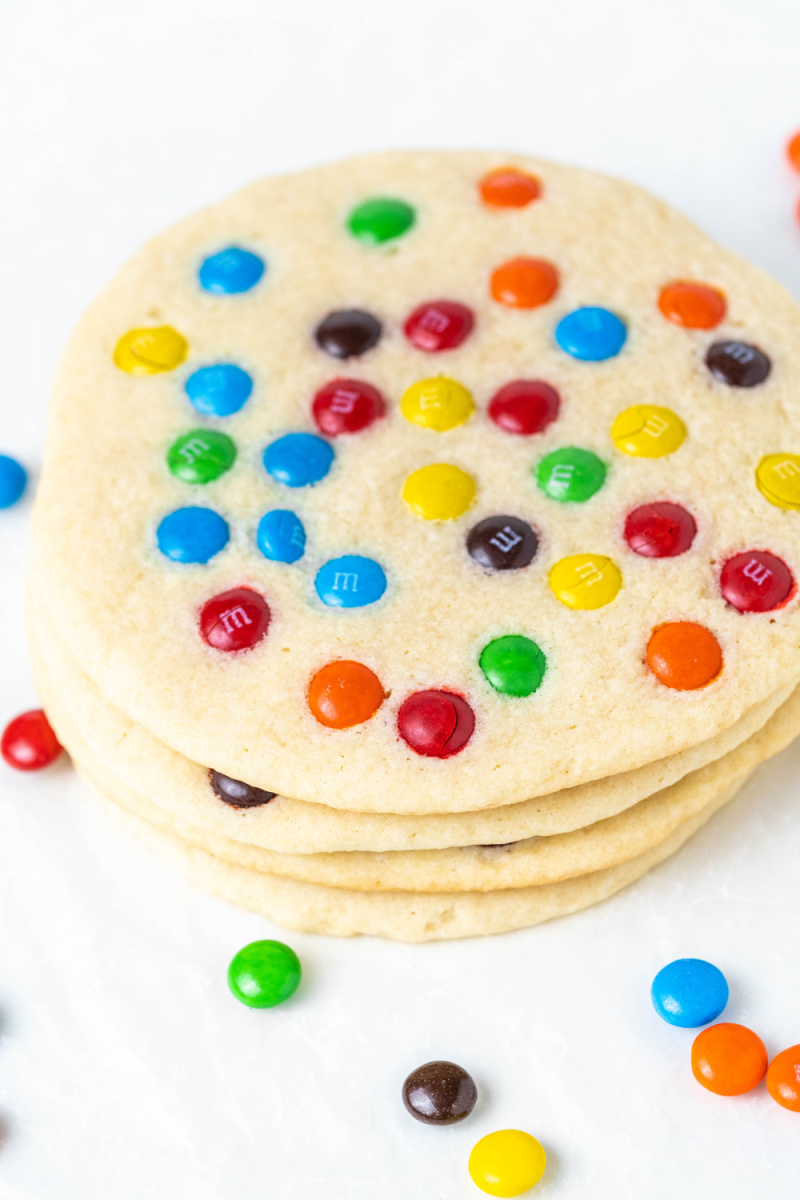 These cookies can be kept in a sealed container at room temperature for up to 3 days. They freeze well too, so just keep them in a sealed container in the freezer for up to 3 months.
TIP: Use holiday M&M's to make these for Halloween, Christmas, Valentine's Day, Easter or whatever holiday colors you're finding for the occasion!
Fun Facts About M&M's:
One M&M chocolate can take anywhere from 4 to 8 hours to make.
One M&M has 4.7 calories.
From 1976 to 1987, no red M&M's were produced. There was fear that red dye #2 was causing cancer and fetal deaths. In 1987, red M&M's returned when this was determined to be false information.
The Mars company rejected the use of M&M's in the movie, "ET." Instead, Hershey (a competitor) allowed the use of their Reeses Pieces, which increased sales 300%.
In the 80's M&M's were the first candy in space when space shuttle astronauts included them in their food supply.
In 1986, Easter and Christmas-themed M&M's were introduced.
Mini M&M's were introduced in 1997.
In 2006, M&M's became the official chocolate of NASCAR.
The United States produces between 400 and 600 million M&M's daily.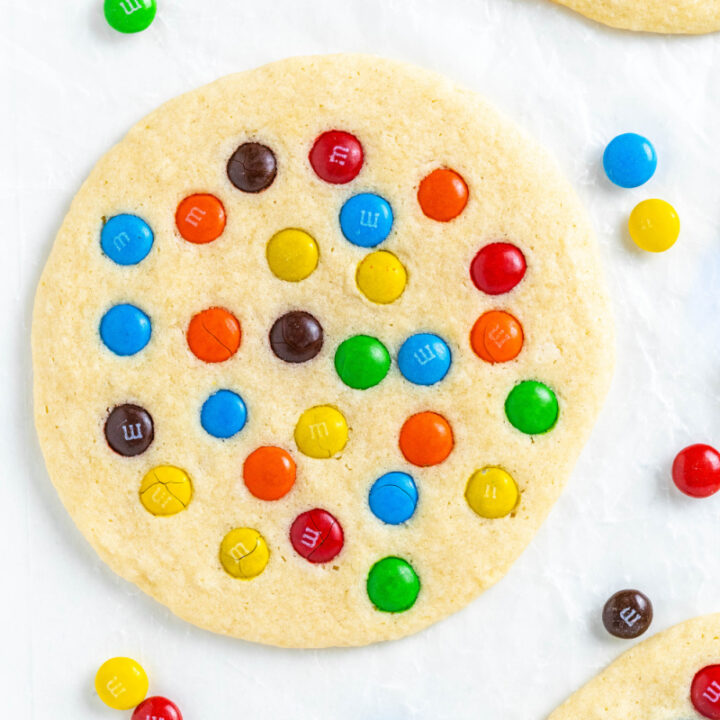 Bakery Style Giant M&M Cookies
Just like you'd find in a really good bakery!
Ingredients
3/4 cup granulated sugar
6 tablespoons unsalted butter, slightly melted
1 large egg
1 1/2 teaspoons vanilla extract
1 1/2 cups all-purpose flour
1/4 teaspoon salt
1/4 teaspoon baking powder
1/2 cup M&M's candy
Instructions
Preheat the oven to 350 degrees F. Line 2 large baking trays with parchment paper or silpat baking mats.
Add the sugar and butter to a large bowl. Use a handheld electric mixer to beat until combined. Beat in the egg and vanilla.
Add the flour, salt, and baking powder, and beat until smooth.
Divide the dough into 4 equal parts and roll each into a ball.
Place the dough balls on the prepared baking trays, 2 balls per tray. Flatten each ball of dough out to a circle about 4 1/2 to 5 inches in diameter.
Arrange 2 tablespoons of M&M candies on top of each cookie, lightly pressing them in.
Bake until the cookies are golden along the outside, but still look just a touch doughy in the center, about 12 to 14 minutes, rotating the trays once halfway through.
Let the cookies cool on the trays for about 10 minutes before removing.
Notes
Make sure you don't crowd your cookies because these get huge. Two cookies per half sheet pan works well.
Make sure your butter is slightly but not fully melted.
I like to remove these cookies from the oven when they look just a touch doughy in the center because they'll continue cooking on the trays even when they're out of the oven.
Nutrition Information:
Yield:

4
Serving Size:

1 cookie
Amount Per Serving:
Calories:

619
Total Fat:

24g
Saturated Fat:

15g
Trans Fat:

0g
Unsaturated Fat:

8g
Cholesterol:

96mg
Sodium:

200mg
Carbohydrates:

92g
Fiber:

2g
Sugar:

54g
Protein:

8g
Nutritional information is estimated using a nutrition calculator. It is not likely to be 100% accurate.