Date Nut Bread is a lovely loaf of quick bread packed with tender, sweet dates and the crunch of walnuts or pecans.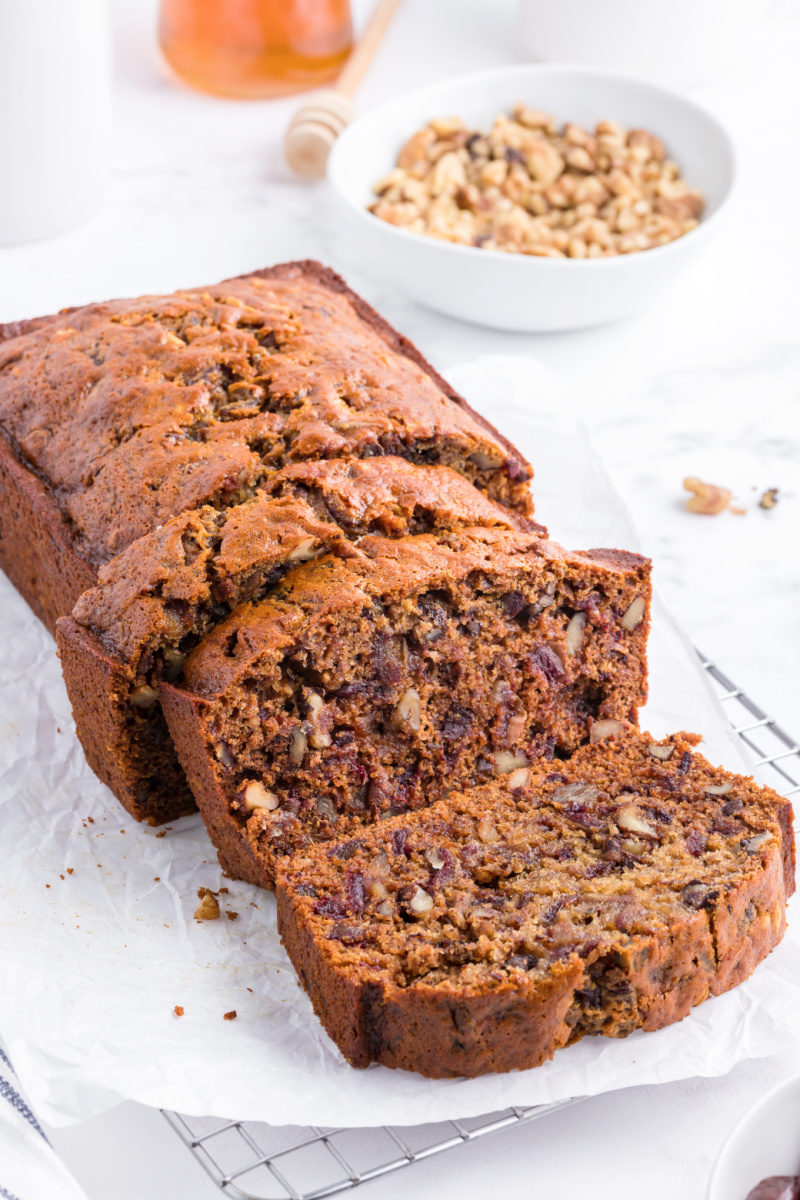 September 8th is Date Nut Bread Day (as is December 22nd!) Celebrate by baking a loaf of delicious Date Nut Bread, of course. Share your loaf of bread on social media today by using the hashtag #NationalDateNutBreadDay, #DateNutBreadDay and #RecipesForHolidays. Be sure to check out my September Food Holidays page so you can follow all of the food holidays in the month of September!
The History of Date Nut Bread:
The first known recipe for date bread was in 1939. It's now a common recipe to make in the winter months and for Thanksgiving and Christmas.
Date and walnut bread is a traditional bread to make in Britain. It's especially popular to eat during afternoon tea. This bread is made with treacle, a sugary syrup, or with tea, along with dates and walnuts. It is also popular in Scotland, Australia, and New Zealand.
A date nut bread eating championship was held in New York City in 2006. The winner ate 29 date bread sandwiches made with cream cheese in just 8 minutes.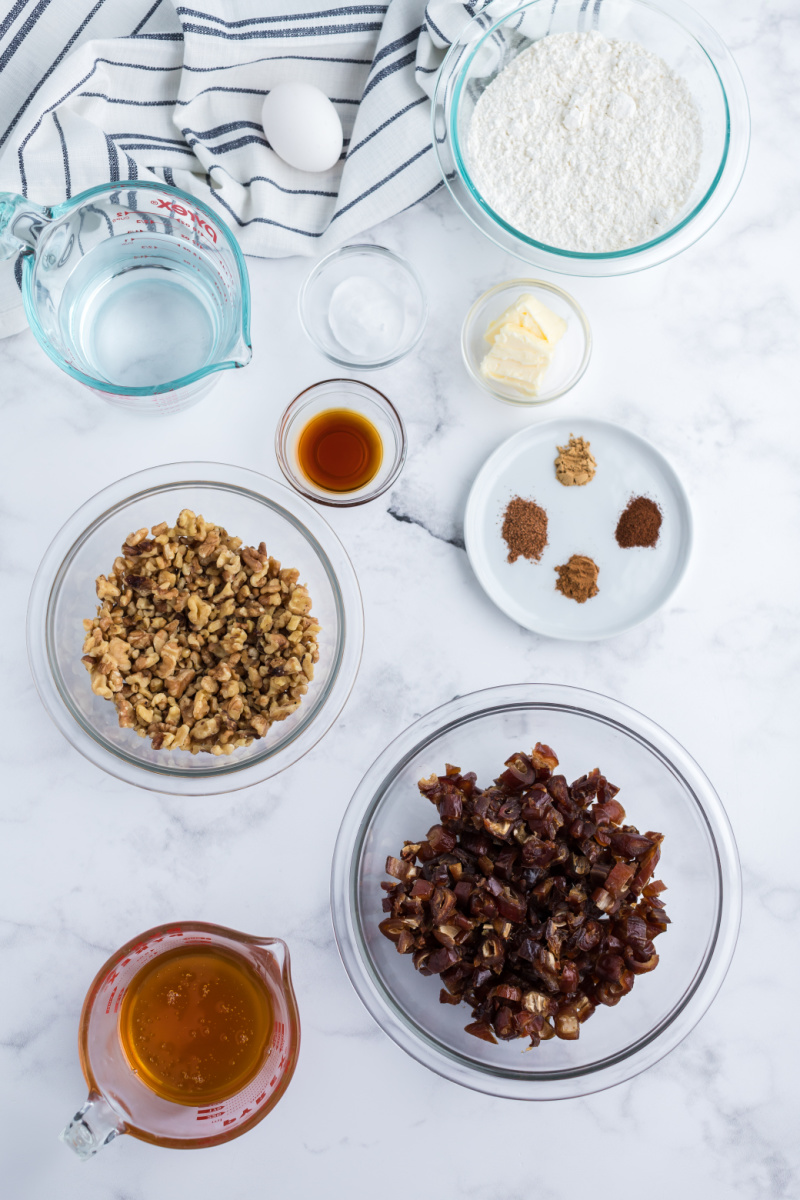 Ingredients needed for Date Nut Bread:
chopped dates
boiling water
baking soda
all purpose flour
ground cloves
cinnamon
ground ginger
ground nutmeg
honey
butter
egg
vanilla extract
chopped walnuts or pecans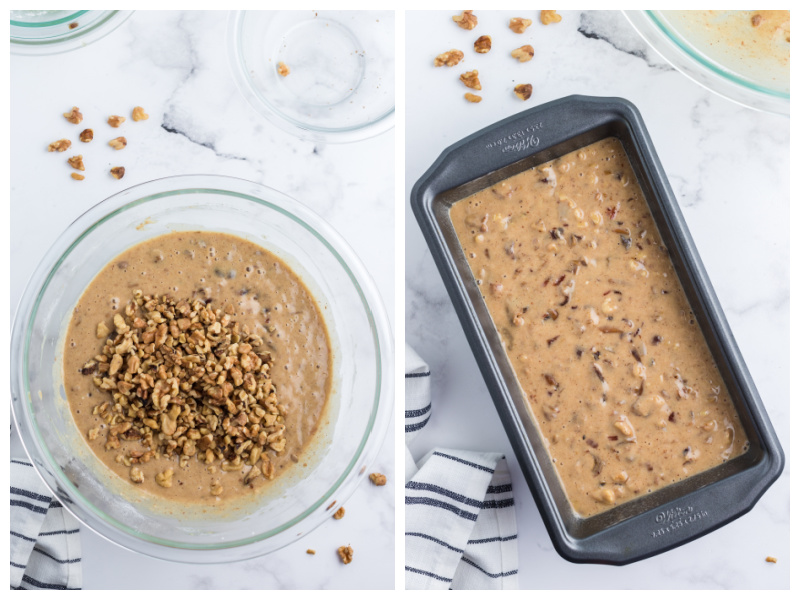 How to make Date Nut Bread:
The first step is soaking the dates to soften them up. Combine the boiling hot water with baking soda. Add the chopped dates and let them soak.
Whisk together the flour and spices. In a separate bowl, use an electric mixer to combine the honey and butter. Beat in the egg and vanilla. Add the dry ingredients alternately with the dates and water. Then stir in the nuts. Date nut bread is traditionally made with walnuts, but you can use pecans, if you prefer those. Scrape the batter into a greased and floured loaf pan.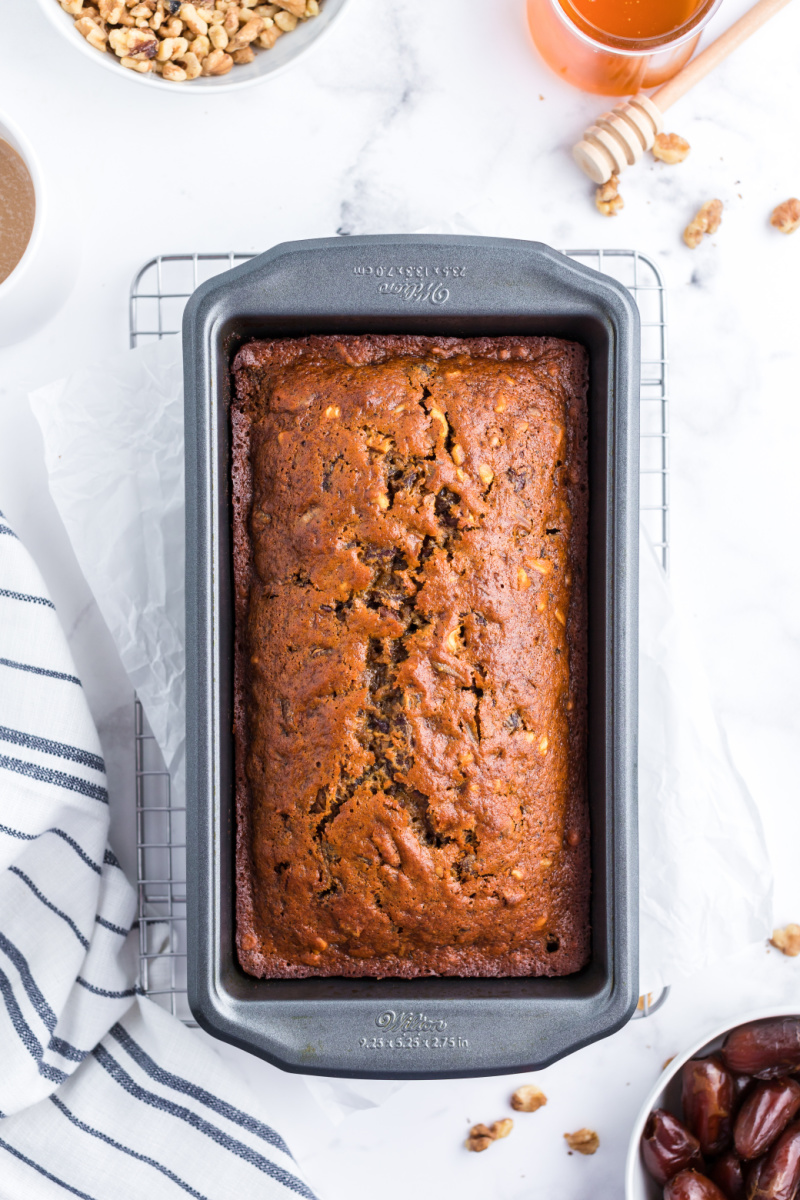 Bake 65 to 70 minutes, until the bread is nicely browned and baked through. Test with a skewer or knife poked into the middle to make sure it comes out clean.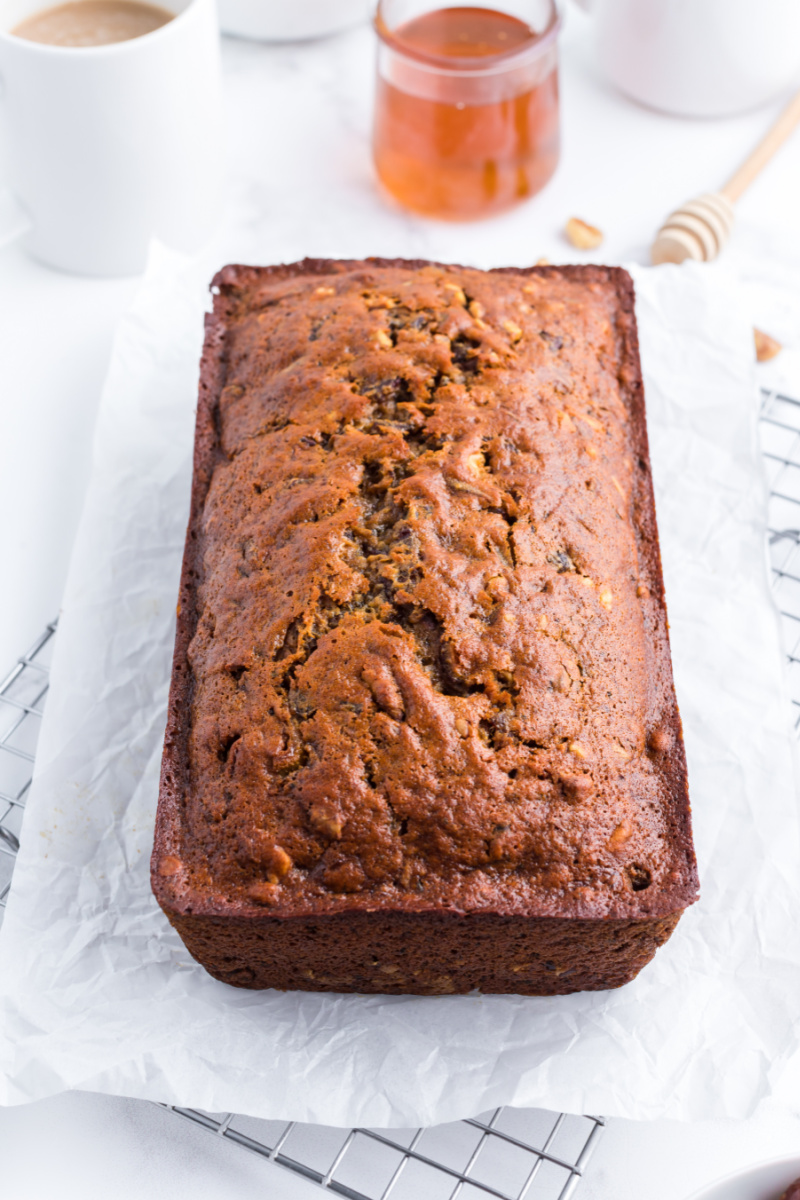 Date nut loaf can be stored in a covered container or large zip baggie at room temperature for 4 to 5 days. If refrigerated, it will keep fresh for more than a week. And if well-wrapped, it can be frozen for up to 3 months.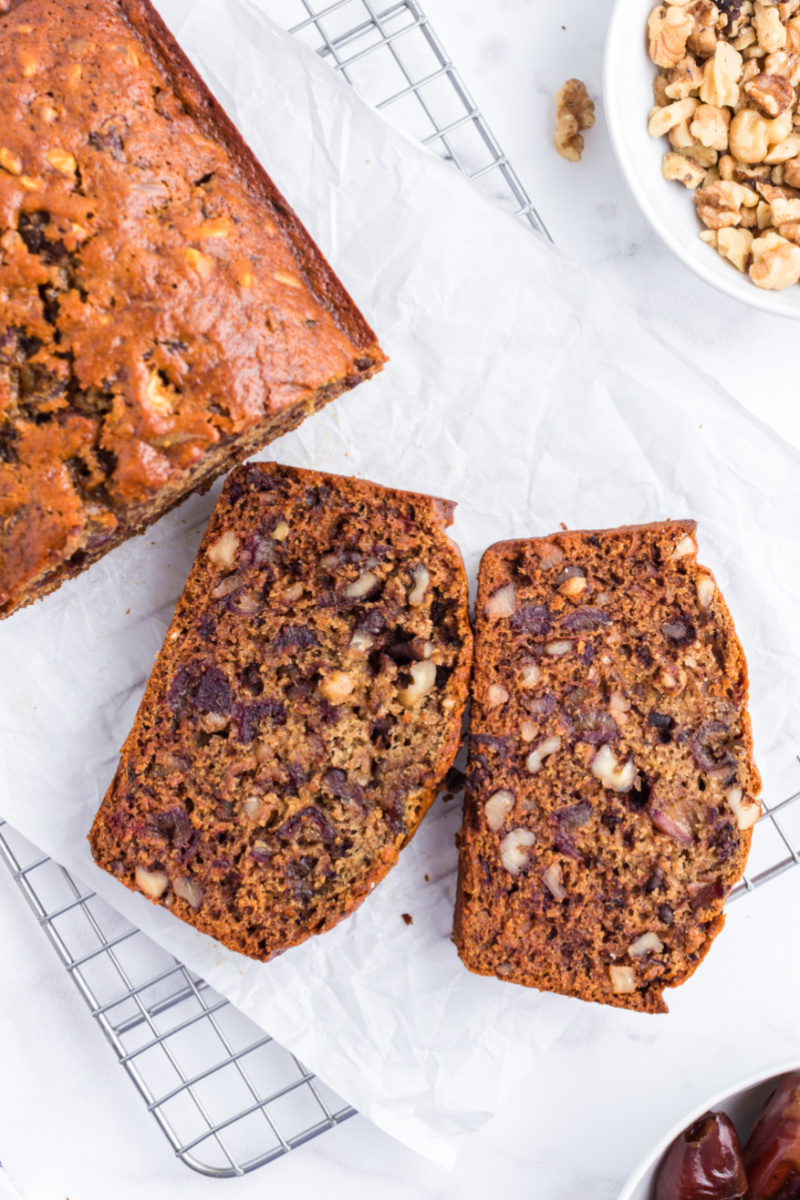 Slice, and serve. I suggest serving date nut bread warm with a little bit of butter or whipped cream cheese spread on top. Enjoy!
Fun Fact about Dates:
Dates were a staple in Middle Eastern diets for thousands of years, and are believed to have first been cultivated in Egypt in 4,000 B.C.
In 1765, the Spaniards introduced dates into Mexico and California.
The word "date" is derived from a Greek word (dáchtylo), which means "finger" (probably because of the shape of a date).
The bulk of US dates are grown in California's Coachella Valley.
There are more than 200 varieties of dates. Medjool is the hardest to grow and therefore one of the most expensive to buy.
Dates are high in natural sugars, which makes them a good fruit to add to baked goods like date cookies for extra sweetness.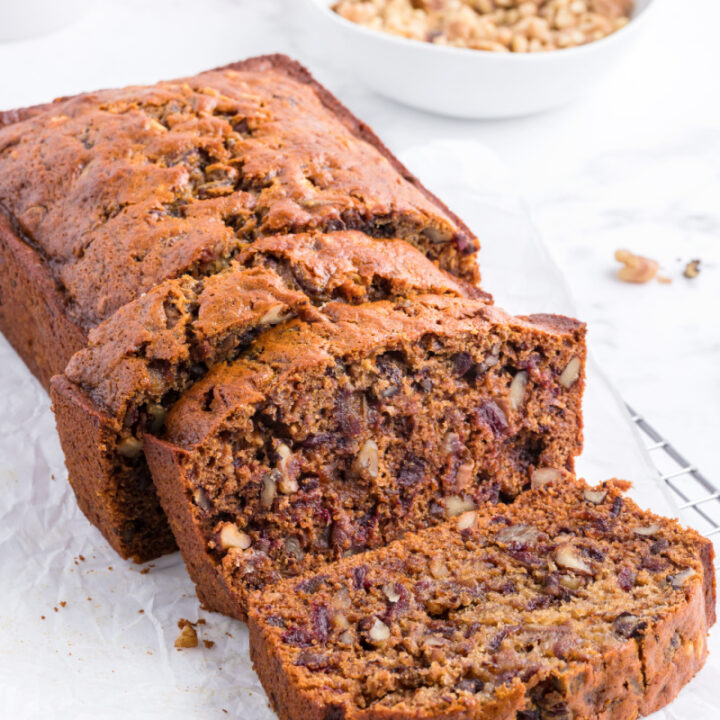 Date Nut Bread
Yield:
12 servings (one loaf)
Cook Time:
1 hour
5 minutes
Total Time:
1 hour
25 minutes
A lovely loaf that people often like to make for the holiday season!
Ingredients
2 ½ cups chopped dates
1 ½ cups boiling water
1 ½ teaspoons baking soda
1 ¾ cups all purpose flour
¼ teaspoon ground cloves
¼ teaspoon ground cinnamon
¼ teaspoon ground ginger
¼ teaspoon ground nutmeg
¾ cup honey
2 tablespoons butter, at room temperature
1 large egg
2 teaspoons vanilla extract
1 ½ cups coarsely chopped walnuts or pecans
Instructions
Preheat the oven to 350 degrees F. Grease and flour a 9x5-inch loaf pan.
Place the dates in a large bowl. Combine the boiling water and the baking soda, and then pour over the dates in the bowl.
In a separate bowl, whisk together the flour and the spices.
In a large bowl, use an electric mixer to combine the honey and the butter. Beat in the egg and vanilla. Add the dry ingredients alternately with the dates and water. Stir in the nuts.
Scrape the batter into the prepared pan. Bake 65 to 75 minutes, or until a toothpick inserted into the center comes out clean. Cool for about 15 minutes in the pan, and then turn the loaf onto a wire rack to cool completely.
Nutrition Information:
Yield:

12
Serving Size:

1
Amount Per Serving:
Calories:

328
Total Fat:

11g
Saturated Fat:

2g
Trans Fat:

0g
Unsaturated Fat:

8g
Cholesterol:

21mg
Sodium:

182mg
Carbohydrates:

56g
Fiber:

4g
Sugar:

37g
Protein:

5g
Nutritional information is estimated using a nutrition calculator. It is not likely to be 100% accurate.