These fluffy, Mile High Biscuits rise up high while baking, and they have a light and flaky texture.
In the U.S. and Canada, a biscuit is a small piece of bread with a firm exterior and a soft interior. Baking powder or baking soda is used for leavening instead of yeast.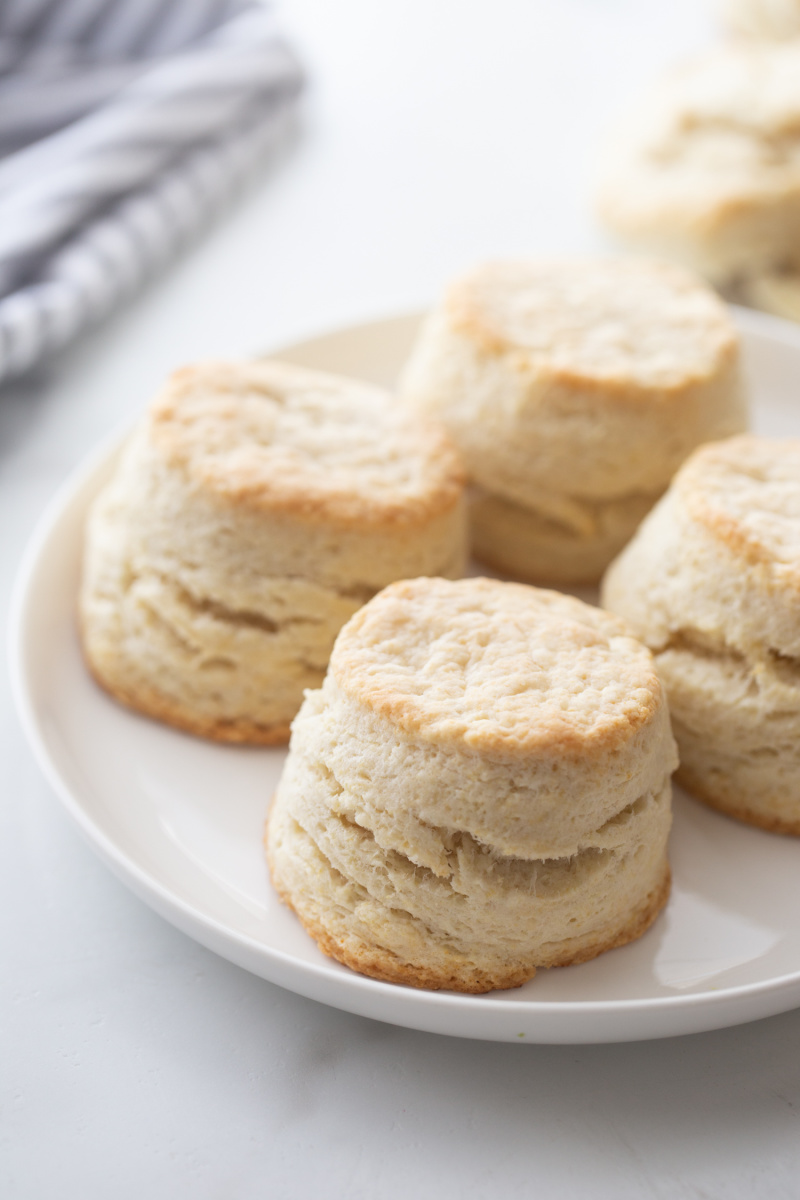 May 29th is National Biscuit Day. Celebrate by eating all the biscuits you can! Start with biscuits and gravy or a biscuit egg sandwich to eat for breakfast, or bake this perfect recipe for Mile High Biscuits to have with tonight's dinner. Share the biscuit love today on social media by using the hashtag #NationalBiscuitDay, #BiscuitDay and #RecipesForHolidays.
History of Biscuits:
The Romans likely made some sort of biscuits, but biscuits as we know them were definitely made in the Middle Ages. By the 14th century, the word "biscuit" was present in the English language. In the late 1500's the English Royal Navy traveled with hard biscuits at sea because they were able to last the long journey.
Early European settlers in the U.S. brought simple cooking ideas with them, and making biscuits from flour and water was a cheap source of sustenance. By the 19th century, biscuits were everywhere. They were an inexpensive addition to meals, and they were good for soaking up gravy. In 1856, baking powder was invented and added to biscuits. This allowed them to rise and they became more bread-like.
Different additions to biscuit recipes over time in lots of different places means that what constitutes a "biscuit" in modern day times differs around the world.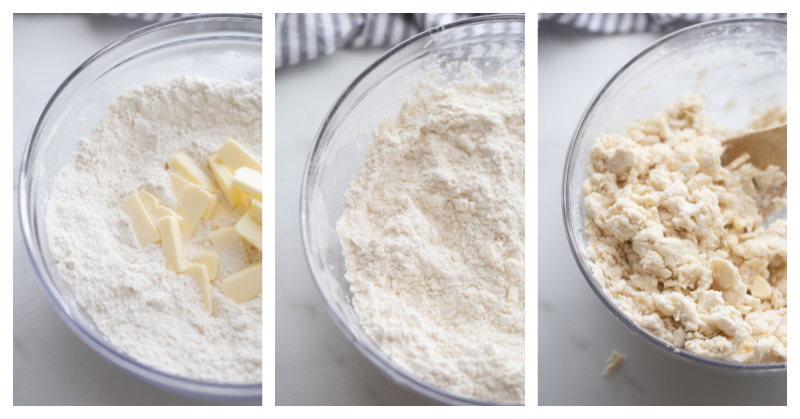 How to make Mile High Biscuits:
Use a pastry blender to cut cold butter into flour, baking powder and salt. You'll end up with evenly-sized crumbs. Refrigerate this mixture for 10 minutes. Then add heavy cream and sugar to the butter crumbs. If you prefer not to have sweet biscuits, it's okay to leave out the sugar.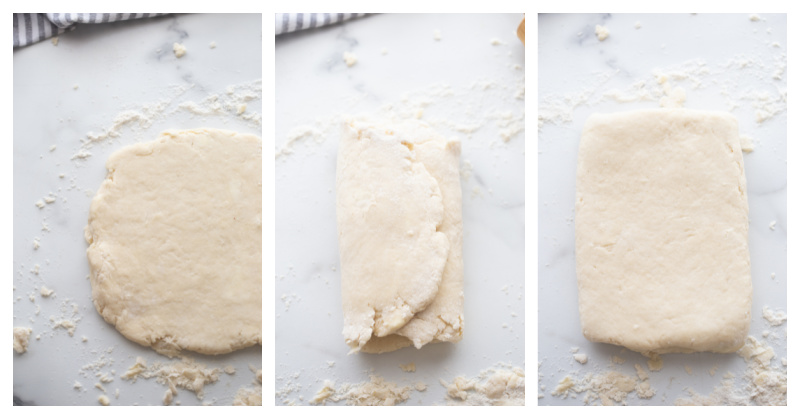 Knead the dough a few times, and use a rolling pin to roll it out into a rectangle. Then fold it over into thirds. Roll it out again. Fold it again, and roll it out one last time. This folding technique helps the biscuit to achieve "mile high" status when baking.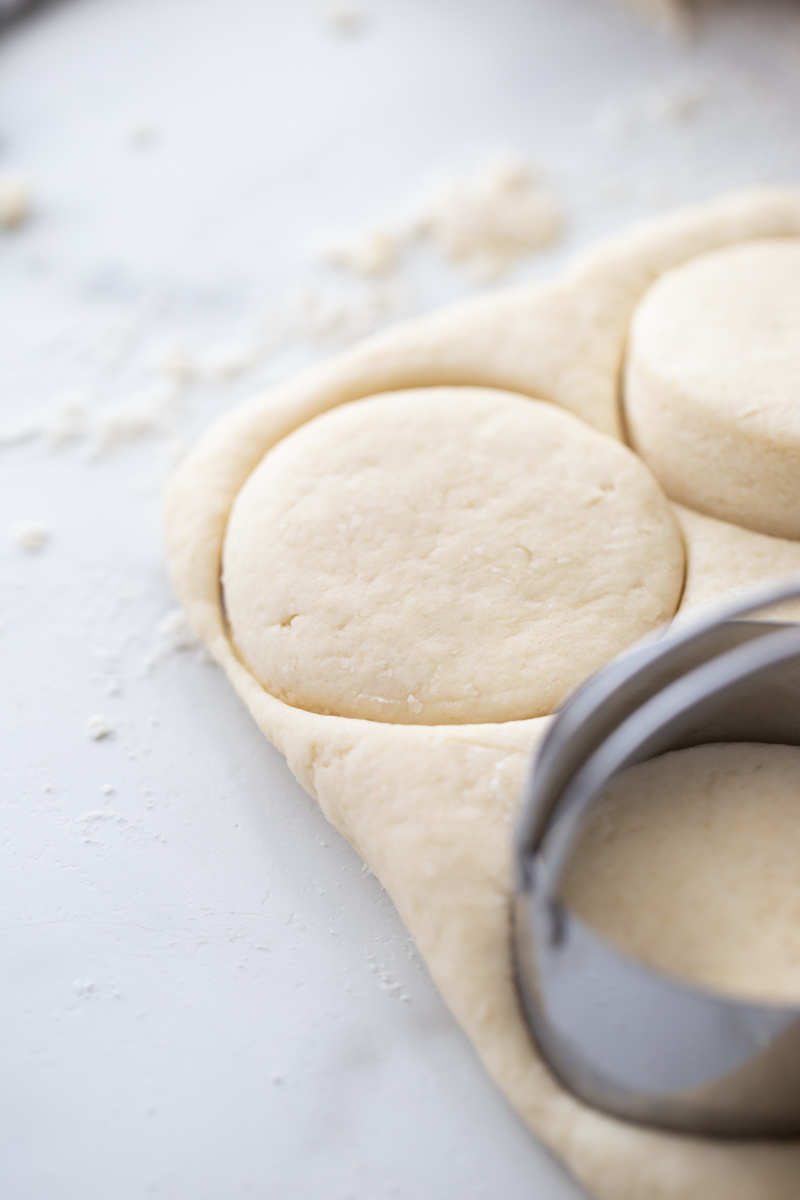 Use a small biscuit cutter to cut out 12 rounds. Re-roll the dough if you need to.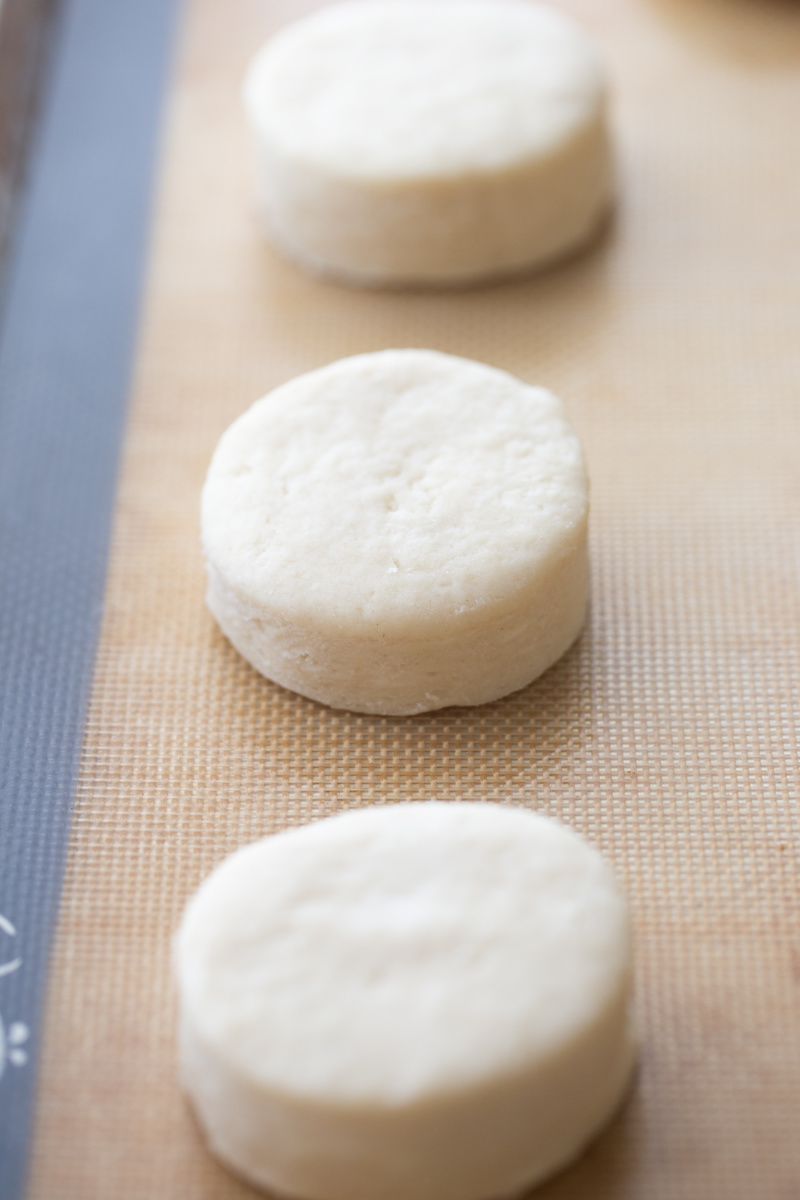 Place the biscuits on a baking sheet that has been lined with either a silpat mat or parchment paper.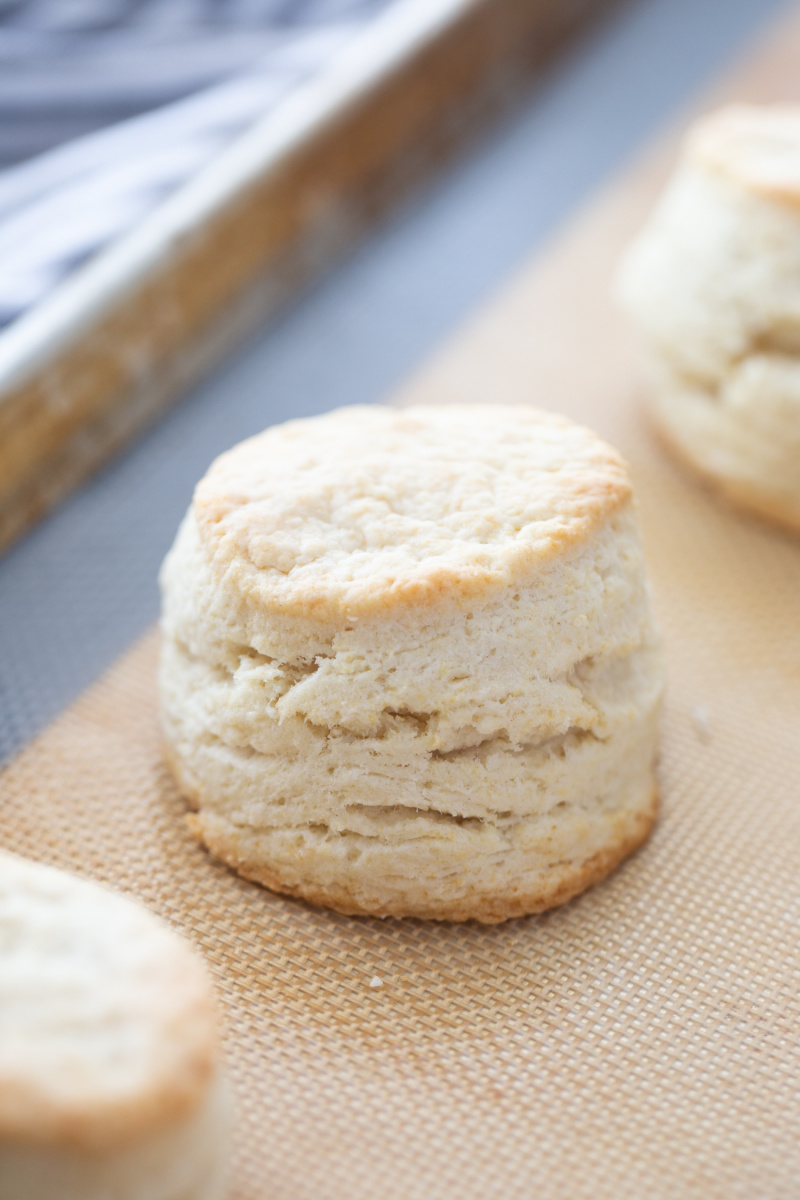 Bake 10 to 12 minutes, until they've puffed up tall and are golden brown.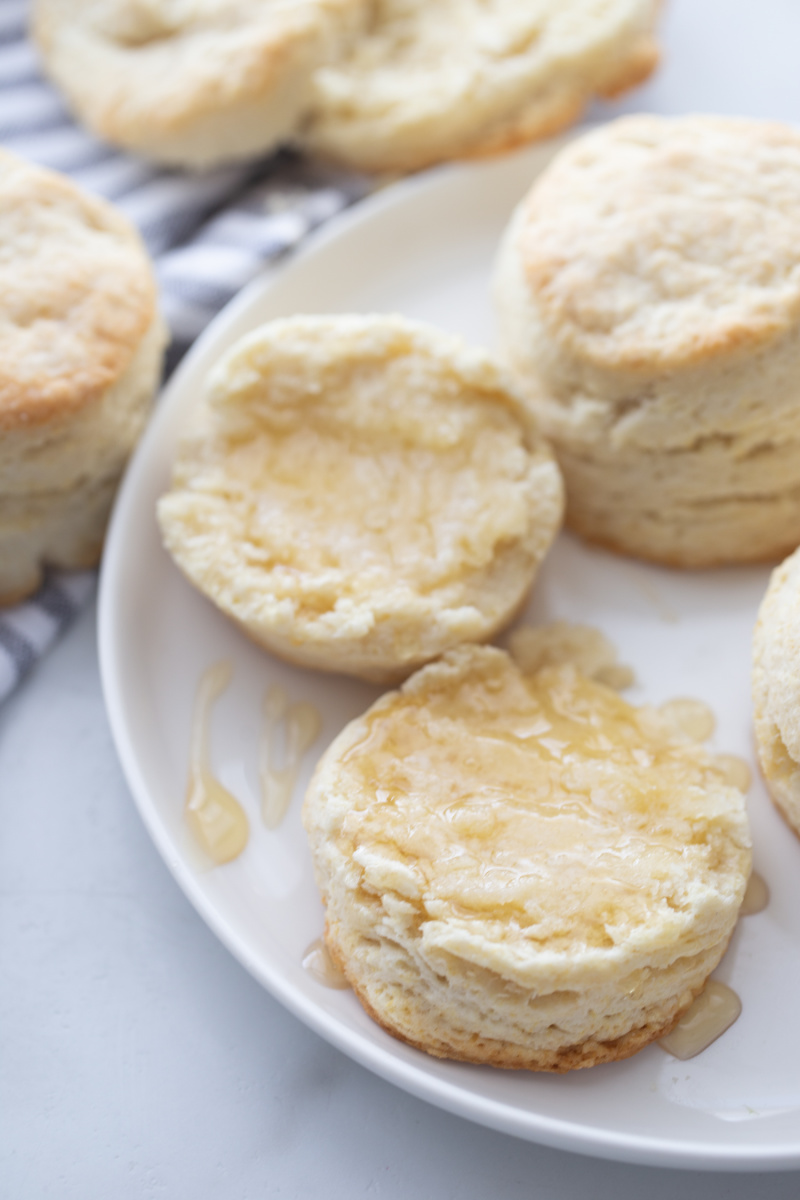 Serve with butter and honey or jam. They are light, flaky and tender in the middle, and they are so delicious!
Mile High Biscuits can be eaten for breakfast on their own or as biscuits and gravy. You could even use a biscuit to replace an English muffin when making Eggs Benedict! Or they can be eaten (without the sugar) as a savory biscuit used as an accompaniment to soups, stews and other main dishes.
Fun Facts about Biscuits:
The word biscuit comes from the Latin word "panis biscoctus," which means "twice-baked." A biscuit is similar to biscotti, which is a twice-baked cookie.
During the Spanish Armada conflict in 1588, a daily allowance for an English Royal Navy sailor was a pound of biscuits and a gallon of beer.
The oldest biscuit (still intact) in the world (the Ship's Biscuit) is from 1852, and is displayed at the Maritime Museum of Denmark.
Early Ship Biscuits were so hard and inedible that some sailors used them to create postcards.
From the late 1700's to mid 1800's, biscuits were more often eaten by wealthy southern families who had the ability to buy processed wheat. Most people in the south made cornbread because it was easier to grind corn.
In 1875, Alexander P. Ashbourne patented the 1st biscuit cutter.
Early blues singers used the word "biscuit" to describe an attractive woman. The term "biscuit roller" described a woman who was good in bed.
In 1931, refrigerator biscuits started appearing on store shelves.
It is said that biscuits in the South are so much better than anywhere else because there is softer wheat grown there. White Lily flour reflects this soft wheat and it helps turn out softer, fluffier biscuits.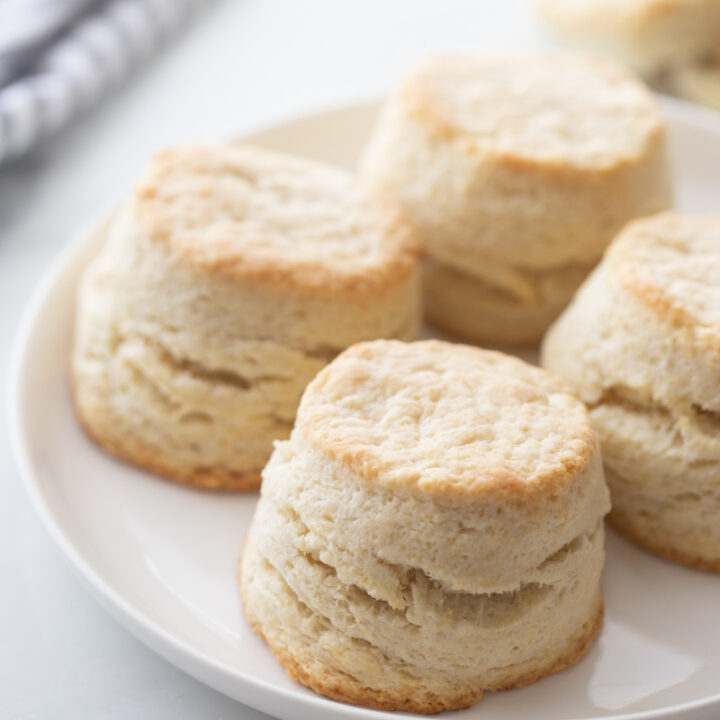 Mile High Biscuits
These biscuits rise up high, and they're light and flaky!
Ingredients
2 cups all purpose flour
2½ teaspoons baking powder
dash of salt
5 tablespoons cold butter, cut into pieces
¾ cup heavy whipping cream
2½ tablespoons granulated white sugar
butter and honey, for serving
Instructions
In a large bowl, whisk together the flour, baking powder and salt. Use a pastry blender to cut the butter into the flour mixture until you have evenly sized crumbs. Cover and chill for 10 minutes.
Preheat the oven to 400 degrees F. Line a baking sheet with parchment paper or a silpat mat.
To the chilled dough, add the heavy cream and sugar, and stir until combined. Place the dough on a lightly floured surface and knead about 4 times. Use a rolling pin to roll out a 9x5 inch rectangle. Then fold the dough into thirds. You should have a thin, tall rectangle of dough. Roll the dough back out to a 9x5-inch rectangle and then fold again crosswise into thirds. The roll the dough out to about ¾ to 1-inch thickness. Using a small cutter, cut out biscuits.
Place the biscuits about 1-inch apart on the baking sheet and bake for 10 to 12 minutes or until they've puffed up tall and are golden brown. Serve immediately with butter and honey.
Nutrition Information:
Yield:

12
Serving Size:

1 biscuit
Amount Per Serving:
Calories:

179
Total Fat:

10g
Saturated Fat:

7g
Trans Fat:

0g
Unsaturated Fat:

3g
Cholesterol:

30mg
Sodium:

144mg
Carbohydrates:

19g
Fiber:

1g
Sugar:

3g
Protein:

3g
Nutritional information is estimated using a nutrition calculator. It's not likely to be 100% accurate.