Caramel Cinnamon Roll Bundt Cake is an incredible cinnamon bundt cake recipe topped with a thick caramel glaze.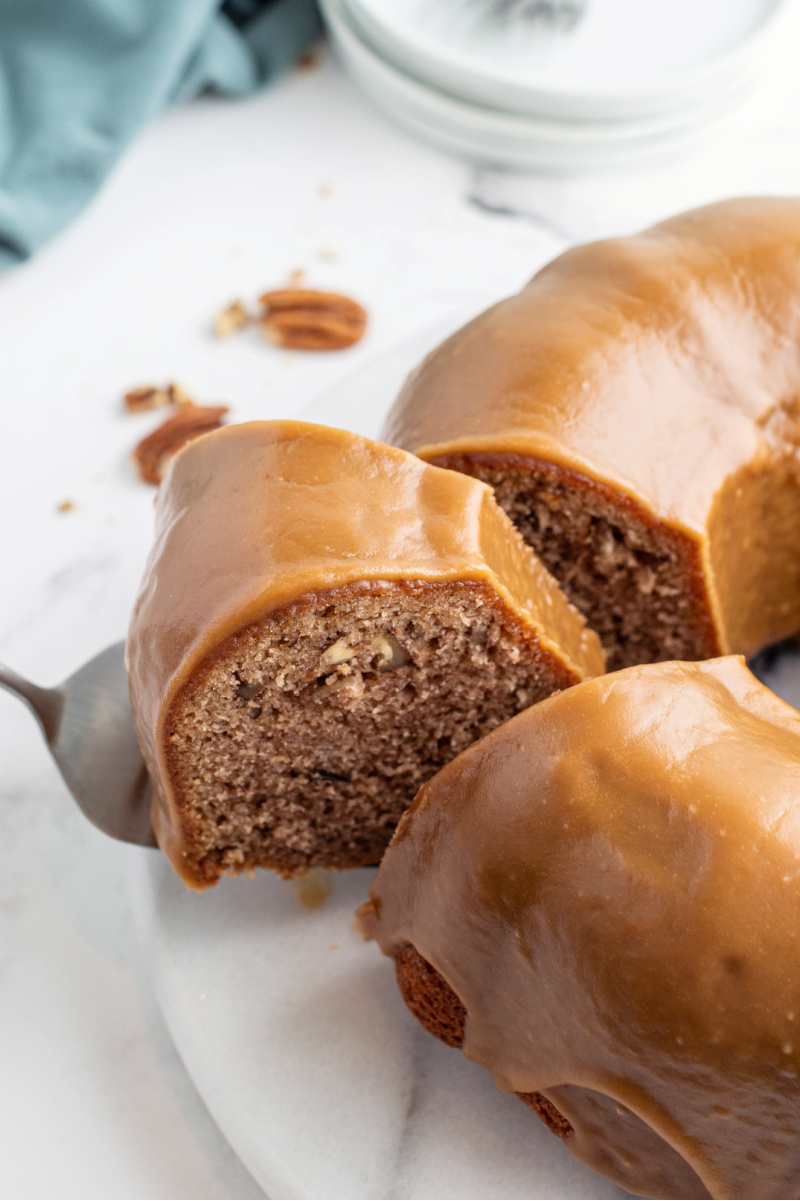 April 5th is National Caramel Day. Celebrate by eating soft caramels, munching on caramel popcorn, using caramel sauce on ice cream or making your favorite recipe using caramel. I suggest you make Easy Caramel Peanut Clusters or bake this Caramel Cinnamon Roll Bundt Cake! Share your caramel celebration using the hashtag #NationalCaramelDay or #CaramelDay on social media.
The History of Caramel:
Caramel is created using the process of caramelization (melting and browning sugar) and combining it with butter, vanilla and milk or cream. When was this process discovered? Sugar was melted and made into candies as early as 1650, but we don't know if any of that candy was caramel. In the mid 1800's candy makers began to add milk and fat to sugar and water, which resulted in caramel!
At the end of the 19th century, Milton Hershey created the first candy company called Lancaster Caramel Company. When he was looking for something to coat his caramels, he became very interested in chocolate. He then sold his candy company to American Caramel Company for 1 million dollars so he could start Hershey Candy Company. I think we all know what a great decision that was!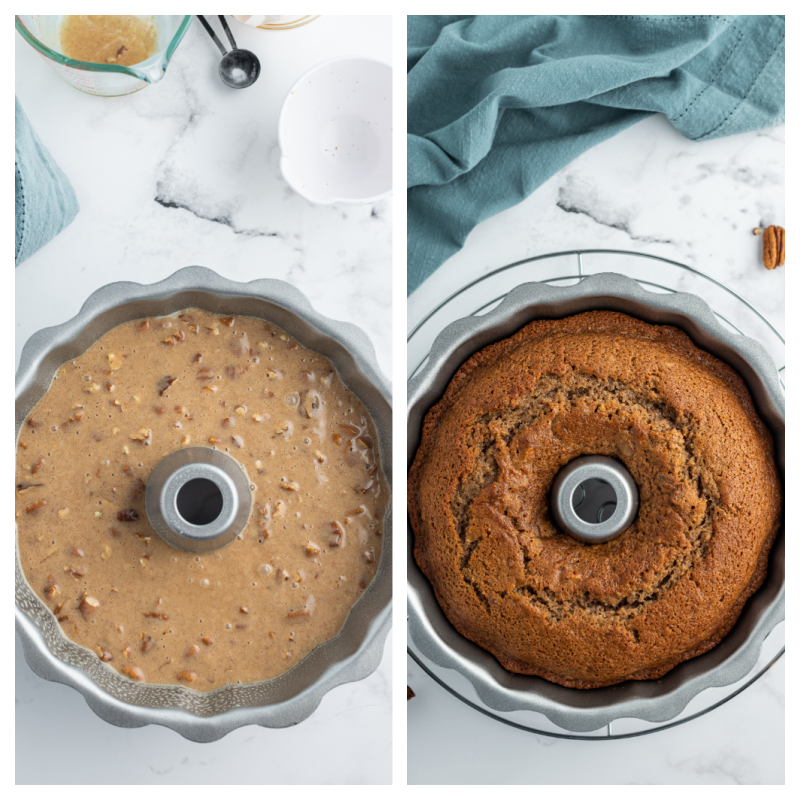 How to make Caramel Cinnamon Roll Bundt Cake:
You'll mix up the most delicious cinnamon cake batter with toasted pecans and scrape it into a 10-inch bundt pan. It bakes for about an hour.
How to toast pecans:
Before you bake the cake, scatter your pecans on a baking sheet and toast in the 350 degree oven for 5 to 10 minutes, until lightly browned and scented.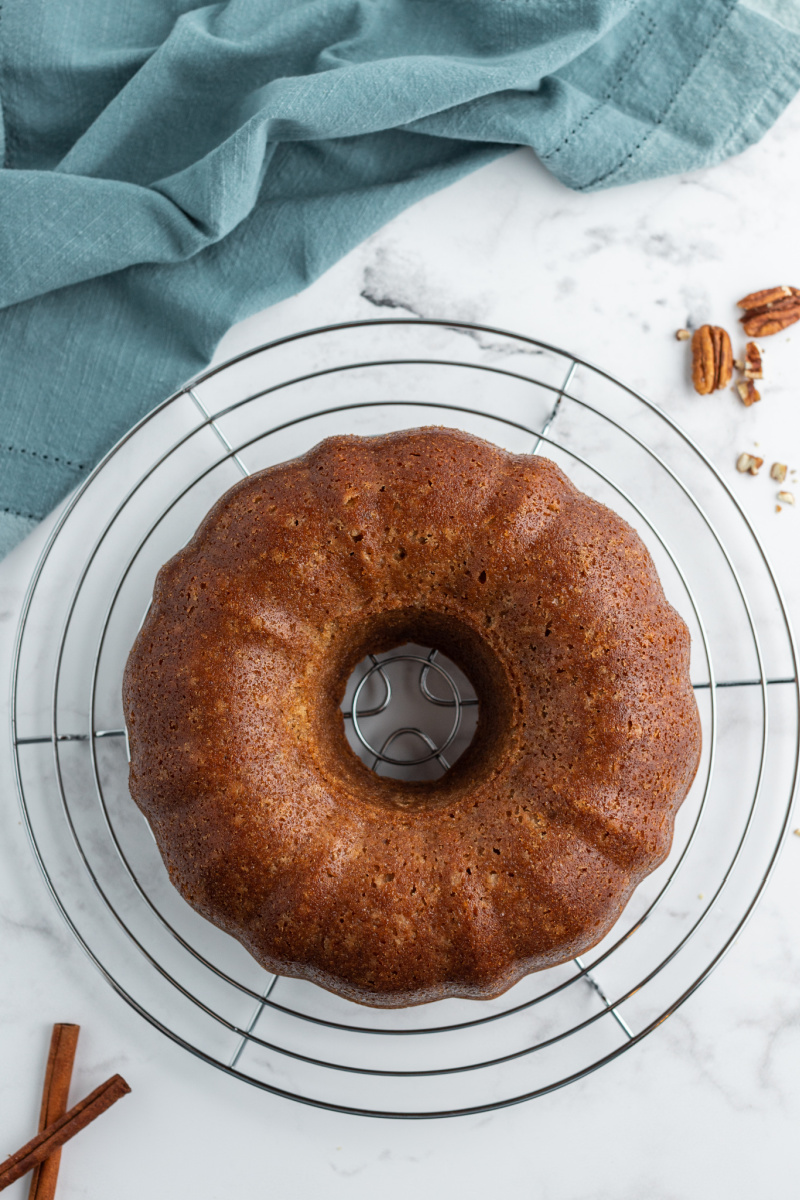 Let the cake cool in the pan for about 10 minutes, and then turn it out onto a cooling rack to cool completely.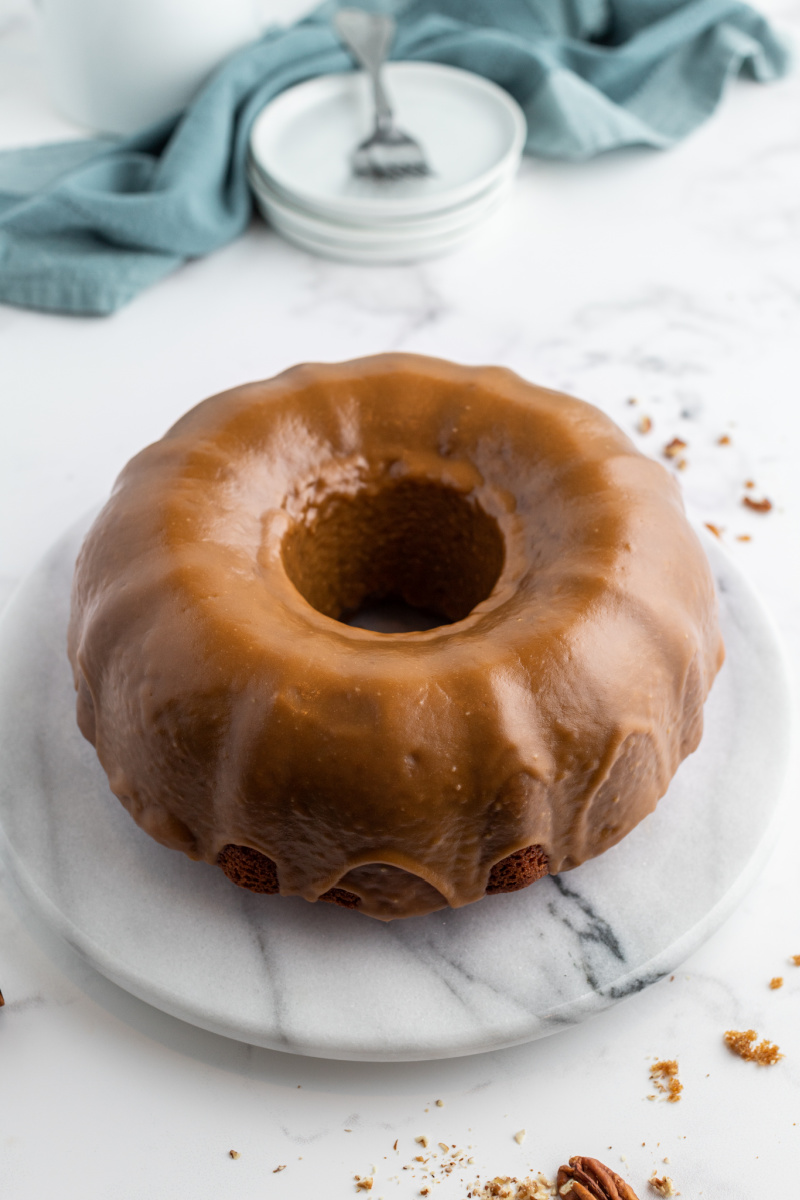 How to make Caramel Glaze:
Brown sugar, butter and milk are simmered in a saucepan and brought to a boil for 3 minutes. This caramelized the sugar! Then you'll whisk in powdered sugar, salt and vanilla to make the glaze.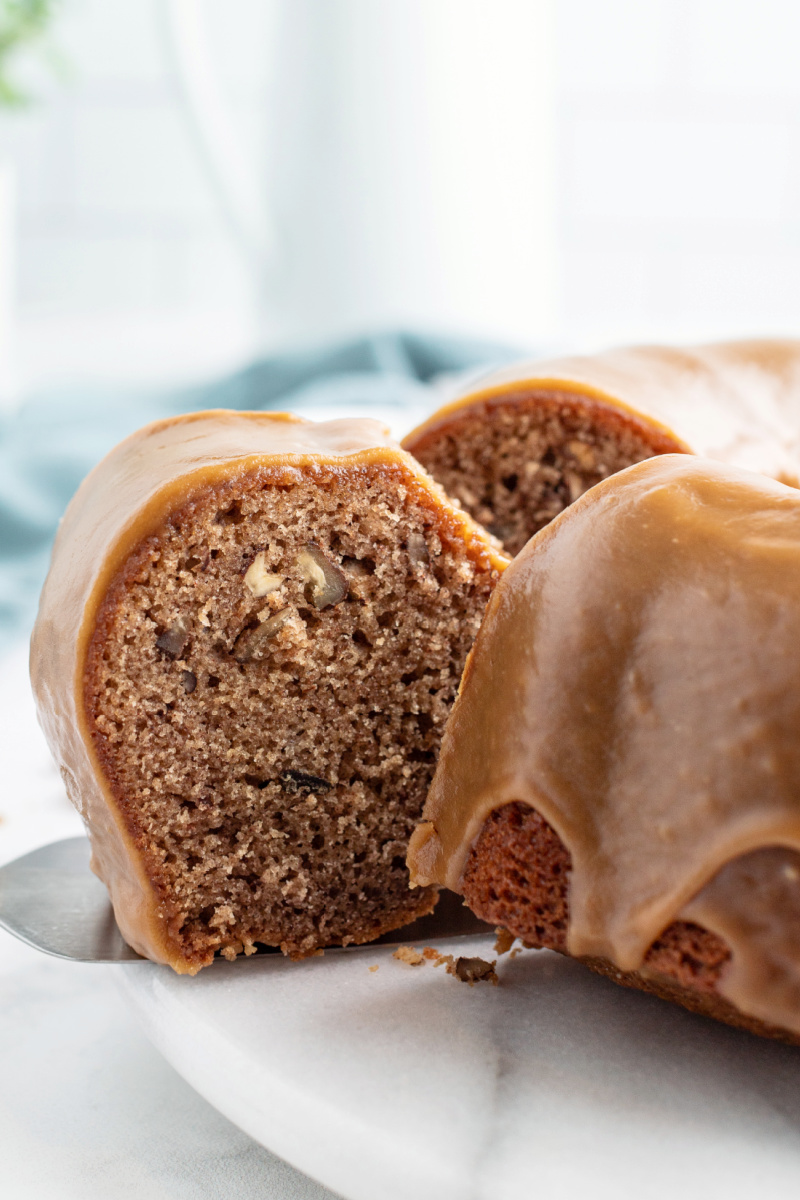 The glaze is spooned over the cooled cake. I like to put it on a rack with wax paper underneath so the extra glaze has a place to go when it drips to the bottom of the cake. Then the mess is easy to clean up, and you won't have a puddle of glaze at the bottom of your cake. Then you can take a spatula and transfer your Caramel Cinnamon Roll Bundt Cake to a serving platter or cake stand.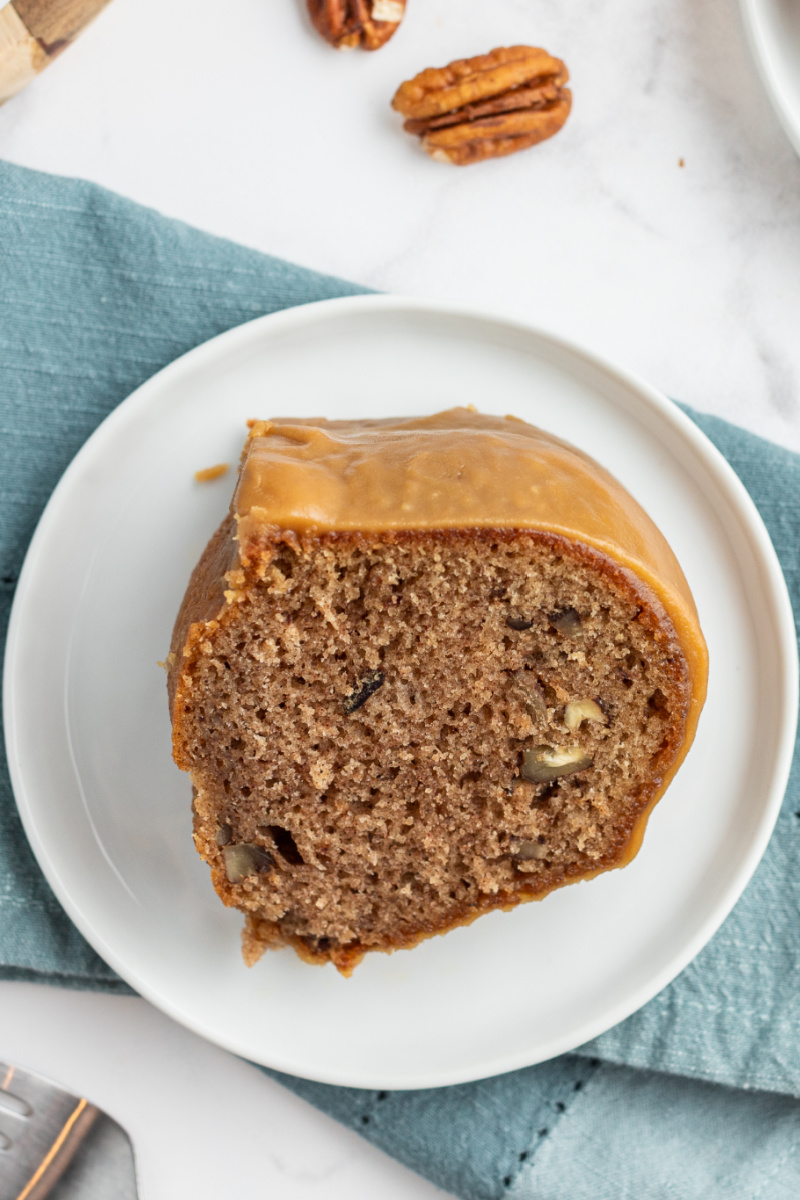 This recipe for Caramel Cinnamon Roll Bundt Cake comes from my all-time favorite cake cookbook: Piece of Cake. If you can get your hands on that book, you will bake so many cakes. Every cake I've baked from the book has been perfect!
Fun Facts About Caramel:
By the late 1800's, over 400 candy makers were making caramel.
The word "caramel" dates back to 1725. It comes from the Spanish word, "caramelo."
Caramel can be made in several forms- hard candies, soft candies and pourable sauce!
Milton Hershey believed that caramel was only a fad.
Caramel can be used as a syrup that holds things like nuts and popcorn together.
Caramel apples were invented in 1950's by Kraft Foods employee Dan Walker.
Salted caramel was invented in 1977. Chefs began adding it to desserts around the year 2000. Salted caramel became more mainstream when Haagen Daaz and Starbucks began selling salted caramel ice cream and coffee drinks.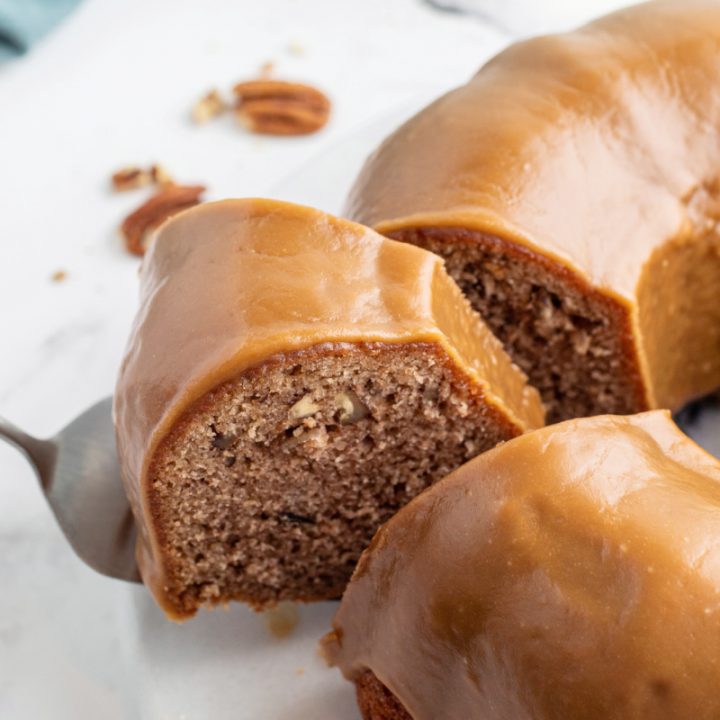 Caramel Cinnamon Roll Bundt Cake
Total Time:
1 hour
25 minutes
OMG, the caramel icing on this cinnamon roll bundt cake is so amazing!!
Ingredients
CAKE:
2 1/2 cups all purpose flour
2 cups granulated white sugar
4 teaspoons ground cinnamon
2 teaspoons baking powder
1 teaspoon salt
1/2 teaspoon baking soda
3 large eggs, at room temperature
1 1/4 cups milk, divided
3/4 cups vegetable or canola oil
1 tablespoon vanilla extract
1 cup chopped toasted pecans
ICING:
2 cups packed dark brown sugar
1 cup (2 sticks) unsalted butter, cut into pieces
1/2 cup milk
2 cups powdered sugar
1/4 teaspoons salt
2 teaspoons vanilla extract
Instructions
BAKE THE CAKE:
Preheat the oven to 350 degrees F. Spray a 10-inch bundt pan with nonstick baking spray.
In a large bowl, whisk together the flour, sugar, cinnamon, baking powder, salt and baking soda.
Add the eggs, ½ cup of the milk, oil and vanilla to the dry ingredients. Using an electric mixer, beat on medium speed for 1 minute, until blended. Scrape the sides and bottom of the bowl with a spatula. Beat on high speed for 1 minute. Add the remaining milk and beat on medium speed for 1 minute. Gently stir in the pecans.
Spread the batter in the prepared pan.
Bake for about 60 minutes, or until a toothpick or skewer inserted into the center comes out clean with crumbs attached. Let cool on wire rack for 10 minutes, then invert the cake onto the rack to cool completely.
PREPARE THE ICING:
In a medium saucepan, combine the brown sugar, butter and milk. Cook over medium heat, stirring constantly, until the butter melts and the mixture is smooth. Increase the heat to medium-high and bring to a boil. Boil for 3 minutes, whisking constantly.
Transfer the brown sugar mixture to a medium heatproof bowl and whisk in the powdered sugar, salt and vanilla until blended and smooth. Gently stir with a wooden spoon for 3 to 5 minutes or until the mixture begins to cool and thickens slightly. Drizzle over the cooled cake.
Nutrition Information:
Yield:

16
Serving Size:

1 slice
Amount Per Serving:
Calories:

580
Total Fat:

28g
Saturated Fat:

9g
Trans Fat:

1g
Unsaturated Fat:

17g
Cholesterol:

68mg
Sodium:

391mg
Carbohydrates:

79g
Fiber:

2g
Sugar:

61g
Protein:

5g
Nutritional information is estimated using a nutrition calculator.