Easy Caramel Peanut Clusters are just like you'd find in a gourmet candy shop with layers of chocolate, peanuts and caramel. And now you can make this simple, 4-ingredient recipe at home!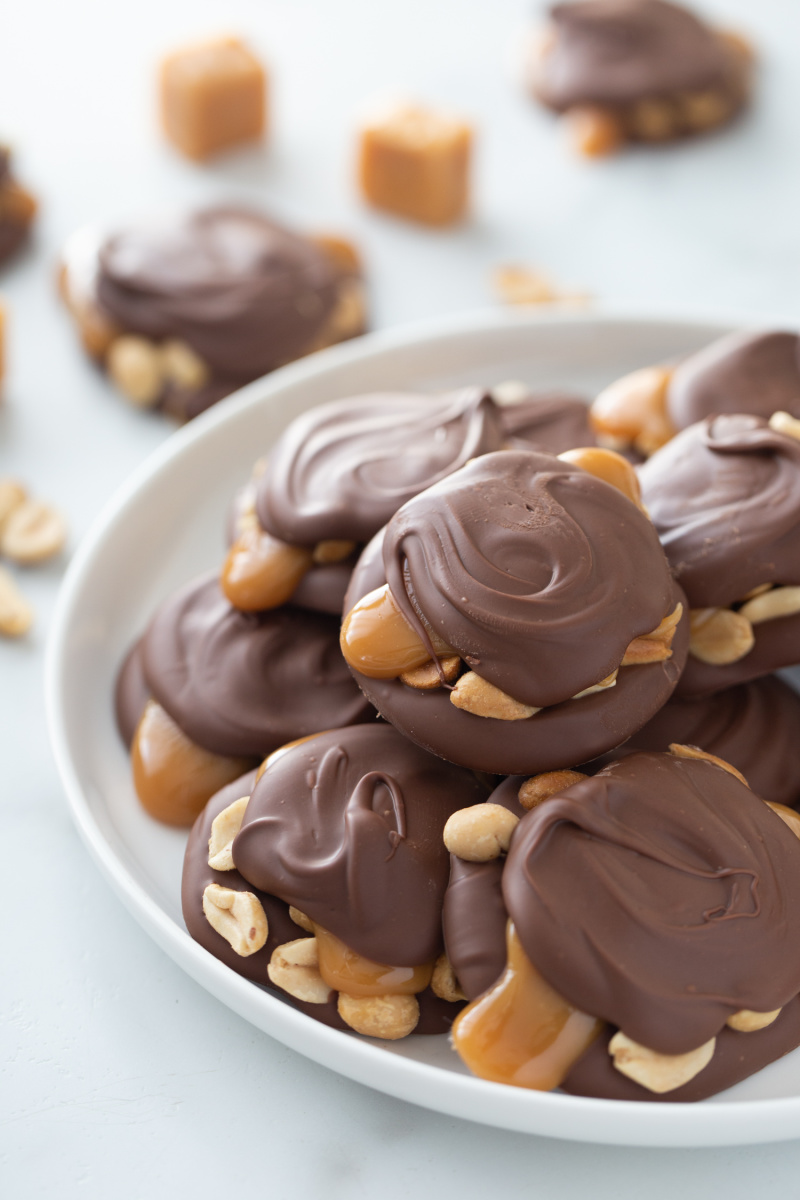 March 8th is National Peanut Cluster Day! Peanut Clusters are a type of candy that blends chocolate with peanuts. This is a day to celebrate the candy store favorite peanut clusters. You can definitely buy these at your favorite chocolate shop, but they're so easy to make at home. I suggest you step it up a notch and make these easy caramel peanut clusters instead. Caramel adds so much more to a peanut cluster!
History of Peanut Clusters:
Yes, there is a story behind how peanut clusters began! The combination of sweet and salty has always been a desired combination, so it's no surprise that salty peanuts were eventually added to chocolate to create a delicious treat. The peanut cluster surfaced in 1912 when Standard Candy Company in Nashville invented a mound of chocolate, peanuts, caramel and marshmallow that they called the Goo Goo Cluster (still around today!) During WWII, peanut clusters were sent in bulk to soldiers fighting on the front line.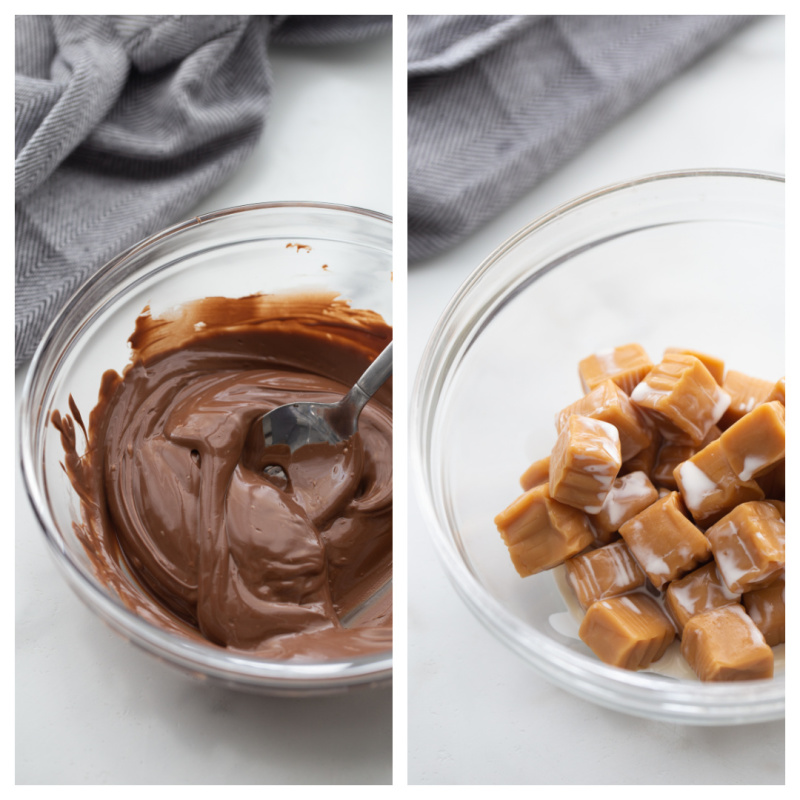 How to make Easy Caramel Peanut Clusters:
Melt chocolate chips in one bowl. Melt caramels and cream in another bowl. The microwave is the easiest way to do this, but you can use a bowl set over simmering water if you don't use a microwave.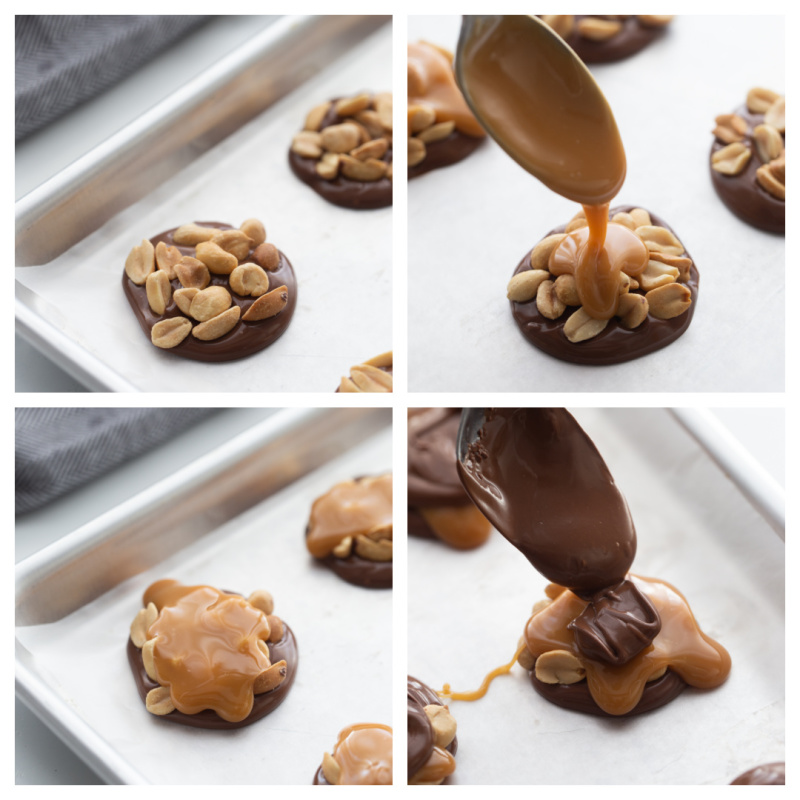 Spoon puddles of chocolate onto a wax paper-lined baking sheet. Sprinkle peanuts on top. Spoon caramel on top of the peanuts. More chocolate is spooned on top. Give the easy caramel peanut clusters time to set. Refrigerate them for speedy setting, if desired.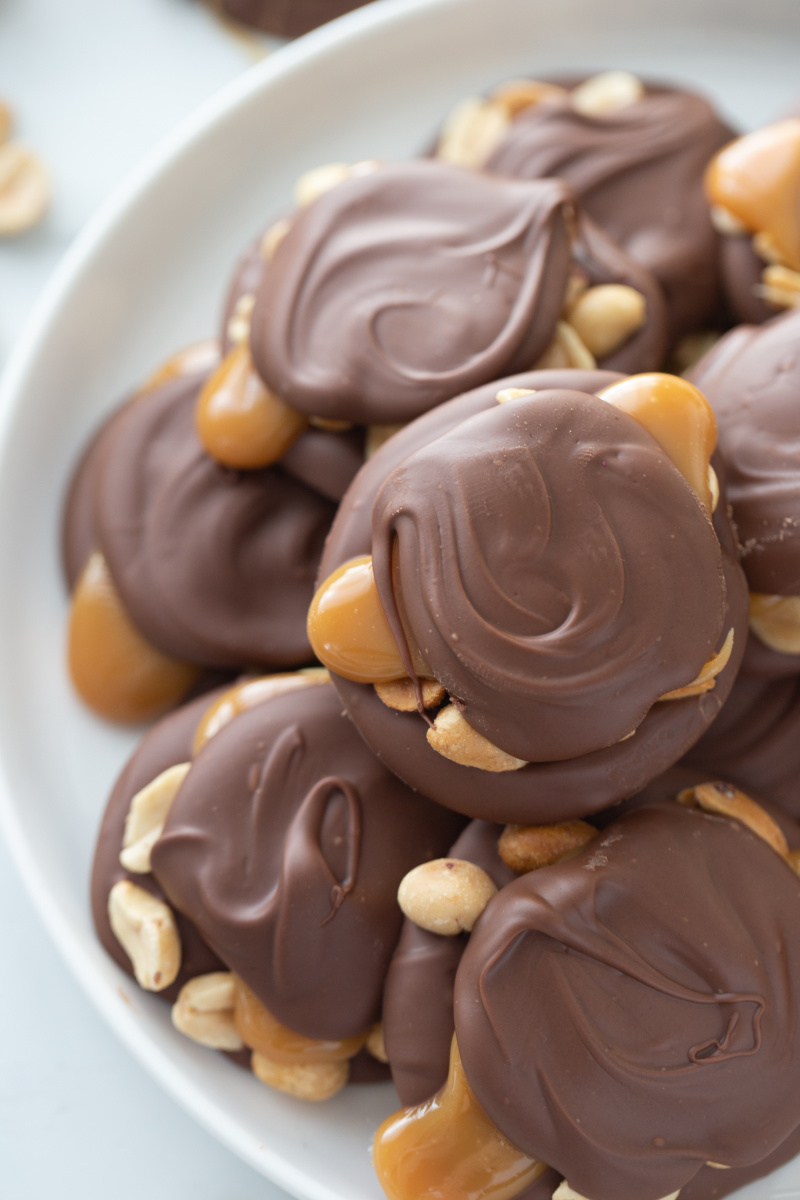 Display on a platter and eat, or store in a covered container using wax paper to separate layers. For best results, keep them refrigerated and serve them all within a couple of weeks. Bring them to room temperature to serve.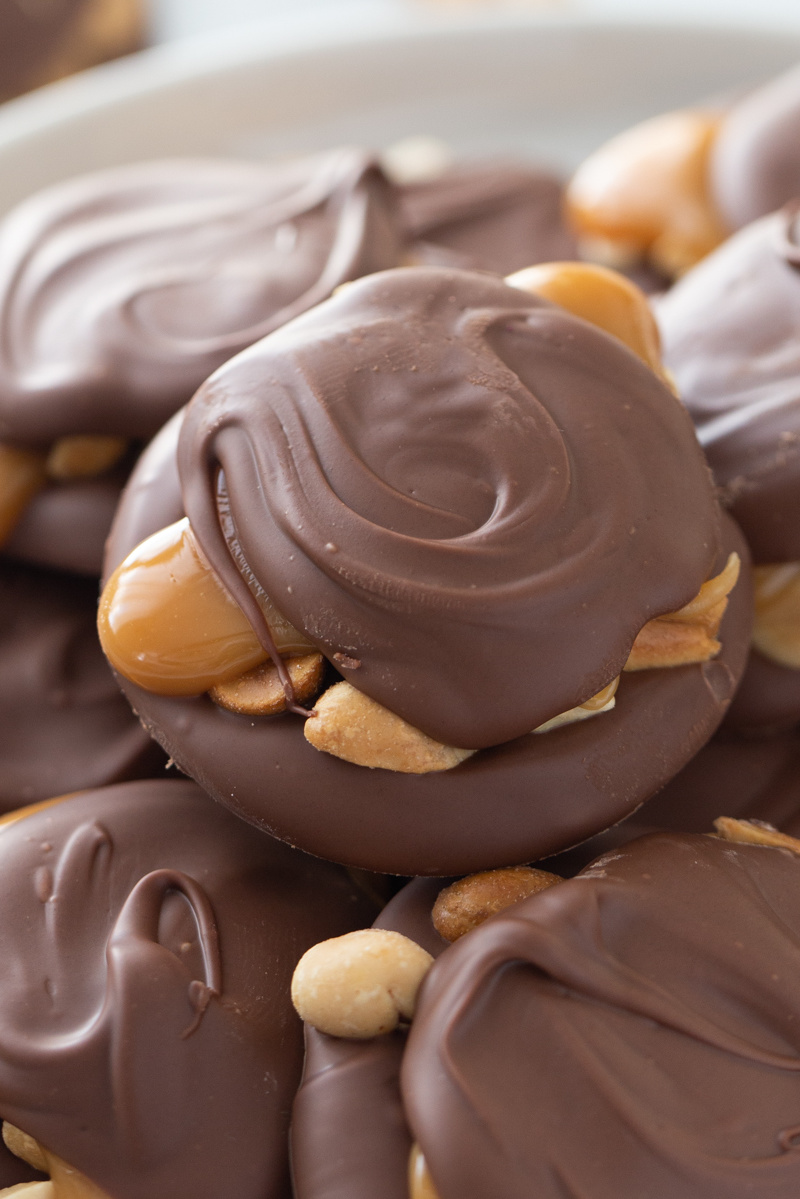 Get your chocolate (and peanut) fix by making these easy caramel peanut clusters today. And if you're really on a peanut-enjoying mission, bake some peanut butter cookies too. Enjoy!
Fun facts about peanuts:
Peanuts are not actually nuts- they're legumes that are grown underground. Real nuts grow on trees.
There are four different types of peanuts: Runner, Valencia, Spanish and Virginia.
A typical peanut farm is about 200 acres.
There are enough peanuts in one acre to make 35,000 PB&J sandwiches.
Jimmy Carter wasn't the only peanut farmer elected to be President of the United States. Thomas Jefferson was a peanut farmer too!
China is the top consumer of peanuts (USA is #4).
The average American eats more than 6 pounds of peanuts and peanut butter products every year.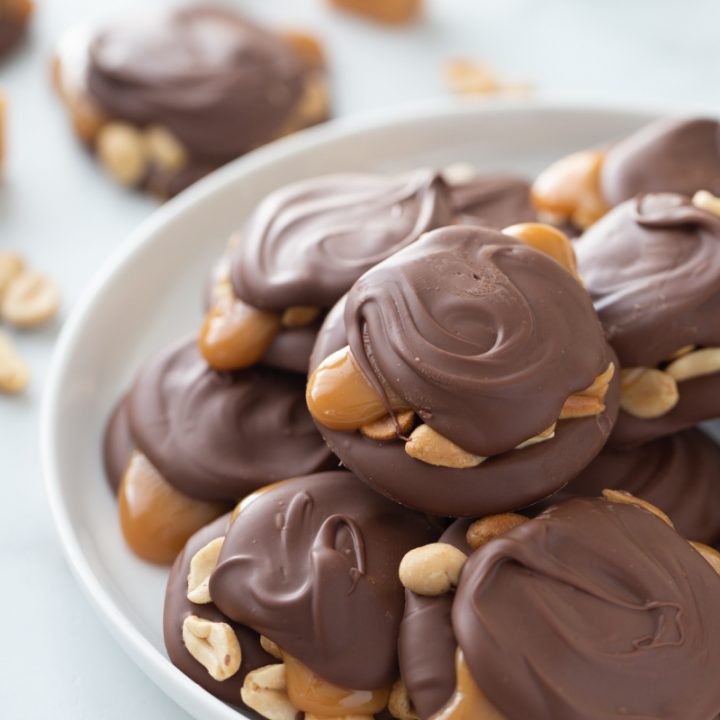 Easy Caramel Peanut Clusters
Just like you'd find in a gourmet candy shop!
Ingredients
2 cups milk chocolate chips, divided
1 1/2 cups peanuts
28 caramels, (like Kraft brand, unwrapped)
2 tablespoons heavy whipping cream
Instructions
Line a baking sheet with waxed paper.
Put 1 cup of the chocolate chips in a microwave-safe bowl. Microwave in 30 second bursts, stirring after each burst until melted and smooth. Spoon chocolate by tablespoonfuls onto the prepared baking sheet. Immediately place a spoonful of peanuts onto each puddle of chocolate.
Place the caramels in a microwave-safe bowl with the cream. Microwave for one minute, then stir, and then microwave another minute- stir until melted and smooth. Let cool a bit or the caramel will melt the chocolate! Spoon the caramel onto the middle of each peanut cluster.
Melt the remaining chocolate chips in the same manner; stir until smooth. Spoon the chocolate over the caramel. Let stand until set, or immediately put in refrigerator to set.