Chocolate Covered Strawberries are the perfect dessert to make for weddings, baby showers, cocktail parties, New Year's Eve, Valentine's Day or at a party with friends or family! Fresh strawberries dipped in luscious, smooth, melted chocolate- what could be better?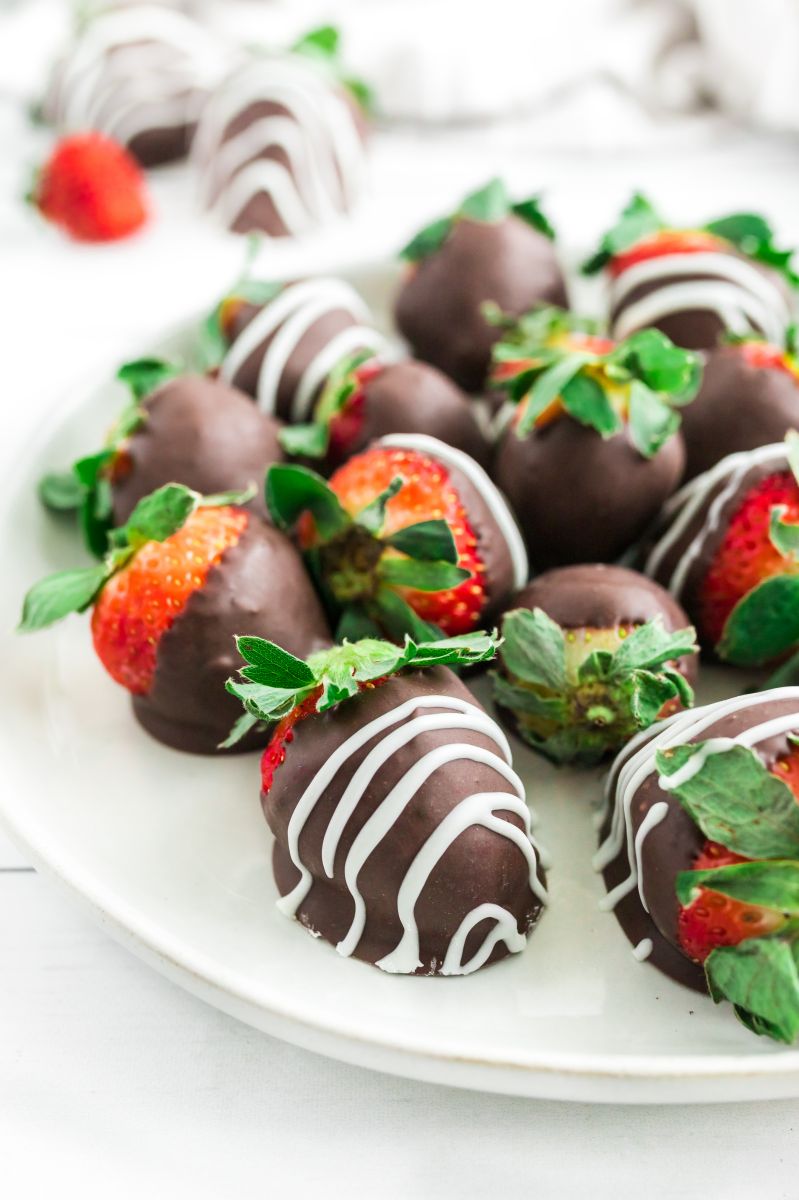 You don't need much of a reason to make chocolate covered strawberries. They're perfect for almost any occasion. Although they look fancy, they are actually very easy to make.
What ingredients do you need to make Chocolate Covered Strawberries:
Fresh strawberries with greens still attached
chocolate: milk, dark or bittersweet (your choice)
solid shortening (like Crisco)
wax paper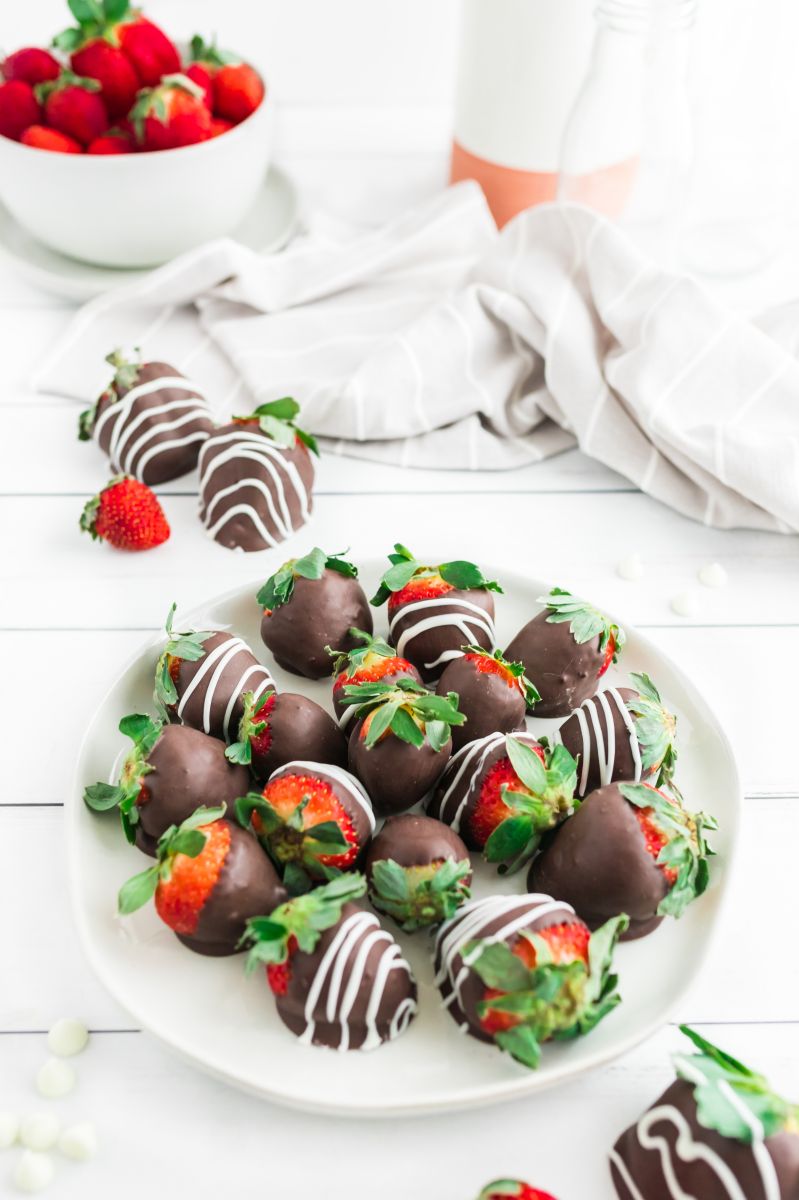 How to make Chocolate Covered Strawberries:
Melt 16 ounces of chopped chocolate in a double boiler with 2 tablespoons of shortening. If you don't have a double boiler, set a heatproof bowl over some barely simmering water and melt it in the bowl. Alternately, melt the chocolate and shortening in a glass bowl or large measuring cup in the microwave for short bursts, stirring after each burst until melted and smooth.
Spread some wax paper on a flat surface. This is where you will put the strawberries to dry after dipping. I like to line a baking sheet with wax paper so it's easy to move around, if needed.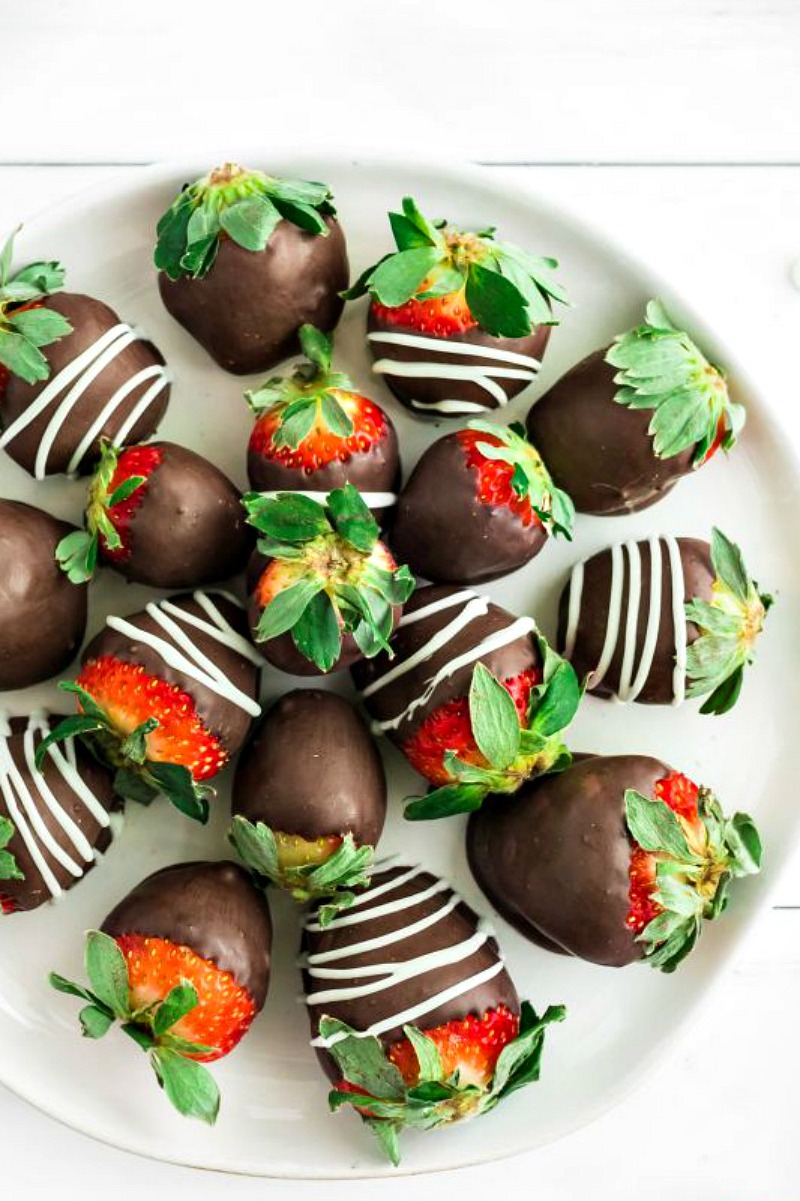 Hold a strawberry by its green top and dip it into the hot, melted chocolate. Let the chocolate drip off the strawberry, and scrape it on the edge of the bowl if you need to get excess chocolate off.
Set the dipped strawberry on its side on the wax paper. Repeat with all of the remaining strawberries.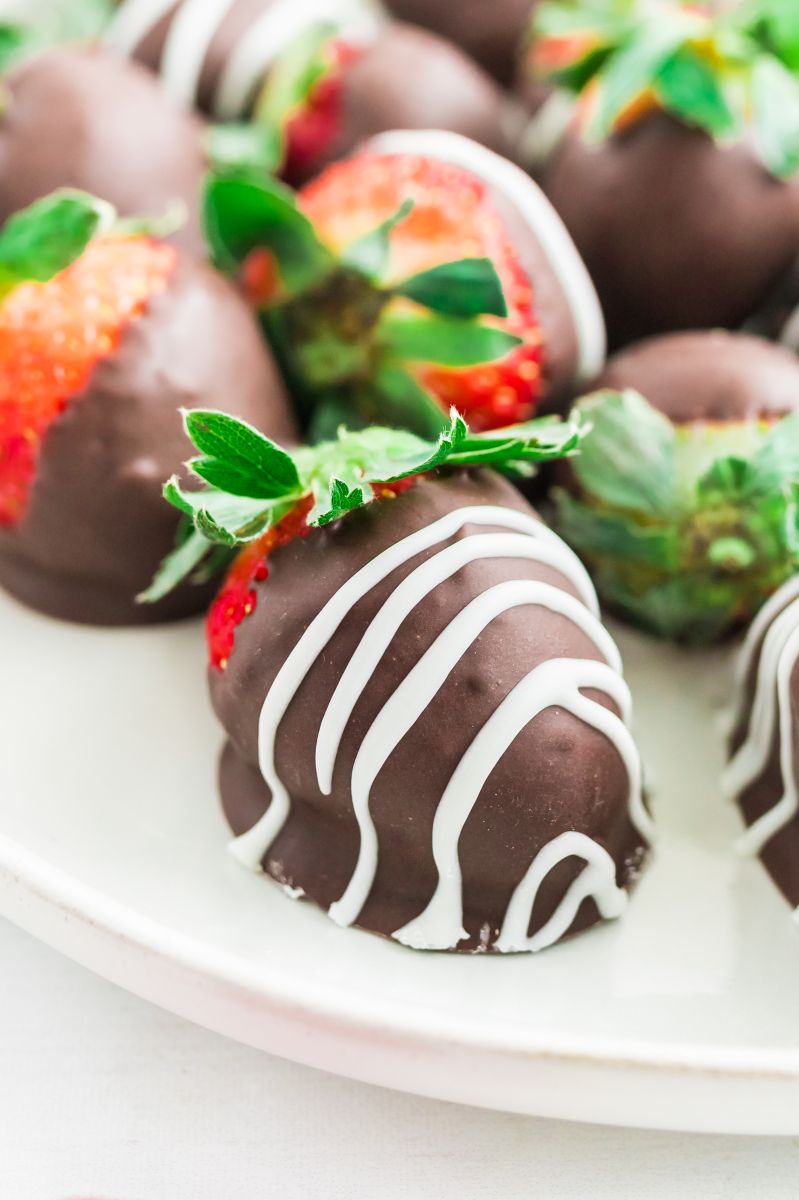 If you would like to make them look pretty, melt some chopped white chocolate with shortening in the same manner that you melted the regular chocolate. Spoon the melted white chocolate into a piping bag with a skinny tip. Alternately, you can spoon it into a zip baggie with the corner snipped off.
Squeeze the bag gently to drizzle across the dipped strawberry to provide some decoration on top. Let the strawberries sit at room temperature until the chocolate sets.
TIPS for making the best Dipped Strawberries:
Be on the lookout for the best-looking strawberries. You want bright red strawberries with nice and fresh green tops. If they are mostly uniform in size, that's even better.
The shortening is what makes the chocolate nice and smooth when melted, and it will also give the dipped strawberries a shiny sheen.
The chocolate you use for these chocolate dipped strawberries is entirely a matter of your preference. I've had better luck using chopped chocolate than chocolate chips.
If you don't want a "foot" on the bottom of your dipped strawberry, be sure to scrape the dipped strawberry against the side of the dipping bowl to get rid of excess chocolate that will pool underneath the strawberry.
Store chocolate covered strawberries at room temperature for up to 10 hours in a cool, dry place. If it's going to be longer than that, place them in a covered container lined with wax paper for up to 48 hours.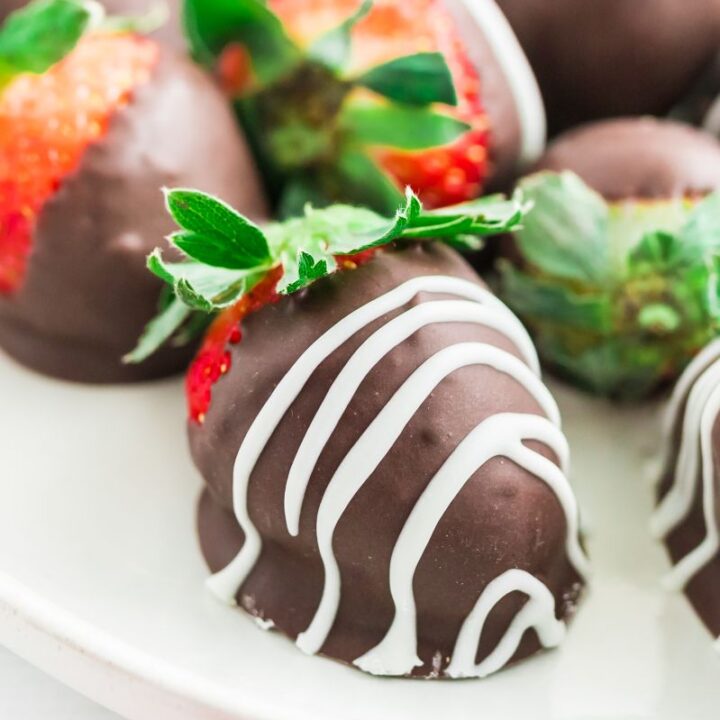 Chocolate Covered Strawberries
Perfectly dipped fresh strawberries!
Ingredients
16 ounces milk chocolate
2 tablespoons shortening
16 ounces fresh strawberries
wax paper
Instructions
In a double boiler, melt the chocolate and shortening, stirring until all is melted and smooth. If you do not have a double boiler, it's okay to do this in a heat-proof bowl set over a pot of simmering water. Alternately, you can use the microwave to melt the chocolate in short bursts, stirring after each burst.
Hold a strawberry by the leafy part and dip into the chocolate. Let the excess chocolate drip away and set on wax paper. Repeat with the remaining strawberries.
Notes
TIP: Melt some white chocolate + shortening separately and place it in a piping bag to drizzle decoratively onto the chocolate dipped strawberries.
Nutrition Information:
Yield:

24
Serving Size:

1
Amount Per Serving:
Calories:

117
Total Fat:

7g
Saturated Fat:

4g
Trans Fat:

0g
Unsaturated Fat:

2g
Cholesterol:

5mg
Sodium:

15mg
Carbohydrates:

13g
Fiber:

1g
Sugar:

11g
Protein:

2g
Nutrition facts are determined using a nutrition calculator and may not be super accurate.