A Loaded Bloody Mary is the perfect brunch cocktail and meal all in one.
A bloody mary is a cocktail containing vodka, tomato juice and other spices served over ice in a tall glass. It's often garnished with delicious things, as you will learn in this post!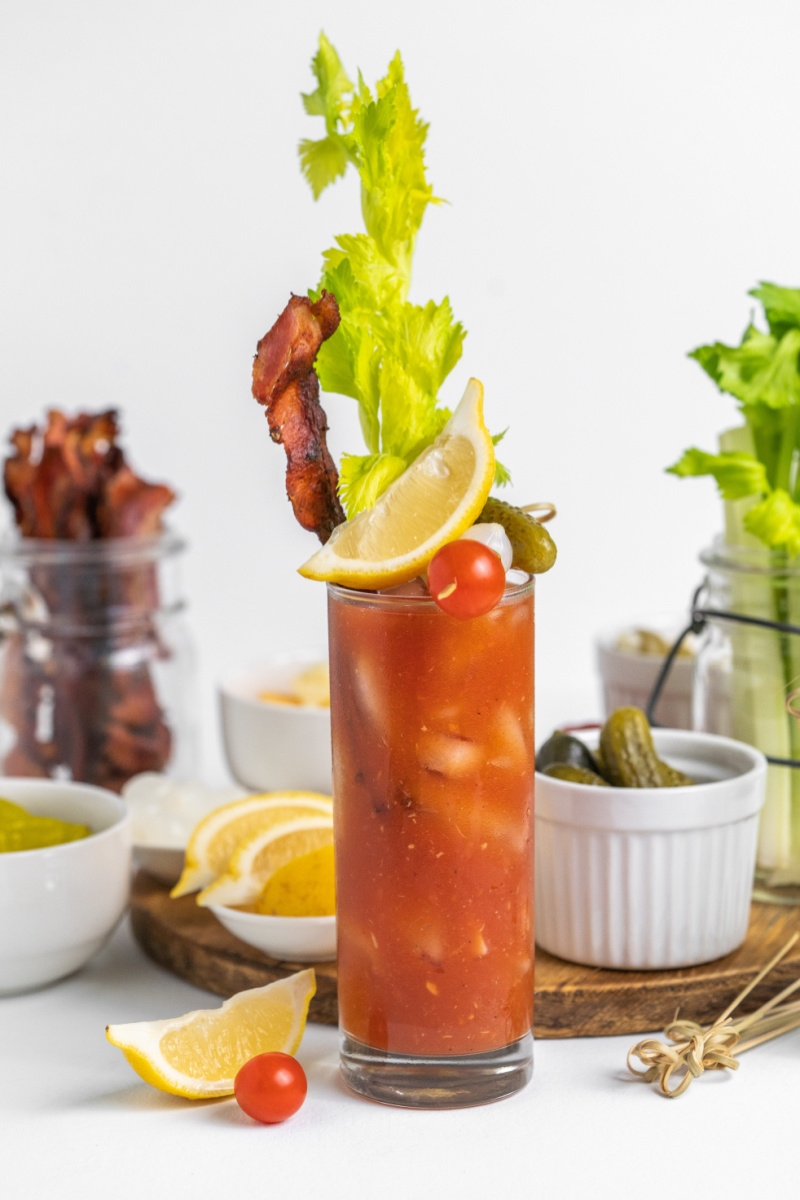 January 1st is National Bloody Mary Day! Enjoy a Bloody Mary today, and better yet… make a Loaded Bloody Mary to enjoy it to the extreme! And you might need a good Bloody Mary if you had a wild New Year's Eve! Be sure to share your Bloody Mary on social media today using the hashtag #NationalBloodyMaryDay or #BloodyMaryDay and #RecipesForHolidays. Follow my January Food Holidays page so you don't miss a single food holiday celebration in the month of January!
The History of the Bloody Mary:
The Bloody Mary was invented in the 1920's or 30's. It was a first course that became popular during the Prohibition years.
It's unknown who the actual inventor of the Bloody Mary is. But there are a couple of theories. French bartender Fernand Petiot claimed to have invented the Bloody Mary in 1921 at New York Bar in Paris on a tip from Chicago tourists. They shared with Petiot about a drink they enjoyed at the Bucket of Blood bar back in Chicago- a mix of half vodka and half tomato juice. Petiot eventually moved to the United States where he combined tomato juice and gin (in place of vodka) with added salt, lemon, Tabasco and other things to create the cocktail that we know today. At the time, it was called a Red Snapper. When vodka became more mainstream in the United States, this drink became a vodka drink too.
Where the Bloody Mary got its name is another story! Some say it was named after a waitress named Mary at the Bucket of Blood bar. And others say it was named after Queen Mary I, who ruled from 1553 until her death in 1558. She was remembered for her bloody crusade against the protestants in England and Ireland.
In 1939/40, articles were printed that shared recipes for cocktails containing vodka and tomato juice. And in 1946, Lucious Beebe's Stork Club Bar Book was the first traditional Bloody Mary recipe printed.
Using a stick of celery as a garnish originated in 1960 at Chicago's Ambassador East Hotel. An impatient bar customer was upset about not getting a swizzle stick in her Bloody Mary. The bartender grabbed the first thing he could find to act as a stirrer, and it was a stalk of celery! More delicious garnishes soon followed.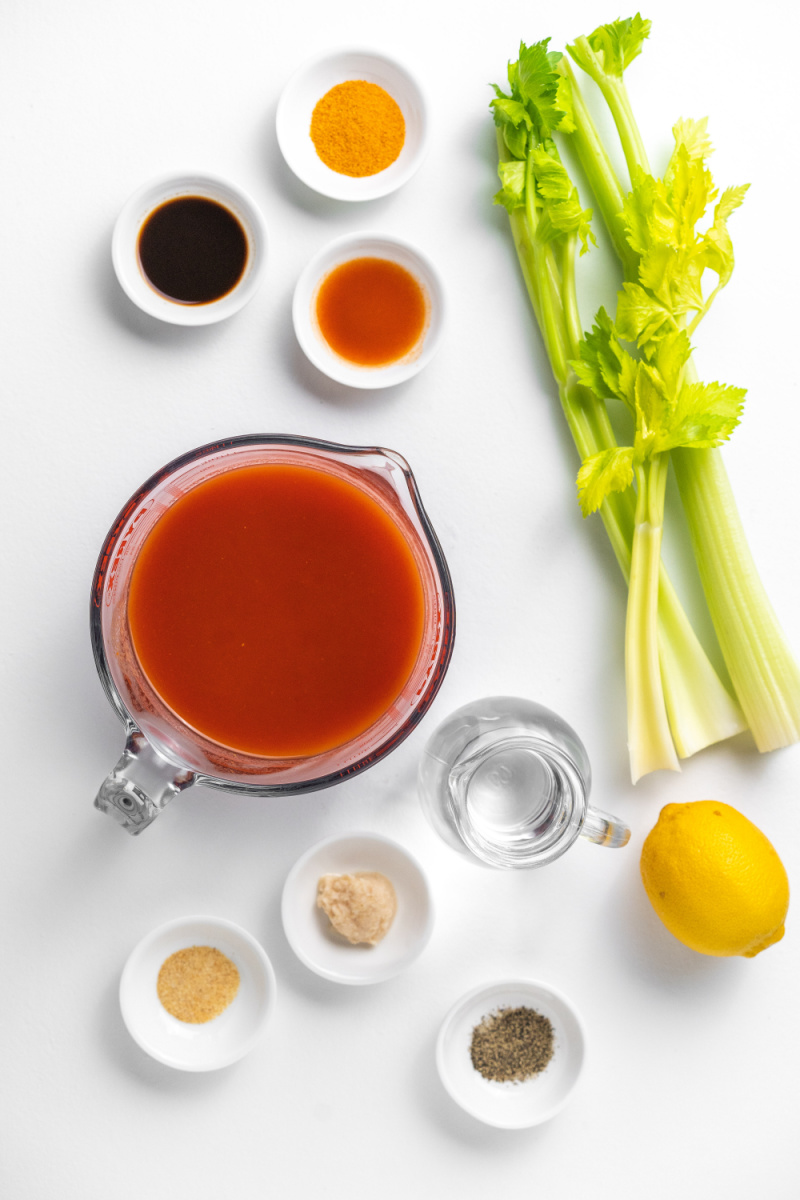 Ingredients needed:
tomato juice
vodka
lemon juice
hot sauce
Worcestershire sauce
horseradish
seasoned salt
garlic powder
black pepper
celery
additional garnishes, as desired!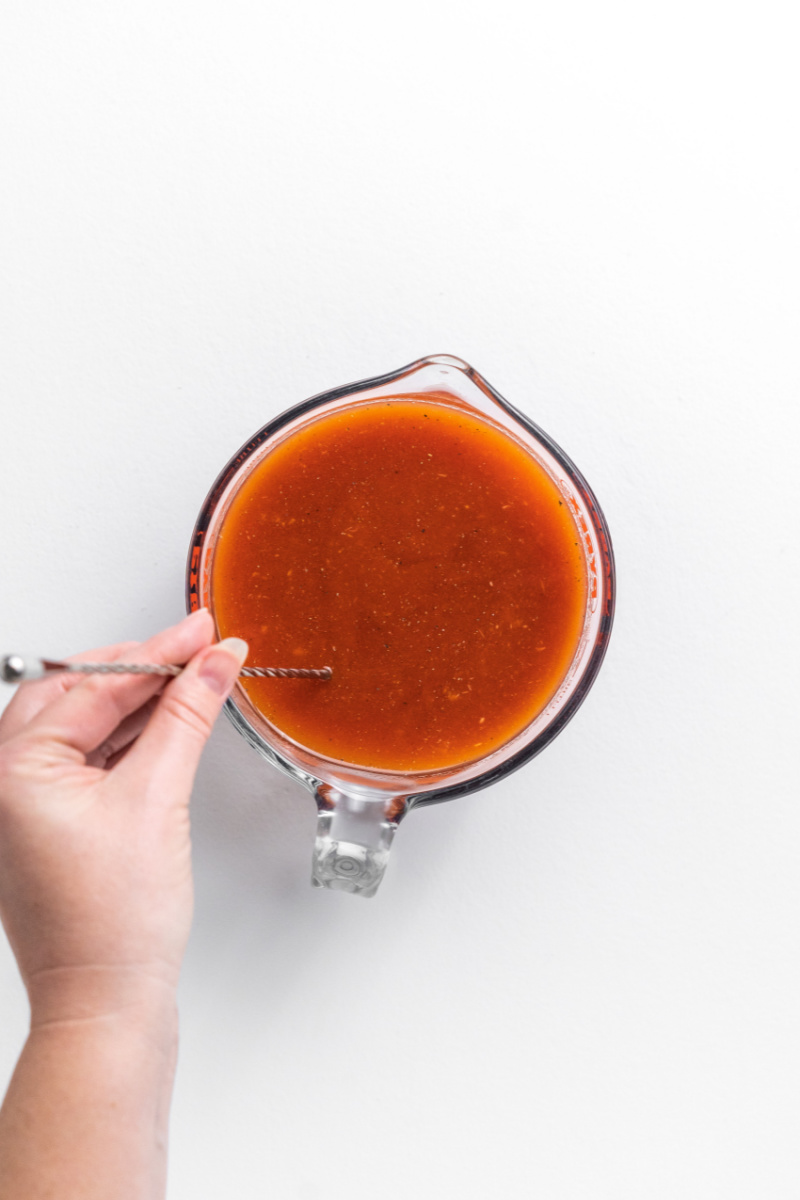 How to make a Loaded Bloody Mary:
The full, printable recipe is at the end of this post.
The first step is making your own Bloody Mary base. In a blender, process tomato juice, vodka, lemon juice, hot sauce (like Tabasco), Worcestershire sauce, horseradish, seasoned salt, garlic powder and black pepper. You can make this ahead, and chill until ready to serve.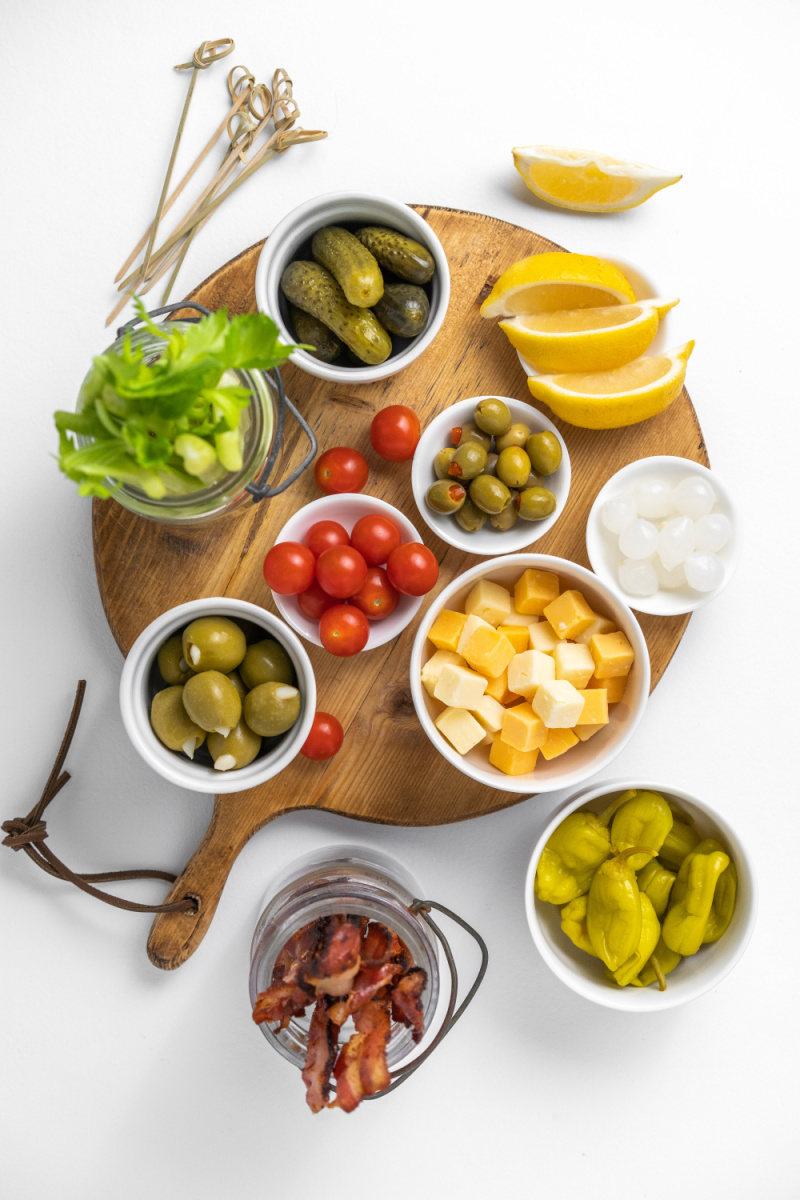 Gather your garnishes! The best thing about making a loaded Bloody Mary is that you can turn it into an entire meal! Besides the traditional celery stalk, you can add bacon, peperoncini, olives, cheese, tomatoes, lemon wedges, pickles and more!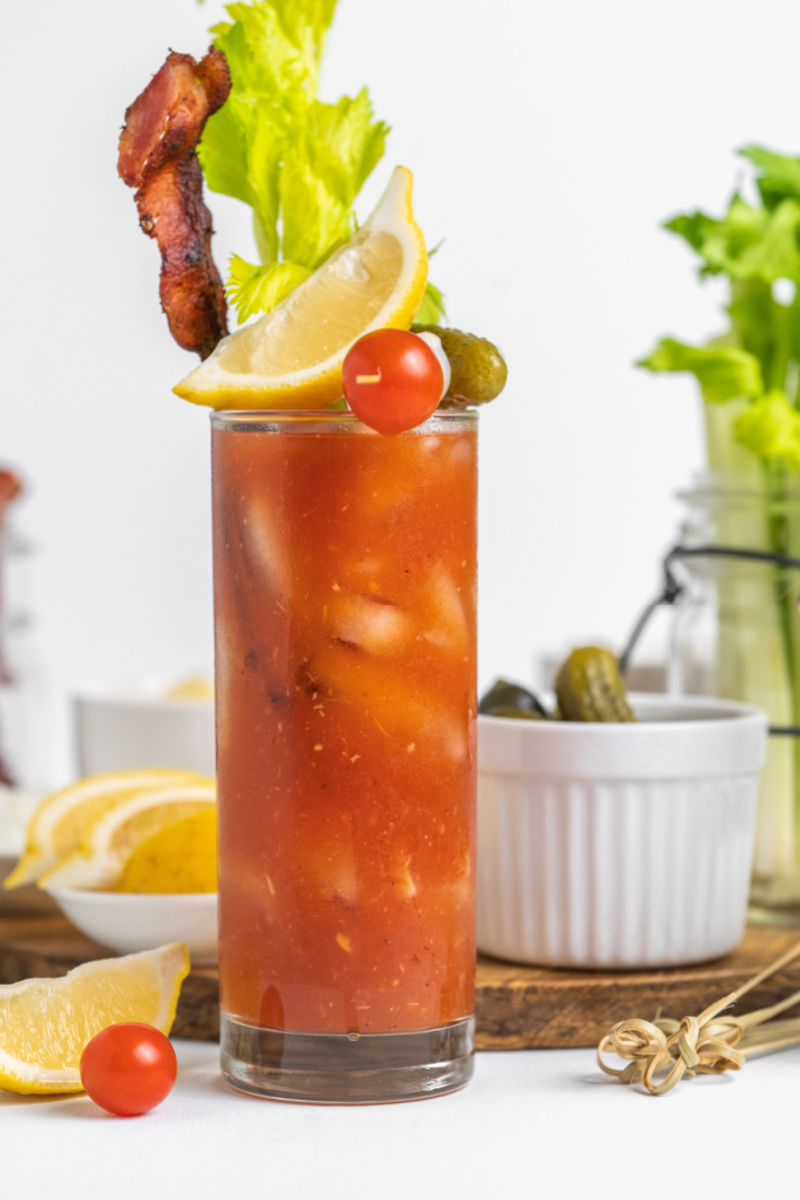 Serve your Bloody Mary over ice, and load it up with as many garnishes as you'd like. Use long cocktail picks to help anchor your goodies to the top of your glass.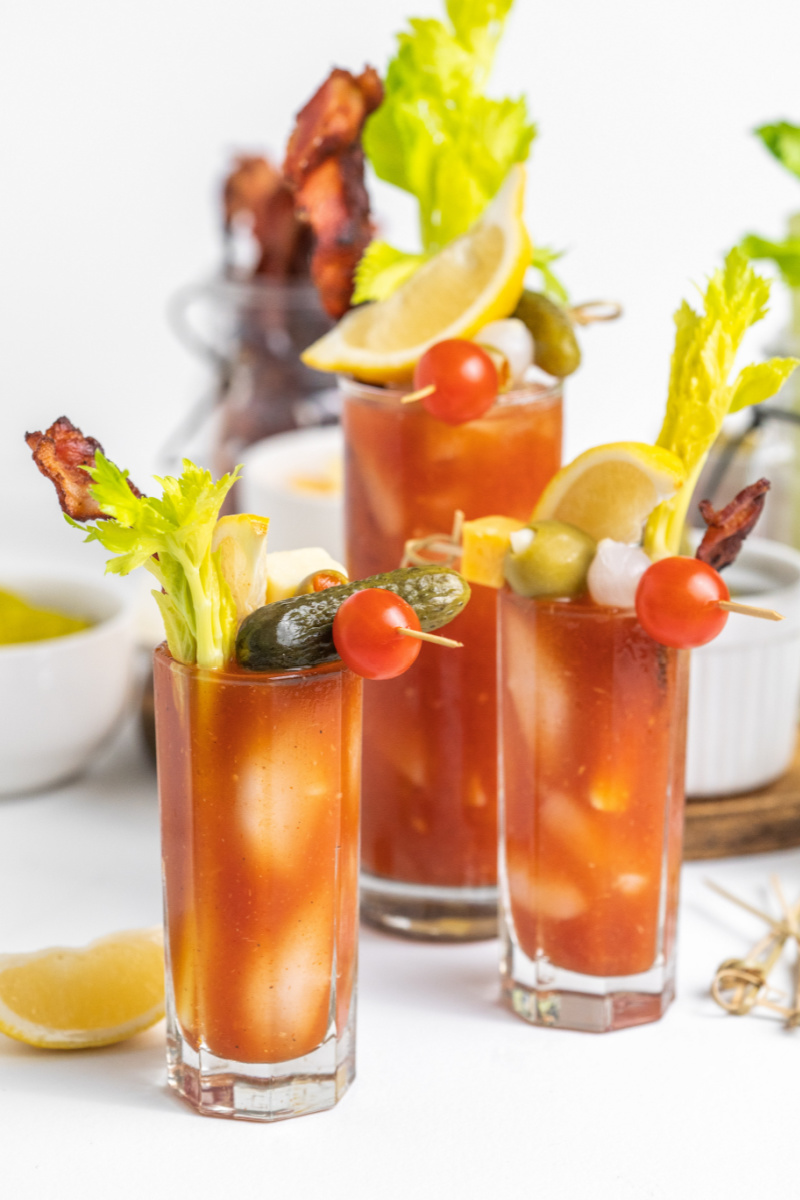 Drink your Bloody Mary, and eat the garnishes as you begin to drain the glass. Enjoy!
Here are a few fun facts about Bloody Marys:
The Bloody Mary is considered a "Hair of the Dog" drink to cure hangovers. The heavy vegetable base settles the stomach, the salt helps with lost electrolytes, and the alcohol relieves headache and body aches.
Common garnishes for the Bloody Mary include celery stalks, olives, cheese cubes, dill pickles, lemon wedges, bacon and shrimp.
A Virgin Mary has no alcohol.
The Surf and Turf Bloody Mary uses shrimp and bacon as a garnish.
Other variations include the Bloody Pirate, Bloody Maria, Red Snapper and Michelada.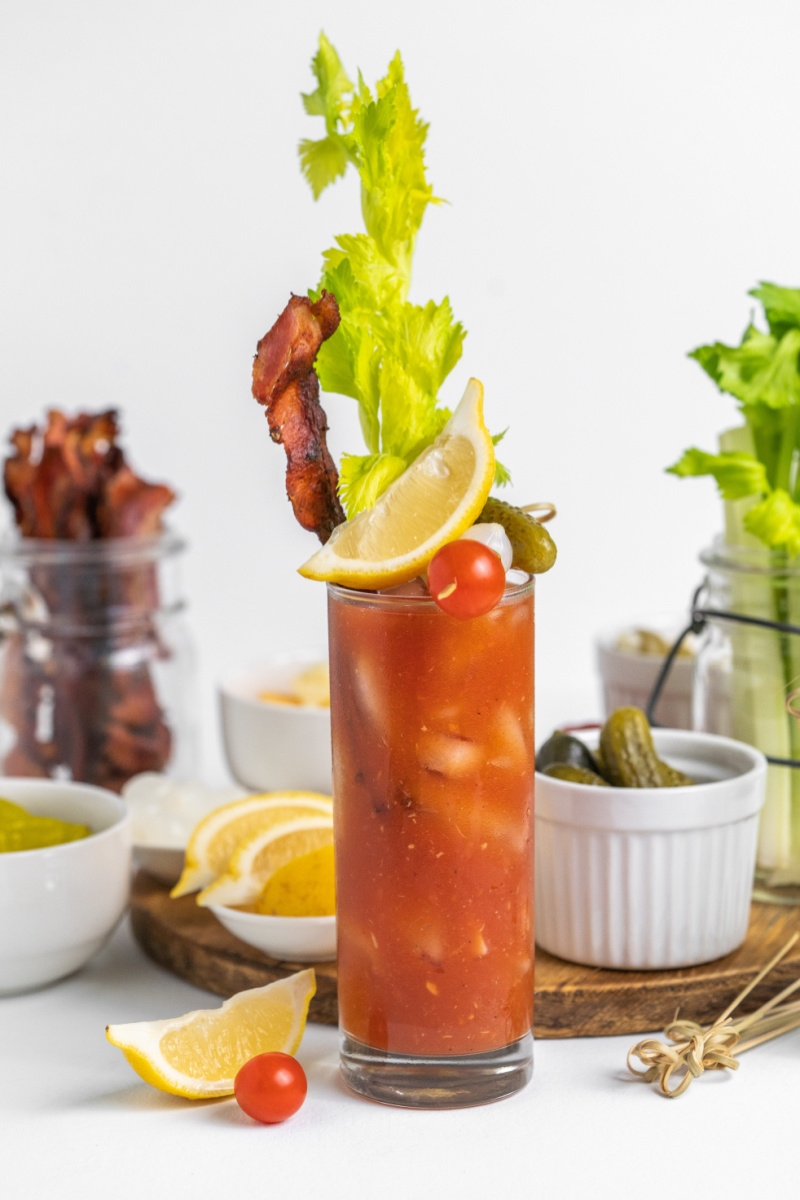 Loaded Bloody Mary
This cocktail can give you a whole meal!
Ingredients
BLOODY MARY
2 1/2 cups tomato juice
1 cup vodka
3 tablespoons lemon juice
1/2 tablespoon hot sauce (such as Tabasco)
1/2 tablespoon Worcestershire sauce
1 teaspoon prepared horseradish
1 teaspoon seasoned salt
1/4 teaspoon garlic powder
1/8 teaspoon black pepper
4 stalks celery
TOPPING IDEAS:
Crisped bacon
Cheese cubes
Manzanilla olives
Pickles
Pickled pearl onions
Pepperoncini
Cherry tomatoes
Lemon or lime wedges
Instructions
Add all ingredients except the celery to a large blender and process until well mixed.
Pour into a glass pitcher and if possible, chill for 2 hours before serving. Stir before serving.
Serve chilled, over ice if desired, garnished with the celery stalks and any other toppings you like.
Notes
If desired, you can rim the glasses. To do so, rub a lemon or lime wedge around the top of a glass, and then immediately dip it in celery salt, seasoned salt, or Old Bay seasoning.
Nutrition Information:
Yield:

4
Serving Size:

1 cocktail
Amount Per Serving:
Calories:

167
Total Fat:

1g
Saturated Fat:

0g
Trans Fat:

0g
Unsaturated Fat:

0g
Cholesterol:

0mg
Sodium:

827mg
Carbohydrates:

8g
Fiber:

2g
Sugar:

5g
Protein:

2g
Nutritional information does not include the garnishes. Count those as extra!