This recipe for Three Bean Salad is made better than the classic version. The addition of vegetables and a totally delicious, homemade dressing turns out a great salad to serve for barbecues, picnics and National Bean Day!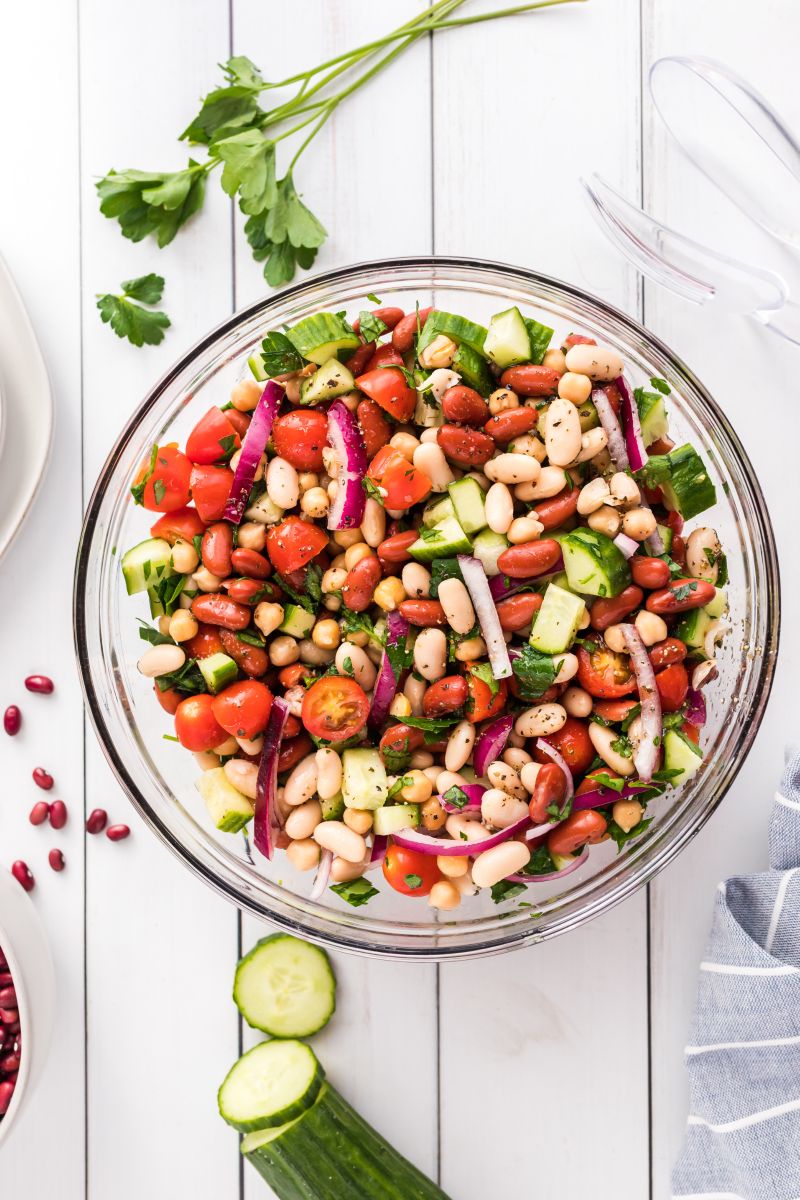 National Bean Day is January 6th. This is a day to celebrate beans of every shape, size and variety! Bean Day is a day that was invented to commemorate the life of geneticist Gregor Mendel, whose pea plant experiments formed the basis of modern genetics. He died on Jan. 6, 1884.
Celebrate by making recipes like Hoppin' John (for black eyed peas), Mediterranean Chickpea Salad (for chickpeas) or get crazy and celebrate a lot of beans by whipping up a batch of 15-Bean Soup! And for an easy bean recipe, try making this Three Bean Salad.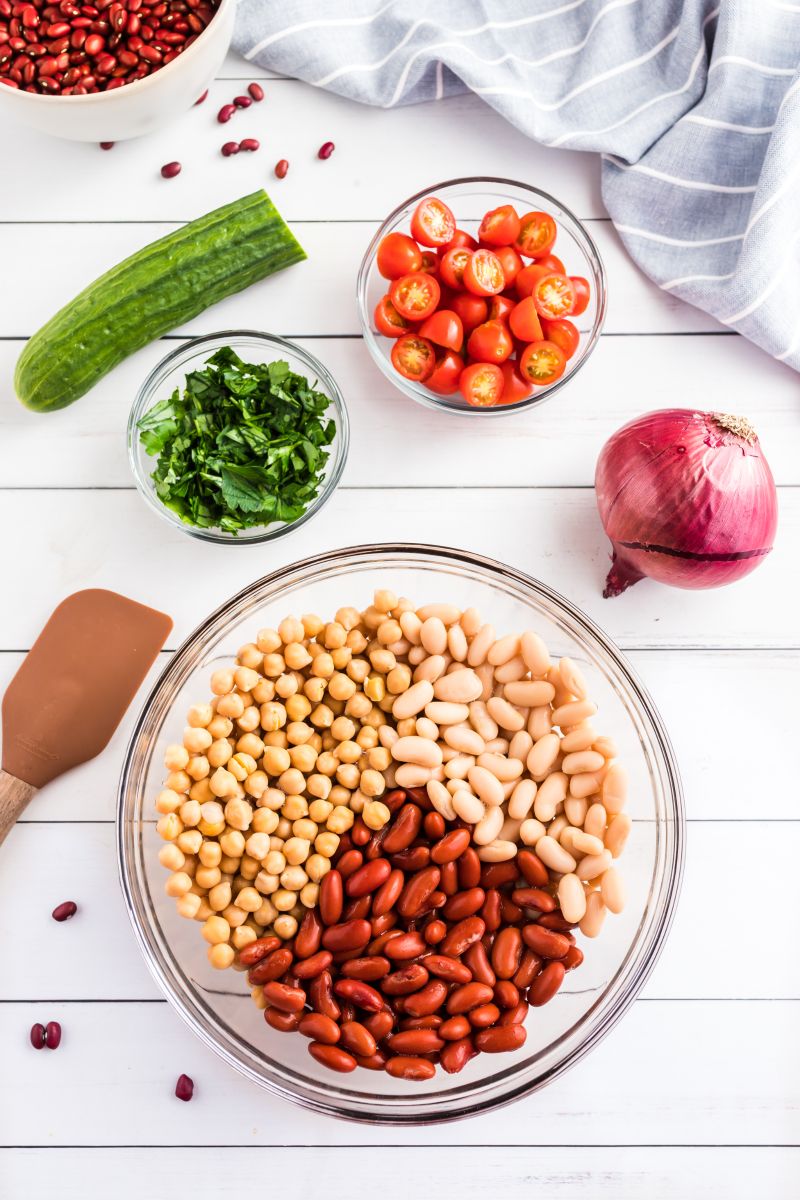 How to make Three Bean Salad:
It couldn't be much easier to make this salad. Just add three varieties of beans to a bowl: chickpeas, kidney beans and cannellini beans.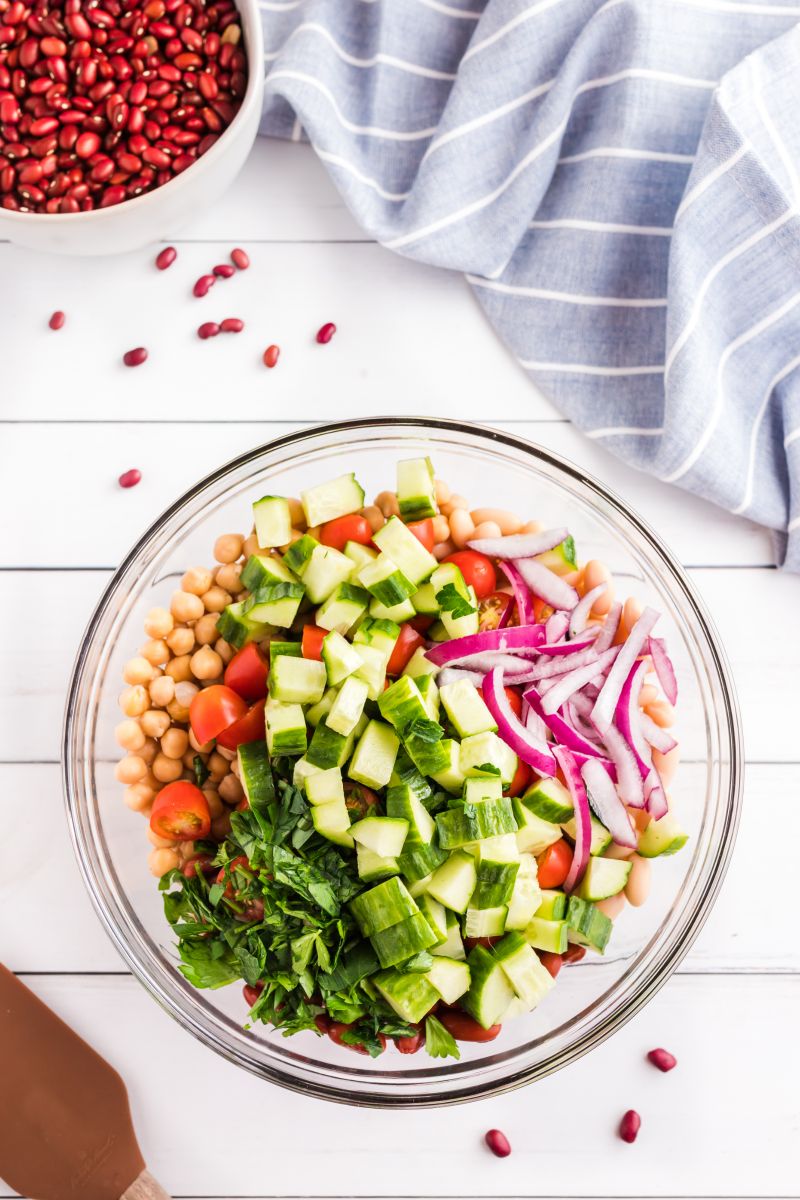 Then add in halved cherry tomatoes, fresh parsley, chopped cucumber and sliced red onion.
The easy-to-make dressing is a mix of olive oil, red wine vinegar and balsamic vinegar. Oregano, salt, garlic powder and freshly ground pepper are added to the dressing too.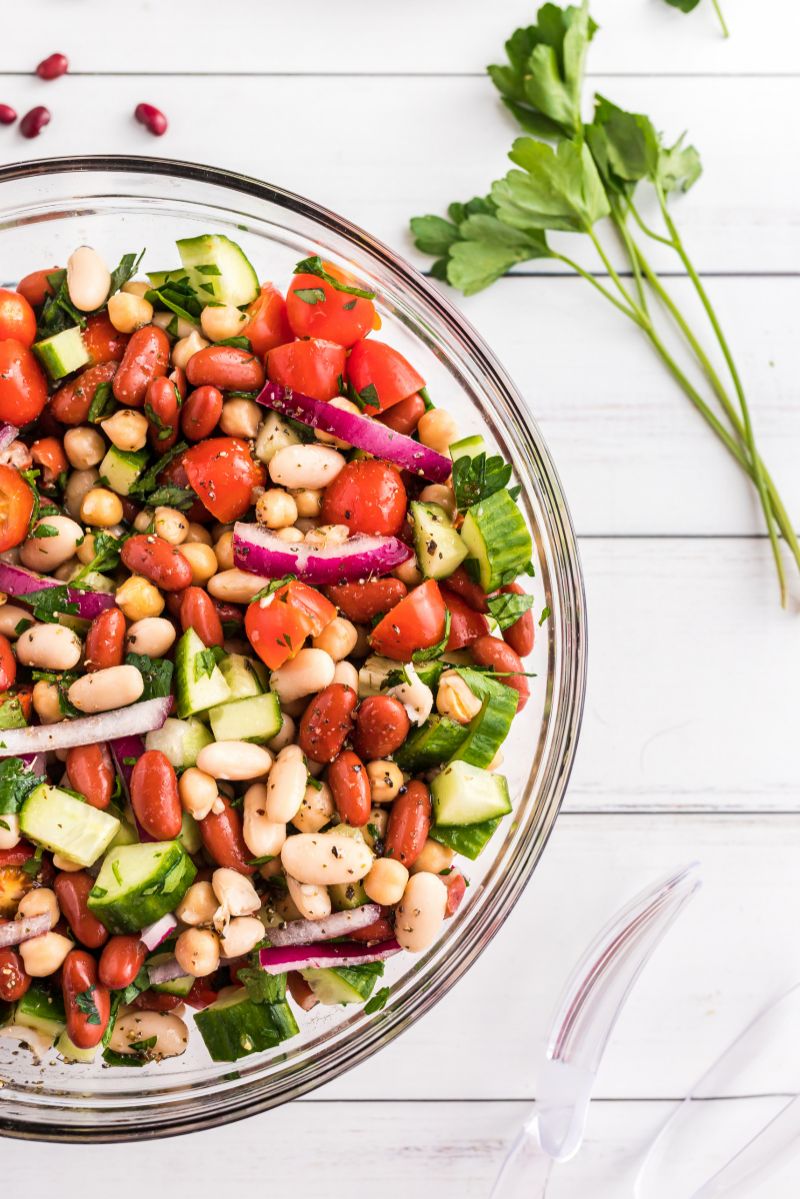 Toss the salad with the dressing, and you'll end up with a delicious Three Bean Salad!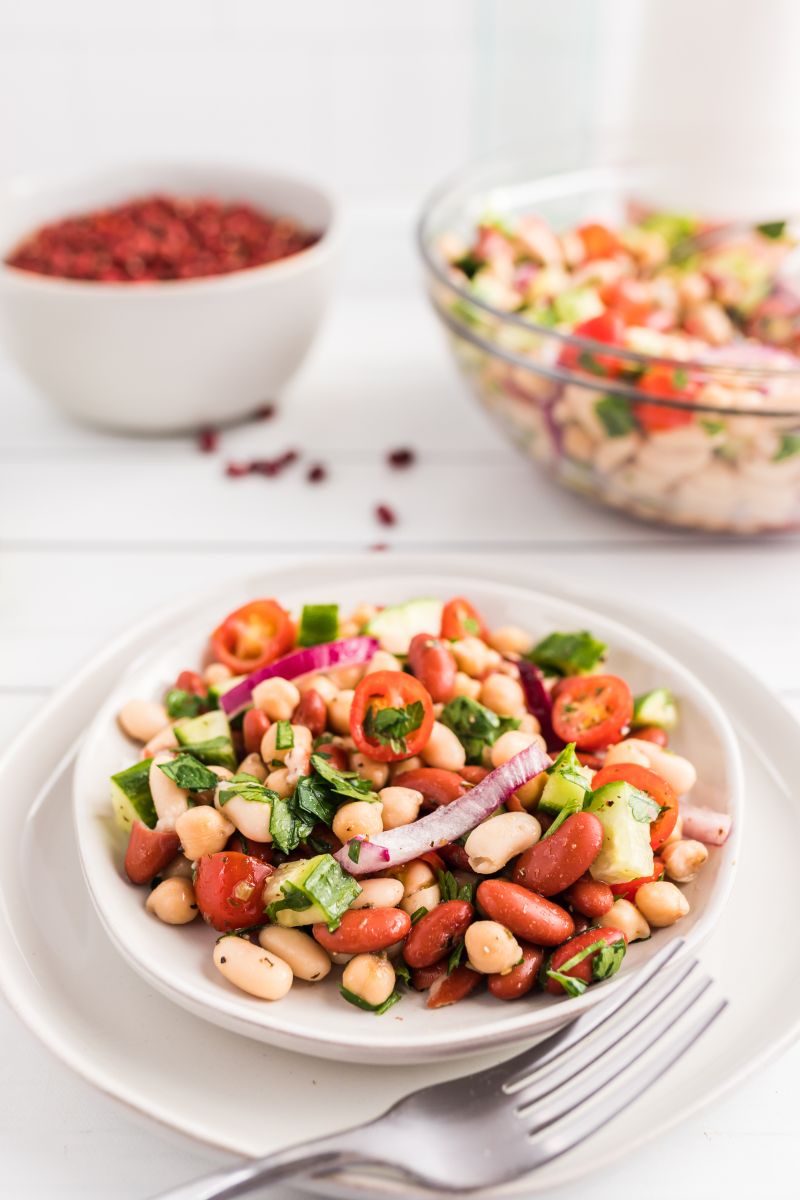 Celebrate bean day any way you like. Eat your favorite beans by cooking your favorite bean recipe or making this easy three bean salad. Heck, you can even eat some jelly beans to celebrate National Bean Day. Enjoy!
FAQ about Beans:
Beans are thought to be one of the earliest cultivated plants- originating about as long as we can trace human history.
There are currently about 40,000 varieties of beans throughout the world.
Fresh green beans, pinto beans, navy beans, black beans, and kidney beans are the most common types of beans found in the United States.
Beans are a vegetarian way of eating for both humans and animals.
They can be cooked in a lot of different ways: boiling, frying, etc.
Beans provide a good amount of protein, and they are high in fiber and low in fat.
Different ways to cook beans: on their own, baked beans, in soups and stews and chili, added to casseroles and even baked into desserts!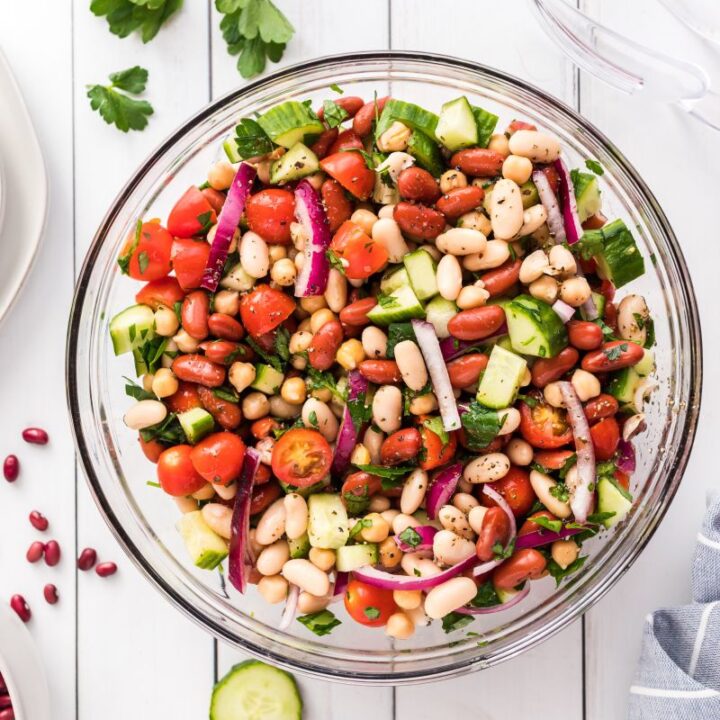 Three Bean Salad
Prep Time:
20 minutes
3 seconds
Total Time:
20 minutes
3 seconds
A classic 3-bean salad with added vegetables and a delicious dressing.
Ingredients
SALAD:
One 15-ounce can chickpeas, rinsed and drained
One 15-ounce can kidney beans, rinsed and drained
One 15-ounce can cannellini beans, rinsed and drained
1 cup halved cherry or pear tomatoes
1 cup finely chopped fresh parsley
1/2 English cucumber, chopped
1/2 small red onion, peeled and sliced thinly
DRESSING
1/4 cup extra-virgin olive oil
1/4 cup red wine vinegar
1 tablespoon balsamic vinegar
1/2 teaspoon dried oregano
1/2 teaspoon salt
1/4 teaspoon garlic powder
1/4 teaspoon freshly ground black pepper
Instructions
Add all of the salad ingredients to a bowl.
Whisk together the dressing ingredients in a separate bowl.
Drizzle the dressing over the salad and toss to combine. Cover and let chill for about an hour. Serve!
Nutrition Information:
Yield:

5
Serving Size:

1
Amount Per Serving:
Calories:

439
Total Fat:

15g
Saturated Fat:

2g
Trans Fat:

0g
Unsaturated Fat:

11g
Cholesterol:

0mg
Sodium:

917mg
Carbohydrates:

60g
Fiber:

15g
Sugar:

9g
Protein:

20g
Nutritional information is estimated and isn't always 100% accurate.