Baked Glazed Doughnuts are a "healthier" version of their fried counterpart. They're baked vanilla doughnuts double-dipped with vanilla glaze. Be sure to watch the video in the recipe card at the end of this post to see how to make this recipe!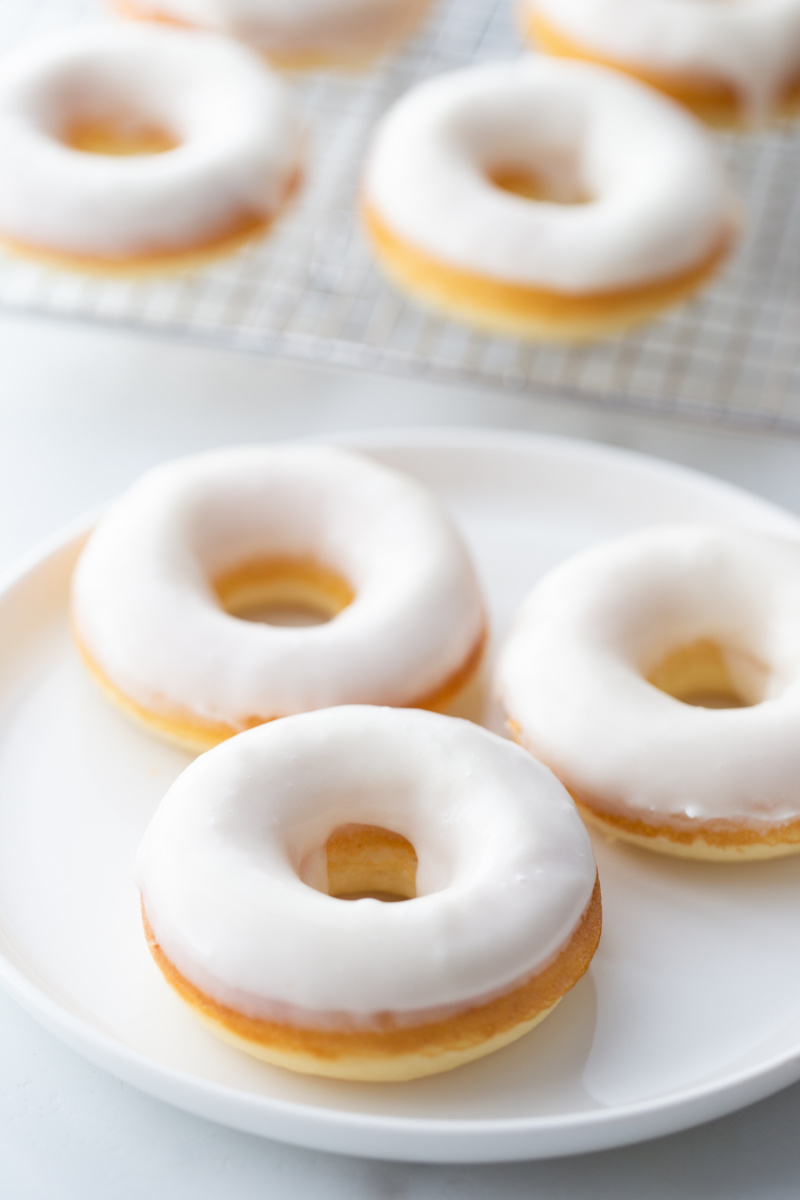 January 12th is National Glazed Doughnut Day! It's a day to enjoy making your favorite doughnuts or support your local doughnut shop. Americans consume 10 billion doughnuts per year, so you can bet that pretty much everyone is excited about a day devoted to glazed doughnuts.
How the doughnut got its name:
Dutch settlers brought "olykoeck" (oily cake) to New York as early as the 1600's, and that launched the concept of the deep fried pastry. It's tough to say how the doughnut got its name. Some say that the dough was often tied into knots before frying (dough-knot). And others say that there were nuts involved (dough-nut).
Glazed doughnuts are a simple sort of doughnut. They're typically cut donut rounds with a hole in them, fried in oil and then covered with glaze. Our glazed doughnuts here are baked instead of fried. So make some of these doughnuts today to enjoy with the rest of your breakfast!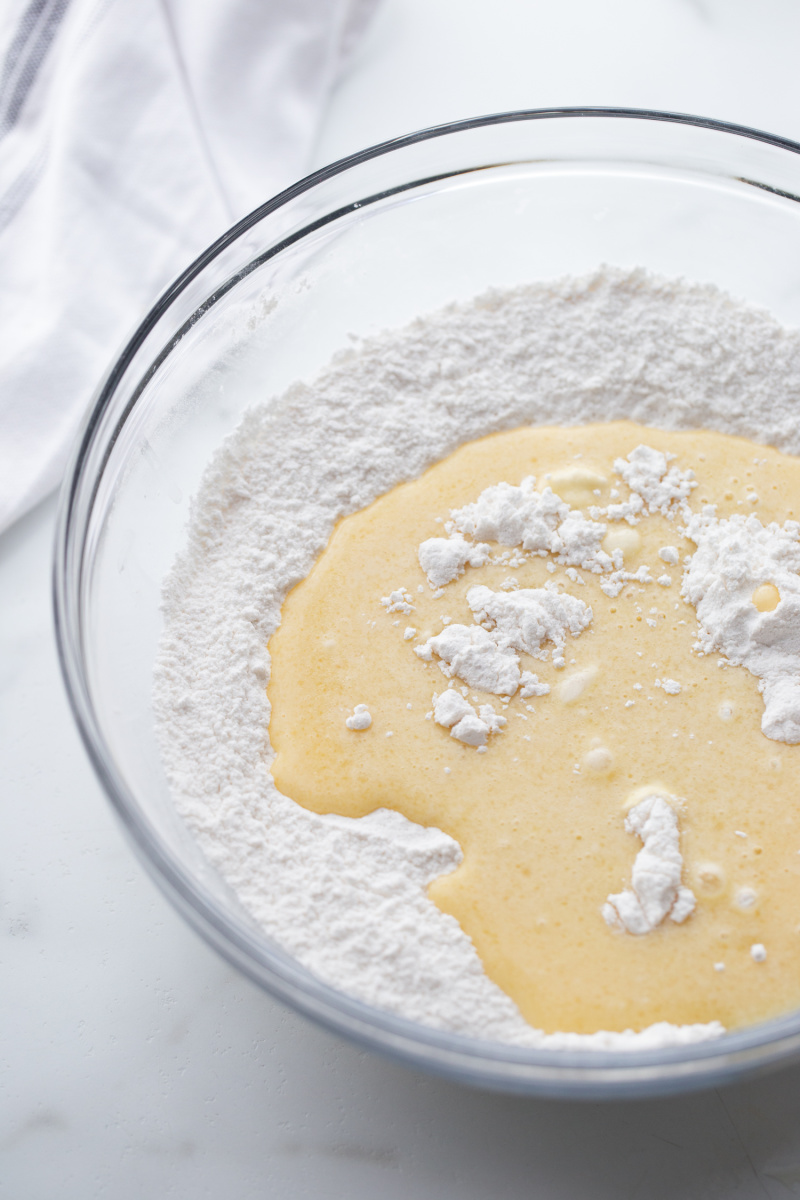 How to make Baked Glazed Doughnuts:
Because these doughnuts are baked, they have more of a "cake" texture, so they're made with cake flour. You'll end up with a buttermilk- vanilla batter.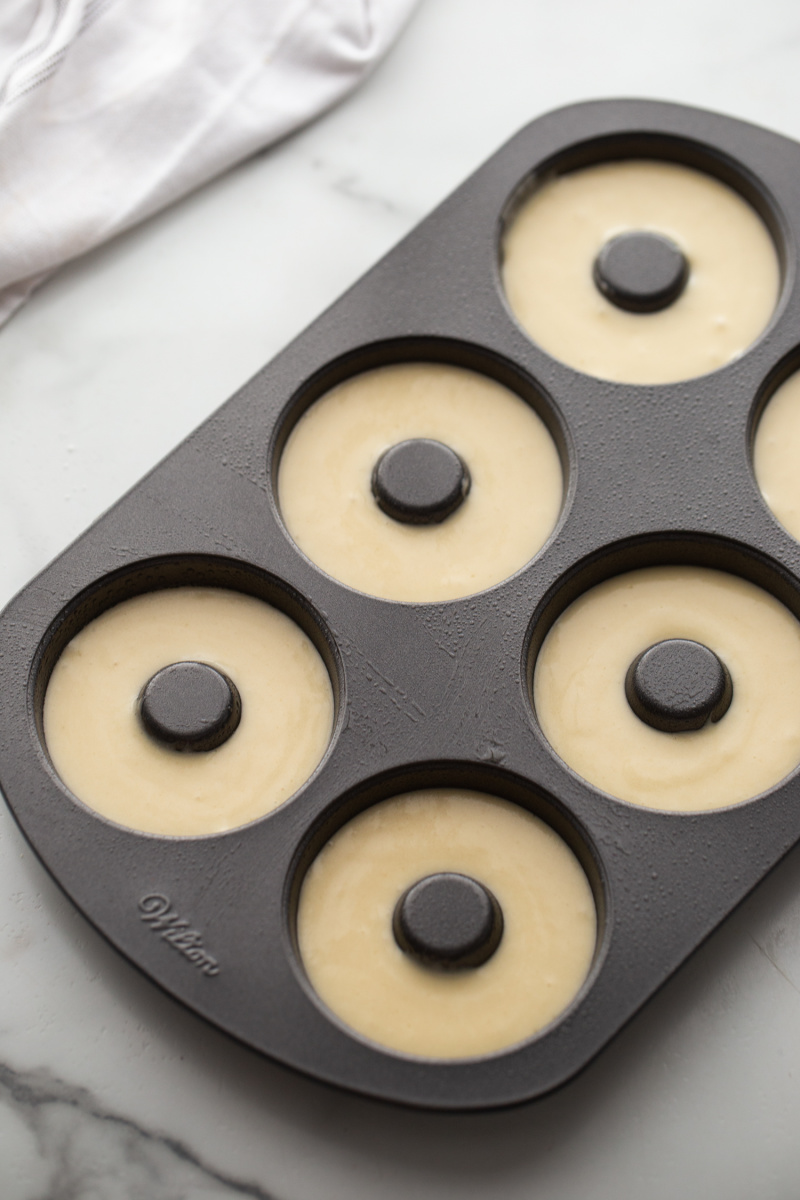 The batter is piped into a doughnut pan . It's easiest (and cleanest) if you use a piping bag for this.
How the doughnut got its hole:
American Hansen Gregory claimed to have invented the donut with a hole in it in 1847 when he was traveling by steamboat. Rumor has it that he wasn't happy with the texture of the center of the doughnut so he pressed a hole in the center. Others say that he strung his round doughnut through a pole on the ship so he could use two hands to steer the ship.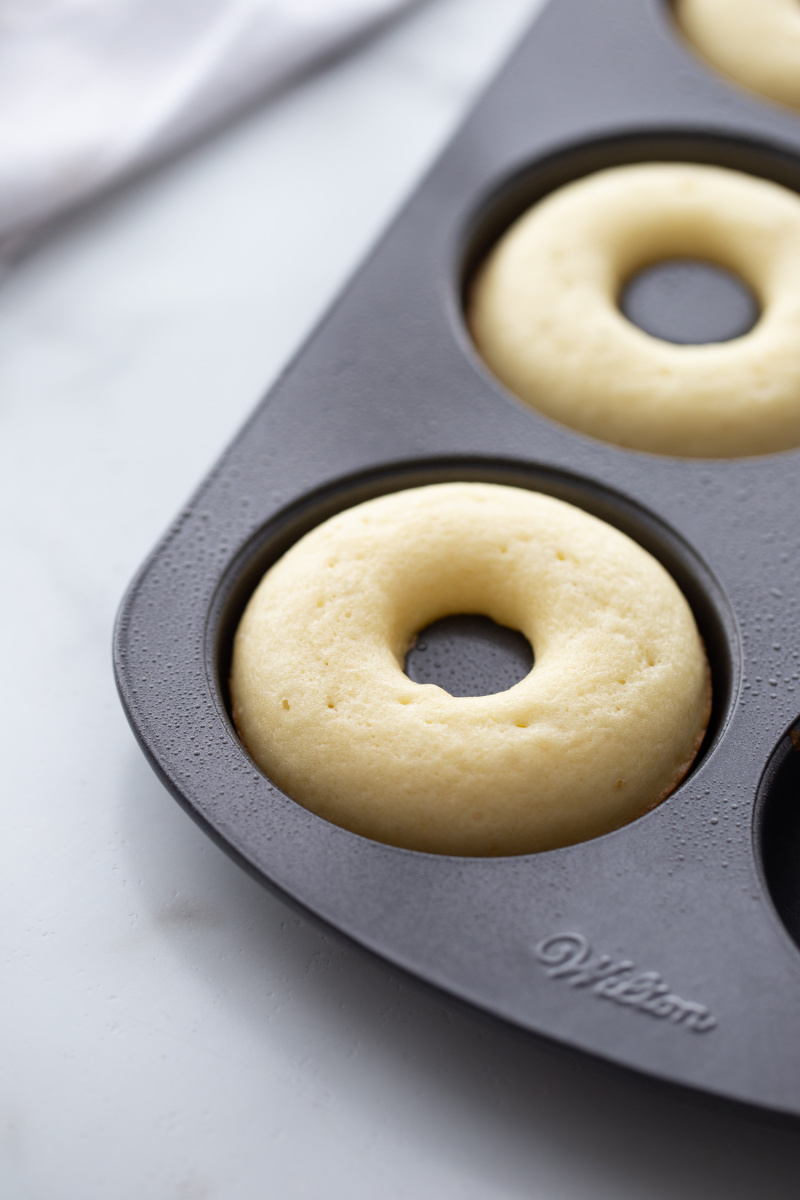 It only takes 7 to 9 minutes for these glazed cake doughnuts to bake, and they will rise up beautifully, keeping that hole in the middle!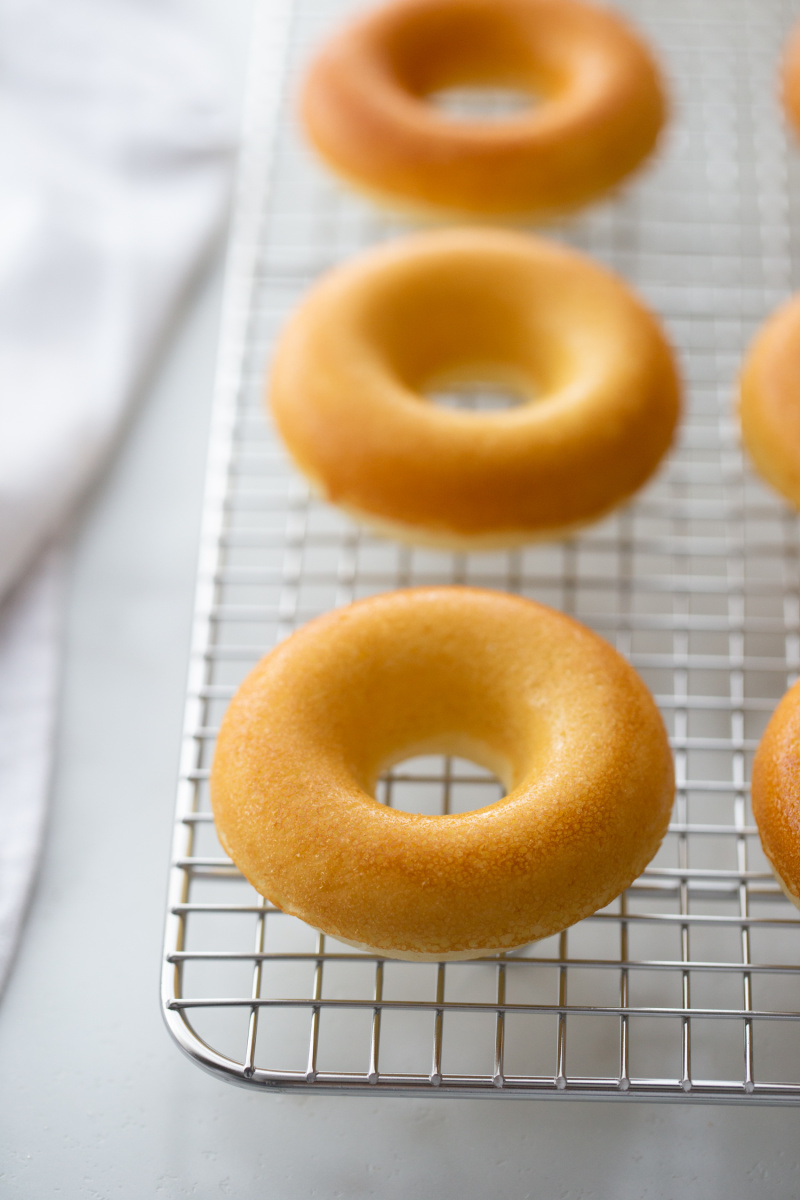 Move them to a cooling rack. You'll want to glaze them right away because these doughnuts are best when eaten the day they are made.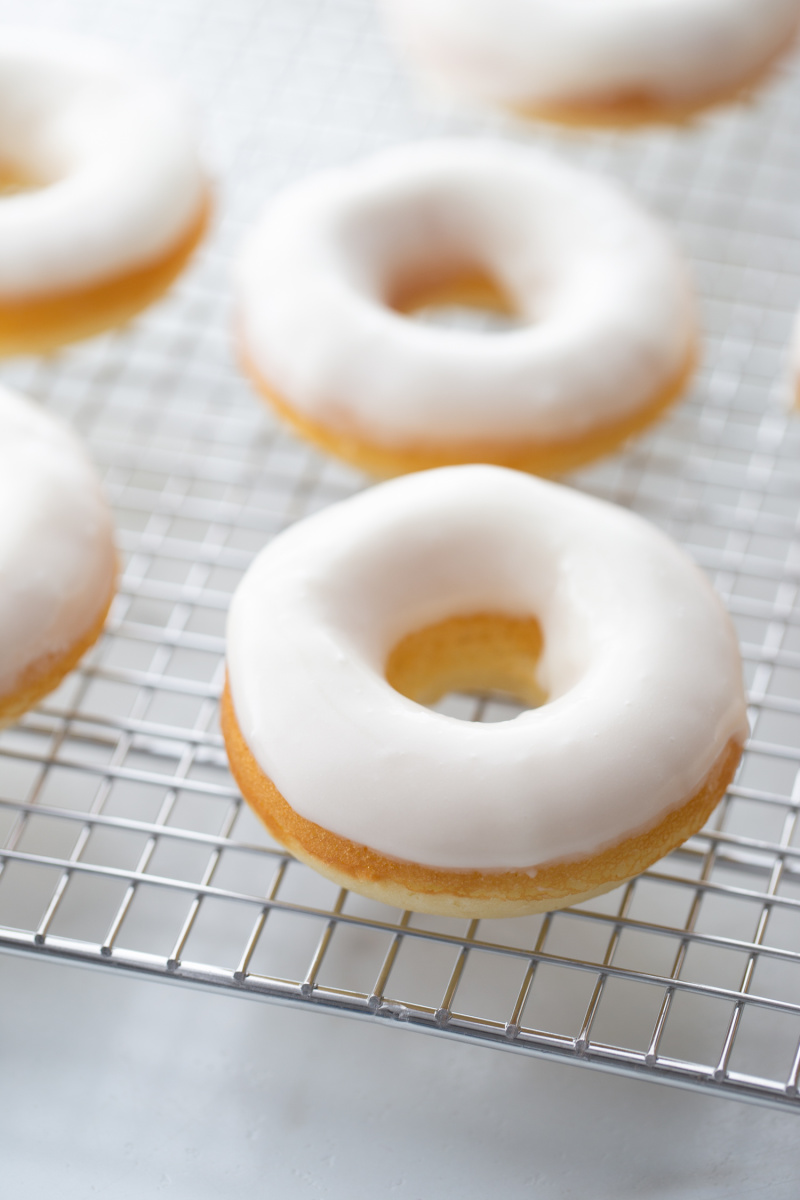 The glaze is a simple mix of powdered sugar, heavy cream and vanilla extract. Whisk that all together and dip the tops of these doughnuts in the glaze. Dip them again to create a double layer of glaze! And then you will have 12 of the best baked glazed doughnuts ever!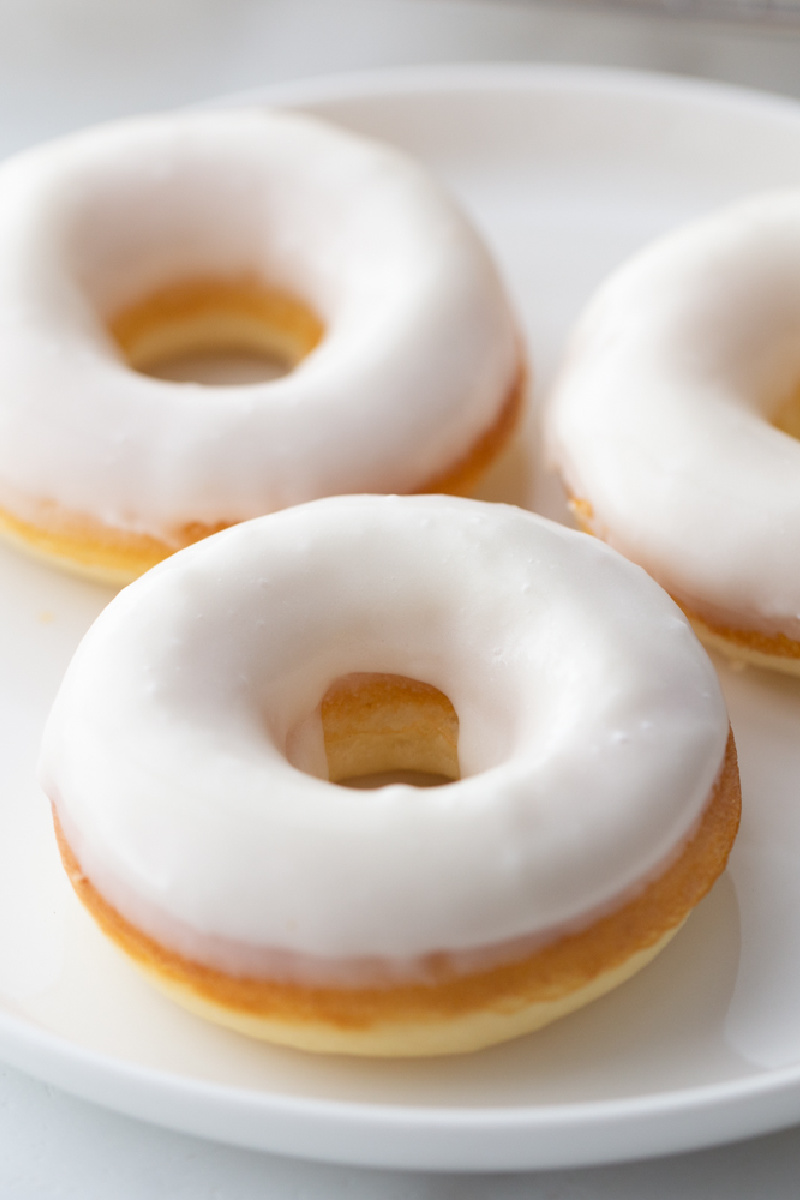 Since today is only focused on celebrating glazed doughnuts, you can look forward to the first Friday in June, which celebrates National Doughnut Day (all doughnuts!)
Fun Doughnut Facts:
Adolph Levitt invented the first doughnut machine in 1920- putting out 80 doughnuts per hour.
The U.S. doughnut industry is worth 3.6 billion dollars.
Krispy Kreme was the first National doughnut chain. The recipe was shared from a Frenchman in New Orleans, and the first Krispy Kreme doughnut shop was opened in 1937. Since then, it's been a booming business!
The most common type of doughnuts are jelly or cream-filled doughnuts or classic round with a hole.
Per capita, Canada has more doughnut shops than any other country.
Boston is the city in the United States that has the most donut shops per person.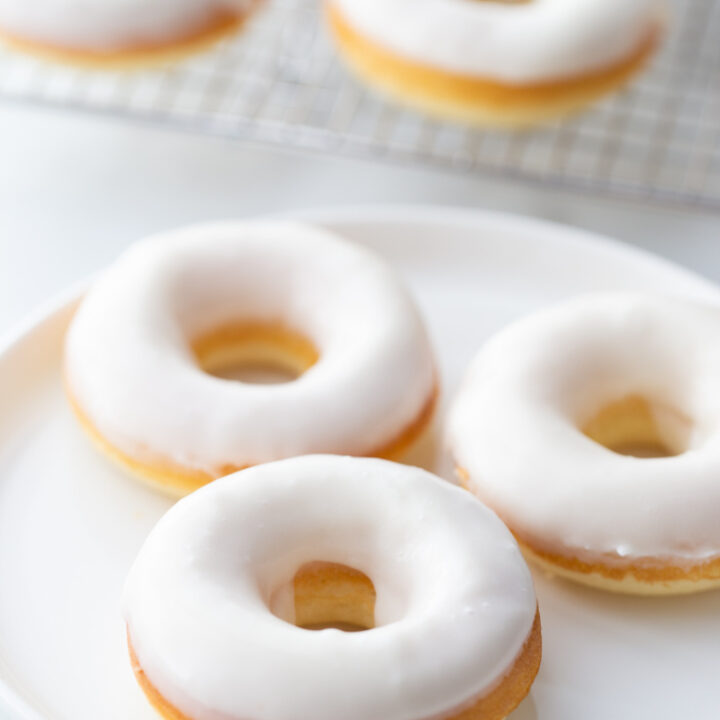 Baked Glazed Doughnuts
These lighter (baked) doughnuts are topped with a delicious vanilla glaze.
Ingredients
DOUGHNUTS
2 cups cake flour, sifted
3/4 cup granulated white sugar
2 teaspoons baking powder
1 teaspoon salt
3/4 cup buttermilk
2 large eggs
2 tablespoons butter, melted
1 teaspoon vanilla extract
GLAZE:
2 cups powdered sugar, sifted
1/3 cup heavy whipping cream
1/2 teaspoon vanilla extract
Instructions
Preheat the oven to 425 degrees F. Spray a doughnut pan with nonstick spray.
Make the DOUGHNUTS:
In a large bowl, whisk together the cake flour, sugar, baking powder and salt. In a separate bowl, whisk together the buttermilk, eggs, butter and vanilla. Add the dry ingredients to the milk/egg mixture and whisk together just until combined. Fill each doughnut cavity 2/3-full. It's easiest to do this if you put the doughnut batter into a piping bag with a large open tip and pipe it into the pan.
Bake for 7 to 9 minutes, or until the tops of the doughnuts spring back when touched. Let the doughnuts cool in the pan for 4 to 5 minutes before removing them to a rack.
Add the GLAZE:
These doughnuts are best when they are fresh. So let them cool some and then add the glaze. In a medium bowl, whisk the glaze ingredients together. Dip the tops of the doughnuts in the glaze and then set them on a rack to set the glaze. Then go through and dip them a second time (double dipping!) and set them on the rack again. Serve soon after glazing- as soon as the glaze is set.
Nutrition Information:
Yield:

12
Serving Size:

1 doughnut
Amount Per Serving:
Calories:

262
Total Fat:

5g
Saturated Fat:

3g
Trans Fat:

0g
Unsaturated Fat:

2g
Cholesterol:

44mg
Sodium:

316mg
Carbohydrates:

50g
Fiber:

0g
Sugar:

32g
Protein:

4g
Nutritional information is estimated and is likely not 100% accurate.